Starting a successful strategy before creating content on LinkedIn doesn't just happen over night. Don't worry though, you don't have to spend days on it to be successful either. Let's just say it's a sweet mix of creativity and techniques.
👉 Preparing your strategy well increases your chances of success and a positive return on investment. We've selected the must-do steps for creating content. Ready to ask yourself the right questions before you get started?
Q1: Why develop a publishing strategy for creating content on LinkedIn?
You're about to write posts and therefore invest a minimum amount of time in content creation. What is your goal? What do you hope to gain from this strategy?
Basically, we learn that there are 3 distinct communication objectives:
Create awareness: this is the cognitive side. Your brand or company doesn't really exist in the minds of your potential customers, and you want to create discovery.
Make people like you: you play on the affective side. You are known. You want people to like your brand and talk about it.
Make people act: this is the conative bias in the register of attitudes, you want to create the intention to buy.
Once we've defined your objectives in order of priority, we'll need to get a little more specific:
What do you want to get across first: brand, products, a particular offering?
What is the feeling you are looking for from consumers: i.e. you want to be loved, of course, but for what characteristics (your values, your design, your options, your benevolence, your performance…). Of course, there can be several answers, in order of priority.
What is the "mentalization" sought when purchasing? Mentalization is more precisely "the feeling that a customer perceives during the purchase, in possession of your product/service. Does it make them feel younger? (Example of Evian) Does it feel cooler and more in tune with the times? (Example of Levis or Apple).
There are thousands of reasons to publish on LinkedIn. What is yours?
Play on the familiarity bias? Educate your prospects? Showcase your expertise? Raise awareness? Become a star?
Defining the "why" helps you find the who and the how. To define your goals, it is important to know (also) if they correspond to your target.
Q2: Who is my target audience on LinkedIn?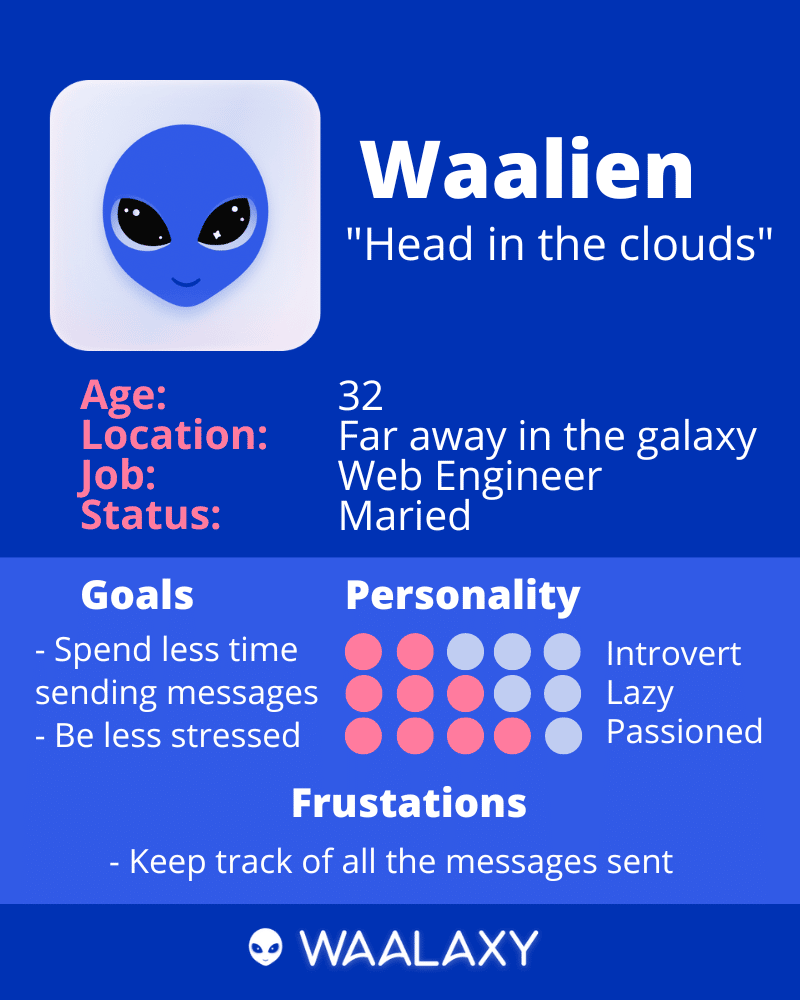 Obviously, you would like the whole world to see your content on LinkedIn. But you have to decide: who is the primary audience for your posts?
Like any marketing strategy, define the niche at the beginning. A persona that you can then expand.
Talking to everyone is talking to no one.
Everything starts with the target and all the more so your messages: To create content, you must define your target audience FIRST.
Create buyer personas to better understand your

target

consumers

.
Make sure you have several: Hot, lukewarm, and potentially transformable prospects.
Do LinkedIn research to isolate and analyze their profiles and behaviors on the network: Are they active? Do they write posts? Do they follow specific LinkedIn pages?
🅰 Your target on the network is not necessarily your main target. It all depends on your strategy on social networks, if your goal is to find partners on LinkedIn then there's no point in taking the same persona as your consumers, you're going to screw up.
ℹ Always ask yourself what your target's issues are, it will help you know a little better what to post.
What are my target's recurring tasks?
What are their schedules?
What are her issues and challenges?
What are the difficulties they face in not meeting these challenges?
Q3: What to post on LinkedIn?
You know why you want to post and to whom? Now you need to know what you are going to talk about. Not so simple, is it?
Over the past few years, we've conducted dozens of experiments. Published hundreds of posts. Generated millions of views and hundreds of thousands of interactions. We've made some important conclusions that we want to share with you.
ℹOur advice: prepare your topics well. Brainstorm with your colleagues and friends. Come up with a list of broad topics (you can talk about anything on LinkedIn, contrary to what some people want you to believe). Then prioritize.
ℹ The two most important conditions to get maximum views and comments on your posts is: that they are qualitative and regular
ℹ,I invite you to have 3 months of precise ideas (title of the post) in front of you and 3 other months of more vague ideas (thus depending on the frequency of publication you want to set up).
ℹ The best method among all those we tested is the one of TOFU-MOFU-BOFU and we swear by it.
Two methods to find ideas for creating content on LinkedIn
User Research Method:
1) Call your 5 best customers.
2) Ask them to ask you all their questions related to your expertise.
3) Write down each one of them in a document.
4) Sort them from the most frequent to the least frequent.
5) Write a post for each one from the top of the list.
20 Tips Method:
1) List 10 to 20 tips to give to your ideal client (related or not to what you sell).
2) Make it a very first post.
3) Detail each of the points in a dedicated post.
4) Be recurring: (one tip per Friday for example).
How do I structure my posts using the TOFU-MOFU-BOFU method?
1) Choose 2-3 TOFU topics (large audience),

The large topics can be: trends, news, current events… The aim is cognitive.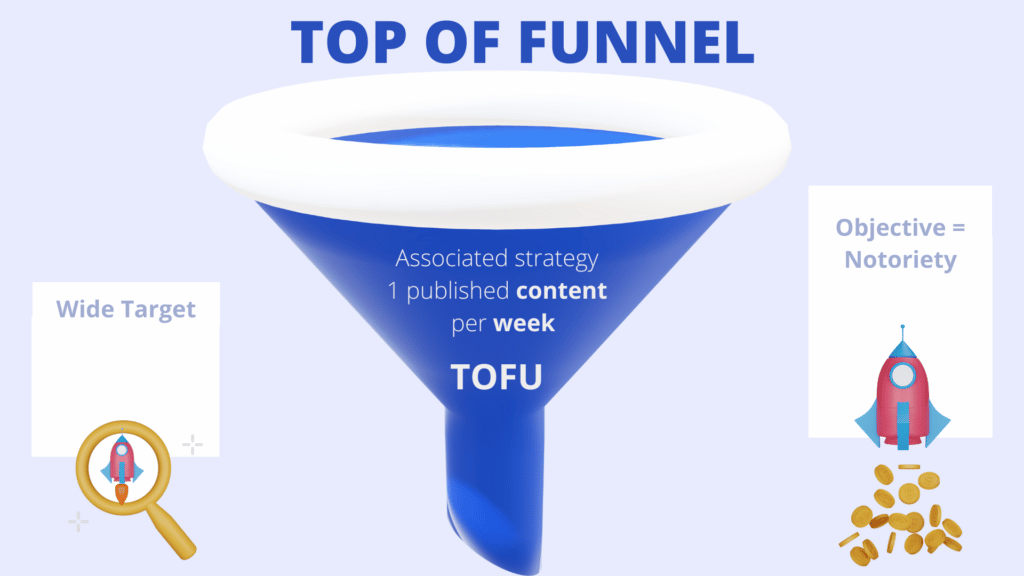 2) Define 3-5 MOFU topics (audience "in between"), These topics are often: tips, tricks, simple methods… The goal is affective.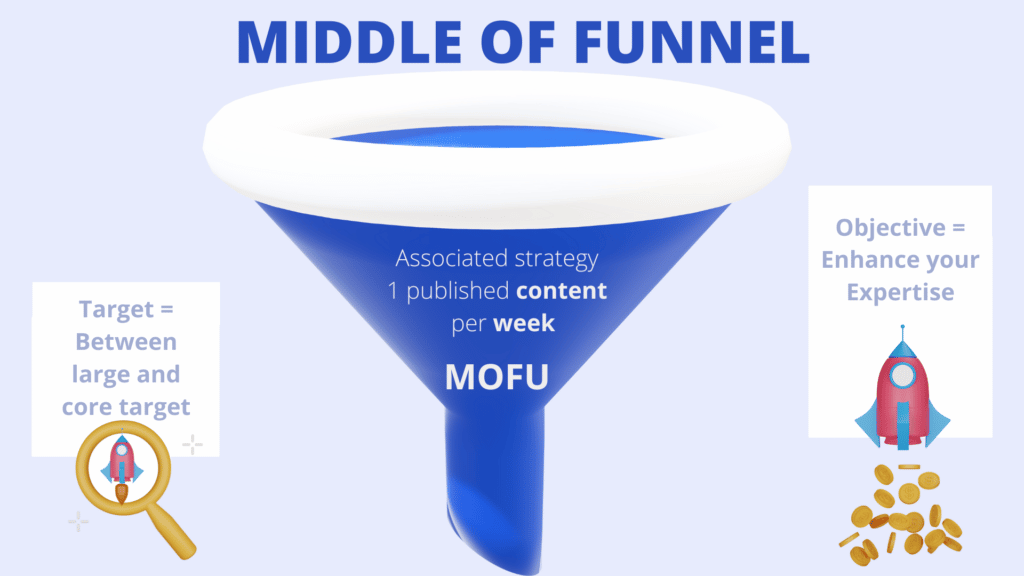 3) Define 2-4 BOFU topics (very targeted audience). More specific: Tutorials, hacks, expert secrets, how to improve (need of the target). The aim is conative = move to the action of purchase.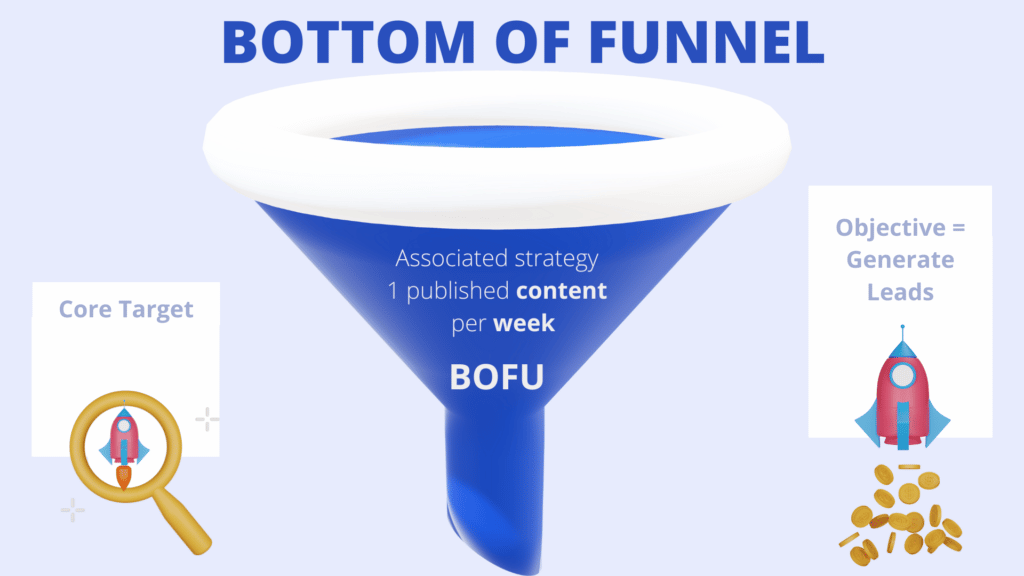 4) For each, list 5 to 10 ideas.
What is this method exactly? The Guide in pictures.
What type of content to post on LinkedIn?
You have several format options on LinkedIn. You can post:
Plain text, with short or long posts,
Images,
Videos,
Carousels.
Each of these options has advantages and disadvantages, but they are all appreciated by the Internet users on the network.
ℹ Our advice is to have a graphic charter really to you, for example :
Make it so that people recognize you.
🅰 The amount of time a video takes is significantly more than a plain text post, so don't overdo it if you don't have the time.
🅰 (Please note that videos absolutely must be captioned).
Q4: How often you should be creating content on LinkedIn?
Regularity is the key to content creation on LinkedIn, and all social networks for that matter. It's better to post less but consistently over time than to post a lot at some times and not at all at others.
Depending on how much time you want to spend creating content set an attainable frequency.
ℹAfter all the tests we did, we came to the unanime conclusion that 3 times a week was really the most effective frequency. Now, it's better to have 2 quality contents per week than an overloaded editorial calendar but poor added value content.
ℹ Start low and work your way up. It's better than the other way around.
ℹSay to yourself once a week. If it holds up well over a month. Go to 2. And so on.
The creative process is paramount to holding consistency. You don't make a living from content marketing on LinkedIn. It's a separate job. So we shouldn't spend all our time on it.
Favor rushes where you write down your ideas on your publishing tool or just on an easy-to-access online doc. You're going to have ideas all the time and all over the place, so it's best to be able to add them as you go before they get away from you.
So plan your content creation process: when do you write? Do you schedule your posts?
You can read about my own content creation process to get inspired and find yours.
Q5: How do I publish on linkedin? (Define your brand)
If you start publishing regularly, you want the audience to recognize your content at first glance. Like any marketing strategy, this will reinforce your brand (here your personal brand).
I'm not saying you should have a style from the start and never change it. But having an idea of your format (which should follow best practices), a writing style that stands out, a specific attribute. Or even several formats that you can test in the first few weeks to adapt and iterate.
Just don't start out "empty". Give yourself a line of conduct in your content.
There are several methods of content creation, we use the AIDA method a lot, which we particularly like. (and which also works if you want to do some prospecting on the network).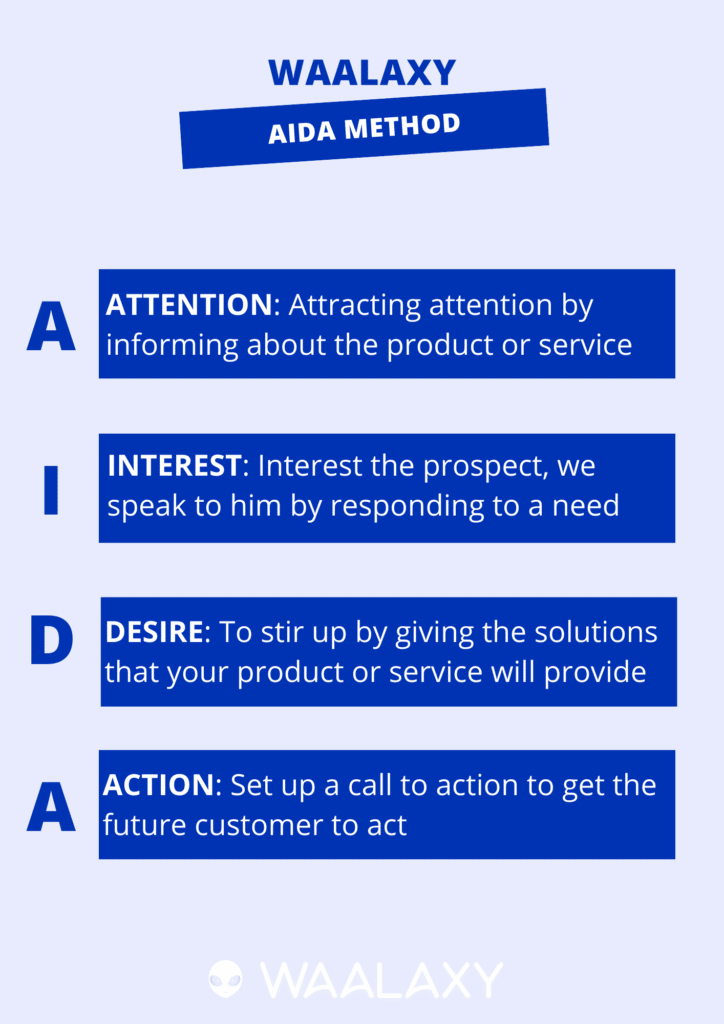 FAQ & Bonus: Creating Content On LinkedIn
These are also questions asked by Internet users, we hope they will answer your potential questions.
How to publish a post on LinkedIn?
To publish a post on LinkedIn, you must be registered on the social network.
If you are not yet registered, click on the "Register" button at the top right of your screen.
Once you are on your profile, click on the "home" button, then you will see a space appear where it says "start a post", this is where you write or add your visuals. Then click on the "publish" button. 😁
To create an original layout, here are some cool links we've compiled for you here.
How to make great posts on LinkedIn?
How to create particularly interesting content on LinkedIn? For that you need to find your topic of expertise and gravitate around it. To help you understand your audience's interests and create relevant content, we've added some key sources.
Tweethunter

shows tweets that have received high engagement on topics of your choice.

Sparktoro

helps you understand what people are searching for associated with certain keywords.

AnswerSocrates

is based on Google data to help you find content trends.
What is marketing on LinkedIn?
Marketing on LinkedIn involves several options: community management on the network, automation of certain marketing actions such as sending messages, data scraping or LinkedIn Ads to gain visibility.
The field of possibilities is very large on LinkedIn and the network has millions of users and thousands of decision makers. We really advise you to use LinkedIn for your business.
Our advice for getting started on LinkedIn with your company
If you want to start a publishing strategy on the network, we strongly advise you to publish content with your personal page (or that of the person in charge of communication) and not with your company page.
Why not? Because you will gain in reach and reach much more visibility with a personal page.
Explanations on this article!
Optimize your LinkedIn profile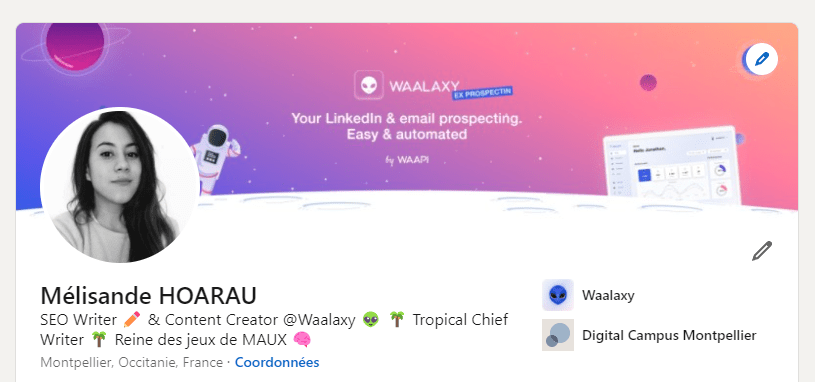 We say it again and again in many articles. If this is not the first one you read, you are probably thinking "Arf. Still optimizing your LinkedIn profile?
But it is essential. Crucial. Your LinkedIn page is your showcase. Where your audience arrives first when they see your post. Optimize it. Update it regularly. Pay for professional photos (it costs 100 euros which will be more than paid for, believe me). And if you have any other tips or questions then contact me on LinkedIn!
Alright, now it's your turn for creating content on LinkedIn. 😜