How do I optimize my LinkedIn profile?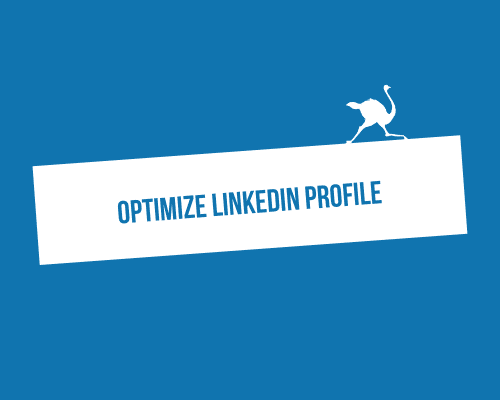 8

min
Here's how to optimize LinkedIn profile in 8 bulleted steps :
Decorate your profile picture.
Right now, the trend is to surround it with a circle of color, often the color of your company!
Customize your job title.
A short and visible title to make you stand out.
Use an emoji in your title.
An emoji is visual, it brings color. You will not go unnoticed.
Create your cover picture.
Your cover picture is your personal landing page. Personalize it and be original.
Tell your story.
Use the About section to tell your story. Use storytelling!
Use the Featured section.
A new section recently added where you can highlight your greatest successes.
Complete your experience and training.
The truth. And nothing but the truth!
Translate your LinkedIn profile.
Don't forget to translate your LinkedIn profile if you want to grow your business internationally.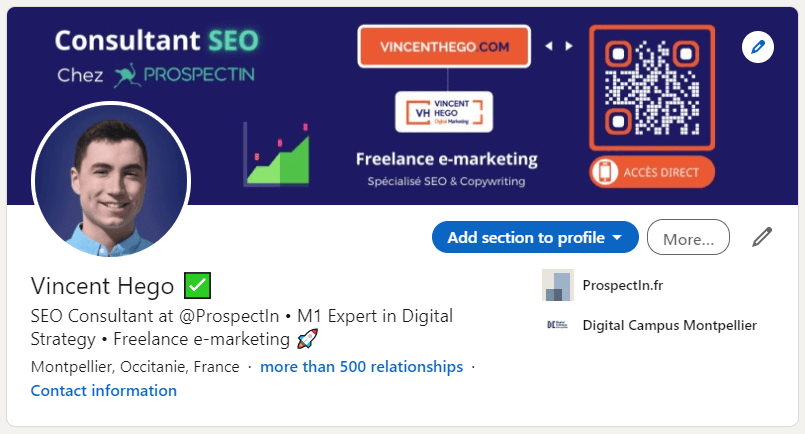 To start prospecting new clients or to find a new job on LinkedIn, you must first define your persona. Once the persona is well-defined, it is advisable to optimize your LinkedIn profile in order to maximize its conversion rate. In this article, we will take you through several need-to-know tactics.
The profile picture: the center of attention on your LinkedIn profile
Think of 3 people that you only know on LinkedIn. What comes to mind?
For 80% of you, that would be the LinkedIn profile picture. That's what everyone sees, all the time, on the social networks, because it's the first impression you get from the person. Messages, posts, comments… in your profile.
Don't overlook this point: a professional picture is a must if LinkedIn is an important channel for you. For example, it's important when a recruiter is finding the best person in the job-seeker's list.
If you want to test your photos, there is a great site to get an average score on different criteria to ensure you choose the best profile photo.
A common trend is to surround your profile image with a colored circle, with a simple montage, to make the photo stand out. However, optimizing your LinkedIn profile doesn't stop there!
A clear headline and a short message for a snapshot of your profile
The headline, along with the profile picture, is the very first thing people will see on LinkedIn, without even having to go to your profile; your title is visible when you publish a post or comment.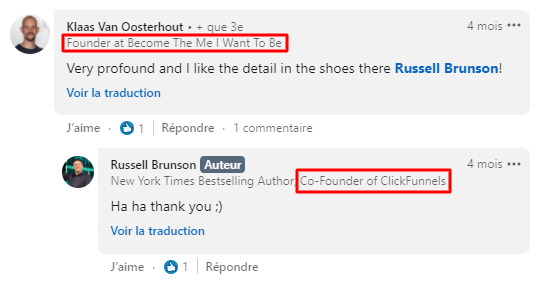 It must therefore be clear and concise. There is no need to put an extended sentence as it will not be fully visible. If you want to describe what you do in more detail, save it for the "About" section.
Should I use emojis in my job title or name on LinkedIn?
It is up to you to define what message you want to convey when people try to reach-out to you. An emoji brings a touch of color to your profile and makes it more visible. But if you are quite formal or are dealing with very serious topics, maybe it is better to avoid it. You are the only person who can make this decision.
The cover photo: your personal landing page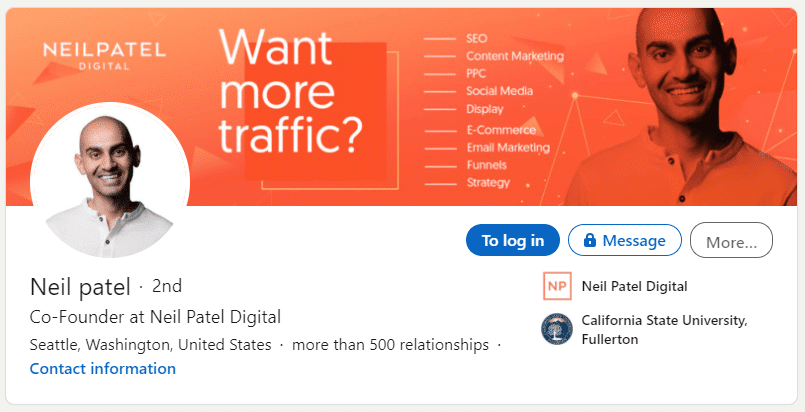 Your LinkedIn profile is your personal website. Whenever you appear in a Google search, it's one of the first results. And when you're active on LinkedIn, it's the first place you go.
So a cover photo is ESSENTIAL on your LinkedIn profile. It's visual, so unlike the rest of your professional profile, how you choose to format is completely up to you. It's your differentiation vector, your personal branding.
This banner should visually explain what you're doing. Your value propositions. Be creative. Like the profile picture, don't under-estimate the value of this banner, because it can help you to connect with your target audience. Are you beginning to understand the importance of optimizing your LinkedIn profile? Let's continue to update your profile. 😉
The About section: To optimize LinkedIn profile, give more to those who want more
Experience has shown that the About section is not often looked at. That's because the overview is only two lines long, which doesn't really encourage action. Additionally, the profile section is very small and not very visual compared to the rest of the profile (hence the importance of the other sections).
But this is the part of your personal profile where you can give more details. It provides more context to someone who really wants to know more. As with any editorial passage, use storytelling. Tell a story. Your story. Meanwhile, staying focused on your call to action.
Also, avoid the "10 years of experience" and all that is found in cover letters and resumes. Unless your career goals are to look like other profiles, of course. 😇
Hack to optimize LinkedIn profile: highlight your best posts with the Featured section
Recently, LinkedIn added a feature which allows you to create a selection of posts to highlight certain content.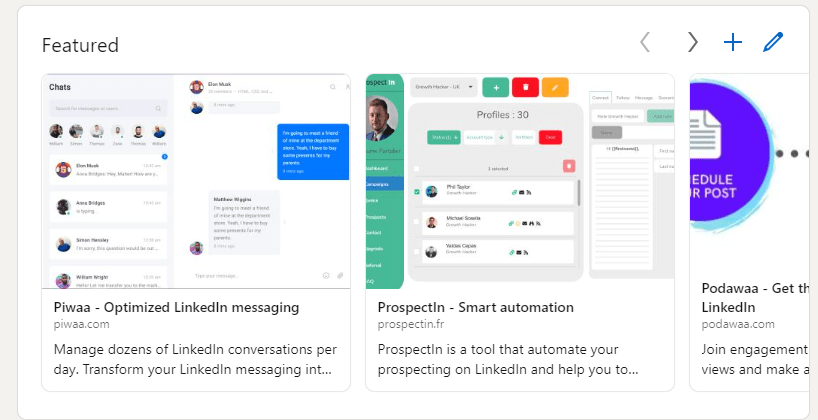 Before you had to put this in your LinkedIn summary and accessing the outbound links required 3 clicks. Today, they are accessible in just one click. Take advantage of it!
Give the visitor something to write about: your best blog articles, your own website, your customer testimonials, etc… But above all, choose well the first 2-3: they are the most visible.
Work experience, education, and training: be specific, be honest
Unless your employer has recruited you based on a fake CV, our 1st career advice is: be honest.
After that, everything depends on your objective with your profile. With us, we are less interested in recruitment than we are in prospecting profiles and profiles who want to have a strong communication presence on LinkedIn.
For candidates who want to be recruited, present all your professional and volunteer experience. Be exhaustive.
On the other hand, if your objective is to maximize "conversion rates" (this means people getting in touch with you. Or/and going to your site or/and becoming more known), we recommend you only list relevant experiences, but are precise when describing them.
What do I mean by relevant skills?
An example: "I was a lifeguard for several summers". This doesn't bring much to my visitors. Much like, "I graduated from high school with A+'s". Nobody cares about that, don't be a show-off.
Highlight experiences that reinforce your expertise and credentials, support your proposition, or/and tells a story. Don't make a resume that describes all the work history you've done to get noticed. Create a story, sell your expertise and generate conversions.
Be original to impress your potential clients.
And the other sections to optimize LinkedIn profile?
They are not as necessary for an optimized profile. However, the recommendations section and your interests' section could bring a little extra to the visitor. Below we will see a bit more about the interests on LinkedIn, but this is an optional step to improve your profile.
How to add interests on LinkedIn?
The interests' section on LinkedIn contribute to your storytelling, and they're a great way to show more about yourself to your target audience. 🎯
I mean, you might be the CEO of a big company, but you're still a human!
Right?? 😵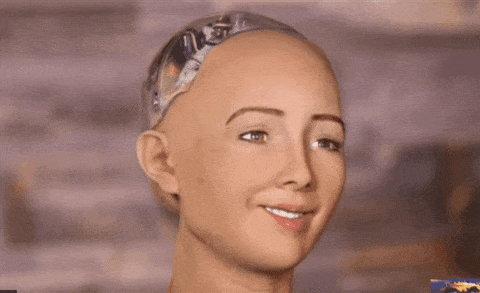 Jokes aside, here are some dos and don'ts for you:
For example, if you're in a leadership position, you could add interests revolving to things like football coach, fishing club etc… 🎣 It shows that you have hobbies too, which makes you even more approachable, and it's a common point for other people who might visit your profile and practice those competitive sports as well. 🏆
Always keep in might your niche when choosing your interests!
On the other hand, if you're selling biodegradable products, it would be contradictory to follow petroleum companies, mining companies or other lobbies that endorse that kind of pollutant activity! ❌ Instead, you should be interested in non-profit organizations that clean up the ocean, ecological brands and so on… 🌱
Remember, quality over quantity!
You don't have to add ALL your real-life interests, if they're not relevant to your activity on LinkedIn.
Here's how to add interests on LinkedIn :
Do a search of the topic in the main LinkedIn search bar,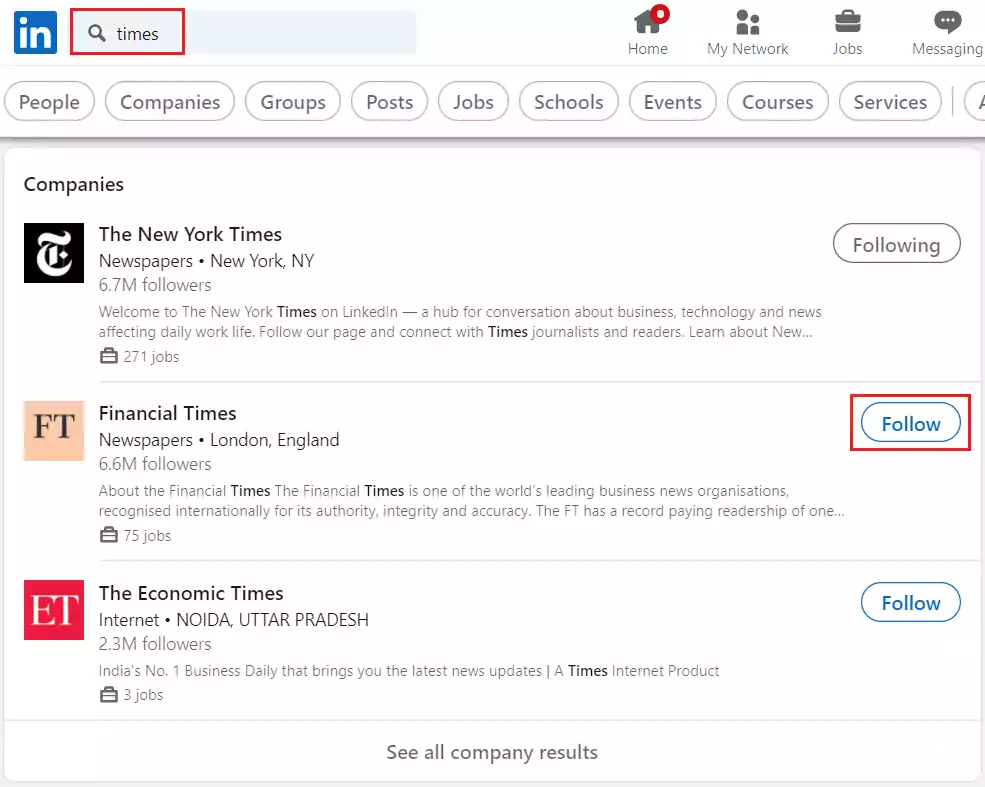 You can follow the page directly from the results, or open the page and click on the "Follow" button as well :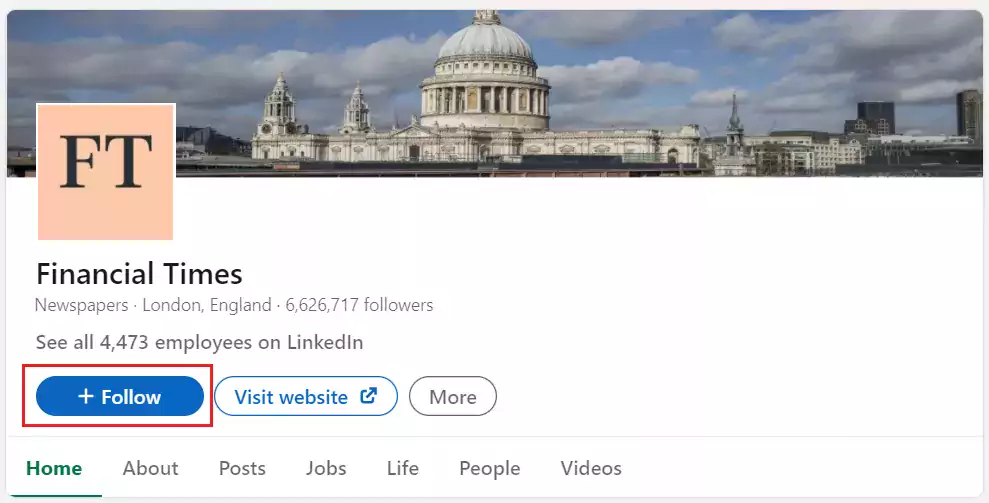 You can also go to your connections' interests section, and click on "See all",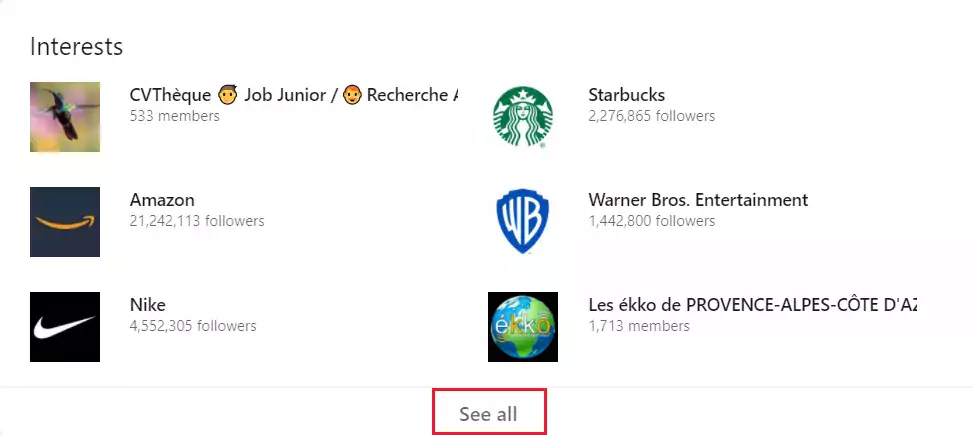 From there, you can see the interests you're already "Following" or the ones you can follow as well :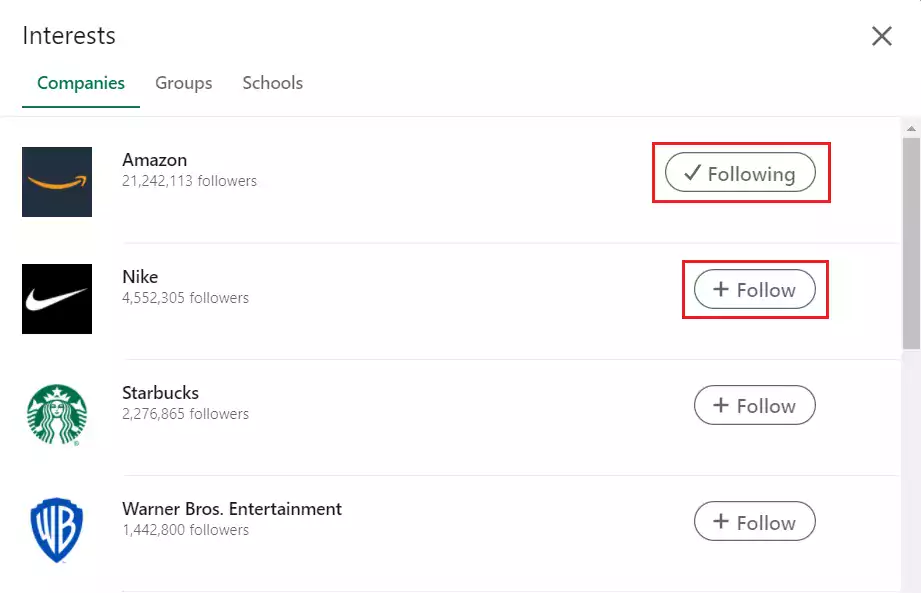 As simple as that ! 💥
Now it will appear in your Interests' section on your LinkedIn profile page.
How to edit interests on LinkedIn?
We just saw that adding interests to your profile is super easy, and it helps to optimize LinkedIn profile. 👌
However, removing interests can be a little trickier! 😬
The interests' categories are :
Influencers,
Companies,
Groups,
Schools.
You can remove Influencers, Companies, and Schools anytime, like this :
Simply go to your Interests section, and open "See all" again,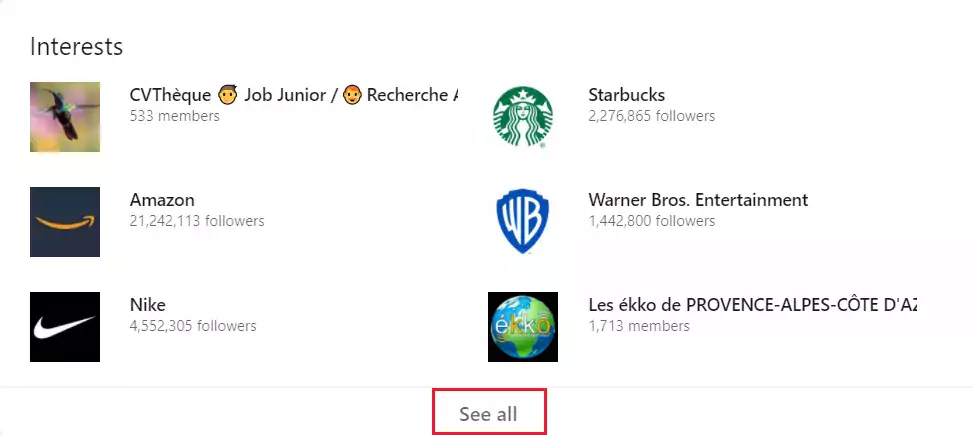 From there, just click "unfollow" in the pages or people that are not relevant anymore.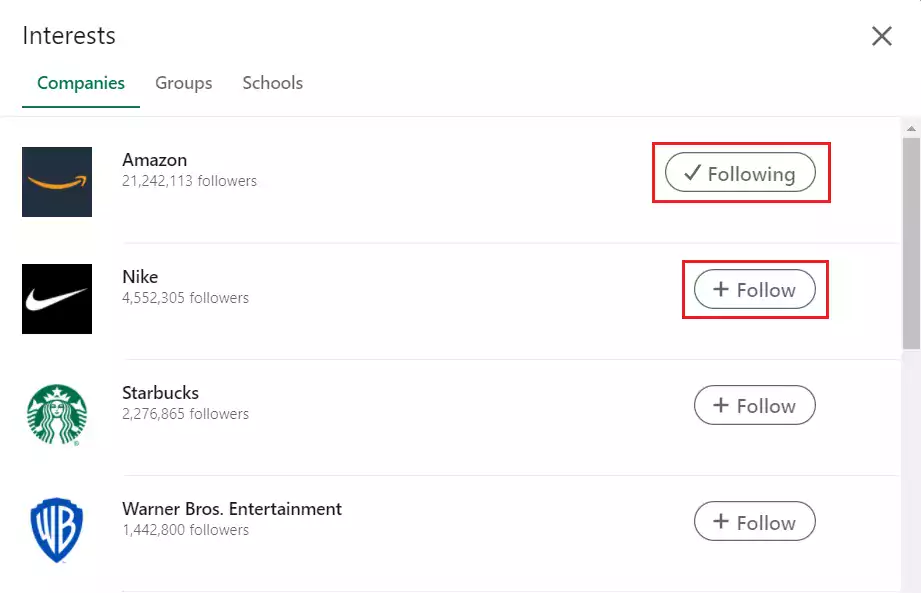 Attention, it's different for LinkedIn groups ! ⚠️
To remove "Groups", you need to enter the page directly :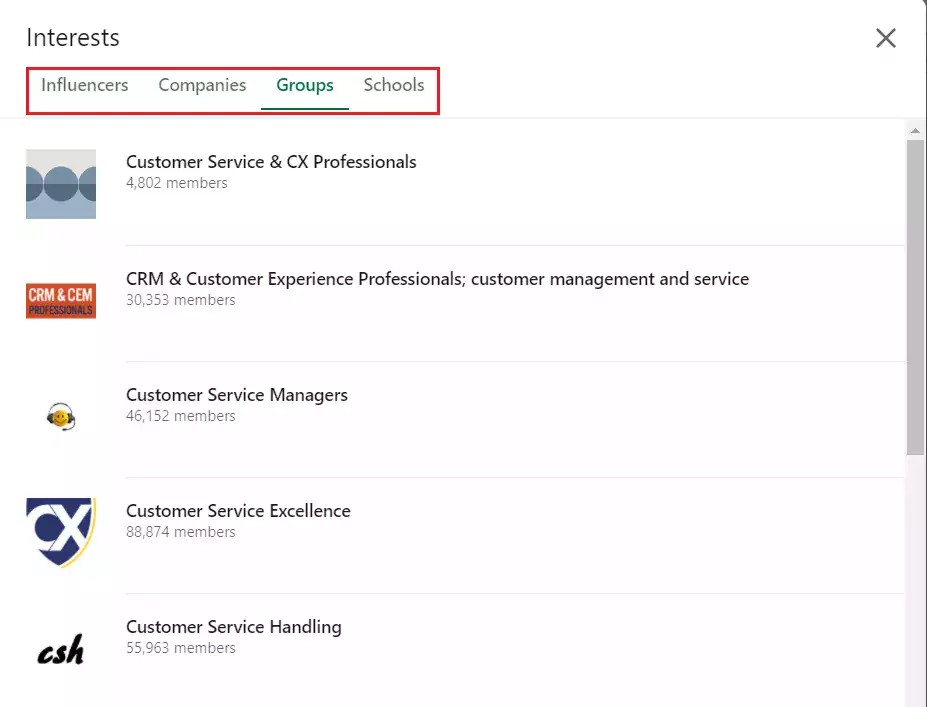 From there, you have to click on the 3 dots and "Update your settings" :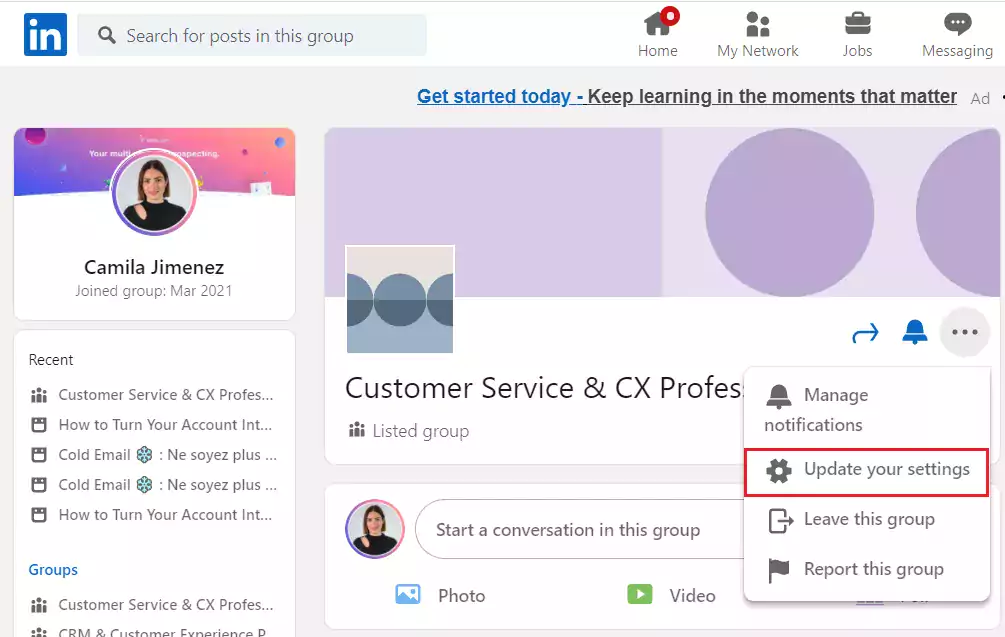 Then, a Group settings page will open, and you have to say "No" in the display section.

I know, I know… it's not very user-friendly, but that's the only way to do it for now! 😳
Think about translating your profile in order to show up on more searches
Finally, you have the possibility to translate your LinkedIn profile. You will appear more easily in certain search results if you choose this option. Having a social media profile in English is essential if your activity is international.

The brain retains original information better. Information that is different. So be creative. Stand out from the crowd. Don't be like everyone else. Respect basic principles to optimize your LinkedIn profile while trying to stand out! 😁