You are probably wondering why and how to add resume to LinkedIn ? It is very useful for several reasons, especially in the case of a job search in order to highlight your professional experiences, but not only! 🥰 In this article, you will know:
How to add a resume to LinkedIn.
Add the LinkedIn logo to your resume.
Boost your resume cv.
Write a powerful resume.
How about it? Then let's get started! 🚀
How to add resume to LinkedIn ?
We already put it to you, but updating your LinkedIn account is crucial. If you are for example looking for a job or just want to add your top resume on this professional social network, it is possible. We're going to look at 3 different ways to add your resume writing on LinkedIn right now. ⬇️
How to add resume to LinkedIn profile ?
Let's start with the basics, which is to put your resume builder directly on your social profile. To do this:
Click on the "Me" icon at the top right, then on "View Profile".

Then click on "Add profile section".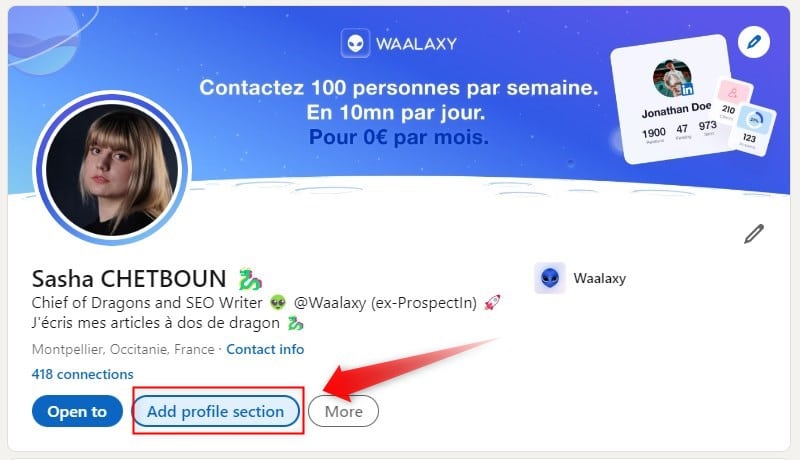 A window will appear, go to the "Recommended" section and then, on "Add featured".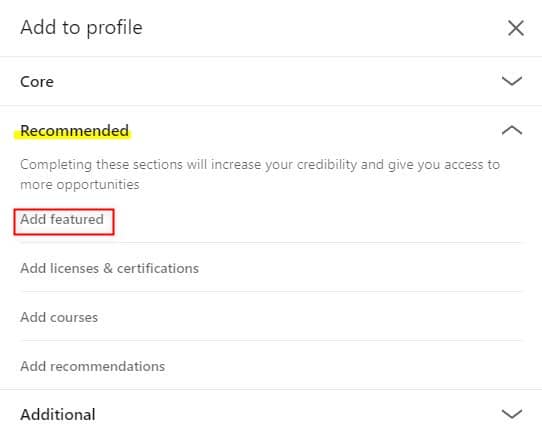 Now press the ➕ button and then "Add Media".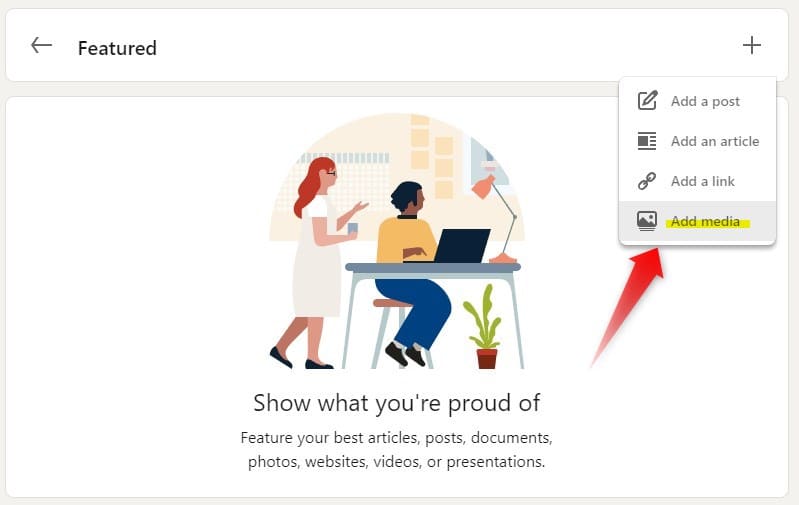 Then select make your resume now and fill in the title of your selection and a description if you wish.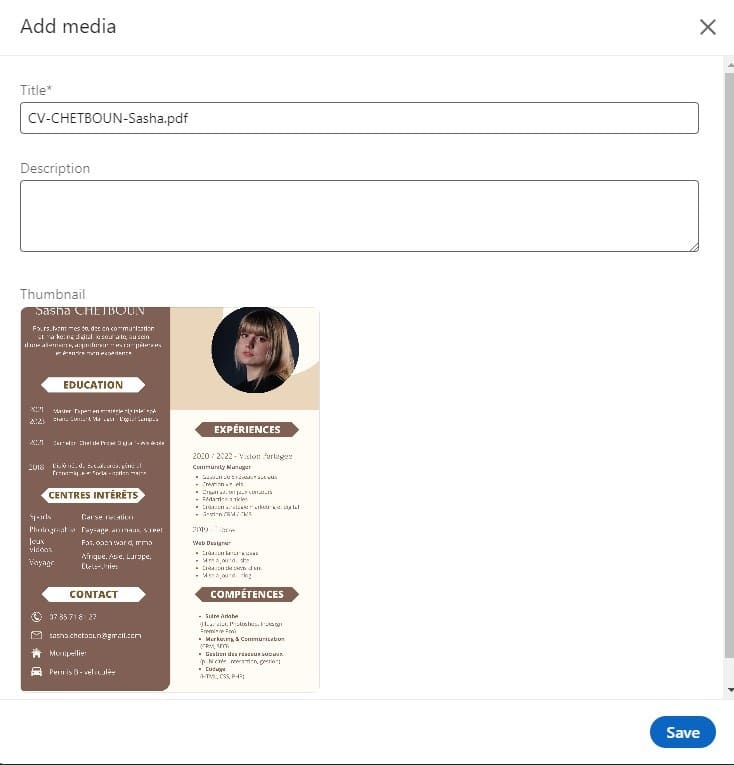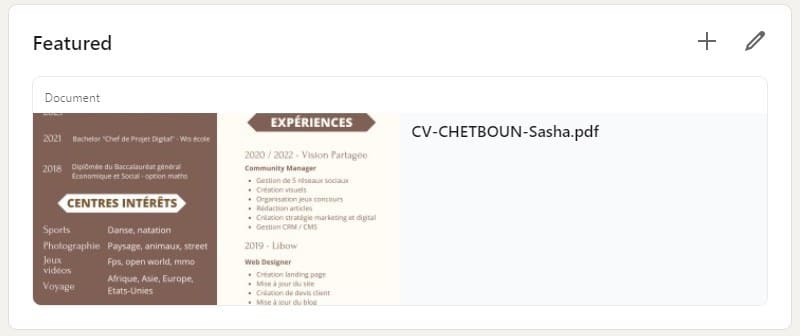 That's it! Now go back to your public profile and above your bio is your new selection with your resume download online in PDF format! 🥰
How to add resume pdf to LinkedIn ?
Sample resume on LinkedIn gives you that viral effect through your connections.🔥
For example if 15 people react (like, support, congrats, interesting, etc.), then a certain percentage of the people connected with those people will see your post in their news feed.
So make sure you create the best possible LinkedIn post with great copy, and especially with a good resume (we deliver our method at the end of this article) to maximize reactions.
Here's the step-by-step process for adding your LinkedIn resume tips to a post:
Start by writing a post on the home page.

Then click on the small sheet🗒️ to add a document.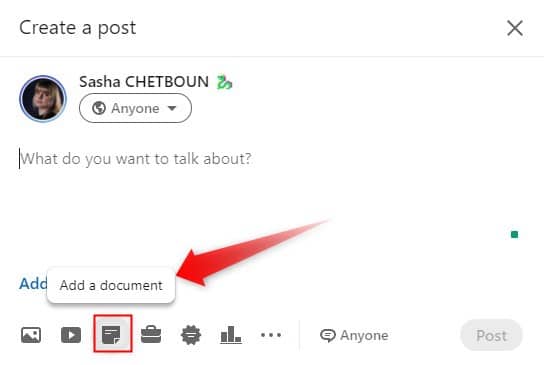 You have a choice, you can upload your free resume online directly from your computer or, through cloud tools such as Dropbox or Google Drive.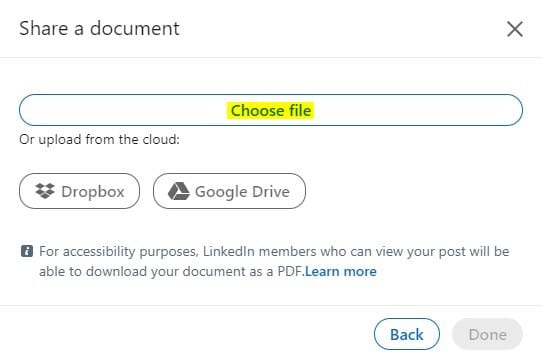 Then click on "Done" and hey presto, the magic 🪄 happens, you just have to write your post and your resume example format is included in it! ✨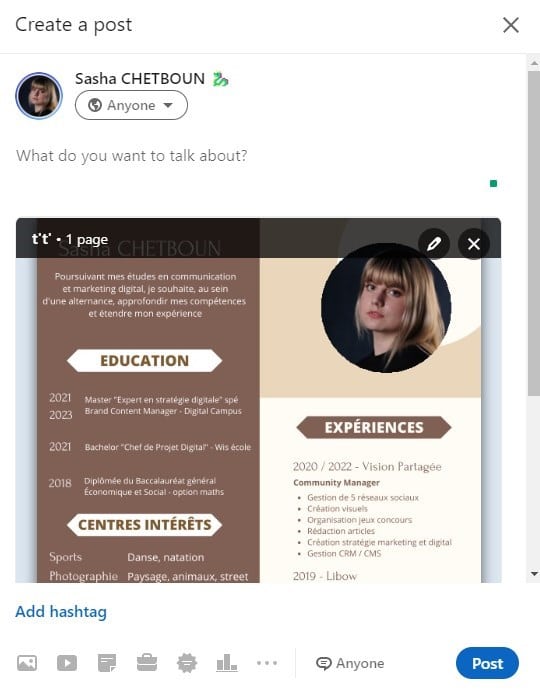 Next, you need to write one or more paragraphs of text to accompany your file and even a carousel. To capture people's attention, we recommend that you make your post instantly stop the vertical scan of the feed. To do this, you can create a textual hook like "to employers/X" with a different typography to attract attention.
Now let's move on to the last step to how to add resume to LinkedIn. 👇🏼
LinkedIn resume: write an article
You can also sell yourself by laying out your online resume in a full article format. With your full LinkedIn profile, you have the ability to easily publish one. 👌
Therefor, follow these few steps:
🥇 Go to your LinkedIn homepage.
🥈 Click at the top on "Write a story on LinkedIn."
🥉 Write your content.
With this format, you can easily add an image of your achievements, highlight your certifications, embed infographics, videos, etc. For example, if you are in a communication field (web writing, translation, SEO…), this can be favorable for you.
How to add LinkedIn logo in resume ?
We all agree that b2b companies add their social networks on their websites and even on business cards, so why wouldn't we do the same with LinkedIn? You can totally add the LinkedIn logo to your resume template, but the question is, where? 🤔
What better way than to add it directly in the header next to your first and last name and above your professional background? To picture it, here's an example with my cv resume :

Now people know what my name is on LinkedIn and they can easily find me via the search bar and keywords.
How to add LinkedIn url in resume ?
In your contact and personal information on your professional resume for job, you can put your personalized URL of your LinkedIn account. This way, if your personal resume is in paper format, your hiring manager will have the choice to access your profile via your first and last name or directly via your URL.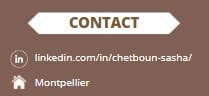 Should I add my resume on LinkedIn?
Let's get straight to the point: YES. If you are looking for jobs, whether it's full time, part time, internship or even a work-study program, you are probably already registered on online advertising platforms such as Indeed, Welcome to the Jungle or Monster.
Thanks to these platforms, you will be able to define the type of offer you are interested in and maybe get a job, but this is not enough. In fact, you need to attract seeker recruiters and managers to your profile like a conversion tunnel. You need to shine, stand out, be brilliant to attract the light to you.
🌞 For this, head to LinkedIn! It is the number one professional social network with over 850 million members, a nice free database right? 🤩
A strong advantage that putting your federal resume LinkedIn has, and that the platforms mentioned above don't have, is that the virality and visibility effect is possible. Optimizing your LinkedIn profile coupled with adding a resume is a complement that can be shared to create traffic to your profile and maybe, land a job! ✨
Boost your resume with a prospecting tool
You are a young qualifications, freelancer, professional retraining, job-seeker, career change and you want to find a job offer (permanent contract, fixed-term contract, work-study contract, internship), but you don't know how to approach recruiters despite having a profile and having made your resume job visible to everyone?
Don't panic, you can use our Waalaxy tool to prospect recruiters (or even if you want to recruit on LinkedIn).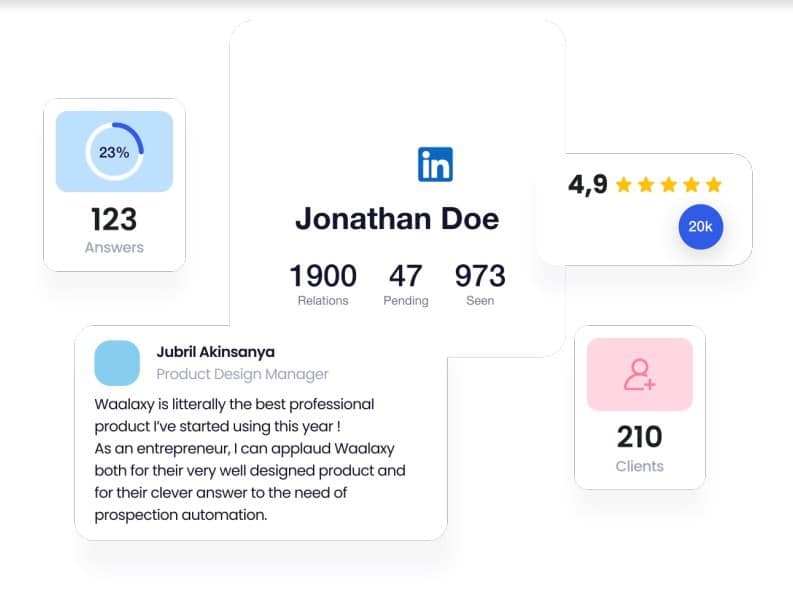 With this prospecting tool, you can automatically :
Send invitations.
Send personalized messages to prospects.
Visit their profiles.
Pull all recruiter profiles and import them.
Create prospecting sequences (LinkedIn + Email marketing).
With our tool, you target the right people, at the right time, in the right place. Are you interested? It's over here! ⬇️
Discover Waalaxy 🪐
Bonus: how to write a resume powerful ?
In this bonus section, we'll look at how to maximize your chances of being contacted again by a recruiter when you see your best resume. 😁
If you apply this part in addition to the previous ones, expect to find opportunities much faster than you might have thought. ✨
First, you need to distinguish and improve the content and form of your resume design and cover letter. Be aware that today, graphic design takes an important part in choosing a resume.
It is the image that your profile sends back, your personal branding.❤️
Regarding the background, here are our best tips to writing your resume, it's free 🎁 :
Add a profile picture of you showing your best smile. 📸
Clearly state the new job title you are seeking at the top of the resume sample . ✍🏼
Describe your personal profile in a few catchy lines under your name. It should make people want to read the rest of your resume. 👀
Fill in your educational background as clearly as possible and adding the logos of the organizations. ▶️
Talk about your past work-experience and assignments already completed by mentioning your acquired skills. ➕
Fill in as many certifications as possible to boost the authority of your effective resume examples (Google Analytics, Opquast, or others…).✅
Focus your resume building on your skills and qualities and make them match those required in your target position. 🎯
Conclusion of the article: how to add resume to LinkedIn
Here are some points to summarize this article: 👇🏼
You know how to add perfect resume to LinkedIn is on the professional network LinkedIn to be visible to recruiters.
You can put your resume example on your network profile, but also on a LinkedIn post.
Make sure you have a professional photo worthy of the name, which will give you credibility for your professional project.
Take the time to create a quality resume with adapted software in order to be attractive, relevant and to develop your network.
You can personalize your LinkedIn URL so that active users will more easily remember your personality.
You can add the LinkedIn logo to your classic resume as well as your personalized URL.
Publish your resume, that's all that matters. On the form, here are some little tips: ⬇️
Forget about Microsoft Word.
Create a resume on Canva or Photoshop.
Take inspiration from the design of existing resume templates.
Choose 2 fonts maximum.
Choose 3 colors maximum for your free resume builder.
Be sure to have a good contrast between your text and the background.
Add icons to make reading more pleasant.
Make your first great resume as infographic as possible.
The article isn't quite finished, we still have a few more resources to share with you! 🤝🏼
Frequently Asked Questions
You thought we were done with this article? Well no, we still have resources in stock, which is sure to answer all your questions! 😇
What is the LinkedIn URL?
We vaguely mentioned it above but you're probably wondering what the LinkedIn URL is. It is simply the address of your professional profile on one of the social media platforms, LinkedIn.
It shows exactly where you are on the web and on the LinkedIn social network. You can write this URL in your web browser bar or click on it directly and your browser will direct you to it. 😊
Why add your resume on LinkedIn?
As a reminder, adding your resume on LinkedIn allows you to attract recruiters more quickly because they will already have all the necessary information about you and if they contact you, it means they are really interested. It also makes it easier to get in touch with professionals from different fields because you don't need to send them a private message.
They just have to go to your profile and analyze your new resume. 🔎
Who can see my resume on LinkedIn?
Just like your personal information, anyone can see your resume on LinkedIn as long as your profile is public.
In which case, the user will have to send you an invitation, and once it is accepted, then they can go to your profile to dig up your resume. 😇
Bonus: you may also have enabled the "visible to me only" feature. In this case, no one can see it except yourself. Personally, I don't recommend it, it doesn't bring any added value.
How do I delete a resume on LinkedIn?
Once you have added your modern resume on LinkedIn, you may want to remove it, to edit it for example. To do this, go to your profile on LinkedIn, then further down to "My Selection" and click on the ✏️ pencil.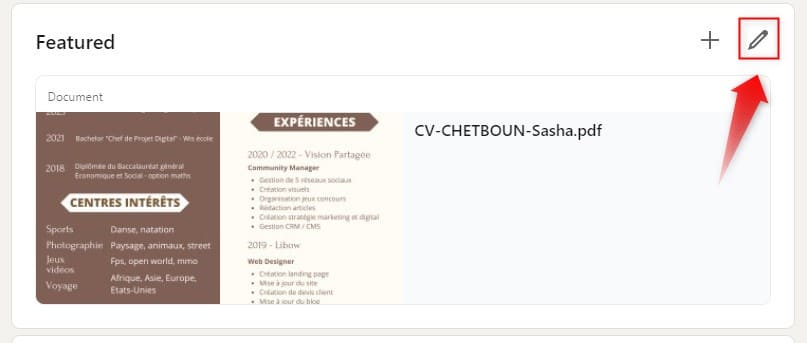 Then click on "Delete" at the bottom left.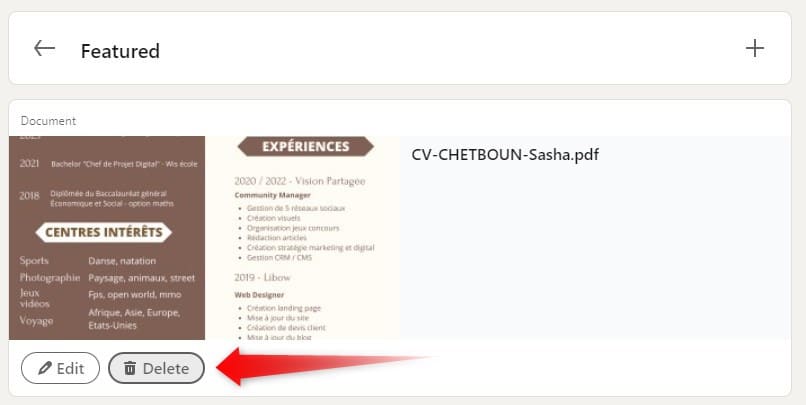 And there you have it, now you don't have your cv or resume displayed in your selection. 😊
And that's it, thanks to this article you now know how to add resume to LinkedIn to achieve your professional goals!😉