Want to write a great LinkedIn posts but are a little lost? 👀 Creating content for different social networks is not always easy, especially when it comes to consistency and ideas. With this article, you'll know:
How to make and structure a LinkedIn post,
When to post your publication,
Writing the perfect post.
Are you ready? Here we go! 🚀

How to post on LinkedIn ?
Let's take a look together at how to get started on your post and what technique to implement! 😎 Already, you're going to need to go to your profile, then go to "start a post".

Once the pop-up opens, you have several options, focus on these:
Write text,
Upload an image,
Upload a video,
Upload a document.

Prefer one of these configurations:
Short text (300 characters) + image.
Short text (300 characters) + video.
Medium text without visuals. (The limit is 3,000 characters, but limit yourself to 1,300 max).
How do you structure your post on LinkedIn?
There are several options and methods available to you. Let's see together the most efficient of them and how to set them up easily.
The VS4C framework
These are the 6 points that must absolutely be reflected in your post.
V for Value = What you will bring to the market. (advice, expertise, experience)

S is for Sincerity = Put forward your personality and your authenticity.

C is for Clarity = We need to understand in a few powerful words what you do.

C is for Concision = Don't make your message too long

It's for Targeting = Speak your target's language, don't try to talk to everyone. Ask yourself: who do I want to reach on social media?
C is for Confidence = Inspire confidence by taking care of your profile and your storytelling
The AIDA method
The AIDA method can clearly be part of your content strategy. Although it is usually discussed in the context of prospecting, you can adapt the 4 elements to create strong storytelling or value-added content.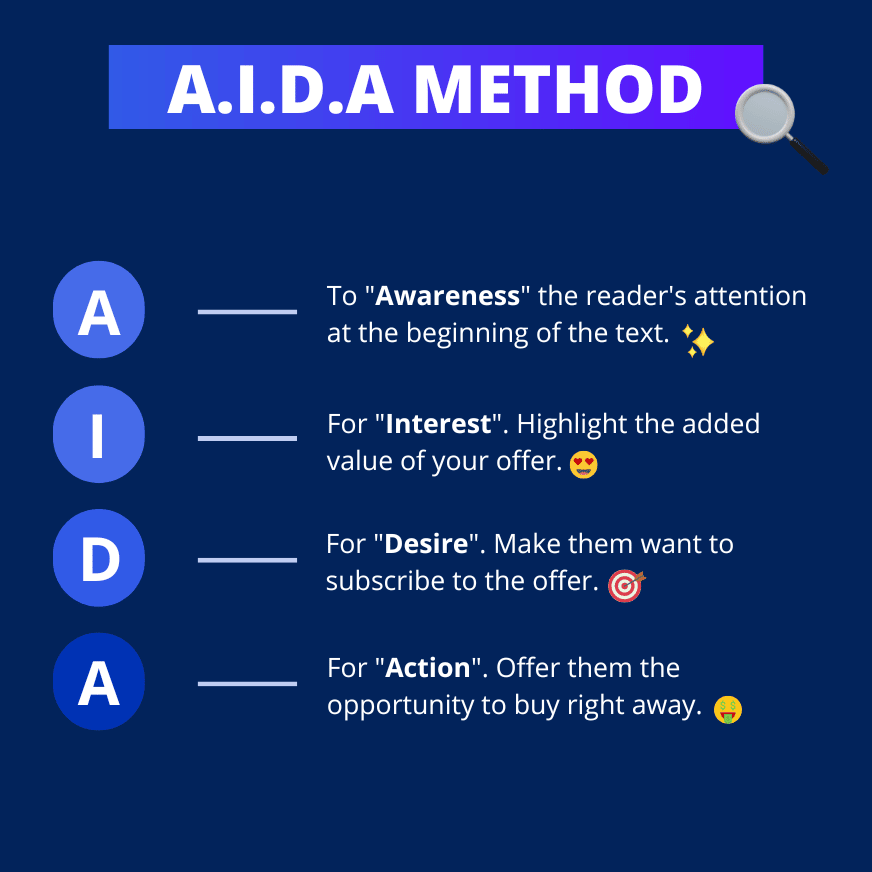 Your own recipe works too
At Waalaxy, we've been working on a content strategy for more than two years. Through our successes and failures, we have found that there is no magic formula. You can follow these tips, but not break through, you can follow nothing, and make the buzz. In any case, your text will need two essential things:
Structure. Ask yourself what the trigger (reason) for your post is? 🤔
Today I accomplished something on my way to work! Today, I met someone who turned me upside down! Today is the day we finally release our first tool on the market!
Emotion. The stronger it is, the more engaging your post is. Even if you're talking about a basic topic, make it exciting.
💡 Bonus: A door that's ajar.
When you "close" the post, i.e. you close your story, remember to leave the door between open: Call-to-action, incentive to answer by comment or to leave a comment to get a document. For the rest, test, try, have fun and above all: write about a topic you are passionate about, with strong and cleaver words. 🥰
Best time to post on LinkedIn?
Want to post content but not sure when you should? Well, let's get right to it with when to post on LinkedIn. There is no ideal frequency. However, you should definitely post more than twice 💡 a week for several reasons:
Keep your visibility with your readers.
Get the algorithm to highlight your posts in the news feed.
Show your legitimacy in your field (the more posts you make, the more you show your knowledge, and therefore, you are more trusted).
To begin with, it is advised to make 3 posts per week with different topic themes, which we will call the TOFU, MOFU and BOFU but we will come back to it a little later during this article. At least, you should post twice a week and if you want to post every day, nothing prevents you from doing so. Be careful though, if what you write doesn't interest your audience, you may see your reach drop drastically. 📉 Yes, the network is likely to hide your posts if you're too present or if what you're talking about doesn't interest them. Keep in mind that you need to make relevant content.
3 tips to improve your LinkedIn posts
Now that you know when to post on LinkedIn, here are some quick tips to make your posts even more engaging, that will resonate with your network! 🥰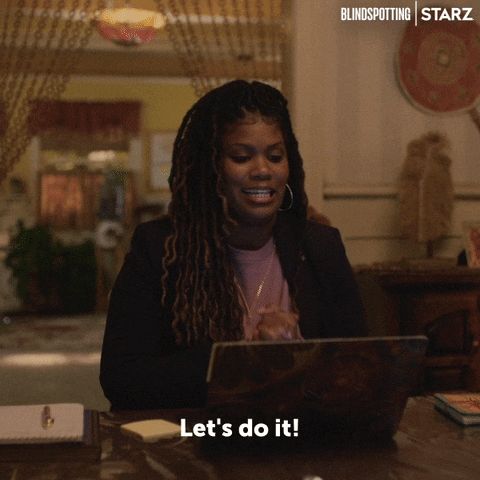 1) Set up your personal branding
If you want to break through on the different networks, well, especially on LinkedIn, you need to have a well-honed strategy to hope to stand out among millions of users. 🤓
So how do we do it? I'm glad you asked. We'll explain it to you. The first thing you need to do before you start writing content on LinkedIn is, of course, to optimize your personal profile.
Yes, Jean-Mi, your LinkedIn account is your showcase, it's the first thing your audience will see when they click on your name. So you have to take care of it and present it well. So, what should we put in place? 👇🏼
A profile picture (professional, you are on a professional social network).
Your banner (which illustrates what you do or what you are looking for).
Your resume.
Your experience and training.
Is it not very clear? No worries, here's an infographic to picture what we're saying! ⬇️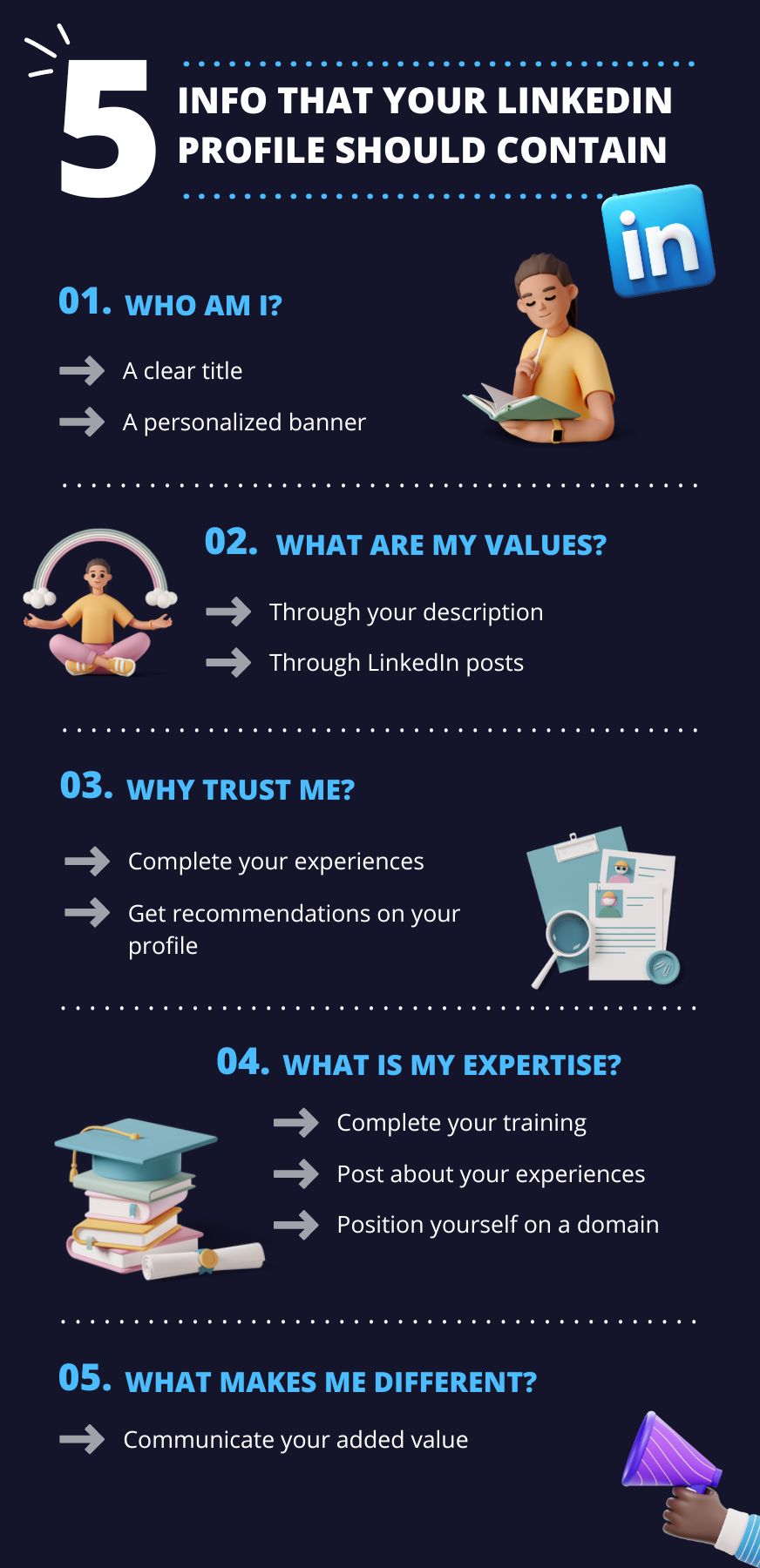 2) The vocabulary of copywriting
First of all, what is copywriting 🤔 To make it short, it's the act of producing engaging content for advertising or marketing. We explain everything in this dedicated article right here! 👈🏼 You have to know how to use the right words, and for that, here's a quick guide to words to avoid and words to use. ⬇️
In general, forget about soft words and use hard-hitting words! You're on a Ring, to stand out, your words must hit the screen! 💥
3) The content strategy
To define your guideline, you'll have to rack your brain a bit 🧠… Indeed, you will have to use the famous funnel: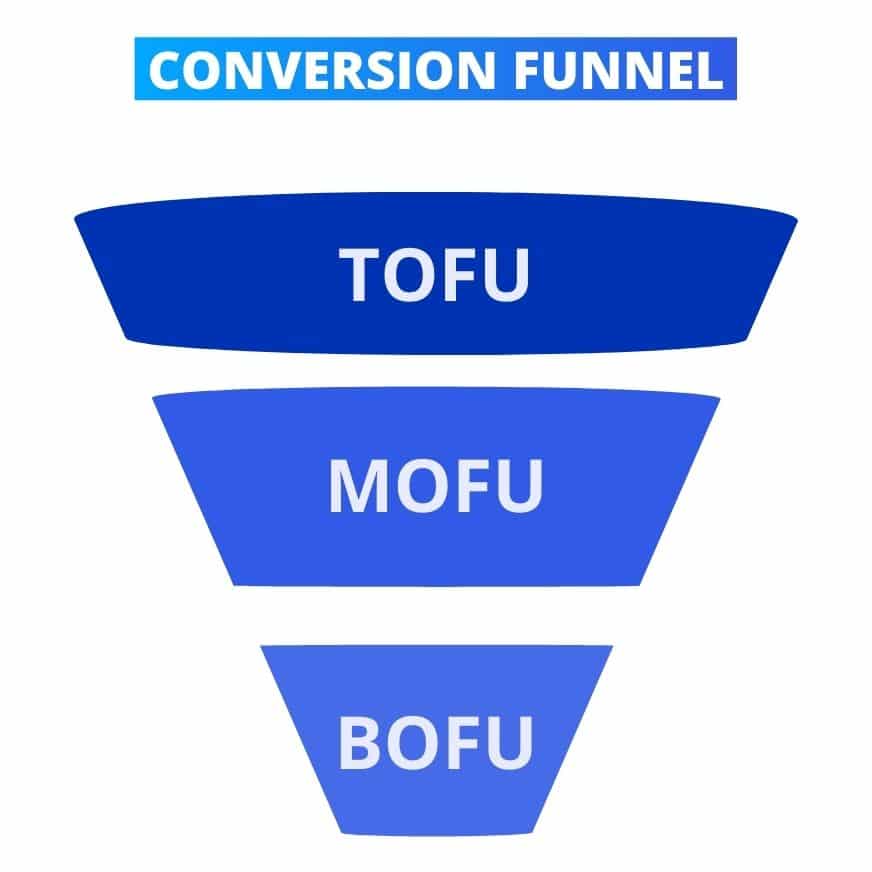 No, these terms are not meat substitutes, we reassure you. But they will help you build your topics to make you shine on LinkedIn and reach your targets. There are three steps to this funnel. Perfect, you'll be able to write about 3 posts for a week.
Think of this strategy as adaptable to other networks, such as Instagram, Twitter, and Facebook.
TOFU: Top of Funnel
This is the highest part 👆 of the funnel. This means you'll reach the most people with this topic. What topics speak to everyone the most?
Wellness at work.
Life in a start-up.
Telecommuting issues.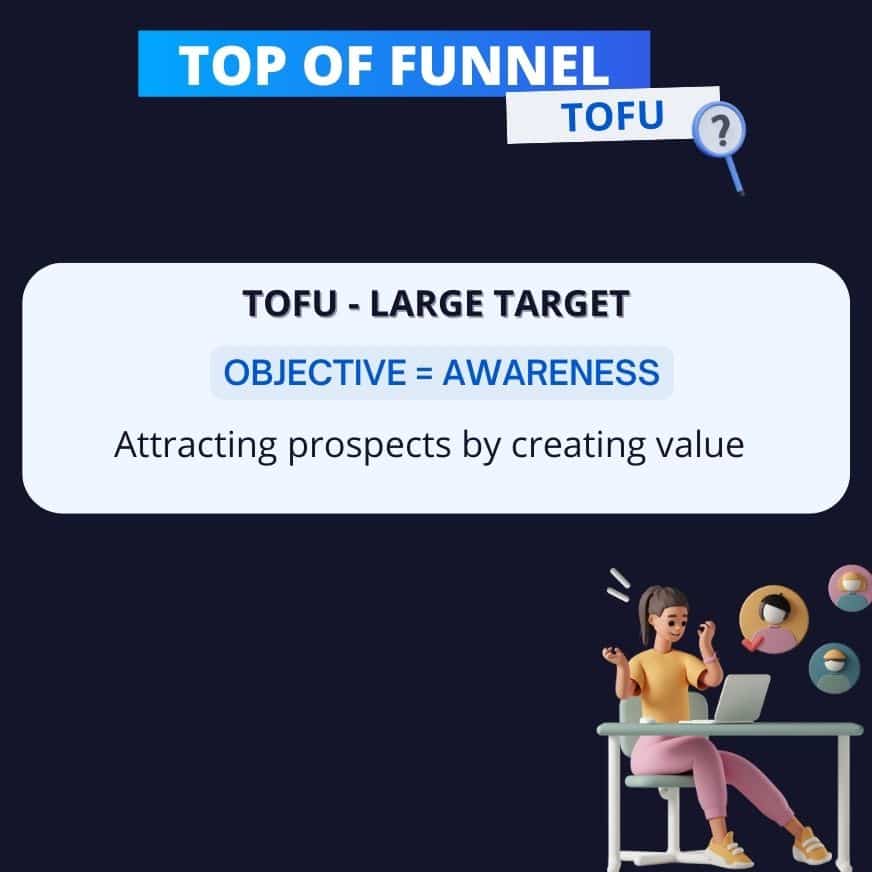 MOFU: Middle of Funnel
This is the bottom step of the MOFU. Your funnel narrows. You are talking to a smaller target. The topics will reach fewer people compared to what you have chosen for your TOFU. You're likely to talk about topics that you like, such as:
Copywriting.
Your adventure on LinkedIn.
Market developments in a sector.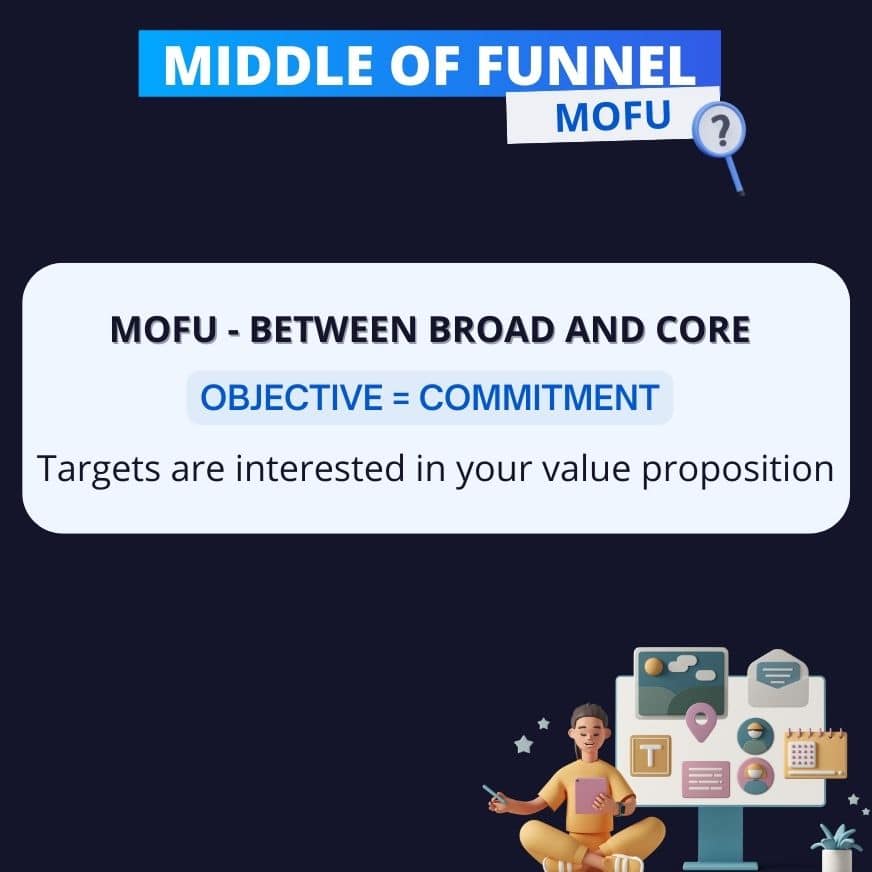 BOFU: Bottom of Funnel
This is where things get a little tricky. Indeed, this is the last step of your funnel. You will reach a smaller audience than the MOFU. Of course, you will reach fewer people. However, you're going to show your level of expertise 😀 in this category. The message you convey in your BOFU should be used to convince your reader. Topics can be:
Learning in your field.
Optimizing an article in SEO.
The advantages of creating your own company.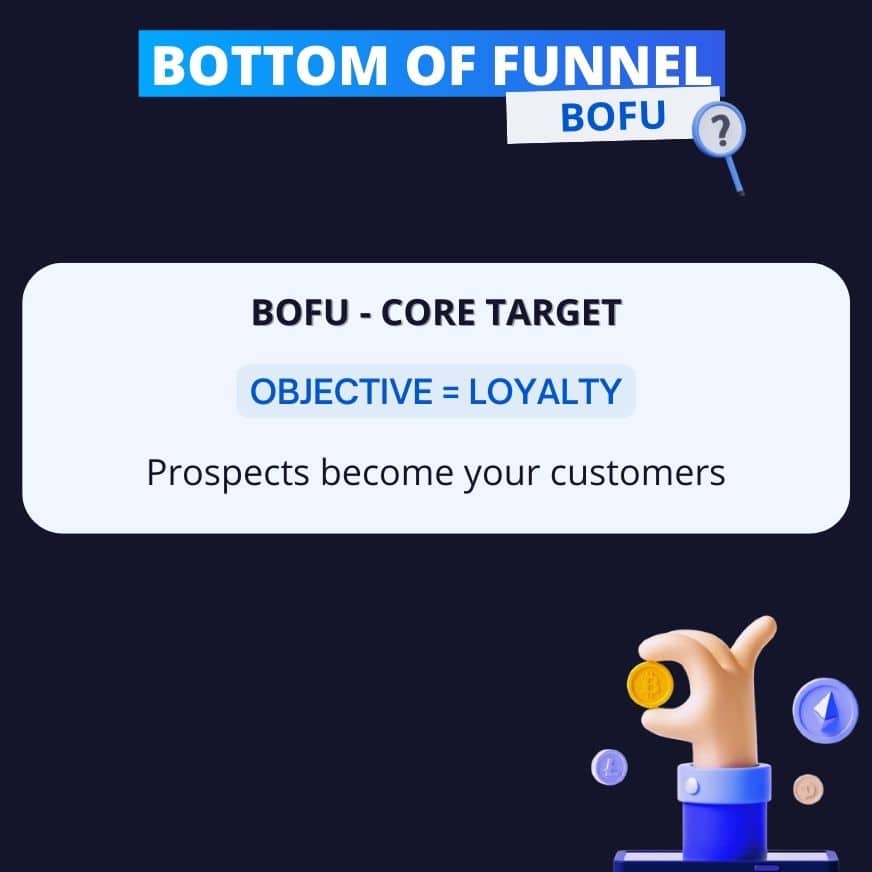 The 5 LinkedIn post ideas that work best
We've compiled 5 key examples of the LinkedIn posts you should be making on a recurring basis:
A LinkedIn post "personal branding and storytelling".

A LinkedIn post "added value and advice".
A LinkedIn post "news about your market or business."
An "engaging" LinkedIn post prompting you to connect.
A viral LinkedIn post "sharing a strong emotion."
It's best to alternate each LinkedIn post idea to create variety and boost both your brand awareness, promote your image and e-reputation, but also generate customers.
#1. Develop your personal branding on LinkedIn
Personal branding is an indispensable element that you must include in your communication. You can for example talk about :
Your failures: too often we talk about successes to show off my best side, but failures are also part of our daily lives. 😎
Your successes: a record number of visitors to your site? A successful training course? An interview that particularly marked you? ❤️
Anecdotes in your professional career: you can explain how you handled such and such situation, your best pro challenge. 👀
What inspires and motivates you. ✨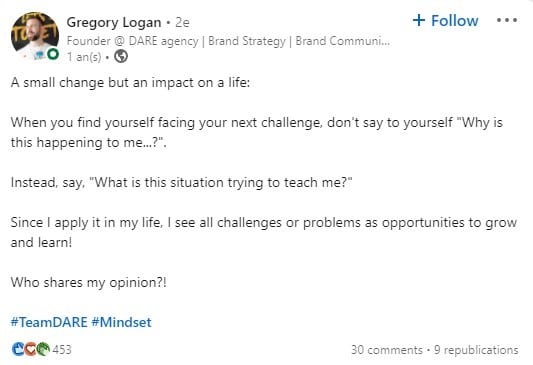 This kind of content will bring you closer to your community and show your values, your personality, your background. Of course, the idea is to stay authentic and not overdo it!
#2. Add value with your LinkedIn posts
LinkedIn is a network on which many people find it hard to get started. Only 1% of members post. Many people don't know what value they can add in the marketplace. It is however the network where it can be wise to adopt a tone that corresponds to you to differentiate yourself, show who you are and of course bring added value. To do this, you can address in your content topics such as:
Tips,
Advice,
Feedback from experiences,
"5 ways to" lists, "3 books to read" lists.
By bringing value-added content, you will attract a targeted audience, generate leads, boost your sales, much faster than you could imagine! 🎯 And if you tell yourself that all the topics have already been covered, then it's up to you to revamp them and put your own perspectives on them.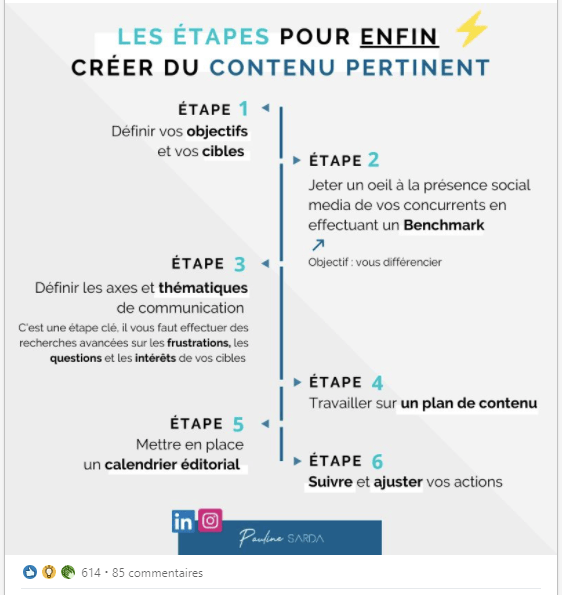 Start already by participating in discussions in groups of areas that interest you or by commenting on other members' posts. 💬 It's also a great way to bring a point of view, expertise or an element of response to an issue being discussed!
You will create a network, and these people / prospects / customers / partners will be more easily inclined to comment on your posts.
#3. How to write a post on news while being original?
There are two options here:
🥇 Write about your business news.
🥈 Write about current events in the market.
⚠️ Be careful with the first option though, you don't have to sell your business at all costs, but share a cool anecdote about what's going on there. For the second option, have fun breaking down the trends in your industry, and make lists, people love lists.
Example 1: Current events in your business.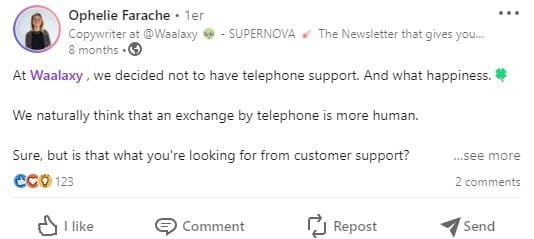 Example 2: Current events in the market.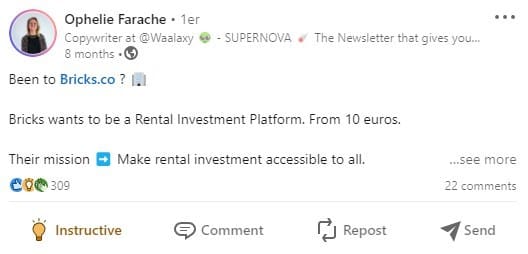 #4. How do you make an ultra-engaging LinkedIn posts?
Did you know that you can create surveys under your LinkedIn posts? 🤩 Yes yes, you can clearly create a poll or debate around a topic. You'll see, that's also how you can make a post that goes viral very quickly. The only downside is that it doesn't leave too much room for personal branding.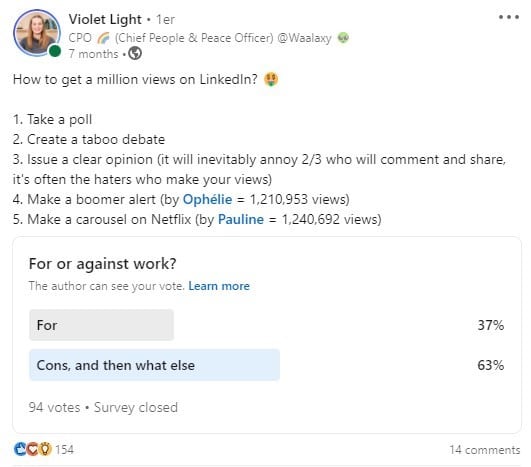 #5. Make a post on LinkedIn that goes viral!
Is virality what attracts you? Apparently, you get addicted to clicks and likes pretty quickly! A viral post may be one of the posts you see above (storytelling, polling, added value…) but contains a little ingredient that makes the difference. A hint of spice that makes the flavors of the dish explode: emotion. 💓
Your social media post must shock, make people talk about it. Mind you, it doesn't ALWAYS have to be negative. ⚠️
Example 1: "The rant post."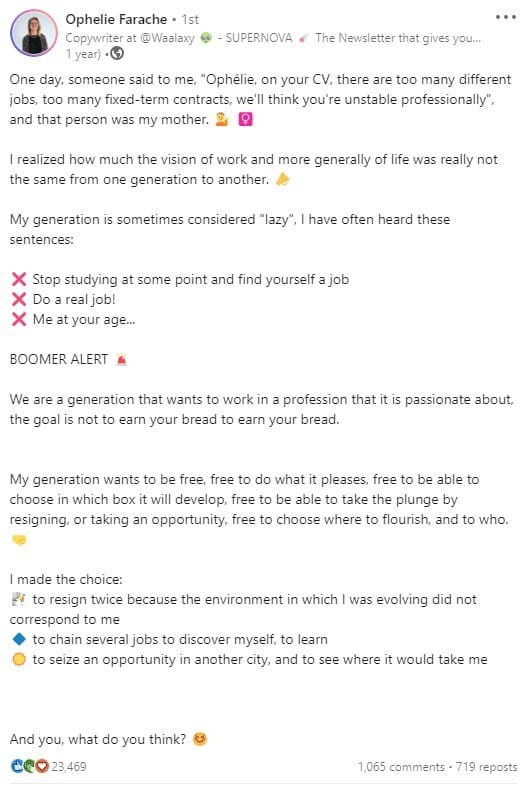 Example 2: "The post that makes you laugh."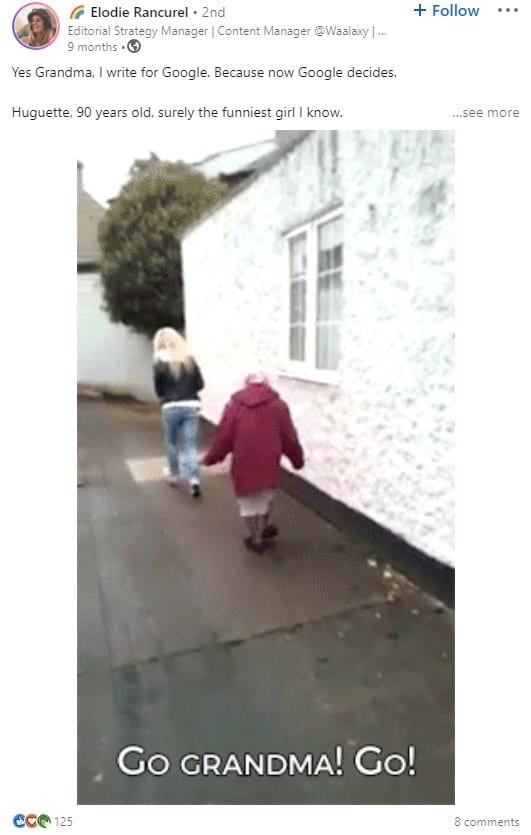 To go further: Free Inbound Marketing Guide. Build brand awareness in no time with these tips. 👀
LinkedIn creator mode
The what mode? Creator mode. Don't know what we're talking about? No problem! We'll explain it to you right now. In March 2021, the social media LinkedIn launched the creator mode. What does it allow? Expand your audience:
By accessing social authoring tools.
Through putting your content and posts higher on your LinkedIn profile.
By displaying the topics you speak on.
By making LinkedIn Live available.
By allowing you to send newsletters.
Yes, this mode is downright powerful. You will be able to define the hashtags of your editorial line. This will allow your audience to target and know what topics you are talking about.
Conclusion of the article: LinkedIn Post
Yes, it's already almost the end of this article. I hope you know more about what LinkedIn media is and how to shine on it in front of those millions of members. 🌟 Small dashboard of what you learned from this article:
How to make a LinkedIn post?
How to structure your post?
The best time to post on LinkedIn.
3 tips to improve your posts.
5 post ideas.
Do you have more questions? Good timing, it's time for frequently asked questions! ❓
FAQs about your LinkedIn post
Think about tracking your LinkedIn posts to adjust your content strategy
To know if your LinkedIn posts are working, there's no secret, you need to track them through a few easy reflexes:
Take note of your audience's reactions to your posts. Also test the time and day of publication,
Vary the format (videos, carousel, text and image) and look at what appeals the most,
Look at the number of hits you get from your posts.
The number of qualified leads your content helps generate.
These indicators will allow you to adjust your strategy. To help you, we have developed ProspectIn and Podawaa. Podawaa also allows you to integrate targeted pods, and explains how to schedule your content on LinkedIn. Ideal to save time!
Waalaxy allows you to create personalized campaigns by sending connection requests with personalized notes, to visit profiles, to get in touch with people who reacted to your last post… the possibilities are numerous and allow you to save time in your activity on LinkedIn.
Want to know more about our automation tool?
It happens here! ⬇️
Discover Waalaxy 🪐
On the other hand, forbidden to copy and paste the posts we just presented you, otherwise the Copy Post account will be there to remind you. 😜

How do you end a LinkedIn post?
There are "closing" techniques. It's kind of like an email marketing or sales process, you need to get LinkedIn members to interact on your post.
A lead magnet is what 🧐 The principle is simple, you publish a LinkedIn post in which you promise access to quality content: an article, a tutorial video.. If the person comments on your post. Your post will get more visibility thanks to the engagement generated. The best thing is to make it easy for them, to tell them what to comment. Keep it short and easy to do.
Example: If you put in comment: "🎥" I'll give you the tuto video in private.
Which first post to put on LinkedIn?
Your first post is the one that announces the color. It's the post that allows you to introduce yourself. Butterfly minute.
🦋 Don't try to sell yourself or your services.
No one knows you. Instead, show off who you are. Don't expect crazy results, LinkedIn doesn't know you either, so it's not going to boost your first post.
Here is an example of a post we all found very nice :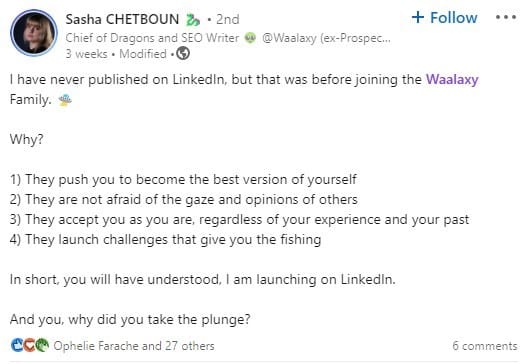 What is the size of a LinkedIn posts?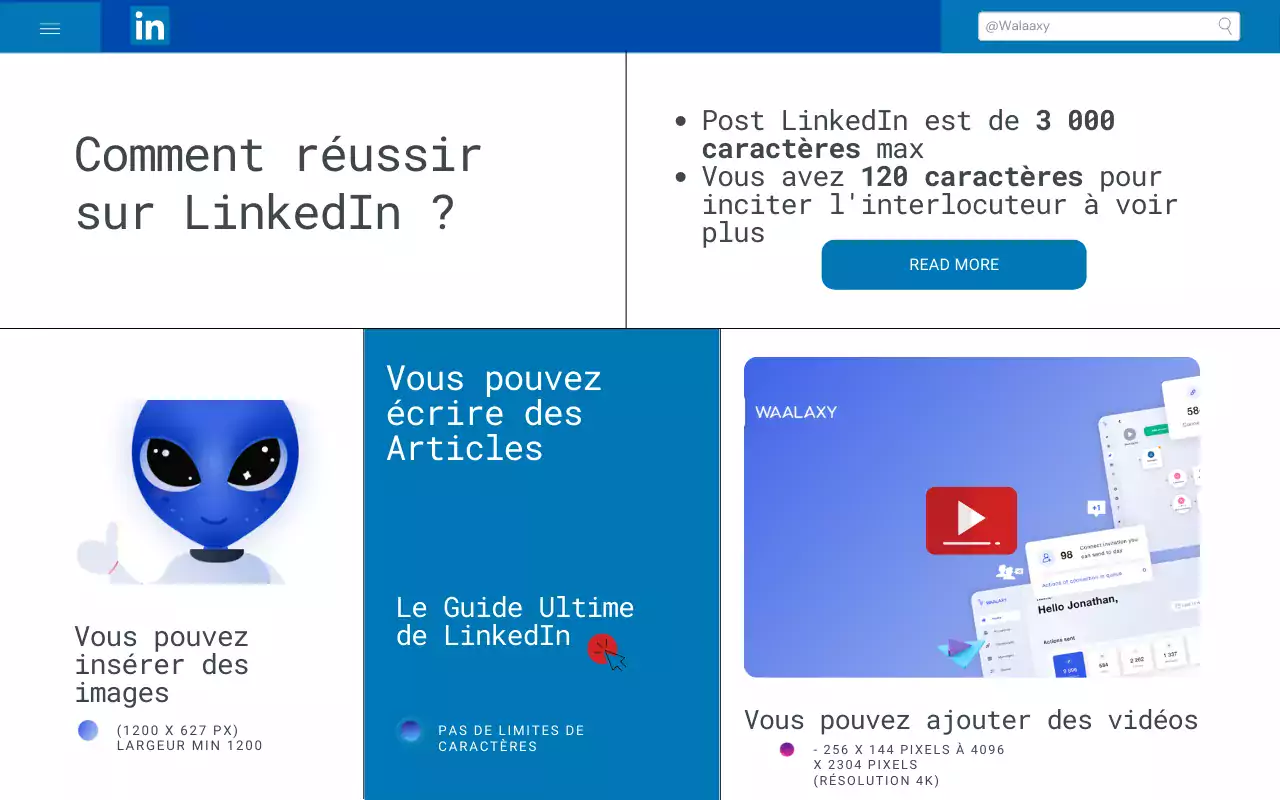 Post Text:
Maximum post size: 3000 characters. (But we recommend 1300 max).
Introduction: 210 visible characters before the famous "See more".
Publish a Carousel or an Image:
Text : use few characters on your banners, about 200.
Introduction : Between 100 and 150 characters max.
Images : One image is enough. For a carousel, an average of 5 to 6 is recommended when you start.
File size: 10 Mb max > reduce the size of the images for free.
Recommended image format : 1200 x 1200 pixels.
Accepted image type: JPG, PNG.
Now, if you want to go further in your digital communication and become a content marketing influencer, there is a free training here 👉 Tuto training.
What format for a LinkedIn posts?
The recommended Image Size is 1200 x 1200 pixels. You can use Canva to quickly create cool visuals. It's free and very easy to get started.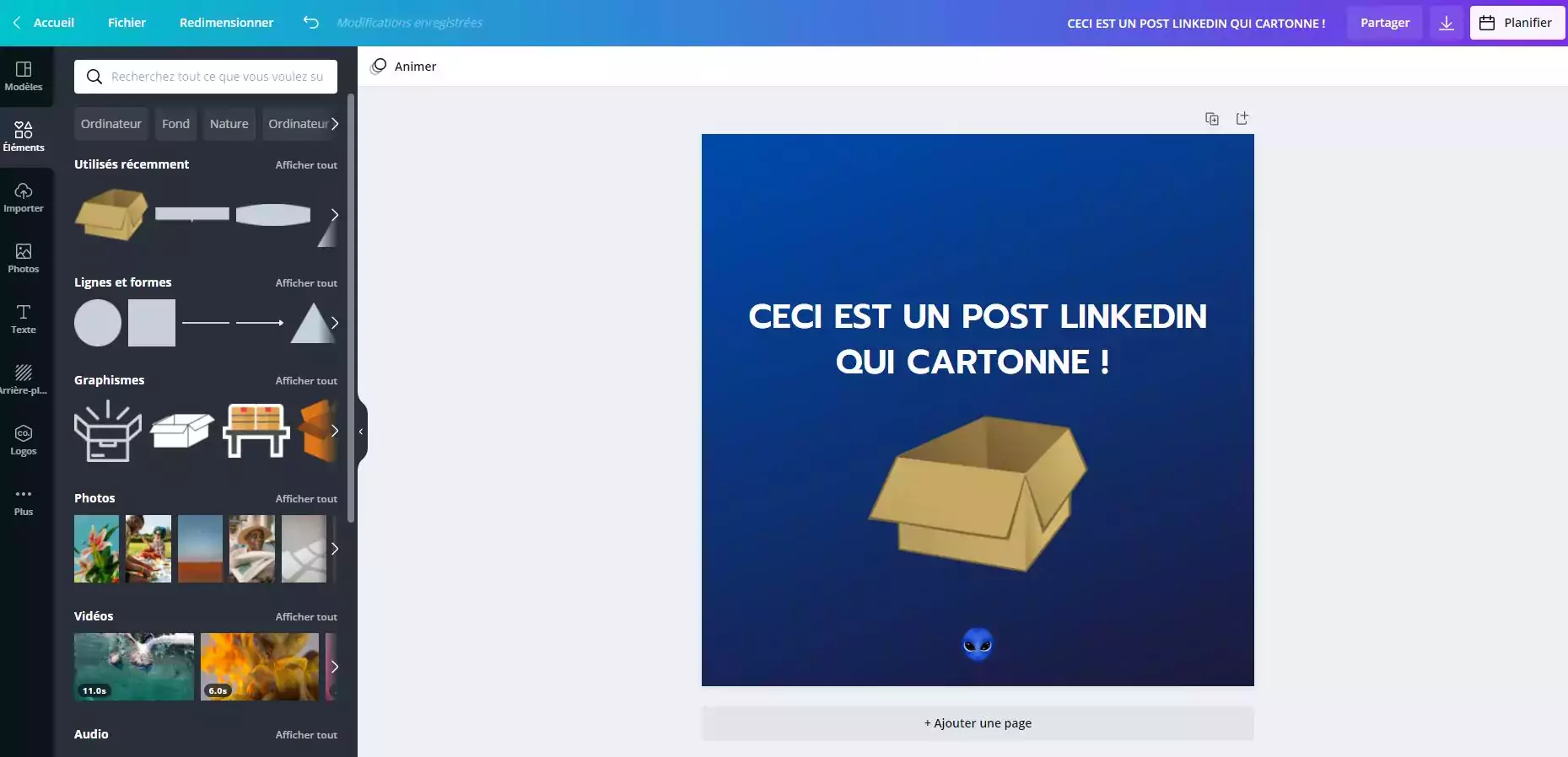 How to post an article on LinkedIn?
To post an article on the network, you must go to the LinkedIn home > click on Write an article.

You will then be able to customize this space: a cover photo, a title, headings 2 to organize your parts, quotes and links.