Are you looking to download LinkedIn videos but not sure how to go about it? While LinkedIn doesn't offer a direct download feature, there are few methods you can use to save videos from the platform. In this article, we'll show you how to download LinkedIn video using different tools and techniques, so you can keep your favorite videos for future reference or offline view 🚀.
How to download LinkedIn video
Download a video on LinkedIn takes two short seconds – with one click. 😉 You can't do it directly from the platform (it was possible before but due to copyright reasons, you don't have this button anymore).
There are multiple ways to download videos from LinkedIn, and we are going to give you a few choices to make your decision.
LinkedIn video : Web Format
Click on the three little dots at the top of the video, then "copy the link to the post".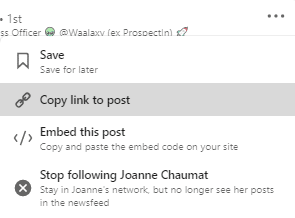 Use the keyboard shortcut "CTRL + S".

By clicking on these two buttons, a window will open asking you what name you want to give to the video and where on your computer you want to save it.
In both cases, it doesn't matter which option you choose: what you are saving is not a video format, it is a web format.
That is, it's a link to the video on LinkedIn. You can then watch it whenever you want, as long as you have an internet connection. 🤓
Use a video downloader tool
If you are looking to download a video that you do not own, using a third-party video downloader tool is a great option. There are may free and paid video downloader tools available online.
For example, you could use Taplio. It is very easy to use this tool. You just need to copy the link of the video like we shown you at the begining of the article and then paste it.

Once it is finished, you should see the download button and you just need to click on it.
Don't worry about the video quality, according to what you choose, you won't have something unseenable.
Download LinkedIn video: Mp4 Format with a chrome extension
Yes, it is now possible, very simply, to save the video in MP4 format on your PC. And it is free. So you have access to all webinars, trainings, tutorials and advertising videos.
You can reuse them on a slide show, a presentation, to train your teams, etc.
It's magic. ✨
It's LinkedIn Video Downloader (working exactly the same way as Youtube video downloader).

All you have to do is :
Download the chrome extension (link just above).
Pin it to your current extensions.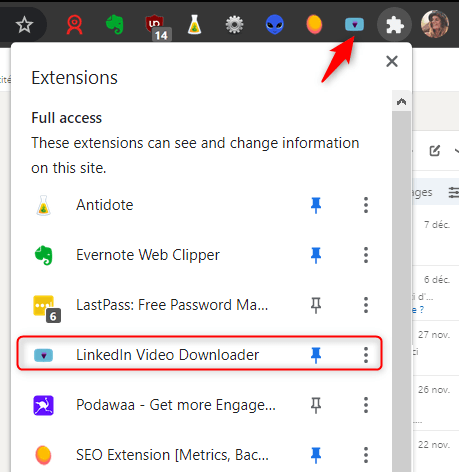 Refresh the LinkedIn page or log out and log back in.
There, you will see on all LinkedIn videos buttons on the left to download the video.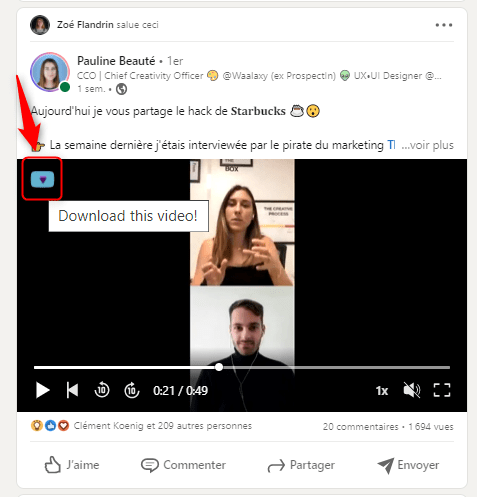 It exists several website also that will allow you to download any video from LinkedIn.
How to publish a video on LinkedIn
To publish a video on LinkedIn, you will do the same thing as if you were publishing a post on the network.

All you need is a few clicks on :
Your profile. 👩
In the comment on a post tab.
Click on the video icon.
Add your video to the post.
Write a LinkedIn post to explain the background, promote your video.
Validate.
(Optional) use a LinkedIn Pod to showcase your video and get more views.
How to post a video on LinkedIn
Once you've clicked "video" and uploaded your video to LinkedIn, all you have to do is add content, a hashtag or two and click publish. That's it, you're off and running, now all you have to do is wait to get views and comments and respond to your audience. 😎
Share a video on LinkedIn
To share a video on LinkedIn you have two options:
You can upload it directly to your PC and then rewrite a post on the network.
You can share it directly via the "share" button on LinkedIn.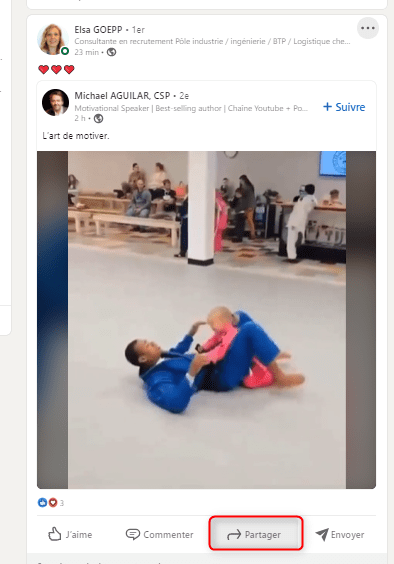 Ps: I want to make it clear that this video is about Karate. 😂
LinkedIn video format
The best format for LinkedIn video is MP4 format, not MP3). Here are all the formats that LinkedIn supports:
ASF.
FLV.
MPEG-1 and MPEG-4.
MKV.
WebM.
H264/AVC.
MP4.
VP8 and VP9.
WMV2 and WMV3.
Here are the formats that the network does not support (updated end of 2021).
AVI.
Prores.
MPEG-2.
Raw video.
VP6 (VP6).
WMV1 (en).
Quicktime.
. MOV.
How to convert video files?
You want to use a video converter because you realized that the output format of your video does not match? Indeed, if you want to put a video online, you will have to (sometimes) go through this step. There is a free online video converter, which allows you to save a video in a completely new format.
If you want to dig into the even more technical aspect of LinkedIn video, here's some more information:
Resolution range: from 256 x 144 to 4096 x 2304 pixels.
Proportions: 1:2.4 – 2.4:1.
Speed: from 192 kbit/s to 30 Mbit/s.
But honestly, we don't really care about that unless you get an error message and your video fails to load. At that point you can look at the LinkedIn help center. 👆 or ask someone who knows about it and is going to be able to help you change those settings.
Since they are pretty standard, if you are using standard tools to make online videos (smartphone, pc) you shouldn't have a problem. It's only if you have invested in high-end capture equipment that you may have to adapt a few things.
Nothing too complicated.
No need to panic. 🤗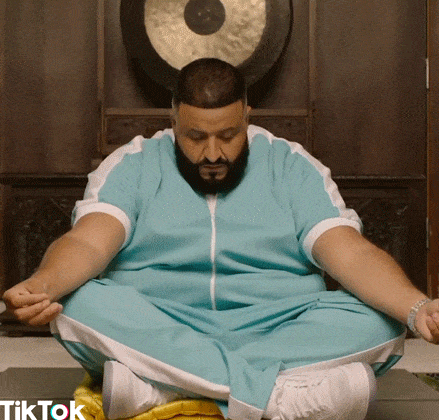 LinkedIn video maximum weight
Your video must meet certain dimensions and sizes to fit within LinkedIn's guidelines. This makes some sense. LinkedIn's algorithm wants to make sure people have a good time on the network. (That's how LinkedIn makes money). What format?
Maximum file size: 5 GB
Minimum file size: 75 KB.
How to reduce the size of a video without destroying the quality?
You can use videosmaller, it's free, and super easy to use.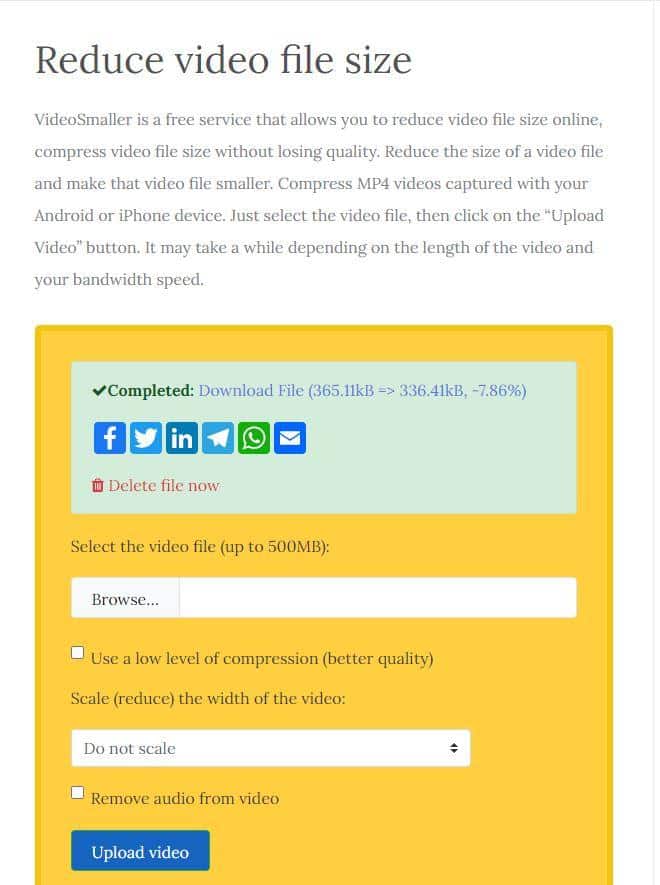 You have the possibility to click the box "low compression level for better quality". Personally I did the test with or without, the quality remains quite good. You'll have to do the test on your side, it depends on your video 😉
LinkedIn video duration
Following the same logic, LinkedIn won't let you post a 60-minute video talking about your thesis on the influence of paper clips in open spaces. 📎
LinkedIn wants quality content that is short and snappy. Maximum video length:
15 minutes when downloading from the desktop.
10 minutes when uploading from the LinkedIn Applis mobile.
Minimum video length: 3 seconds.
LinkedIn Live: the future of content marketing
If your goal is to start a content strategy on LinkedIn, then you absolutely need this information.
LinkedIn Live videos get
on average
7x more reactions and 24x more comments than native videos (in a post).
LinkedIn Live
is among the flagship features of LinkedIn in 2021, along with LinkedIn Polls and
LinkedIn Pulse
articles that have been thrust into the spotlight. We're also finding out about the "selection."
LinkedIn Live are the video formats, live. Webinars integrated into LinkedIn.
You can test different formats and have fun finding the one that works best for you.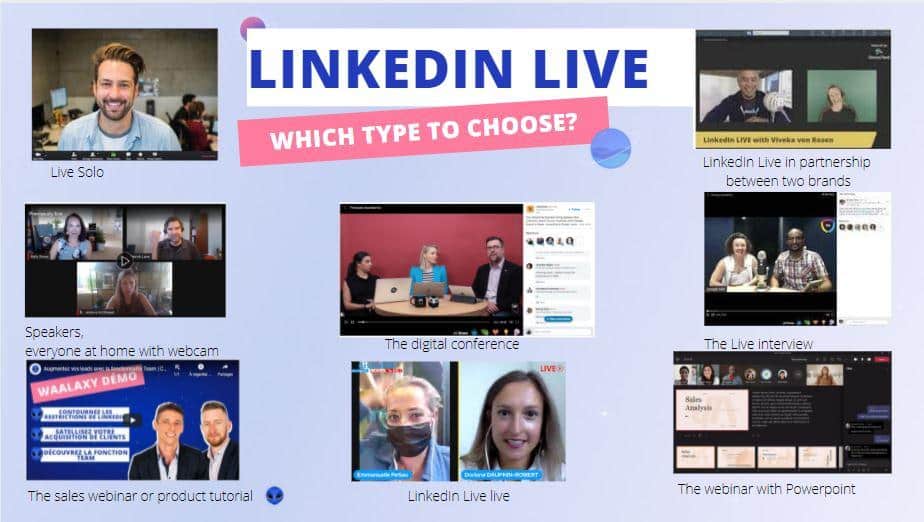 LinkedIn Ads: The Video Format
If you're one of those people who see a huge benefit to developing a LinkedIn strategy based on the
video format
, then promoting your videos via
LinkedIn Ads.
may also be an option you can dig into. 🪓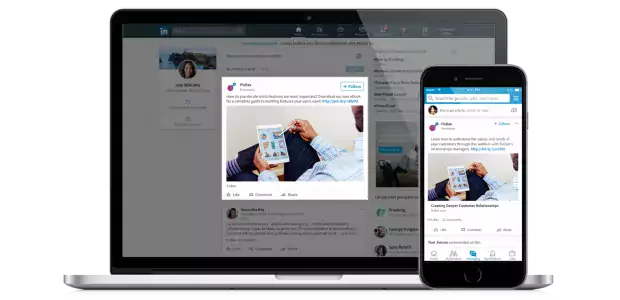 Conclusion and Faq of the article
So in this article, you have learned how to download from LinkedIn, publish, make a video on LinkedIn. Let's go over how just below. 👇
How to Download LinkedIn video?
There are two options:
Option #1 Download the video in web format, using the keyboard shortcut CTRL + S.
Option #2 Use the Chrome LinkedIn Video Downloader extension.
How to download YouTube videos?
If your goal is to have a maximum of quality videos, you can also opt for a YouTube Downloader. Follow these instructions:
Click on the YouTube converter link = free youtube video.
Go to YouTube to find your video from Youtube.
Copy the url and paste it on the download link. (free download).
Validate.
Save the video on your computer and download other videos if you wish.
You can then choose the file format.
How to download music?
How to download videos is a subject we answered. You want to make video editing with background music? Looking to download free music? Here is a tool without installation program: online and free = Free MP3 Music Downloader.
Finally, all this to tell you that it's very simple, there is always a free software or online tool to help you, you really just need to poke around a bit on your search engine. 😁
Format / size / length for a LinkedIn video
Here's a recap of the different information you found in the article:
Video length
Maximum length of the video
15 minutes when downloading from the desktop.
10 minutes when downloading from the LinkedIn Applis mobile.
Minimum length of the video
Size of the video
Maximum video file size
Minimum video file size
Video format
The best format for LinkedIn video is MP4.
---
There you go, Downloading LinkedIn video is no longer a secret for you, but you also know how to create and promote video content. 🎁