How to add emojis on LinkedIn? Keyboard shortcut 😍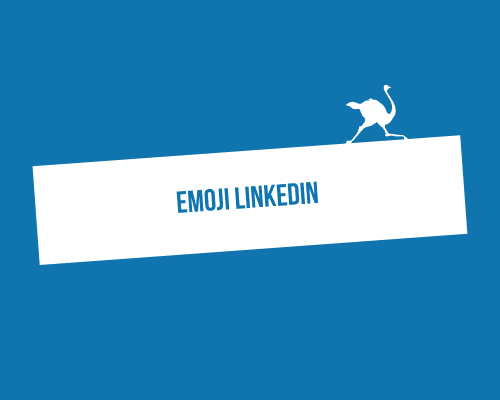 5
minutes
Do you want to add an emoji on LinkedIn, but you don't know how to do it or where to put them? 🤔
I have a little secret ? that should save you a ton of time inserting your emojis anywhere on the web: get all the emojis in one button on your keyboards! 😱
Keyboard shortcut for emojis
I told you about a technique, a very simple little keyboard shortcut to make your life easier, so I'm not going to make you pine any longer. 😉
Emojis keyboard shortcuts on PC
Locate the Windows key on your keyboard (either it's a text "Win" or a sign that looks something like this "❖") :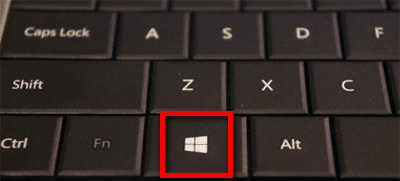 Then locate the semicolon key on the keyboard.
Press the "Win ❖ + ; " keys on your keyboard (Windows key + semicolon key) simultaneously to open the emoji keyboard. 😀

Select the emoji you are interested in with your mouse cursor or with the directional keys on your keyboard, then click on it. 😎
You can then click on the cross at the top right to close, and return to it with the same keys (Win + ; ) anytime.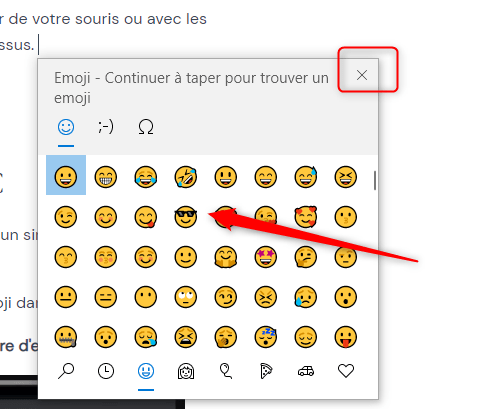 Emoticons keyboard shortcut with Mac
Have you opted for a mac? ?
Macs have special keywords. But it's also possible to get a drop-down list of emojis with one click.
To insert an emoji in a message, a LinkedIn post, an email, etc, a simple keyboard shortcut is enough: CTRL + CMD + SPACE.
Place the cursor where you want to insert the emoji in a text window.
On your keyboard, press ( Command + Control + Spacebar ) simultaneously.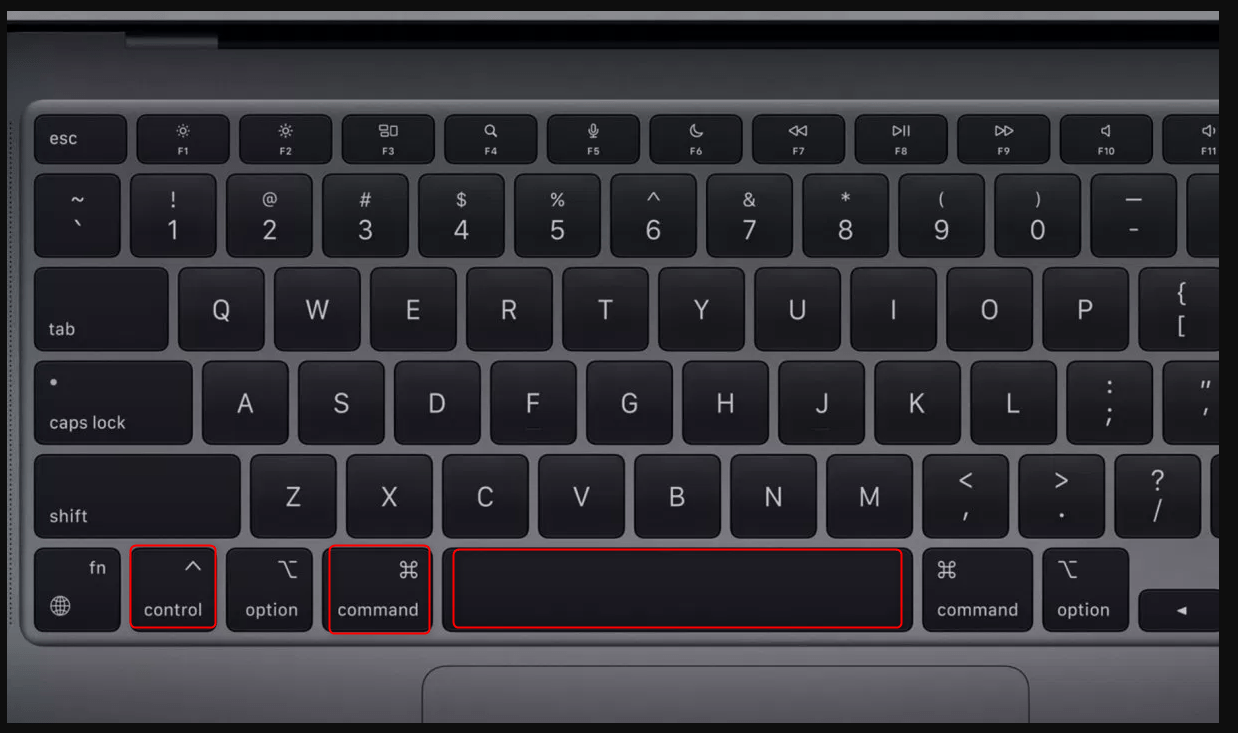 There you go, no more copying and pasting an emoticon from a Google search.
You're all set to invade your sentences with a horde of cute little yellow heads 🤗 , objects of all kinds 🛴 , emojis that boost the impact of your LinkedIn posts 🚀 and catch your readers' eye. 👀
Now, let's take a look together at how to use them well and the mistakes not to make – staying subtle is the mission of the day!
Putting an emoji on LinkedIn
Emojis correspond to a universal language. No matter what language you're speaking, smiling eyes brings a positive message ? and a crying face, a sad or negative message. 😭
So you can convey emotions and get messages across more easily. LinkedIn is a human social media platform, people who read your texts want to feel what you are trying to convey.
If you want to learn more about how to create a successful post on LinkedIn and develop a social media marketing strategy, follow 👉 this guide.
Should you put an emoji in a LinkedIn post?
And even several! Like I said, emojis are there to accentuate your sentences and make your posts more appealing. 😁
Here's a screenshot of a post, to highlight my point:
Karine shows us the perfect example – not too much, not too little.
Your emojis should be chosen according to your sentence and emphasize the emotion you want to communicate on the network.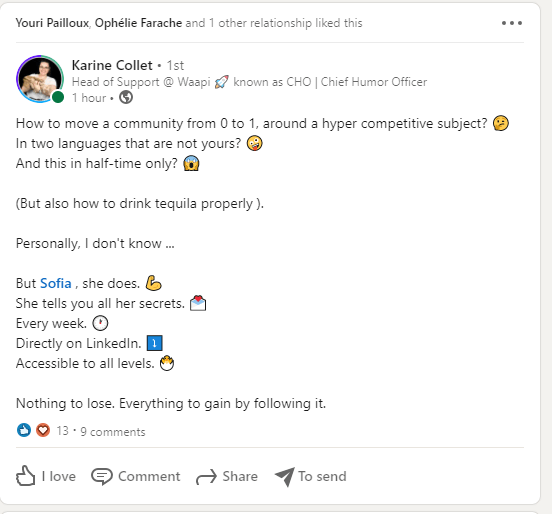 Some tips:
Don't put a confuse smiley face at the end of an affirmative sentence_ it's weird for the reader. 🤨
Put a winky smiley face emoji when you give advice. 😉
Put a sad face when you highlight a problem. 😥
Avoid tongue-tied smiley faces that may have a completely different connotation. 😛
Sprinkle your posts with positive vibes with at least one happy smiley. 😁 – except of course when the topic is serious.
Emoticons in your intro
Again, I say yes. ✅ LinkedIn is a social network containing millions of users and therefore millions of profiles. Be innovative, use your creative spirit and build a playful presentation of your background.
There are those who are living a love story with emojis 🧡. This is the case of Vincent, who masters the art of emojis like no other. 🎨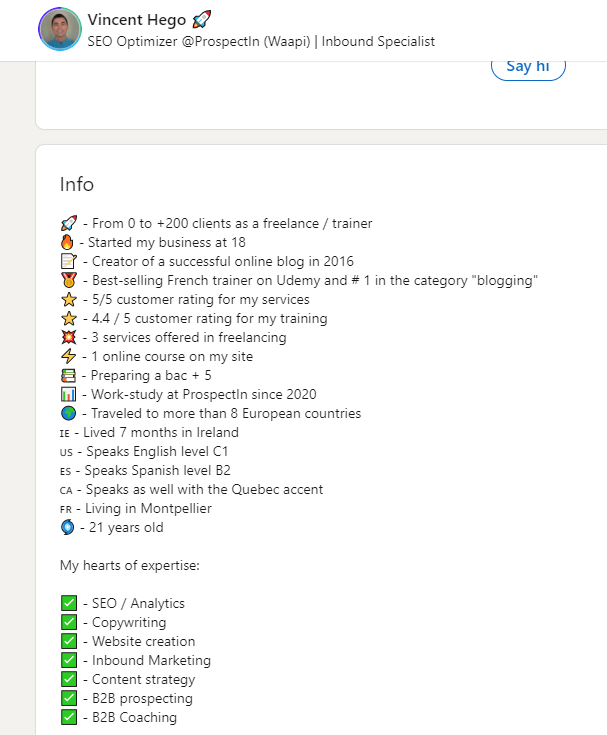 If you are not familiar with the use of emojis and want to take it easy, here is another example that might suit you.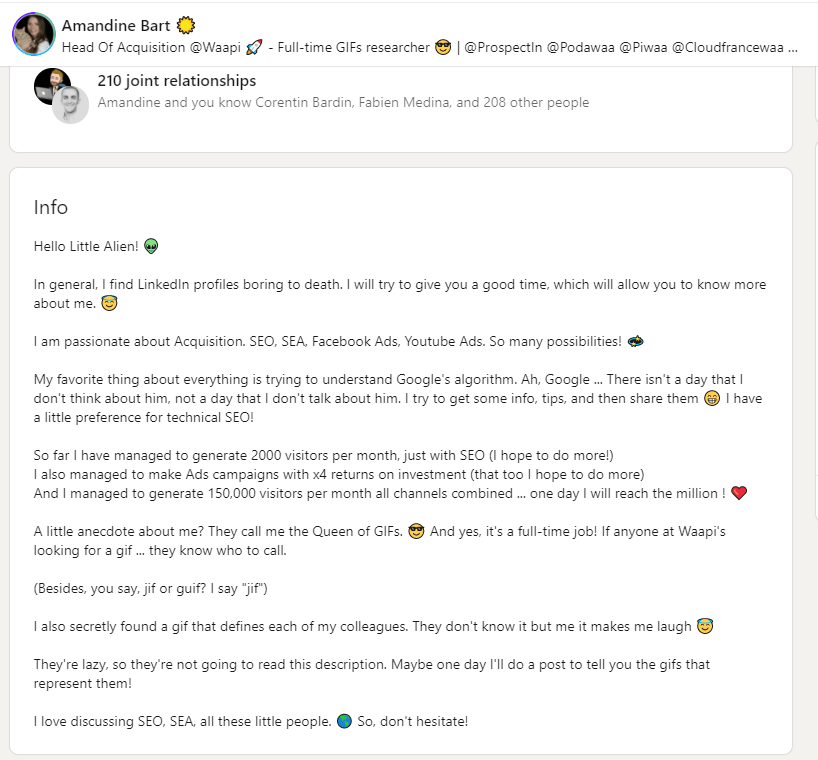 We have to admit that in our team, emojis are a tradition.
What we see right away on this description:
The heart emoji, for passion. 🧡
Laughing face, to share some good vibes. 😂
The icons with stars that highlight the "infinity of possibilities" and the magic that Amandine tells us about in her posts. ⭐🌟
The Alien emoji because it is represents the tool: Waalaxy. 👽
There you go, it's up to you to choose the layout that suits you.
A LinkedIn emoji in your private messages
Some special characters and smilies are associated with a specific sector.
Using social media "codes" for your social content and your message is super important!
For example:
Recruiting 🔍🕵️‍♀️
Marketing 🎯🚀
Digital training 📱💻👨‍🏫
Others are universal like a smiling face in your catchphrase – great for starting the conversation on a good note.
Here's a sample message, just to give you an idea:
Hello [first name], 😁

I see you're in the talent recruitment business. 🕵️‍♀️

With my team, we developed a free tool, Piwaa.

It is a mini LinkedIn Messaging app CRM. 💌

It is designed specifically to help recruiters save time. ⌚

You can find tons of smileys, add hashtags, gifs, and many other options in your automated messages.

Awesome isn't it? 😍
If you want more examples of original invitation notes, see: (5 examples).
Conclusion
There you go, you now know how to
Add emojis on LinkedIn using a keyboard shortcut.
How to use them in your intro, posts and private messages on the social network. ?
FAQ summarized from the article
Keyboard shortcut for LinkedIn emojis
On a PC: Press the "Win ❖ and ; " keys on your keyboard (Windows key + semicolon key) at the same time to open the emoji keyboard.
On a MAC: Press Command + Control + Spacebar.  (the 3 keys in the screenshot).
How to add emojis on LinkedIn ?
Choose the right emoticon, those that represent your sector of activity.
Put them at the end of sentences to boost your content. 🚀
Use them fluidly – don't put symbols 🐢 everywhere 🎈 for no 💐 reason 💰.
Follow the examples in this article as a benchmark for having great, personalized and attractive posts, spicing up your intro and optimizing your LinkedIn profile.