To succeed on LinkedIn, you need to keep in regular contact with your network members. 👂 Yes, but here's the thing, sending personalized messages is extremely time consuming, especially when you want to communicate the same information to multiple people in your network! 🌐 To prospect effectively while saving time, we offer you a complete solution. How can you send an automatic LinkedIn message?
Communicating with Your LinkedIn Network, an Essential but Time-consuming Activity!
The logic of LinkedIn is clear: the more contacts you have, the more inbound marketing efforts you have to make to maintain the link between your relations in the framework of a qualitative networking. Sending messages on LinkedIn is a communication strategy that pays off, but at what cost? 💸
Your time is valuable. Spending a day communicating with your network can be counterproductive: the time you spend sending a personalized message to your contacts is energy that is not devoted to developing the other aspects of small businesses. From this observation, it becomes urgent: 👇
To optimize your time;
Stay credible in your private communication on LinkedIn;
Achieve your prospecting goals.
Whether you are actively looking for a job, in the midst of prospecting or want to send a collective and personalize a message to several of your connections, the stakes are high. 😯
LinkedIn Messaging, Useful Despite the Lack of Some Response and Follow-up Features…
LinkedIn is a great marketing tool to develop your professional network. Its algorithm allows you to get noticed, provided you adopt a well-honed tactics or sales funnel. 🎯 You have the opportunity to develop your communication efficiently by publishing posts, articles, but also by interacting with the publications of your contacts. 💭
Outside your news feed, the actual features of LinkedIn messaging may seem less intuitive. You can, of course, chat privately via messaging. 📨 You have the ability to invite other members of your network into a conversation and also categorize your exchanges based on some filters.
How to Send a Private Message on LinkedIn Without Premium?
Some members invest in LinkedIn Premium, a paid access that allows you to send messages to members who are not part of your network, the famous InMails. 👀
Among all these possibilities, automated messages do not exist on the social media platform. Therefore, the current features of LinkedIn messaging limit your flexibility of action with each of your relationships and a low ROI. 🗣️ Rest assured, the solution to exchange in a qualitative and fast way through LinkedIn messages is just a click away, with the new Waalaxy messaging! 🖱️
Send an Automatic LinkedIn Message or Invitation with Waalaxy's Tools!
Want to send a similar LinkedIn message to multiple connections while keeping a warm and personalized tone? 🤔 It's possible with Waalaxy! This LinkedIn automation software SaaS is the best on the market: 👇
Ethical, Waalaxy respects the different usage quotas determined by LinkedIn;
Our lead generation tools allow you to stay organized in your LinkedIn prospecting strategy;
Waalaxy's interface is user-friendly and very intuitive.
Moreover, Waalaxy allows you to send personalized automated messages! Your interlocutors will feel like they are having an authentic conversation. You, will save time while maintaining a quality relationship with all your LinkedIn connections. ⌚
Via Waalaxy's CRM-system, you have the option to precisely choose the recipient, write your message using each person's first or last name, and even schedule a follow-up in a customizable interval! 🤖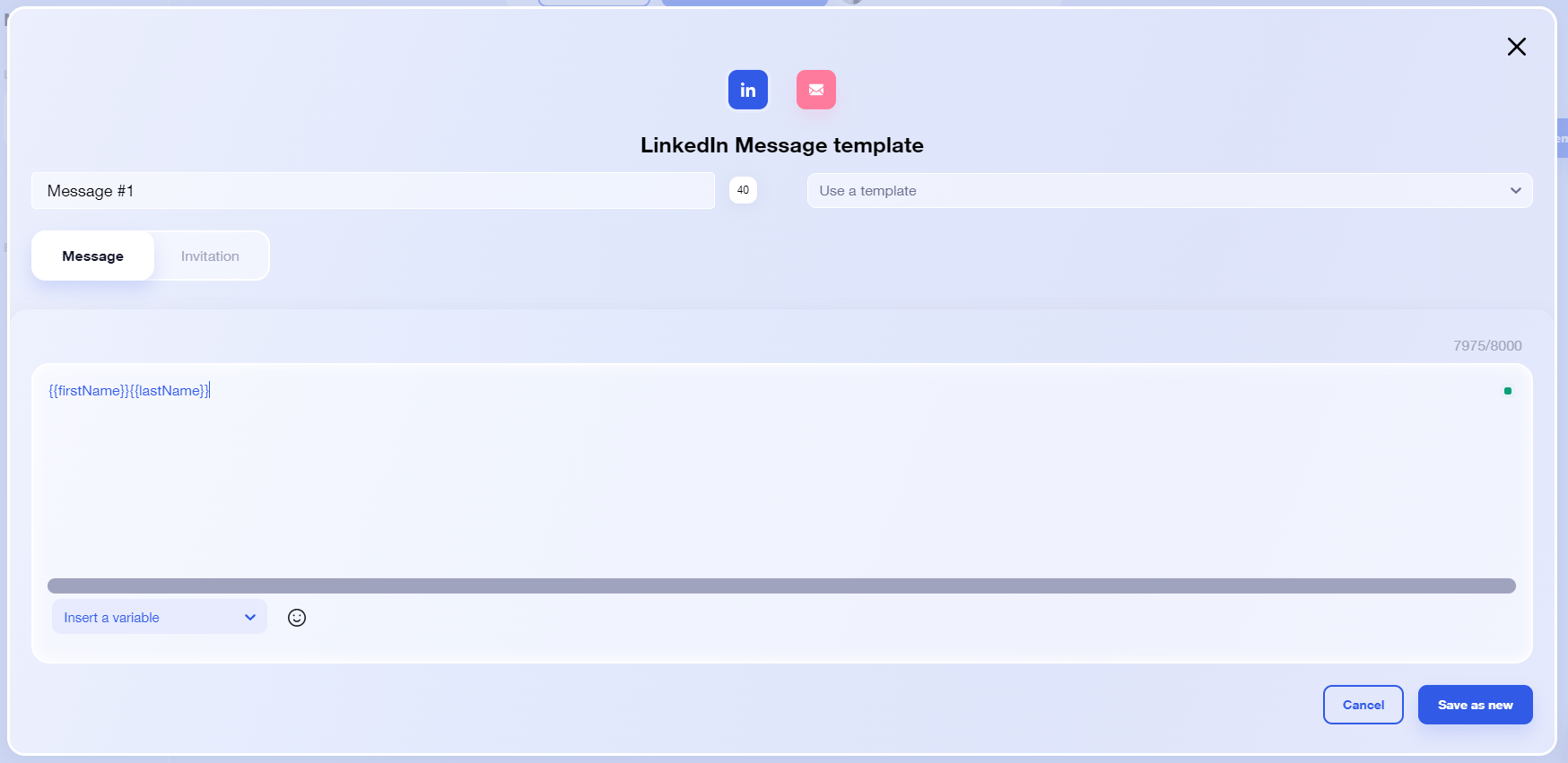 💡 Communicating through automated LinkedIn messages via Waalaxy is the guarantee of total security, and the promise of keeping a human relationship while saving time.
Discover Waalaxy 🪐
Is There a Way to Automate LinkedIn Messages? Yes, via the Waalaxy CRM Software!
Sending an automated message on LinkedIn has never been easier. 👏 Depending on your goal, send an automated message to several previously selected contacts. Via Waalaxy, you have several options: ⏬
Personal note: this is the message you send along with an invitation to join your network. It is not a LinkedIn message as such, as we explain here, but you can send many personalized invitations at the same time!
Create a drip marketing campaign: in the Waalaxy extension, a marketing campaign is a targeted action. You can choose to visit, follow, invite or send a message to a LinkedIn member you have selected thanks to the advanced filters.
Build a multi-channel scenario: this is a set of campaigns added together. Within a predefined scenario, each email campaign and LinkedIn action will be activated according to the parameters you select. 👌 For example, you can decide to send an automated message to some prospects / potential customers 2 days after joining their network. Then follow up with them a few days later to start the conversation about your common interest via email campaigns. Dozens of inspiring scenarios await you on Waalaxy!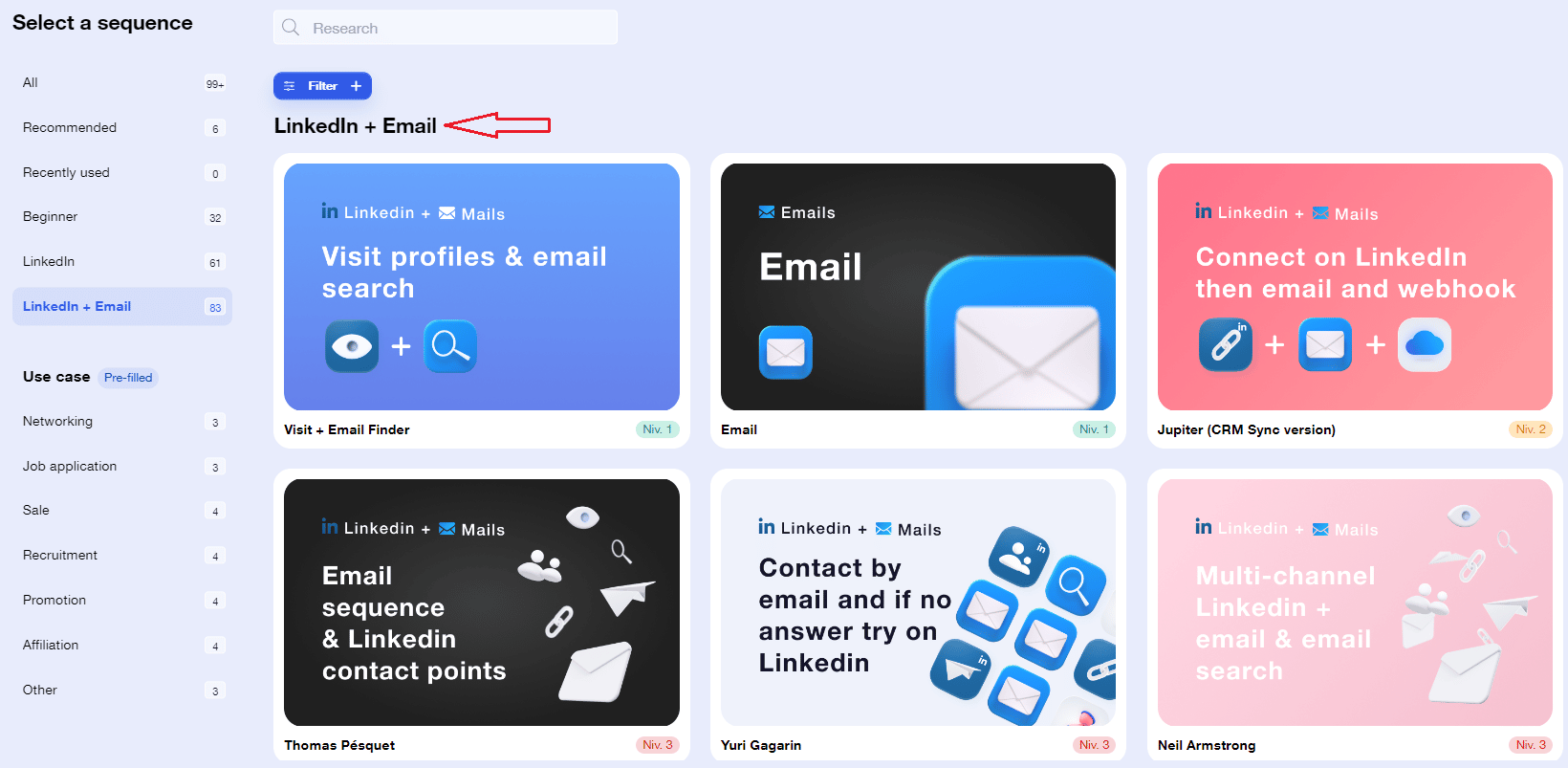 👉 If you're looking for a job, incorporate multiple target segmentation in a simple scenario and discuss your unsolicited application after opening the discussion on the topic. For a smart B2b prospecting or even promotional marketing campaigns, the LinkedIn automated message saves you precious hours by preserving your credibility.
Conclusion: To Communicate Effectively, Download the Free Waalaxy Chrome Extension Today!
Sending an automatic LinkedIn message to multiple recipients is becoming an indispensable feature when you want to communicate quickly and efficiently, whatever your goal at the time. 🧲
Indeed, sending messages manually takes a lot of time: if you want a response, you have to call out the person by their first and last name. Without Waalaxy, this simple personalization takes you hours. 😥 Indeed, LinkedIn messaging does not allow you to set up a mailing system.
Depending on your email marketing strategy, you can write warm and personalized messages that will be well received by your contacts. 🥰 Waalaxy interface is very intuitive and allows you to maximize the use of your LinkedIn account to achieve your goals! All your actions are customizable, you can schedule them according to your working hours. 🕰️
In addition to this feature about automated messages, Waalaxy offers a complete solution. 👽 Download this great marketing automation tool to your Chrome browser and launch your first automated campaign! ⚡
Try Waalaxy Now 👩‍🚀
FAQ: Automatic LinkedIn Message
How does LinkedIn Messaging Work Using Waalaxy?
Here are the main features of LinkedIn messaging with Waalaxy.
Your messaging system to never lose a prospect again by doing a lead nurturing process! The messaging system that simplifies and streamlines the campaign management of your conversations. Increase your conversion rates. And improve your contacts' experience.
Schedule reminders on a desired date. Automatically sync with over 2,000 applications.
Enhance the personalization of your exchanges with custom variables, tags, and notes.
You manage your conversations in 10 times less time than with traditional messaging, thanks to pre-recorded messages and keyboard shortcuts.
Between LinkedIn and your CRM integration, there's the Waalaxy Inbox. ❤️
How Can you Send a Secure Automatic Message for Outreach?
Waalaxy behaves exactly like the original LinkedIn messaging. The difference is in the interface and additional features that do not generate any human behavior prohibited by LinkedIn.
👉 For more info, here is an article on how to avoid restrictions on LinkedIn!
What Auto Messages to Send to LinkedIn Connections?
For example, if you're looking for jobs on LinkedIn, you could send a message like this to a recruiter or marketer (if you're already connected 🤝 otherwise, you could do it in an invitation note):
You'll measure the effectiveness of the Waalaxy extension by the blistering response rate of your automatic LinkedIn message! 💥