If you're looking for a way to schedule your LinkedIn messages, you're going to have a hard time finding an article that explains how to do it. To tell you the truth, I searched too, I couldn't find a free article that could describe the process in a way that was simple, and easy to understand. 
They all tell you how to program a post on LinkedIn. But that's not what we are looking at right now. 
It's hard to get information on programming your messages, but it is possible to do! It's become my duty to inform you how and to detail the procedure to follow! 
Scheduling your messages on LinkedIn: what's the point and good practices
Before explaining how to do this, let's go over the basics. Scheduling a message means that you will automatically recontact a person via LinkedIn's messaging system at a specific date and time (which you had defined beforehand). 
It's great if one of your prospects, recruiters or contacts (depending on your business sector) explains that they are very busy at the moment, that it's best to contact them by the end of the month, for example. We all have these types of prospects, whose attention is difficult to catch. 
So you're oscillating between wanting to contact them again, fearing it looks like harassment, or worst: forgetting to do so. You already have 1,000 things to think about in your day, so putting alerts in your calendar is a no-no, so let's avoid that task.
Scheduling your messages allows you to:
Save time.

Better organize yourself.

Expand your network, avoiding "losing" a future client. 

Keep the conversation going.

Promote your image by showing your professionalism (gain credibility).
Good practices for scheduling messages on LinkedIn
When you schedule your message on LinkedIn, you will automate your action. You must therefore make sure that your message looks personalized, so that your interlocutor thinks, "Oh wow, he thought of me, even a month later." 
 Here are some tips to implement: 
Don't write a book on it! You're just getting back in touch, so take it easy, make sure they get curious about your message and don't give too much information at the time.

Check in with them rather than talking about you and your products. Ask them if they're keeping their head above water during this difficult time, if everything is going well for them; pamper them, people love attention.

Remember to put things in context: if your message is scheduled for 2 months from now, they may not remember you. Avoid writing as if you spoke the day before. 

Finally, use keywords that let them know you have the same business needs.
 For example, if you're both in marketing, you can write:
Hello [First Name],

Just checking back in with you.

I hope that marketing development at [Company Name] interests you and gives you a little more time to discover the newest Growth Hacking tools. 

Looking forward to chatting with you, 
How to schedule a message on LinkedIn? 
Time to get to the heart of the matter: scheduling a message with an enhanced LinkedIn messaging CRM. It's really simple. 
Just use the  Inbox waalaxy ! 
My mission is now to efficiently explain in just 10 key points how Inbox waalaxy works. Don't worry, it's going to be superfast and efficient: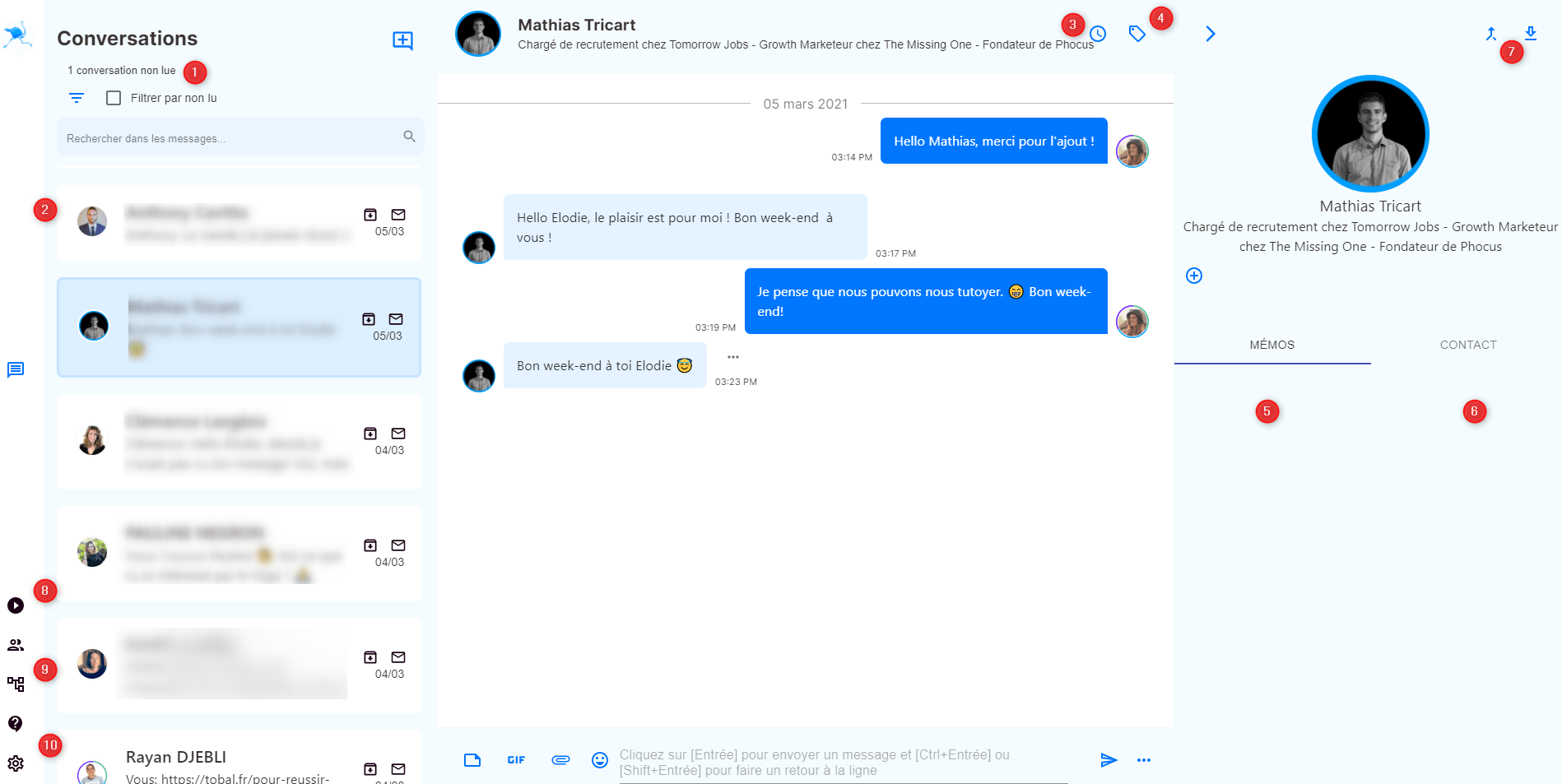 Sort your conversations: filter not only by "unread," but also by the last person who sent the message: ideal to get organized. 
Access a large messaging window, like the one of the Messenger app. 

Schedule your messages on LinkedIn: by choosing precisely the date and time. 

Use tags to mark a contact. 

Write a memo about the person.

A very cool one: The 6th is a button to view the prospect's contact information. (Localization, company, LinkedIn, emails!)

On the right-hand corner, two buttons: download the contact sheet, or share it. 

View demo videos and access a chat to ask questions (and gets answers from real humans)!

Join professional communities like the Facebook one and follow Inbox waalaxy's developer roadmap!

Access your settings to change your key info at any time. 
How do you implement a personalized marketing plan on LinkedIn? 
It couldn't be easier. You want to generate new leads, and you know that LinkedIn is a great place to perfect a digital strategy? 
You're absolutely right. But it's not done any old way.
First, you need to create a solid contact base and use several acquisition levers: LinkedIn messaging is a goldmine for targeting specific profiles. Learn how to qualify your prospects and perform a good LinkedIn search for your automatic message campaigns. 
Then, depending on your business, use the LinkedIn feed for your marketing content strategy. If you are in marketing, sales, business development…
Build your brand awareness (or employer brand). 

Implement

a content strategy

to reach your targets. 

Have an interactive communication: share ideas and information on the network, show your expertise: the key is engaging content!
Finally, if you are interested in LinkedIn ads, there is an article that summarizes how it works in practice. It's up to you to see if it's right for you and your business?
FAQ summary of the article
A few words about LinkedIn 
LinkedIn is the ideal social network for b2b communication. It is a real point of contact between your prospect and your solution. Social media will allow you to attract new customers, generate traffic to your site and increase your conversion rate.
Building your sales and marketing strategy on LinkedIn is a must! 
How to schedule messages on LinkedIn?
In order to perform lead-nurturing (pampering a prospect in order to convert them), and not lose sight of an important contact, schedule your messages with Inbox waalaxy, an intelligent LinkedIn messaging CRM.
Logging into Inbox waalaxy, you can then follow the steps of this tutorial.
How to manage your LinkedIn messages ? 
Inbox waalaxy allows you to add some high quality features to your LinkedIn messaging. You can use the following options in your CRM: 
Automated reminders and scheduling tool,

Tags,

Memos, 

Contact sheets: download or send it.
If you want to go further, we have a white paper, or rather "ultimate guide to LinkedIn messaging," access it in one click.