You're an ace on LinkedIn, you know how to prospect, create a content strategy, exchange with professionals in your sector… But do you react to posts? If so, have you seen the new LinkedIn funny emoji?
Reactions to LinkedIn posts
It's no secret that on the professional social network with millions of users, you can post, you can comment on posts but most importantly, you can react. And you can also react in the comments through a whole bunch of emojis that you can find in this 👉 article.
So you have a choice of 6 emojis in order to react to a topic that made you laugh, cry, think… So we had:
The "like".
A "Bravo."
The "Support."
The "Love".
The "Informative".
And finally the "Interesting."
Recently, the laugh emoji arrived on LinkedIn, so you can react in 7 different ways 🤩 on the professional platform.

So the little emoji is light blue in color and looks like laughing.
LinkedIn funny emoji
Yes, the "funny" emoji appeared a few weeks ago on our favorite professional platform. This emoji was extremely expected by its users (I must admit that I was also waiting for this smiling face).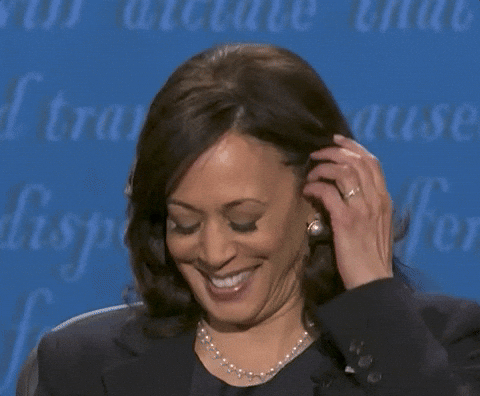 And not to do things by halves and to be noticed, LinkedIn decided to put its new laughing emoji in the center of the reaction bar. It's sure not to be missed like that.
How to react to a post on LinkedIn?
Have you seen a post on LinkedIn and it provoked emotions in you that you want to give back to the author? You should know that it is perfectly possible. As we said before, we have 7 little emojis that allow us to react with a post. While scrolling on LinkedIn, you are attracted by a post, you read it and you tell yourself that you have to encourage the author.
Reacting to a post on your phone
If you're on a phone, what you have to do is hold down the "like" icon.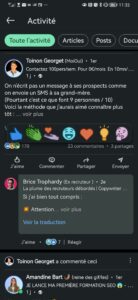 By long-pressing this icon, a bar containing all the emojis will then appear and you will just have to choose the one that suits you best ❤️.
React to a post from a computer
If you are on a computer 🖥️, don't worry, the manipulation is very simple:
Open LinkedIn.
When you arrive on a publication, move your cursor over "Like".
The bar with the emojis will appear and all you have to do is choose the right one.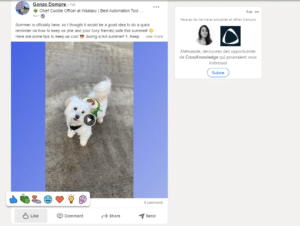 Should you use emojis on LinkedIn?
You're probably wondering if it's a good idea to react to different posts on LinkedIn. You're wondering 🤔 maybe even if using emojis is a good idea, especially when you know you're on a professional network.
It's important to know that you won't be able to put emojis on anything and everything. In fact, it will largely depend on your audience or the person with whom you interact.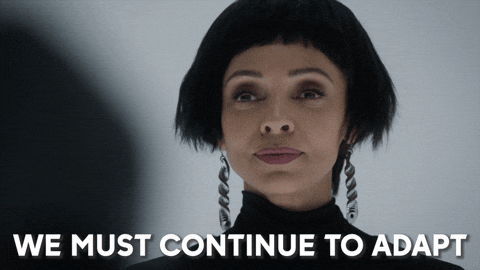 The use of emojis can also be unprofessional, but again, it depends on who you are interacting with.
On the other hand, sometimes the use of emojis is necessary to make the communication more human. Because yes, when communicating on the Internets, you don't know what the person behind it is like 🤖.
Using emojis in a message can then help you make the conversation seem less cold or avoid misinterpretation. Shall we show you a small example? Imagine the conversation between a department head and his employee.
"Mr. X's file isn't complete, we need to meet up to sort things out."
OR
"Mr. X's file is not complete 😭, we need to get together to sort things out 😜."
Between these two examples, which one do you think is "cooler"? We agree, it's the second one. Obviously it's going to depend on the situation, but if it's not that urgent and you're cool, show it.
Putting emojis allows you to de-dramatize a situation 😮💨 or to not sound bossy in your messages. To answer the question whether using emojis on LinkedIn is a bad idea or not, it will be up to you to judge based on the person you are talking to.
However, we advise you to add some emojis when you do copywriting on LinkedIn.
Emojis in copywriting
You've decided to launch a content strategy, great. You've started gathering your ideas, putting them aside, thinking about your targets and you're about to publish your first post. Feel free to use emojis 🥰 to bring your ideas to life.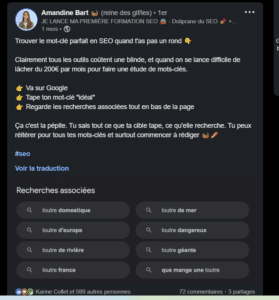 As you can see from this sample post, emojis are used to draw attention to particular points. Of course, you shouldn't put them everywhere at the risk of confusing your reader. Use them sparingly 🚀 and support some of your relevant points.
How do you add an emoji to a comment?
When you want to interact with another person on the professional platform, you can use these little emoticons to bring your comment to life. You can either use the full list of emojis we told you about earlier in this article and simply copy and paste.
But you can also directly use keyboard shortcuts to add "smileys" in your comment. To do this, all you have to do is press the "Windows" key, that's the key between"Ctrl" and "Alt" if you are on Windows of course and ";".
To do it on a Mac, you will have to press "Control + Command + Space" or the "Fn" key if you have the new Mac/Macbook. You will then see a small virtual keyboard appear that will go on your screen 💡.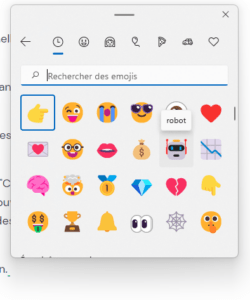 All you will have to do is click on the icons you need. But did you know that you can also use Gifs to show a reaction in a comment?
GIFs on LinkedIn
You can also totally put GIFs if you prefer this format. They work the same way as on any other social network.
To put a GIF in a comment, you can download the chrome extension"The Unicaat". Once this is done, when you go to a post and click on "Comment", you will have the GIF icon appear.

You can then type in the keyword you want and a complete list of GIFs will appear. All you have to do is choose the one you like the most.
But you can also use them when you send a message…
By the way, LinkedIn messaging works like Facebook Messenger. You click on someone's name and you can send them a private message. Be careful though, you can only send a message to someone who is already in a relationship 💑🏻 with you on LinkedIn.
Once you've started one or more conversations with someone, you can send them a small GIF.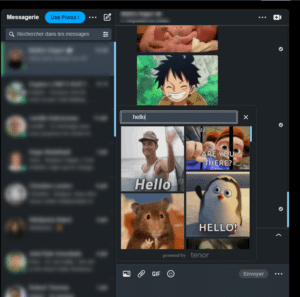 You don't need to download anything, the feature is already present on LinkedIn.
Use hashtags
Hashtags are important on LinkedIn. They are used to develop your visibility. When you search for a particular hashtag, you will come across publications that speak to you. This is exactly what the hashtag is for.
What is a hashtag in concrete terms? Well, it's a little keyword 🗝️ that follows the hash symbol #. This way, you can attract the interest of people who are not part of your network.
Moreover, we have a full article on the use of hashtags that we recommend you to read right 👉 here.
Conclusion of the article: the new LinkedIn funny emoji
On this social network with millions of members, many were waiting for this new reaction emoji: the funny smiley. It's done!
Since recently, we can add the funny reaction on the post of someone who made us laugh. To add one, you just have to move your cursor over "like" and then click on the appropriate reaction.
In case you are on mobile 📱, you just have to long click on the "like" and then choose the reaction you want. Whether you like or dislike emojis, their use is part of the social networking landscape.
It is a way to share and express an emotion quickly. All social networks offer to use emojis because they understand that users are fond of them.
FAQ of the article LinkedIn funny emoji
On social networks, whether it is Instagram, Twitter or Facebook, you have to interact with your community or with others. To facilitate these exchanges, we can use various small pictograms to show a mood or simply to soften a sentence.
Voice messages
It may be something that seems unknown to you yet you can send a voice message on LinkedIn 🎙️.
The feature is present on the social networks we are usually familiar with. But on LinkedIn, you can only access it through your cell phone (whether you are on Ios or Android). To use this feature, you must absolutely connect 🔌 from your cell phone.
Once you're there, you go to the message icon on the top right and start a conversation. This will give you the little microphone that appears on the bottom right and you can send your media. Simple!
There you go, you now know all about the LinkedIn funny emoji.