Login to LinkedIn in one click with a direct link by following the steps below. 👇
In this short article, you will also find out how to:
Connect with LinkedIn members quickly and efficiently. 😍
Grow your network with some easy-to-implement tips. 🎯
LinkedIn Login: getting connected on LinkedIn
Want to log in to your account? Here's how to simply log in:
Go to Google, or any other search engine.
Type "LinkedIn" or "LinkedIn log in" on your keyboard.
Go to the LinkedIn homepage, and click on "log in."
To make it way more simple, you can find the direct link right here. 👈

Choose the right email address (the one associated with your LinkedIn account). Here is the login page.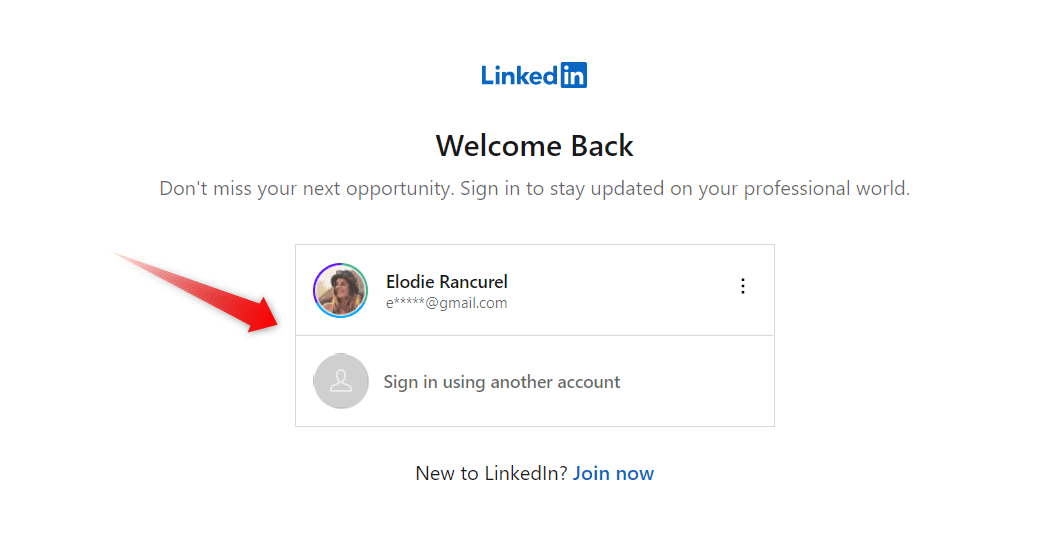 Don't forget to validate the automatic registration of your password when the pop-up opens.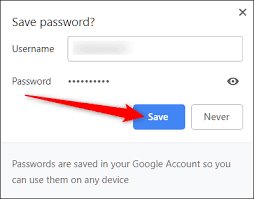 Don't worry if you forgot your password, you'll be able to reset it easily with your email address.
And that's it, you're logged into the LinkedIn network, ready to surf on social media. 🏄
By the way,
This article is here to help you sign in for LinkedIn, if you're using LinkedIn to develop your network or find clients, Waalaxy is a free tool to help you reach your goal. 🎁
Discover Waalaxy 🪐
Sign in for LinkedIn and create a profile
Haven't created an account yet? Don't panic, it's very simple to log into the network. Just follow the 2 simple steps in our dedicated article. (link of the sign in page)
What is really interesting, you can either use a sign in email or a mobile number to create an account.
By the way, if you use a mail, don't hesitate to check your spam to gain access to your login credentials.
Sign Out from LinkedIn network
To disconnect from LinkedIn, you need to :
Click on the "You" tab at the top right of your LinkedIn page.
Then click on "Logout" at the bottom of this tab to confirm your choice – You will then no longer be connected to your LinkedIn account. 😊
Connect with LinkedIn's members
Thinking about growing your network on LinkedIn, but not sure how to do it?
Do you want to:
Sell a product or solution on LinkedIn?
Create partnerships?
Recruit talented people?
Find a job on LinkedIn?
If you answer yes to at least one of these questions, developing your LinkedIn network is more than important.
To do so, you can now add members to your network manually.
Click on the "network" tab.

Click on "people you might know",
Then click on "connect" – to the people of your choice.
You can click on "see all" for more choices.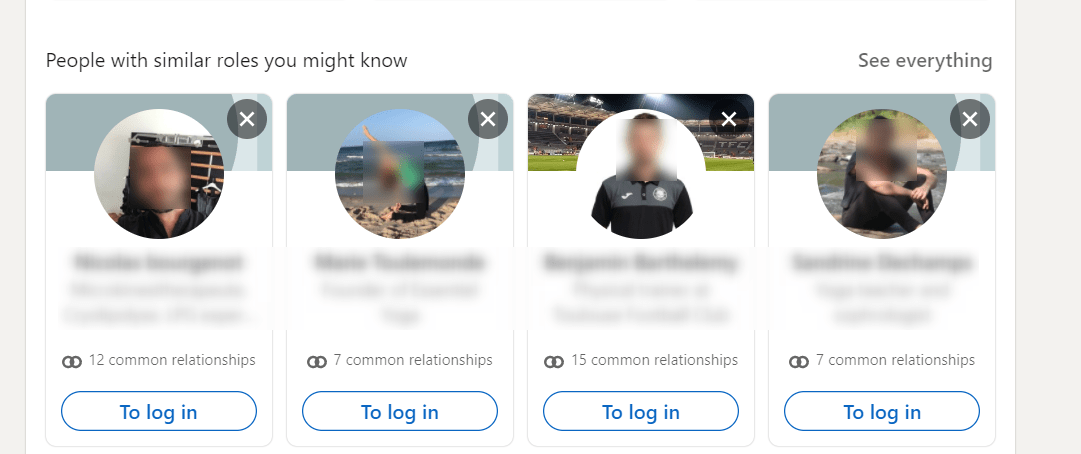 If you want to save time, you can develop your network quickly and to a high level by sending automatic invitations through Waalaxy.
Join LinkedIn Recruiter: login
Need to find the perfect talent for your team? You definitely need LinkedIn recruiter. It's really easy to do so 💡. You can access this page from your LinkedIn homepage. All you need to do is:
Click on the recruiter icon in the top right corner. (If you can't see it, then, click on the work icon).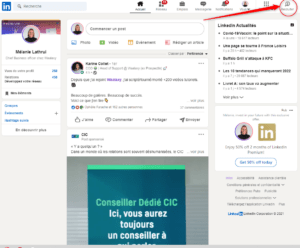 Sign in with the same information you used when you created your LinkedIn account.
Once done, you'll have the possibility to post a job offer.
If by any chance you have more than one LinkedIn Job Posting account, no worries, you'll be invited to choose 🔥 before posting anything.
It is important for you to know that this icon won't appear if you do not have access to a page or if you don't have a recruiter access.
LinkedIn Learning login
Previously know as Lynda.com, LinkedIn Learning is an educational platform where you can find thousands of courses and video tutorials about any subject that matches your interest. Obviously, users will need to create their accounts in order to get access to all of the courses. How to do so? I am glad you asked!
First step: you need to login to your favorite 💖 social network: LinkedIn.
If you are a new user, click on the work icon in the top right corner.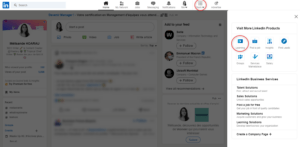 Then, you will need to sign in.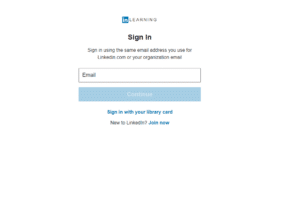 LinkedIn Sales Navigator login
Technology can be quite amazing ✨. Amazing because you can access Sales Navigator directly from your homepage. To do so:
If you have it, click on Sales Navigator in the top right corner of LinkedIn's homepage.
If you can't see it anywhere, you will need to click on "Work" and select Sales Navigator in the menu that will appear.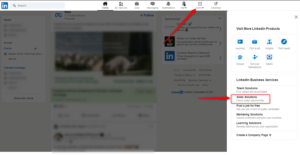 Once you've clicked it, you will need to go to LinkedIn Sales Navigator.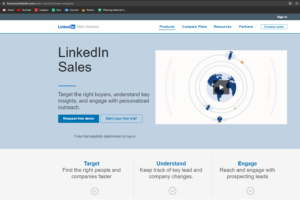 Don't hesitate to use the same email address and password you use for your personal account.
Next step, you will need to sign in to Sales Navigator.
LinkedIn jobs login
You need to post a job offer to have a new person join your company? You don't know how to do it? We'll show you ✨.
All you need to do is to connect to your favorite professional social network. And here are the next steps:
Click on the work icon.
Then click on "Post a job" or "Post a job for free".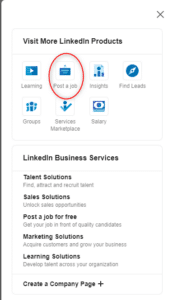 Feel free to complete the form to attract the best talents to your team.
You don't have unlimited access to this feature, you can post one job offer. If you need to post more than that, you will have to subscribe to LinkedIn's solutions.
How to bypass LinkedIn login
Ok, now things are getting serious. You want to visit a profile without the person knowing? Here's how  💡. I know two possible methods:
The first one is a solution you can activate from your account settings.
Use your credentials to connect to your LinkedIn account.
Click on your profile and go to "Privacy and Settings".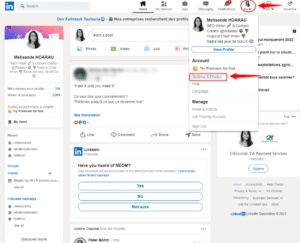 Once you're here, click on "visibility".
Click on the profile viewing options.
From here, you can choose among 3 possibilities:

Your name and headline.
Private profile characteristics.
Anonymous LinkedIn Member.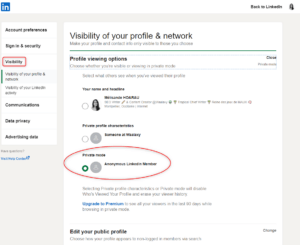 Choose the most suitable option for you.
The other solution is really easy to implement. All you need to do is open a new private browser window. Type the name of the person you are looking for  (here I'm going to search my name and add LinkedIn at the end).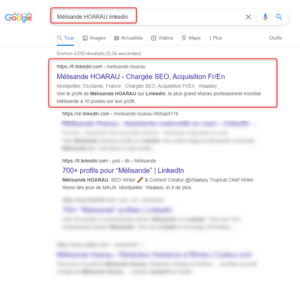 You'll then have access to the information that you need. Note that if you click on something on the profile, they will automatically ask you to log in.
Getting started on LinkedIn
You are now logged in on LinkedIn. You can access to your profile, start to make it pretty and write down information about yourself.
If you need anything, there is a LinkedIn Help center for you. You can also contact us anytime. 🥰
If you need support to optimize your chances on LinkedIn, feel free to check out our articles. You'll learn everything you need to know and get the secret-key to LinkedIn success 🧞 starting with this article on how to make the most out of LinkedIn.
FAQ summarized from the article
www.LinkedIn.com login: how to sign in on the network?
Here's the direct link to access your account : LinkedIn account Connection.
www.LinkedIn.com sign in: how to register on the network?
Sign up on LinkedIn.
Enter your email account details and choose a password. (Write it down somewhere or save it on your computer, you will need to use it again.)
Sign up by clicking on "accept and register."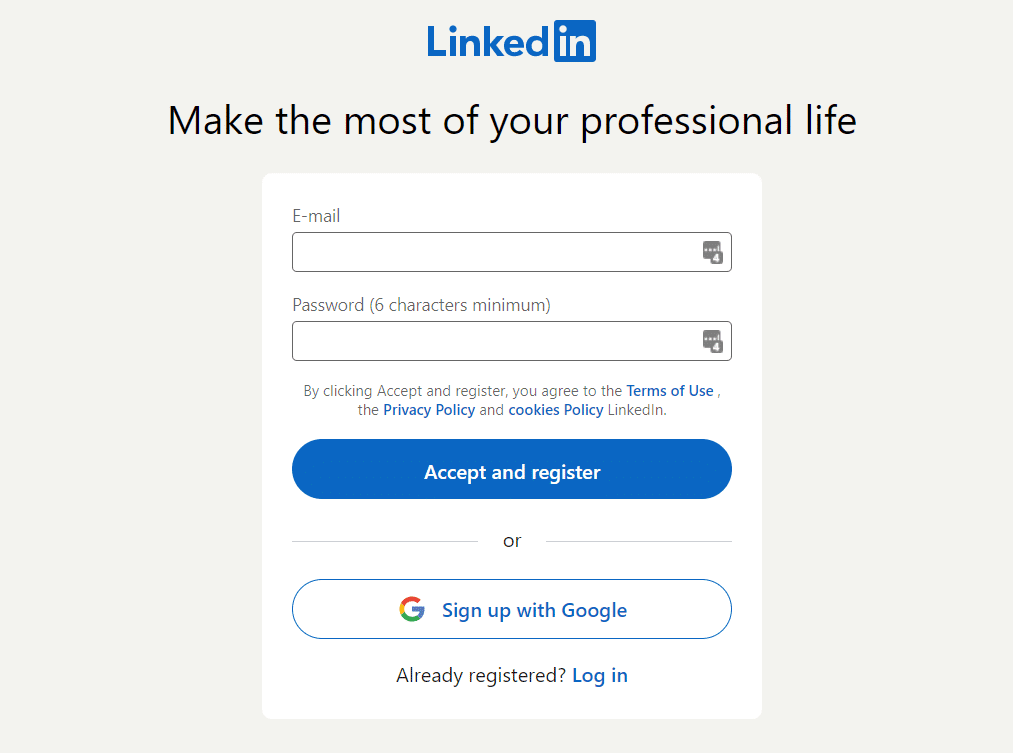 Good to know: You can only use one email address for one LinkedIn account, if you want to create more LinkedIn profiles, you'll need several email addresses to register.
LinkedIn will then ask you a series of questions to complete your profile (security questions, phone number, username and password – to verify your identity, LinkedIn uses a multi-factor authentication).
This step is very quick, don't worry. 😌
LinkedIn search without login
If you really want to see someone's profile without being recognized 🤐, it's perfectly possible to not even use a connexion on the platform.
All you need to do is to go to your settings in your profile. Once you are in them, you click on visibility: profile viewing options and modify them according to your needs.
If you don't want to change anything there, you can also open a new private browser page and type the name of the person you want to collect information from.
How do I sign out on LinkedIn? (Log out)
Click on the "You" tab.
A drop-down list will appear, at the bottom of it you will find the "Logout" button. Click on it.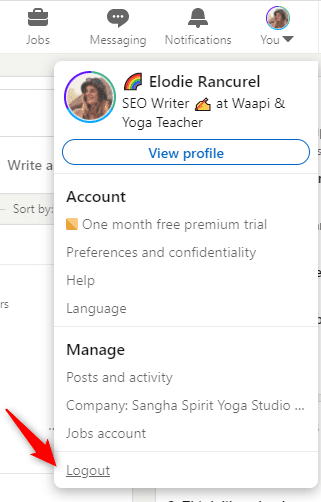 LinkedIn marketing solution
LinkedIn is not only about making connections with people from your area of expertise orwith your colleagues. It can be a very powerful tool for acquiring leads.
By understanding this, the plateform has decided to offer a range of marketing solutions to its users.
Of course, you will need to optimize your profile because the platform is all about trust. If your profile is trustworthy, then you might be able to sell a product or a service. You will have an audience that will check on you and what you can do for them.
If you are a recruiter, then LinkedIn has the solution for you: LinkedIn Talent Solutions.
If you are trying to sell something, you can try LinkedIn ads.
Logging on a business page
Don't worry, you don't need to create a new account to create a business page.
Well, you may need to create a business page for your company. Here are the tips you need to create one :
Click on the work icon.
Create a company page.
Between the three options, chose the one that suits your needs.
Complete all the information LinkedIn asks you to fill up. Accessing it isn't difficult, you will just need to find it by typing the name of the company in the search bar.
How to change my LinkedIn email address with a new one?
If you no longer wish to use your current email address, you can change it by going to your settings. Again, it's really to set up a new email address.
Click on your picture profile.
Go to "Preferences and privacy".
Click "Identification and Security".
Next to Email address, click on "Change".
Then you only have to update your information.
How to change my LinkedIn password?
You are suspecting someone to use your account or you just want to change your current password? It is really easy to reset your password, here are the steps:
Go to your profile.
Click on Setting and privacy.
Then direction in "Sign in and security", then account access and then Change.
And that is all, you have your new password all set up. If we can you a little tip, use many passwords when you have to connect on different platforms (don't use the same password for your Facebook account, Google account or LinkedIn account).
If you are unlucky and you can't remember your password, don't panick. The "forgot password" process is very easy and you can take it back with your email. Once you have done the steps you've been asked, congrats, you will be able to use the new one.
Well, we are finally at the end of this article and you know everything about LinkedIn Login.