Just starting out on the professional social network? Have you optimized your profile and are ready to learn how to do LinkedIn networking, to recruit or be recruited via the platform 🚀? Alright! Let's get the ball rolling and go invite the first people to grow your network on LinkedIn.
LinkedIn networking: How do I network with strangers on LinkedIn?
To network on LinkedIn, here is the list of steps to take:
Sign up for LinkedIn.
Create and optimize your LinkedIn profile.
Think about who will join your network.
Think about your content strategy.
Customize ❤️ the different messages you will send when requesting a connection.
Follow profiles that inspire you.
Choose what you want to see in your news feed (deleting posts that don't speak to you or aren't in the same industry as yours).
Comment on posts and publications.
Use A/B testing when requesting new connections (and use this technique to prospect and see what works best).
Join discussion groups on LinkedIn.
Bonus: Use automation software like Waalaxy.
Using LinkedIn for networking?
Now that we've seen the main steps to develop your network, let's get into the details. The answer is obviously in the word. You form a network of people.
They can be similar to you (i.e. they work in the same environment as you, know the environment in which you evolve since they are also part of it) or not (you can also form a network of people who will be your potential leads 😉 ).
And then when you know that LinkedIn is a social platform (professional of course), you understand even more the meaning of this word.
LinkedIn social networking: Tips to grow your network
LinkedIn is a major asset 🔥 when it comes to:
Job Search.
Your prospecting for a product or service.
Gaining visibility to show your area of expertise.
It is one of the best social networks to create great professional meetings and sell your products. Here are some time-saving tips to grow your network in a very short time:
Invite your contacts to join you on LinkedIn.
Sync your email to Linkedin, to send mass invitations to all your contacts on their mailboxes. If you've already exchanged at least once by email, it might be worth getting back in touch with them by checking in ❤️ this way?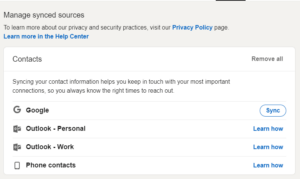 Thus, you will create your first circle of contacts through this tool.
Indeed, a post with interaction will develop the visibility of your profile with new people. It's also a strategy that pays off in the long term because a profile that benefits from a lot of engagement in its publications means that it is capable of federating a community around a subject.
During debates, it also allows you to establish your credibility and demonstrate your expertise in your field.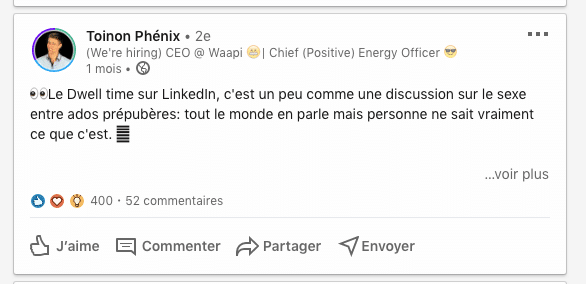 LinkedIn has many assets, and among them, the search filters make it easy to find anyone on the platform. So don't hesitate to use it to request a connection ✨ with a user you'd like to interact with.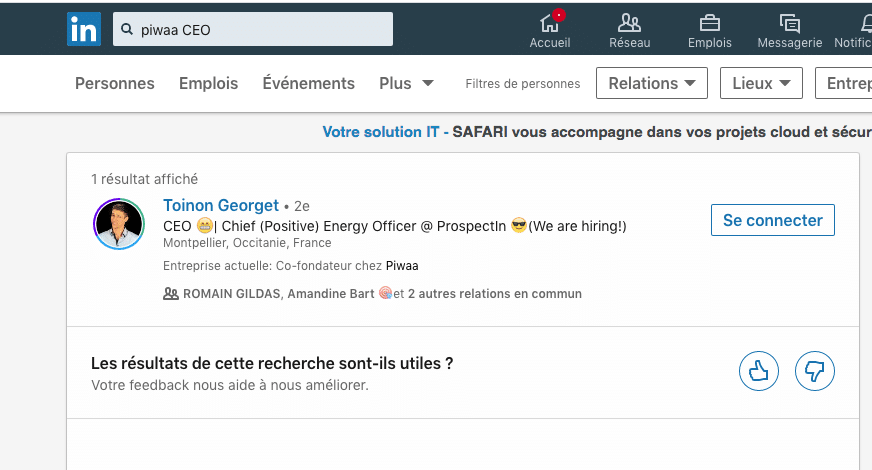 What is LinkedIn used for?
LinkedIn is a professional social network with millions of users. In terms of B2b prospecting, it is a marvel that will allow you to increase the visibility of your offers and your person.
The main objective of LinkedIn is to give you the opportunity to connect with professionals in order to build your network and thus develop and expand it. Yes, thanks to this network, you have the opportunity to easily get in touch with different actors belonging (or not) to your sector of activity.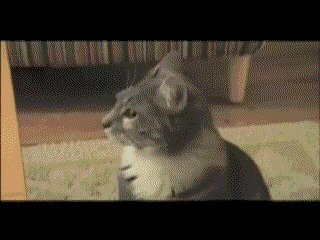 LinkedIn is different from other social networks that we are used to seeing. Of course, since it is professional, you are not going to put pictures of yourself in a swimsuit on the beach in Martinique 🌴.
Well some features can be found among these different social media. For example, you will need to type in certain keywords to find a person or a job title that you have decided to target. On LinkedIn, it's the people from work who will mainly use this platform. Where it gets interesting is the number of people who use it. So you have a colossal free database that is updated regularly 🤯. Perfect for lead generation, don't you think? You have two options on LinkedIn:
Create a personal profile (this is the right solution for a freelancer for example).
Create a company page.
If your company is well established and you have employees, create a company page. If you're a freelancer or a solo entrepreneur, you're better off with a personal page through which you'll try to find potential clients.
Do's and don'ts of networking on LinkedIn
Before concluding this article, we're going to give you a short list of "do's" and "don'ts" for networking on LinkedIn.
Do's
Have a professional and complete profile.
Post regularly.
Develop your network by thinking about your target audience.
Personalize your connection messages.
Be active in groups and especially on this medium.
Don't hesitate to recommend 😀 someone in order to build real relationships.
Don't do
Be absent (the point is to be visible).
Don't ask for connections from people who have no interest in your business and whom you don't know (you want relevant contacts, right?).
Don't use templates or messages you've seen to connect with someone (what works for one person won't necessarily work for you).
Don't ask complete strangers for recommendations.
Conclusion: How to network on LinkedIn?
Throughout this article we have seen the importance of networking well on the professional network LinkedIn and not doing it any old way ✅.
The principle of networking, also called Networking, is to get professional contacts (especially on LinkedIn). When you go to develop your network, you will be able to exchange information, knowledge and even create partnerships.
Pretty cool way to increase your visibility, right? Of course, you'll have to go through a few steps before enriching your network.
Create your profile
Once you've signed up on the popular platform and once you have your LinkedIn account, you're going to have to create a profile for yourself 🧅. We do this by:
Posting a nice, professional profile picture.
Adding a banner or cover photo.
Personalizing your URL.
Adding your job title.
Filling in your interests.
Filling in your experience and education.
Updating your profile whenever there is a change.
Creating a persona
You'll find it in all the sauces in each of our articles this famous personas, and we will certainly continue for a long time in the future articles that we will write.
Take the time to draw a portrait of your ideal customer by giving as many details as possible. The more you know your potential customer, the better you are able to respond to his needs, his problems. You do two things by understanding him:
Acquisition (because you've successfully targeted their needs).
From retention 👁️🗨️ (because you address the various issues he'll encounter).
If you can put together a portrait of your ideal client, then you've already won almost everything. Creating a persona applies to developing a network. You will choose who will join your circle and how you will manage your e-reputation.
Networking on LinkedIn: Content strategy and copywriting
To grow your network, to attract people in the same industry as you, there are no 36 solutions. You're going to have to express yourself 🔔 on certain topics.
On the other hand, you shouldn't do it any old way. Publishing relevant content on LinkedIn is also going to set up your personal branding. So, of course, we're not just going to publish once.
The key to a good content strategy is regularity. We let you discover more in this article. LinkedIn is a traction network (and we're not talking about the exercise you do in the weight room).
But to explain, you will have a more important "reach" compared to other networks, that is, you will have more views. You will then need to categorize your topics into three parts:
This will serve as a basis for your editorial line. In the TOFU or "Top of the funnel" part, you will cover broad topics.
The MOFU, "Middle of the funnel", will make the link between your core target and the broad target. This is the middle of the funnel. Here, you will make sure to enhance your brand, show your expertise and why not give advice.
Finally, the BOFU "Bottom of the funnel" will allow you to directly reach your hot prospects 🥵.
Think this is going to be long? Take the time to write down your themes, keep your ideas in a corner of your head and write them down every chance you get. Use Podawaa to schedule your posts, and we guarantee you'll save a lot of time.
Customize your login messages
You can send empty connection messages. Besides, according to our statistical study, you have more chance to be accepted with an empty note than with a note.
Anyway… This is just a theory. Indeed, if your copywriting is bad, you won't get very far and chances are you won't be able to convince your reader. If your message is well thought out, then don't hesitate and personalize your messages 💖 you will only boost your prospecting.
Network on LinkedIn: follow those who inspire you
You don't have to get everyone 🤯 in your network. In fact, you also have the ability to follow someone's activities on LinkedIn just by "following" them (no, not in the middle of the night around the corner in a dark alley of course).
The procedure is very simple. You log into your LinkedIn account. The next step is to search for the person who inspires you by typing their name in the dedicated search bar and click on their name. Once this is done, you just have to click on the "follow" button.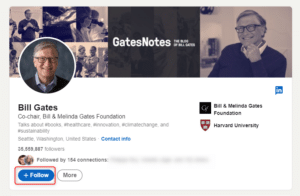 You will then be able to see his posts without being connected to this person.
How to connect with people on LinkedIn: Arrange your news feed
If you have posts in your news feed that you don't want to see 👁️, you have the option to stop seeing them. This can be for a whole bunch of reasons like they don't fit your industry view or they don't relate to your industry at all.
As for the ones you want to see, don't hesitate to "like" them and comment on them. This will allow you to make yourself known and to express yourself on a subject you are passionate about.
FAQs of the article: How to learn how to do LinkedIn networking?
Well, we know how to network on LinkedIn, the main steps and the method, but if we want to go further? Let's see it right now!
The benefits of LinkedIn networking
We've explained how to develop and network on LinkedIn. Pretty easy. Plus, it will open many doors for you. When you want to sell a product or service or develop an offering, having new contacts will boost your visibility.
But that's not all, you can also find a job if you network. Just think of LinkedIn as a huge word-of-mouth network. The more you get people talking about you (in a good way), the more likely you are to get noticed 😃 and therefore the more likely you are to get hired.
Use automation software
Increasingly present to make the daily lives of marketers and others getting into sales or simply wanting to give their product or service visibility, automation software has emerged. We have one under the elbow to present you 😇! You guessed it right, it is Waalaxy.

To expand your address book on LinkedIn, this little chrome extension will help you. And… On top of that, it has a Freemium option 💥.
You can always test the premium features for 7 days (without giving your payment information by the way) and then you can switch to the Freemium. How? A Freemium version? But what can you do with that? Well, we'll tell you now.
You will be able to prospect on LinkedIn in a completely automated way, to expand your network and give a little boost to the professional opportunities that come your way.
You are now aware of everything you need to know about LinkedIn networking🚀.