LinkedIn is the ideal social network to expand your professional network or search for a job. In addition to the regularly published ads, you have the opportunity to create a LinkedIn post for a job search and we'll tell you how!
You don't need to use a billion software programs and platforms to hope to find a job. Sometimes using social networks is the best thing for you. And you know what? When it comes to job hunting, LinkedIn is downright fire 🔥.
Sample LinkedIn job search post
We'll start by giving you what you're here for, examples of LinkedIn posts for your job search. You'll see, there's nothing complicated about it.
Showcase your skills
It may sound pompous, but we want to know what skills you have, what you can bring to a company. Especially when you are a recruiter, you have boxes to tick.
As a developer, one should master languages such as:
💡Php, JavaScript, Python and Ruby
But more than hard skills, one should also:
👉 Know how to make the right decisions.
👉 Be organised.
👉 Have a critical mind.
⌚ When? Available in one month
So you'll have understood, I'm looking for a post as a web developer.
#jobsearch #webdeveloper
And don't forget to add the appropriate hashtags.
Use your network
We agree that in this situation, it won't do you any good to make a post soliciting your network if you only have 2 connections… You won't make much of an impact. You will not make much of an impact. You will need to build up your network and start to get some visibility.
🚨 I'm taking advantage of my LinkedIn™ publication to communicate about my job search 😁.
🎯 Specifically in the fields of Search Engine Optimization (SEO), digital marketing and communication.
⏳ On a fixed term or permanent contract 📃
⌚ When? Immediate availability
📊 I will therefore put at your disposal:
– My experience as an SEO consultant ⏫️📈
– My benevolence and motivation 😁
– My organizational skills 📝🗒
– My team spirit 👨👩👧👥️️
I can't wait to learn new things with you!!!🤝
A comment or Like will help me reach my goal, let loose!
#jobsearch #seo
The search for an internship or work experience scheme
And yes, it's not just about finding a job, you can also make a post about finding an internship. We know it can be very stressful to find an internship when you are in school. So we'll also help you find the perfect internship.
Hello dear network, 👋🏻
Currently a master 1 student at [put school name], I am looking for a 6 month #internship. 🕵️
When? 📆
June 2023 and for a period of 6 months.
What area? 📚
#Marketing, #communication, #advertising, #events
Curious, I am open to any internship proposals in these fields.
In which sector? 🏢
The #audiovisual, #media, #culture, #entertainment or #tourism.Which location? 📍
I am mobile throughout France.You can also find my CV following this post. 👇🏻
I thank you in advance for any help you can give me. 😊#searching #cv #searchingforjob
Of course, this model also applies if you are looking for work experience!
Be clear in your LinkedIn post!
In addition to applying to an ad via the "Job" tab of this social network, it is essential to clearly announce that you are looking for a job. Potential recruiters or people who might recommend you or contact you must quickly understand that you are available and for which position! It is therefore important to be clear and to structure your ideas well. A text with a suitable visual will grab attention and will be ideal for getting your message across clearly.
In general, it is thanks to your LinkedIn posts that you will succeed in creating a targeted and qualified professional network. To get in touch to network or get a job interview you can for example :
Include a carousel in which you briefly introduce yourself and explain what you have to bring! And to make your personality felt, don't hesitate to adopt a tone that suits you or the type of company you are looking for. It is obvious that you do not address a bank or a young startup in the same way!
Make a short video if you are comfortable with this type of presentation,
Imagine the people you'd like to work with when writing your post!
As you can see, there are many different ways to apply in addition to the traditional CV and cover letter.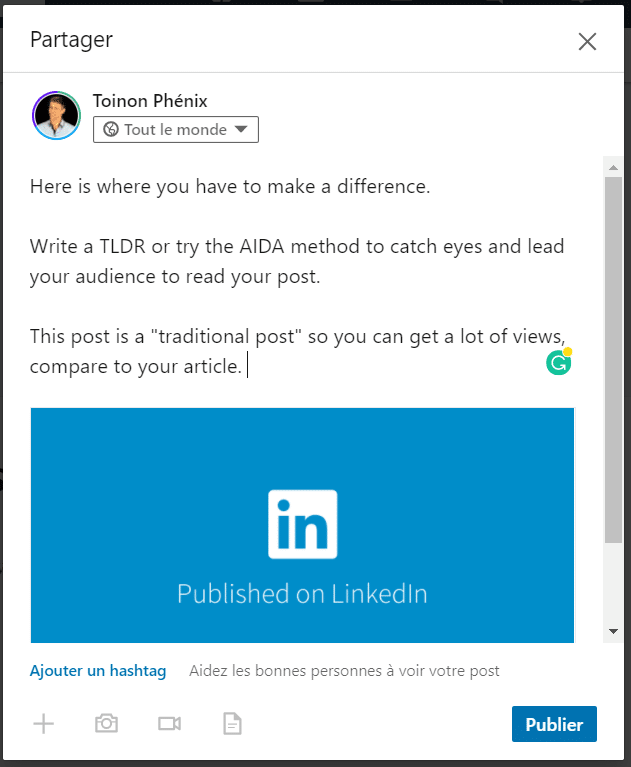 `
Search remote jobs on LinkedIn : 4 tips
The remote work, this method of work which at the time, did not please the companies, has become in vogue since these last years. So, we don't like it or not but, more and more people are looking for a job in which remote is allowed and even, a complete remote work. 😇
Before you want to know how to search for a remote job on LinkedIn, you must first define the type of remote job you want:
Full ➡️ you live in Montpellier and are looking for a job in Paris. In this case, you will be completely remote.
Hybrid ➡️ you can remote several days in the week and the remaining days, work from home. You can discuss this with your future employer.
Remote job and flexible hours ➡️ you can define the remote days beforehand and adjust your hours according to your performance.
Now we can move on to the 4 tips for searching remote jobs on LinkedIn !
#1. Add remote in the LinkedIn search bar
One of the first and most effective ways to find a remote job is to enter the keyword directly into your search. To do this, here are the steps:
On your LinkedIn home page, go to "Jobs."

Then, type in the search bar at the top left the type of job you want, and in the location, type "Remote".

As said before, if you click on the green "Remote" filter, you can choose the type of remote.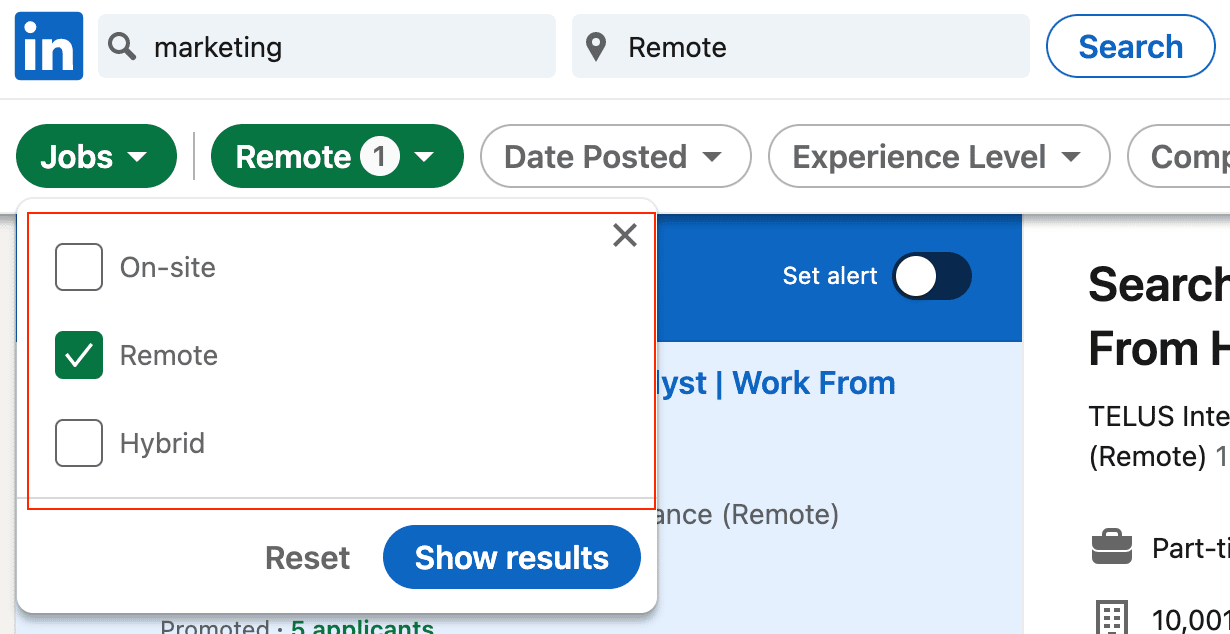 And there you have it, you now have job offers available to you based on your needs! 😇
#2. Adding open to work on LinkedIn
LinkedIn has been offering the "open to work" feature for a few years now. This is a badge as well as a filter that you can add to your profile and profile picture to show your network and recruiters that you are looking for a job.✨
To do this, go to your profile, then click on "Open to" and "Find a job".
When you go to add it, you can choose the city you want to work in or the type of remote.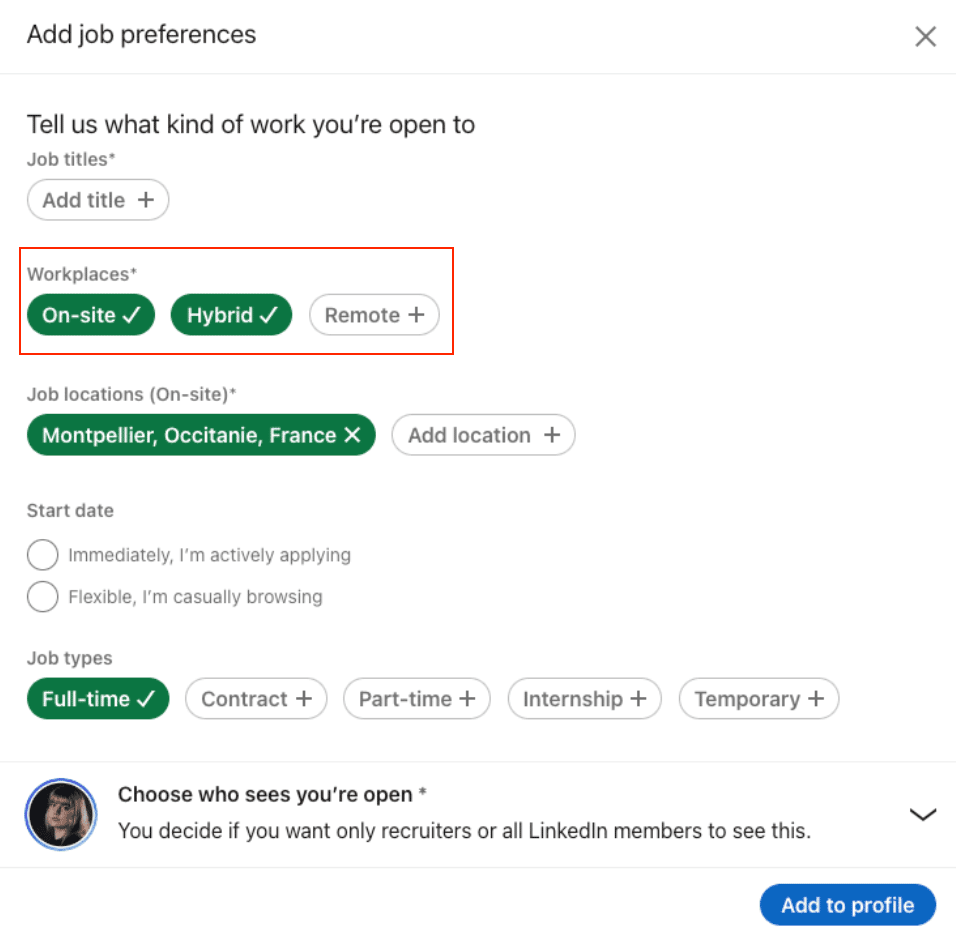 #3. Mention the #remote in your publications
As we said above, you can make posts to look for a job. In order to put all the chances on your side, you can add the #remote in your posts and specify the terms in the post! 🥰
By now, everyone will be notified that you want to do remote.
#4. Make sure you have a recent CV on LinkedIN
It may seem obvious to you, but many people forget to update their resumes.
Many recruiters go to the profile of potential candidates and look at the resume before even contacting them.
Therefore, in order to avoid any misunderstanding, we recommend you to put on your resume, the remote. 😇
Add an optimized LinkedIn profile to your post!
Optimizing your profile is the basis before any activity on LinkedIn. To do this, some basic rules apply:
A personalized title "looking for a XXX job" allows you to know instantly that you are available for a new position,
A profile picture: because it's still much nicer to see you!
A nice cover photo: you can create a catchphrase! Be careful not to overload the space,
An abstract correctly filled in with keywords adapted to your search
Your experiences and training clearly explained.
Your greatest career moments thanks to the "Selection" tool, provided they are relevant to your search,
Recommendations: don't hesitate to ask your former colleagues and do it in return!
A translated profile: if you wish to work in foreign companies.
It would be a shame to have created an interesting post but not to have more information when browsing your LinkedIn profile. Think about this kind of details before making a LinkedIn post for a job search! Employers will browse your profile, give them as much information as possible without having to search for it! Having a neat and well-informed profile will save you time, set you apart from other job seekers and give you credibility.

Conclusion of the article LinkedIn job search
Through this article, you have learned how to create a post for your job search. Rather than responding to job offers, you will be able to attract recruiters.
To recap, we have seen 3 types of job search posts:
Promote your skills.
Soliciting your network.
Searching for internships and work placements.
But also that it was necessary to have :
Clarity in your posts.
Have an optimized profile (this is super important! ⚡)
FAQs of the article LinkedIn job search
We still have a couple of things to tell you to perfect your knowledge 😉.
Podawaa, the ideal tool to advertise your position
Your post needs visibility. For example, you can ask people close to you to comment or share your post to boost it, but there is a powerful tool that will help you reach a huge audience in just a few clicks.
It's called Podawaa. This tool allows you to integrate an engagement group according to a defined theme. The members of this pod will be able to like, comment automatically or manually your post. So think about integrating a pod dedicated to your domain!
And to save even more time, why not use Waalaxy ? This tool allows you to create scenarios how to send a connection request to a LinkedIn member who has reacted to your post. You can also send a personalized note and target, for example, HR, recruiters, project managers or any position that can help you. Ideal to be even more efficient in your job search and networking!
How to attract a recruiter on LinkedIn?
Are you tired of sending out applications by the bucketload and never getting a response? We are also very annoyed 😡! When you take the time to apply for a job, you expect at least one return even if it is negative. But you can turn this around. You can attract recruiters to your LinkedIn.
Everything we said in this article applies here to get a recruiter to contact you, i.e. :
Have an optimised and professional profile.
Fill in all the information that LinkedIn asks for.
Post fairly regularly about your areas of expertise.
But you will also have to put forward your past experiences, get recommendations, and exchange with your network in the same sector of activity or that matches your target.
Tester Waalaxy 👩‍🚀
Now you know all about LinkedIn job search.