Create a LinkedIn post for a job search!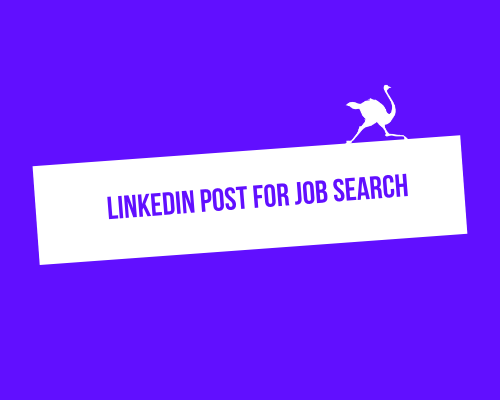 3

min
LinkedIn is the ideal social network to expand your professional network or search for a job. In addition to the regularly published ads, you have the opportunity to create a LinkedIn post for a job search and we'll tell you how!
Be clear in your LinkedIn post!
In addition to applying to an ad via the "Job" tab of this social network, it is essential to clearly announce that you are looking for a job. Potential recruiters or people who might recommend you or contact you must quickly understand that you are available and for which position! It is therefore important to be clear and to structure your ideas well. A text with a suitable visual will grab attention and will be ideal for getting your message across clearly.
In general, it is thanks to your LinkedIn posts that you will succeed in creating a targeted and qualified professional network. To get in touch to network or get a job interview you can for example :
Include a carousel in which you briefly introduce yourself and explain what you have to bring! And to make your personality felt, don't hesitate to adopt a tone that suits you or the type of company you are looking for. It is obvious that you do not address a bank or a young startup in the same way!
Make a short video if you are comfortable with this type of presentation,
Imagine the people you'd like to work with when writing your post!
As you can see, there are many different ways to apply in addition to the traditional CV and cover letter.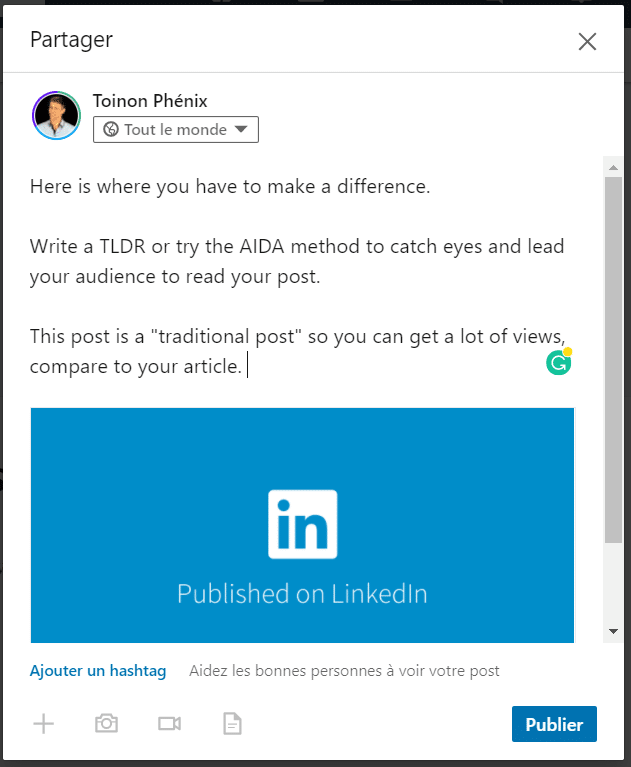 Add an optimized LinkedIn profile to your post!
Optimizing your profile is the basis before any activity on LinkedIn. To do this, some basic rules apply:
A personalized title "looking for a XXX job" allows you to know instantly that you are available for a new position,
A profile picture: because it's still much nicer to see you!
A nice cover photo: you can create a catchphrase! Be careful not to overload the space,
An abstract correctly filled in with keywords adapted to your search
Your experiences and training clearly explained.
Your greatest career moments thanks to the "Selection" tool, provided they are relevant to your search,
Recommendations: don't hesitate to ask your former colleagues and do it in return!
A translated profile: if you wish to work in foreign companies.
It would be a shame to have created an interesting post but not to have more information when browsing your LinkedIn profile. Think about this kind of details before making a LinkedIn post for a job search! Employers will browse your profile, give them as much information as possible without having to search for it! Having a neat and well-informed profile will save you time, set you apart from other job seekers and give you credibility.

Podawaa, the ideal tool to advertise your position
Your post needs visibility. For example, you can ask people close to you to comment or share your post to boost it, but there is a powerful tool that will help you reach a huge audience in just a few clicks.
It's called Podawaa. This tool allows you to integrate an engagement group according to a defined theme. The members of this pod will be able to like, comment automatically or manually your post. So think about integrating a pod dedicated to your domain!
And to save even more time, why not use ProspectIn? This tool allows you to create scenarios how to send a connection request to a LinkedIn member who has reacted to your post. You can also send a personalized note and target, for example, HR, recruiters, project managers or any position that can help you. Ideal to be even more efficient in your job search and networking!