Want to translate your LinkedIn profile?
I think you are absolutely right to do so !
Translating your LinkedIn profile adds value to you:
🧳You adapt to the market.
🦜You showcase your language skills,
🏳‍🌈You make international connections,
😎You boost your credibility with recruiters.
✨ You will stand out from the competition.
🎯 You will adapt your communication to your target language.
English is a language of commerce, especially on social networks, so we recommend you start with this one. 😜 Okay then, if you want to be visible to users who don't speak your native language, you should know that it's possible to translate your LinkedIn profile into any language! Here's how to make yourself visible to the whole world (no less).
Why should you translate your LinkedIn profile?
By translating your profile on LinkedIn, you become much more visible on the social network. Users will be able to see your profile in the chosen language, from the menu on the right.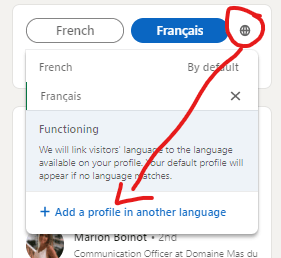 If you don't translate, other members will see your profile in the default language you created it with. What is the point of translating your profile? It all depends on your needs on the LinkedIn social network! Examples:
If you want to sell a B2b product or service = generate more potential leads.
If you are looking for a job = show your skills and/or find a job internationally.
In short, translating your LinkedIn profile is useful if you want to find a job or an internship abroad or if you want to give your company an international dimension! 💡 Think about it, your resumes should be translated too!
Translate your LinkedIn profile in a few clicks!
To translate your LinkedIn profile you must already have an online profile. If you don't, consider creating it first, otherwise, log in. 💡 There is no need to create a new profile with new credentials. To create a profile in a new language, nothing could be easier! Everything happens from your main profile by following these steps:
Click on the "Add profile in another language" button, accessible from the right column.
Choose the language you wish to translate your profile into.
Translate your professional title,
Translate the content.
Click on the "Create Profile" button.
🅰 You can't translate your name. And that's it, but your profile is multilingual accessible!

If this secondary profile creation is relatively simple, take the time to anticipate it, you will have to translate your entire profile:
The biography,
Work experience,
Selection,
Education.
(optional) contact informations.
And this is for all the languages you have selected. 😱 The translation is not done automatically. And, since you have a wide choice of other languages, it may take you a little while. To add a third, fourth, fifth… Language, follow the same steps and select the one you want from the drop-down list.
Yes LinkedIn is international : The most commun use for traslating is English. But you can also find arabic, hebrew, portuguese, turkish and vietnamese..and so on.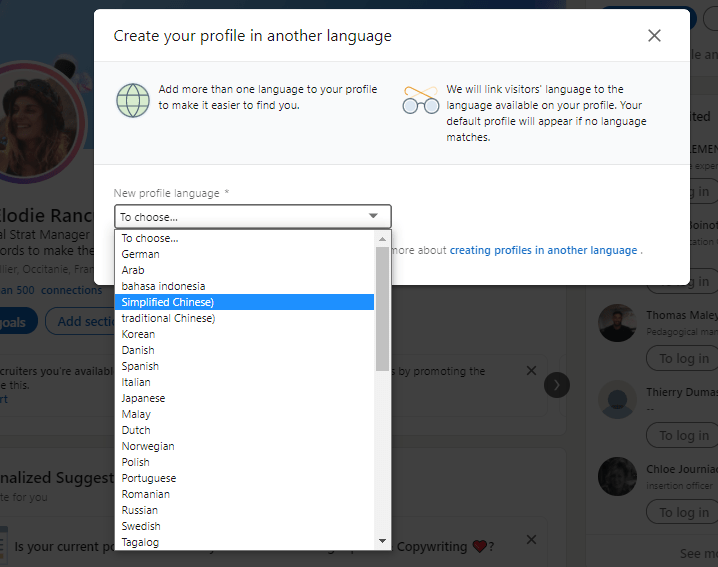 Translate your LinkedIn profile with a free translator
Translating your LinkedIn profile cannot be improvised, and requires a certain knowledge of the terms in the desired language. It would be a shame to create a new profile in one or more languages and use the wrong words. If you are in doubt, consult the translating app Deepl.
In my opinion, it is the best free translation tool on the market! The online translator even adapts to the language of the country and will offer you a better translation by interpreting what you are trying to say. For example, when you translate something that is only said in your native language, such as an expression, Deepl finds the equivalent in the language of translation!

As a result, you can be sure that you're not mistaken about the translation of your LinkedIn profile.
Yes, in France, everything is about cheese, it's not a legend. 😂
Translate your LinkedIn profile intelligently
Finally, translating your LinkedIn profile will be even more useful if you first optimize your new profile. 🅰 Updates don't happen automatically. Make sure your native language profile is finished before you start translating. A complete profile, that is:
Choose a " catchy " professional title: think about what is best, maybe add a catchphrase to define your competitive strengths.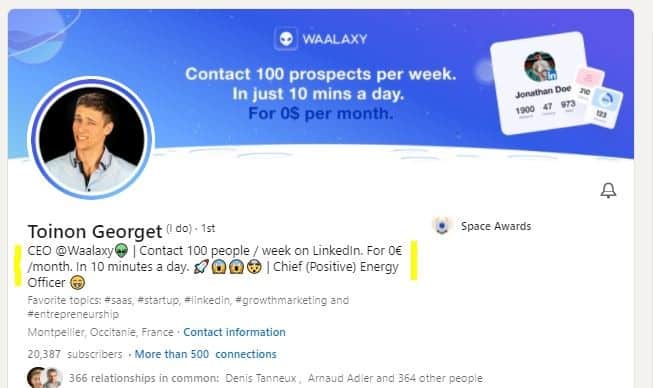 Engage your targets with a well crafted LinkedIn summary.
Select your skills and recommendations carefully.
Enrich your profile with media content, especially in the "selection" area.
Then take the time to translate the most useful parts and produce content in that new language on a regular basis! 😉
Think about cultural translation
What do I mean by a "cultural" translation? It's about clearly defining your target audience on the LinkedIn network. If you want to talk to a recruiter or future clients, then you haven't filled out your profile the same way. Well, it's the same for the culture of the country.
Each market has its own codes, and you have to adapt to them. For example, marketing in France, even in B2B, is generally "soft".
We don't force people to sell. In the United States, marketing is much more "in-your-face", the slogans are stronger, more impactful, more provocative. Knowing how the international players in your market operate, you know that you have to modify your communication slightly.
And since translation on LinkedIn is not automatic, you can change the text according to the language! So you have several profiles, each one personalized!
English:

French:
🅰 Of course, the message should always be tailored to your brand image and personality. Remember, your LinkedIn profile is an integral part of your personal branding.
Now you want to prospect with your LinkedIn Account?
If your goal was to reach new markets, you'll surely love what's next. 😍 To save time on your communication, especially in private messaging, you can use Waalaxy.
It is the only automated prospecting tool on the market with a free offer. Free for life, without ever having to pay. With this offer you can send up to 100 personalized messages per week in a few clicks!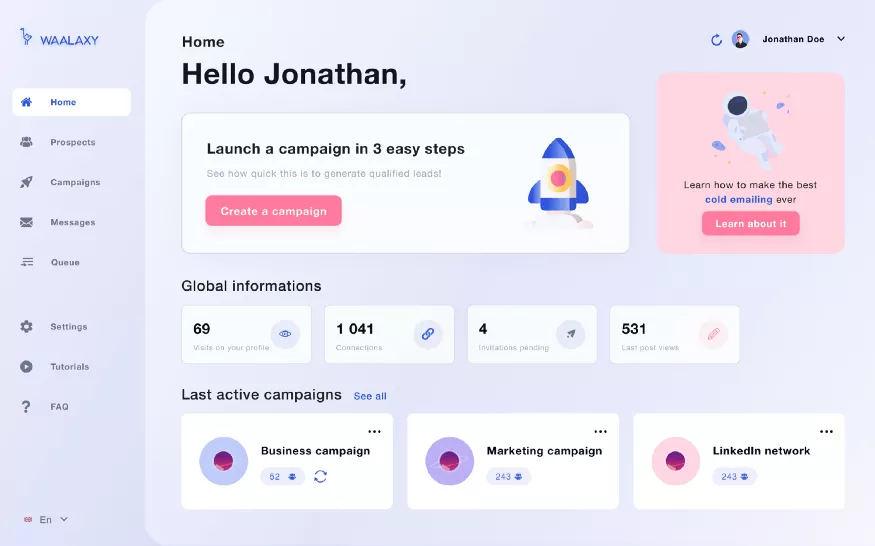 This powerful tool allows you to automatically send invitations and private messages according to the type of target you want to reach, using the filters you define. Ideal to launch on a new market!
All you have to do is create your message and your potential follow-ups, and Waalaxy will take care of sending it automatically. You can save precious time in your communication and prospecting.
Conclusion of the article
So in this article you have seen how to translate your LinkedIn profile easily, discover new opportunities and meet new people on the network thanks to your bilingual skills! 😍
Faq: How to remove the translation from your LinkedIn profile?
Know that it is possible to remove the translation of a LinkedIn profile with a few clicks. To delete a profile translation, just go to your profile and then :
Click on the globe next to the language you want to remove. It is visible from the menu on the "Primary and Secondary Languages" side.
Click on the X button and then "delete" in the pop-up window that appears next.
It is then the deletion of the secondary profile, it will not affect your main profile, do not worry. Now that you know how to translate your LinkedIn profile, you can also learn how to use LinkedIn like a pro for your projects. 😍