How can you translate your linkedin profile?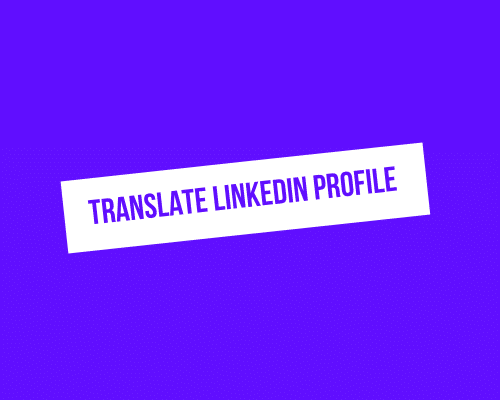 3

min
Effective communication must be adapted to your audience, especially on social networks. If you want to be visible to users who do not speak your native language, you can translate your LinkedIn profile. Here's how to make yourself visible to the whole world!
The benefits of translating your LinkedIn profile
By translating your profile on LinkedIn, you become much more visible on this social network. Users will be able to see your profile in the language they choose from the menu on the right. This is called a secondary profile: you have to create a new profile in the desired language, since it is not possible to change the default language.
If you don't translate it, other members will see your profile in the default language you created it with. Why translate your profile? Generate more leads, especially if you work in B2B! Translating your LinkedIn profile is also useful if you want to find a job or an internship abroad or if you want to give an international dimension to your company!
Translate your LinkedIn profile in a few clicks
It is not necessary to create a new profile with new IDs. Creating a profile in a new language couldn't be easier! Everything is done from your main profile by following these steps:
Click on the "Add profile in another language" button, from the right-hand column.
Choose the language in which you wish to translate your profile
Translate your professional title
Translate the content: translation is not automatic!
Click on the "Create profile" button
While this secondary profile creation is relatively simple, take the time to anticipate it! Translating your LinkedIn profile cannot be improvised, and requires some knowledge of the terms in the desired language. It would be a shame to create a new profile in one or more languages is to use the wrong terms.
Finally, translating your LinkedIn profile will be all the more useful if you optimize your new profile. So take the time to translate the most useful parts and regularly produce content in this new language! To save time on your communication, especially in private messaging, you can use ProspectIn. This powerful tool allows you to automatically send invitations and private messages according to the type of target you wish to reach, using the filters you have defined.. All you have to do is create your message, ProspectIn will send it automatically. Ideal to save time on your communication and prospecting!
How do I remove the translation from my LinkedIn profile?
Please note that it is possible to delete the translation of a LinkedIn profile. It is then the deletion of the secondary profile, it will not affect your main profile.
To delete a profile translation, simply go to your profile and then :
Click on the globe next to the language you want to delete. It is visible from the menu on the "Primary and secondary languages" side.
Click on the X button and then "delete" in the popup window that appears.