Writing a post on LinkedIn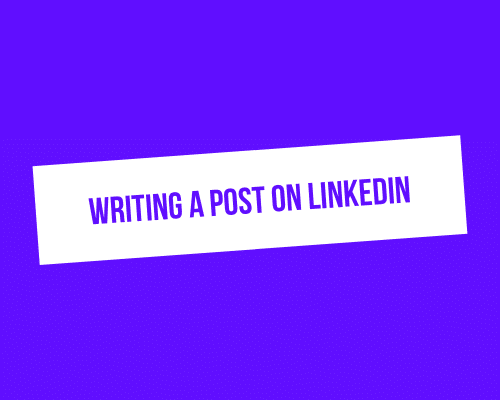 2
minutes
LinkedIn allows you to share content in a very simple way in addition to being able to react to the posts of other users of this social network. If you don't master this platform yet, here is how writing a post on LinkedIn is easy !
A few clicks to write a post
Writing a post on LinkedIn can be done in a few minutes. From your home page, just click on "start a post" and write your text. Who said it would be complicated?!
Of course there are some tips to make it more interesting and make you want to read and react. You can for example :
Include emojis: to make your content more "friendly" than just a text.
Write a relatively long post. Think about airing it to make it more pleasant.
Add a visual: photo, video, document can be included in your post to capture the attention of your readers more easily.
Include hashtags. It is possible to subscribe to hashtags on LinkedIn: by including them in your posts, you make your content accessible to users who have subscribed to the hashtags in your text. Think about it to reach a wider audience!
Call-to-action: what could be better than getting your readers to react!
Create a poll if you want to know what your readers think about a particular topic.
Writing a post on LinkedIn according to a strategy
Clearly, disseminating content must be part of a strategy. To do this, there are several ways to go about it:
Developing your community
Boost your personal branding
There are of course different reasons, but it is important to publish according to your objectives and in a coherent way. To save time in your communication, you can automate certain steps.
If your goal is to develop your network, it is important to bring high value-added content to stand out. You can also grow your network in an automated way thanks to dedicated tools. You can use ProspectIn, which works on the basis of scenarios that you can customize. For example, you could create a scenario whose goal would be to send a connection request with a personalized message to the people who have reacted to your post?
Don't confuse post and article!
There is a big difference between a post and an article. While both methods are very simple to use, writing a post on LinkedIn is still limited in terms of text length and layout!
Writing an article is possible from your home page by clicking on "write an article". You are free to add a photo and to layout it as you wish. A little extra: you can save it as a draft if you want to finish it later!