Developing your community on social networks is not easy and generating engagements requires a certain knowledge of their uses. In this article we explain how to interpret your engagement rate on LinkedIn ! 🚀
How is engagement rate calculated on LinkedIn?
Impressions, interactions, algorithms are all terms that can sometimes sow doubt when embarking on a "social media" marketing strategy. In addition to knowing whether it is better to communicate on Twitter, Instagram or LinkedIn it is important to know how to interpret the results.
The engagement rate on LinkedIn is the number of interactions (comments, likes, shares…) divided by the reach of the publication x 100.

The ideal is to calculate it in relation to several publications at different intervals to get an average and know how to increase engagement on LinkedIn.
Let's take an example here: what is the engagement rate of this publication?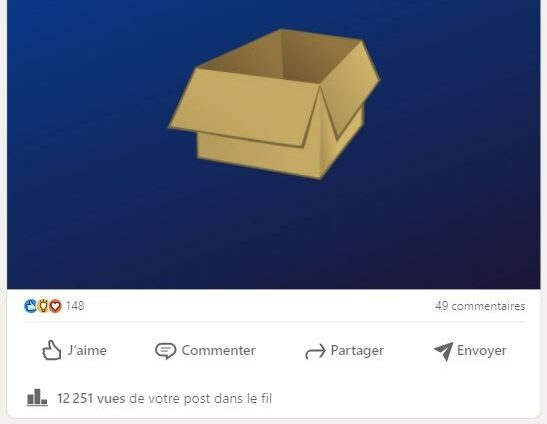 As a reminder, the calculation to measure engagement is: 👇
Engagement rate = ((reactions + comments + shares)/views on the post)) x 100
So the calculation is simple: (49 comments + 148 reactions + 0 shares / 12,251 views) x 100 = 1, 60%. The engagement of this post is 1.60%.
How to interpret your LinkedIn Engagement Rate?
It's all well and good to calculate the reach of your publications over the last 3 months, but now what do you do with the results?
Well, before finding a way to improve them, you have to interpret them by doing a short study. First, we will analyze the posts according to their objectives. If you write to many targets, isolate the results to better interpret them.
❌ Do not put in the same dashboard :
| | | | | | | |
| --- | --- | --- | --- | --- | --- | --- |
| | Type of post | Audience | Comments | Likes and reactions | Goal | Achieved |
| Example 1 | Carousel | Large | 120 | 430 | visibility | Yes |
| Example 2 | Text | Core audience | 13 | 25 | generate leads | No |
Once you have isolated the types of posts by target category, you can now analyze the different engagement rates to get a closer look at the statistics.
| | | |
| --- | --- | --- |
| | Audience | Engagement rate |
| Post A | Core audience | 1,60 % |
| Post B | Core audience | 2,20 % |
| Post C | Core audience | 1,40 % |
| Post D | Core audience | 6 % |
| Post E | Core audience | 3 % |
Then, we can move on! 😉
What is a good engagement rate on LinkedIn?
You will find on the internet everything and its opposite: on some sites a good rate is between 2% to 5%, on others it is already excellent from 1%. The truth is that there is no truth. 🔮 Who has the authority to decide that your rate is good? 😅 Yourself. How do you do it? By keeping track of both your business goals and your results.
Is the goal being met? If it's visibility, are your post views increasing? If it's about generating customers, how many new customers have signed up?
Are the results increasing? Are your interactions with the audience becoming more qualitative? Are your posts becoming more engaging?
You can also ask yourself what are the higher engagement and try to copy the format and style for your future social content: maybe your audience is more sensitive to carousels, videos, testimonials… This is the best way to boost average engagement and increase response rates. ❌ You can't put all your eggs in one basket and assume that anything below 5% is bad. It isn't. Measure, analyze, improve.
What is the engagement rate for?
The engagement rate is an excellent performance indicator and is one of the statistics to study regularly to know if your digital communication strategy is effective.
If you are present on several social media networks, this data will allow you to know on which network your targets are the most receptive to your content marketing. You will then know if it is relevant or not to continue on the other networks and to adapt your content strategy.
The engagement rate also allows you to identify the content that your audience likes the most and to produce better and more relevant content. The goal? Increase your visibility, generate even more engagement and turn your subscribers or audience into prospects or customers. This is the type of metrics that social media agencies, influencers and brands used to evaluate the success of their marketing strategy.
Knowing your engagement rate on LinkedIn is essential for companies but also for self-employed people! It will also allow you to see if your conversion rate can be improved, don't neglect it!
How to increase your LinkedIn Engagement Rate?
The engagement rate depends on several factors:
The quality of your content.
A good b2b social media targeting of your audience.
A good use of social networks, here LinkedIn.
To boost its engagement rate, for your brand or company will try to stand out with new content that you will share on your social networks. The goal is the same if you are an entrepreneur: to stand out thanks to an adapted social media strategy. After testing hundreds of strategies and communicating en masse on LinkedIn, I think we can share 3 valuable tips.
🥇 Regularity and originality.
🥈 The TOFU-MOFU-BOFU method to know who to target and what to write.
🥉 The AIDA method to know how to write it.
Regularity and originality of your posts
Find your style and stick with it. People need to remember you for what you do. Once you've identified the type of content that works for your audience, two rules: be regular, write original posts.
Here are the types of posts published by Toinon, CEO of Waalaxy, to recruit. They have the same goal, the same message, and they are in the same spirit. 🎯
---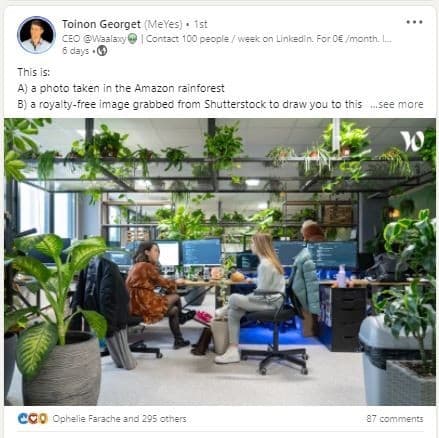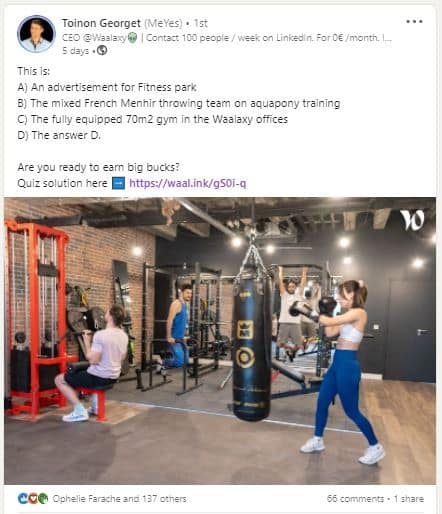 ---
You can find another example here, Pauline, Designer, who shows off her talents and expertise through LinkedIn carousels. 💃
---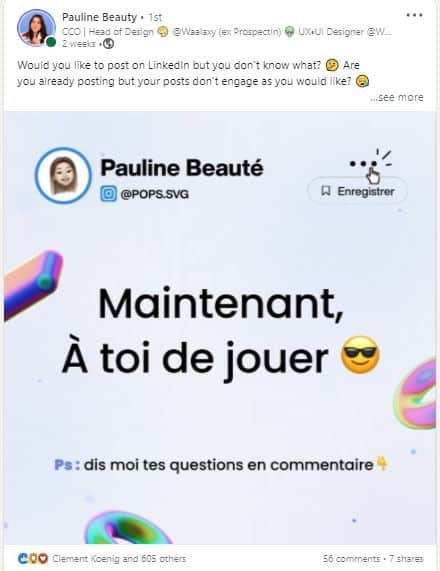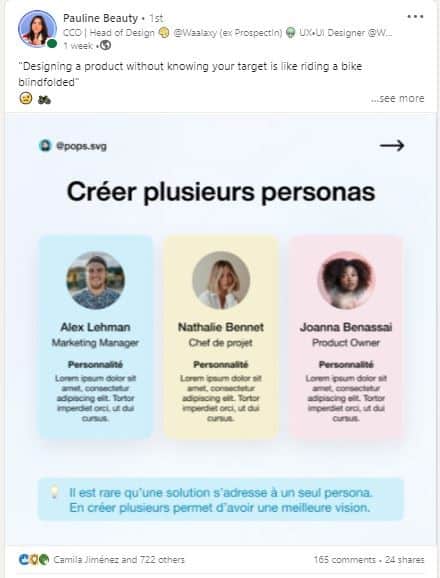 ---
The TOFU-MOFU-BOFU Method
This is THE BEST method for good social media content publishing that gets more and more engaging. We swear by it at Waalaxy. Choose 3 different types of audience, from the broadest to the most specific, and tailor your message to them.
While the broadest one will lead you visibility, the most targeted one will bring you new customers. 👇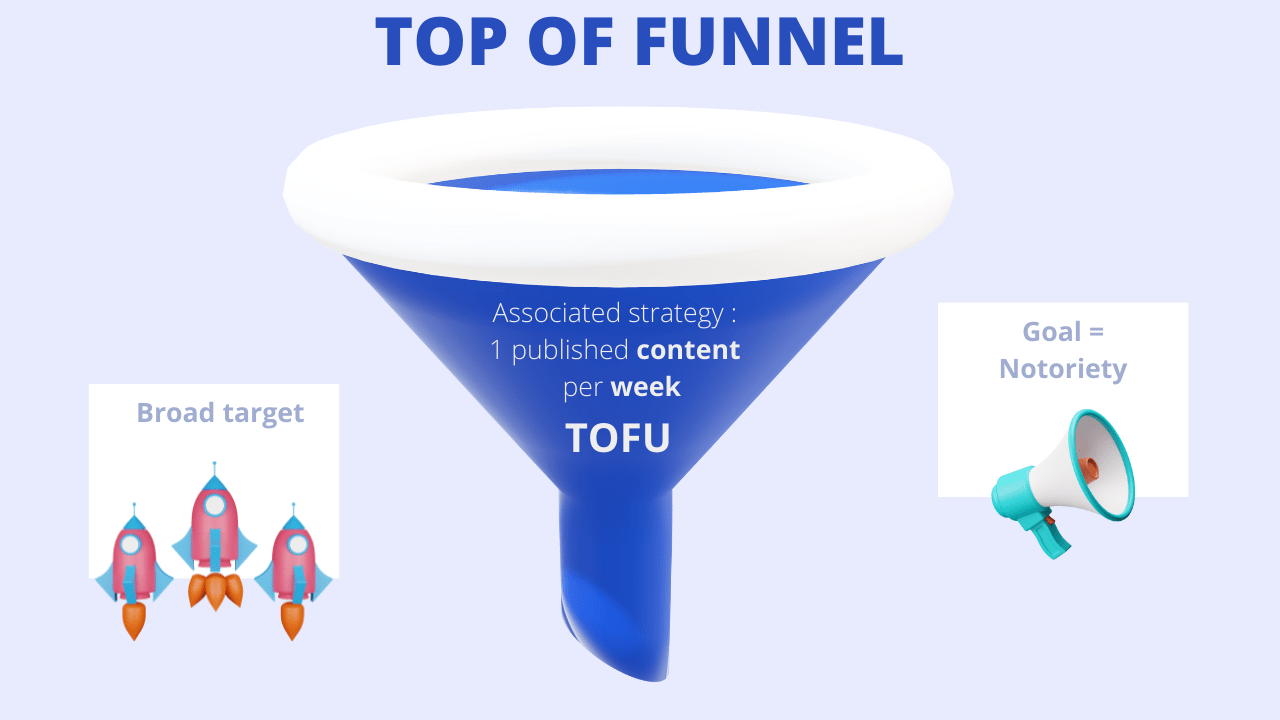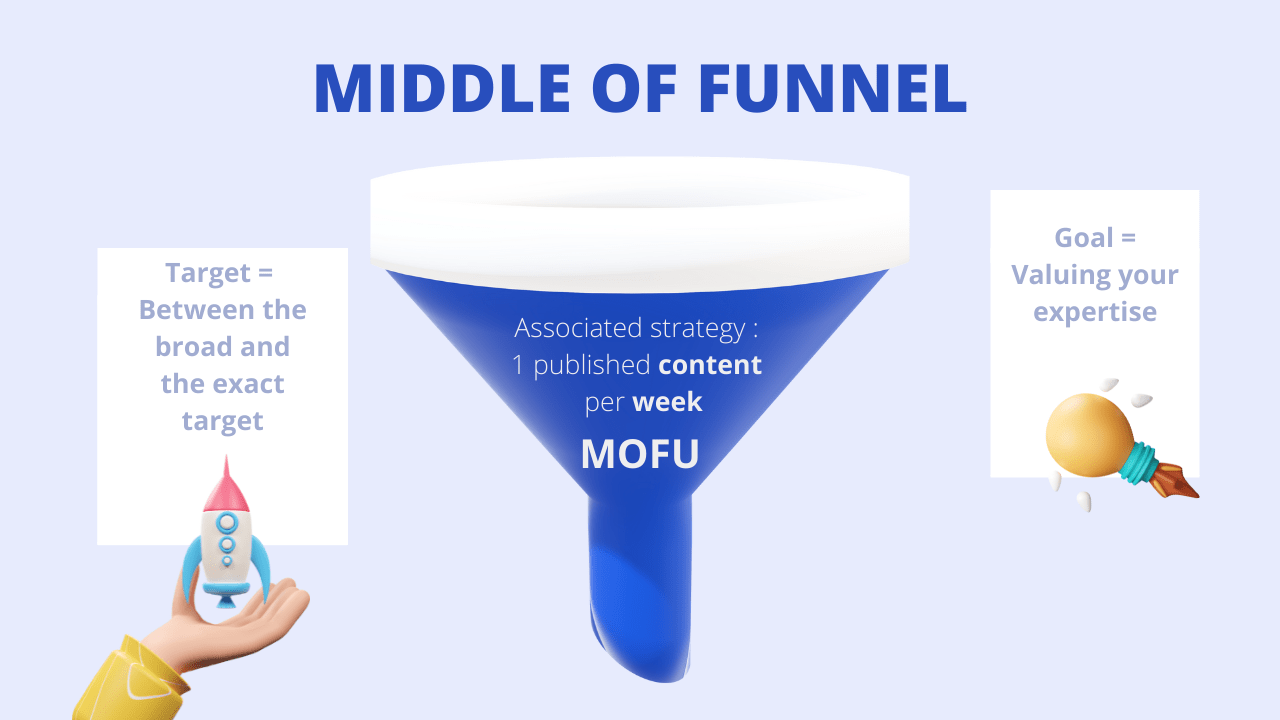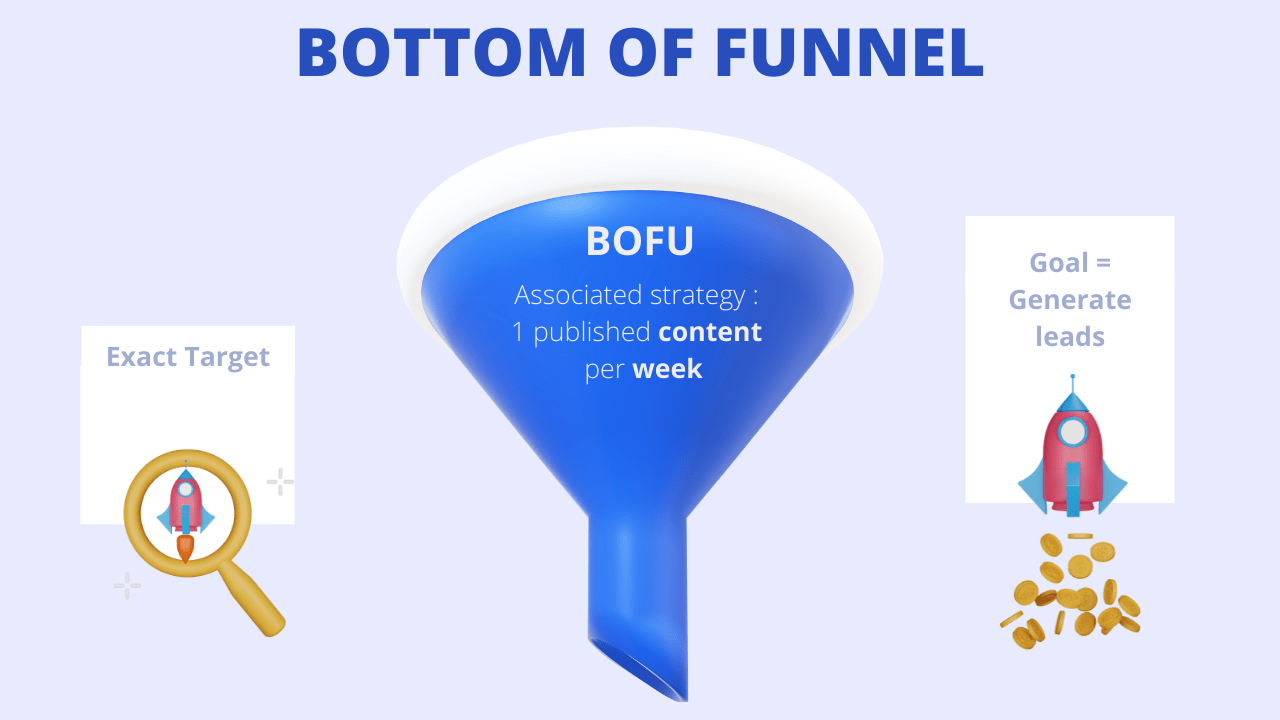 All the details of this strategy can be found in this article. 💡 Never forget to engage with the LinkedIn community: respond to comments, comment on others' posts, and connect with your audience.
The AIDA Method
It's not enough to know when to write, you also need to understand how to make a LinkedIn post engaging. So, how do you generate interactions?
We share with you a method that works well when you talk to your core target audience. Still, be careful not to use it for all your posts and all your audiences. ❌
This posting method helps you turn your prospects into customers. ✅
This method does not change the fact that you should always publish quality content. 💡
In our case, the call-to-action should be to comment and like the post or write you privately. Do not put external links (that point elsewhere than LinkedIn) in your posts, the network's algorithm may penalize your post.
Conclusion and FAQ of the article on LinkedIn
LinkedIn is the best B2b social network. It can bring you success and visibility. You can both boost your brand image and gain new customers with an effective content strategy, don't miss out: follow the valuable advice of our experts. 😜
How to boost your engagement rate on LinkedIn?
To make your engagement rate on LinkedIn increase faster, you can use Podawaa. It's not a tool that analyzes the reach or ROI of your posts. 😱
This social media management tool allows you to join pods (also known as engagement groups) dedicated to a topic. The members of these pods will therefore have access to content that interests them directly, you target your audience more and can at the same time increase the reach of publications and the rate of engagement.
Any doubts about pods? Our tools are designed to adapt to your behavior and not be penalized by LinkedIn.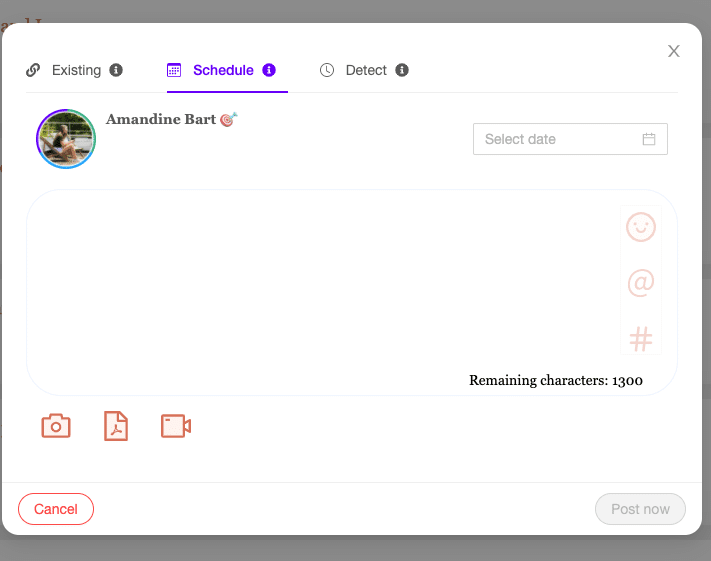 🎁 Bonus: Podawaa is the only tool that allows you to schedule your posts on LinkedIn. In fact, you are free to use it only for this purpose! A nice time saver for posting content 😉
Now you know everything, you can analyze and develop your engagement rate on LinkedIn!