What type of content to publish on LinkedIn?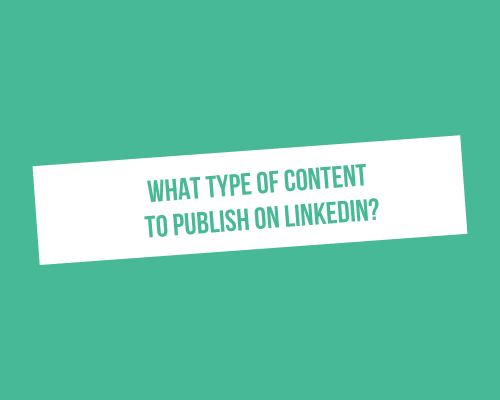 3

min
Very often on LinkedIn or any other social network, there is often a lack of content ideas to publish. We give you here some ideas of content to publish on LinkedIn, we can't wait to read you!
This is the basis of your communication and this applies even more to LinkedIn. If your goal is to make yourself known as an expert, there is nothing better than publishing content related to your business:
News
Tips to illustrate your knowledge
Job offers: see if it is necessary to create a company page
Share blog posts if you publish regularly. This also helps to boost traffic to your website.
By communicating on your domain, or on your company, you develop your brand image, while bringing relevant information to your audience.
For example, are regulations changing in your sector? Share the information! Are you launching a new product or service? Let it be known!
The goal is to generate leads, develop your community. You may therefore receive connection requests and/or private messages. Don't neglect this aspect of prospecting which can be decisive for your future professional!
If you want to devote yourself to creating content and not let a contact go by, think about the tools available to save you time. Among them, ProspectIn is ideal for managing connection requests and sending messages. Be careful, these are not empty messages. You can personalize the messages and send them again if necessary, from a fully dedicated tool. Another advantage: your activity is fully controllable from a dashboard. So you know where to find the right information in no time at all!
Talk about your daily professional life to create a close relationship with your audience
If demonstrating your skills is essential, we can only recommend that you share your daily life. There are many ways to do this:
Your successes or failures: this shows that you are "like everyone else" and that you too have ups and downs.
Your feedback. You can ask a client or collaborator to write a testimonial on a common professional experience.
Fun facts like clichés about your environment. This allows you to approach your daily life in a slightly offbeat way and to avoid posting hyper corporate content! So break the routine!
Of course, to create a real link with your audience, you have to be present! Having ideas for content to publish on LinkedIn is not enough, take the time to respond to comments, to participate in groups related to your domain. This shows that you have a real interest in your domain, your audience. You too appreciate when people respond or react to what you post, the reverse also applies!
Have you ever thought about joining pods? We're not talking about groups that include people who have nothing in common. We're talking about people who are linked by a theme or a domain and who want to find each other more easily on LinkedIn. To better target your communication, think about Podawaa ! This tool allows you to develop the reach of your publications for free: a great asset when everyone advises to use paid ads to stand out!
Which formats for your content to be published on LinkedIn?
On LinkedIn, you can publish:
Posts
Articles
Polls
Stories
Videos
Carousels
If you want to share important information that is long-lasting, prefer an article.
If it's less important, think about stories or posts. A post with a visual is an eye-catcher. As a tip, you can create a carousel or video if you are comfortable with the camera.
To find out what works best with your audience, there's nothing better than testing !