Want to create a strong LinkedIn content strategy? But don't know where to start? 🤔
Nowadays LinkedIn has become an increasingly competitive social network in terms of content strategy. So, you need a good on LinkedIn and understand the algorithm to be able to improve your reach to a major audience. 🎯
What does a LinkedIn strategy include?
Here are the points we'll cover below: 🔎
Creating a digital content strategy on LinkedIn to reach 1M views per month and increase your credibility.
You don't need to be an influencer or marketer to know what to publish on LinkedIn!
Develop brand awareness and work on lead generation at the same time!
Q&A on how to go from never having published to reaching a global audience thanks to our digital content marketing tips.
How to get past the 1st post on LinkedIn and how to overcome the imposter syndrome.
The importance of having fun publishing on LinkedIn and creating your own network of qualitative connections.
The main lines of the editorial social media content strategy and how to optimize it afterwards to save time.
Defining an editorial line that works, writing engaging posts on LinkedIn.
If you want to see the LinkedIn live afterwards, you can check out the "replay" over here. 😉
Why should I publish on LinkedIn for my content marketing strategy?
T. Louis answers this question with: 👇
"Everyone has an interest in publishing on LinkedIn regardless of their profession. 800 million users worldwide, in France 80% of professionals have a LinkedIn account.
We use it to hunt for qualified profiles, but also, it is a platform to attract people, there are plenty of opportunities. You'll get spontaneous notoriety when several members of a company post on a regular basis on LinkedIn."
So LinkedIn is also a part of content marketing tools to create your "personal branding", asset for employees who post content with their own network, not just a prospecting medium used by companies. 📈
They are several ways to "scale up" for a company, either do actions that will have more results i.e. the work to publish a post seen by 1 person or 1 million people is the same. 🤲
Except LinkedIn makes sure to show regular content to a larger audience over time, so persistence is key to success. 💪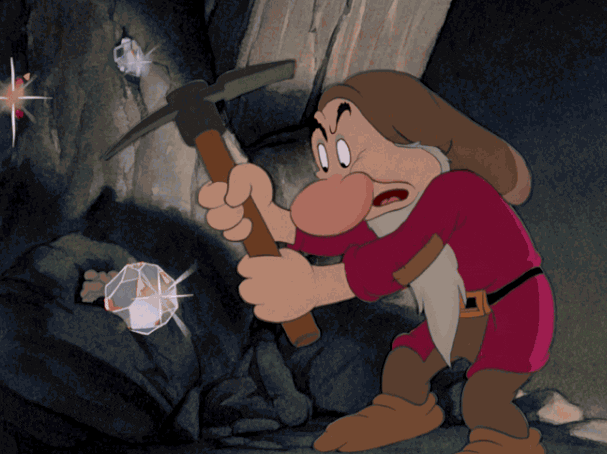 What are the major benefits of having a digital marketing strategy on LinkedIn?
If you pay a thousand in LinkedIn Ads, people will see it once, your ad and the interaction will be over. 🙈 Whereas if you publish media on a regular basis, it will grow your personal brand, which is an intangible asset serving your company or business.
LinkedIn is a traction network, which allows you to have a major "reach" rate than other networks i.e. have more views, relative to the people who follow you. So remember to "unfollow" from your news feed the posts that don't interest you, to have only a quality content feed. 😏
What to do before you get started on a LinkedIn content plan? The TOFU-MOFU-BOFU Strategy
If you feel like posting on LinkedIn, then you've realized that there's a real value in doing so. Here are the questions to ask yourself before creating a first post or publishing on LinkedIn beyond sharing your resume. 😜
Finding an editorial line: broad themes of topics to address between 2 and 6 themes, on the centers of interest of your target audiences.
TOFU-MOFU-BOFU method: find the right tone on your posts according to the audience it is addressed to.
Build an editorial calendar
To do so, you can use differents techniques :
Big budget = Create an editorial plan on Click up.
Small budget = Schedule your posts with Podawaa.
For free = Or even create a calendar on Google Sheets.
With Podawaa, you can plan your LinkedIn posts and check your engagement results very easily.
Then, you will be able to calculate your conversions and ROI linked to your content and social media strategy. And, before you start, you need to know how you're going to measure the benefits of your actions. 😉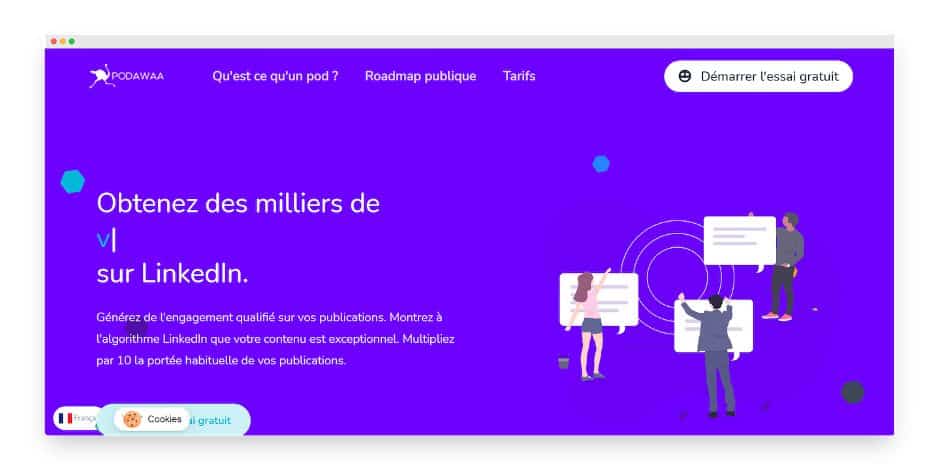 TOFU = "Top of the funnel"
This method consists of publishing 3 times a week using the funnel content strategy.
That is, you start from the broadest topic area, to the most specific ones.
Why have a great content marketing plan?
To keep your audience interested in your publications.
If you only talk about technical topics, some of your audience may leave. And you need as many people as possible to comment and like your posts on the network in order to gain visibility.
How to interest a maximum of people? Broad topics can be: trends, news, storytelling, current events, well-being, entrepreneurship, management… These are topic area that speak to a majority of LinkedIn users.
🅰 Try to make all your topics stick together.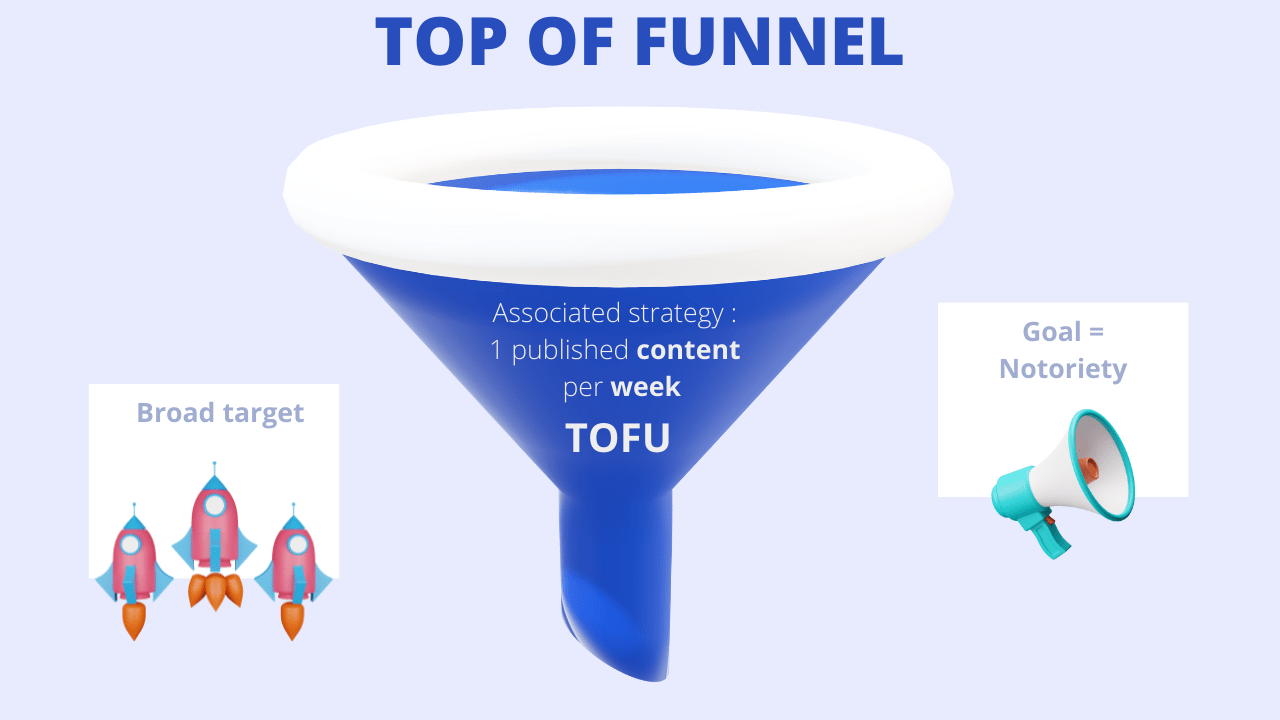 MOFU = "Middle of the funnel"
The "Middle of Funnel" is the link between your core target and your broad B2b target. It is the middle of your sales funnel.
This type of content strategy will be linked to your branding objectives, expertise, advice, tools that you have tested.
This type of content strategy concerns your target audiences, but not necessarily the one who is ready to buy your products or services, rather the one who is wondering about the same issues.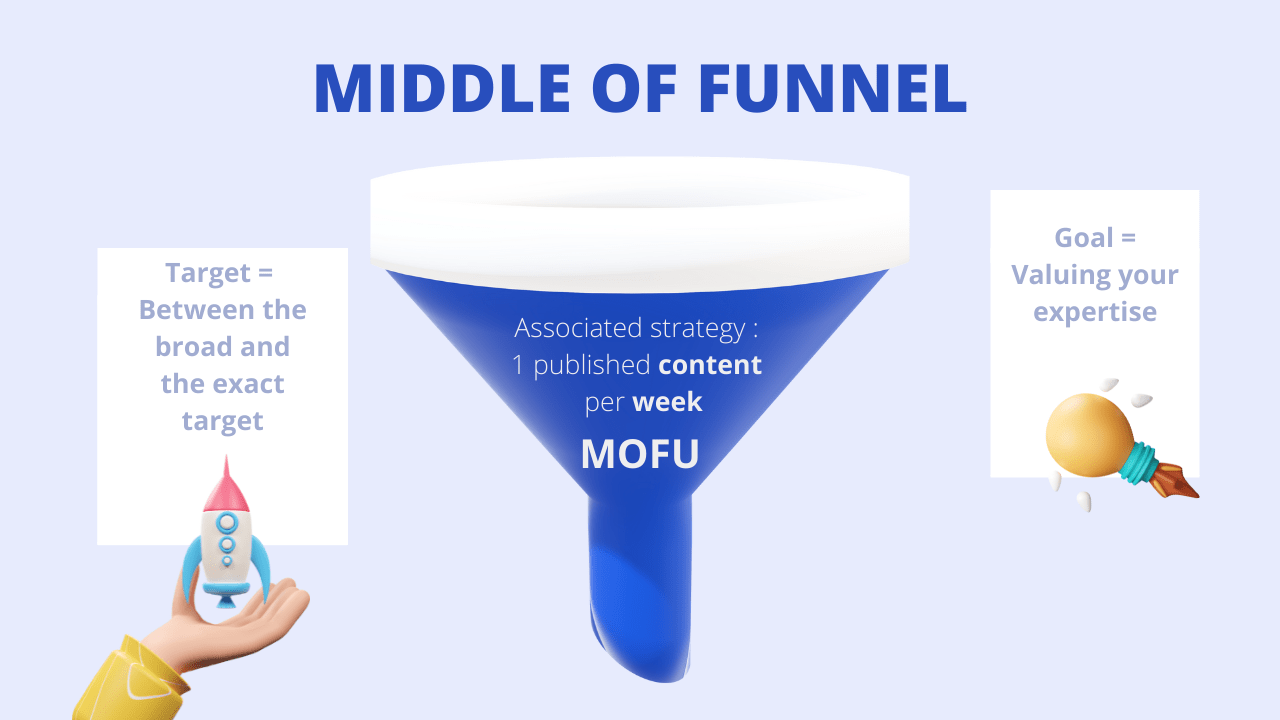 BOFU = "Bottom of the funnel"
These are warm prospects. 🔥 There, you write directly to your target market audiences about how to solve their problems.
Remember that a LinkedIn post can only contain a maximum of 20% self-promotion.
The best way is to use a lead magnet technique. That is, you ask them to comment on your post to receive information, an article, a white paper… And you add them in an automated sequence before you call them back.
If this sounds Chinese to you, don't worry, it's very simple.
Article: What is a sequence to convert new prospects?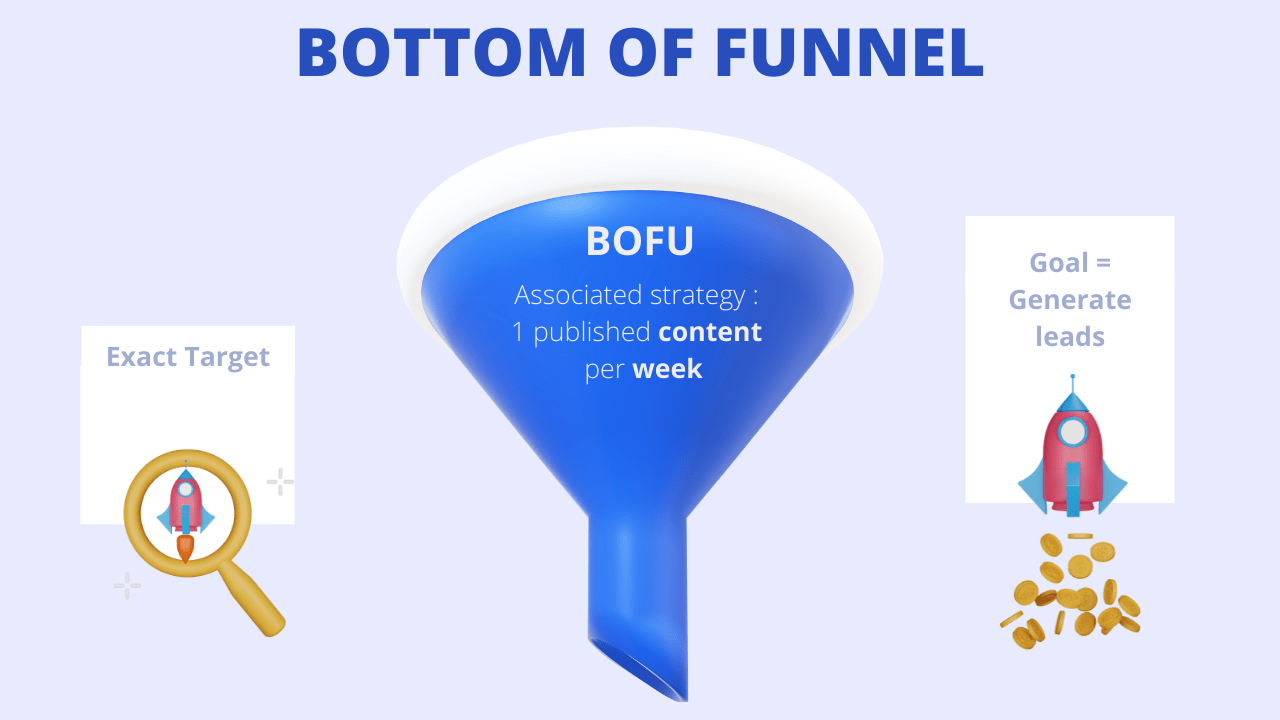 Always think about it! 🧠
Define clear and quantifiable objectives: credibility, acquisition, customer loyalty, increase the number of profile views, connection requests, etc.
How long does it take to publish on LinkedIn?
You need to vary the frequency of post types and "frameworks" (ways to engage): post minimum 2 times a week to start, going up to 2 times a day maximum thereafter. 🌳
Also, consider varying the type of content strategy in your posts according to the themes of your TOFU-MOFU-BOFU, e.g. more serious topic area at the beginning of the week and funnier ones at the end of the week. 🤡
You can find the "playbook" for writing killer posts, with a guide to creating your own TOFU-MOFU-BOFU funnel here! 💥
What is meant by LinkedIn content? Increase your value from awareness on social media networks
Some employees often feel less legitimate to speak up than leaders or people with more advanced knowledge in a business field. 😳
However, LinkedIn is an open network, you can tell your experiences as an explorer of a topic area in general and not a general truth. 🤗
Being visible allows you to cultivate your personal brand regardless of your professional situation ✅ (employee, executive, job seeker, freelancer).
You can play on readers' cognitive biases and satisfy them, through an engaging digital content strategy on LinkedIn. ✨
Being more visible = being more credible! 😎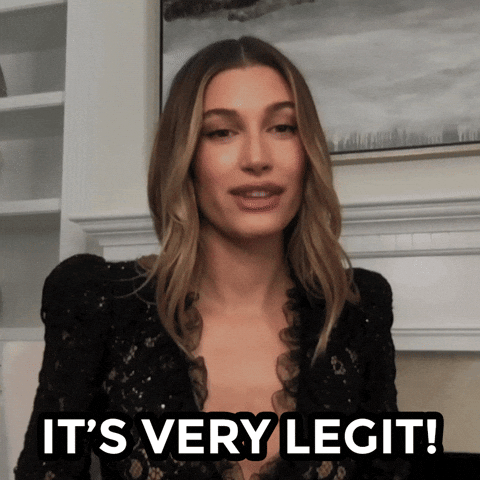 Post regularly on LinkedIn to increase visibility
Please also note that persistence is an iterative process, it's a key element to successfully getting views and a growing audience. 🙌
T. Louis tells us about this:
"Treat your audience like gold" i.e. cherish your audience and take all possible feedbacks when you start your digital content strategy on LinkedIn or elsewhere.
Here are some tips to follow as well 🤩
Break the idea of "I have nothing to say" and structure your content ideas in a dedicated file.
Write with empathy and put yourself in the reader's shoes before publishing.
Think about reciprocity, to get likes and comments, you have to do some too.
Interact with others, LinkedIn encourages exchanges and offers similar great content to your audience.
Before writing posts, start by leaving comments to make your profile stand out, let others see you!
Filter your news feed for quality content and engagement to appear in others' feeds.
Make 2-3 posts per week and take time to engage with your connections on a regular basis.
Now let's move on to the creative process techniques that will help you come up with good post ideas and build them effectively. 👌
What content strategy framework on LinkedIn?
How to create content marketing? What do you write in your first LinkedIn posts?
🟣 T. Georget asks T. Louis:
"From a copywriting standpoint, what is the "framework" you use?"
🔵 T. Louis replies:
"Make a chart with 4-5 columns for broad (vertical) topic area, in a tool like Trello/Notion to find posts with a focus. Then combine with the four A's method: Anthropological, Actionable, Analytical, Ambitious (horizontal lines)."
Anthropological: taking a step back from a topic, "why this or that?"
Actionable: the 5 actions to do X or Y thing.
Analytical: the 5 trends of X topic.
Ambitious: "5 years ago I started in this, now…", etc.
Content strategy example
💡 In this example, T. Georget notes his content ideas in a table Notion: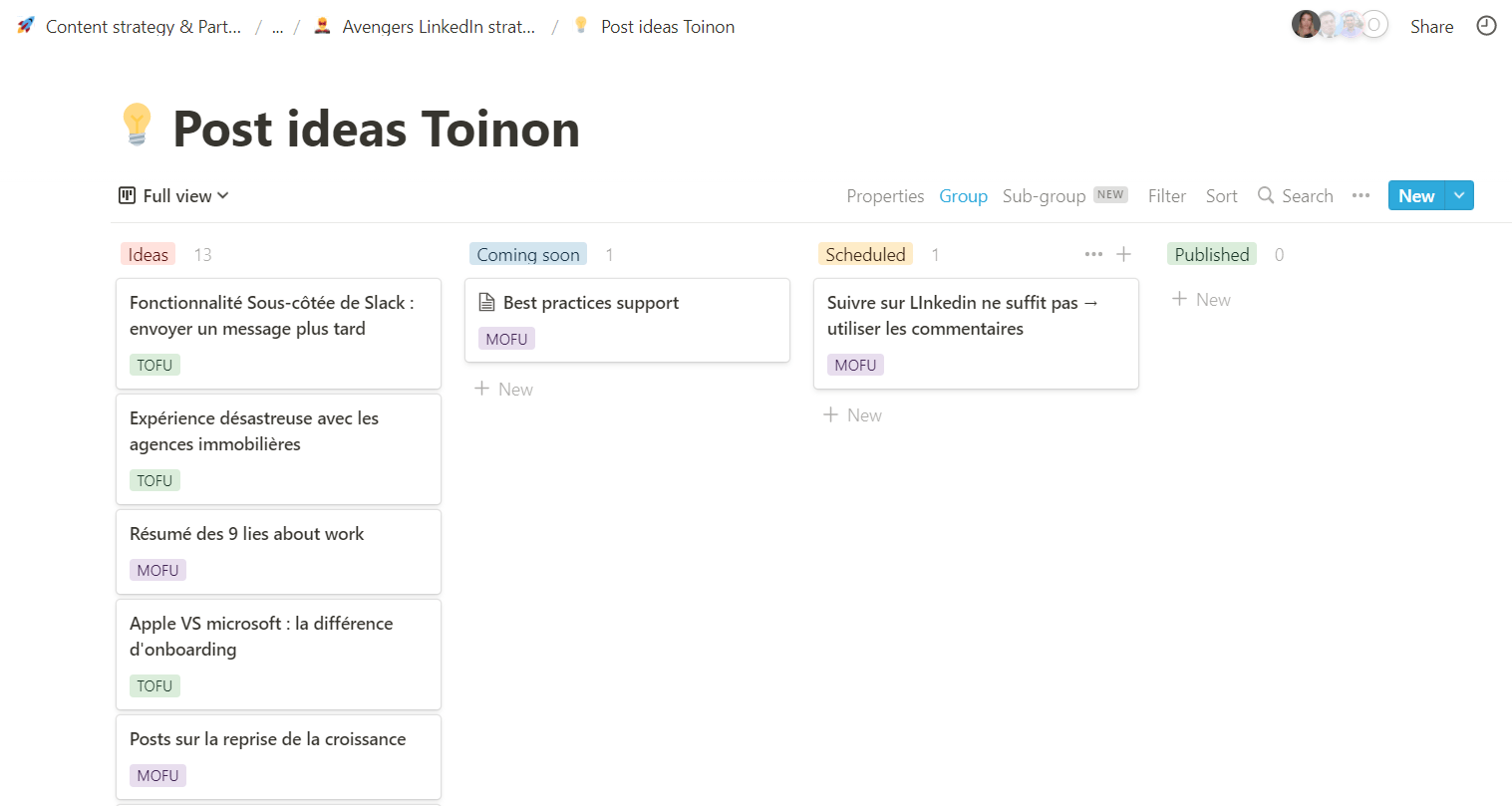 🟢 T. Louis reminds us:
"Write down your content ideas as you get them, while walking, talking with friends, in the shower, etc. Adopt a "detective" mindset everything can be an inspiration Remember to write downthink about writing down everything that comes to mind and then refine the content later (make a first draft with everything that comes to mind in relation to that topic)."
🟡 T. Georget completes this idea:
"In relation to creativity, often content ideas come in quiet moments of the day, to encourage reflection and introspection. Dedicate time to doing nothing. Systematically write down your ideas The more content you create, the more ideas you will have. Keep one idea per post, one idea can lead to another content idea. Creativity comes at times when you are doing nothing! Stay in meditative processes, force yourself to get into that state of mind, like when you take a shower, long walks, sports."
1 post = 1 idea!
Therefore, if the content idea comes, do the action right away or else look for sources of inspiration through meditation, free time, etc. 💆
Have a clear idea, with hook and release in focus. Nevertheless, the content ideas scraps ("R.I.P. ideas" 💀), you have to reuse and re-note them in your board to exploit them afterwards, in another dedicated post.
👉 Be synthetic even if it means 5 lines, it's ok, as long as it's understandable and you keep one idea per post!
Tips for successful copywriting for your social media marketing strategy
If you are not familiar with the term "copywriting" here is its definition:
Copywriting, often called "design-writing" or "copywriting", is the art of persuading others through keywords. 🤭
People who practice it are called "copywriters" or copywriters. Their job is to write copy for blog posts, sales sites, landing pages, calls to action, etc. ✍
Method #1 Digital content strategy:
To get started, you need to know how to use a tagline: think about the long-term benefit, avoid being misleading or falling into clickbait. 🎣
Summarize the main idea of the post in one sentence. Explain how you're going to solve your caller's problem, right from the catchphrase. 🙏
🟠 T. Georget tells us:
"Think of the catchphrase as the subject of the email and the content of the email, you need a good title to catch on, but you need to remain consistent with the body of the text. Take care of your credibility, instead of looking for more open rates."
Method #2 LinkedIn content strategy:
Deliver the content info of the post 75% in your teaser: for example, give answers in "5 easy steps." Then the heart of the post should be the solution to the problem being discussed, so that's the other 25%. 👏
Take care of the hooks and exits. Think of the post as a "sandwich", the bread on top is the hook, the meat is the content itself and the bread underneath is the exit. 🥪
Measure performance in views, however be careful about virality, as that could also discredit you. 👀
However, if you want to know how to go viral on LinkedIn, read this article! ⚡
How to get 1M views on LinkedIn using a content strategy outline?
1. Digital Content Strategy on LinkedIn TOFU-MOFU-BOFU:
"Top, Middle and Bottom of the Funnel": we often think that we should be as "niche" as possible on LinkedIn publications, when there are 3 levels of topic area even outside your expertise topics. 😋
Here is more or less the formula to adopt, BOFU = expert topics (40% of blog posts) + MOFU = more global topics (40% of blog posts) + TOFU = broader topics (20% of blog posts). 🤝
2. Accelerate on content creation:
To stand out in multiple people's "feeds" you need to post on a regular basis. At least 2-3 posts per week to start, then 3-4 posts per week: 2 MOFU blog posts, 2 TOFU/BOFU blog posts for example.
3. Use current post trends:
We've all seen "Hello everyone, except…" posts, or LinkedIn polls go by, so take inspiration from current trends to get the most reach possible. ⚡ Post the more general or humorous posts on the weekend and more serious or specialized posts during the week.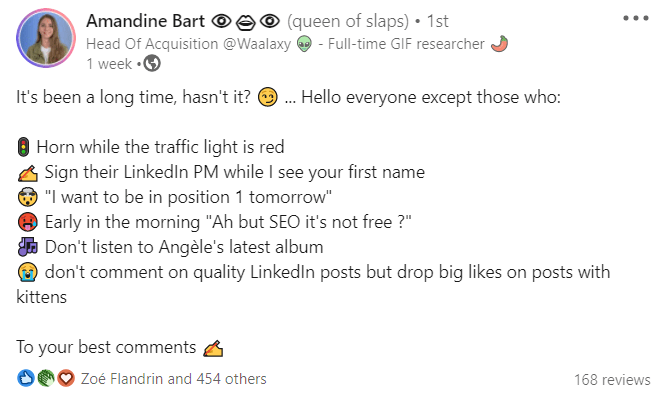 4. Types of digital content strategy on LinkedIn:
Written posts are the most valued by LinkedIn! 👀
Photos/videos, qualified surveys, and PDF carousels require good visual creation + a lot of creative time. Plus, the views are less viral. However, "memes" do hit the spot if you ever want to go viral.
5. Highlight the "Follow" button on LinkedIn:
Instead of having the "Connect" button on your profile, you can put it in "creator" mode and have a "Follow" button instead. 🤓 This allows you to have more connections following you, but less adding you, to keep a quality network when you start attracting people/views to your profile.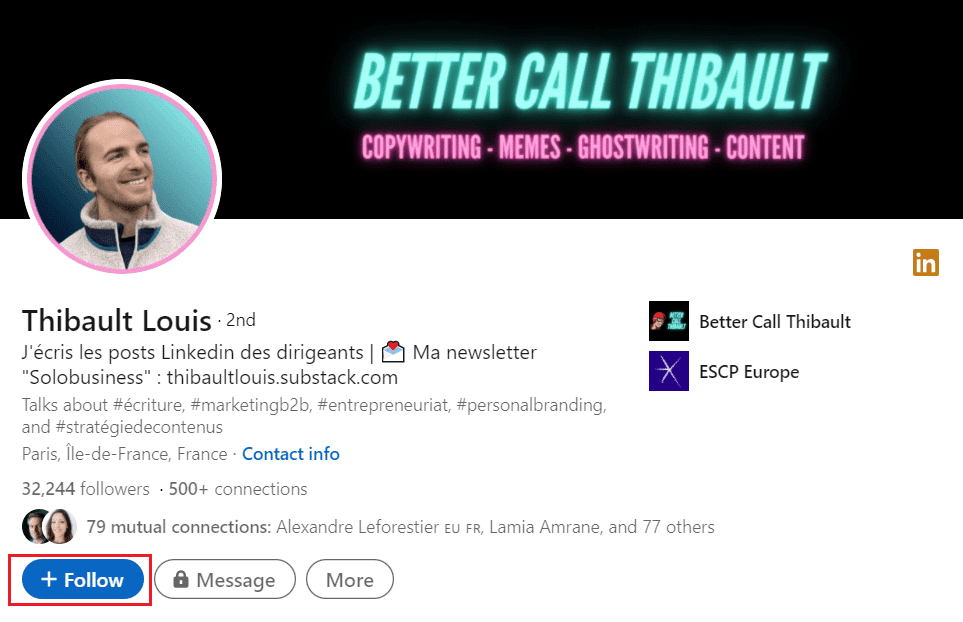 6. Alternate TOFU-MOFU-BOFU content:
Break down your content ideas into long, medium and short posts depending on the nature of the post in question. Remember to be "punchy" and don't hesitate to make posts on a regular basis, to create an omnipresence effect with your connections.
7. Exploit the simple exposure bias:
The more exposure you get to someone's content, the more likely you are to have a positive image about that person/brand. Creating engagement and building loyal connections, by posting twice a day makes you more visible and makes you show up in news feeds daily. 💥
8. Use post automation "pods" to optimize posts:
Using "pods" on LinkedIn creates a social media proof bias effect, it makes you want to engage organically, because other people will have already commented. Pods help increase engagement to boost LinkedIn 's algorithm , which notes the amount of likes and comments in posts.
9. Use 1st comments:
You can use the 1st comments of posts to put a "punchline" or start the discussion, share your contact/newsletter link or "lead magnet" on LinkedIn. 🧲
Give life and a specific tone to your posts, use "hashtags" for a laugh and target audiences outside your network. Create quality content posts + 1st comment "call to action".
In addition, in serious posts, using an offbeat sentence at the end creates a break in the "pattern" or a shock effect, and it makes people want to go and comment, as this reflection provokes a reaction in readers.
10. Choose the language to publish continuously:
You need to be concise and choose the right language for your audience. Use a dedicated profile for each language you want to publish in or choose a standard language. 😀
Conclusion: LinkedIn content strategies
Digital content strategy on LinkedIn, is not the same as on other social media networks like Twitter or Instagram. So save the professional content for LinkedIn! 🏆
Iterate on content and test multiple formats to stand out from the rest. Differentiating yourself and taking risks when publishing is what will help you reach your business goals faster. 🏹
To go further… use Waalaxy!
With our Waalaxy automation tool, you can import your audience into your CRM and market to them afterwards. 👽
This will allow you to be even more efficient in your prospecting follow-up and you won't lose any new prospects who will come to comment or like your posts on LinkedIn!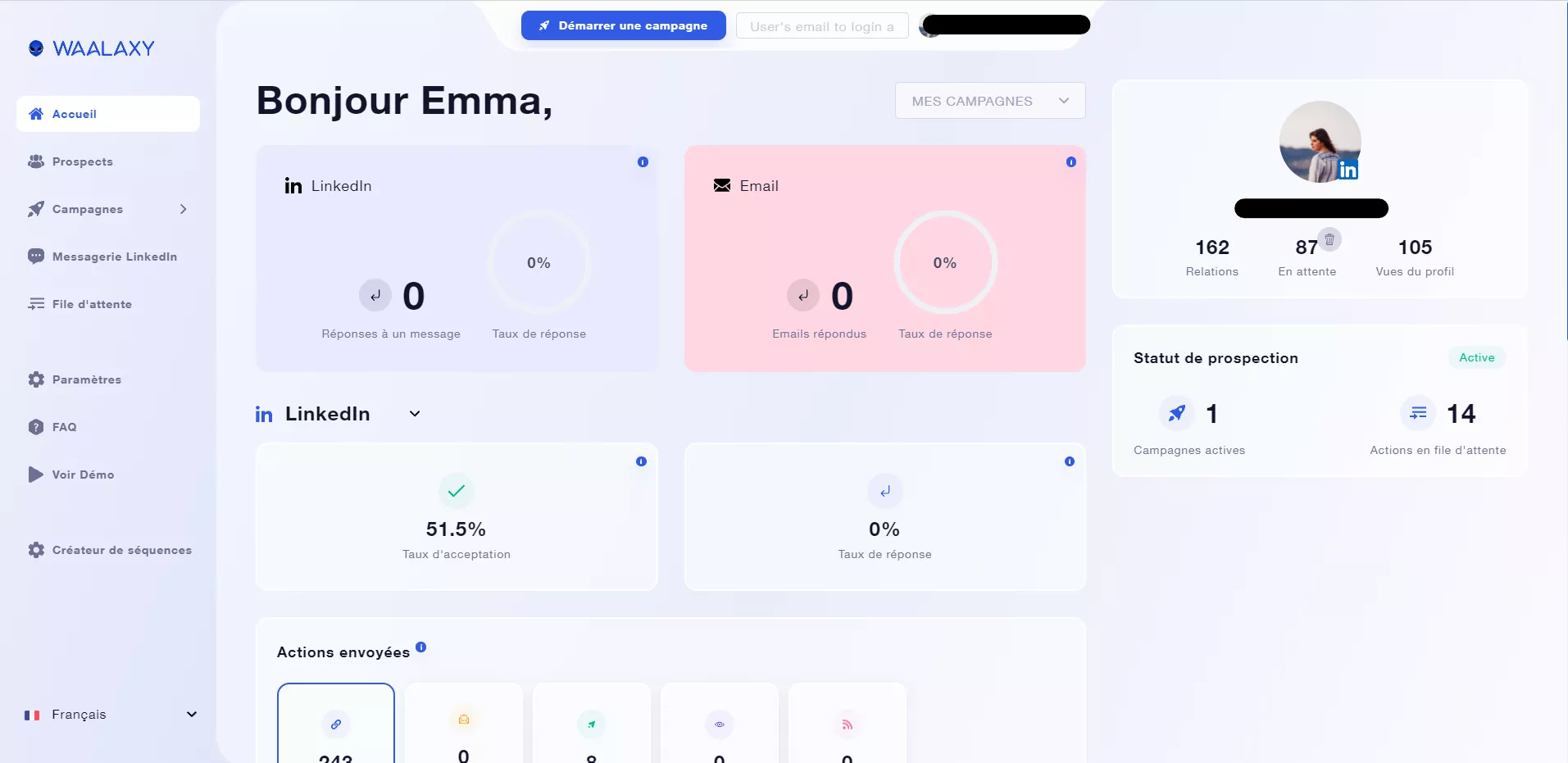 Resume : 5 Questions you should ask yourself before starting
Q1: Why do you want to develop a strategy on LinkedIn?
You're about to write posts and therefore invest a minimum amount of time in content creation. What is your goal? What do you hope to gain from this strategy?
Basically, we learn that there are 3 distinct communication objectives:
👀 Create awareness: this is the cognitive side. Your brand or company doesn't really exist in the minds of your potential customers, and you want to create discovery.
❤ Make people like you: you play on the affective side. You are known. You want people to like your brand and talk about it.
🏃‍♂️ Make people act: this is the conative bias in the register of attitudes, you want to create the intention to buy.
Once we've defined your objectives in order of priority, we'll need to get a little more specific:
What do you want to get across first: brand, products, a particular offering?
What is the feeling you are looking for from consumers: i.e. you want to be loved, of course, but for what characteristics (your values, your design, your options, your benevolence, your performance…). Of course, there can be several answers, in order of priority.
What is the "mentalization" sought when purchasing? Mentalization is more precisely "the feeling that a customer perceives during the purchase, in possession of your product/service. Does it make them feel younger? (Example of Evian) Does it feel cooler and more in tune with the times? (Example of Levis or Apple).
There are thousands of reasons to publish on LinkedIn. What is yours?
Play on the familiarity bias? Educate your prospects? Showcase your expertise? Raise awareness? Become a star?
Defining the "why" helps you find the who and the how. To define your goals, it is important to know (also) if they correspond to your target.
Q2: Who is my target audience on LinkedIn?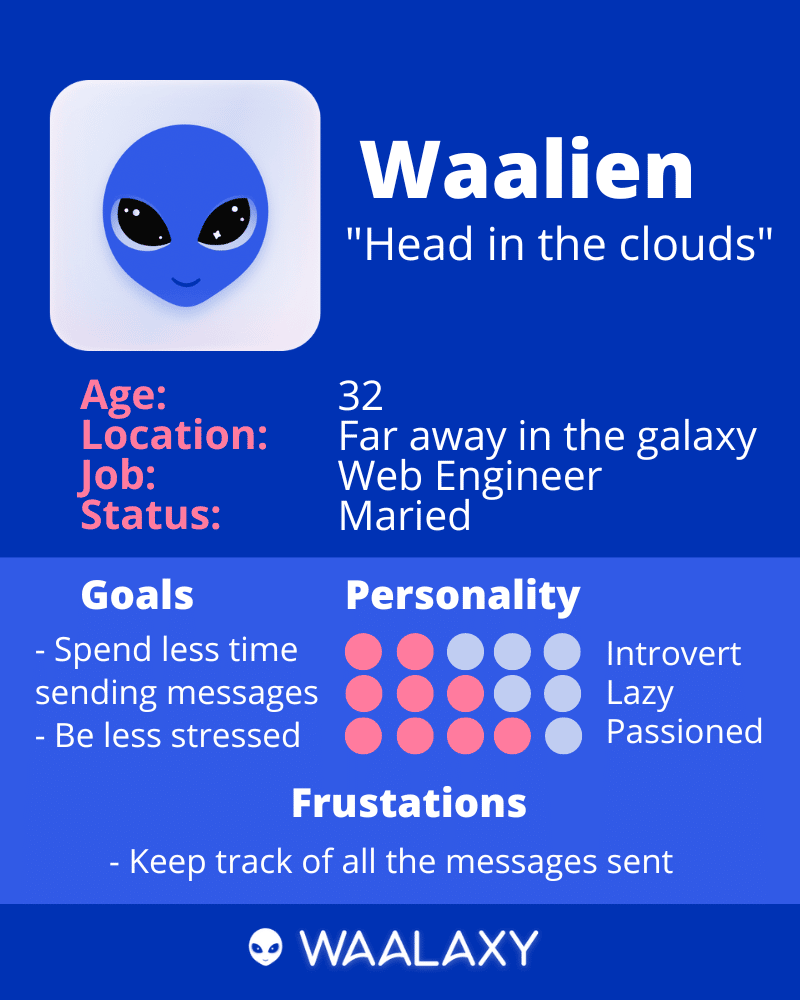 Obviously, you would like the whole world to see your content on LinkedIn. But you have to decide: who is the primary audience for your posts?
Like any marketing strategy, define the niche at the beginning. A persona that you can then expand.
Talking to everyone is talking to no one.
Everything starts with the target and all the more so your messages: To create content, you must define your target audience FIRST.
😎 Create buyer personas to better understand your target consumers

 

.
🔥 Make sure you have several: Hot, lukewarm, and potentially transformable prospects.
🔍 Do LinkedIn search to isolate and analyze their profiles and behaviors on the network: Are they active? Do they write posts? Do they follow specific LinkedIn pages?
🅰 Your target on the network is not necessarily your main target. It all depends on your strategy on social networks, if your goal is to find partners on LinkedIn then there's no point in taking the same persona as your consumers, you're going to screw up.
ℹ Always ask yourself what your target's issues are, it will help you know a little better what to post.
What are my target's recurring tasks?
What are their schedules?
What are her issues and challenges?
What are the difficulties they face in not meeting these challenges?
Q3: What to post on LinkedIn?
You know why you want to post and to whom? Now you need to know what you are going to talk about. Not so simple, is it?
Over the past few years, we've conducted dozens of experiments. Published hundreds of posts. Generated millions of views and hundreds of thousands of interactions. We've made some important conclusions that we want to share with you.
ℹ Our advice: prepare your topics well. Brainstorm with your colleagues and friends. Come up with a list of broad topics (you can talk about anything on LinkedIn, contrary to what some people want you to believe). Then prioritize.
ℹ The two most important conditions to get maximum views and comments on your posts is: that they are qualitative and regular.
ℹ,I invite you to have 3 months of precise ideas (title of the post) in front of you and 3 other months of more vague ideas (thus depending on the frequency of publication you want to set up).
ℹ The best method among all those we tested is the one of TOFU-MOFU-BOFU and we swear by it.
What type of content to post on LinkedIn?
You have several format options on LinkedIn. You can post:
Plain text, with short or long posts,
Images,
Videos,
Carousels.
Each of these options has advantages and disadvantages, but they are all appreciated by the Internet users on the network.
ℹ Our advice is to have a graphic charter really to you, for example :
Make it so that people recognize you.
🅰 The amount of time a video takes is significantly more than a plain text post, so don't overdo it if you don't have the time.
🅰 (Please note that videos absolutely must be captioned).
Q4: How often you should be creating content on LinkedIn?
Regularity is the key to content creation on LinkedIn, and all social networks for that matter. It's better to post less but consistently over time than to post a lot at some times and not at all at others.
Depending on how much time you want to spend creating content set an attainable frequency.
ℹAfter all the tests we did, we came to the unanime conclusion that 3 times a week was really the most effective frequency. Now, it's better to have 2 quality contents per week than an overloaded editorial calendar but poor added value content.
ℹ Start low and work your way up. It's better than the other way around.
The creative process is paramount to holding consistency. You don't make a living from content marketing on LinkedIn. It's a separate job. So we shouldn't spend all our time on it.
You can read about my own content creation process to get inspired and find yours.
Q5: How do I publish on linkedin? (Define your brand)
If you start publishing regularly, you want the audience to recognize your content at first glance. Like any marketing strategy, this will reinforce your brand (here your personal brand).
I'm not saying you should have a style from the start and never change it. But having an idea of your format (which should follow best practices), a writing style that stands out, and a specific attribute. Or even several formats that you can test in the first few weeks to adapt and iterate.
Just don't start out "empty". Give yourself a line of conduct in your content.
There are several methods of content creation, we use the AIDA method a lot, which we particularly like. (and which also works if you want to do some prospecting on the network).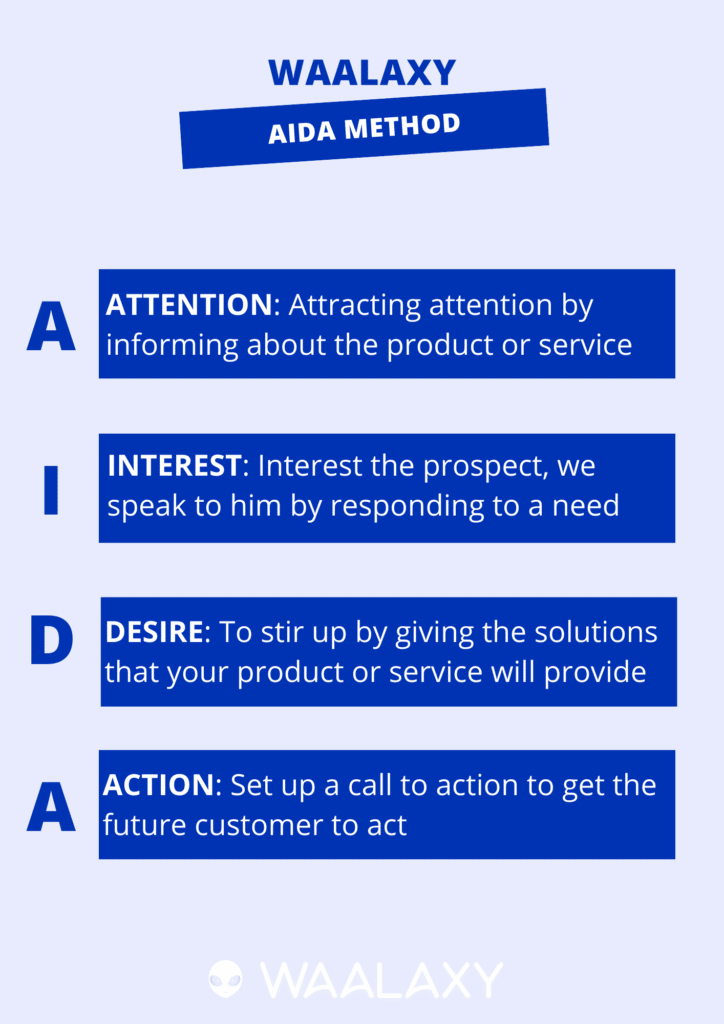 FAQ LinkedIn content strategy
How to publish a post on LinkedIn?
To publish a post on LinkedIn, you must be registered on the social network.
If you are not yet registered, click on the "Register" button at the top right of your screen.
Once you are on your profile, click on the "home" button, then you will see a space appear where it says "start a post", this is where you write or add your visuals. Then click on the "publish" button. 😁
To create an original layout, here are some cool links we've compiled for you here.
What are LinkedIn content strategies?
The best way is to differentiate, iterate, take risks, use 2d degree to give your personal touch, interact with your network and of course, apply a TOFU-MOFU-BOFU method before publishing. 🥇
Here's an article on how to write good LinkedIn posts, to give you even more content ideas. 🧐
You can also use LinkedIn to :
Publish your Blog content and give visibility to your website.
Write articles on LinkedIn Pulse,
Follow influencers and see what do they write and why it's working.
Your content strategy on LinkedIn is what will help you achieve your business goals, be persistent and the algorithm will reward you! 🤞
What type of content works best on LinkedIn?
As mentioned in the article, the best LinkedIn posts are either:
Clever: they attract attention through boldness,
Tutorials: They teach your audience something,
Emotional: Emotion is the key to the best posts, and this for all social networks, even B2b.
What to avoid at all costs. ❌
Constantly selling your product.
Talking about a topic that is not relevant to your target.
Talking about topics that are too personal or too taboo, such as political opinions.
Writing without formatting,
Not having an established social media strategy.
What type of post on LinkedIn for Business?
Posts on LinkedIn should always be professional. You can of course (and we advise you to do so), talk about yourself, your experiences, your failures and your successes… But, don't go into the private sphere; Always keep your goal in mind: to have an audience interested in your product/service. 🎯
How to post on LinkedIn?
We advise you to post on LinkedIn using the TOFU-MOFU-DOFU method mentioned above, and thus to regularly post engaging content for your target. The best way to employ a marketing strategy is to post 3 times a week 😉.
Should you add videos on LinkedIn?
Yes, and no. It all depends on your communication strategy. What we recommend is to have a regular style. If you publish carousels twice a week and text once, then keep it up and wait several months before analyzing the overall results. Posting on social networks is a long process, you won't see the first results in one day.
Ask yourself:
Is my target audience sensitive to videos?
Will I be able to publish videos regularly?
Do I know how to make quality videos?
Also, always consider putting subtitles on videos, LinkedIn users rarely put sound on. 🔇
Do you need LinkedIn Business to develop a content strategy?
Well, no! You absolutely do not need to have a LinkedIn premium to develop your LinkedIn content strategy.
If you're interested in premium subscriptions, you can check out our comparison on the subject.
What are the best practices to use LinkedIn for your brand?
The best practices for using LinkedIn are the following:
Know how to identify your target audience,
Publish on a regular basis,
Optimize your LinkedIn profile as much as possible,
Use automation, but not excessively,
Bring quality, rather than quantity to your audience.
Now you know everything about the right LinkedIn content strategy.
How to make great posts on LinkedIn?
How to create particularly interesting content on LinkedIn? For that you need to find your topic of expertise and gravitate around it. To help you understand your audience's interests and create relevant content, we've added some key sources.
Tweethunter

shows tweets that have received high engagement on topics of your choice.

Sparktoro

helps you understand what people are searching for associated with certain keywords.

AnswerSocrates

is based on Google data to help you find content trends.
How do I start a Personal content strategy on LinkedIn?
If you want to start your personal branding and you don't know where to start, please read our guide on Personal Branding and how to become successful with our social media strategy.
Here you go, you have everyting you need to start your LinkedIn content strategy. 😄