In a modern era (not that of the dinosaurs 🦖 anyway), artificial intelligence has undergone a meteoric evolution that has revolutionized many aspects of our daily lives.  Today, numerous AI tools have found their way into various sectors, such as healthcare, transport and leisure. Today, whether you're an entrepreneur, a manager or an employee, AI tools are indispensable companions, offering intelligent, automated solutions.
Here are 3 AI tools to use for marketing.
In this article, we'll explore 🌎 some of the most widespread AI tools that make working life easier. Indeed, whether you're looking to optimize your project management, improve your communication or boost your personal productivity, you're going to be spoilt for choice.
Now, get ready to dive 🤿 into the fascinating world of artificial intelligence, special edition professional life and, above all, discover how these revolutionary tools can help you stay ahead of the competition and succeed in your field.
PS: stay tuned, we're planning to sneak a few little artificial intelligence-generated images into the article. 🤫
1) Otter.ai: transcribing spoken conversations into text
Without further ado, here's the first tool in this series: Otter.ai! Cute little otter name, isn't it? 🦦
This tool will radically facilitate your professional meetings. In fact, it transcribes your oral conversations, transforms your audio recordings into written notes, and much more!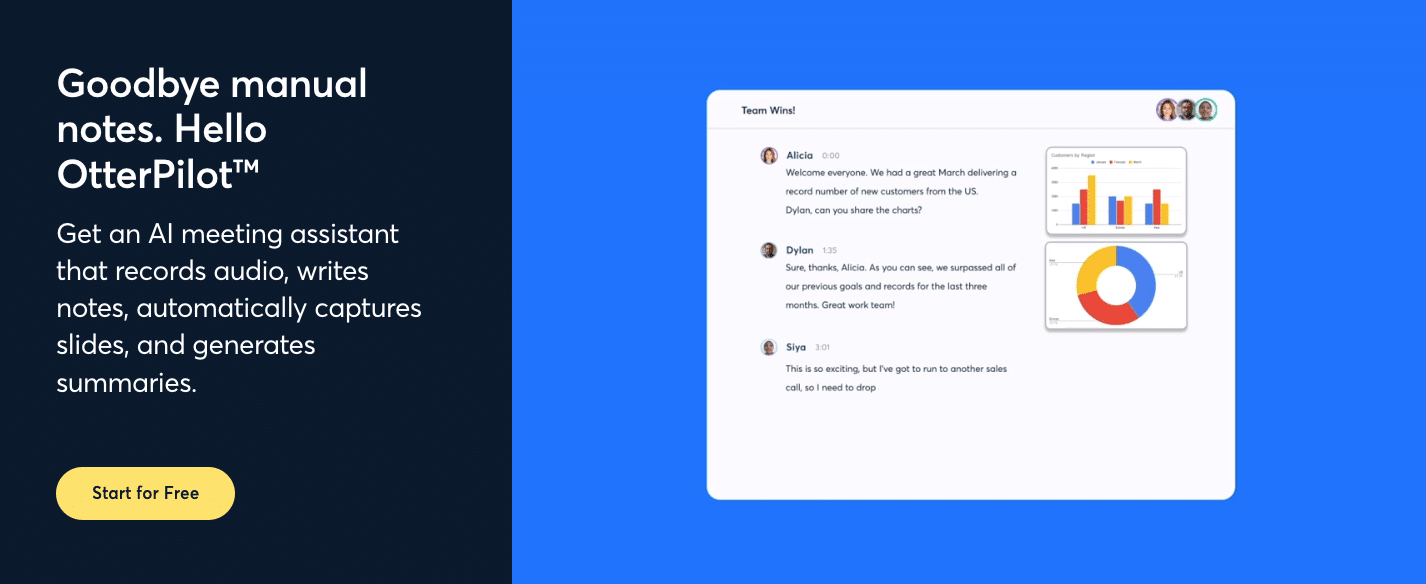 Here's what this online tool has to offer:
Write notes and summarize meetings 30 times faster ➡️ you collaborate with your team via a single chat, with the option of adding comments, underlining certain important words and, above all, assigning action items. ✨
Save time with automated meeting notes ➡️ you have the option of connecting the tool with your Google or Microsoft calendar and it can automatically join and record your meetings on Zoom, Microsoft Teams or even Google Meet! 🤩
Memorize key details with automatic slide capture ➡️ Roughly speaking, when someone shares slides in a virtual meeting, Otter has the ability to capture the images and automatically insert them into meeting notes. This means you don't have to keep interrupting the person presenting the slide
Get answers: ask questions related to the current discussion, and OtterPilot will answer them instantly.
Collaborate: your meeting collaborators can chat with OtterPilot to get answers quickly and continue their discussion in parallel.
Generate content: you can easily ask OtterPilot to create follow-up e-mails, action item lists or customized meeting summaries.
How much does Otter.ai cost?
This tool offers a free version, where you can even test its artificial intelligence. Otherwise, here are the different plans offered by Otter.ai. ⬇️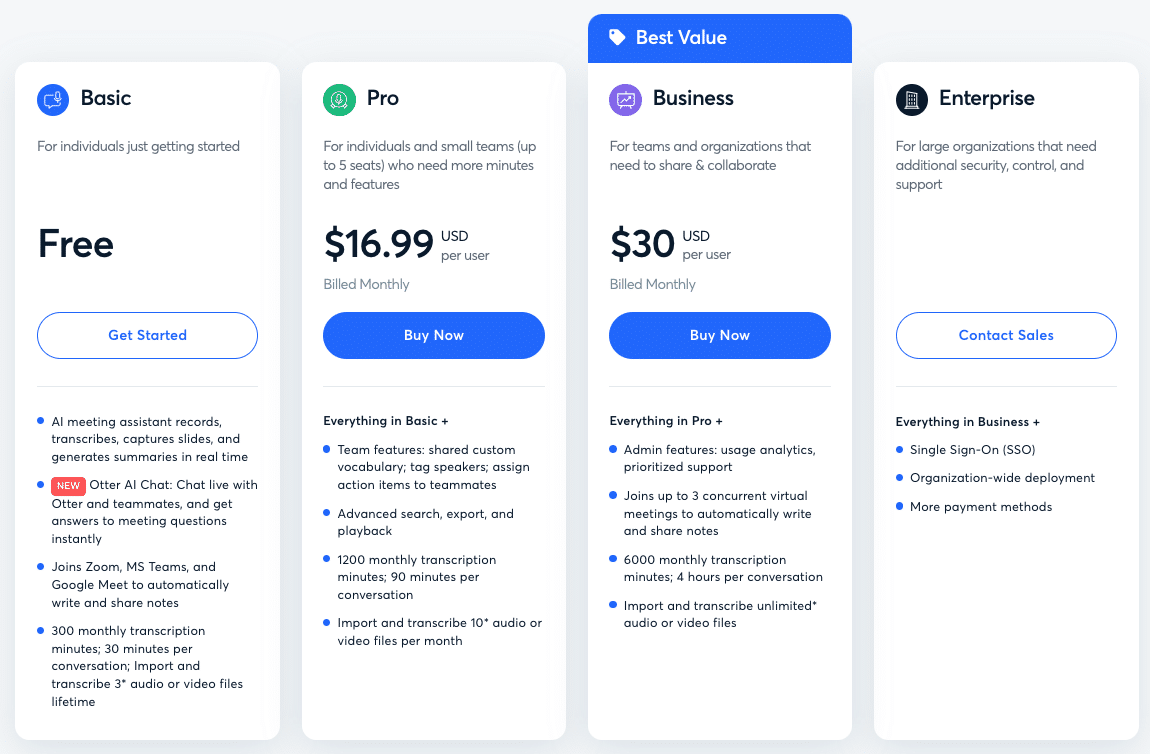 What better time to generate images using DALL-E artificial intelligence? Here's a small image of the Otter.ai tool. ⬇️
2) Paraphraser.io: reformulate any kind of text
This tool is quite simple, but just as useful. As its name suggests, Paraphraser.io is an online tool for rewriting text, removing plagiarism and reformulating articles.
To illustrate what we mean, here's an example of a text from one of our articles:
Original text

Modified text

A social media influencer is a person who has the ability to influence another person's choice of purchase based on their online presence and interactions with their followers.

Thanks to their expertise, skills or experience in a certain sector, they have an influence on individuals.

A social media influencer is someone who can influence the purchasing decisions of others based on their online presence and interactions with their followers.

Influencing individuals through their expertise, skills and experience in specific fields.
This tool offers several levels of transcriptions:
✨ Aisance.
💟 Standard.
🎨 Creative.
🧠 Intelligent.

Paraphrasing is the best-known feature of this tool, which is why it bears its name. However, there are other features such as :
🔵 Article Rewriter.
🟣 Plagiarism Checker.
🔵 Grammar Checker.
🟣 Text Summarizer.
We've tested the other features but find that they're not very optimized, at least with the free version, because yes, this tool has several subscription plans, let's find out which ones together. 👇🏼
How much does paraphraser.io cost?
Prices vary depending on whether you're an individual or a company. Here are the differences.
Price for an individual ⬇️.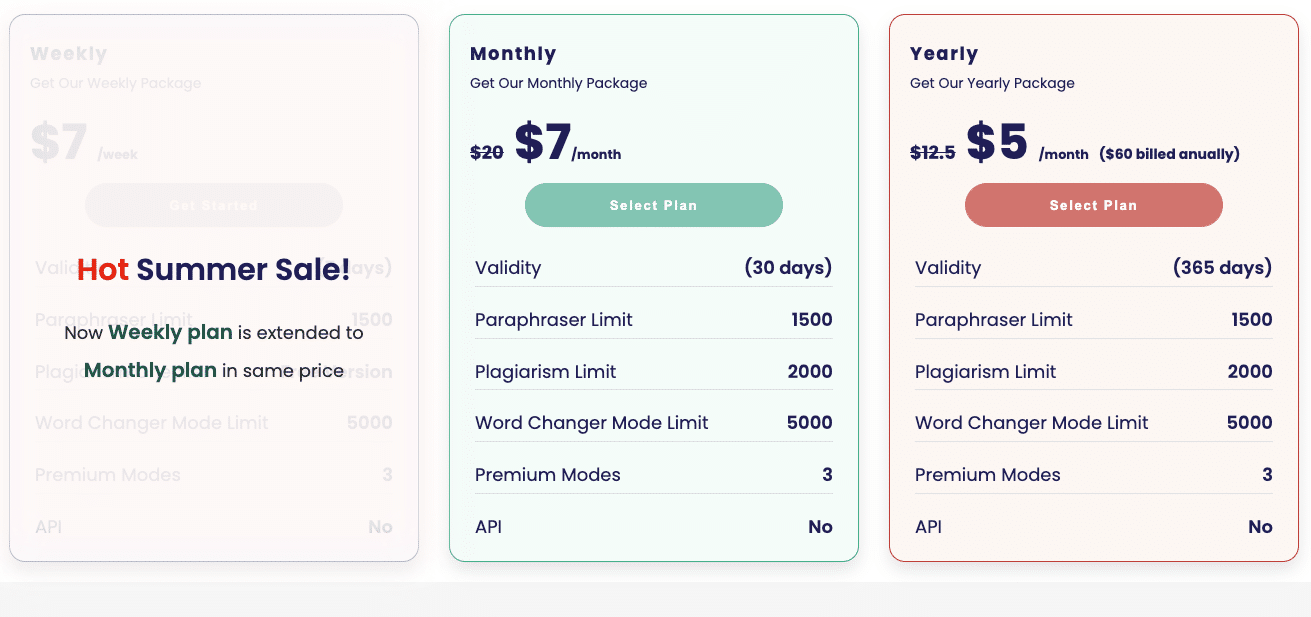 Corporate rate ⬇️.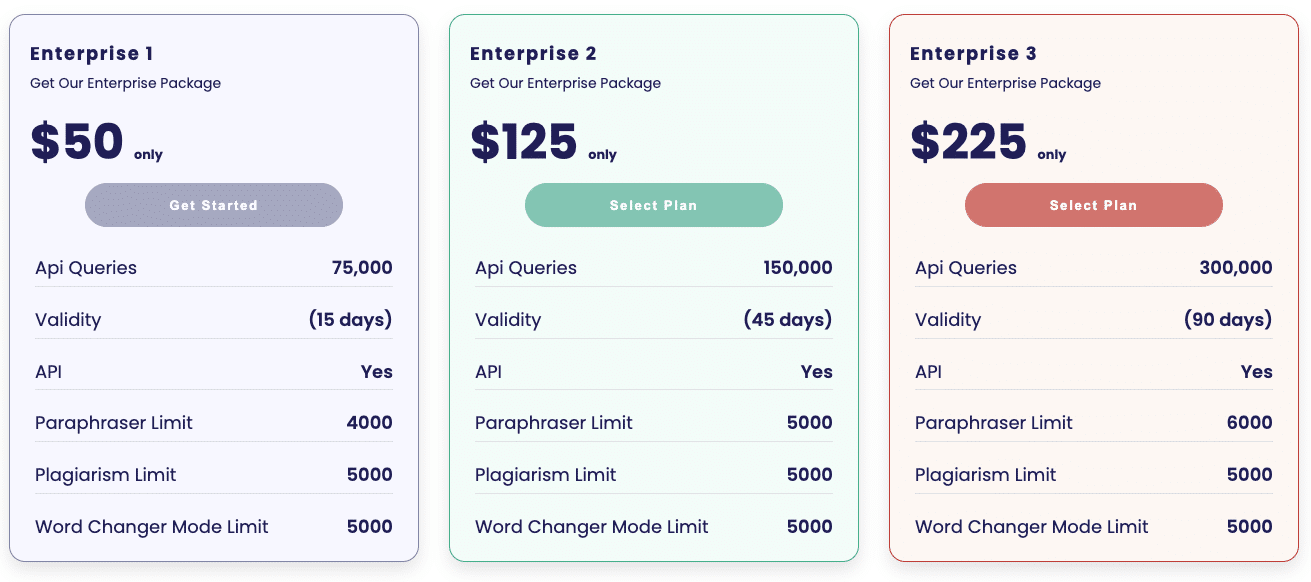 This IA tool's logo inspired us on DALL-E. 👀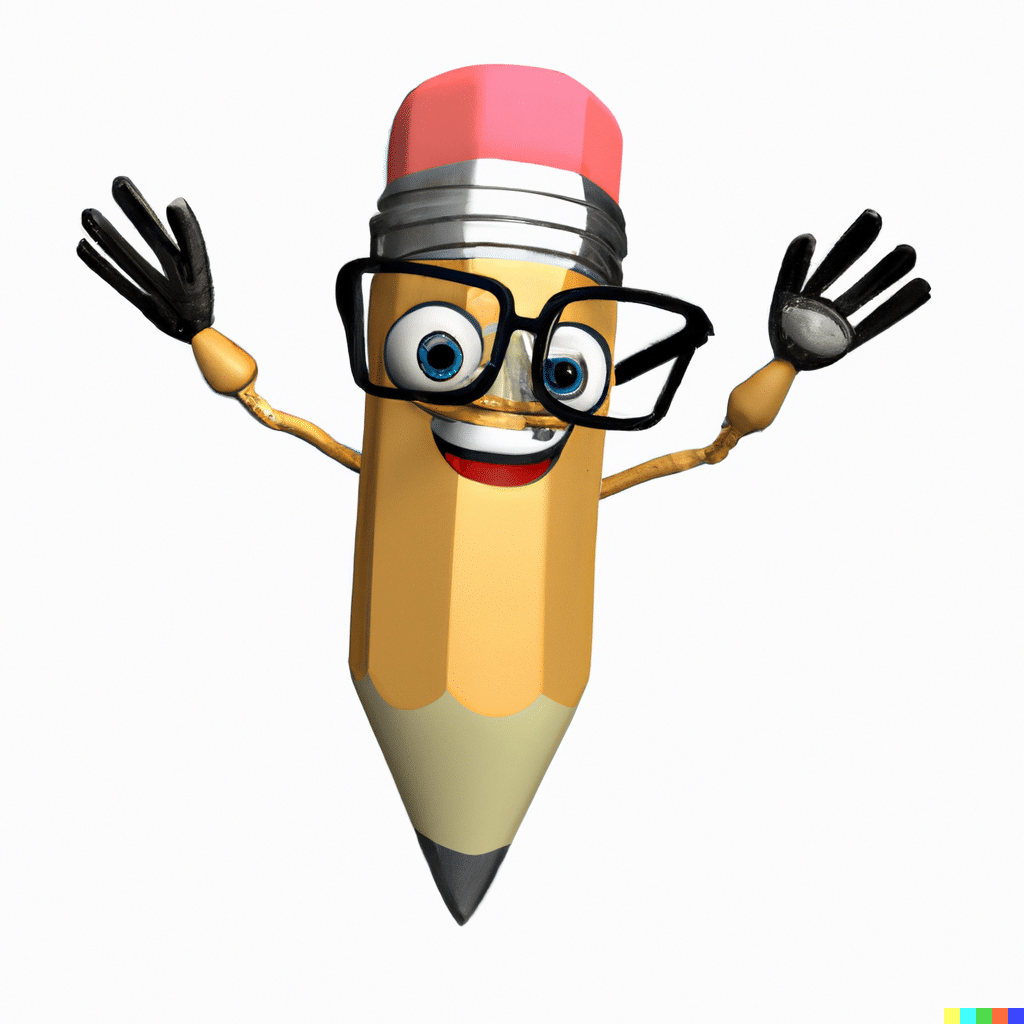 3) AI tools – Tome App: tell a captivating story
Let's move on to Tome App, an AI tool that allows designers to quickly create stories, presentations or even entire blueprints from scratch, filled with ever crazier layouts. 😇
Here are the various features offered by Tome app:
🟪 Interactive web content, integrated directly with Youtube, Figma or Spline.
🟪 Video narration.
🟪 Presentation and story.
🟪 Numerous project templates to get your process started.
We've quickly tested a few features for you. Once you've created your account, you have the option of starting your template.
I started by asking him to generate me an otter in space, here's what he created for me: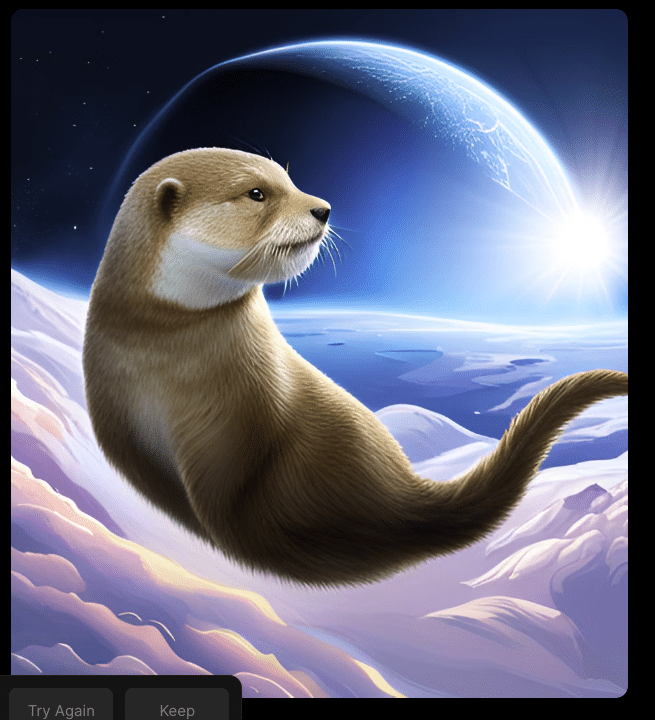 Isn't she too cute? 🥹
Next, we asked the tool to generate a presentation based on the following phrase "a spaceship in marketing". Well, the result is pretty cool: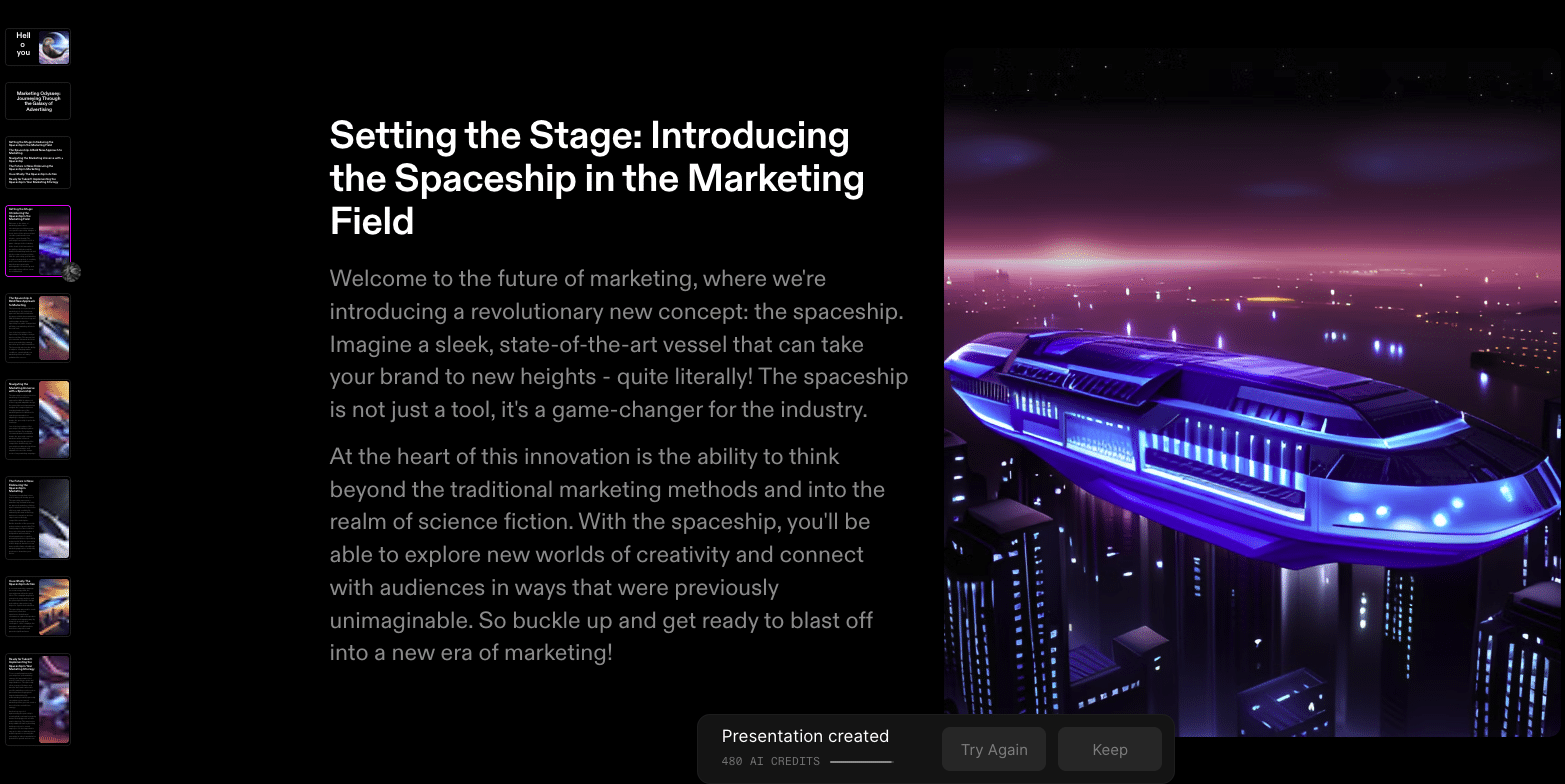 The AI created 9 pages with a title, text and images related to the requested phrase.
How do I get Tome App?
You have a free version that lets you create unlimited tomes for individuals, and you can collaborate with two other people.
Then, just like its brethren such as Chat-GPT, this tool has a credit system, and you're offered 500 credits when you sign up.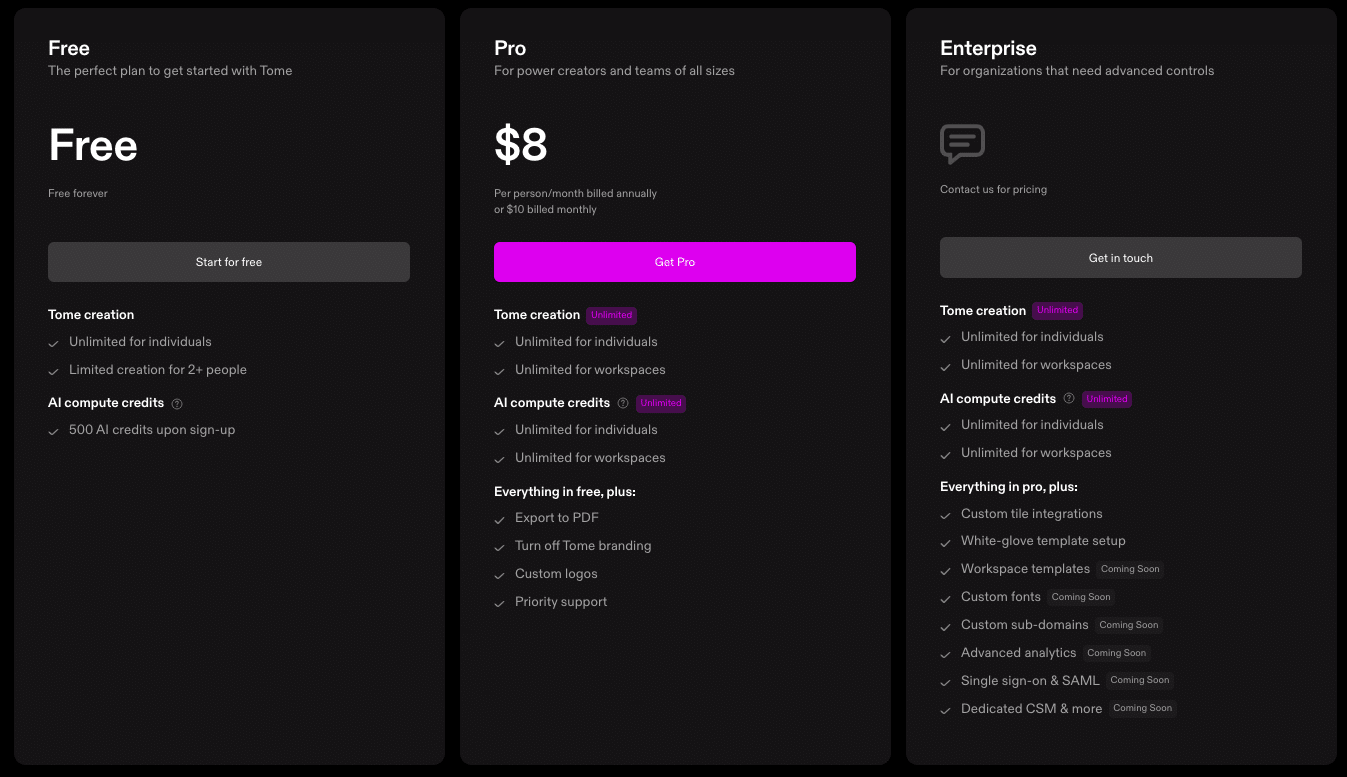 4) Browse IA: monitor website data
Now let's talk about a tool that lets you analyze, organize and present online content in an intuitive, personalized way via a little robot. 🤖
Here are the different use cases for Browse IA:
🛜 Download data from any website.
🔎 Monitor websites for changes.
🤖 Turn any website into an API.
👀 Monitor prices.
🏘️ Extract real estate data.
Here's a more detailed list of features. 👇🏼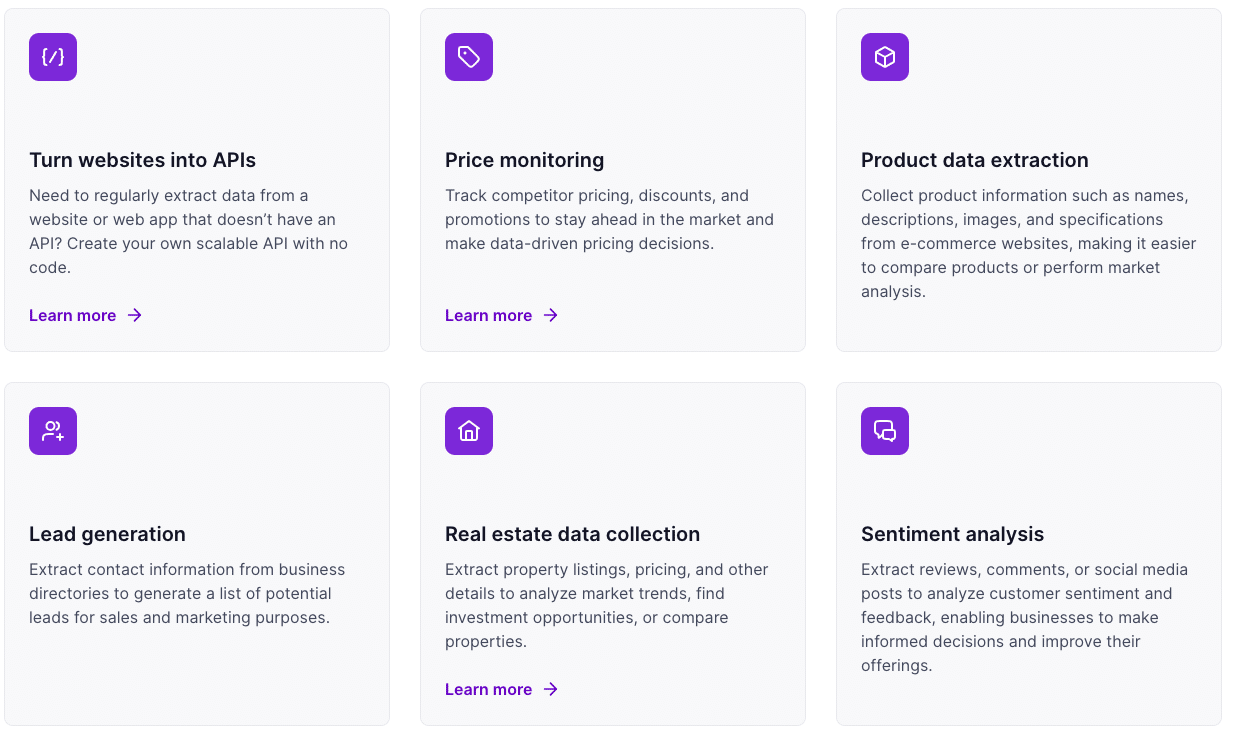 How much does Browse AI cost?
There are three versions available:
🥇 Entry at $19/month.
🥈 Professional at $99/month.
🥉 Team at $249/month.
Details can be found in the photos below. 👀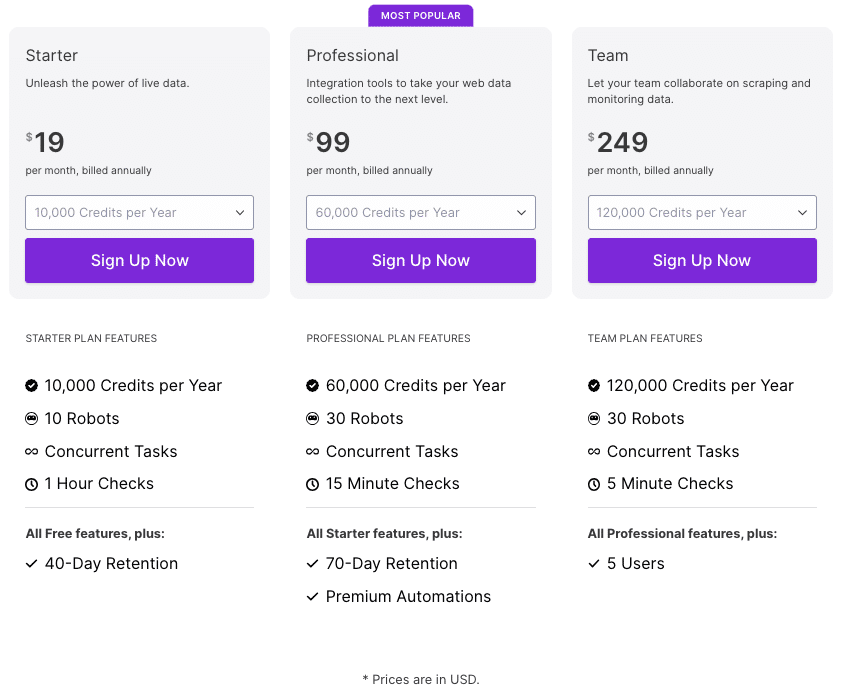 5) Gpt go extension: search faster
Have you heard of Chat-GPT? This artificial intelligence for improving efficiency and productivity at work. 😇

Well, in addition to being available online, Open AI has set up an extension that lets you ask Google a question and have, on one and the same page, the Google result as well as the Chat-GPT result.
We did the following search: definition of marketing. Here's what Google and Chat-GPT came up with. ⬇️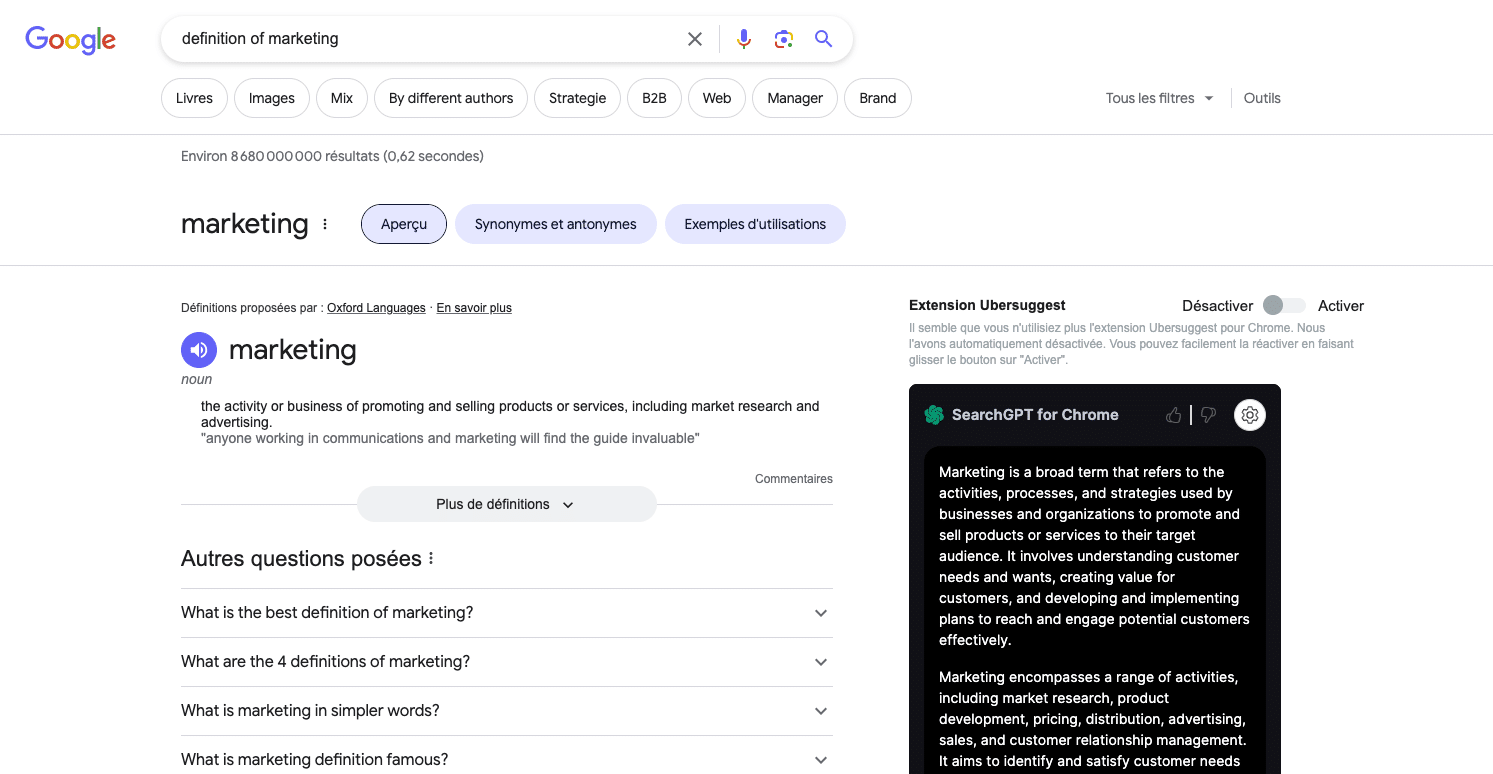 The extension is free, you just need to have an Open AI account and log in and, voila! 🪄
6) Bizyness: manage your company's accounting
As its name suggests, Bizyness is business-related management software (well done Sherlock), specifically for entrepreneurs. The policy behind this tool is simple, effective and fast. ⏱️
There are three types of functionality: 👇🏼
💸

Billing.

Invoices.
Quotes.
Contacts.

📝 Accounting.

Expenses.
VAT.
Reporting.

🖥️ Integrations.

Banking.
E-commerce.
Online sales.
This tool is adapted to your status, i.e. whether you are in SARL, SASU, auto-entrepreneur, EIRL or other, Bizyness adapts to all legal forms in order to provide the most relevant tools for your use. ✨
How much does Bizyness cost?
In addition to having a free 15-day trial, all with no commitment or credit card, you get a single package that includes all the features! ⬇️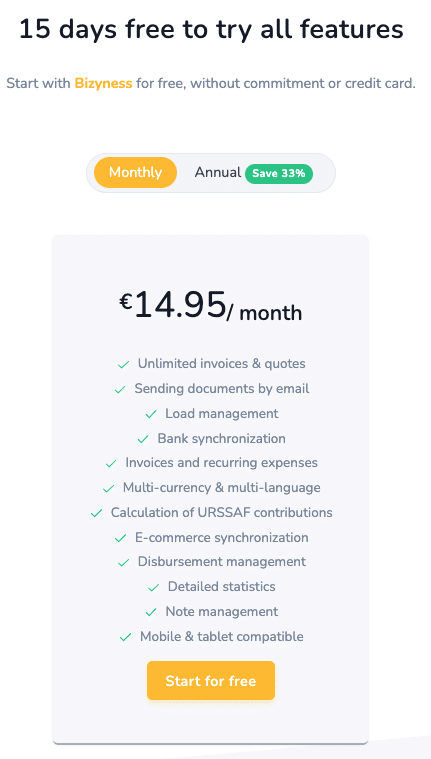 7) AI tools – Writesonic: create optimized content
Writesonic is the best ally (just like the famous blue hedgehog of our childhood 🦔) for anyone wanting to create SEO-optimized content, including your blog, ads, emails and website, all without plagiarism. 😇
In terms of features, you have the choice:
💬 Paraphrasing tool.
✏️ Article and blog writer via AI tools of over 1,500 words.
🔵 F acebook ad creation.
📖 Product descriptions.
👩🏼‍🏫 Article summaries.
📈 Text developer.
📣 Google ads.
🌎 Landing pages.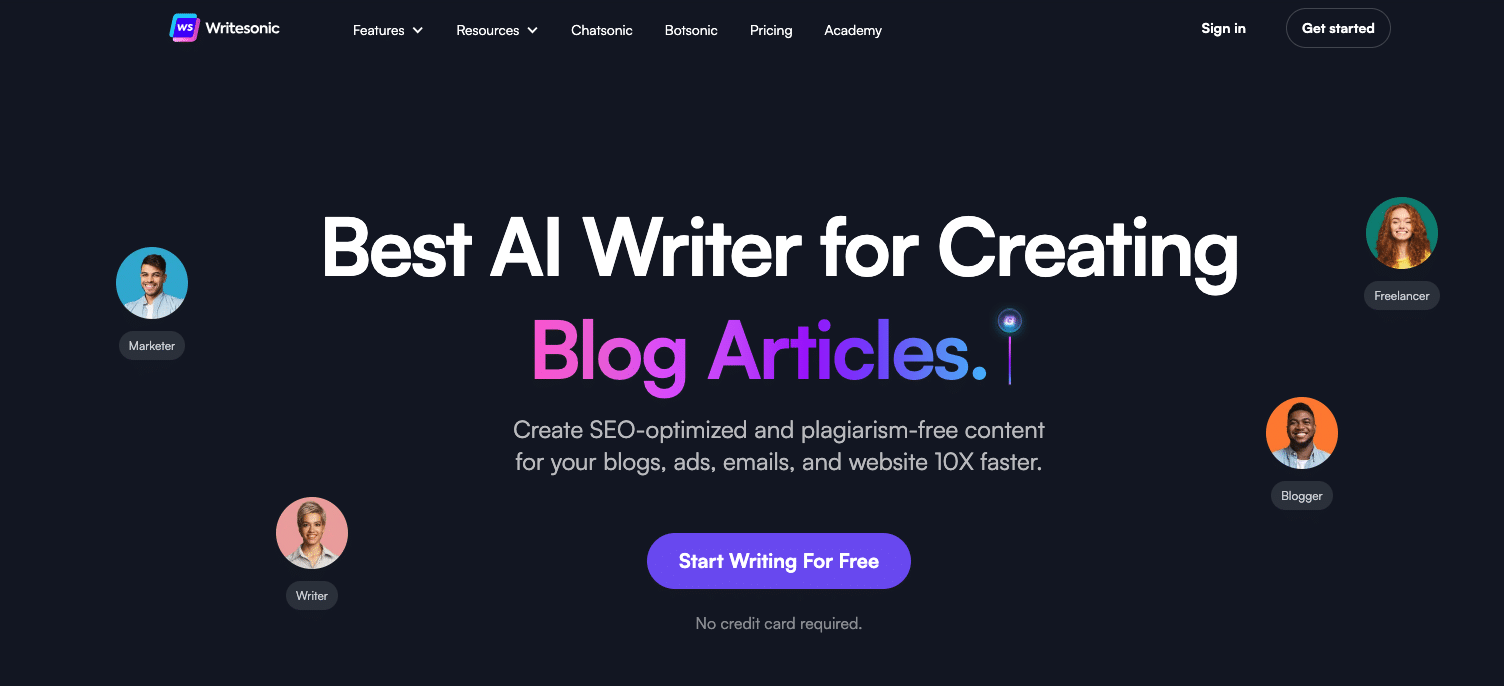 This tool is aimed at 4 types of people:
Writers ➡️ writing sales emails, essays, e-books or even reports. Not to mention other AI-based tools such as Paraphraser, Expander and Shortener.
E-tailers ➡️ generation of SEO-optimized product titles, descriptions and benefits.
Marketing teams ➡️ high-quality ad copy tools for Facebook, Instagram and other media.
Entrepreneurs ➡️ landing page creation and growth idea generator.
How much does Writesonic cost?
Wondering how much our blue video game hero costs? Well, there are 4 different rates to choose from, all of which evolve according to the number of users. Note that you can go up to 15 users for one of the larger shots. Here are the details! 👇🏼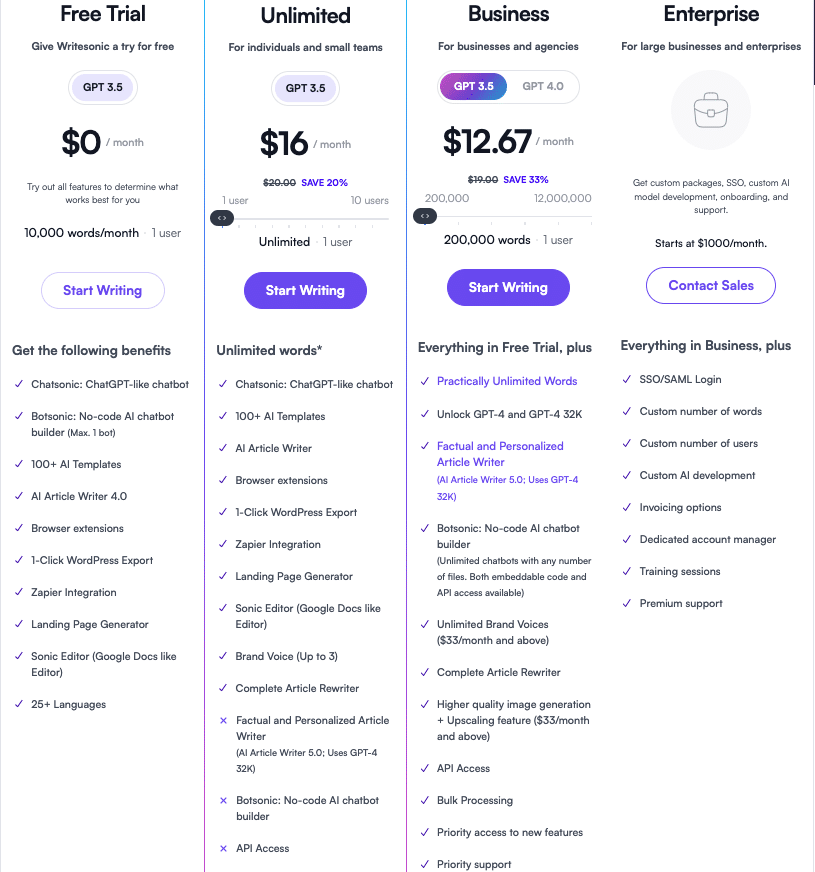 Oops, it's the return of our little AI-generated image. 🫣
8) Notion AI: work faster
Surely you're familiar with Notion? An application that drastically increases your productivity by allowing you to organize lists, tables, pages between them, however you see fit.
Well, they've released a feature called Notion IA that lets you work and write faster. 😱
In fact, here are just a few of its features: ⬇️
💭 Generate a blog post.
🖥️ Create an agenda for a meeting.
📰 Create a press release.
📲 Publication ideas for social networks.
🐲 Generating creative stories.
🧠 Brainstorming.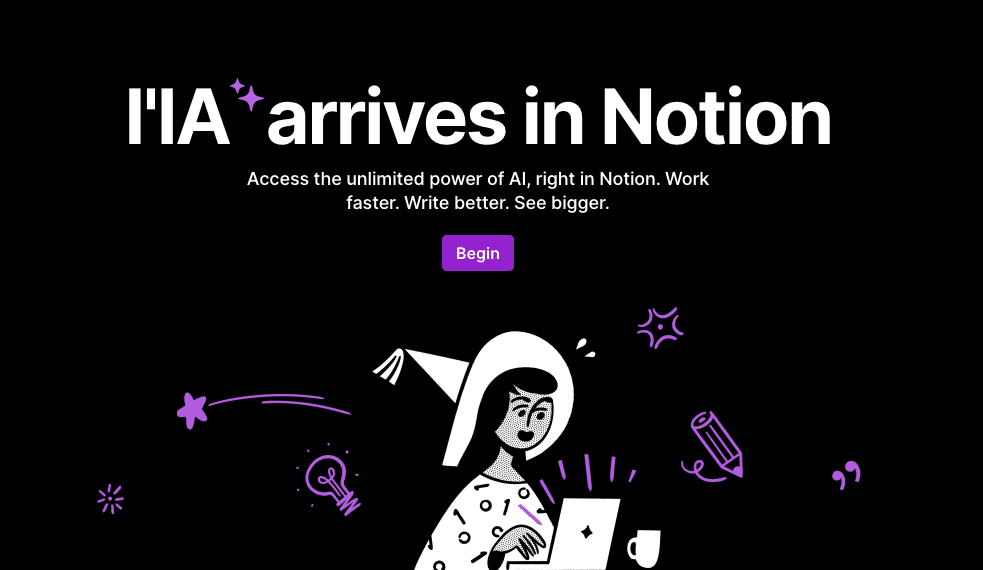 How much does the AI tools Notion AI cost?
Regarding the price, you must already have a Notion subscription, and it's an additional €10 per month per user. 🟣

9) Durable: build a website in 30 seconds
This tool lets you create websites in just a few clicks. In fact, thanks to a wide variety of themes and layouts, you have the choice to create the professional website of your dreams. ✨
To put Durable to the test, we asked it to create a website for us, with Waalaxy as its name (does that surprise you?) and prospecting as its subject (does that still surprise you?). The result is quite impressive for a creation that didn't even take a minute. ⌚️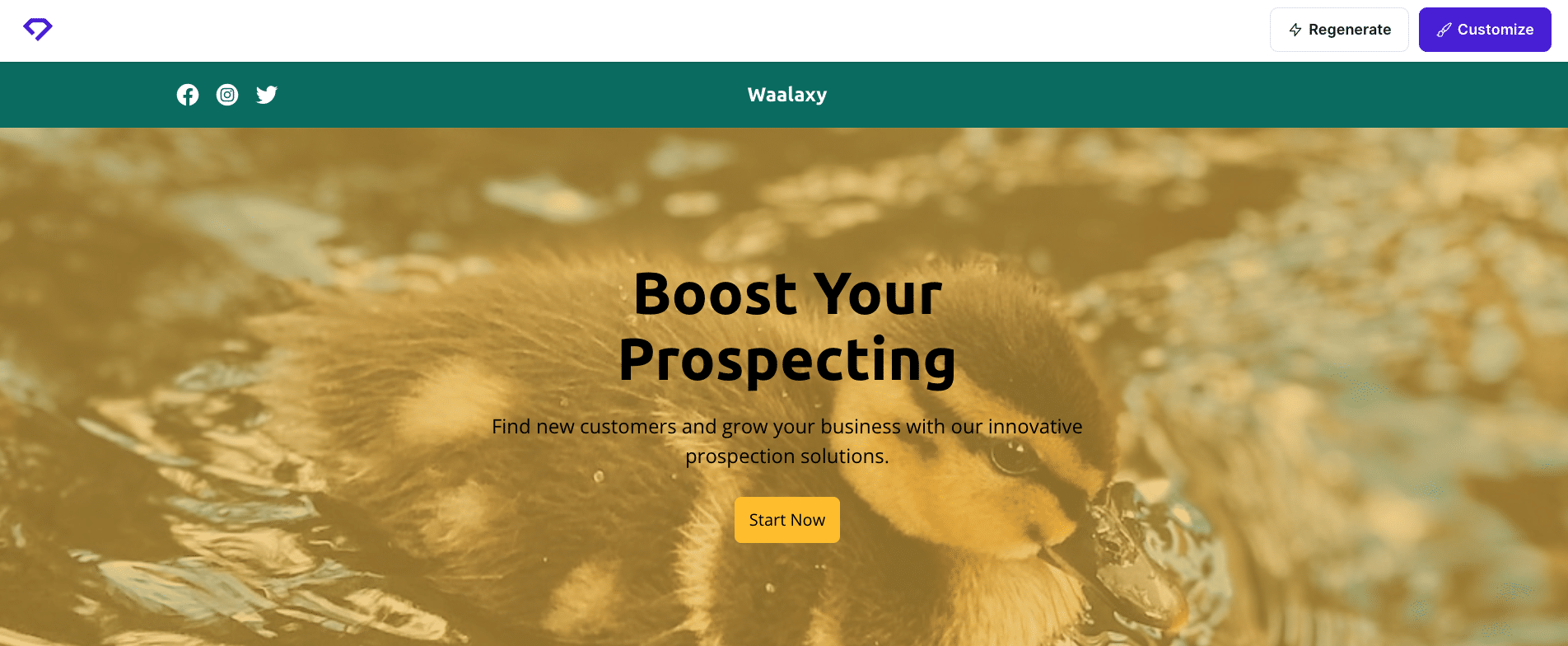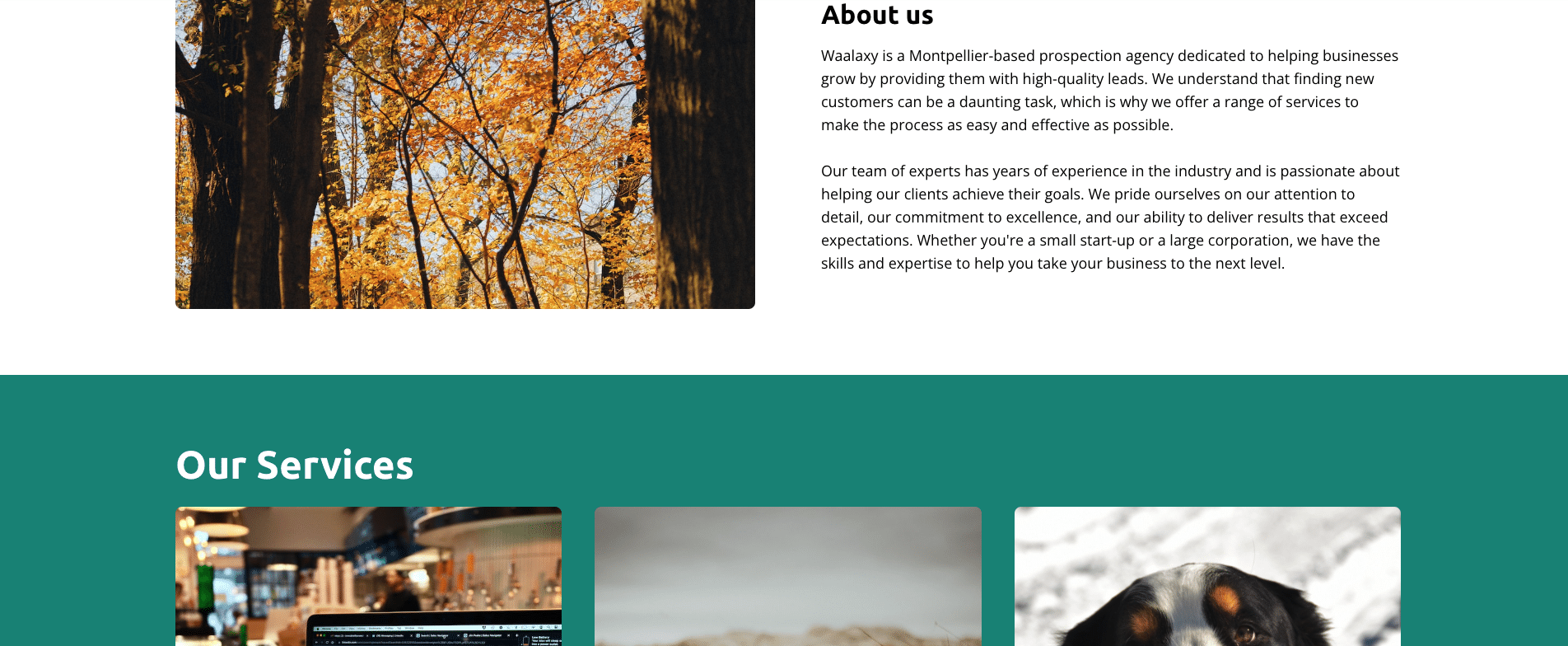 It's easy to make out the different blocks, the text related to the keyword"prospecting". Please note that this proposal is fully editable using the button in the top right-hand corner. 😇
How to buy Durable?
Turning now to pricing, you have the option of testing the tool free of charge for 90 days, otherwise you have a version at €12/month and another at €20/month. The main difference between the two is that you are unlimited in terms of the number of contacts or the number of promotions generated by the AI tools. ✨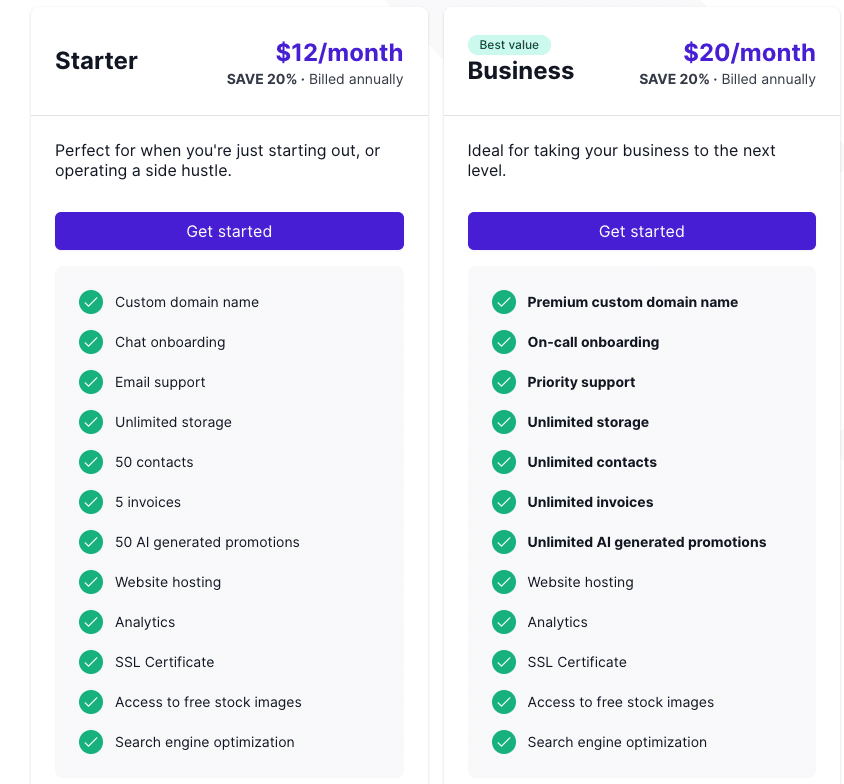 10) Futurenda: the new dynamic diary
As its name suggests, Futurenda lets you manage your future, or more precisely, plan your calendar, so you can manage every task without wasting a single second. ⏱️
This tool allows you to control your time, while being automatically organized.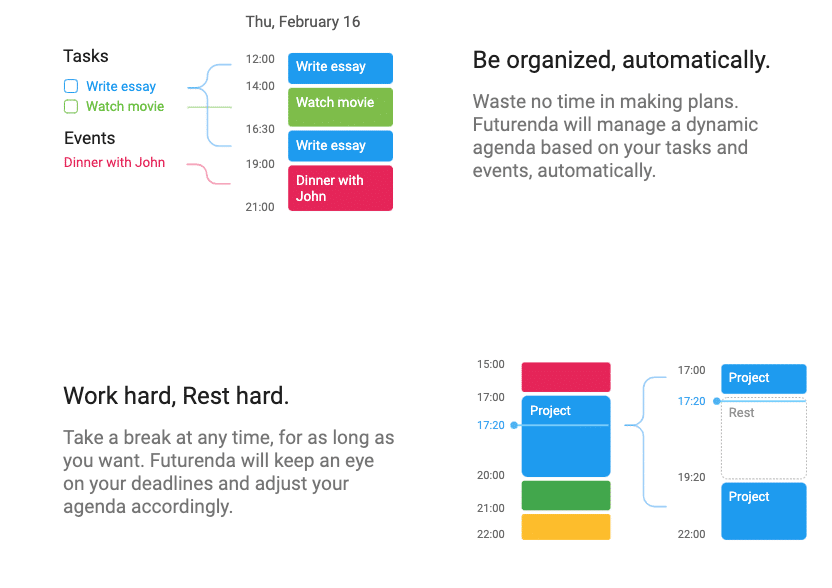 Considered an intelligent diary, Futurenda will adapt your tasks according to the time you manage to finish them, but not only :
🥇 Generates tasks automatically.
🥈 Assigns tasks to days and slots according to your availability.
🥉 Automatic reminder functionality.
Note that this tool is still in beta on computers, but also available on Android and IOS.
How much does Futurenda cost?
Rest assured, this tool is completely free, so you don't have to pay a cent to get this smart diary. 💸
11) AI tools – Andi: intelligent search assistant
Now let's talk about Andi, which is an intelligent search engine that tends to revolutionize the way we talk to a search engine given that this tool prefers to give direct answers rather than a simple list of links. ✨
To illustrate our point, we asked it the following question:
What does an otter eat?
Here's his answer. ⬇️
In addition to this interactive chat, Andi offers you results based on relevant sites, with 4 possible choices:
📍 Visit the site in question.
👀 Read the article.
✨ Generate a summary of the article.
💭 Explanation of the information contained in the article.
How much does Andi cost?
Like its predecessor, Andi is free, so you can use it as many times as you like, at your leisure. 😇
12) Fliki: transform text into video
We're already coming to the end of this list of AI tools and here's Fliki, an online tool that lets you transform your writing with AI voices. 🤖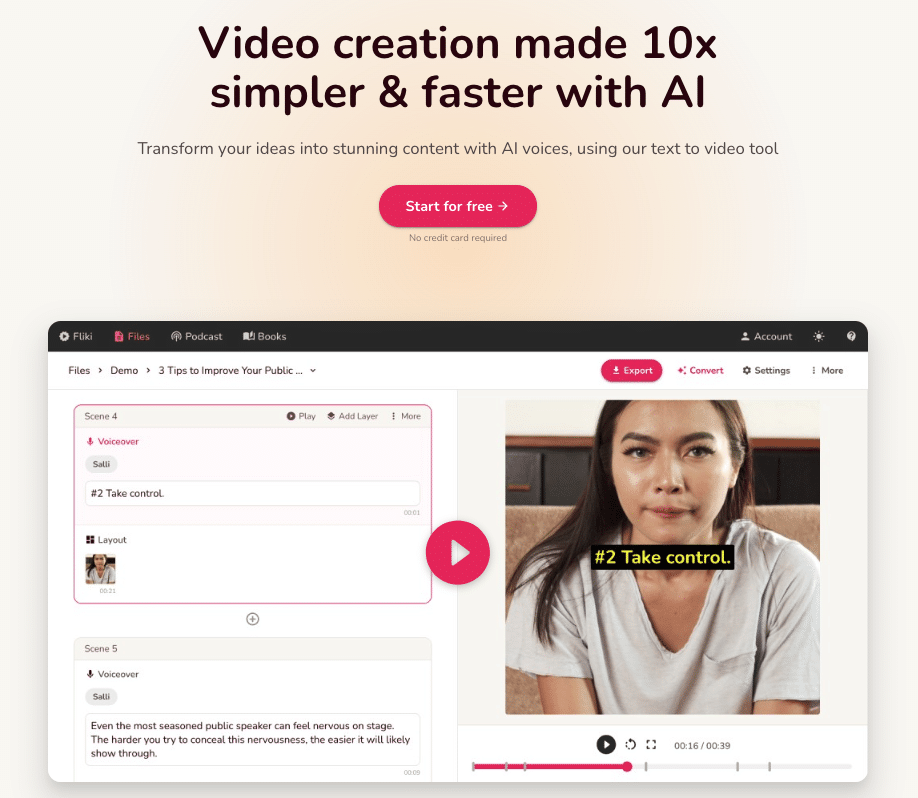 Here are a few features:
Turn blog posts into videos ➡️ simply add the link to your blog post and this tool will summarize the content, find suitable visuals and create a human voice-over in the voice you want, all with subtitles.
Text-to-speech ➡️ with over 1,000 voices in 75 different languages, the choice is yours.
Multimedia library ➡️ And that's not all, Fliki provides you with millions of images, background music or video clips so you can find something to suit your taste. 💟
How do I get the AI tools Fliki?
This tool offers 4 subscription plans, one of which is free. It works in the form of credit, or rather, minutes used per video. Here are the subscription details below. 👇🏼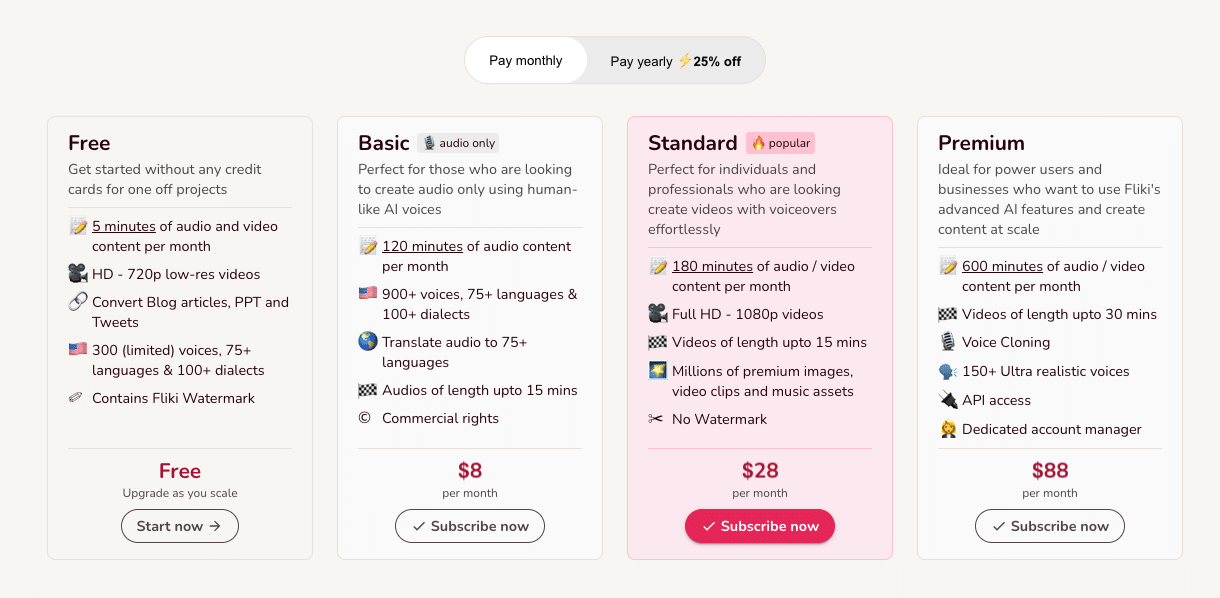 How about a recap?
In reality, artificial intelligence tools offer unprecedented opportunities, particularly for professionals in all sectors. Whether to improve performance, optimize processes, or facilitate decision-making, AI is playing a key role in the transformation of businesses and industries. 🏠
However, you need to be careful about the ethical and responsible approach you take when using AI tools. Indeed, data confidentiality as well as privacy must be guaranteed at all times. 📆
Keep in mind that any professional can embark on a path to success and competitiveness in an increasingly digital and AI-driven world.
Frequently asked questions
You thought we were done with this article? Well no, we have a few more resources to share with you. ✨
What are the three types of AI?
There are actually, 3 different types of AI, and that's what we're going to look at right away. 👀
Weak AI (narrow AI or weak AI):

Weak AI is designed to perform a specific, limited task. ⏱️
It is specialized in a specific domain and lacks the ability to generalize or understand contexts outside its defined task. In reality, weak AI includes recommendation systems on streaming platforms like Netflix, chatbots, or even chess programs.

Strong AI (general AI or strong AI):

Unlike weak AI, strong AI aims 🏹 to replicate human intelligence at a level where it can understand, learn and solve problems in various fields in a similar way to human beings. Strong AI does not yet exist as such, and represents a future goal for artificial intelligence research. ✨

Superintelligent AI (superhuman AI or transcendent AI):

Super-intelligent AI would far exceed human intellectual capabilities in every conceivable field. 🤯
This hypothetical type of AI would have far greater processing power and understanding than human intelligence. This raises considerable ethical questions and challenges about how to control and use it responsibly. 👀
What is AI?
As previously stipulated, AI, or artificial intelligence, is a field of computer science that focuses particularly on the creation of machines and programs capable of performing certain tasks that normally require human intelligence. 🧠
What are the 7 forms of intelligence?
The name refers to the theory of multiple intelligences, developed by psychologist Howard Gardner in 1983. ✨
According to him, intelligence is not limited to a single overall ability, but can be subdivided into different forms or types of intelligence, each with its own characteristics and areas of application. Here are the 7 forms of intelligence:
👅 Linguistic: using and understanding words effectively, including skills in reading, writing and verbal expression.
🧠 Logicomathematical: reasoning logically, solving mathematical problems and performing abstract thought operations.
🛸 Spatial: perceive and manipulate spatial information, including the ability to form mental images, orient oneself in the environment and, above all, appreciate spatial relationships.
🎶 Musical: recognize, appreciate, create and reproduce musical patterns and rhythms.
🦿 Bodily kinesthetic: use one's body skillfully and in a coordinated manner, including mastery of fine physical movements and gross motor coordination.
💟 Interpersonal: understanding the emotions, motivations and intentions of others, interacting effectively with them.
🦋 Intrapersonal: understanding oneself, reflecting on one's own emotions, motivations, strengths and weaknesses.
This is now the end of this article about AI tools. See you soon 💜.