A reference document for anyone who wants to start an entrepreneurial venture, the business plan will allow you to lay the foundations of your project. Strategy, financial plan, construction, we're going to tackle everything today. So let's hang on 🎢 and get as much info as possible. When it comes to doing upstream preparation, we often feel a little lazy. A business plan, it sounds complicated, it seems long to do and especially not very fun. But stay with us and we promise to simplify all the notions so that you approach this big step with a completely new eye 👁️. Bonus : you will make a free business plan. Yes, you won't need to spend money on this.
The business plan, what is it ?
If you decide to embark on the great adventure of entrepreneurship, it is a fundamental step through which you will have to pass. First of all, we will define what a business plan is so that we can understand what it will be used for and then especially how to use it. You will be able to make different business plans according to your projects.
For a clear and precise definition, a business plan is a document that aims to give the maximum information on your project to a decision maker. It is imperative to answer these different questions for the business plan to be nugget 🍪 :
What is your product?
Who are the competitors in the market?
Who is the person behind the product?
What is your target market 🎯?
What are going to be the key steps in your project?
What is your projected budget?
How will you communicate about your offer?
What do you foresee as your return on investment?
What software will you use?
What channels will you use to promote your product?
What is the added value of the offer?
It's true that it starts to make a lot of questions but, you'll see that if you do it on the smallest details 🧅, your strategy will only work better later on. Of course, you can't make a business plan just any old way, there is a structure to respect, points to address as you read the document so that we can understand all the issues related to your solution. The business plan is important to determine the feasibility of a project.
The structure of the business plan
In this section, we are going to see how to start a business plan. You will have to structure it as we mentioned a little earlier 👆 in this article. So you will need:
The summary.
A presentation of your team and yourself.
A description of your project.
An estimate of your budget.
A market study.
The strategy that you will implement.
The elements of your organization.
We will therefore focus on each of the points we just mentioned.
The summary
Impossible to skip this step ❌ it's what will give all the main lines of your project, the key points to the one who will read them. It is in these lines that you will attract the decision maker or not, so it is better not to miss. Make sure that it gives all the elements that make them want toanimate your project. As you will have understood, the introduction is the summary or "executive summary" which should not exceed two pages. In these two pages, the decision-maker must understand what your project is about and what is at stake.
Team presentation
This is the part where you will highlight your skills and those of your team if you have them. Take the time to do this well, highlighting the knowledge of each person and their complementarity. If you are alone, this is by no means a problem.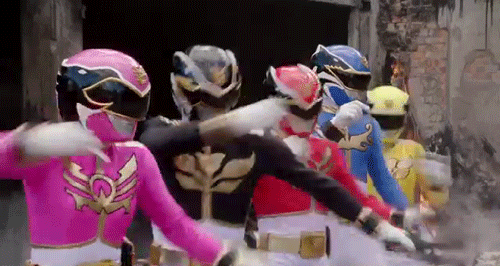 Do as if you were putting forward your CV, your background, your experiences, everything that made you get there.
Presentation of the project
In the "project presentation" section, you will talk about the idea itself. This is the presentation of your activity. You will explain why this idea came to you, why you want to sell this product rather than another. Talk about your different motivations for carrying out this project and your objectives that you would like to achieve by a defined period. Highlight the strengths 💡 of the project and what potentially stands out from the competition.
The budget estimate
In the budget estimation 💰, you are bound to have to talk about your product or service again to know how much you will sell it for. What type of sale will you choose? One-time sale? Subscription? Freemium version? You will have to explain in a simple language the features of your product and why you sell it at this price.
Business model
Next comes what we call the "business model". If you don't know what it is, we will explain it to you now. The business model is at the heart ❤️ of your business plan, it is a key element. It is part of your financial projections. This fundamental part of the business plan should allow you to understand how you are going to make profit, earn money. It will also allow you to take stock of what the competition is offering, to make a provisional balance sheet, the cash flow plan as well as your financing table. It is thanks to this table that you will have to decide if you want to do :
The low-cost.
A subscription.
High-end.
Peer to peer.
Etc…
For a business plan to be validated ✅, the business model step is a must. It will help you to put all the chances on your side, to apprehend the costs and to amortize your expenses and to know your possible profitability. Moreover, you should know that a business model can be self-sufficient since it will synthetically present your project to your different partners. Now that you understand the stakes of this business model, we will show you what it can look like.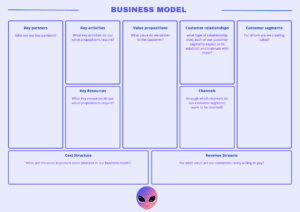 You can use exactly the same table and answer the questions in a concise and precise way in order to give as much information as possible about your product, your cash inflow and outflow. The business model will always be presented with the following points:
The key activities.
Your key partners.
Key resources.
Your value proposition.
The customer relationship.
Audience segmentation.
Your acquisition and distribution channels.
Costs 💰.
The revenues.
So you have the main points to complete for your financing plan.
Think about the future
But that's not all, you must also think about the capital you will invest for the start of the project, the cash flow plan over 12 months, when you will be profitable (this is an estimate) and finally when you will repay your debts (if you have borrowed with banks).
The market study
The presence of themarket study in your business plan will allow you to know which are the different opportunities opening to you on the market. As you will have understood, this step should not be neglected either. You will have to know if people are potentially interested in investing in your solution. Okay, so how do we go about it? We will first go step by step.
Finding your clients
One of the first things you'll do is maybe try to create a questionnaire. Why not, even if you can very well do it without going through this channel. However, if you decide to go ahead with a questionnaire, target the right people from the beginning. Don't leave your questionnaires on your Facebook wall and hope that your friends will answer them. If they fit the bill, then do it, otherwise there's no point. It really doesn't.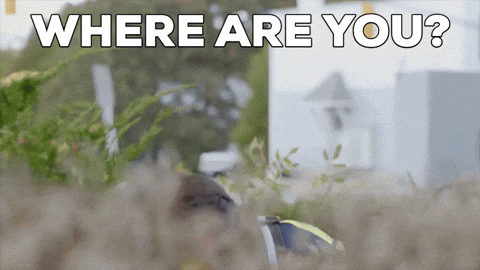 You can do targeting on LinkedIn very well, it's a great source of B2B leads. Doing business on LinkedIn is a great way to build a client base. But we won't dwell on that part in this article. Instead, we suggest you read this excellent article on how to sell on LinkedIn. What we want to emphasize here is the clear and simple definition of your persona.
The definition of your market
In this section, you're going to have to make it clear what market your business is going to grow in. Are you going to sell your offer locally or are you going to expand into another territory? Do you have a single offering or several? What will you put in place to evolve your product? Are there many competitors? Is the competition direct? Indirect? Both? Who have you identified as players? Your users? You need to know your users to know what's out there. Are you going to be in a niche market? Or on the contrary on a mass market?
Market demand
In this market research, you're also going to need to know the size 🍆 of the market and how much demand there is for the offering you would like to put in place. Do you know how many people are buying that same type of solution? You need to look at the demandanalysis that there may be in this market. We're going to look at all the possible customer behaviors:
When they buy and where and for what occasion they buy this offer.
We look for the customer's feedback on these products (we can find them on the Google record for example or through Trustpilot) on the competitors' sites.
The actions you can put in place to encourage a lead to buy.
Don't forget that you're also going to have to segment the different behaviors of your clients. This will allow you to make the decision to highlight a particular feature of the product or service rather than something else.
The heart of the matter: the offer
A market study without your offer would not be a market study. You will need to talk about it in this section. Once you have analyzed your competitor, highlight the features of your offer:
What is your added value?
At what price will you sell your solution? Why?
How to sell 🤑 this product? On which channels?
PESTEL framework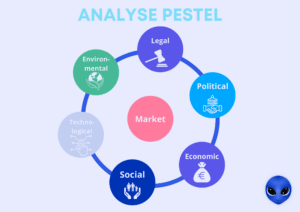 Finally, in this last part of the market study, you will have to analyze your environment using the PESTEL method. This method allows you to know the various elements that may or may not be favorable to you in terms of :
Policy: you need to ask yourself if there is tension in the market, is there stability? What is the tax policy?
Economic: What is the growth rate of the economy? Do consumers have confidence?
Social: Here, we ask ourselves what are the values around the product? Are there any trends that are changing purchasing behavior?
Technological: Is the sector undergoing a strong technological evolution? Is this frequent?
Ecological: In your sector, are there any environmental measures taken? If so, how is this organized?
Legal ⚖️ : Is your market restricted? What is the regulatory framework? Which legal form comes up the most?
We are coming to the end of the market study, but don't worry, it's not over yet. The PESTEL analysis allows you to make a diagnosis on the external level in order to prepare your strategy. You can also couple it with the Swot which will allow you to make an internal diagnosis, specific to your product.
The strategy to implement
Now, you have defined your target, its typical profile as well as all the user segments that can buy your solution. Here, you will try to understand how to communicate with your customer and what will be the most effective strategy to get your product into the hands of your targets 🎯. So as an entrepreneur, you need to tailor your offering to your customers, it seems logical. Position yourself based on all the data you've been able to gather to know how you're going to attack the market. In the strategy part, you are going to have to decide how you are going to differentiate yourself from your competitors:
Through a focus strategy: you focus only on a market segment, a branch 🌲 that has not yet been exploited by your competitors and in this case, you offer a differentiating solution.
With a strategy of cost domination: your product will be cheaper than your competitors' since you will try as much as possible to reduce the expenses on the side (for example renting a room while working from home).
With a differentiation strategy: choose a feature that will set you apart from your competitors and make it the added value of your service. Do you have a product that is substantially similar to a competitor's? Yes, but you have X amount of extra features.
Once you have decided on your strategy, you will need to think about your action plan that will allow you to achieve your goals. Also, plan time to analyze the actions you are going to implement. What feedback do you expect from your first actions? What do you plan to do in case your business does not take off as you would like it to? Yes, you must already foresee what you are going to analyze.
Business plan: The elements of your organization
Now we come to the last part of the business plan. It is already a lot of information to put in place but, we assure you that it is for your own good. Last part to elaborate its plan: you are going to describe the means which you have to set up your solution:
Do you have a team? How many people? What are their skills?
What is your schedule?
How will you implement your actions over time ⏳?
What tools to make a business plan?
In order to present your business plan to a decision maker, there are several tools you can use. First of all, you don't have to be a designer to submit a business plan. You can use Word if you want to do the minimum. If you want to submit a more colorful document, with images and some designs or pictograms, we recommend :
Canva. This is one of our favorite tools! You have access to a colossal number of images and it's totally free. Of course, you can pay for the tool to have access to the full functionality and images of the tool. However, the free features are already amazing 🤩 !

Google Doc: You even get templates already pre-populated, all you have to do is complete them.
Google Slides : On this link, you can also find more graphic templates.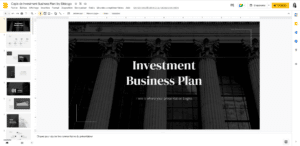 Illustrator: If you feel like being creative, you can also completely customize your business plan using Illustrator (the software is not free but if you have it, it can also help you).
Any other online and offline layout software. If you have a crush 💓 on a tool, use it.
Business plan : Example to specialize in SaaS
So that you can have an idea in mind 🧠, we decided to show you a business plan template that you can reuse later by changing the information that is related to your offer. So of course, you won't have any graphical elements since it will only be text that you can then change as you wish and we won't go in depth since everything is completely fictional (or almost). Here, we have decided to start with the business plan of a start-up specializing in SaaS. We won't write the intro or the summary.
Executive summary
There are more and more users fond of new technologies to automate their prospecting on LinkedIn. Our goal is to have a tool that helps them and that every user from 18 to 99 years old can use. We want to make automation easily accessible to a wide range of users.
The solution we propose is called Waalaxy and will be created by 4 people: Mr Dupont, Mr Durand, Ms Felix and Ms Martin (The Founders).
We have chosen Linkedin because it is a database that allows us to prospect and find buyers. We have already carried out several tests which proved to be conclusive and we are therefore looking for: an investor/funding/visibility…
Presentation of the team
We are, to date, a team of 7 people with the following skills:
2 Developers.
Senior marketing person.
Two sales people.
One web designer.
A growth hacking specialist.
(Of course, do not hesitate to expand, we complete the minimum).
Presentation of the project
The solution we propose is called Waalaxy 👾 and allows automation to all. We want to start on a SaaS solution.
The problem
While collecting various users' opinions, we realized that what the market offered was difficult to access, that you needed a lot of technical knowledge 🧠 to automate your prospecting.
The solution
That's why we decided to make automation easier with a guidance system through the steps when prospecting on LinkedIn. Our tool will create automated campaigns or scenarios by mimicking human behavior. Of course, we are alert to LinkedIn's restrictions, which is why we will make Waalaxy mimic human behavior so that no account gets banned ❌. At the beginning, the solution will be available only at the national level, but we also plan to expand to the US market and why not other markets if our evolution is positive.
Budget estimate
The solution will be available on a subscription basis (promoting customer retention). A chat will also be available to help users in their various campaigns, which is why we prefer the subscription. This way, we will be able to ensure the user's support. There will be several plans including a Freemium plan to allow the user to test most of the tool's features. Then he will be able to switch to another plan with other functionalities if he wishes.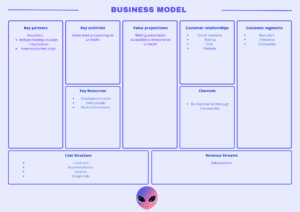 Market study
The software market is doing extremely well in France. In 2020, the software sector will increase by 9% compared to 2019. The turnover will be around 18 billion euros. It should be noted that 43% of this turnover is realized in SaaS. So it was obvious that we were offering a solution with a market that is growing strongly. For our customers, we have targeted recruiters (facilitating the search for talent on LinkedIn), self-employed entrepreneurs, startups and even companies.
We are particularly focused on B2B. However, this will not prevent us from targeting BtoC. So that we can respond to the maximum number of people, there will be several subscription formulas depending on their needs.
We will develop our offer in other territories once we have a good customer base at the local/national level. There are few competitors nationally, however, many competitors exist in the United States. When we want to implement there, we will have to put in place also, an asset, which will appeal 💓 to Americans.
When a customer buys a prospecting solution, often, it is through internet search, so we will do paid advertising so that they can find us in the search results. Of course, doing SEA will only have the purpose of boosting our SEO, which will rise little by little but will give us a well anchored visibility. Our product is therefore used to improve prospecting on LinkedIn thanks to our software. Several subscriptions will be available so that the user can choose what suits him best.
Strategy to be implemented
In order to communicate 📣 as well as possible with our prospects and clients, we are going to use the platform with which they are going to prospect too: LinkedIn. Social networks are going to be the way for us to show that we exist but not only. Indeed, we will also reach our customers through advertising. We have also chosen to integrate a support only in chat. No calls will be taken.
Elements of the organization
As mentioned earlier in this document, we have a team of 7 people with different but complementary skills. We will meet a lot to work on the project together, in order to agree on the different aspects of theergonomics, the main features that need to be developed before the others. We will focus 🧠 on an intense two-month development phase while preparing the communication strategy in parallel.
When should a business plan be put in place?
Your business plan, you will have understood, is the document relating your project. You will have done your market study, chosen the legal form of your company and set up the elements of your business model. Therefore, the business plan will summarize the three actions you have done before. Of course, this document will be written before the launch 🚀 of the project. We may be repeating ourselves, but remember that even if you didn't intend to submit your business plan to a decision maker, it's important to have it in place so that you can keep a guideline for your project.
4 tips for putting your business plan in place
In addition to all the information we have given you in this article, we also wanted to give you 4 tips that you should rely on to make your business plan incredible.
Tip #1: The realism of your project
This might sound silly, but you will certainly never be able to market a machine that makes gold 🥇. Well yes, well not quite. You certainly understood what we were getting at: put some realism into your project. Your whole strategy needs to be consistent, if you decide to create an app without you having development skills and without a developer on your team, you might create a wonky app. All your decisions and strategic choices must be coherent taking into account the problems you will encounter. Which brings us to the second tip.
Tip #2: You'll run into problems
And it would be extremely damaging not to put it in your business plan. Let's face it, setting up a project, creating a company, selling a solution is not easy. When you put this in your business plan, the decision-makers want to know if you have thought about the possible problems you will encounter and how you will get out of them by thinking about potential solutions. Everyone knows full well that you're going to run into problems 😭, but show that you've thought through all the possible solutions to make your solution viable.
Tip #3: Source your data
When you're going to support your paper with data you've found, it's always a good idea to know where it came from. It also shows that you did your research beforehand and didn't go in with a "there's a demand, so I'm doing this, YOLO" attitude. Name your sources and show that you've done the necessary work up front.
Tip #4: Use simple words
If your business plan is for someone, use simple words to make yourself understood. The goal is not to use words from your jargon and ecosystem to show that you are the best in your field. No, you need to make yourself understood. So you have to use words that anyone could understand.
Conclusion of the article
You will have understood during this article, the business plan is your complete action plan of your project from the description of your project to the estimate of the costs that you will have. It is an essential step that will help a decision maker to adhere to your solution or not.
The construction of a business plan should not be done on a whim, you must take your time to ensure that your interlocutor understands the issues. If you make your business plan in a hurry, you risk not to interest your investor. Which would be a shame. Moreover, do not forget the summary so that you can better find your way in this document which can seem heavy. And of course, we add all the appendices that you feel are essential to support your comments. In a business plan, we will remember ✅ that you will have to put forward the following points:
A short introduction.
Your summary.
The executive summary.
The presentation of your teams.
The description of your project.
The financial plan.
A market study.
The strategy to be put in place.
The organization.
Your business plan will allow the decision-maker to gauge whether or not your solution is viable ✅ with all the arguments you will bring to him. But just because you don't bring it to a decision maker doesn't mean you should skip this document. Do it for yourself and your teams or just yourself. This will give you a vision of what needs to be done.
FAQ of the article Business plan
We have seen in this article how to write a business plan without it costing you a cent. Keep in mind that your business plan will not be for your future clients but for all the people who will share the adventure with you. Even if you decide not to take it to a decision-maker, have this document in place. You will be able to refer to it when you are in doubt and it can also be used by your sales team if you have any. In this FAQ, we'll also look at concepts that can also surround ⭕ the business.
The marketing mix
In your business plan, you will have to identify the different levers that will allow you to reach your objectives. You will thus be able to use the famous marketing mix. This notion is all the marketing actions that you will put in place to succeed in selling your solution. But that's not all because you will also understand your market. This marketing mix is based on the 4Ps:
Product: What is the product policy?
Price: What are the prices you will set for your solution?
Promotion: How will you communicate to promote your solution?
Place: Where will you distribute your product?
You will be able thanks to this information to better allocate your budget, understand your strengths and weaknesses ⬇️, understand the sector and know if it is competitive or not, manage your teams so that they go in the same direction as you and that everyone understands what they have to do.
Who needs a business plan?
Very simple: from the moment you start an entrepreneurial venture, you will need a business plan, whether it is shown to a decision maker or not. It is a great communication tool whether it is for potential investors, for yourself or for you and your team. Do not neglect it. It is thanks to it that you will be able to carry out negotiations or simply find your way in your strategy. Entrepreneurs, marketers, you are now ready to start your business thanks to all the tips ✅ we have given you to develop a successful business plan .