Why post on LinkedIn?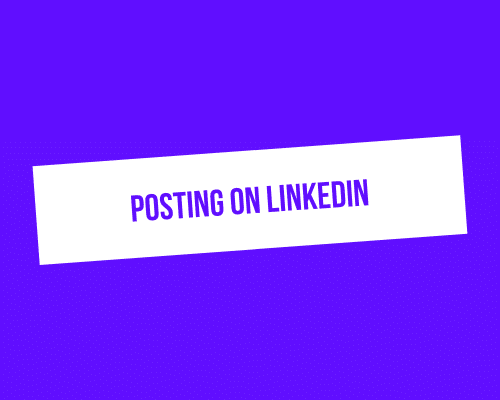 4
minutes
LinkedIn is the first professional social network in the world. With more than 600M users, it is the reference channel for recruitment.
But not only that! Many believe that LinkedIn is the network of recruiters who track resumes.
False. Today, LinkedIn is a network that brings together millions of people, from different sectors and horizons. It is a media for professional news, all sectors combined.
And on this medium, you can exist. Let's find out why posting on LinkedIn.
LinkedIn is your professional showcase
When looking for your name on a search engine, LinkedIn almost always comes out in the first 3 results. It is, therefore, your professional (and personal) showcase on the internet.
When people visit your profile, they immediately see what your activity is and the content you share. It is, therefore, a public showcase of your expertise. It makes you credible with prospects or recruiters.
Even better: when you regularly publish content, you can position yourself as an expert in a specific field. Your audience will, therefore, consider that you have mastered your subject and will be better able to recommend you or call on your services.
The competition is still weak
Paradoxically, few people use LinkedIn today to create content, in proportion to the activity and the number of users.
This means that each post is more likely to be seen because the post/number of users ratio is low (compared to other networks).
By carrying out a simple strategy with little time investment, it is possible to get thousands of views on LinkedIn.
There are probably quite a few people in your industry who post regularly on LinkedIn, so you have a window to reach an incredibly qualified audience with little effort. Do you understand the importance of posting on LinkedIn? 😉
The LinkedIn algorithm is mild
Unlike other social networks such as Facebook or Instagram, which have hardened their algorithms in recent years to promote paid content, on LinkedIn, it is possible to get thousands of views organically.
Organic means you get views without paying for advertising. We are talking about thousands of views by qualified professionals, for free!
This reason alone is enough to run a content strategy on LinkedIn. Because beware of this: this El Dorado will not last forever and LinkedIn will end up hardening its algorithm too, to favor paid publications (which are also incredibly expensive on LinkedIn). Do not wait any longer!
In addition to a prospecting strategy
Some will say: "I prefer to engage a prospecting strategy on LinkedIn. It's more direct, I choose my audience".
True. And to who do you tell! We didn't create ProspectIn for nothing.
But why would prospecting be exclusive to a content strategy?
On the contrary, they are completely complementary. We know that today, when you add people on LinkedIn and they accept you, between 30% and 60% will never respond to you. Even if they are in your network!
You can obviously choose to harass these prospects until you get a response. But I do not recommend it: you do not give a good image to your prospect and risk annoy him or her (cognitive bias of the "boomerang effect")
Conversely, now that these people are in your network, they are more likely to see your publications. (See how the Linkedin algorithm works). This is called "lead nurturing" or "nurturing prospects": you get a new touchpoint with them by sharing content on your subject of expertise or the problem you are solving. You bring them value for free.
When we say that it takes on average "7 touch points with a prospect" to transform it, posting and automating on LinkedIn seems to be an essential strategy to reach your prospects, whether or not they respond to you via prospecting.
Another fundamental point in the content creation on LinkedIn (and other networks for that matter) is the social proof effect. A cognitive bias that prompts us to conform to the belief of the majority, or to think that the more people undertake a given action, the more valid the reason for this action.
However, by using pods on LinkedIn, you get comments and likes, which lead your audience to believe that you are "popular", that people love your content or love you. And so they too will tend to feel sympathy for you, to engage with your content, to consider you as an expert.
Mere exposure effect
Because when you're into marketing, you have to understand human psychology, you also have to understand another cognitive bias: the mere exposure effect
Everyone likes to think "I never buy anything because I saw an ad on TV, it's stupid". And yet, if you are faced with a box of Chocapic and an equivalent product in terms of nutritional value, packaging and price but which you have never heard of, you will probably choose Chocapic.
The mere exposure effect or familiarity bias consists in placing more trust in what is familiar or close to us, in what we know best, even in a vague way, and in favoring it over other options. We understand better what is near and familiar to us and we overestimate it.
So I don't need to explain to you why, by being visible to your prospects on LinkedIn, you increase the chances that your products or services will be used, compared to a competitor.
Posting on LinkedIn is obviously purposed to give voice to your expertise and generate qualified prospects on a large scale. You have every reason to do it!