What is the Team plan on Waalaxy? In this article, we'll explain everything. 😄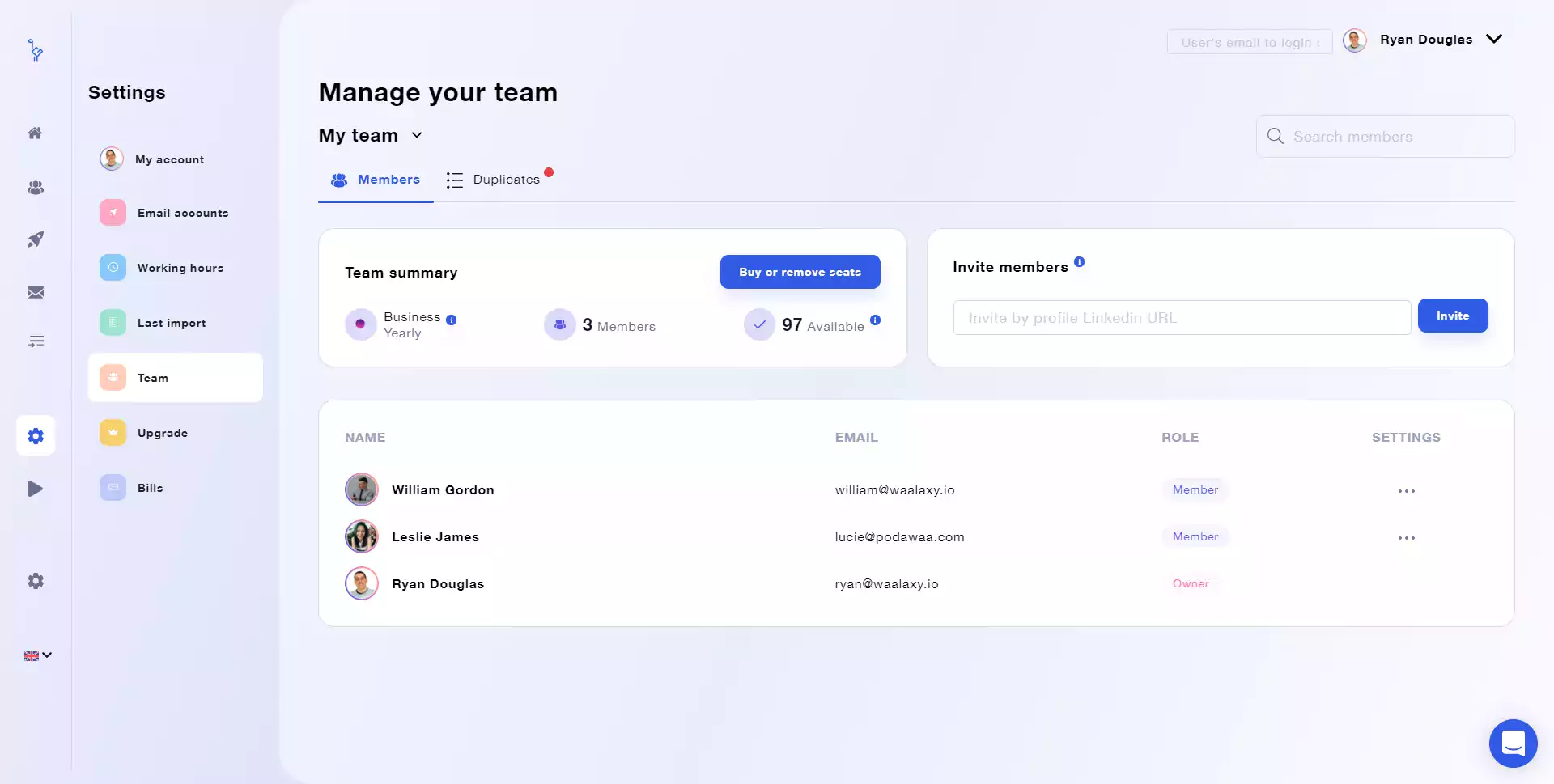 Waalaxy Team Plan: For whom, and what's the point?
Waalaxy's team plan aims to make multi-account management easier and take your LinkedIn + email prospecting to new heights. 😎 It's dedicated to anyone who needs to manage multiple LinkedIn accounts at the same time. Among our varied clients, we mostly have:
Sales & business development teams that prospect on a large scale on LinkedIn. All accounts can be under the same entity, making it easy to configure campaigns and track performance. 👍
Agencies that manage accounts for their clients. Either by offering the platform as a service, on which the client is trained and accompanied, or via a prospecting offer as a service, i.e. the configuration of the campaigns by the provider, with the client just having the objective of responding to interested prospects. 👌
People who use fake accounts to send larger volumes of invitations on LinkedIn. If this is your case, we encourage you to read this article before you start.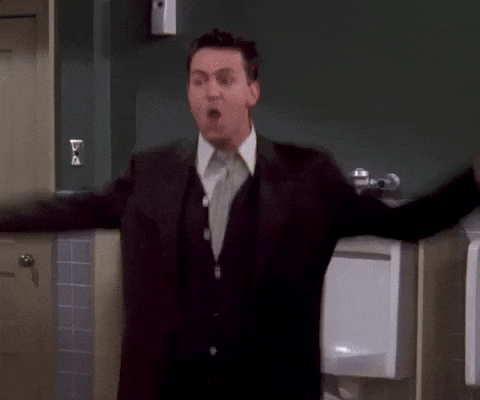 Waalaxy Team Plan: Features
The Waalaxy Team Plan has been designed to facilitate multi-account management, integrating all aspects of the group prospecting process.
Centralized account management and single billing

The Team plan allows you to manage accounts from a single interface. You can invite other users to become part of your team. Each account can have different rights, from "Admin" (this individual can manage everything) to no rights (this individual can't even see other team members).
You can add or remove the members in your team whenever you want, with the rate adjusting automatically. 👌
Billing is centralized under one entity.
Cross-account lead import
One of the key features of the Team plan is that it allows you to import leads from a LinkedIn search on your account to another account on the same team. You might ask, so what? What's the point of that? The point is that this feature allows you to only pay for one Sales Navigator account.😎
(Please note that it is not yet possible to transfer a list to another account).
That's the main advantage. Sales Navigator for us is an indispensable tool when you really want to find leads in a qualitative way on LinkedIn. But at almost €80 per month, it's a significant cost. Even more so when you have to pay for it for an entire team of people. 😅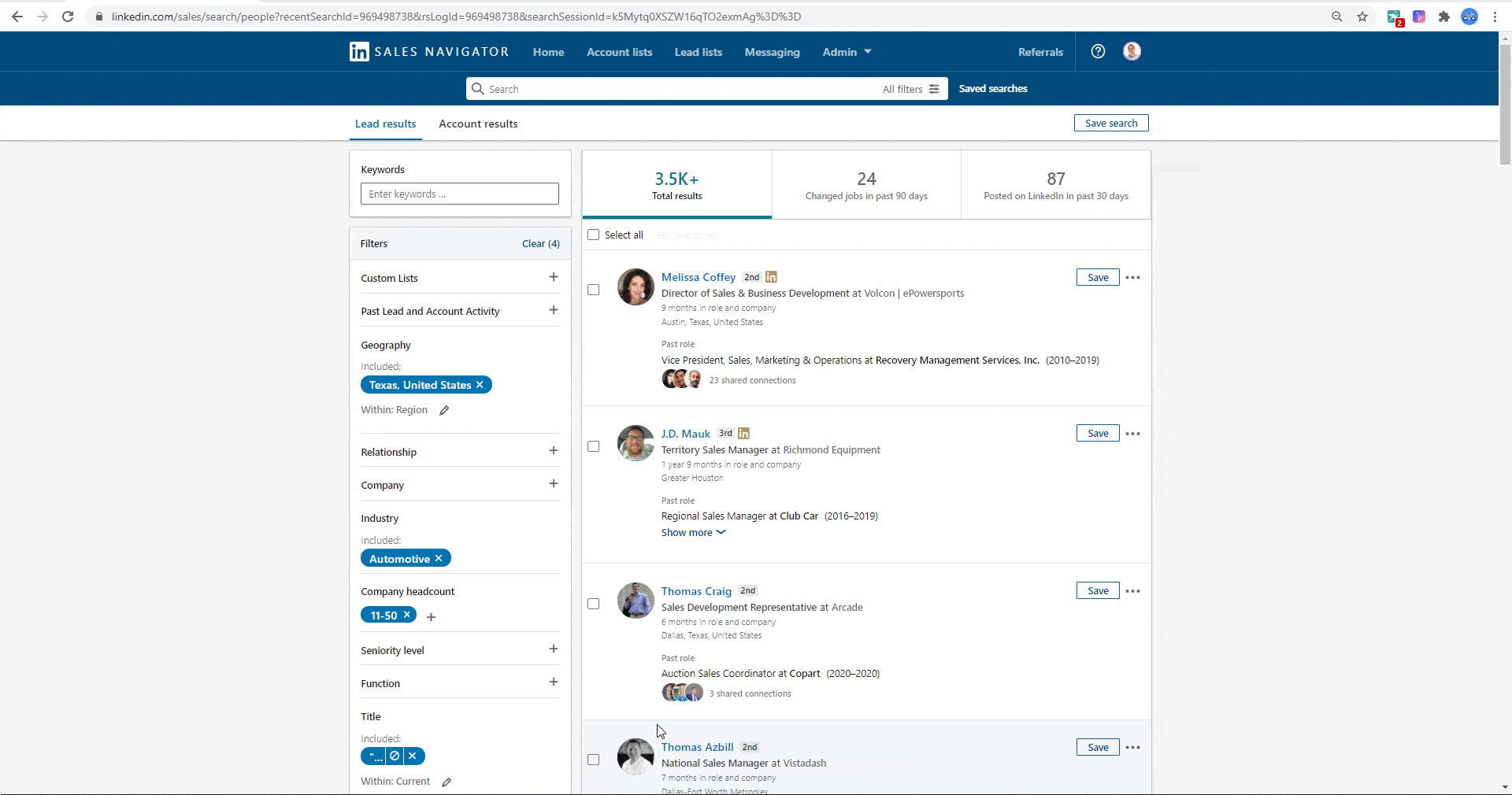 Now you can search an account and import leads from a Sales Navigator search unto an account that doesn't have Sales Navigator.
Waalaxy Anti-Duplication Security
If you're a team of business developers or salespeople, there's bound to be something on your mind: how to avoid prospecting the same person twice?
With Waalaxy, you can activate the "anti-duplicate" option when importing leads. We will check if the prospect is already in one of the lists of your account, of course, but also in those of other team members.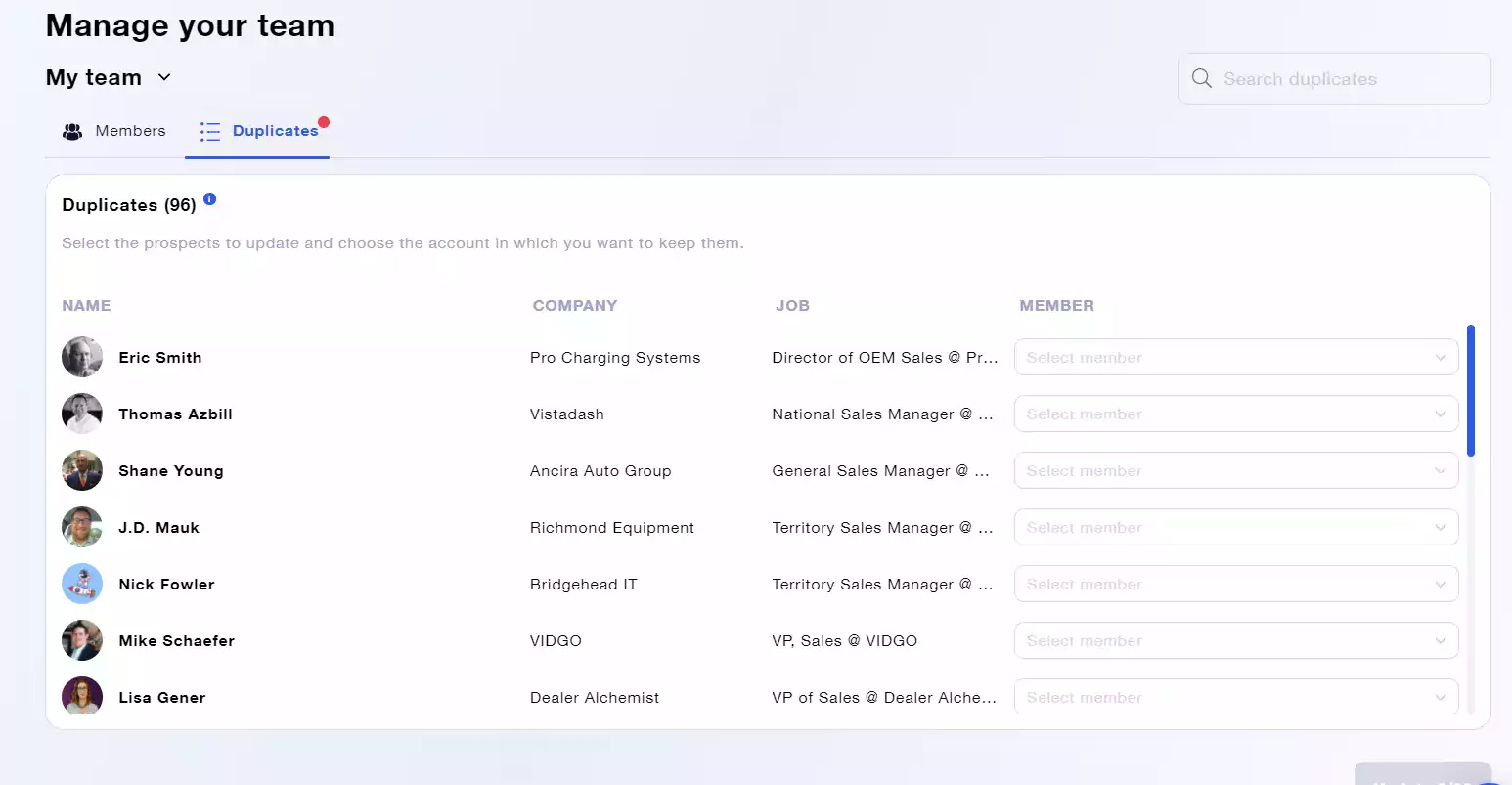 By activating this option, you ensure that you never prospect the same person twice. Even with a team of more than 10 salespeople. 😎
It's also possible to do a retroactive check: when you add different accounts to a team, Waalaxy will check for duplicate leads in the lists. If they are, you will be offered to "deduplicate" them with a default option that makes sense (priority to a prospect who has already responded, or who has already accepted an invitation etc…).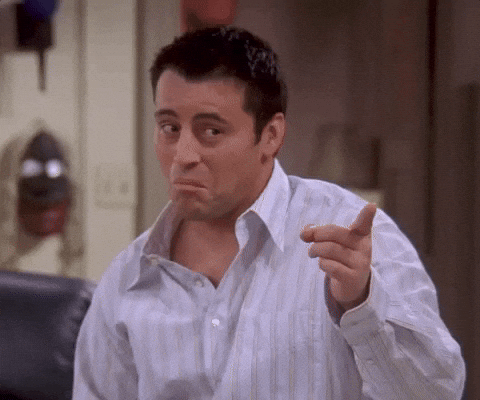 Access to other Waalaxy Team accounts
The access to other accounts, allows you to move from the interface of one team member to the next, without the need to connect to your LinkedIn account.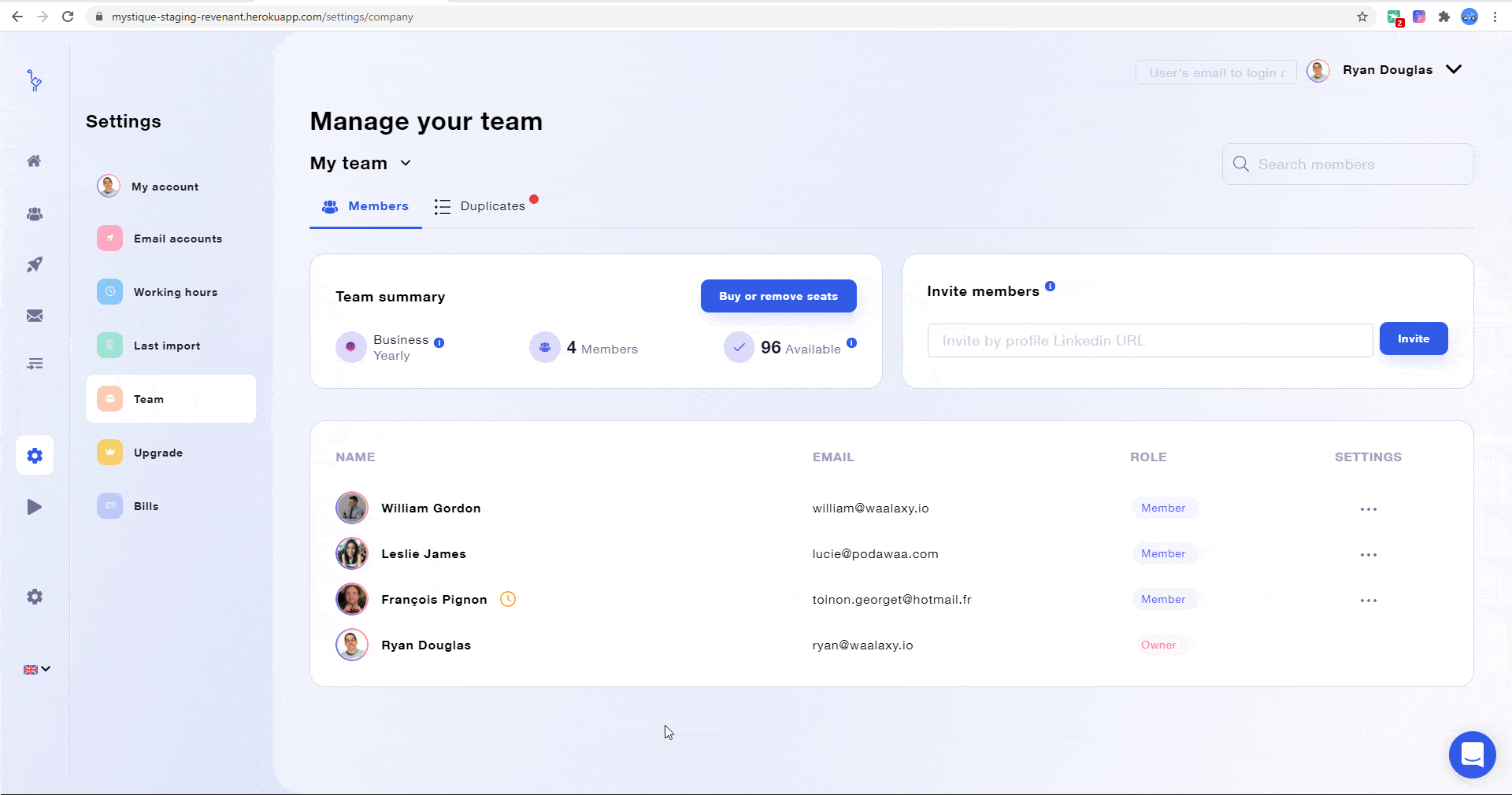 This, combined with the cross-account import, makes it possible for a single person to configure all the campaigns of his team without logging into their LinkedIn account. You'll just have to make sure that each team member has the Waalaxy extension installed as well as a LinkedIn tab open. 😎
What are the rates for Waalaxy's Team plan?
1 spot on the team plan = 1 subscription.
In a Team plan, all members must have the same subscription type (you can have 3 accounts on an ADVANCED plan or 3 accounts on a PRO plan but not 1 account on an ADVANCED plan and 2 on a PRO plan).
If you want 3 accounts on the Business plan on a yearly basis, the rate is 168€/month.
Waalaxy Team Plan FAQ
Can I have a free trial of the Waalaxy Team Plan?
At the moment there is no possibility to have a free trial of the Team plan automatically. Contact us at support and we will make sure to give you access to 2 or 3 seats for a few days, so you can get an idea of how it works. 😄
How to access the Team plan on Waalaxy?
By default, everyone is in a 1-person team. By going to "Settings" and then "Team", you can access your team and buy additional seats.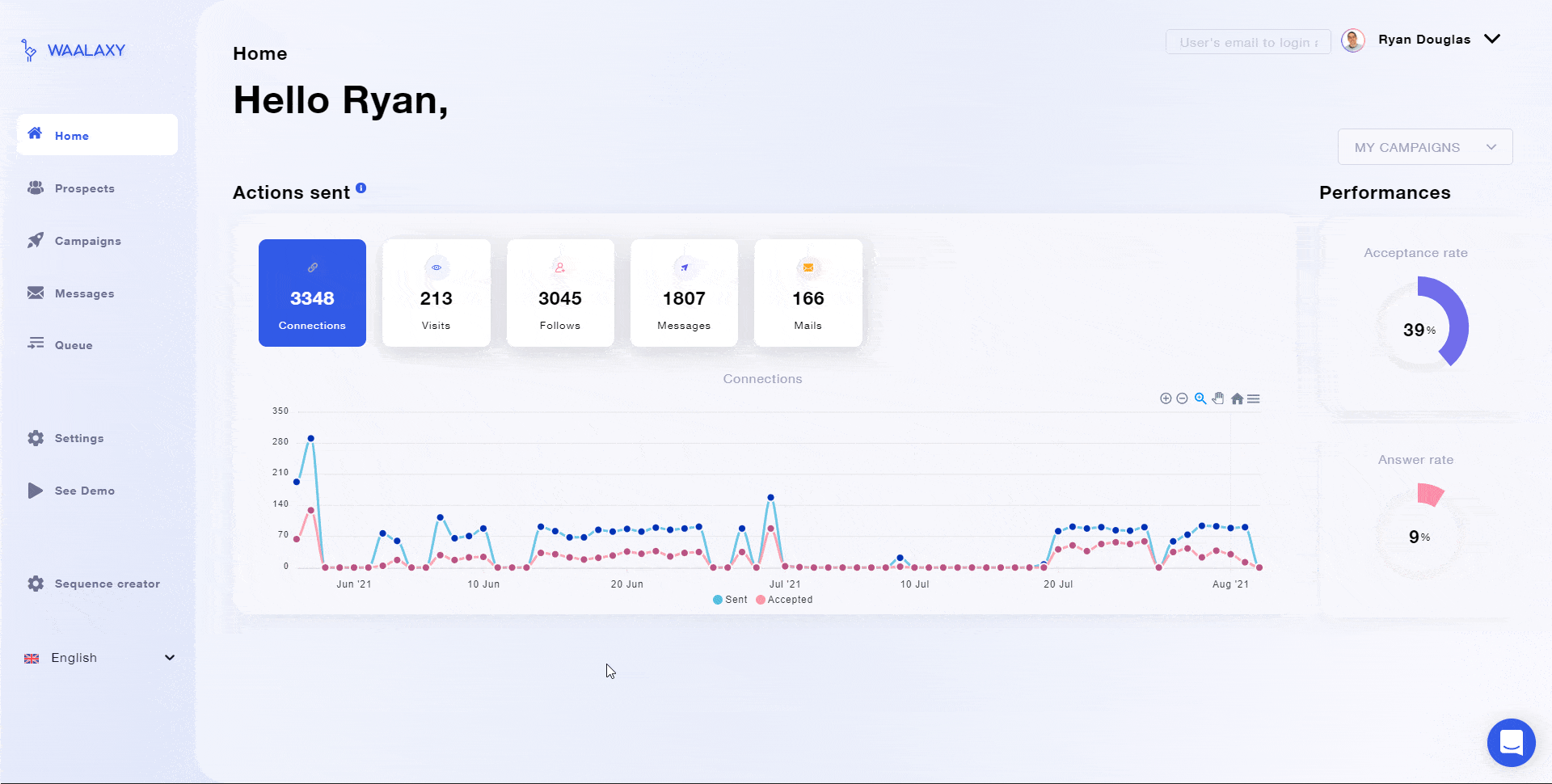 Can I get a demo?
If you are interested in the Team plan, you can contact us via the support chat on our site in order to get a demo. (If the chat does not appear, disable your ad blockers and reload the page with Ctrl + R).
Can I add/remove seats from my Waalaxy Corporate Offer?
You can add or remove seats whenever you want. If you add a seat, you will be charged on a pro-rata basis for the remaining period. 😊
If you delete a seat, the amount you paid for the current period will be credited to you as a credit note (and deducted from your next purchase or renewal with us).
How do I invite someone from my Waalaxy team?
To invite someone to join your team on Waalaxy, simply copy+paste their LinkedIn URL in the "Invite a person" field.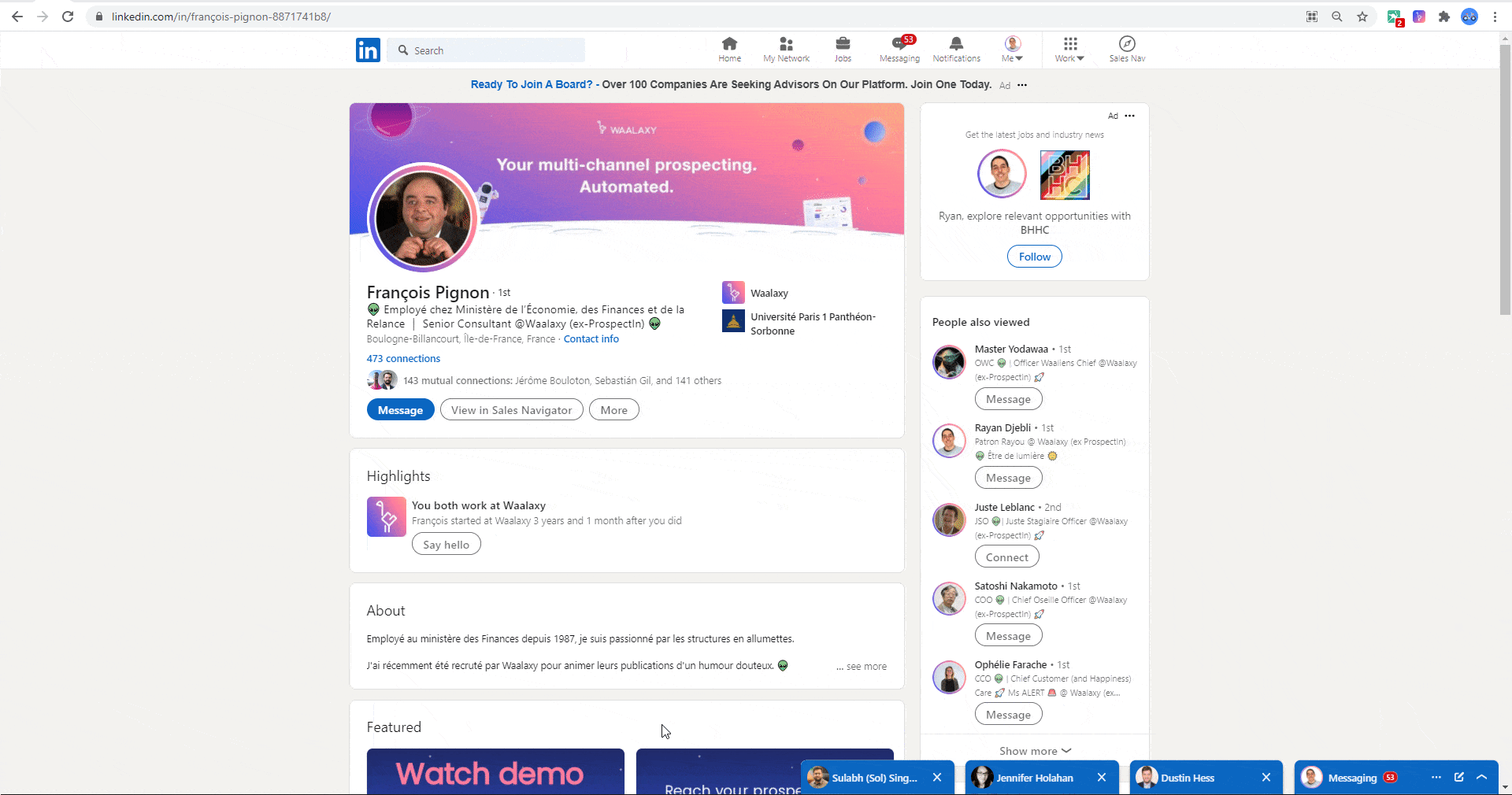 You must have at least one available spot in your team. If not, you need to purchase that spot before you can add them. ⚠️ The person must already have downloaded Waalaxy in order to receive the invitation. A little dot will appear in their notifications.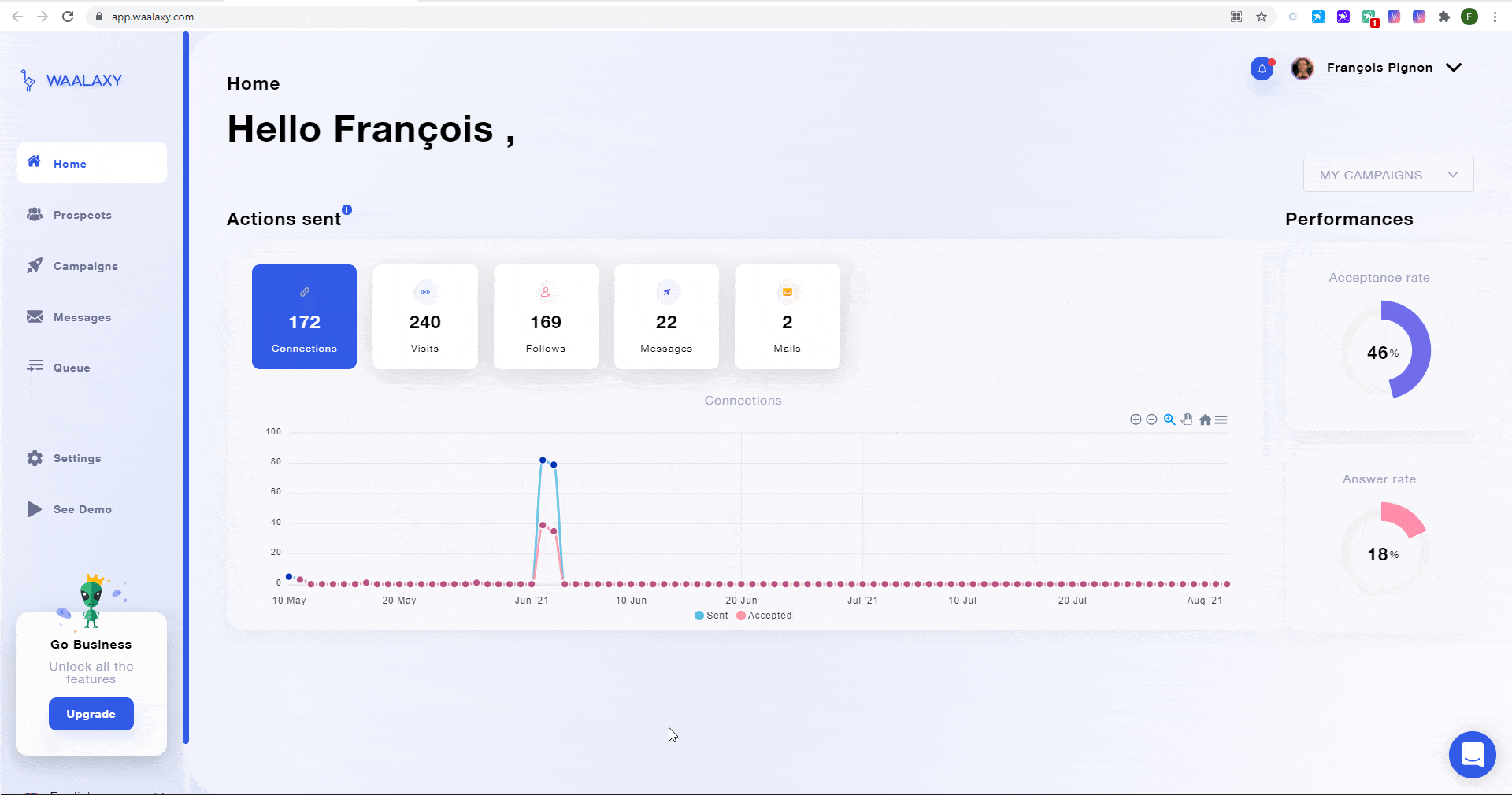 How many people can I have on my Waalaxy Team?
There is no limit to the number of places you can have in your Team Waalaxy. You can add as many seats as you want.
Is it possible to transfer my corporate subscription from ProspectIn to Team Waalaxy?
Automatic transfer is not available, due to technical complexity. But it is possible to migrate your ProspectIn subscription to Waalaxy. To do so, contact us directly on the chat and we will proceed to transfer your subscription.