The social network LinkedIn has developed several premium LinkedIn subscription offers. But then, how do you know which one you'll be able to reach 100% of LinkedIn's potential with? 🔥What features do these subscriptions offer and at what price ?
In this article, I decipher these offers for you, and reveal which is the best LinkedIn pro subscription. 👇
LinkedIn Subscription: 4 Pro Offers
You may already know this, but signing up for LinkedIn is totally free, also for other social networks like Facebook, for example. 🤗
However, to benefit from all the features provided on the platform, you will need to subscribe to one of the LinkedIn premium subscriptions. 🧐
Many users wonder if they have a real advantage to take a LinkedIn premium account, or if the free account is enough. 🤷
To know which one to choose, it's worth determining your profile needs and monitoring the activity you have on LinkedIn, it's all going to depend on whether you're a recruiter, jobseeker, freelancer, etc. 🤓
If you spend little time on LinkedIn, it won't seem necessary to get a premium subscription. ⌛
On the contrary, if you have understood the usefulness of having a LinkedIn account for your business, and you want to attract the attention of your target 🧲, then it is worth knowing the different subscriptions offered by LinkedIn.
So you are wondering… 🤔
What is LinkedIn Premium?
Basically, there are 4 LinkedIn premium subscription offerings : 🏆
The Career / "Essentials" account, to help you find a job.
The Business / "Premium pro" account, to develop your network.
The "Sales Navigator" account, to boost your B2b sales.
"Recruiter Lite" account, for your recruitment efforts.
(Finally, the "Learning" account, to improve your skills).

You can find all the details about these offers, in this dedicated article! 💯
Which LinkedIn subscription to choose?
LinkedIn offers a Basic account (free) as well as Premium subscriptions that you can try for free for a month. 🤩
With a Basic account, you can:
Find and connect with people you know.
Solicit and give recommendations on your skills.
Search and view profiles of other network members.
Receive an unlimited number of InMails (or block them if you wish).
Save up to 3 searches and receive weekly alerts.
LinkedIn also offers different paid or premium subscription plans, which you can choose from depending on your needs. 🧐
LinkedIn premium benefits
So, if you want to know the difference between a free and a paid account, here is a comparison chart with the benefits of LinkedIn premium :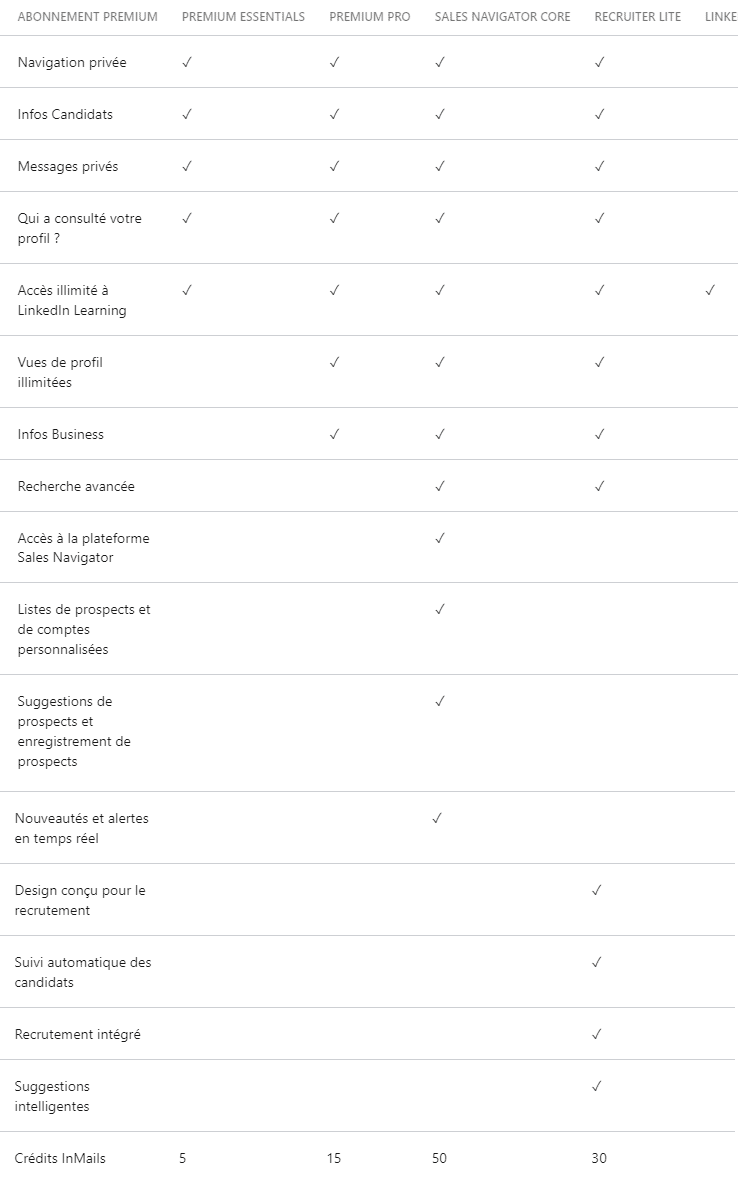 Again, it's up to you to evaluate your need for prospecting on LinkedIn or otherwise, so you can pick the best solution. 🔎
LinkedIn premium disadvantages
On the other hand, premium subscriptions are very expensive, then you will be very quickly limited in your LinkedIn actions, the number of searches, sending connection requests, and much more. 😩
That's why we present you a solution to bundle all the features of LinkedIn premium + automate for your multichannel (email) prospecting at a lower cost: Waalaxy subscriptions, of course! ✨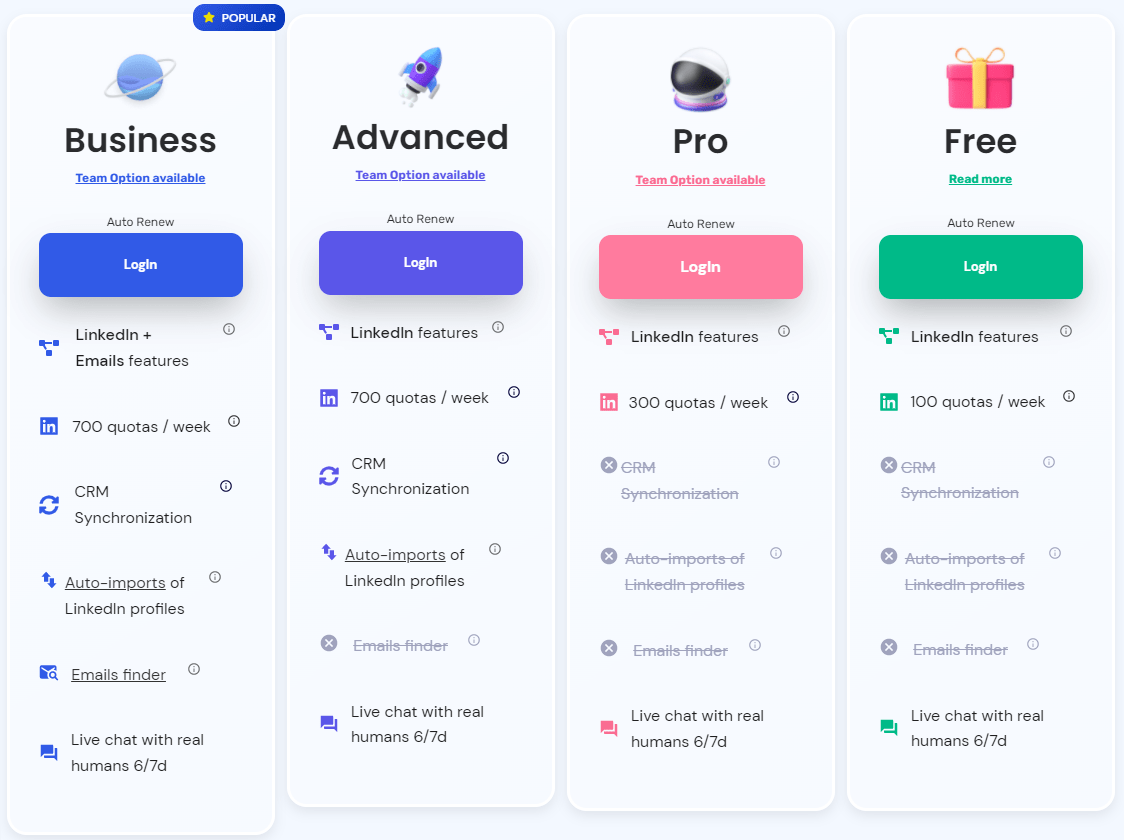 What is the price of LinkedIn premium subscription?
Now it's time to reveal the prices of LinkedIn Premium subscriptions. 🤐
You'll see this has nothing to do with Waalaxy's annual rates shown earlier. 👆
LinkedIn Premium Subscription
For the Career / Essentials subscription, the rate is €24.78 per month, annual.
For the Recruiter Lite account, the rate is €85.25 per month, annual.
For the "Pro" / Business subscription, the rate is €44.62 per month, yearly.
For the "Sales Navigator" the rate is €59.49 per month, if you choose the annual subscription.
However, with Waalaxy you have a "Team" subscription, your team will have access to other members' campaigns and prospect lists. (This subscription is the most complete of all!) 😍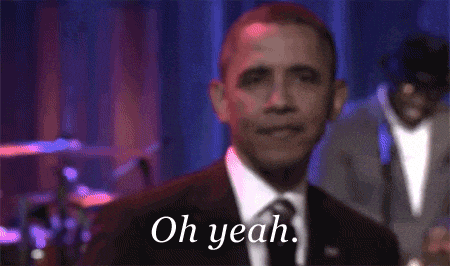 How to enjoy LinkedIn subscription without paying?
Still not convinced of the usefulness of Waalaxy for your business? Then I have one more good news for you! 😜
You can enjoy all the premium features of LinkedIn, without paying a single cent… Want to know how? ⚠️
Free LinkedIn Premium
The answer to all your prayers is Waalaxy!!! 🚀
With the "Freemium" version of Waalaxy, you'll get all the benefits of LinkedIn premium, but doing good for your wallet. 😇
You'll be able to research prospects on LinkedIn, and transfer them to your Waalaxy CRM to then send them automated action sequences (connection request, messages, visits, follow-up emails…). 🔥
No need to have a promo code, no restrictive trial periods, you can test Waalaxy in advanced version for 7 days, without having to register your credit card. 🙏
Then, you have the option to use it in a free or paid version, depending on your desires. ⚡ It's uncompromising, and if you ever want to cancel it's done in one click!
Discover Waalaxy 🪐
How to pay LinkedIn cheaper?
Nevertheless, if you are forced to take a paid LinkedIn subscription, such as Sales Navigator for your company, here is a "hack" that will save you a lot of money for your sales team! 🤑
Let's see, what's it all about? 💡
LinkedIn Sales Navigator
LinkedIn Sales Navigator is one of the most comprehensive premium offerings from LinkedIn. It's supposed to be a prospecting tool, but it's much more than that! 👀
It's about growing your network, to search for candidates as a recruiter or to look for a job, but also to grow your sales if that's your goal. 🎯
However, it's still a pretty expensive tool, especially in case you need to acquire it for all your sales people, and you just started your business. 🙊
That's why we've concocted a short article on how to pay for just one LinkedIn Sales Navigator account for your entire team, using multiple Waalaxy accounts. 🤫
Of course, this is only possible when you have a "Team" plan in Waalaxy. 🪐
If you want to know more about how it works, follow this link over here! 💥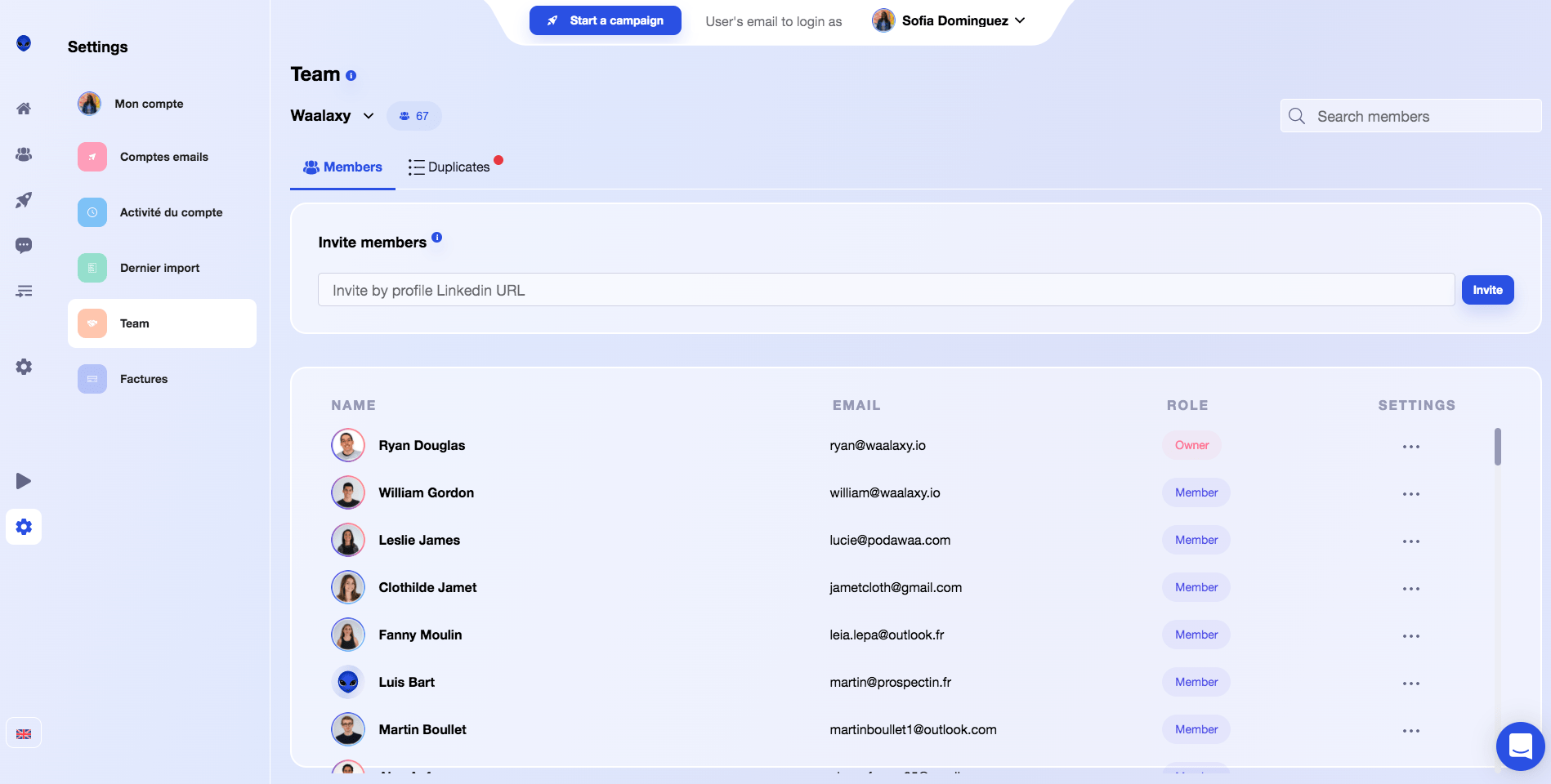 Conclusion: LinkedIn Subscription
Now you know more about the different packages offered by LinkedIn Premium. 🤑
If you use LinkedIn on a daily basis to look for work or as part of your professional activity, it would be wiser to consider a LinkedIn Premium subscription. 🤔
However, why bother with multiple paid tools (emailing and LinkedIn) when you can manage all your B2B prospecting in one automation platform? 👽
Think about generating more "reach" more easily and quickly with Waalaxy, than with LinkedIn's premium subscriptions. 🤫
Article FAQ
LinkedIn premium, useful or not?
Once you've optimized your profile and set your goals, you'll be able to see if you're interested in a premium offer. 🤨
If you're a jobseeker, you'll want to put all the chances on your side, and premium offers can help you do that. More visibility, ability to contact employers directly, etc. 💼
Having a premium LinkedIn account can be nice, but it's really useless if :
You don't have enough connections on LinkedIn.
You don't search for leads and/or don't have a CRM.
You don't hire often.
Your profile is not optimized.
It's nicer to have a free subscription, right? 😉
How to cancel LinkedIn premium subscription?
Want to cancel your premium subscription and don't know how to do it? The cancel button was recently moved to the new version of LinkedIn. 😬
But don't worry, I'll show you how to do it:
First, go to your "You" profile and choose "Preferences and Privacy" from the drop-down menu.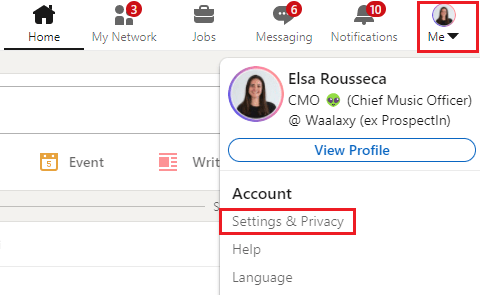 Next, go to the "Account Preferences" > "Subscriptions and Payments" section of this page. Then click on "Change" in the "Premium Subscription" section.
Inside, you will see the "Manage Subscription" > "Cancel Subscription" or "Close" option.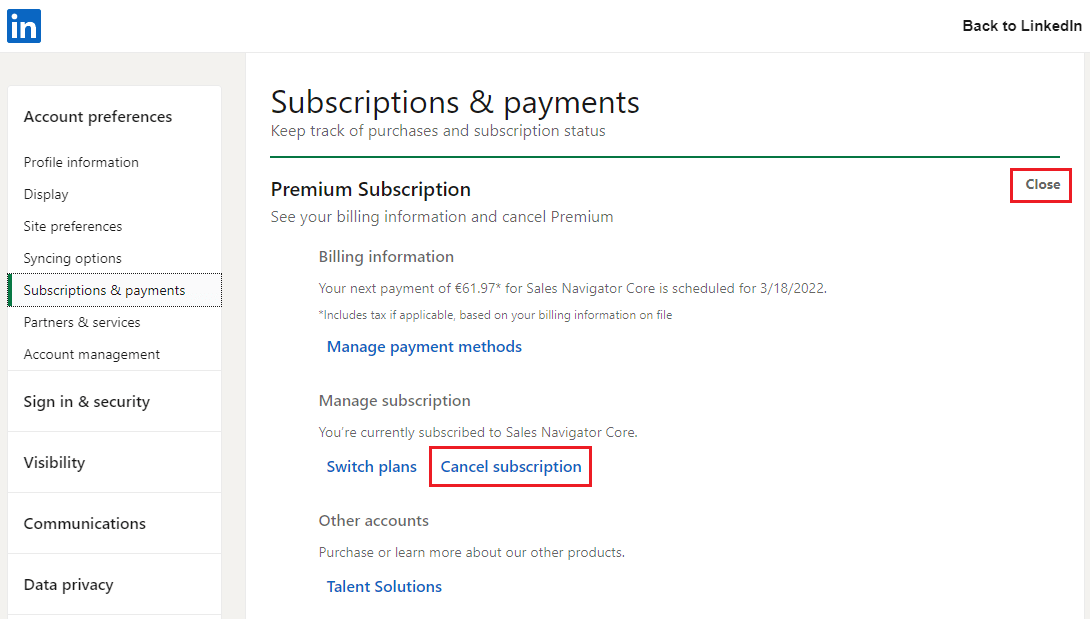 After that, you will be redirected to another LinkedIn page to show you your "After Cancellation" subscription, and they even offer you to "Change Plan" instead of canceling (they really don't want you to leave! 🤪).
Click on "Continue cancellation" anyway.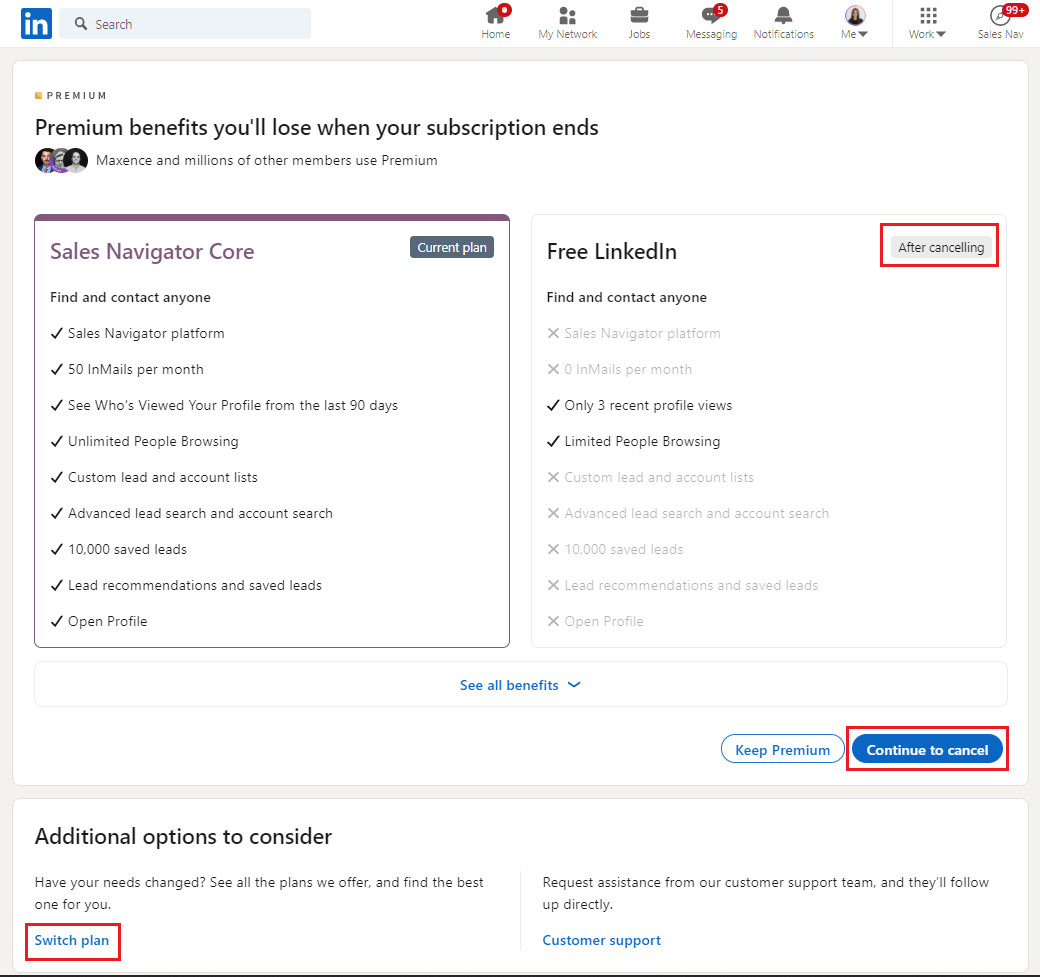 You'll still get a pop-up to reconfirm if you really want to cancel or not.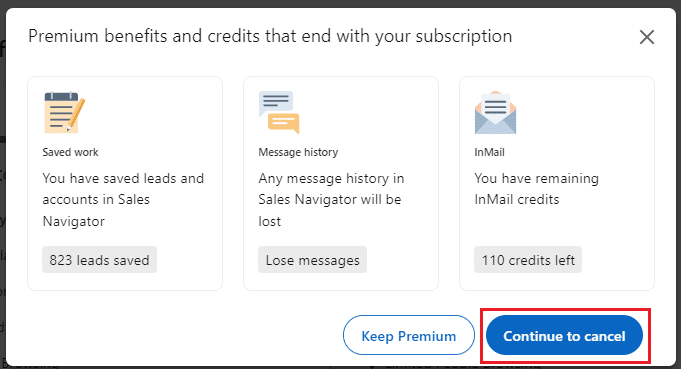 Then, you have to pick the reason you are cancelling and click the "Continue Cancellation" button again.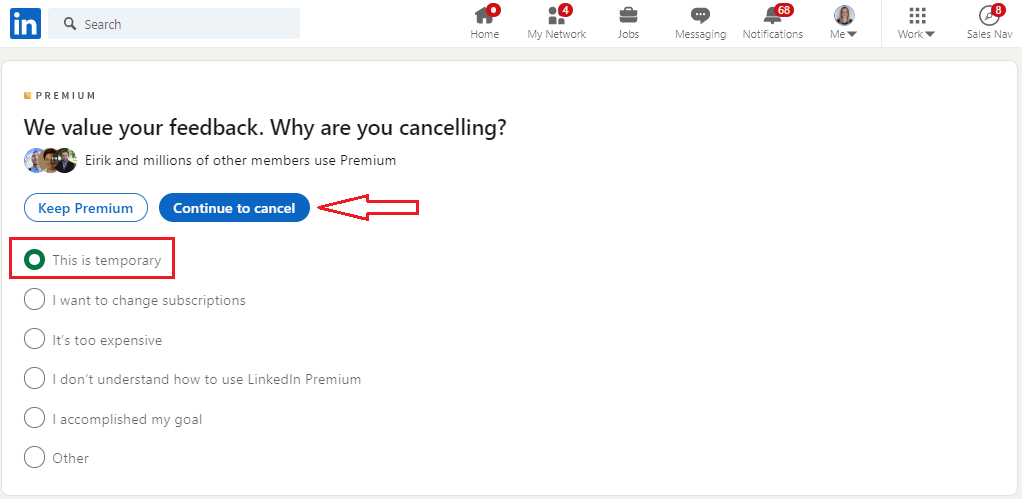 Finally, you'll get one last pop-up to "Confirm cancellation" but they'll still present you with a promo code to stay. 🥵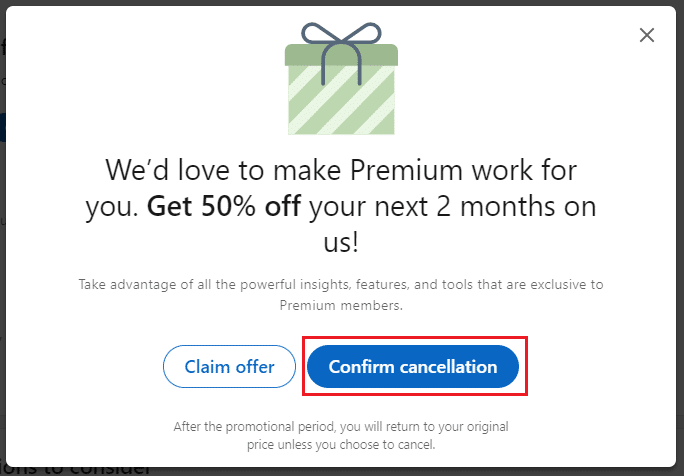 That was very exhausting! 🤯
There are +7 steps before you can cancel, whereas with Waalaxy you can do it anytime from your Configurations and with one click, but I guarantee you wouldn't want to do that! 😏
Now you have all the info on which LinkedIn subscription to choose… or not 😉 Why pay more, if you can have an all-in-one automation tool with Waalaxy?
Don't hesitate anymore and try it for free today. 👽
Try Waalaxy Now 👩‍🚀