On LinkedIn, aka the world's leading professional social network, you have the LinkedIn Learning feature. But, you must be wondering, what is it? Well, in this article, we explain:
What it is.
How it works.
Its price.
And finally, our opinion.
In this article you're going to find out how to access the best videos and benefit from them for your career or business. 🎯
What is LinkedIn Learning ?
LinkedIn Learning is an educational platform offering a wide selection of tutorial videos and distance learning courses. The platform allows you to:
✅ Raise your skills on hundreds of business topics (HR, accounting, SEO, sales…). This can be particularly effective if you want to sharpen your digital strategy.
✅ Gain credibility with LinkedIn certifications directly downloadable after the distance learning course.
✅ Expand your career by training 100% remotely in new fields or industries.
The courses talk about various topics and are accessible to everyone. You absolutely don't need any particular degrees or skills to start a training course. You will simply have to start with the so-called "basic" or "beginner" courses before embarking on more in-depth courses. So you can learn quickly and easily, every day, and on top of that, I think the interface is super well done. 🤓 LinkedIn even suggests you set a "learning time" that you dedicate to yourself each day or week so you can create your own goals and self-motivate yourself. 💪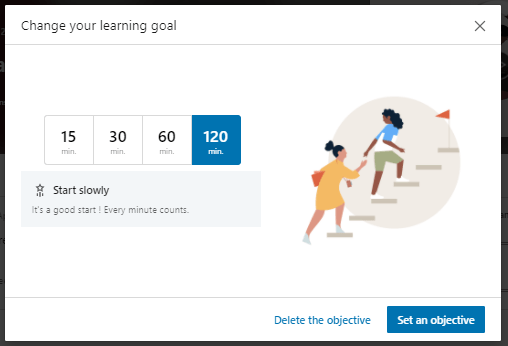 Once you've completed the virtual training, LinkedIn Learning then gives you access to a certification (more on that below 🤫).
How does learning LinkedIn work?
You will be able to find thousands of very good quality virtual trainings, and thanks to the intuitive dashboard, it's pretty easy to spot topics what you are interested in. Let's take a closer look 😉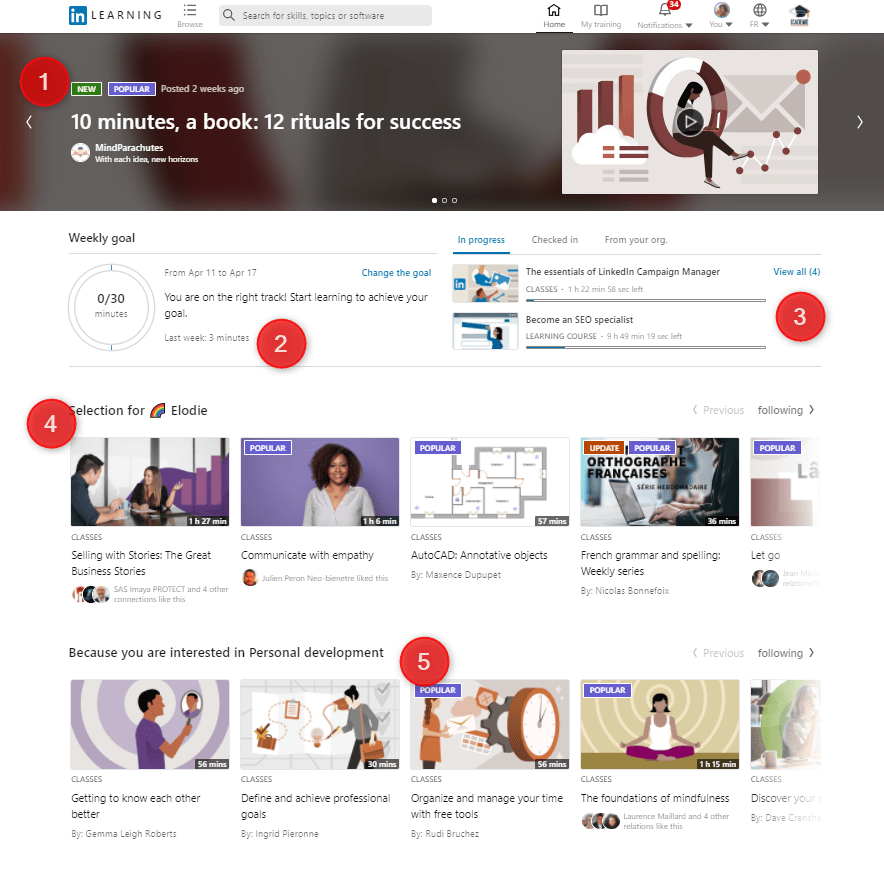 Ok, let's go for the explanations! ⬇️
How do you fill in your preferences and find trainings?
There are many different trainers, training organizations and learning paths on the digital learning platform. As mentioned earlier in the article, you can choose the "skills you are interested in", to help the LinkedIn Learning algorithm to suggest e-learning courses that match your LinkedIn profile and your learning needs. To do this, you must:
Open your LinkedIn training account.
Go to the "You" tab.
Click on "skills".
Choose the skills you are interested in by noting the associated keywords in "search skills". (You can also use the "suggested skills" help to find topics that might interest you)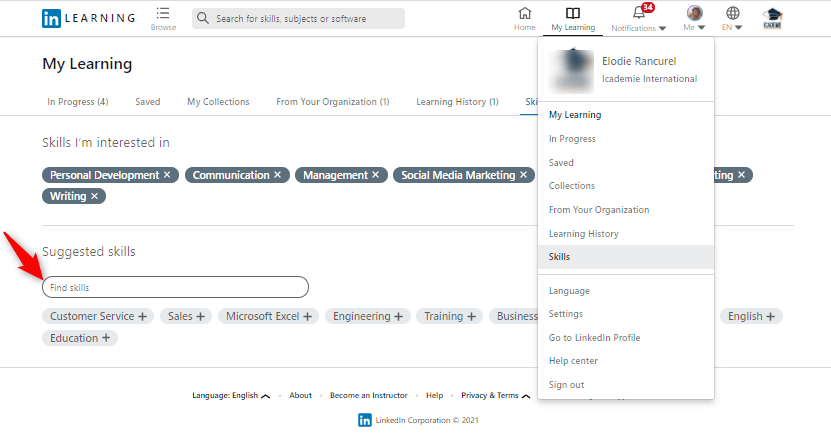 Once you have done this, go back to the home page by clicking on the "IN Learning". You'll find a lot of new content that is relevant and relevant to your current interests.
How do I take a LinkedIn Learning course?
Once you've chosen a course title that inspires you (it could be courses on leadership, website creation, java, PhP if you're a developer but you'll find vast topics on LinkedIn Learning), just click on it to instantly start the full course. Don't be afraid, you can pause your training at any time and get back to it later. 😌
As long as you have a current LinkedIn Learning subscription, you're going to be able to enjoy access rights to all the training, whether you started this one the day before or 6 months before. Okay so, this full curriculum, what does it look like?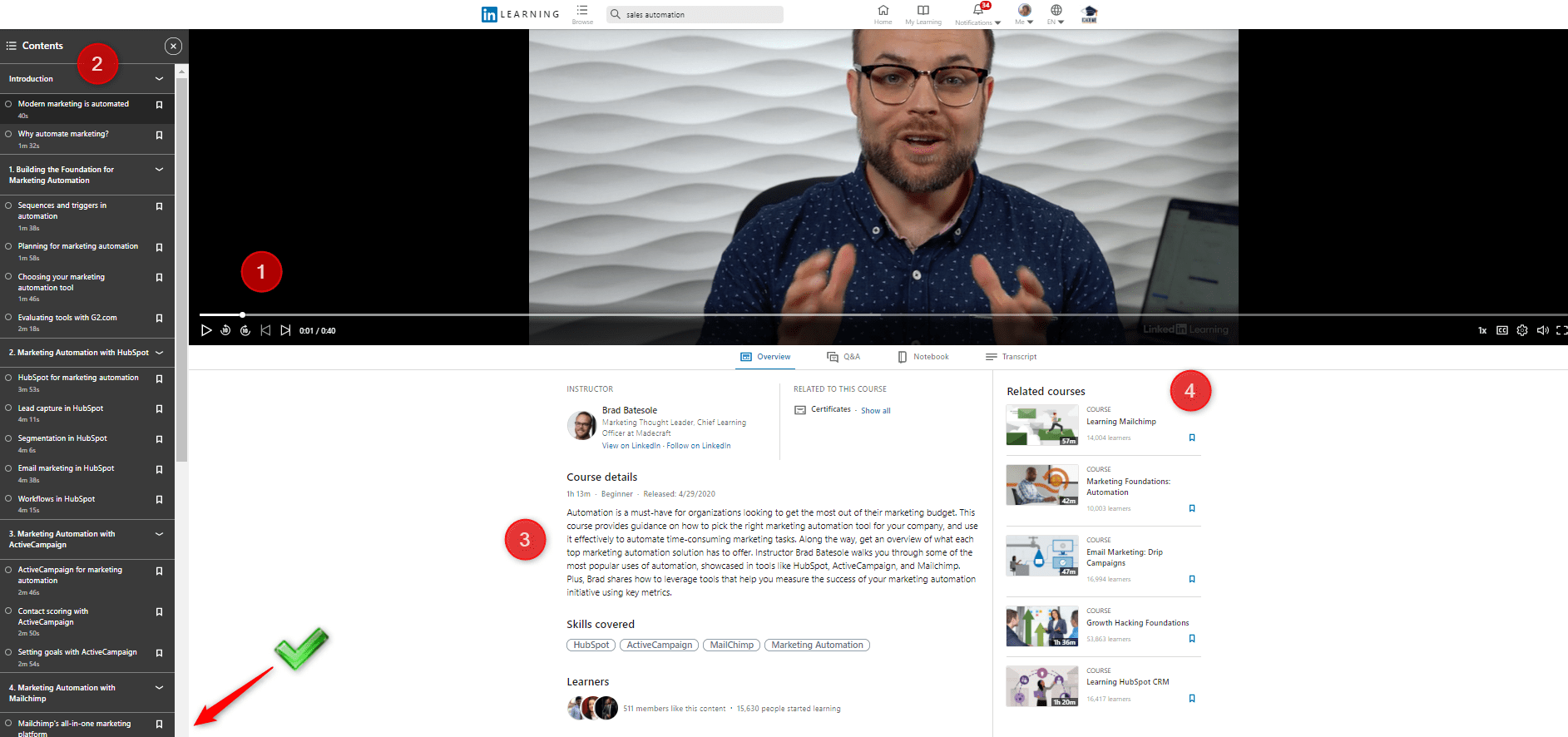 The most popular LinkedIn Learn courses in video lessons
Not sure what you really want to learn? Afraid you'll stumble upon a self-study course that adds little value to you? Or, do you want to know what's trending in the Btob market.
As I told you a few lines ago, there is nothing like the opinion of other professionals in the network. It's a bit like a restaurant, if no one is eating there, it's because something is wrong with the menu. On the other hand, if the tables are full, it's worth the effort.
Taking a LinkedIn Learning course is like choosing a diner. 🍣 We care about the opinions of others and LinkedIn knows that. So they've highlighted on your homepage what's trending in your industry and what videos are most popular.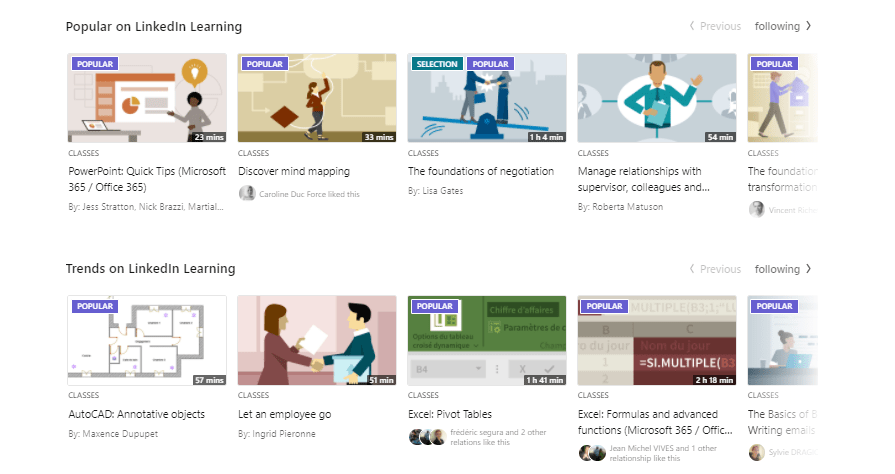 You'll find the following tabs, among others:
Trends right now.
Trends on LinkedIn Learning.

Popular on LinkedIn Learning.

Popular within the industry you're in.
New online courses.
LinkedIn Learning: what is the price?
To access the training on the LinkedIn network, the price is $29.99 monthly and $19.99 annually. That's between $240 and $360 per year. You have the details of the plan right here. 👇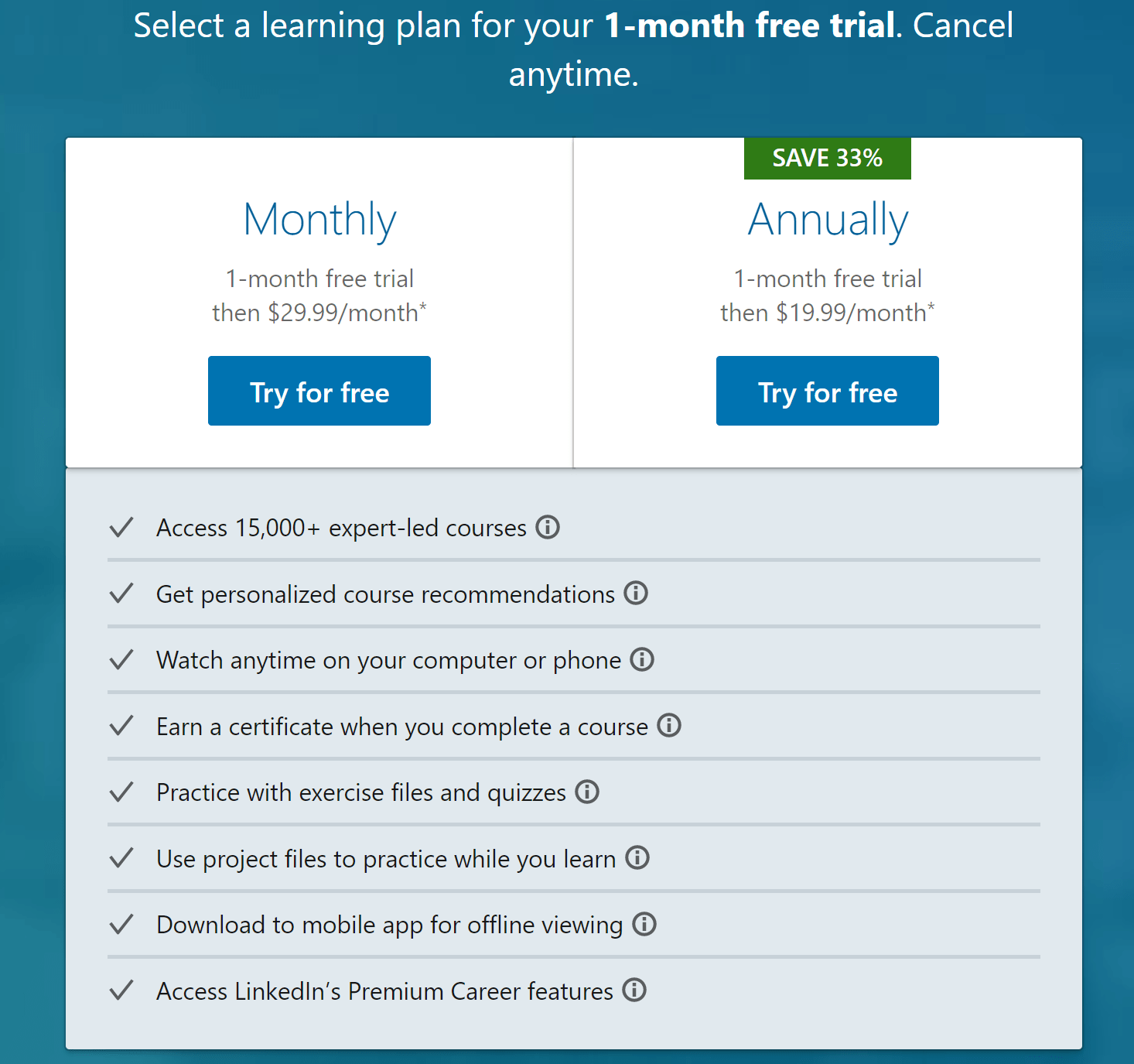 LinkedIn Learning: Is It Worth It?
Now that you know how the courses work and what your pricing options are, you're probably wondering if it's worth it to shell out that budget to get access to the platform. There are several options available to you:
In some cases, the employer may decide to provide elearning courses access to employees to help them upgrade their skills, you can ask your boss. 😁
Some schools and training centers have a student-learning access to education courses for every student.
Last option, personal funding. 💲
In the case of personal financing, you need to ask yourself several questions:
Why do I want to take this subscription? Is it to learn new skills or to be able to apply for other positions later?
It's important to ask this question because LinkedIn Learning courses provide you with certificates, but these are not accredited. So whether LinkedIn Learning is worth the cost, that's going to depend on your goals. 🎯
Is LinkedIn Learning certificates useful?
You've probably guessed that our next step is to zoom in on LinkedIn's certificates. 🌟 Here's a little example of what it looks like.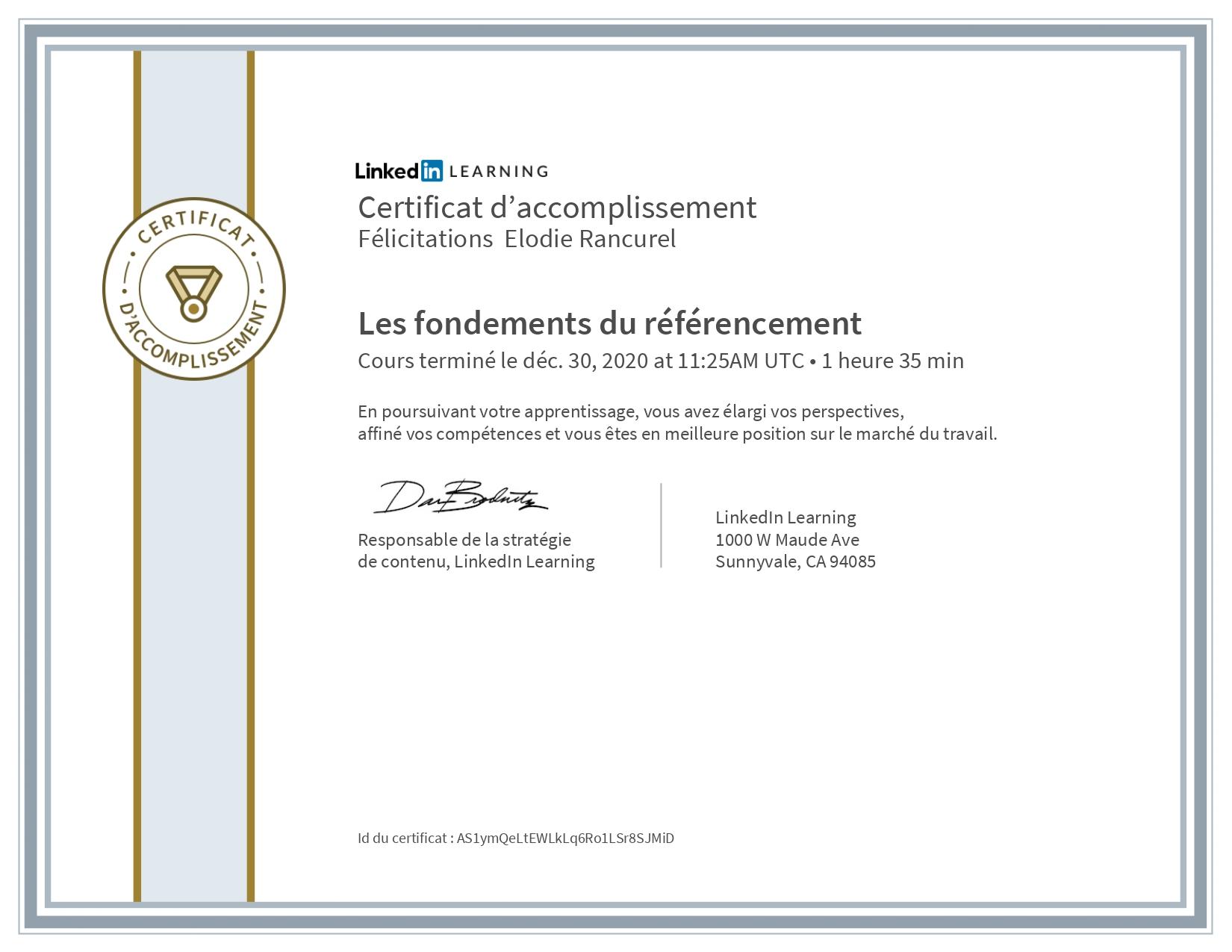 It looks great, doesn't it? 😎
Know that you need to have read all the videos in a course's curriculum to get that nice piece of white paper. Often, and at the end of each chapter, you also need to know how to take quizzes to validate your skills.
So yes, in principle, it's all class as a document except, there are a few drawbacks. ❌
It is not an accredited certification: it is above all a "witness" document that indicates that you are serious and diligent in your learning process. But it is not proof. You may very well have left your computer running without sound 🔇 throughout the video. Employers know this, and won't be satisfied with a LinkedIn certification to ensure you have the skills listed.
No package options (only monthly and annual subscriptions). You can't choose to take only one course. (But you still get one month free 😉 )
Few advanced level courses. If you are already very confident on a topic, don't expect the experts to come and divulge growth hacking secrets or miracle techniques.
How do I share a certification on LinkedIn?
To share your certification on LinkedIn, you go to the network :
Once the certificate is passed, a "download certificate" and "add to profile" button will appear.
Click to profile" and write a LinkedIn post.
Here is the Tuto video to help you 👈. So yes, in principle, it's all classy as a document, except that there are drawbacks. ❌
No accredited certification: it is primarily a "witness" document that indicates that you are serious and diligent in your learning process. However, it is not a proof. You may very well have left your computer running without sound 🔇throughout the video. Employers know this, and won't look past a LinkedIn certification to make sure you have the skills listed.
No package options (only monthly and yearly). You can't choose to take only one course. (but you still get 7 days free 😉 )
Few advanced courses. If you are already very good at something, don't expect the experts to come and tell you growth hacking secrets or miracle techniques.
From the off, when is LinkedIn Learning interesting? ✔📗
If you want to learn by yourself, at your own pace, a trade or a particular skill.
If you don't necessarily want to obtain a recognized diploma.
If you are aware that you will need experience in addition to your e-learning training to be truly competent in the subject.
LinkedIn Learning for business
If you want to use LinkedIn to boost your business, we suggest you check out this guide on how to generate 250k per month just from LinkedIn instead. 😱 How to get LinkedIn Learning with your business? 💡 I did some research for you, by contacting LinkedIn Learning's sales department directly. 🕵️ You can contact them directly via this page. You have a choice:
Request a callback.
Contact them via chat.
Schedule an appointment for a demo.
I opted for the chat, in order to give you some nice screenshots.

To give you a short summary of my exchanges with the salesman, here's what comes out of it. ❌
Companies are paying more, for the same service! 😱 There is a business package that offers additional services. If you were dreaming of a preferential rate for a large volume of subscribers…
You'll really have to negotiate, but it will never go below the basic price for individual access ($19.99). 😯

The salesman then tells me about a learning management system and tutoring that comes on top of the platform access, but what is it? 🤨 Finally, these algorithms he talks about are the same as those of the individual version at $19.99. It is, however, possible to propose them or to put them in front of certain courses, but does it really justify an increase in the overall price? What conclusion can we draw from this?
❌ If you want your employees to enjoy access without controlling their actions on the platform, the enterprise plan won't be for you.
💲 The price is higher, because you are offered to "drive" the projects by highlighting some videos, something you can do without going through the platform, by communicating internally.
If you have a lot of employees and you want to make them learn about a particular topic, or you have a high volume of onboarding per week, using this solution could save you time and improve your internal organization.
If you want to add LinkedIn's virtual learning to the list of benefits your company offers to employees, LinkedIn Learning is still a very useful platform full of potential, with or without management courses.
It's all a matter of priority, budget, and goals. 🎯
Conclusion of the Article
LinkedIn Learning is a very good way to learn new skills, especially on several digital topics. The platform has its advantages (quality, choice, nice interface), but disadvantages (mandatory subscription, few expert-level training, and an unaccredited certification).
My take 🙃: There's nothing like testing tools to learn by yourself. LinkedIn Learning can be a real benefit to you, but you have to be curious. Go see what things look like in real life and get your hands dirty! 🤠
Speaking of curiosity, check out what's just come out on the market in terms of automation. 👀
LinkedIn Learning FAQs
Now that you know that LinkedIn Learning is a platform where you can have access to online education, whether you are a learner or are part of the educators it's time to have a look at the other terms.
What LinkedIn Learning courses are free?
Can LinkedIn Learning be accessed for free?
You are entitled to 1 month free trial upon registration. After this trial month, LinkedIn Learning becomes a paid subscription. (Monthly or yearly.)
You can ask your employer or, in some cases, your training center to pay for the course.
Who owns LinkedIn Learning?
The platform was founded in 1995 by Lynda Weinman under the name Lynda.com. Lynda.com was later acquired by LinkedIn in 2015. Finally, Microsoft acquired LinkedIn in December 2016. So LinkedIn Learning is now owned by Microsoft as of that date. 🤓
LinkedIn Learning vs. Udemy
In the United States, there are two giants in the digital online learning course – LinkedIn Learning and Udemy. While Udemy far exceeds its competitor in terms of volume (number of digital trainings), and therefore learners (the more choices you have, the more you increase your chances of getting customers tenfold), LinkedIn is still a powerful medium.
Training
LinkedIn Learning
+13 000
Udemy
+130 000
The second big difference is the price. The advantage of Udemy is the flexibility. You pay for the training course, so you can decide to follow only one, without being forced to commit.
Price
LinkedIn Learning
$19.99 per month
Udemy
Between $9 and $300 per course
It is difficult to judge the quality of the training when all courses are all made by different experts. However, just like on LinkedIn Learning, you can see ratings and comments from participants on Udemy to help you make your choice. 😎

Just like LinkedIn Learning, you also have access to a certificate, but once again, it's unaccredited…
If you're looking for a certificate program or a degree program, LinkedIn learning solutions may not be the best option for you. In that case, there are many other options to find personalized learning, on a distance-learning platform offering online degrees. We are sure you'll find what is best for you. 🥰
LinkedIn Learning : Login
Nothing could be easier than to log in to your account, once you have created a LinkedIn Learning space.
Log into your LinkedIn account.
In the top home bar, click on "products".
Then choose "Learning.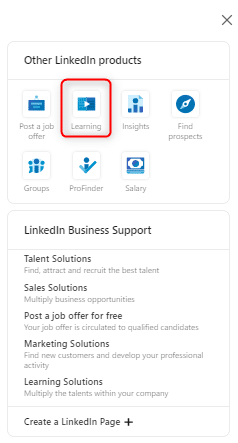 Same credentials as you use on the LinkedIn platform.
How do I cancel LinkedIn Learning?
Click on your LinkedIn profile picture in the top right corner.
Click on "Preferences."
Then click on LinkedIn Learning, then > Manage. You will be redirected to the MY PREMIUM page.
Click on "Manage your Premium account" on the right.
Click on Terminate LinkedIn Learning.
And there you go, you're logged in to your LinkedIn Learning account. We wish you the best of luck on your learning path. 🥳