Are you interested in taking online training courses offered by LinkedIn Learning? In this article you will find out how to access the best videos that will benefit your career or business. 🎯
What's LinkedIn Learning?
The online learning platform offers a wide selection of video tutorials and online training. Once you have completed the virtual training, LinkedIn Learning provides you with a certificate. You can then publish your success on your LinkedIn news feed.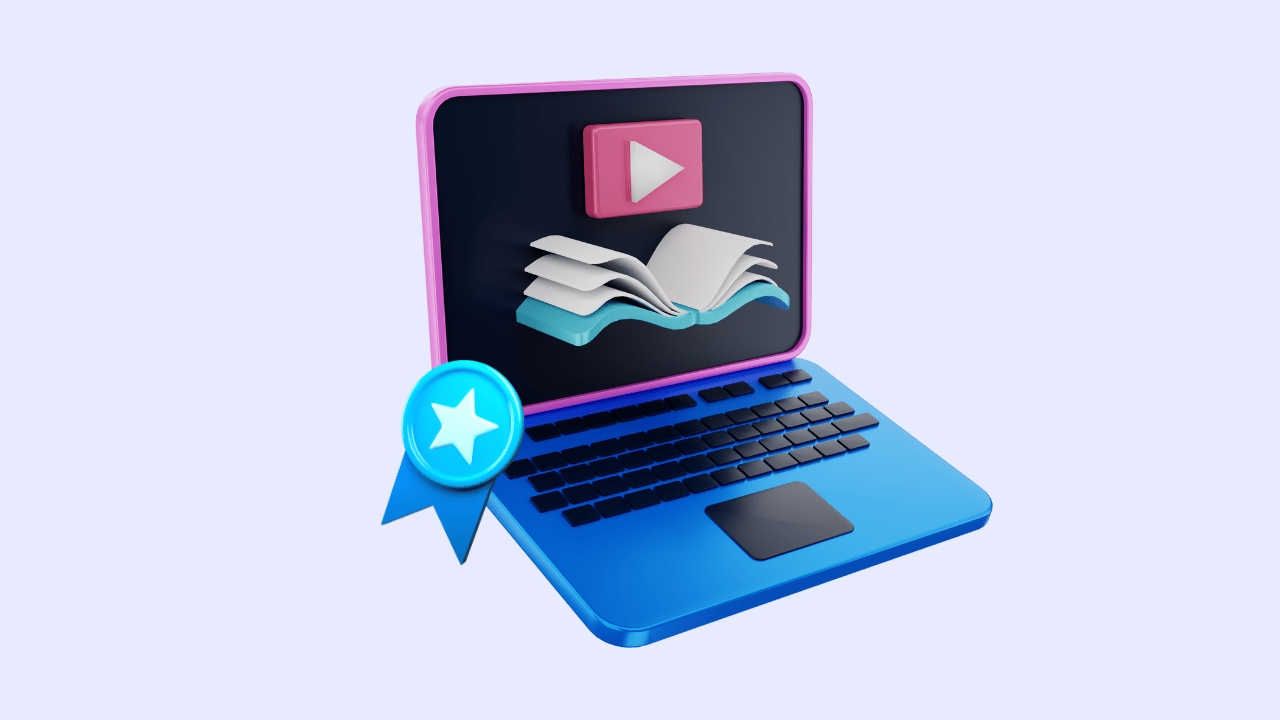 The platform allows you to:
✅ Increase your skills on hundreds of business topics, with high-quality learning programs (HR, accounting, SEO, sales…) in order to help you in your professional-development.
✅ Gain credibility with LinkedIn certifications directly downloadable after the learning training.
✅ Develop your career by training 100% remotely thanks to online classes.
✅ Discover new areas or business sectors by learning online.
The courses talk about various subjects and are accessible to everyone. You don't need to have any particular qualifications or skills to start the training courses. You will simply have to start with the so-called "basic" or "beginner" courses before embarking on more advance courses.
So you can learn quickly and easily, every day.
Plus, I think the design is so well done. 🤓
LinkedIn even offers you to set a "training time" that you will dedicate to yourself every day or week to create your own goals and self-motivate yourself. 💪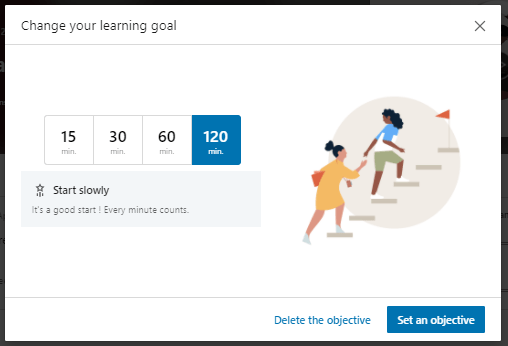 How LinkedIn Learning Works?
LinkedIn Learning platform is the YouTube of professional training.
You will find thousands of high quality virtual training content, and thanks to the intuitive interface, it is quite easy to find the topics that interest you. (The course catalog contains 13,000+ online teaching content)
Let's take a closer look the instructional design. 😉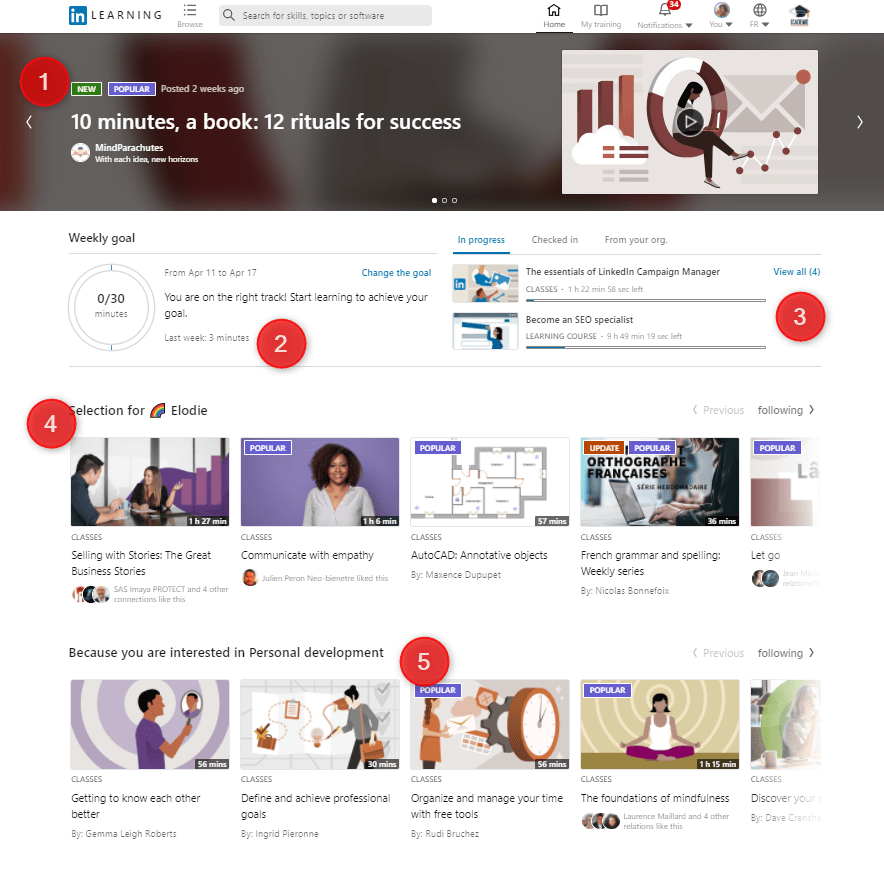 #1 The banner shows you the latest in curricula to follow.
#2 As mentioned above, you can set a goal of anywhere from 15 minutes to 120 minutes of your learning program per day. Of course, LinkedIn won't slap you on the wrist if you decide not to meet your daily goals, they're just there for guidance. 😊
#3 The reminder of what you're currently watching. Similar to Youtube, LinkedIn Learning has a personal library where you can access three browsing histories (what's in progress, what you've saved for later, what your organization or company has saved for you).
#4 LinkedIn Learning selections, just for you. 😏 When you create a M Learning account, the social network suggests topics of interest to you. By entering your interests, social media will highlight topics, on line learning and videos related to your interests. How can you fill in these preferences? We'll get to that very soon 😉
#5 Each field filled in your preferences will stand out in the first page in order of relevance. For my part, I've been watching more videos on personal development and writing, so those are the first two topics to come up. The more you like something, the more similar content the learning system offers you, just like all social media sites.
How do you fill in your preferences and find courses on LinkedIn Learning?
There are many different trainers, training organizations and learning paths on the digital learning platform.
As mentioned earlier in the article, you can choose the "skills you are interested in," to help LinkedIn Learning algorithms to offer you training that matches your profile and your learning needs.
To do this, you must
Open your LinkedIn Learning account.
Go to the "You" tab.
Click on "skills."
Choose the skills you are interested in by noting the associated keywords in "search for skills." (You can also use the "suggested skills" help to find topics that might interest you.)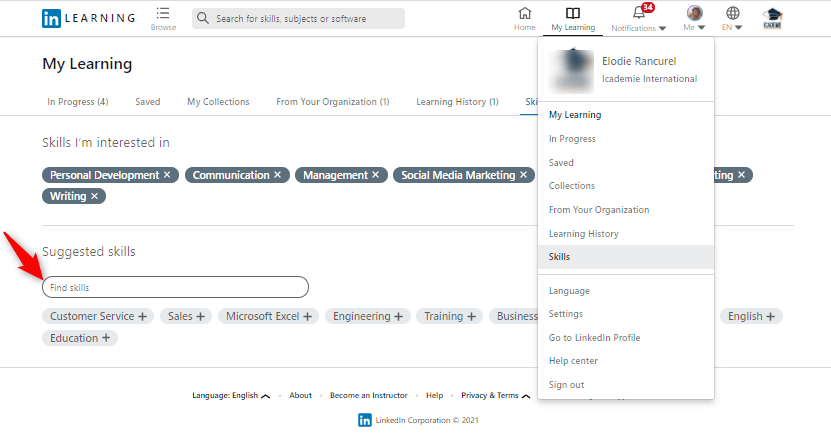 Once you have done so, go back to the home page by clicking on the "IN Learning" (left corner). You'll find a lot of new content that is related to your current interests and useful.
How do I take a LinkedIn Learning course?
Once you've chosen a course title that inspires you, just click on it to instantly start the full course.
Don't worry, you can pause the course at any time and get back to it later. 😌
As long as you have a current subscription to LinkedIn Learning solution, you'll going to be able to enjoy access rights to all the training content, whether you started this one the day before or 6 months before.
Okay then, what does the virtual classroom look like?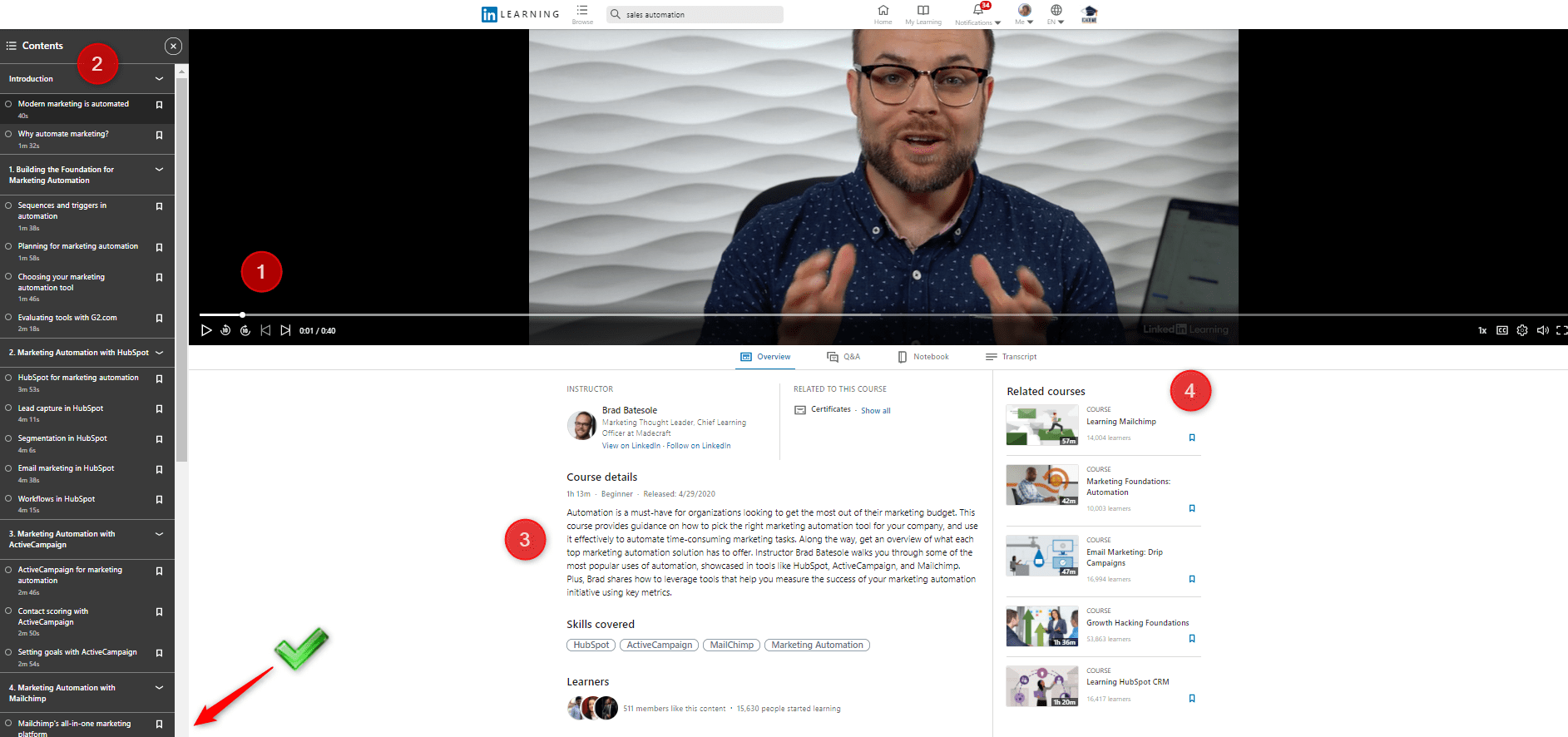 1# Video. Again, this is pretty similar to Youtube in terms of digital learning design. 😃 Your streaming video is pre-recorded, you can see how long the video is, pause it at any time or "skip" and go to the next one.
2# The full curriculum. In this tab, you have a good overview of what will be covered and you can already see the chapters, topics and duration per video. There is also a tag on the right that allows you to save the video that added the most value to you in order to come back to it later.
#3 The course description. In this one, you will find a lot of interesting information:

The trainer's LinkedIn page: It's important to know if the person training you is competent in the field. Usually, they are experts who know their stuff, but you never know. It is also very interesting to be able to contact the trainer if you have any questions, for that, just go to the discussion forums > Q&A button.
The details of the course. The introduction gives you some indication of what you'll see during the course, as well as the "skills covered" tab which is a good indicator of the tools that will be covered. 👨🏫 Also remember to check the full length of this one, to make sure it matches the training time you had set for yourself. ⏰ You can also see the difficulty level (beginner, intermediate, or advanced). 🤓
User feedback about their learning experience. We all know how much the opinion of other platform users influences our final decision, and that's entirely normal, it's a great indicator of content quality. 🌟 Feel free to take a quick look at the number of followers and the number of likes.
Use the "Notes" tab. As the name suggests, it's there to help you take notes throughout your learning journey. (It's even better than a traditional classroom). 😎
#4 Similar Content. As you can imagine, the developers of the tool are smart. They've sprinkled similar content all over the place for you, easily accessible with one click on your LinkedIn Learning pages. The goal? To pull you into the continuing education spiral. 🌀
Is it difficult to take a distance learning course?
There are more and more degree courses that are not face-to-face. 💡
Despite the fact that there is no face-to-face learning, more and more learners swear by digital or blended learning.
There are fewer training courses: transportation, purchase of books.
Individual videos can be reviewed by viewing the course again on the platform.
Distance learning courses can now be used for both state and non-state degrees.
Even some top schools offer digital university options.
Successful training is just as possible in distance learning. The results do not drop.
The educational solutions are adapted to distance learning: remote tutor, chat…
E-learning is valued and often promoted for job seekers who wish to take training modules.
In short, everything is put in place to push learning through digital and support learners. ✅
Most Popular LinkedIn Learning Courses
Not sure what you really want to see as an online course? Afraid you'll end up with a course that adds little value? Or do you want to know what's trending in the B2B market?
As I told you a few lines ago, there is nothing like the opinion of other professionals in your network. It's a bit like a restaurant, if no one is eating there, it's because something is wrong with the menu. On the other hand, if the tables are full, it's gonna be worth the wait.
Taking a LinkedIn Learning course is like choosing a diner. 🍣
We care about the opinions of others and LinkedIn knows that. So they've highlighted on your dashboard what's trending in your industry and what videos are most popular.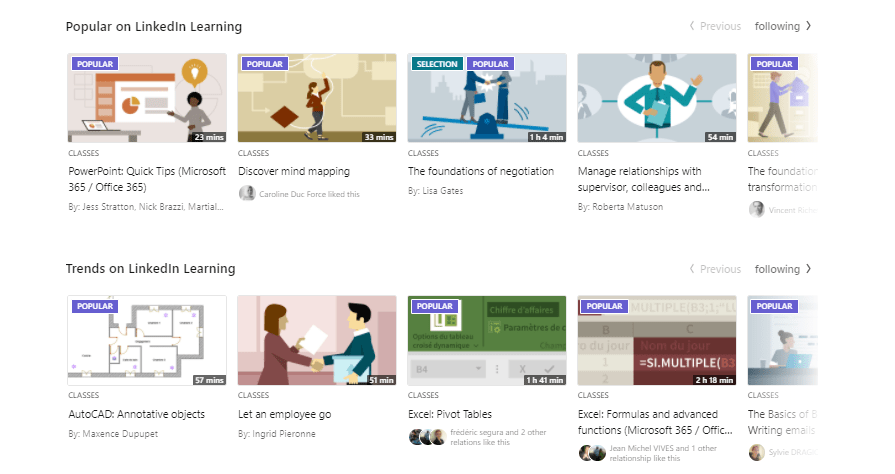 You'll find the following tabs, among others:
Trends right now.
Trends on LinkedIn Learning.

Popular on LinkedIn Learning.

Popular within the industry you're in.
New online courses.
Best LinkedIn Learning Courses
Studyrama did some of the research for us, they came to a conclusion, soft skills training are more and more in demand on the learning platform.
Of course, in order to choose the right course, it is better to rely on known trainers who are experts in their subject.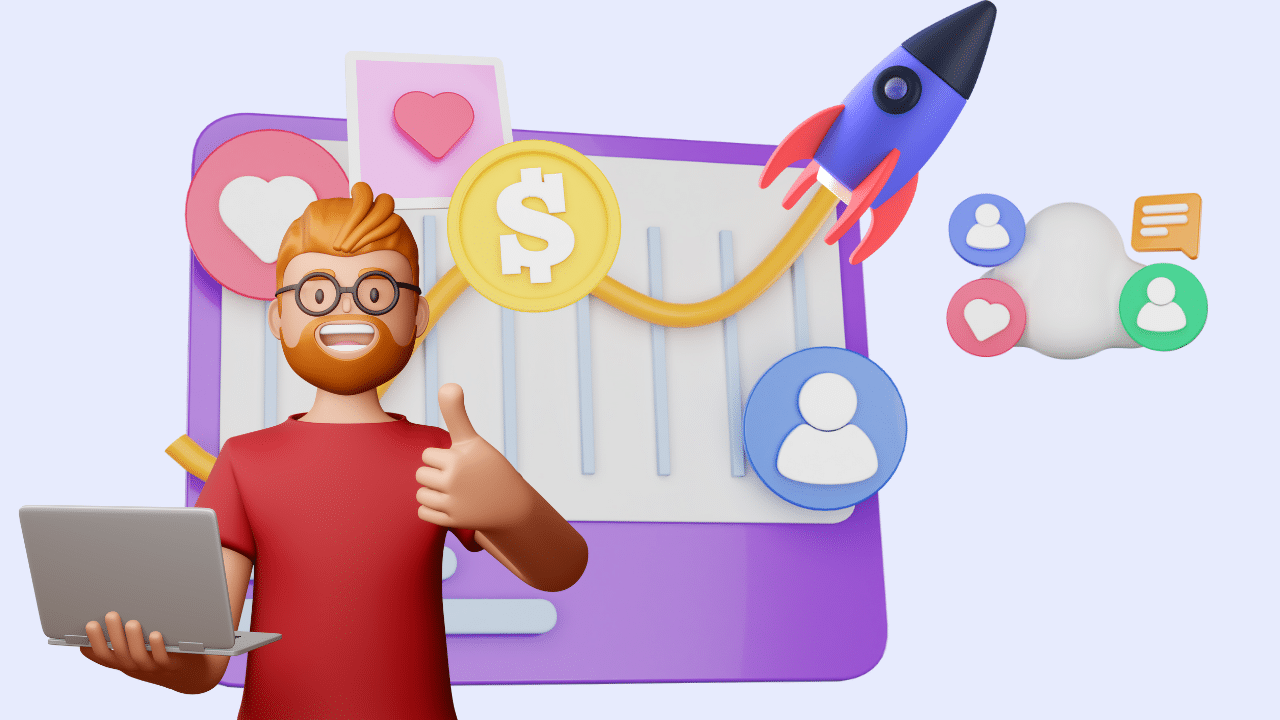 What are soft skills really? 💡 Because we talk about it a lot, but actually not many of us know the definition.
It's about relational intelligence, communication, the ability to interact in interpersonal relationships, but it even goes beyond that by taking into account certain aspects of an individual's character: their empathy, their ability to be understood and accepted by a professional group. In short, it is like self-analysis and therapy combined with known and proven techniques.
The study gives us numbers:
From July 2019 to June 2020, French users have taken over 500,000 hours of courses on LinkedIn Learning, an increase of 141%, and are becoming increasingly passionate about soft ones.
There has been a real boom 💥 in this kind of skill. It has become fashionable, everyone loves it.
But it's not the only topic that has seen the interest of professionals grow exponentially. The numbers show that marketing and communication strategies, sales techniques, and digitalization in general are growing. 🚀
The surge in sales automation and content planning tools have a lot to do with it, as companies are increasingly digitizing and modernizing to compete.
We take a look at the trends in a few numbers… 👀
Popular on LinkedIn Learning
#1 PowerPoint Quick Tip: 13,000+ learners.
#2 Digital transformation: 11,000+ learners.
#3 All about SQL: 16,000+ learners.
LinkedIn Learning Trends
#1 The basics of communication: 15,000+ learners.
#2 Remote Management: 10,000+ learners.
#3 Conducting a negotiation: 8,000+ learners.
LinkedIn Learning: what is the price?
To access the training on the LinkedIn network, the price is $29.99 monthly and $19.99 annually. That's between $240 and $360 per year.
You have the details of the plan right here. 👇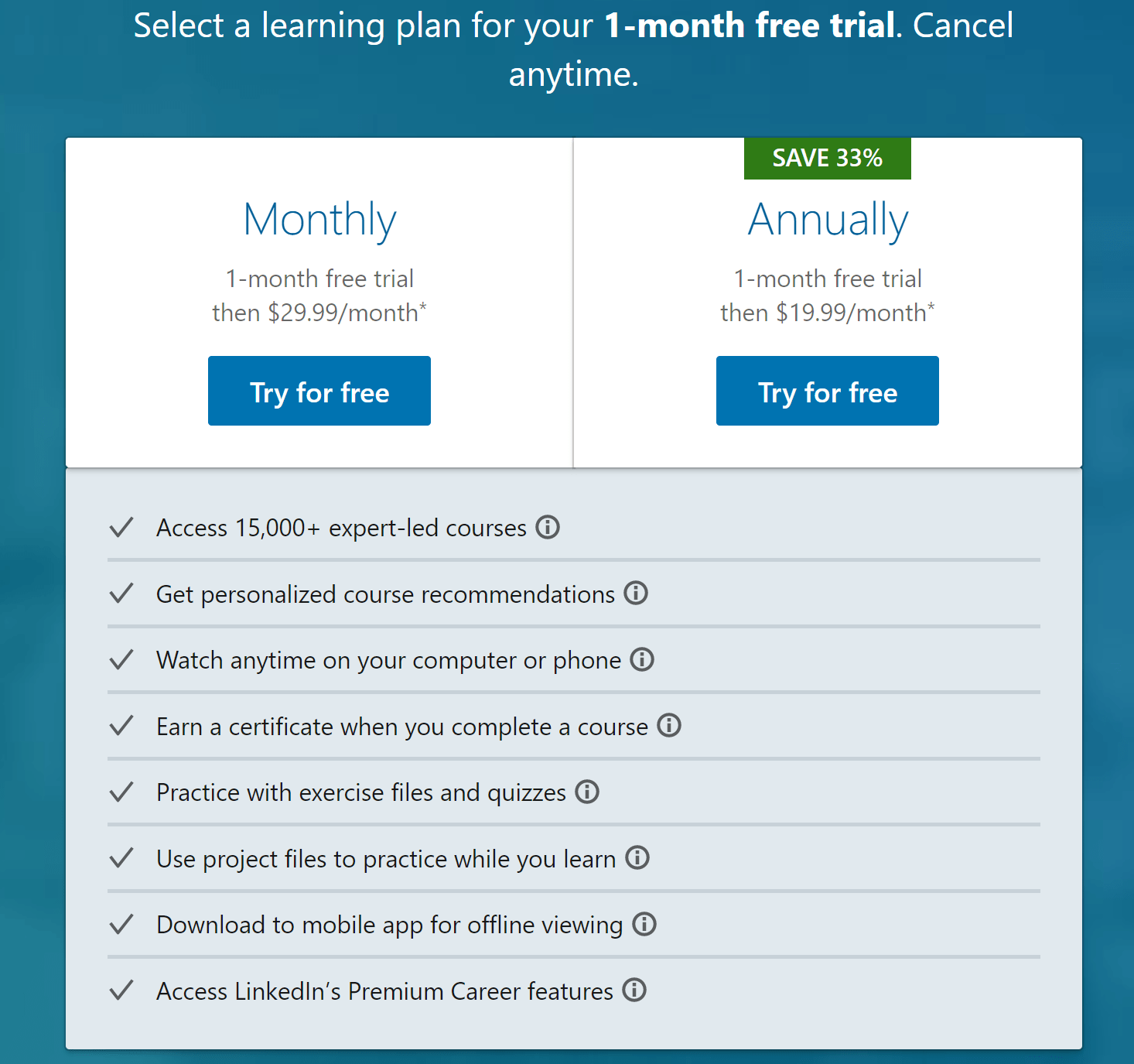 LinkedIn Learning: Is It Worth It?
Now that you know how the courses work and what your pricing options are, you're probably wondering if it's worth it to shell out that budget to get access to the platform.
There are several options available to you:
In some cases, the employer may decide to provide elearning courses access to employees to help them upgrade their skills, you can ask your boss. 😁
Some schools and training centers have a student-learning access to education courses for every student.
Last option, personal funding. 💲
In the case of personal financing, you need to ask yourself several questions:
Why do I want to take this subscription? Is it to learn new skills or to be able to apply for other positions later?
It's important to ask this question because LinkedIn Learning courses provide you with certificates, but these are not accredited. So whether LinkedIn Learning is worth the cost, that's going to depend on your goals. 🎯
Is LinkedIn Learning certificates useful?
You've probably guessed that our next step is to zoom in on LinkedIn's certificates. 🌟
Here's a little example of what it looks like.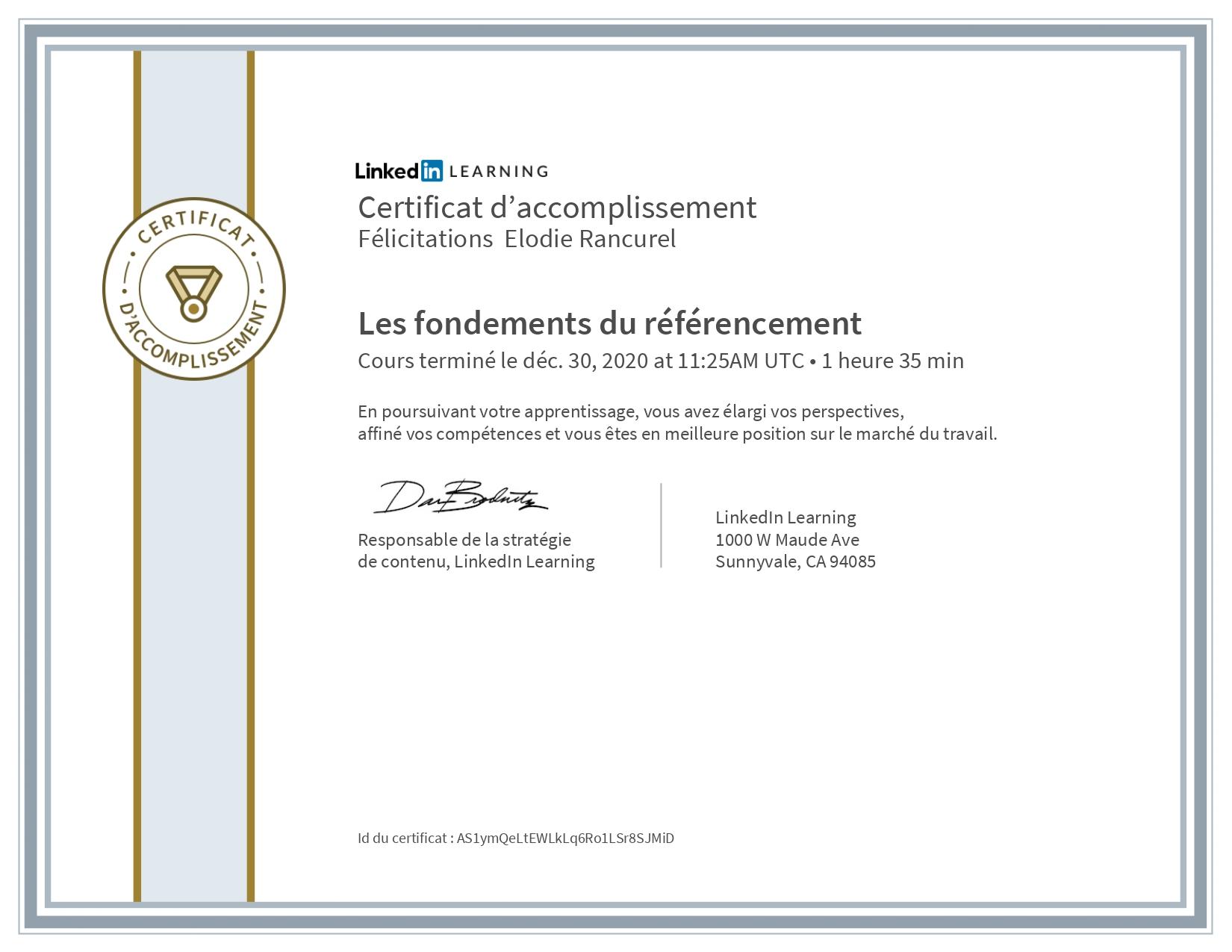 It looks great, doesn't it? 😎
Know that you need to have read all the videos in a course's curriculum to get that nice piece of white paper. Often, and at the end of each chapter, you also need to know how to take quizzes to validate your skills.
So yes, in principle, it's all class as a document except, there are a few drawbacks. ❌
It is not an accredited certification: it is above all a "witness" document that indicates that you are serious and diligent in your learning process. But it is not proof. You may very well have left your computer running without sound 🔇 throughout the video. Employers know this, and won't be satisfied with a LinkedIn certification to ensure you have the skills listed.
No package options (only monthly and annual subscriptions). You can't choose to take only one course. (But you still get one month free 😉 )
Few advanced level courses. If you are already very confident on a topic, don't expect the experts to come and divulge growth hacking secrets or miracle techniques.
So, when is LinkedIn Learning useful? ✔📗
If you want to learn by yourself, so at your own pace, a particular trade or skill.
If you don't necessarily want to get a recognized diploma, but are interested in learning opportunities.
If you are aware that you will need experience in addition to your online training course to be truly competent in the subject.
How do I share a certification on LinkedIn?
To share your certification on LinkedIn, you go to the network :
Once the certificate is passed, a "download certificate" and "add to profile" button will appear.
Click to profile." and write a LinkedIn post.
Here is the Tuto video to help you 👈.
So yes, in principle, it's all classy as a document, except that there are drawbacks. ❌
No accredited certification: it is primarily a "witness" document that indicates that you are serious and diligent in your learning process. However, it is not a proof. You may very well have left your computer running without sound 🔇throughout the video. Employers know this, and won't look past a LinkedIn certification to make sure you have the skills listed.
No package options (only monthly and yearly). You can't choose to take only one course. (but you still get 7 days free 😉 )
Few advanced courses. If you are already very good at something, don't expect the experts to come and tell you growth hacking secrets or miracle techniques.
From the off, when is LinkedIn Learning interesting? ✔📗
If you want to learn by yourself, at your own pace, a trade or a particular skill.
If you don't necessarily want to obtain a recognized diploma.
If you are aware that you will need experience in addition to your e-learning training to be truly competent in the subject.
LinkedIn Learning for business
If you want to use LinkedIn to boost your business, we suggest you check out this guide on how to generate 250k per month just from LinkedIn instead. 😱
How to get LinkedIn Learning with your business? 💡
I did some research for you, by contacting LinkedIn Learning's sales department directly. 🕵️♀️
You can contact them directly via this page.
You have a choice:
Request a callback.
Contact them via chat.
Schedule an appointment for a demo.
I opted for the chat, in order to give you some nice screenshots.

To give you a short summary of my exchanges with the salesman, here's what comes out of it.
❌ Companies are paying more, for the same service! 😱
There is a business package that offers additional services. If you were dreaming of a preferential rate for a large volume of subscribers… You'll really have to negotiate, but it will never go below the basic price for individual access ($19.99). 😯

The salesman then tells me about a learning management system and tutoring that comes on top of the platform access, but what is it? 🤨
When I dig a little deeper to find out what this system is, these are his answers.
It's an algorithm that offers content based on what you consume.
You can push content to them.
There is no additional virtual coaching.
Finally, these algorithms he talks about are the same as those of the individual version at $19.99. It is, however, possible to propose them or to put them in front of certain courses, but does it really justify an increase in the overall price?
What conclusion can we draw from this?
❌ If you want your employees to enjoy access without controlling their actions on the platform, the enterprise plan won't be for you.
💲 The price is higher, because you are offered to "drive" the projects by highlighting some videos, something you can do without going through the platform, by communicating internally.
✅ If you have a lot of employees and you want to make them learn about a particular topic, or you have a high volume of onboarding per week, using this solution could save you time and improve your internal organization.
✅ If you want to add LinkedIn's virtual learning to the list of benefits your company offers to employees, LinkedIn Learning is still a very useful platform full of potential, with or without management courses.
It's all a matter of priority, budget, and goals. 🎯
Conclusion of the Article
LinkedIn Learning is a very good way to learn new skills, especially on several digital topics. The platform has its advantages (quality, choice, nice interface), but disadvantages (mandatory subscription, few expert-level training, and an unaccredited certification).
My take 🙃: There's nothing like testing tools to learn by yourself. LinkedIn Learning can be a real benefit to you, but you have to be curious. Go see what things look like in real life and get your hands dirty! 🤠
Speaking of curiosity, check out what's just come out on the market in terms of automation. 👀
LinkedIn Learning FAQs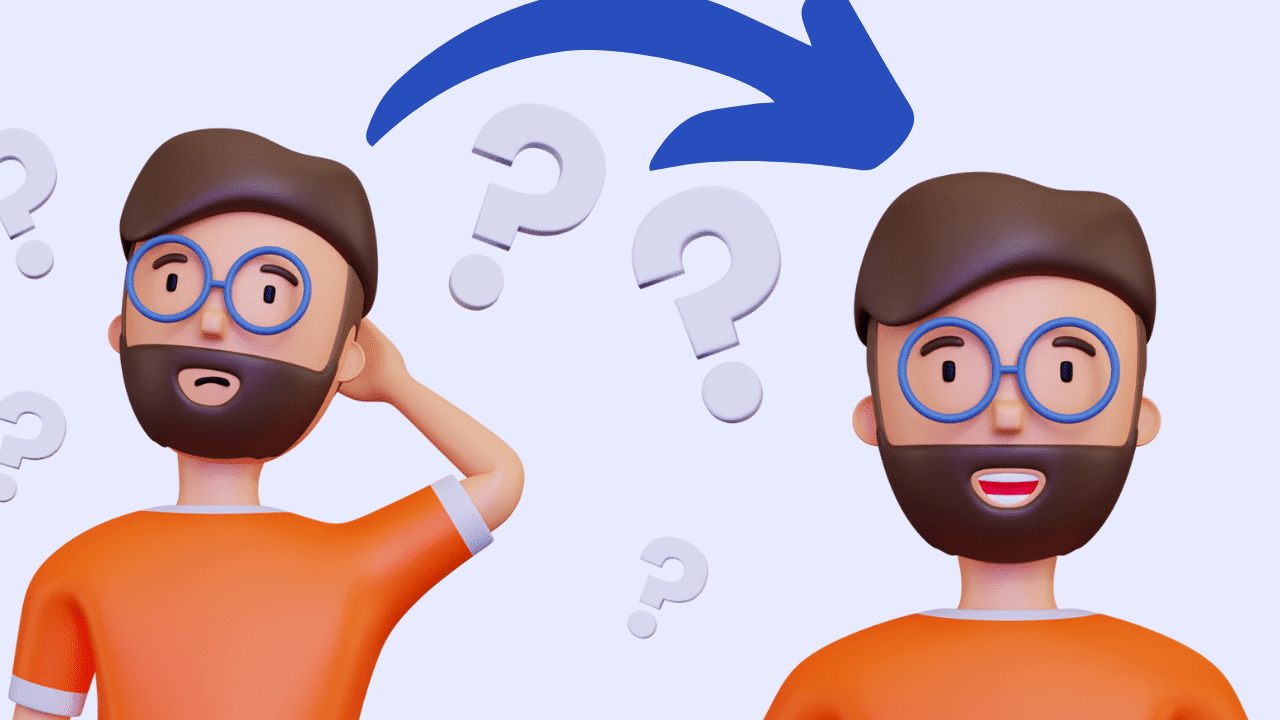 Now that you know that LinkedIn Learning is a platform where you can have access to online education, whether you are a learner or are part of the educators it's time to have a look at the other terms.
What LinkedIn Learning courses are free
Can LinkedIn Learning be accessed for free?
You are entitled to 1 month free trial upon registration. After this trial month, LinkedIn Learning becomes a paid subscription. (Monthly or yearly.)
You can ask your employer or, in some cases, your training center to pay for the course.
Who owns LinkedIn Learning?
The platform was founded in 1995 by Lynda Weinman under the name Lynda.com.
Lynda.com was later acquired by LinkedIn in 2015.
Finally, Microsoft acquired LinkedIn in December 2016. So LinkedIn Learning is now owned by Microsoft as of that date. 🤓
LinkedIn Learning vs. Udemy
In the United States, there are two giants in the digital online learning course – LinkedIn Learning and Udemy.
While Udemy far exceeds its competitor in terms of volume (number of digital trainings), and therefore learners (the more choices you have, the more you increase your chances of getting customers tenfold), LinkedIn is still a powerful medium.
Training
LinkedIn Learning
+13 000
Udemy
+130 000
The second big difference is the price. The advantage of Udemy is the flexibility. You pay for the training course, so you can decide to follow only one, without being forced to commit.
                      Price
LinkedIn Learning
                      $19.99 per month
Udemy
                       Between $9 and $300 per course
It is difficult to judge the quality of the training when all courses are all made by different experts. However, just like on LinkedIn Learning, you can see ratings and comments from participants on Udemy to help you make your choice. 😎

Just like LinkedIn Learning, you also have access to a certificate, but once again, it's unaccredited…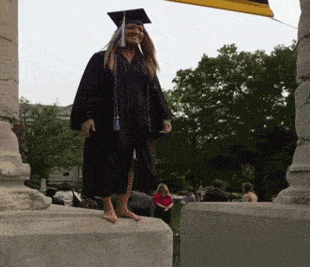 If you're looking for a certificate program or a degree program, LinkedIn learning solutions may not be the best option for you.
In that case, there are many other options to find personalized learning, on a distance-learning platform offering online degrees. We are sure you'll find what is best for you. 🥰
LinkedIn Learning logo
You won't be able to mistake the LinkedIn Learning logo as it is exactly the same as the LinkedIn logo, the only difference being that you will see "Learning" next to the official logo. If you need to download them, you can find them just here.

LinkedIn Learning : Login
Nothing could be easier than to log in to your account, once you have created a LinkedIn Learning space.
Log into your LinkedIn account.
In the top home bar, click on "products".
Then choose "Learning.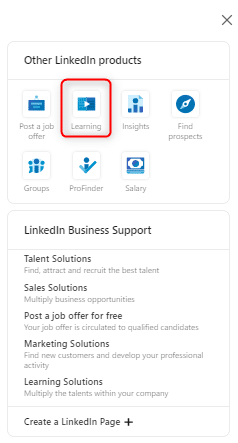 Same credentials as you use on the LinkedIn platform.
How do I get trained on LinkedIn?
Here's the guide to everything you need to know about LinkedIn for your business. 🔥
How do I cancel LinkedIn Learning?
Click on your LinkedIn profile picture in the top right corner.
Click on "Preferences."
Then click on LinkedIn Learning, then > Manage. You will be redirected to the MY PREMIUM page.
Click on "Manage your Premium account" on the right.
Click on Terminate LinkedIn Learning.
And there you go, you're logged in to your LinkedIn Learning account. We wish you the best of luck on your learning path. 🥳