Looking for the best LinkedIn training courses? There are hundreds of trainers on the professional social network LinkedIn. And for good reason, LinkedIn is the best BtoB platform for finding new customers and improving brand visibility. ⚡
So we made a compilation of 10 expert trainers on this social media who can really boost your knowledge on several areas:
Growth Hacking on LinkedIn.
Lead gen and automation tools on LinkedIn.
Sales leads and approach techniques.
Mastering the LinkedIn algorithm: to become influencers on professional social networks.
Other tips like: filling out your profile well, contacting recruiters and finding a job.
What is the purpose of LinkedIn training? How to find free LinkedIn courses?
Taking a LinkedIn training course can help you achieve several goals.
Here are some of them:
Learn about brand awareness strategies.
Improve your e-reputation.
Know how to highlight your professional experience.
Enhance your image.
Show your credibility in your field.
Know the best job search methods.
Develop your network in the best way.
Boost your freelance career.
Course #1 – Is LinkedIn learning free?
Hack the algorithm with this LinkedIn training courses
At Waalaxy we've put together an ironclad digital strategy to break everything on LinkedIn! 🔥
In this interview with our beloved CEO, you'll learn our LinkedIn publishing strategy to reach more prospects through your profile views and engagement in your LinkedIn posts :
Course #2 – Adapt your prospecting strategy even with LinkedIn's new restrictions
If you have been impacted by the new prospecting restrictions on your LinkedIn page, then this LinkedIn training for lead generation is what you need! 🧐
We've figured out how to get around the weekly restrictions with our Waalaxy CRM automation tool and we're revealing all our tips here :
Course #3 – Opt for a multi-channel strategy to boost your prospecting
Anne-Charlotte is an expert in B2B prospecting, thanks to Kaspr lead generation software, that allows you to have the contact information of all your prospects in one place even from cold-calling! 👻
Course #4 – Convert your LinkedIn account into a real prospecting machine
We've launched a bi-monthly webinar series called "Waake Up" on our YouTube channel! 💥
In each episode we'll be talking with experts on various areas around prospecting, cold mailing, LinkedIn, etc. 🤩
This LinkedIn training for sales lead generation is included two episodes with expert Quan Nguyen, from Incredibots Agency, on how to boost your sales funnel through your LinkedIn account:
Enjoy! 😘
Course #5 – Share creative content on LinkedIn and stand out from the crowd with this tutorial
This beauty is Pauline. An expert in user experience and design, she even teaches classes on creativity. 🤯
She makes great visuals and teaches you how to spice up your posts without having any notions and no paid tools. The tutorial is really simple to replicate.
The "but I don't know how" will no longer be an excuse.
When posting on the network, never forget to show who you are. 👽
Course #6 – How to create a real marketing strategy with online training
Ruben is a 360 degree expert on the LinkedIn social network. That is to say, he masters both the algorithm and the publications that sales and marketing tactics on this professional network.
He created LeCocon in 2019 and has several offerings:
🤝 Personalized training pathway.
📚 Online & Offline LinkedIn training.
📢 Digital communication campaign: being visible on the network.
🚀 Business development: finding clients.
Find a LinkedIn expert to conduct a comprehensive LinkedIn training for lead generation
Jeremy is very knowledgeable about LinkedIn and how to use social media with a lot of automation tools. Honestly, for me, the best trainers are those who use the tools he talks about on a daily basis. 🚀
Areas of focus:
Automation of LinkedIn prospecting, especially with Waalaxy.
LinkedIn advertising and marketing campaign (LinkedIn Ads).
Publishing boost, editorial coaching.
LinkedIn Training/coaching.
Customer database of your sales team.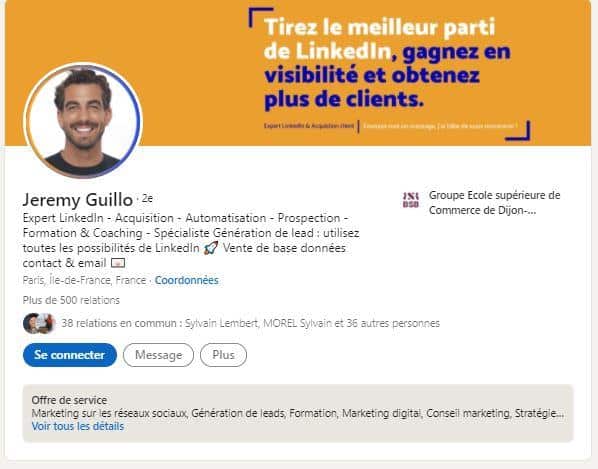 Corporate training center for startups
Camille is an ambitious entrepreneur. He created conquistadors to help other ambitious profiles to succeed and launch themselves. 🚀
He has several LinkedIn trainings, including one specialized on LinkedIn and B2B lead generation. These degree courses are 100% eligible for CPF and even fundable by an OPCO, they can be taken by companies or individuals as well.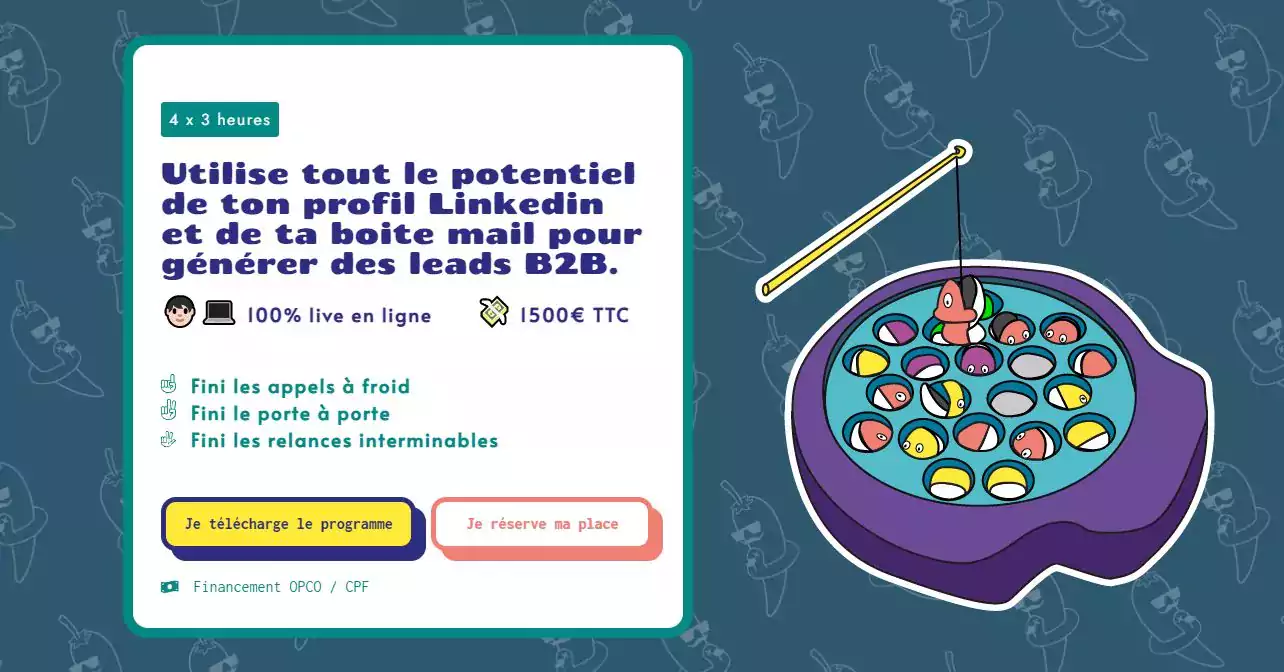 I found for you a training offered (Webinar) by Conquistadors on Growth Hacking B2b, I share it with you. 👇
Conclusion: Which LinkedIn course is best?
Train yourself on LinkedIn automation tools
Adrien has already accumulated 10 years of experience as a self-employed entrepreneur. He is a BtoB expert:
📚 Content marketing automation,
✨Brand image: E-reputation,
😎 LinkedIn,
💻E-commerce.
In short, he publishes on the network and does some great content marketing and does a lot of live chats with webmarketing experts from different companies.
Here is one of his Lives to watch, done with Toinon, (CEO of Waalaxy) on LinkedIn prospecting automation.
LinkedIn sales training courses for a Spanish market
Because you may want to go international and want to learn the best tips to develop your business in Spain: Rubén is a LinkedIn trainer specialized in B2B sales cycle.
He is the co-founder of LinkLeaders:
LinkedIn Training courses by Emmanuelle Petiau
Emmanuelle Petiau is a very well known LinkedIn trainer and one of the most active in the network. You've probably already heard of her, her candor and her B2B marketing tips.
Personally, I really like her character. She is a very thorough person who will clearly give you her working methods and her price list without hesitation.
She also does a monster amount of appearances and webinars, you can find Free LinkedIn training for lead generation all over YouTube. Here she reveals the little secrets of LinkedIn. 🤫
Bonus: LinkedIn training to find a job
I couldn't end this article without talking about the sweet benevolence of Christel de Foucault. Christel does visibility consulting, especially for students and job seekers on the LinkedIn network.
She has a huge YouTube channel with lots of tips on LinkedIn to help you get hired by your dream company.
She likes to put on a little kitschy and we like her for it. 😍
FAQ of LinkedIn Training Courses
Becoming a LinkedIn trainer: What skills? Is LinkedIn training any good for business?
Do you dream of the Carousel with the words "LinkedIn trainer" or "LinkedIn Expert"? You don't sleep at night anymore? 😂 But how do you become that coveted trainer on social media. 🤯
To be a LinkedIn trainer you have several options:
Learn on your own via free videos, great guides and blog posts (GUIDE: Why and how to use LinkedIn for your Business?).
Take a LinkedIn training for lead generation online course with one of the trainers listed. 😎
Get trained on LinkedIn Learning.
Find a LinkedIn Expert certification training: in a web agency or a training center for example.
In any case, subscribe to B2B Newsletters from experts, learn from multiple companies to broaden your skills. Assume that one person (or company) doesn't know everything and you'll have to go fishing for information on the network itself. 🐠
Free LinkedIn training: Where to find it?
Are you looking for free LinkedIn training? Good thing I have plenty to show you. First of all you need to ask yourself what you are looking for on the network.
If it's about leveraging LinkedIn 360 degrees, you need to focus on the 3 "P's".
Profile: make your personal profile a personal landing page, or the support of your personal branding.
Publication: You must show who you are and assert your personality or that of your brand by expressing your added value.
Prospecting: Learn how to find your prospects and contact your targets in a personalized way.
Here's a compilation of the 3 "P's" you need to get started (profile, publishing, prospecting.) 📚
1. Optimize your LinkedIn profile before you start prospecting
A well-optimized professional LinkedIn profile makes potential customers want to know more about you and therefore initiate an action towards you. (Visit your profile, add you as a friend, come and talk to you).
A profile visit: lukewarm prospect. 🤒
A friend add: warm prospect. 🔥
A personalized contact via LinkedIn: boiling hot. 💥
Just knowing that a good profile picture generates +36% chance of being contacted privately, it makes people want to know more. It's over here:
2. Understand LinkedIn's algorithm
This is an essential step if you want to boost your visibility on the network and not end up with 3 likes and a poor comment on your publications.
We all know that publishing on the LinkedIn network is not easy, especially when you start, understanding the algorithm is knowing with what weapons you go to the front, it is immediately a little less scary. 🔫
3. Find your customers, talk to them
Not long ago, LinkedIn limited prospecting on the network by taking drastic measures: no more than 100 invitation requests sent per account per week. Toinon and Guillaume have found a solution to get around the problem and help you keep prospecting.
They take the opportunity to give you some advice about :
Automated prospecting.
The best prospecting messages.
The LinkedIn + email campaign cross channel.
LinkedIn Learning: How to get/use LinkedIn learning for free? Are LinkedIn course certificates worth it?
You want to take a training course on LinkedIn Learning and you don't know how to do it? In short :
Sign up for an account at LinkedIn Learning experience.
Type in the search bar the keywords of the trainings you are interested in: Sales Prospecting, Digital Marketing.
Choose from a wide range of online courses.
Watch all the videos and fill out the questionnaires.
Receive your LinkedIn certificate of qualification. 🥳
To learn more about pricing, our LinkedIn trainings, and the pros and cons, here's the complete guide to LinkedIn Learning. There you have it, now you know everything about LinkedIn training courses! 🚀