LinkedIn Training Courses: 5 Experts to find on LinkedIn and Tutos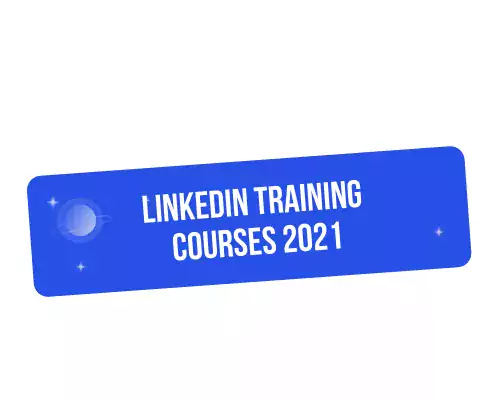 6
minutes
Are you looking for the best LinkedIn training courses? There are hundreds of LinkedIn trainers on the market. And we understand why, LinkedIn is the best Btob platform for finding new customers and improving brand visibility. So we've compiled 5 trainers that can really boost your knowledge on several areas 😎 :
Training online to find out growth Hacking techniques on LinkedIn.
Tutoring of automation tools on LinkedIn.
Sales and approach techniques.
Mastering the LinkedIn algorithm: to become an influencer on the network.
Other tips like filling out your profile well.
How would you follow an online LinkedIn course?
You're wondering how to get better on LinkedIn and get some knowledge about sales, recruitment, marketing… you can:
Follow elearning programs from agencies or LinkedIn training centers. 😀
Get personalized learning programs by experts. (You'll find 5 examples in this article). 😁
Get on a learning platform such as LinkedIn Learning, or even YouTube. 😃
Why not think of going to traditional classroom, it does exist in some sales schools – Blended courses are also the kind of training programs with online and offline. 😄
The second question you need to ask yourself: do you want a certification? You can get an online degree with some classes. For me, it depends on what you want to do with it, but it's not necessary. I will rather want to train with a very good learning program and not get any diploma than have one but not enjoying the learning path. What about you?
LinkedIn training to create a real strategy on the network
Youssef is a customer acquisition expert. He is based in Asia but does international online programs.
He does online-learning courses about:
💻Creation of detailed databases.
💫Personalized outbound campaigns combining Email and LinkedIn.
💌 Online classes: Generate better engagement levels from prospects.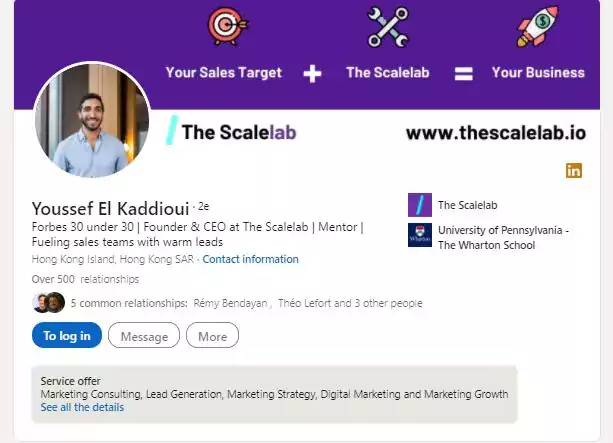 You can start talking to him right away on LinkedIn and see if his offers are meeting your professional goals on the social media.
Find a LinkedIn expert to conduct complete LinkedIn training courses
Ederson is very knowledgeable about LinkedIn and makes video courses as well.
Honestly, for me, the best trainers are those who use the tools he talks about on a daily basis. 🚀
Areas of focus:
✔️Solid knowledge in Growth Hacking and Inbound Marketing;
✔️Expertise with marketing automation platforms;
✔️Knowledge of tools such as Metabase, Google Analytics, Google Data Studio and others.
✔️Professional experiences in startups.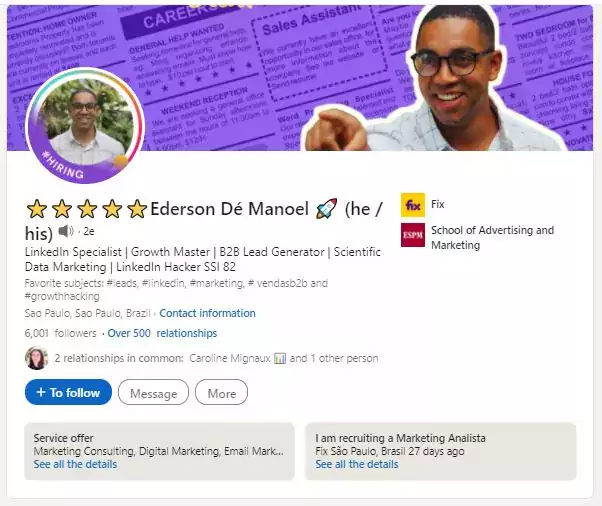 LinkedIn training courses for circular entrepreneurs
Wessel is a LinkedIn expert. He is a Sales coach and uses techniques and tools such as automation and cross channels.
Is offer is simple:
Are you an entrepreneur with a world changing and circular product, but are having trouble getting your sales to the next level and beyond? Then, I can help!
Train Yourself on LinkedIn Automation Tools
Johan is based in Sweden but offers a solution as a Freelancer. He can give you online training and expertise.
Business model transformation – eg. going from selling products to offer solutions.
Service/Subscription-based offerings and platform business models.
 Digital sales enablement and marketing (growth tech).
LinkedIn training courses: mastering sales on LinkedIn.
 Tools and tactics for smart digital companies (automated processes and workflows).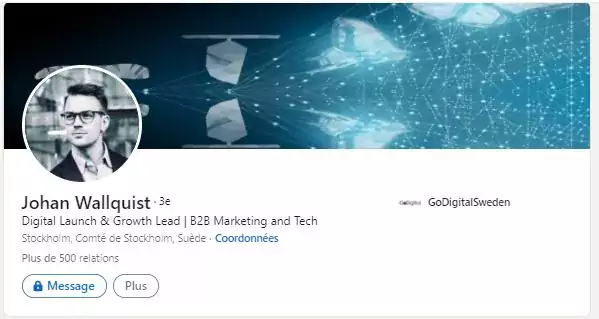 LinkedIn training: for a Spanish market
Because you may want to go international and want to learn the best tips to develop your business in Spain: Rubén is a LinkedIn trainer specialized in B2b sales. He is the founder of LinkLeaders.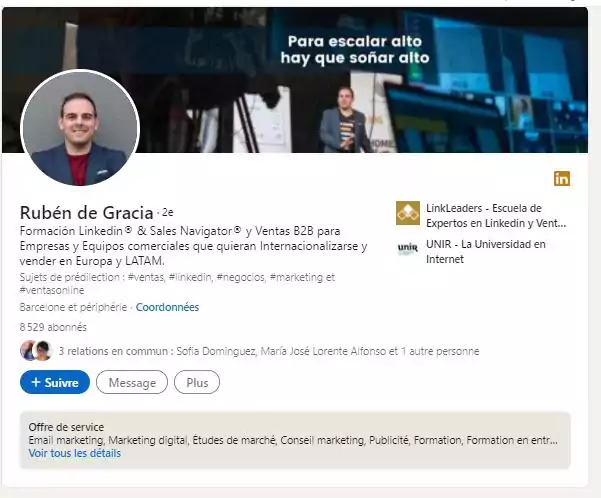 LinkedIn Training Courses by Emmanuelle Petiau
Emmanuelle Petiau is a well-known French LinkedIn trainer and one of the most active in the network. You've probably already heard of her, her franchise and her B2b sales tips. Personally, I really like her character. She is a very thorough person who will clearly give you her working methods and her rates without hesitation.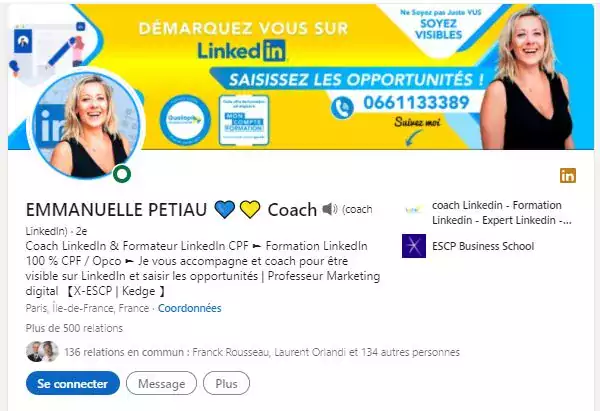 She also does a monster number of appearances and webinars, you can find free training all over YouTube. Here she reveals the little secrets of LinkedIn. 🤫
LinkedIn Training Courses – Article FAQs
Becoming a LinkedIn trainer: what skills? What salary?
Are you dreaming of the Carousel with the words "LinkedIn Trainer" or "LinkedIn Expert"? You don't sleep at night anymore? 😂 But how do you become that coveted trainer on the network. 🤯 To be a LinkedIn trainer you have several options:
Learn for yourself via free videos, great guides and blog posts. (GUIDE: Why and how to use LinkedIn for your business?)
Take a training course with one of the trainers listed. 😎
Get trained on LinkedIn Learning.
Find a LinkedIn expert certification training: in a web agency or a training center, for example.
In any case, subscribe to b2b Newsletters from experts, learn from multiple companies to expand your skills. Assume that one person (or company) doesn't know everything and you'll have to go fishing for information on the network itself. 🐠
Free LinkedIn training courses: where to find it?
Are you looking for free LinkedIn training? Good thing I have plenty to show you. First of all, you need to ask yourself what you are looking for on the network. If it's about leveraging LinkedIn 360 degrees, you need to focus on the 3 "P's".
Profile: make your profile your personal landing page, or the support of your personal branding.
Publication: You need to show who you are and assert your personality or that of your brand by expressing your added value.
Prospecting: Learn how to find your clients and contact them in a highly targeted and personalized way.
Here's a compilation of the 3 "P's" you need to get started (profile, publishing, prospecting.) 📚
1. Optimize your LinkedIn profile before you start prospecting
A well-optimized LinkedIn profile makes potential prospects want to know more about you and therefore initiate an action towards you. (Visit your profile, add you as a friend, come and talk to you)
A profile visit: lukewarm. 🤒
A connection request: warm. 🔥
A personalized message via LinkedIn: boiling hot. 💥
Just by knowing that a good profile picture generates +36% chance of being contacted privately, it makes people want to know more. You can find out more here:
2. Understanding LinkedIn's algorithm
This is an essential step if you want to boost your visibility on the network and not end up with 3 likes and a poor comment on your publications. We all know that publishing on the network is not easy, especially when you start, understanding the algorithm is to know with what weapons you go to the front, it is immediately a little less scary. 🔫
3. Creating creative content on LinkedIn
This beauty is Pauline. An expert in user experience and design, she even teaches classes on creativity. 🤯
She makes great visuals and teaches you how to spice up your posts without having any notions and no paid tools. The tutorial is really simple to replicate. The "but I don't know how" will no longer be an excuse.
When posting on the network, never forget to show who you are.
4.Find your customers, talk to them.
Not long ago, LinkedIn limited prospecting on the network by taking drastic measures: no more than 100 invitation requests sent per account per week. Toinon and Guillaume have found a solution to get around this problem and help you continue your prospecting. They take the opportunity to give you some advice on:
Automated prospecting.
The best messages.
The LinkedIn + emailing cross channel.
Everything you need to know about automated LinkedIn and even more, it's over here. 👇
LinkedIn Learning: How to take advantage of it?
LinkedIn learning is a Learning management system made to help you to learn need skills with certificate programs.
Would you like to take LinkedIn Learning courses as an add-on and don't know how? In short :
Sign up for an account at LinkedIn Learning.
Log into your account.
Type in the search bar the keywords of the courses you are interested in: Digital Marketing, project management..
Choose from a wide range of education courses.
Watch all the video courses and fill out the faqs.
Receive your LinkedIn certificate of completion. 🥳
To learn more about pricing, the best courses, and the pros and cons, here's the complete guide to LinkedIn Learning.