You've probably already heard the acronym CRM somewhere. Curious, you typed in Google What is a CRM and there, a slew of results are offered to you, each as complex as the other. 😑 Don't panic, in this article, we will look at the following:
What is the purpose of a CRM?
When to use it?
4 reasons to use it in your company.
Getting started with a CRM easily.
Come on, without further ado, let's get started on becoming a CRM AS. 🃏
What is the purpose of a CRM?
CRM or GRC stands for "Customer Relationship Management", which means customer relationship management. In broad terms, it is a strategy, more specifically a software that manages the management of relationships and interactions between a company's employees and its customers or potential customers. ⬇️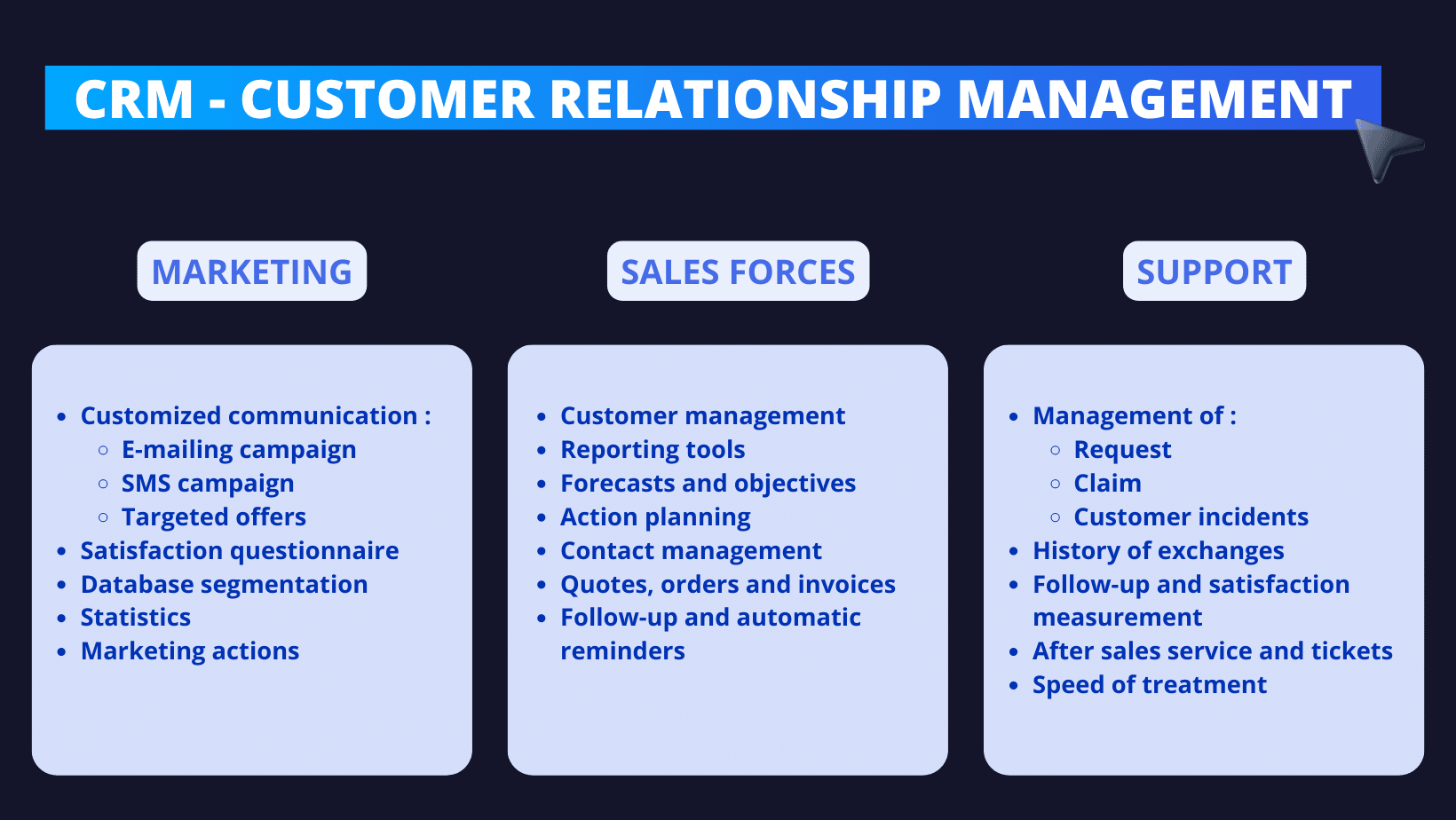 This one adapts to the needs of the company, aims at optimizing its interactions and is composed around 3 parts:
Marketing➡️This is, among other things, all the data analysis collected during the exchange with the customer.
Sales force ➡️C is all the operational actions, such as planning, estimates, objectives, etc.
Customer service ➡️C is everything that is directly related to the customer, such as after-sales service, the history of exchanges, requests and complaints, etc.
A CRM tool records certain customer data such as phone number, email address, social network profile, job type etc. but not only. It can also import and export certain company information. So yes, all these tasks can be done manually but, it would take much more time and you can potentially lose some data.
We will show you why. 👇🏼
Comparison with the manual method
As said before, you can do some tasks manually, like a contact list for example. However, this one takes time to set up, is not very practical, not very ergonomic and can be difficult to keep track of time, especially if your list grows. 😶🌫️
Here is an example of a contact list or potential prospects on a Microsoft Excel. ⬇️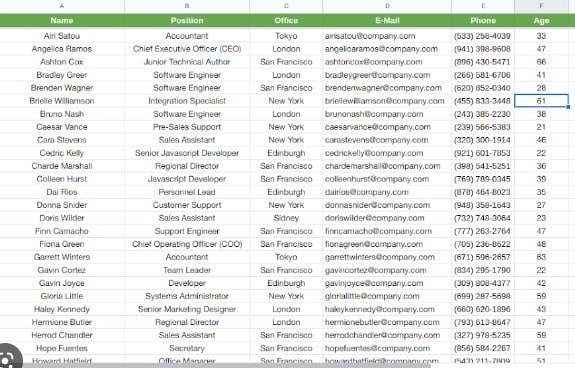 We all agree, this one can get messy quickly and depending on what you want to put in place, you may get stuck quickly. As a comparison, here is a list of prospects on a CRM.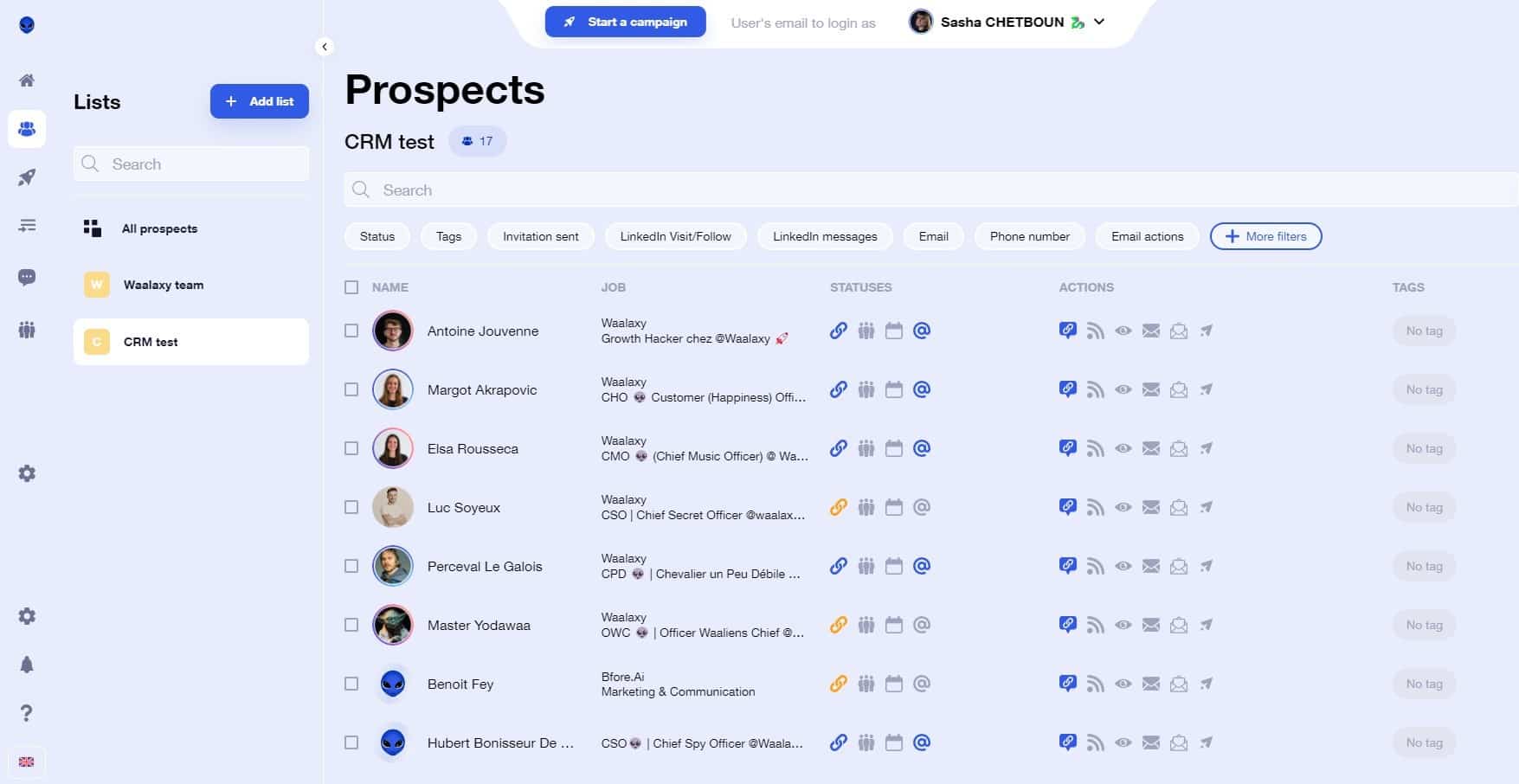 If you want more detail on a particular prospect, just click on their name and this window will pop up with all their contact information. 😇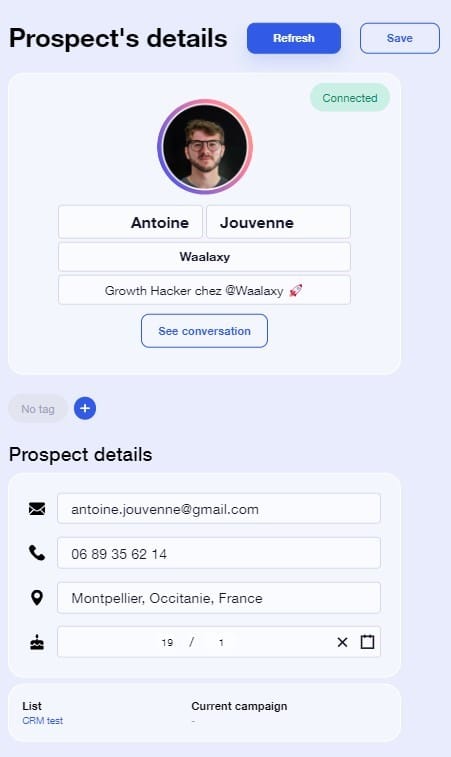 What better way to debrief and compare a spreadsheet with a CRM than with a little chart? 🥰
| | | |
| --- | --- | --- |
| Features | Spreadsheet | CRM |
| Database | Basic contact information (phone, email, last name, first name, date of birth, position). | More detailed information (communication history, company actions). |
| Update of information | Manual updates of information and contacts. | Automatic updates of contacts and information, depending on the actions taken. |
| Task follow-up | Follow-up of manual tasks. | Follow-up of automated tasks. |
| Segmentation | Creation of columns to segment contacts. | Create scenarios and lists to segment more quickly. |
| Information locations | Information remains in your spreadsheet unless you manually modify it. | Information circulates in your CRM and is accessible by all CRM users. |
The advantages and disadvantages
In order to be completely impartial, you must have all the elements in hand, including the advantages and disadvantages of using a CRM.
Customer loyalty.
Reliable reporting.
Improved sales management and contacts.
Being comfortable with digital tools.
Dehumanization of some processes.
Need for internet to be updated regularly.
Again, it all depends on your situation, if you are a young start-up, a company with more than 100 employees, a recruiter, a young graduate, choosing a CRM can be wise. 👀
When do you use a CRM?
Going through a CRM (customer relationship management) software allows you to organize and synchronize certain steps, including sales processes, marketing department, technical support and sales. 😄
Boost your marketing
With the use of crm software, you will be able to propose targeted acquisition and loyalty operations. Indeed, you will be able to plan and personalize marketing campaigns, for example, while having a 360° view on your actions. 🌍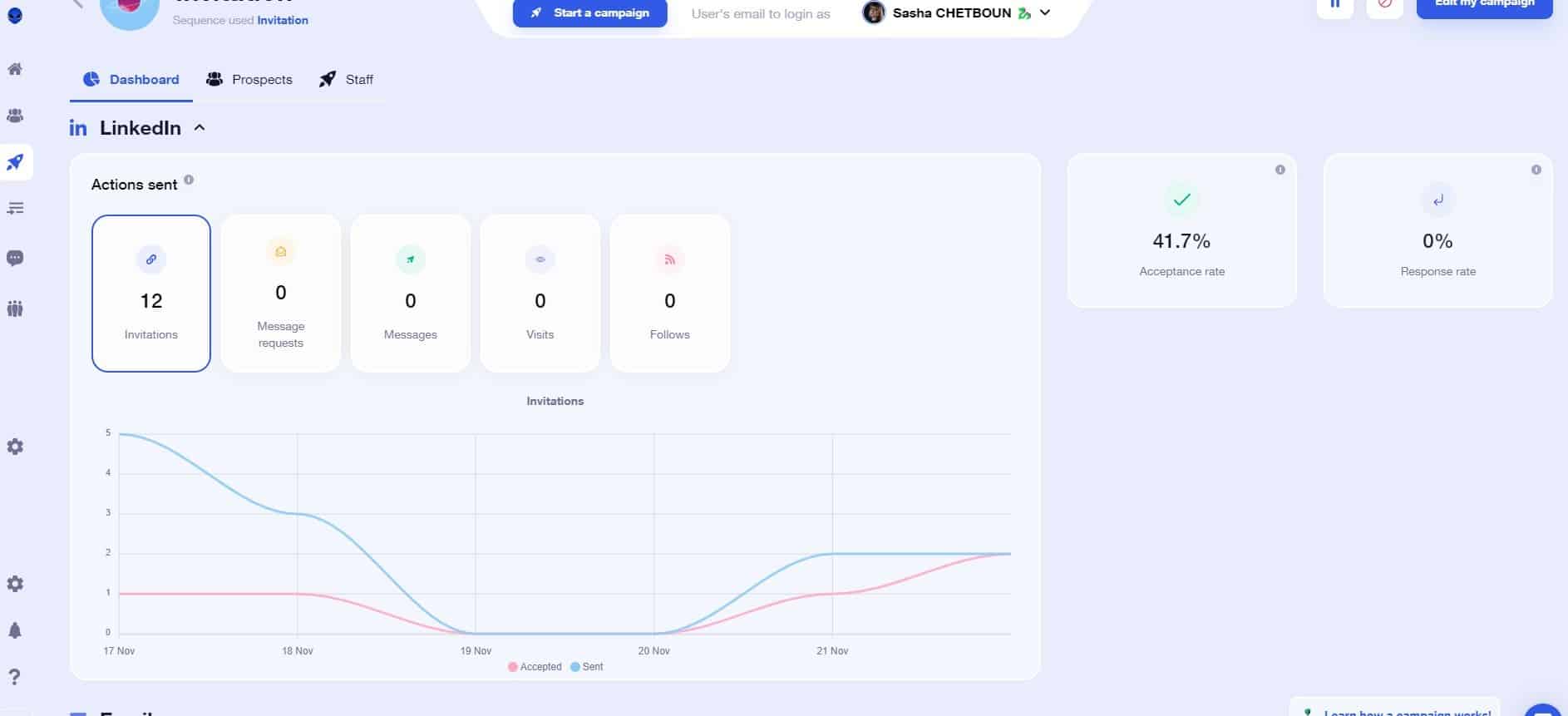 Moreover, during your campaigns, you will be able to follow and analyze their evolutions, what worked or not, while making reports such as profitability analysis, measurement of the obtained results etc.
Boost your sales
All tasks that are often redundant such as scheduling calls, sending invoices, managing quotes can be done on a customer relationship management tool.
Build customer loyalty
Yes, this part should not be neglected. Without customers, you will have difficulty selling your products or services. That's why using a Saas to track customer interactions, the team in charge of customers will gain efficiency and most importantly, responsiveness! 🥰
4 reasons to use a CRM in business
As said before, a crm software is going to allow your business to strengthen your relationships with your current customers, employees, colleagues and even partners.
No matter the size of your business, whether you are a start-up, a VSE, a b2b or b2c company, or a self-employed entrepreneur, you can totally adopt a CRM. Now we'll explain 4 reasons to succumb to a CRM for your business! 🥰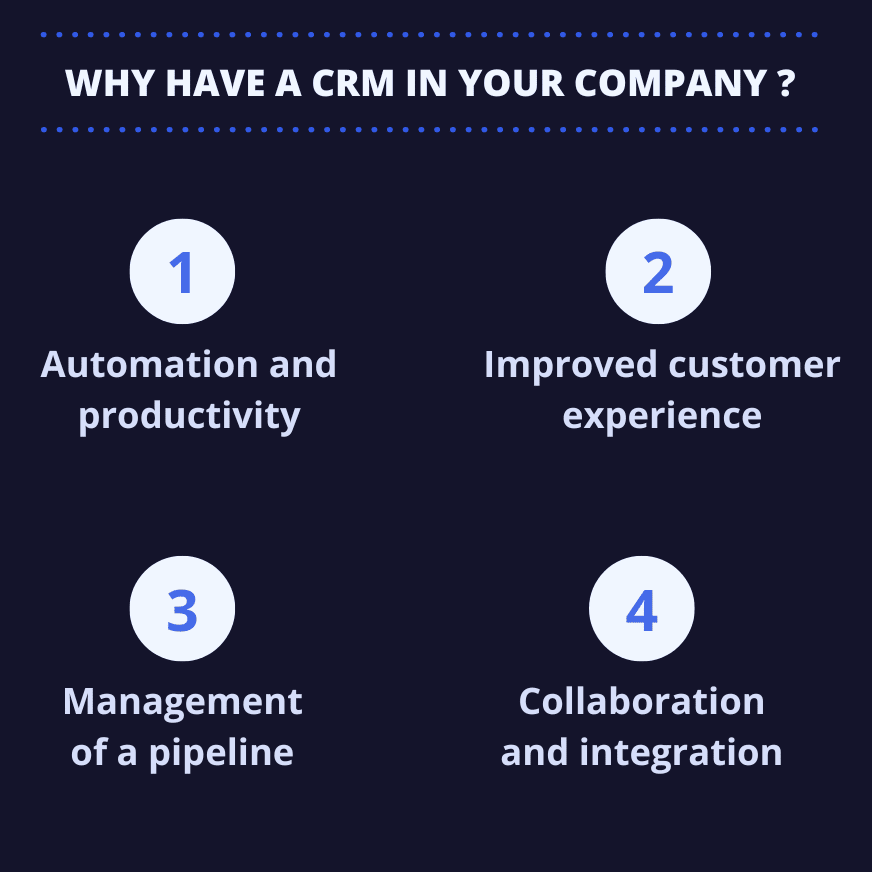 #1. Identify and categorize your prospects
Before you try to sell your product at all costs, you need to start by identifying and categorizing your potential prospects. As you saw in the What is a CRM, this tool allows you to send a personalized message, which you will have chosen at the right time and to the right person. 👀
Also, you can create lists of prospects to categorize and disassociate them. To illustrate my point, let's take an example: I am a recruiter in a company that is looking for web developers. In order to find my rare pearl, I will use LinkedIn, the first professional social network in the world.
With a CRM, I will import prospects that I have previously chosen in my "Developers" list.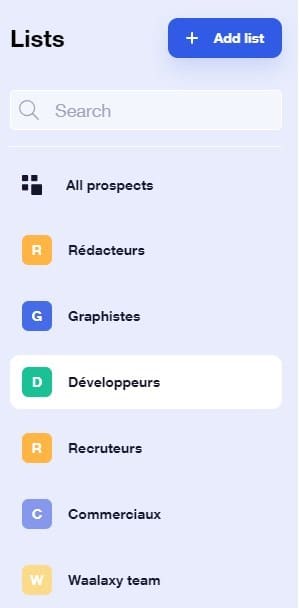 Afterwards, I will be able to send personalized campaigns with the message of my choice, among more than 99 available scenarios, if I wish. 😇
#2. Improve customer relationship management
Owning a crm system provides greater visibility for your sales team but not only that. Having all the data about your prospects and new customers in one place allows for the transfer of information between your employees without any loss of information. 🕳️
You need to know your customer's file, what he did, the steps and mistakes he made, in order to converse and encourage him in a more adapted next step. In this way, the client feels confident 🫱🏼🫲🏽car he knows that you know him and that he does not need to repeat his history over and over again.
Even if your ticket with your customer is over, it is better that you have an ongoing customer relationship satisfaction because, with the right CRM, you will be able to access the customer's activity history and communicate with them.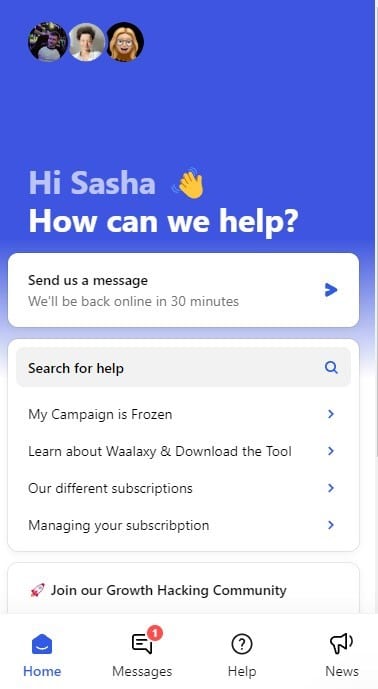 As you can see, customer relationship management is paramount. 💟
#3. Team cohesion
One of the greatest strengths of a management software is centralization. Indeed, thanks to this feature, if you are a company and you have several teams from different departments, it will allow you to:
🟦 Manage a number of leads through certain marketing actions.
🟪 These leads are forwarded to the specialized sales team automatically.
🟦 The prospecting and negotiation steps come into play thanks to the prospect's information, his desires and needs, this information etc.
🟪 The sale is made directly on the crm solution.
🟦 When the sale has been well done, the SAV team takes care of managing the purchase history, list all the channels used to communicate in order to avoid in the future, a duplicate discussion.
#4. Be ready for the future
This last reason applies if you ever plan to change the product or service within your company. 👀
Let's say you don't use any CRM solutions and you do everything manually via a spreadsheet. You decide to change your product or service and therefore, make other spreadsheets with new data.
Well, you're not going to delete all the information you have but rather sort it manually one by one, which can take you a long time.
With a marketing crm like Waalaxy, all this is possible and, much faster! Here are some examples comparing a simple crm and a table.
| | | |
| --- | --- | --- |
| Features | CRM | Spreadsheet |
| Contact with the customer | ✅ | ✅ |
| Enhanced contact management | ✅ | ❌ |
| Collaboration between teams | ✅ | ❌ |
| Improved productivity | ✅ | ❌ |
| Accurate sales forecasting | ✅ | ❌ |
| Boosted sales management | ✅ | ❌ |
| Customer data management | ✅ | ✅ |
| Sending personalized campaigns | ✅ | ❌ |
| Reliable reporting | ✅ | ❌ |
| Customer satisfaction | ✅ | ✅ |
| Customer loyalty | ✅ | ✅ |
| Increased business metrics | ✅ | ❌ |
| Reliable return on investment | ✅ | ❌ |
Why should you favor a cloud-based CRM?
It may seem obvious to some but, it is better to use a cloud-based CRM rather than a website-based one. What is the difference you might ask? 🤔
It is quite simple, an on-premise CRM requires you to install it yourself. Then certainly, you can benefit from full support services from the publisher, such as configuration and user training.
On the other hand, with a cloud CRM, you don't need to install it manually with a hosting company, everything is done online, including your potential customer data and the configuration, all from any terminal. 🖥️
1) Cost reduction
As explained earlier, installing CRM software on site requires that you have solid servers and hosts, which requires some quality hardware that can be difficult to install. Also, like any device, it needs to be maintained, and be aware that software maintenance can be very expensive.
Also think about the infrastructure costs to store your hardware as well as electricity. 💡
While a CRM software it does not need maintenance, if not effortlessly because all the technical elements as well as the software updates are done automatically by the software publisher, convenient right? 😄
2) Productivity improvement
Just like a cell phone, a site-based crm software has a certain storage capacity. When this is exceeded, you need to add another storage space or change the layout. Whereas with cloud-based software, just like the cloud on a phone, you can simply change your subscription to increase your storage capacity, allowing you to quickly incorporate changes in business environments and features without spending huge amounts of money. 👩🏼🚀
3) You can work from anywhere with anyone
Since cloud-based crm tools don't require any special installations or infrastructure, you can work with any computer from anywhere! The purpose of centralizing information is to also allow working with all members who have access to the CRM project. 🌐
For example, on Waalaxy, you have the Team feature that allows you to access and share all your lists, leads and campaigns, but also your LinkedIn accounts.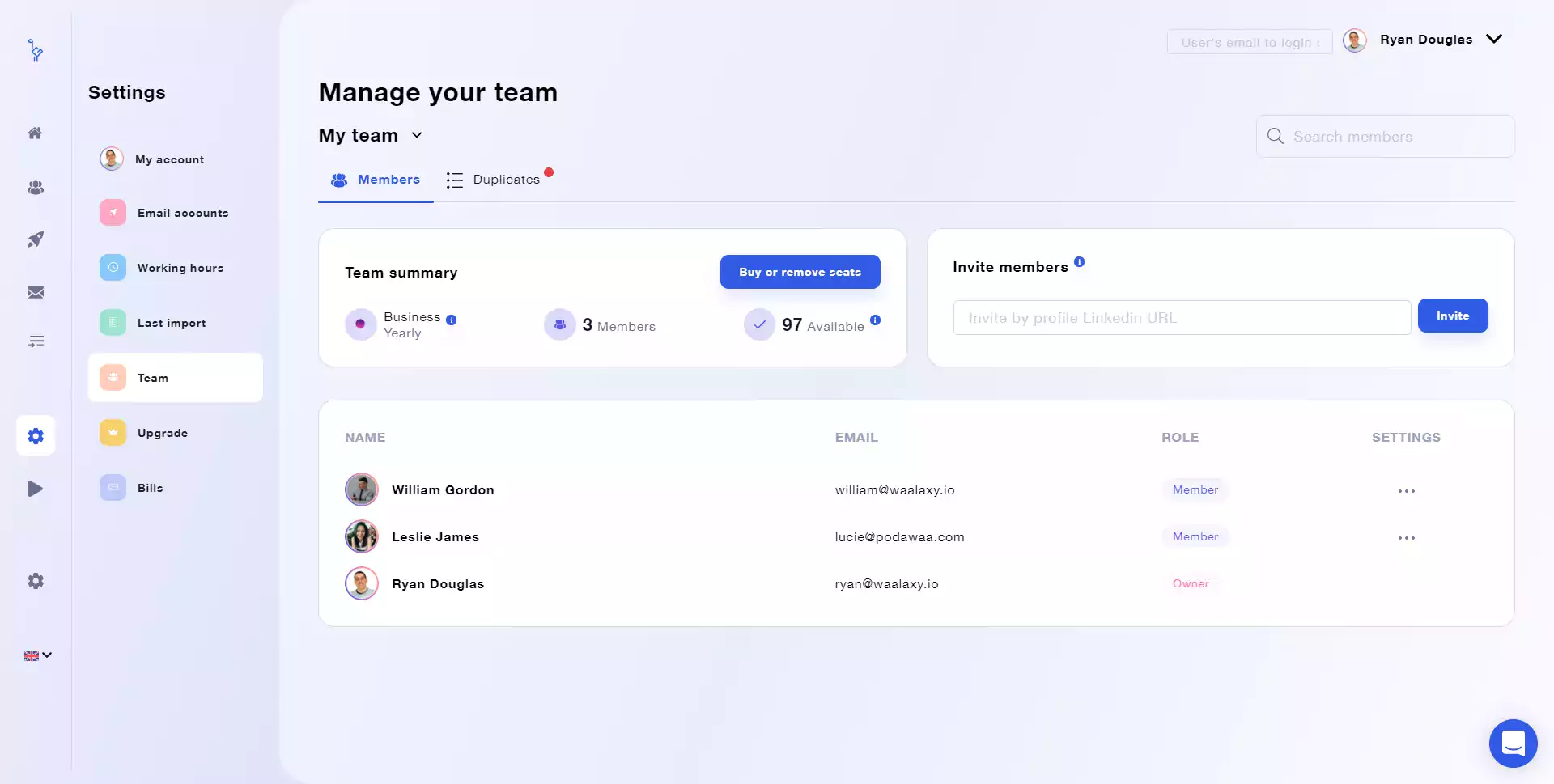 To learn more about this feature, go here! ⬅️
How about a recap?
I think we all need a little recap of what we need to remember from this article:
CRM helps manage relationships between potential customers and employees. 🫱🏼🫲🏽

CRM is available for any type of business. 🛖

Generally seen as a sales tool, it offers many benefits, from HR, to customer service. 💟

Go for a cloud-based CRM as its deployment is optimal and instantaneous, and you have the ability to work from anywhere and from any type of device. 🖥️
Again, free to use this strategy to increase your business performance or not, but with this software, you will save money and most importantly, time, and that is priceless. 🦋
Frequently Asked Questions
Now we move on to the last questions of this article, yes, we still have some in resources. 🥰
CRM acronym
You already know this but, the word "CRM" is actually an acronym for "Customer Relationship Management" which means customer relationship management. It is a software that allows the management of relationships and interactions between potential customers and a company. 🫱🏼🫲🏽
How much does a CRM system cost?
The price of management software varies according to their subscriptions and features. In general, a simple CRM costs between 30 and 50€ per user and per month. Again, this price range is valid for cloud crm's, which do not require the installation of hosts or servers, which is not the case with an online crm. As for the on-premises CRM, the implementation costs as much as the price of the software over the year. To give you an idea, here are the rates according to the size of the company:
For small companies (10 users) ➡️ it is necessary to count between 15 and 20 000 € the first year, all included and 5 000€ the following years.
For large companies (150 users) ➡️ it is necessary to count between 350 and 500 000e the first year then, 200 000€ the following years.
Why such a price would you tell me? Well, it takes into account the selection of the CRM software, the price of the software, the implementation, the training and the maintenance. Personally, we advise you to opt for a cloud-based CRM, it will cost you significantly less and you will have access to more beneficial features! 😇
How to write CRM in English?
The acronym CRM is for Customer Relationship Management. The acronym in French is GRC, for "Gestion de la Relation Client".
CRM insurance: the definition
It may happen that during your research you come across the definition of CRM insurance. Don't get me wrong, there is no relation between a CRM that we have explained in this article, which helps companies in customer management and an insurance CRM.
Therefore, it is simply an acronym that stands for "Coefficient de Réduction Majoration".
That is to say the measure of bonus and malus that you can have in your car contract.
Yep, we are just as sad to leave you as you are because this is, this time, the end of our article. 🥲
I don't think you need to type in Google What is a CRM anymore! Have a nice day and see you soon. 🦋