To know how to find customers online, you need the right tools (like Waalaxy), but also the right method. Discover the 5 steps to follow, thanks to this live with Abel Salah and our CEO, Toinon Georget! (Full video here). ✨
How to find/get customers online fast?
Step 1: Adopt a personalized strategy according to your target
The first step is to define your "buyer persona". Ask yourself the following questions to know which strategy to adopt: 👇
Who are your customers?
Who is your offer aimed at?
What are their buying behaviors?
How do they find information about your product/service?
What is their motivation or their obstacle in the act of buying?
What is the problem?
First of all, a personalized strategy is going to acquire a lot more customers and have a better impact on results. 💥 To successfully reach customers, you need to talk to them about their specific issue. Here are some good reasons to personalize your prospecting campaigns:
Plus, "automation tools allow you to have a cost-efficiency in terms of time spent prospecting ⌚ to properly target prospects and make the right contact when they are hot," Abel tells us. 🔥
"Above all, you have to segment your prospect lists well from the starting point, and separate them by precise persona or "ideal customer" so that you don't waste time when you want to launch your prospecting campaign," Toinon tells us. 🤓 If you want to learn more about how to do a good search on LinkedIn with Boolean operators, then read this article!
💡 Pro tip: if you want to avoid contacting certain profiles for X or Y reason, (target audience not matching, no response or negative response), then you can use Waalaxy to sort your prospect list. You can create a "blacklist" instead of deleting them, that way you will avoid contacting that duplicate prospect.
Step 2: Find the right channel for your new customer acquisition strategy
Adopt a multi-channel strategy = 1st contact on LinkedIn + continue to communicate with the prospect through emailing campaigns + finalize the sale with a phone call or an appointment, for example. Ask yourself the following list of questions to know which acquisition channel to use: 👇
Where are your customers?
Are you addressing them as "polite" or "friendly"?
What message?
How often?
The "first name" method is one that connects with prospects who adhere with your mindset right off the bat. 🕹️ So having a clear approach helps you define your communication and find future influencers, who will advertise to promote your brand for free, this is called "social proof".
💡 More honesty = more close relationship with your customers!
Toinon reaffirms these words by saying, "You have to define your positioning beforehand, and be in tune with what you're selling and who you want to sell it to in order to succeed in outbound marketing.
Step 3: Build an effective process to sign sales
Next, you need to identify warm leads versus cold prospects. So it will be a targeted and qualified approach, versus a massive and low-quality approach… ❄️
According to Abel, you need to have the right "tempo" 🎵 so that the hot prospect doesn't get cold, if you let too much time pass between exchanges.
The sales tunnel or the "funnel method", is divided into several stages 👇
Notoriety and visibility,
Discovery and consideration,
Conversion,
And loyalty.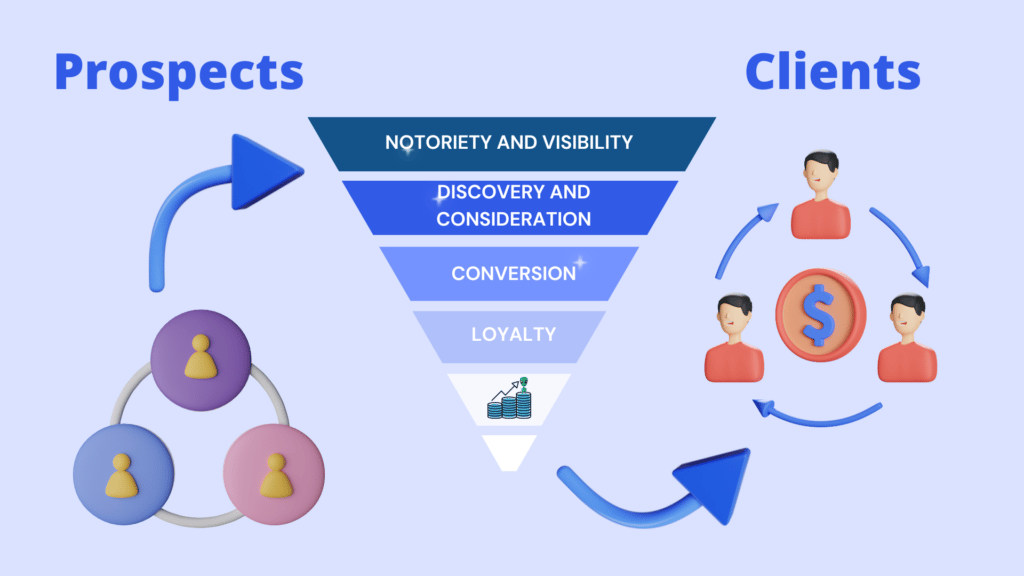 Also, consider implementing the AIDA model for your acquisition campaign: 🎯
Attention,
Interest,
Desire,
Action.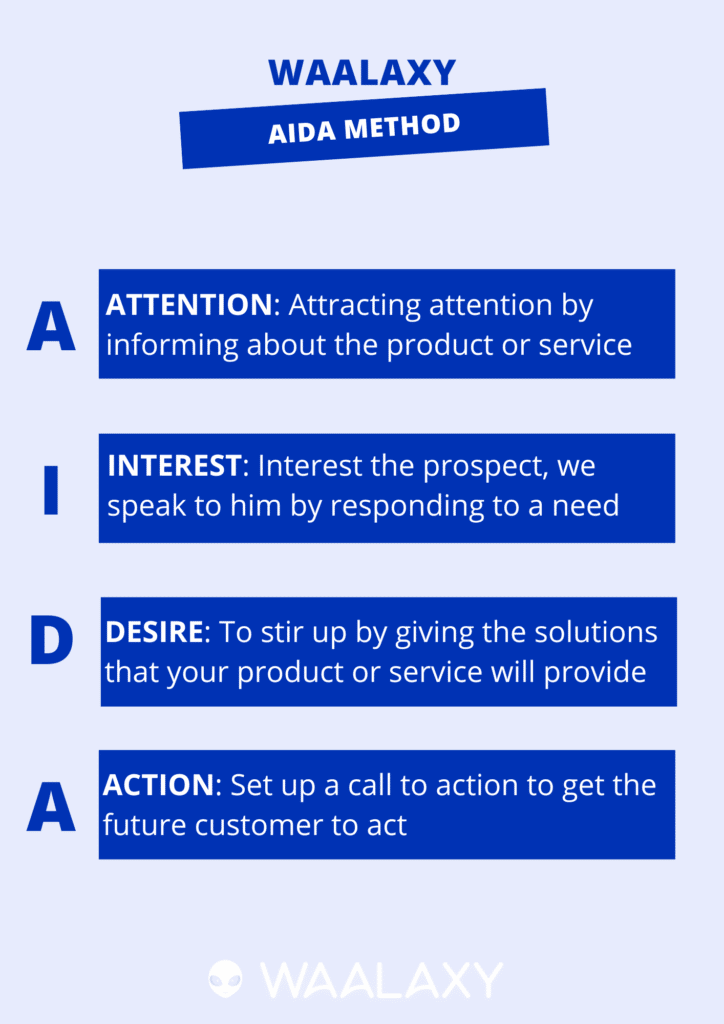 👉 Toinon reminds us "that having the right bass for your prospecting campaigns also means doing good "copywriting". It's no use trying to prospect more customers with all the tools that exist in the market. If your method is not good, it won't work, no matter what prospecting channel you choose!" 🙊
Step 4: Use the right tools to deploy the right strategies
There are different types of tools depending on the objectives you have defined 🎯 you can use a qualitative or quantitative approach:
To find customers, you can use "Societeinfo", "Captain Data", among others..
To make cold calls, you can use tools like "Aircall", "Rignover", "RingDNA"…
To continue the exchanges with your prospects, you can prospect by email campaigns with tools like "Mailjet", "Woodpecker", etc.
To prospect on social networks like LinkedIn, you can use automation tools such as Waalaxy (ex-ProspectIn),"Dux-Soup", Podawaa, Inbox waalaxy…
To develop the relationship with your customer, you have tools like "NoCRM", "Pipedrive", "HubSpot", etc.
To enrich your customer email database, you can use "Dropcontact", "ColdCRM","Kaspr","Lusha", among others.
To "close" your leads, validate the commercial proposal with tools like "Zoom", "Yousign", "Calendly", etc.
To save time, you can use "LinkClump", "Screely", or "Loom".
To optimize and organize your prospecting campaign, you can also use "Gong.io", "Autoklose", "Monday"…
Finally, to train and master sales techniques, you have tools like "Boost Formation", "Uptoo", "Salesdorado", "SalesGame" and "Scalezia".
Here are the essential tools: 👇
LinkedIn: Number 1 professional social network for B2B prospecting.
Waalaxy: Multi-channel LinkedIn and email automation, with a free version.
Pharow: Create business opportunities by collecting information about prospects.
HubSpot: Customer management, without the acquisition plan, but rather with a buying cycle.
Furthermore, Abel reminds us that "These tools can be complementary, as long as you know how to master them, otherwise there's no point in doing 10% performance everywhere, instead of 100% on the right tool!"
"Exactly, multiplying the acquisition channels does not help to mitigate the bad practices of users. So before launching into multichannel, you have to master each channel independently so you can then combine them," says Toinon.
👉 If you want to know more about the mistakes to avoid when doing email marketing, then read this article!
Step 5: Build your website using an SEO strategy
Finally, consider including your showcase page or "landing page" in your prospecting strategy to attract and capture new leads. 🎣
Do you know how many websites exist right now? 👀 Thousands, millions, even billions! So how do you stand out from the crowd?
There are people you've already given business cards to, right?…. Plus all those who heard about you by word of mouth 👂 and want to get in touch with you. For these Internet users, the best way to access your merchant site is to do a search on a search engine, like Google, and hope to come across you. So it's a good idea to give them shortened or personalized URLs, so they don't get too tired typing in keywords. This is where SEO comes in! 🎲
If your website store has all the essentials for good SEO, especially well-written tags and well-structured pages, you're already on the right track to boosting your search engine rankings and thus boosting your online sales. 🔎
How to get new customers online for free?
Find local customers online using your website or blog
Therefore, you want to know how to find customers online and attract them to your website? 🤔
Here are 3 steps to follow to optimize your website well: 👇
Map out a plan to engage visitors with targeted calls to action or "CTAs": Your website is past the SEO stage and visitors are knocking on your door. That's good. Here, you must not leave them idle, you must get them to act. This can be buying a product (which is the end goal), but it can also be signing up for a newsletter that gets your email and keeps you in regular contact, or downloading a white paper about your companies. Give them tests and quizzes, encourage them to leave feedback, etc… Set up all the "growth hacking" tricks to get their information, hoping to keep it for later.
Keep your community alive on social networks: Social networks are the basis of online prospecting. They allow you to meet your prospects easily. You have to use them with common sense and be present where your potential customers are. You need to know your target audience and remind them of your presence regularly. Post regularly about your news or news in your field, to position yourself as an expert reference.
Make memorable blog posts: Kind of like this blog, haha! 😏 Really, it's a great communication tool and it's very helpful for your "SEO" (Search Engine Optimization). Every article you post is a new way to get your brand name out there to the search engines. The topics you write about can be the subject of questions from potential customers, and answering them can give them the opportunity to visit you. 💫
In conclusion, it is the combination of these strategies and tools that will allow you to obtain the best results! It's like a good cocktail, add a "shot" of tequila, a little orange juice and then a splash of grenadine syrup, mix carefully. 😇
And voila, you'll have the perfect "Tequila Sunrise" cocktail (or a perfect prospecting campaign, in this case)! 🍹
It's up to you to perfect your own recipes. 😘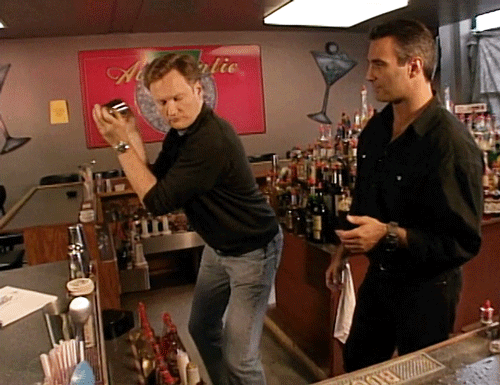 Conclusion: How to do a customer search online?
In this live summary, Abel Salah and Toinon Georget showed us how to find customers online with the best strategies and tools on the market. 💯
These strategies need to be defined upfront, and implemented correctly if you want to use internet technologies to grow your business. 🤑
Here are 3 key concepts we have discussed here: 👇
Perfect! 👏 Also, if you want to learn how to boost your LinkedIn profile, you can watch/read this other episode of our "Waake Up!" webinar.
I guarantee you won't be disappointed. 😋
FAQ: How can I attract customers online for free?
How to find/research potential customers? What is the best way to get customers for my business?
Of course, on LinkedIn, since it's the largest B2B prospecting platform in the world! 🌍
To find customers online, you have to dig into the social networking trails. LinkedIn is the best social network for this in my opinion. There are two avenues that can be used for this:
Publish quality content (and look for likes/likes/comments).
Identify potential customers using advanced features, like Sales Navigator and Waalaxy!
In addition, we have a complete guide, to understand the basics of LinkedIn prospecting and do a good research to create your list of new potential customers. 👽
Discover Waalaxy 🪐
What is a "landing page" meaning?
The "landing page" is the web page used for lead conversion. It is not the home page of your website, but rather the page where users go after clicking on backlinks in a newsletter, an advertisement, a partner site… 🤝
Landing pages answer specific and targeted searches, they can be temporary (configured as part of a "Black Friday" online advertising campaign, etc.) or permanent. This is usually part of your marketing strategy! 👈
Finding/Looking for new clients on Instagram
On the other hand, check out some tips on how to find customers on Instagram by making relevant posts: 👇
Make your business/account more human.
Geotag your posts so prospects can find you more easily.
Choose the right hashtags.
Write an attractive caption even if you're not a copywriter.
Pay attention to syntax and spelling when writing.
Use high quality photos according to your graphic charter.
Use storytelling to enhance your brand image.
Use audience analysis tools (like Google analytics) to understand your target audience.
However, if you don't know where to start, you can always find online trainings, like on LinkedIn Learning or then ask for help from a professional in "community management", it will make it easier. 🙌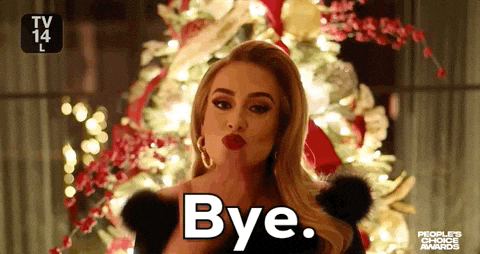 There, now you know everything about how to find customers online! So go for it 😉