For various reasons, you may want to blacklist someone to avoid contacting them again. One feature that we hold dear will prove to be very useful in this case of use: the anti-duplicate security.
We will give you the techniques to do this in this article. 😊
Here are two methods:
Using filters to not recontact a prospect.
Managing blacklisted campaigns.
Using filters
On Waalaxy CRM, the filter system works via two functions: 'Include' and 'Exclude'. You can select prospects, via the "Answered" filter in your email client list and tag these prospects.
To launch your emailing campaign and be sure not to include the prospects who have responded and are therefore tagged, you can filter by the tag in question in "Exclude". You will then have access to all the prospects in your contact list that are not tagged.
How do you put this in practice? 👇
Filter in the list, the prospects who have responded :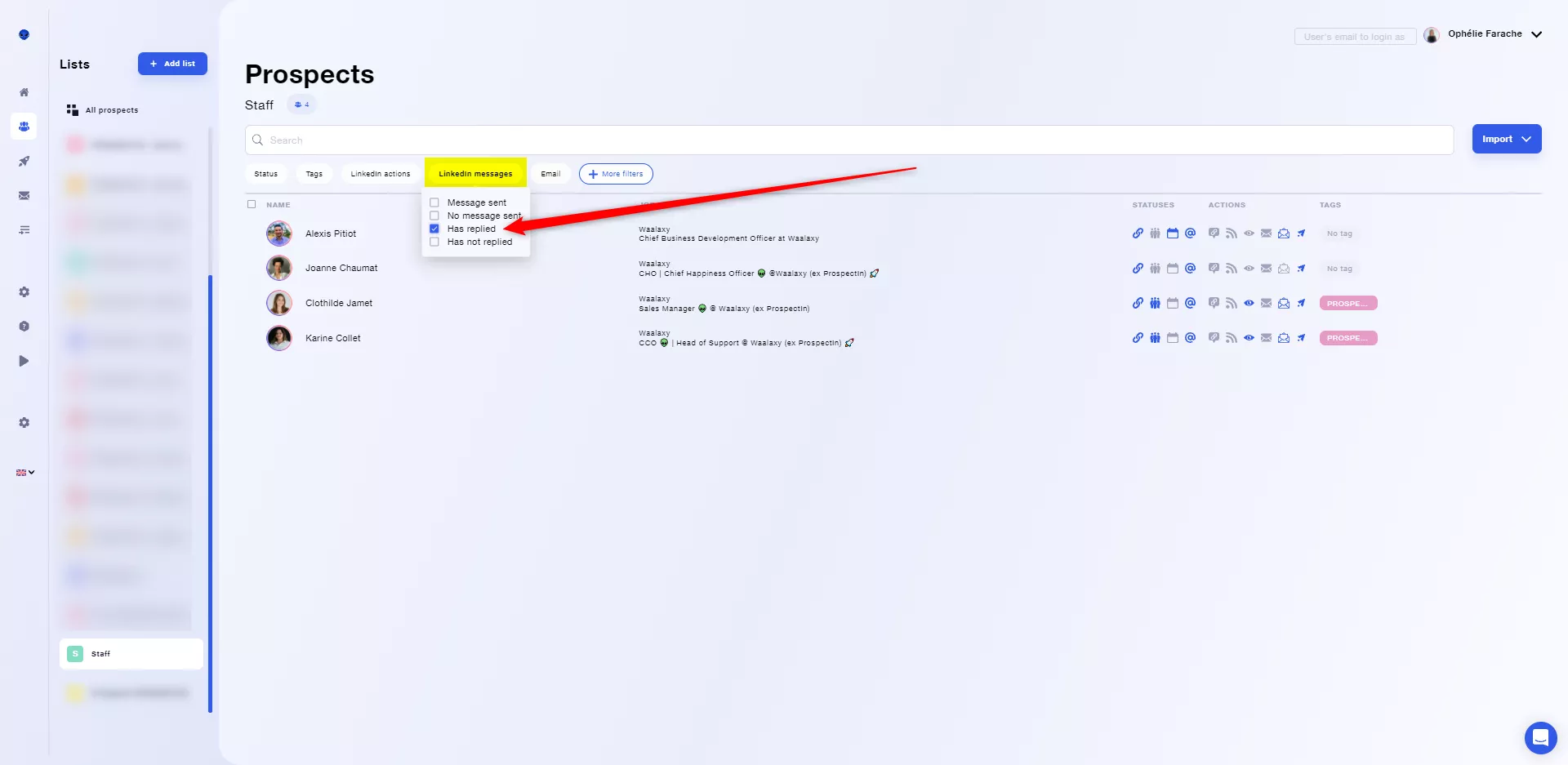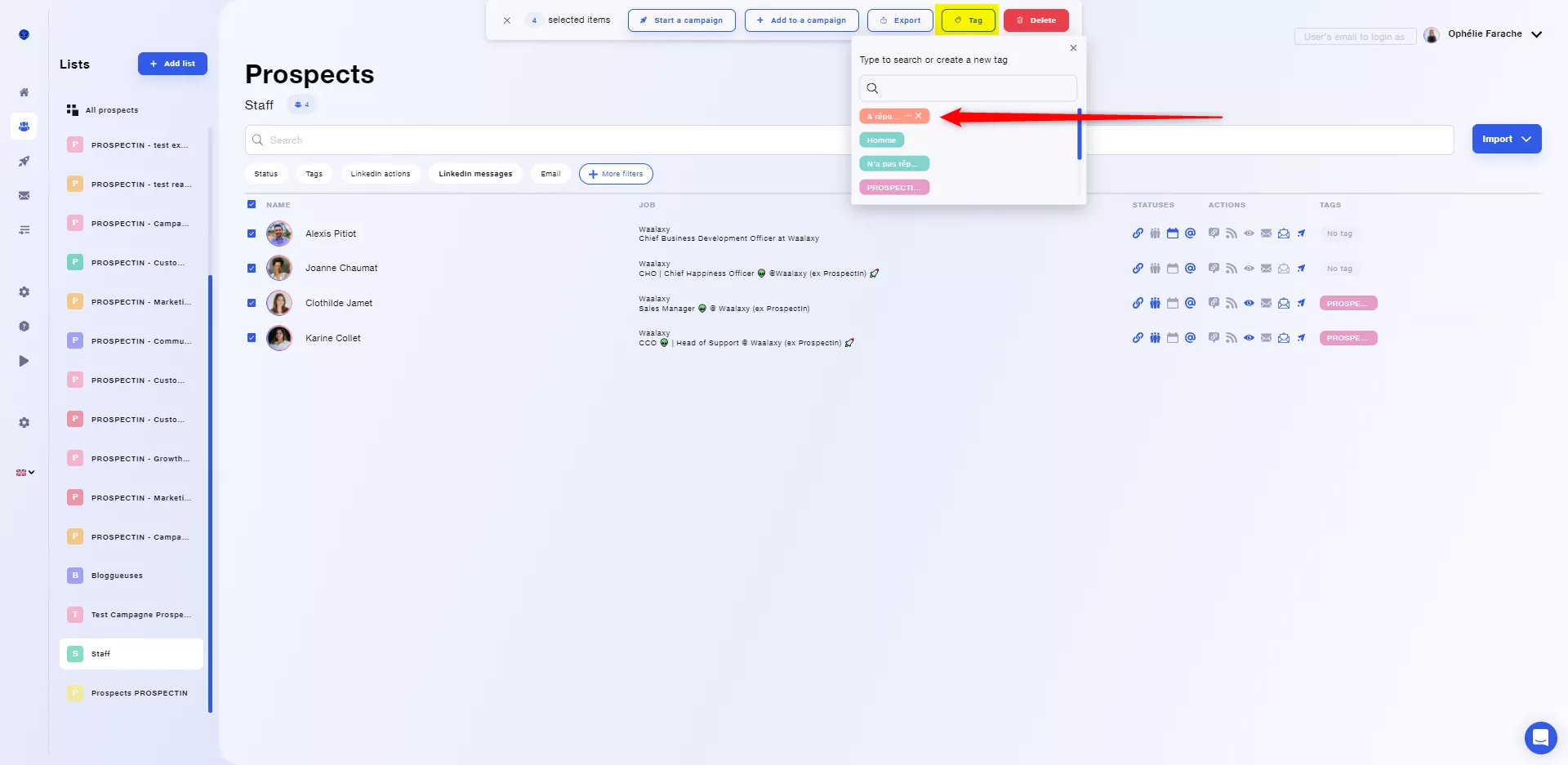 Exclude prospects to launch an email campaign: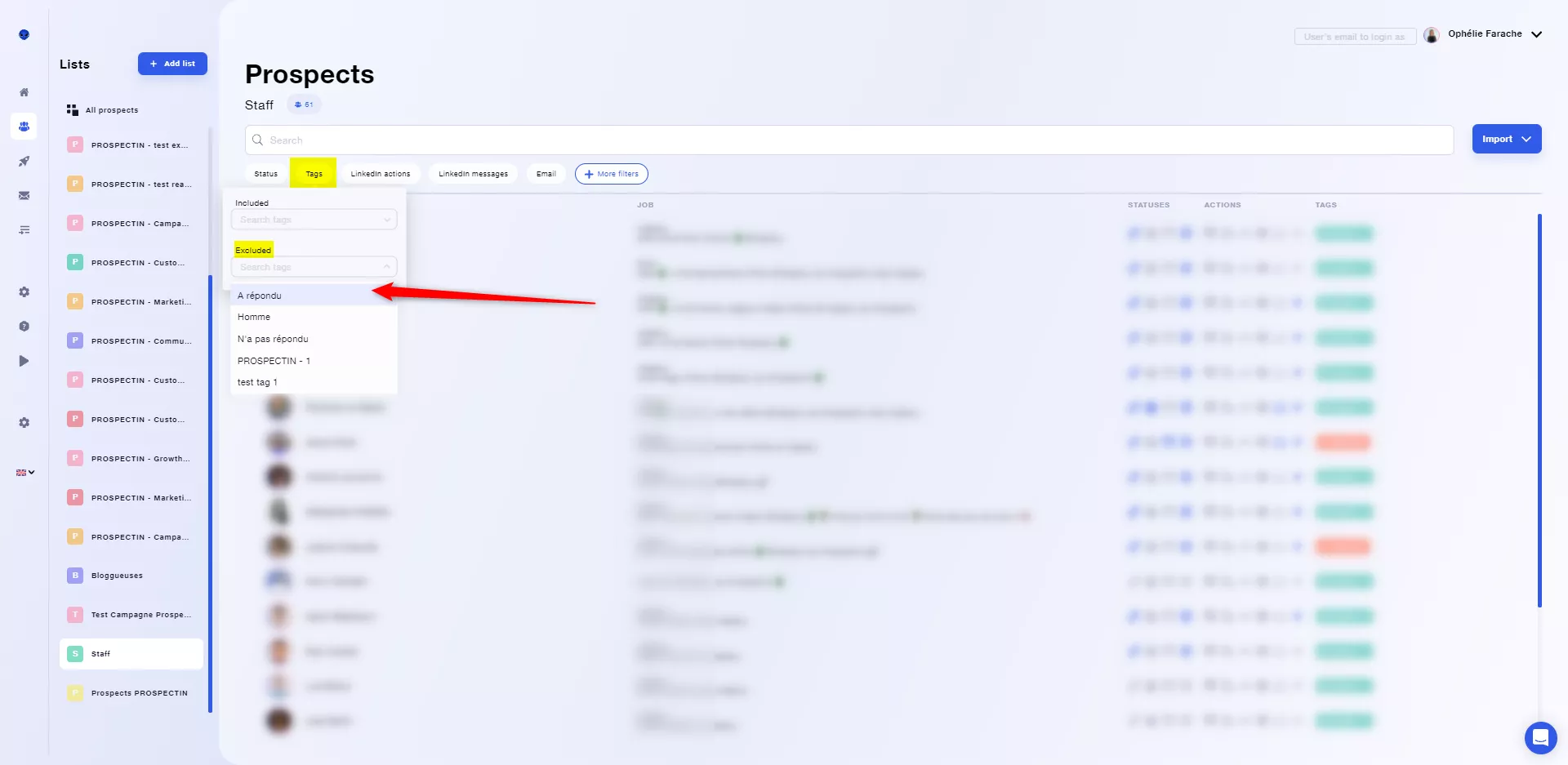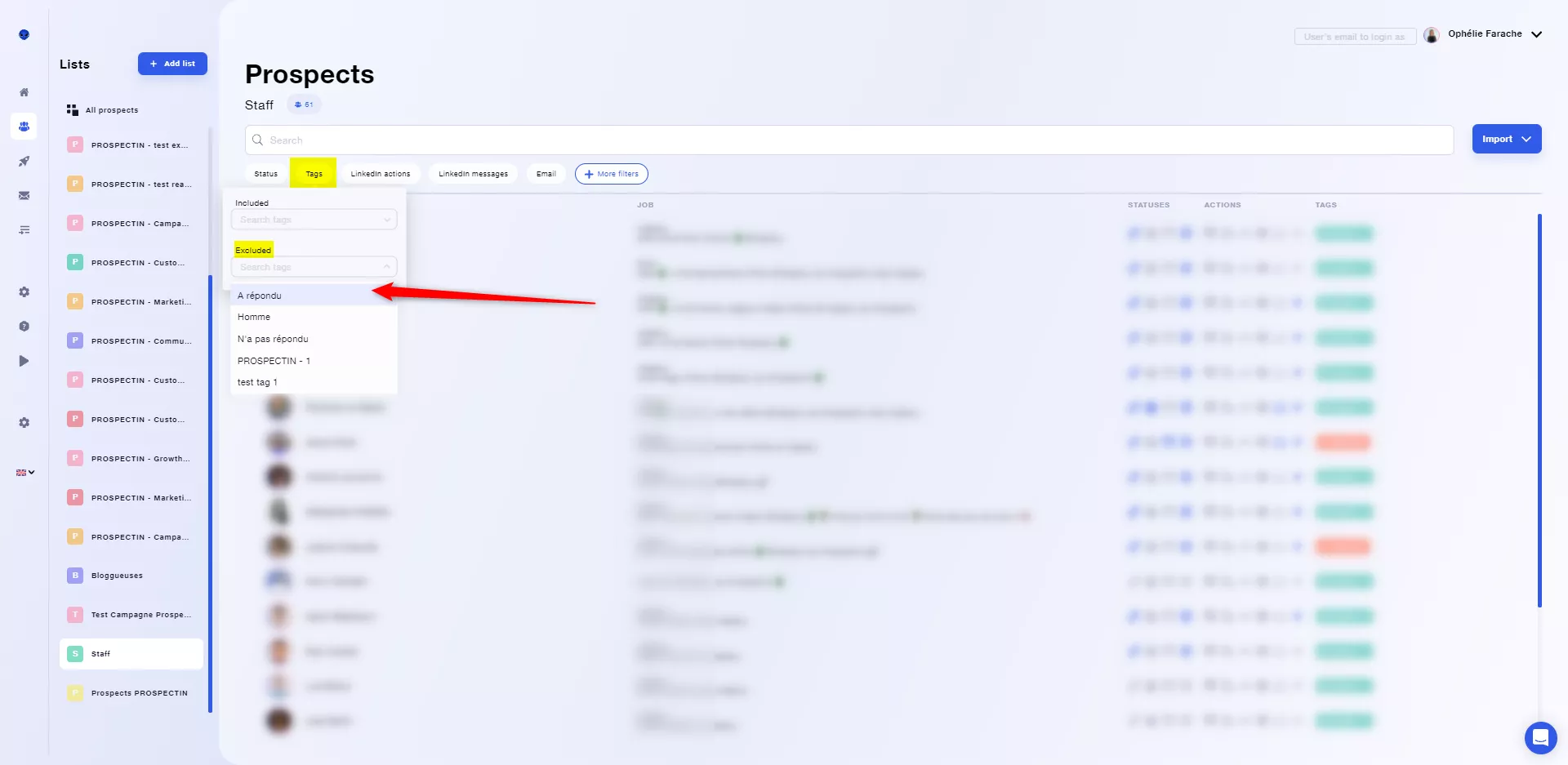 Create a list to blacklist
The goal here is simply to create a list of mails that we will call "Do not contact" or "Blacklist" or simply "NOOOOOO". It's up to you. 🤷
Since Waalaxy can't import leads that are already in the automation tool, you'll be sure to never import leads you don't want to contact!
The flagship feature here is list-to-list lead transfer. The principle is quite simple:
You've launched a prospecting campaign, some end users have responded to your bulk messages or E-mails. They inform you that they no longer wish to be contacted or that they are simply not interested in what you have to offer.
You will be able to search for these prospects, either manually, or via filters or tags, select them and transfer them to a list that you will have previously created for this purpose.
All you have to do is never select this list of email when you launch your automated campaigns, and you will be sure not to contact the selected people.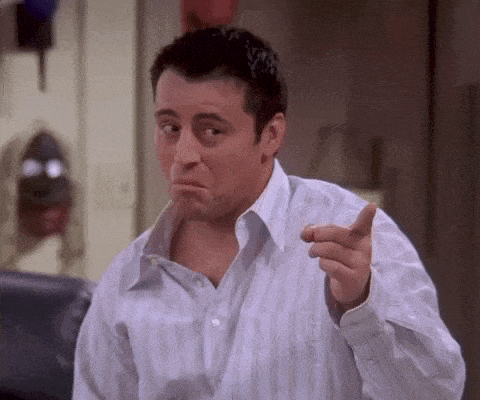 How to do this in practice? 👇
Select the lead base you want to transfer to the list and click "Move to":
You will select the "Do Not Recontact" list: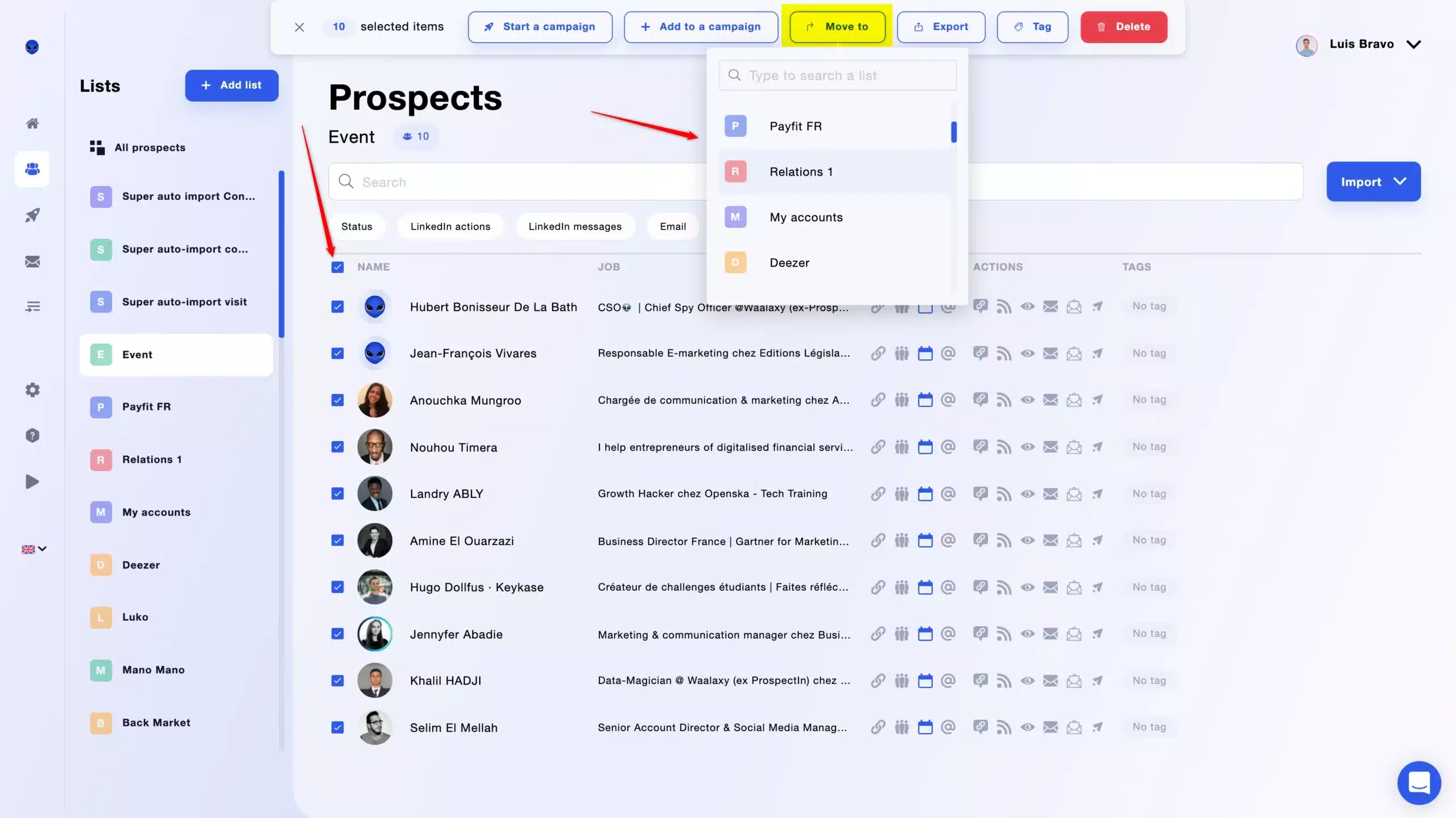 FAQ
Why create a list to blacklist?
There are many reasons why you should avoid recontacting certain people: some of your LinkedIn contacts, prospects who have told you that they do not want to be contacted, former colleagues that you do not like, well you get the idea…
How to set up the blacklist?
You can set this up in two ways: via the filters of the list combined with the tags, and via dedicated blacklists of contacts/prospects.
Conclusion
In the establishment of a good prospecting strategy, the relevance of this strategy and your credibility will be important; the fact to be able to blacklist some people will avoid some worries and will allow you to focus on the people to contact, the people to follow up, the ones who will become your new customers.