In the world of B2b prospecting, you must have heard the expression "warm lead" or "cold lead". A hot prospect is someone who is very interested in your product or service and is ready to make a purchase. 🔥
What is a warm lead?
To understand what a warm lead is, you have to understand that there is a real process between the moment someone is interested in a product and the moment the person buys. This sales process totally depends on the type of product sold and the "conversion funnel".
Here is an example of an efficient conversion tunnel to get new leads.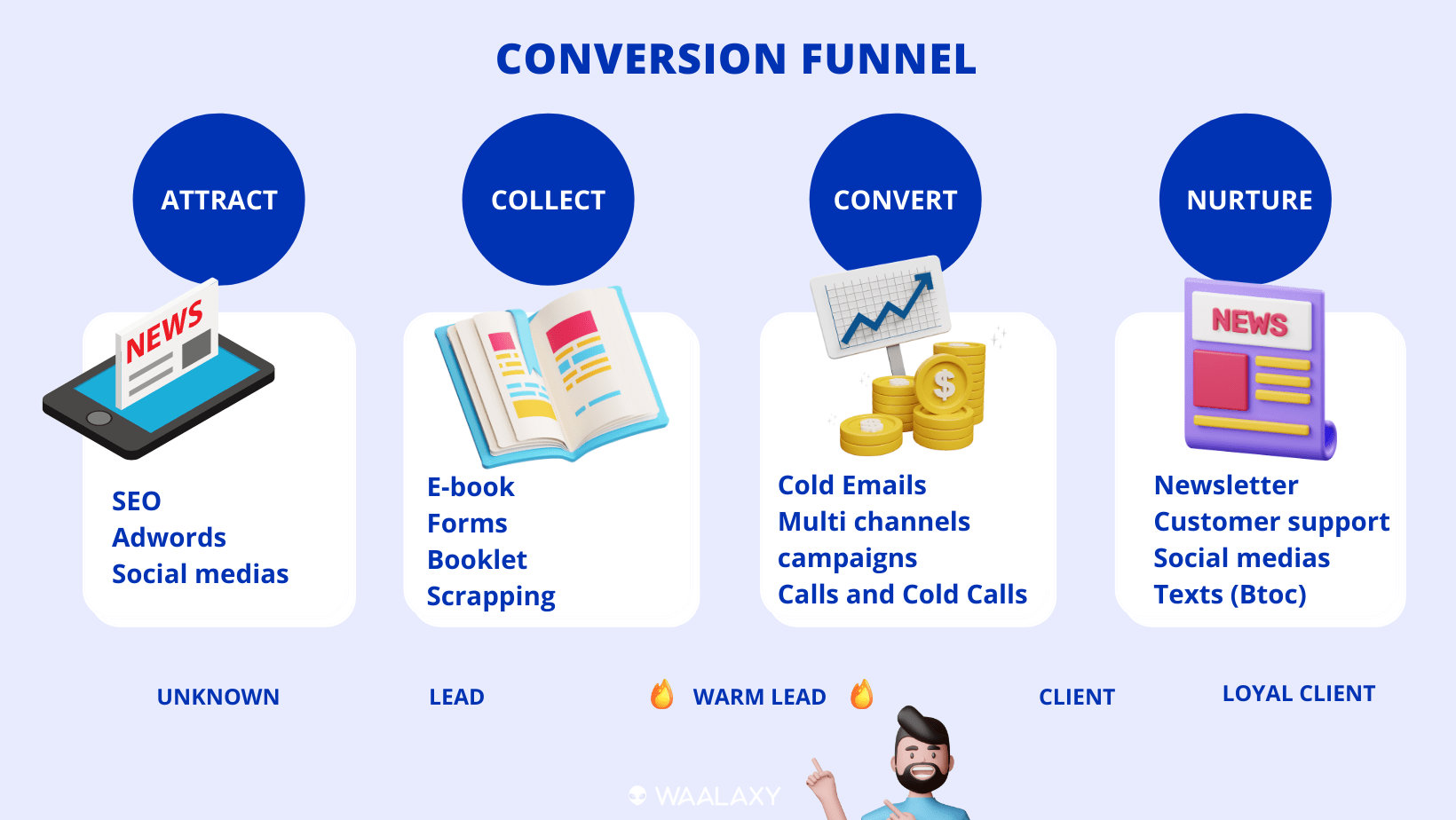 Lead acquisition is quite an art, quite an art in 4 steps. 🎨
Step 1: Attract your prospect
🎯 The goal being to attract new visitors through marketing techniques like SEO (search engine optimization), social networks and online ads. Here, it all depends on the target. Some channels are more used in the business field(LinkedIn and LinkedIn Ads), others, like TikTok seek to reach a Btoc audience and generally, younger.
Step 2: Collect information about the prospect
In order for them to enter into a conversion process, you must be able to contact them again. It also helps you to do lead qualification. It means to get to know more about your lead (job title, company…) and knowing this allow you to personalize even more your approach.
To do this, we will collect their information in several ways:
Either they filled out a form, requested an e-book or a white paper (and there you can call them a warm lead, because they took an action). 🔥
Or we'll scrape their information (email, phone number, LinkedIn profile) to contact them for the first time, at which point the prospect is not considered warm. 🧊
To summarize:
🔥 If they come in on their own and take an action = they are warm.
🧊 If you contact him but he doesn't know you = he's cold.
Step 3: You have his data, now you need to contact him!
This is the crucial step that will boost your conversion rate, in your tunnel. You will create a personalized marketing campaign. It can be easily automated. There are tools that allow you to do multi-channel. That is to say, to contact the same person on different channels:
D1: LinkedIn.
D+2: Email.
D+4: Call.
You can use Waalaxy for free to contact 100 people per week on LinkedIn. The tool has a "data harvester" that gives you the email address and phone number of your prospect (premium version).
In this conversion stage, you know that the prospect is already interested, now you just have to put forward the last arguments to convince him.
See email templates. 👀
Step 4: Retain the new customer
This is a step very often forgotten in the sales cycle, it's called "nurturing". We try to convert at all costs but we forget that we need to keep the customer. Especially since it is 6 times cheaper to keep a customer. 😱 In this step,
or the conversion was a failure with the client and therefore, he leaves for the draft. In this case, you will try one last time to call him again (unless he clearly said no).
Either you have a new customer, and there you will pamper him.
You're going to make sure he receives the newsletter, follows the company on social media, and is happy with the customer service. To do this, you set up checkboxes during the purchase process.
In order to nurture him well, you keep giving added value content.
At Waalaxy, we also send him a personalized message on LinkedIn a few days after he signs up to see if everything is going well. 👽
Again, it all depends on your funnel and your product.
Article Conclusion
A warm lead is someone who has shown some interest in your products, services or business. It is up to you to determine, depending on your activity, when a prospect is warm or not.
For example: If you are a LinkedIn Expert / Consultant. 🤓
Someone asks to add you to their connections, you can already determine that the lead is lukewarm. Then, you send them an automated message, and if they respond, they become a warm lead. 🔥
Another example: You work for an e-commerce site for athletic shoes. 🤾
A prospect who clicked on your Add, or your site is already a hot prospect. Besides, if she typed "buy athletic shoe" but clicked on a competitor's site, she is still a hot prospect, because she is interested in your product. Now, how will you go about collecting her data, converting her and building loyalty? 😍
Finally: You sell online training. 💻
You put your training brochure on your site, if someone fills out the form to download it, that person is a hot prospect. You've collected their data, all you have to do is contact them again. Bonus: How to find customers on LinkedIn. 👀
Faq: How do you know when a prospect is warm?
What is user experience?
There's something called "user experience" (or buying journey). There's nothing mystical or subjective about it. 🔮
It's the journey a user is going to be invited to take from the moment they arrive (visit a site, enter a store, browse a landing page) and the moment they perform the action of finalizing their purchase.
It must be pampered, not only to acquire new customers but also to ensure their loyalty. 💫 One of the best is Amazon's.
Users find everything they want and buy it with a click. The better the lead generation process, the fewer future prospects you lose along the way.
A Warm Lead
A warm lead is a potential customer who is ready to buy:
Or they have a purchase intention for a product you offer.
For example: He is looking for leather shoes on the internet and your site offers this type of accessory.
Or they have taken an action to learn more about your company.
For example: You offer online marketing training and this person has downloaded your brochure.
A  Lukewarm Lead
Often, a prospect is said to be "lukewarm" when they have started an action but have not followed through. For example, they put your product in their shopping cart but did not pay.
He is not lost, but something is bothering him to finalize the purchase, you must identify it and remove the thorn from his side. In e-commerce, it is often a question of improving the user experience, and we can take Amazon's site as an example.
A Cold Lead
A cold lead is a new prospect who just hasn't taken any action to buy your product or service.
🅰 That doesn't mean they're not interested, otherwise they wouldn't be in the "prospect" category, which are people who fit your target. A cold prospect is someone who simply doesn't know you yet, so you don't know if they can buy your services, however, you have identified them as part of your buyers persona.
When you do cold email for example, you are writing for the first time to people who do not know you, they are cold prospects.
Learn more about cold email. 🔥
What is Inbound and Outbound marketing ?
Outbound marketing or outbound lead generation : You're going to promote your product to attract your potential customers (Paid seach, social media).
Inbound marketing or Inbound sales : The client comes to you because you created quality content (ebook, content marketing).
How do you convert a warm lead?
You don't need a huge sales team to do business development and triple your ROI. 🚀
Assume that a warm prospect is almost already converted. He's convinced, all he needs is to take action. In order to help him take action, you have several options depending on the type of marketing strategy and the type of business you have.
Convert in the B2B sector
In this case, you will prospect companies, it's called "B2b lead generation".
Send automated and personalized emails.
Launch multi-channel prospecting campaigns.
Make cold calls with marketing tactics.
Use LinkedIn to contact your prospects in a personalized way.
You can use Waalaxy CRM to perform all these actions, the freemium option allows you to send 100 automated messages per week. 🔥
Add call-to–action on your website to place an order, to be called back, to request a quote…
Improve the user experience on your site.
Convert to B2c
In this case, you make the choice to target individuals.
Improve the user experience on the site and in the store,
Create flash promotions to attract your targets.
Use Adwords, Google and social networks adapted,
Of course, you have to adapt the method according to your product or service. But if you follow the steps of conversion without neglecting any, you will definitely transform your warm lead into a new customer. That's a promise 😉