To do BtoB prospecting, you need data. Today, we're not going to tell you about a futuristic music genre but about LinkedIn data scraping. Onward 🚀. Thanks to the advancement of latest software, data scraping has become a must for BtoB prospecting, especially on LinkedIn. Why this social network in particular?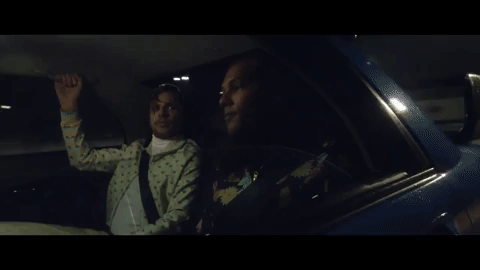 Simple, basic, it is the most complete database and the one that is the most updated. Icing 🍒 on the cake, what was reserved for developers is not anymore. Why deprive yourself of using it?
What is data scraping?
If we were to translate it literally, data scraping would be the fact of scratching data. But more concretely, data scraping ⚙️ is the fact that a program or software can extract raw data from a source so that it can then be read by a human being in an easy way, within a form of structured data. Its main interest is to collect content from a website (as if you were copying and pasting data). You don't do this action yourself, the software does it.
And, fabulous part, you don't need to be a programmer to use it.
By the way, do you know why we scrap? Scraping has an interest in e-commerce. It allows you to collect commercial data that it is:
Of your competitors' products ⚡ (to document what works for them).
To collect information about your rivals (why they are known?).
Clearly, you will have understood, scraping is also used to make a competitive intelligence but you can also scrape data on your prospects, whether they are:
BtoB companies.
Professional data of your potential customers.
And you can apply it to LinkedIn.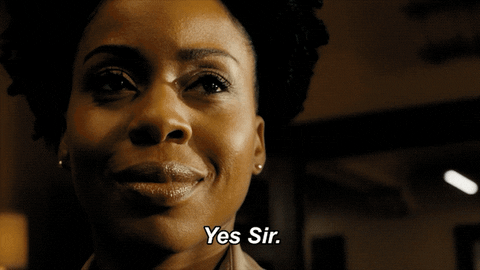 Let's say you need data 📊 on LinkedIn for your prospecting strategy. You'll need to harvest all the information about your prospects, but the data will be disorganized and especially time-consuming to harvest if you do everything by hand.
For your information, there is a colossal amount 🦛 of data circulating on the internet (2.5 exabytes per day, that's telling you). And to harvest some of that data, you'd better have the right tools to be able to harvest the data you need. Because searching for your prospects manually, then qualifying them will take you a long time if you do it the old fashioned way.
What are the benefits of data scraping?
Okay, copy/pasting data sounds light? We explain you the different advantages of scraping.
First of all, you should know that it is possible to scrap by hand, but this requires time and will be used mainly on a very small volume of data. On the other hand, on large volumes, there, you will be able to get quite a few benefits 💫.
The benefits of scrapping content are:
Retrieve a lot of data in a fully automated way (thus saving you time).
Have access to relevant data that will optimize your sales or business.
Conduct studies on the collected data.
Compare data between two or more sites.
How to do data scraping?
Long reserved for a developer using 🐍 python, the scraping technique can be done by anyone these days.
To do this, you should know that scraping will be done in two steps:
Downloading the HTML code of the page.
Parsing the page (or retrieving information).
There are software that allow you to do this without having to worry about functions and variables in your code lines. For example, you can use a chrome extension that allows you to scrape data like Data Scraper. You can follow the step by step in this tutorial.
Why do data scraping on LinkedIn?
As marketers, doing LinkedIn data scraping will allow you to gather valuable information. We're talking here:
Information about your competitors.
Valuable information about your prospects.
Information about your industry.
Phone numbers.
With these different data, you will be able to easily build a qualitative prospecting file 😀 on one of the most well-known (and most pro) social media. You will be able to take advantage of the professional database that has (we remind you) more than 800 million users. And there are many prospecting tools to help you.
How to scrap on LinkedIn?
In order to fill your prospecting file, we will explain how to scrap on LinkedIn. What you will be able to collect as data 💡 are:
Last name.
First name.
Position held.
Company in which the prospect works.
Experiences.
Email addresses in some cases.
Phone numbers in some cases.
Of course, you will need a tool so that you can harvest data easily. Then go to LinkedIn, select "network", then "relationships". Once you're on the page, use your tool to retrieve what you need.
The criteria you have targeted in your search will go directly to the chosen application and you can retrieve the file in CSV format or access it directly from a dedicated interface. And speaking of tools, let's talk about some of them.
Scraping tools on LinkedIn
Since a gargantuan amount of data is circulating on the net, many tools have been created to help you acquire new customers (but not only). Here we present you the small tools that can help you scrape 😀.
1. Waalaxy
In my opinion, this tool must speak to you! You don't need to be introduced to Waalaxy anymore, which is THE must-have software in your B2B prospecting and will help you in your digital marketing. It is a solution that works on multi-channel and will allow you to extract information that you will find relevant on LinkedIn.
With Waalaxy, you can source, contact and turn your prospects into customers. You can filter through dozens of different criteria from over 800 million users 🎉. You automate your LinkedIn prospecting by sending invitations, follow-ups and even emails. And as if that wasn't enough, you can sync your data into your CRM. You have a clear and intuitive interface as well as foolproof support to help you launch your marketing campaigns. Once you have collected the data you need, you can export it to an Excel file in CSV format.
2. LinkedIn data scraping: Pharow
This tool will allow you to target your leads according to the criteria you have chosen.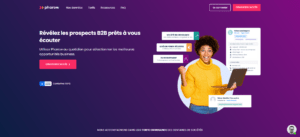 You will obtain data such as :
Email address.
Mailing address 💌.
LinkedIn information.
3. Linked Helper
This software focuses on data extraction and automation on LinkedIn. Useful if your prospecting is only on LinkedIn.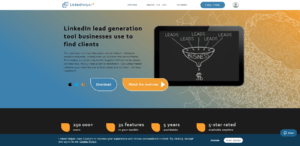 You will be able to create specific scenarios on LinkedIn such as :
Visits.
Profile data retrieval.
Auto-follow.
Auto-follow message sends 💌.
4. Lemlist
Lemlist is mostly known for its Cold Email solution but it also allows you to scrape data from your targets on LinkedIn.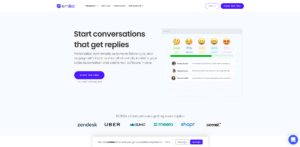 You can automate some of your BtoB actions such as :
LinkedIn message sending.
Sending emails.
Importing your data 💽 into a CRM.
5. TexAu
This solution is Indian and will allow you to create workflows for prospecting.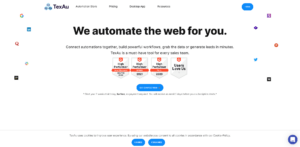 You will have access to :
To templates that will be pre-configured for your campaign scenarios.
Sending emails.
LinkedIn scraping.
Of course, there are plenty of other tools 🔨 to help you scrap data but we can't list them all. Instead, we'll explain how to do LinkedIn data scraping with our tool: Waalaxy.
Using Waalaxy for data scraping
In order to help you in your scraping, we will find a step-by-step tutorial to explain you how to extract data from Waalaxy.
If you haven't already, download the chrome extension 👉 here.
Go to your LinkedIn app and open a search page.
Today, we'll get the Waalaxy team members.
Open the chrome extension and create a new list of prospects (you can of course, choose how many prospects to include in your list).
Then click on "validate". The tool will then start importing.
Open the Waalaxy application, and click on "Prospects" and then on the name of the list you have created.
Select the "Name" box above your first prospect and then click on "export".
Once you have clicked, you will receive the CSV file directly by email that you will have filled in beforehand.
Insert the CSV file in your CRM.
Pretty easy, right 💖?
On the other hand, you should know that if you are wondering about the legal concept, we will inform you about that too.
Data scraping with Dropcontact
Just so you know, Dropcontact is directly integrated with the Waalaxy solution. It allows you toautomate the enrichment of information such as:
The verified email address.
The civility.
The legal information of the company.
Why is this information important? Dropcontact has developed its own algorithms for searching and verifying data.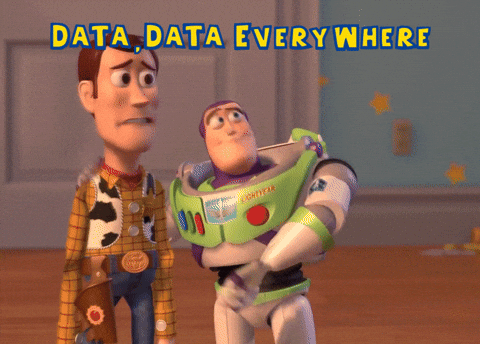 Technically, we collect the name, first name and company website of a potential prospect and this is sent directly to Dropcontact. It will then search for this information and return a format such as nom.prenom@entreprise.com. Dropcontact is therefore RGPD compliant ✨.
Scrape data for free
Thanks to Waalaxy, you can totally scrape data for free. There is a Freemium version that will allow you to use some of the software's features with a quota that you can't exceed, but it will allow you to get your foot in the door of data prospecting and extracting.
This will allow you to get familiar with the sequences, with its dashboard/interface, see how the tool works and how powerful it is 🔋.
If the tool convinces you, you can upgrade to a Premium version that will allow you to perform more actions in line with your sales tunnel.
Boost your lead generation with LinkedIn data scraping
So you know a little more about data scraping. You've chosen the tool ⛏️ that works best for you. Now what? We'll list the steps for you to have a beautiful prospecting file:
Define your persona (for you to have the best possible conversion rate, this is an essential step. Your potential prospect must become a customer).
Establish your sales strategy (try inbound marketing strategies).
Prospecting takes time ⏱️ so choose the right tool to support you.
Get on LinkedIn, open a search page and type in your target's information.
Scrape through with the tool that has convinced you.
Once your data has been exported, once you have your prospect base, you're going to have to think about how to use it. But once that's done, you'll have a free hand to optimize your campaigns.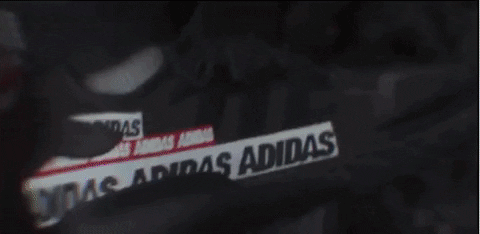 Thanks to the automation tools, you will be able to really personalize your messages as well as your emailing and this, in a totally automated way. Don't forget that even if you have collected data, you must make sure that the information you have collected is good for your business.
The limits of LinkedIn data scraping
As of 2021, LinkedIn has decided to make some changes to its platform. We won't teach you, there are limits on LinkedIn. The platform wants above all to highlight the quality 🔥 of the relationships you have. Therefore, are limited in your invitation sending on LinkedIn. You should know that the platform is not really a fan of data scraping but it remains completely legal with public data.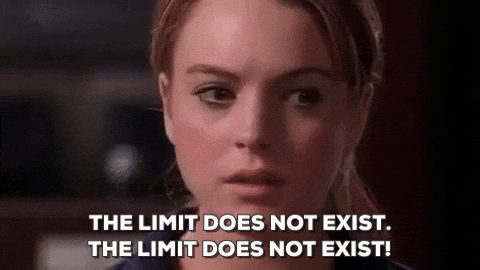 Concerning data scraping, when you have a free account, you can scrap up to 1000 leads per day. With a Sales Navigator account, this limit increases to 2500 per day. On the other hand, you need to follow good practices. Don't try to send an email directly, approach your potential client on LinkedIn, with a profile visit, an invitation, a message and you can get down to business with them. With Waalaxy, these best practices ✨ can be followed if you choose the right sequences at the right time. Let's not forget:
With great power comes great responsibility – Spiderman
Faq of the LinkedIn data scraping article
Data scraping is collecting information through a software or program so that you can read the information easily. In order to optimize this data scraping, you need to realize :
A good targeting of your audience ( digital prospecting always starts with the definition of a persona).
Setting up the criteria that you will export.
Choosing a good scraping tool (Waalaxy 🔥).
What tools to scrape on LinkedIn?
Since there is a phenomenal amount of information circulating on the net, more and more tools have emerged to be able to extract this information in a way that makes it more readable ✔️ for humans. On LinkedIn, some marketing automation software has been developed to help perfect its BtoB prospecting. These include:
Waalaxy.
Pharow.
Linked Helper.
TexAu.
Leadjet.
Dux-Soup.
Phantombuster.
They will allow you to perform actions ranging from scraping to creating prospecting scenarios.
LinkedIn data scraping: Waalaxy
This is the tool you need to help you 🥰 in your prospecting. It will allow you to:
Extract the data you need.
Find your prospects' professional emails automatically.
Send personalized messages and emails.
Create scenarios adapted to your prospecting needs.
To do follow-up.
Have visibility on your KPIs ✔️ thanks to its intuitive dashboard (could be useful for some tasks such as analyzing your actions).
Yes, it's that comprehensive and it makes it easy to get started with winning new customers and automating actions.
Discover Waalaxy 🪐
Harvesting phone numbers with Waalaxy
As you know, our tool also allows to collect phone numbers. Exactly the same way as scraping any data, the tool will be able to harvest this number if the user has entered it correctly.
On average, we manage to collect 35.36% of the numbers among our prospects (this calculation was done with our own accounts for testing purposes).
To find out the phone number of your prospect:
Go to your Waalaxy dashboard and then to "Prospects".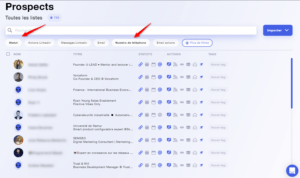 By clicking on "Phone number", you will be able to check "Phone number retrieved" OR "Phone number not retrieved".
When you click on a contact that has a phone number, you will have access to that information AND the phone number.
LinkedIn limitation on scraping
Unfortunately for LinkedIn, marketing tools that help you acquire leads are on the rise.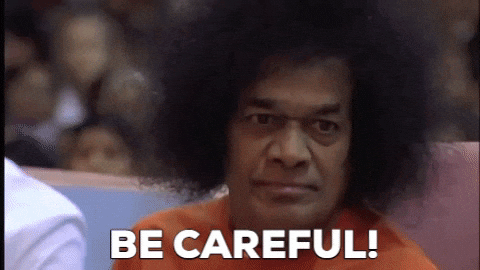 LinkedIn's terms of use prohibit ⚡ scraping but yet scraping remains legal until now. It remains legal for public profiles because LinkedIn admits that if you put your information publicly online, it is accessible by everyone.
So nothing prevents you from prospecting companies and prospecting clients whose profile and information is public.
Now you know everything about LinkedIn data scraping. Prospecting will have absolutely no secrets for you 🚀.