Are you looking for a Waalaxy promo code and haven't found what you're looking for yet? That's okay. We don't have any promo codes available. But we have something better!
If you see other sites calling you with their enticing titles, I don't recommend them, you might be disappointed.
On the other hand, we have two other options that might please you even more:
Black Friday,
Waalaxy's Freemium option, which is brand new and just released!
Also, subscribe to our Facebook page to receive all the news and not miss our promos during the year. 🚀
Why don't you have a Promo Code at Waalaxy?
There are several reasons, already, thanks to the freemium offer, you have plenty of time to test yourself with the tool and find out whether or not LinkedIn automation is for you.
Secondly, you can test all the other premium options for 7 days for free without having to give your payment information, and that's pretty cool.
Thirdly, our prices are very affordable. Some of our customers are self-employed, and they often testify to the good investment/results ratio.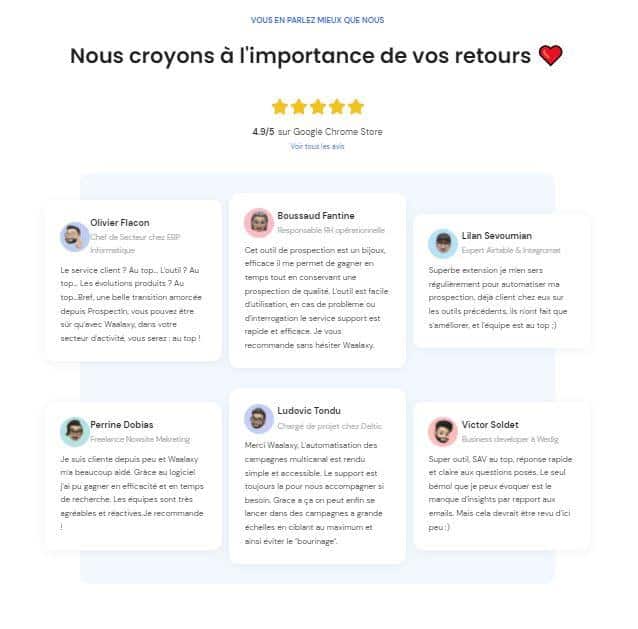 Black Friday with Waalaxy
Black Friday is the time for you to get a good deal and for us to earn a lot of extra soldiers in record time.
Every year, we participate on November 25th, and we always offer the best deals.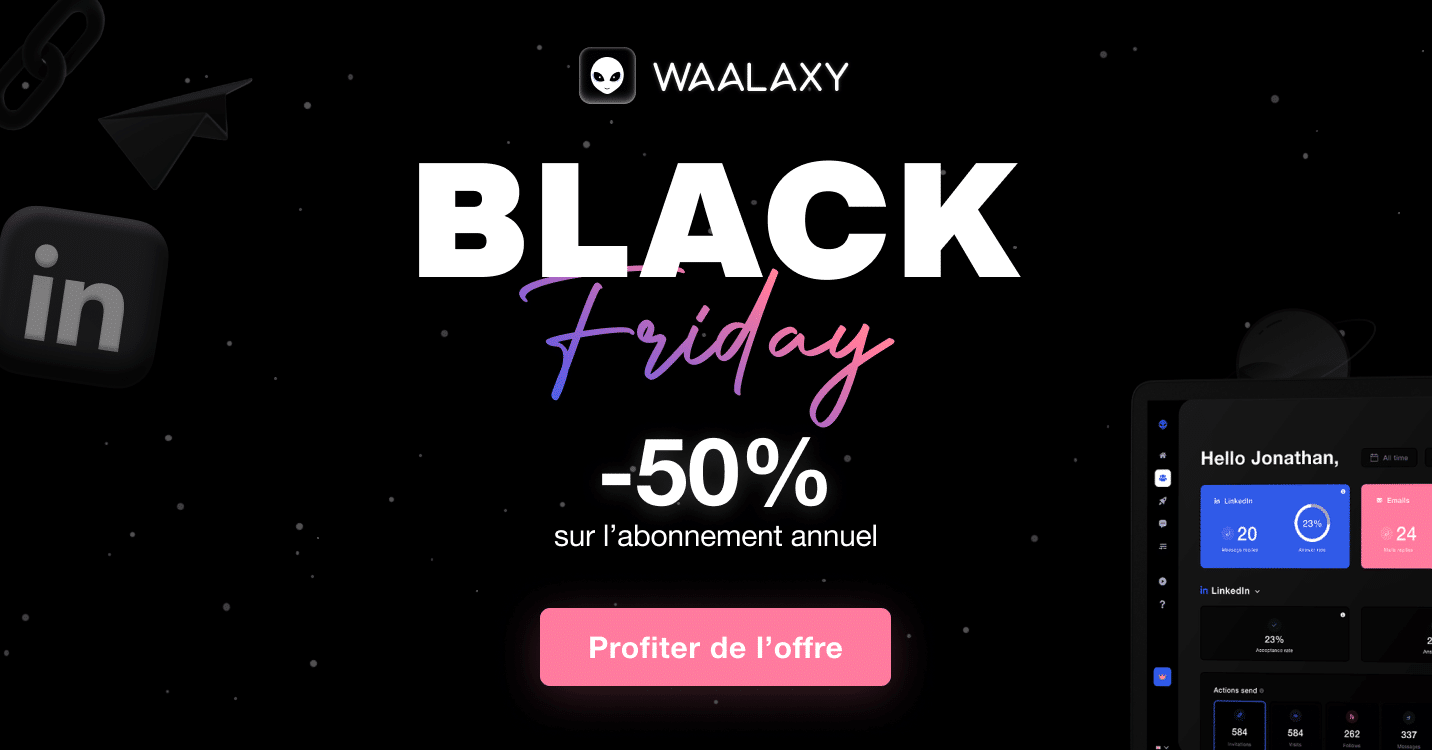 I'm told that this year, Waalaxy will set its own rules again and make a second Black Friday in 2022.
To make sure you don't miss the news, add us on the community Facebook 😉
Waalaxy is getting free?
There are plenty of rumors out there. Some are hard to believe, some are totally false, this one is completely true. ✅
Waalaxy is launching a freemium offer, in "freemium" there is "free" and "free" means free. So you are not crazy.
But then, what is this offer?
It's a totally automated prospecting service on LinkedIn, to expand your network and boost your professional opportunities, free of charge and open to everyone.
A Waalaxy promo code? But what is it for?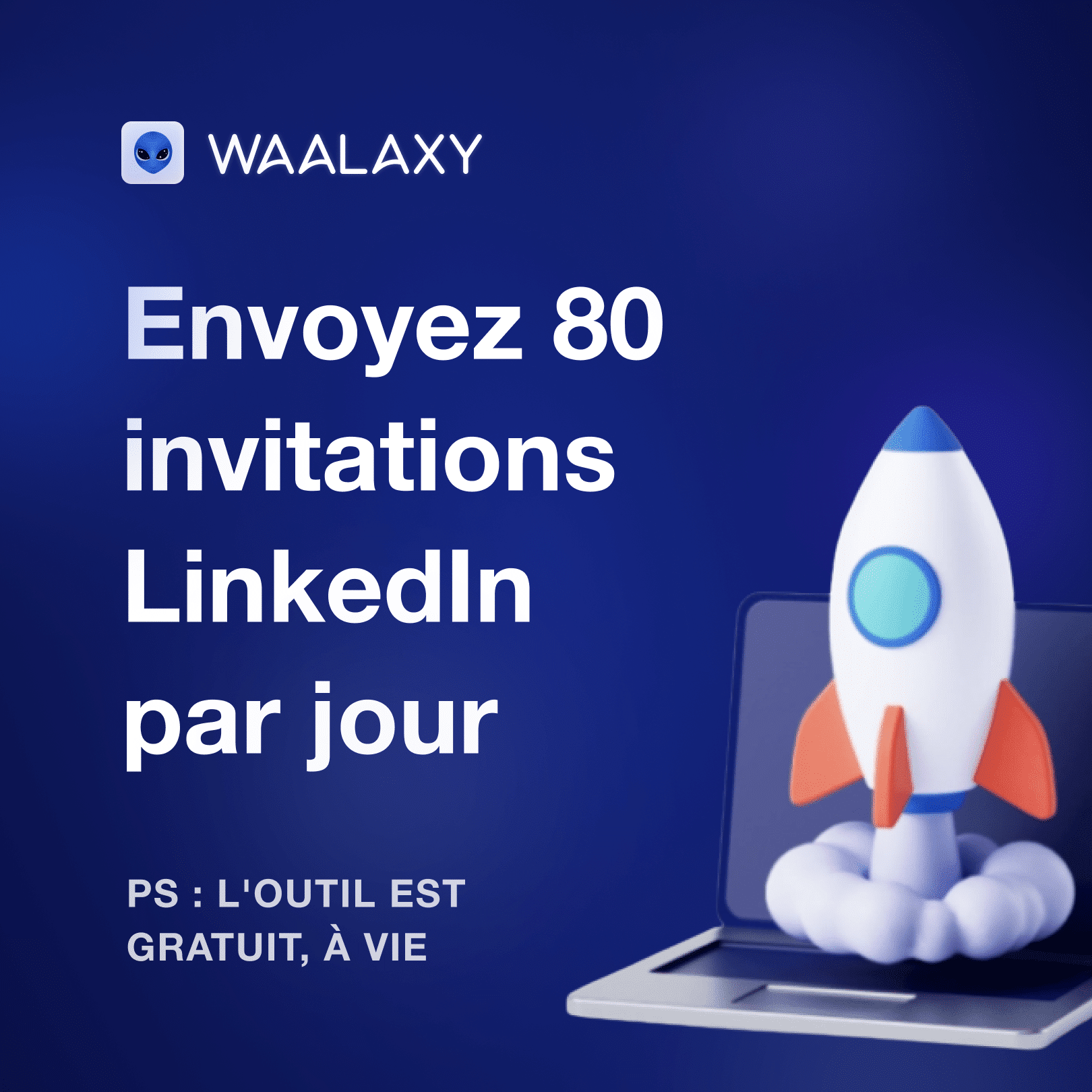 Waalaxy's prices are as soft as cotton sheets
Prices range from €56 per month for the best all-inclusive plan, to €0 for the all-free plan. 🎁
At Waalaxy, we can be a bit pretentious or have a slightly heavy humor sometimes, what we are sure of, though, is that we don't lie to our customers.
The free tool is not just a welcome with the impossibility to click on a button or perform an action. It's really a tool with which you can already prospect, and you have access to prospecting campaigns.
That's a promise.
See Waalaxy's pricing! + A Free option. 🎁
Conclusion : There is no promo code, but it's not so bad
It's all in the title. There is no Waalaxy promo code for now, but you can test the tool for free, get the hang of it with the freemium option and if you like it and want more, you buy.
As simple as that. 🥰