What is Growth Hacking? It's much more than just a collection of techniques; it's a mindset that relies on creativity, experimentation, and agility to stimulate business growth.
It's a strategic approach that goes beyond traditional marketing methods to deliver fast, meaningful results. 🔥
What is Growth Hacking? Easy Definition
🗣️ Growth hacking is about identifying growth opportunities and putting tactics in place to make the most of them – it's everything from colour-coding a button for customers to click on, to retrieving and enriching data from a website.

What exactly is growth hacking? It's digital experimentation, testing, measuring results and rapidly adapting strategic changes to maximise growth.
PD: A growth hacker is someone who does growth hacking. If you'd like to find out more, click here! ⚡
How to do Growth Hacking?
Now that we've defined the concept – you need to understand the 'mentality' of Growth hacking, for me, that's the most important thing. To succeed in growth hacking, you need to be in the mindset of looking for growth everywhere, and to do that, there are 3 pillars.
The Three Pillars of Growth Hacking – "Pirate metrics" or ARR
What is growth hacking based on three essential pillars: acquisition, activation, and retention. 🤝
Acquisition
Acquisition involves attracting new users or customers to your product or service. For example, if your company offers a fitness app, 📲  create content on the platforms where your qualified target is most active.
Post health and fitness tips on specialist forums, Instagram, or TikTok.
Activate
The activation phase aims to convert prospects into active users or customers. 🥳 For an app, for example, make sure registration is smooth and offer an interactive tutorial to guide new users through their first experience.
Encourage them to carry out key actions, such as setting fitness goals or recording their first workouts.
Retention
Retention focuses on keeping your existing customers. 🤝 For example, if you work on a beauty brand's website, 🥰 send personalized advice based on each customer's buying preferences. Offer exclusive discounts for loyal customers and provide content on the latest skincare trends.
The evolution of the method from AAR to AARRR
The final two stages of the AARRR model, Referral and Revenue, were added later to complement and refine the original model.
Initially, the AAR model comprised three stages: 👉 Acquisition, Activation, and Retention. It was introduced by Dave McClure, a venture capitalist, as part of his start-up incubator program. These first three stages were considered to be crucial to the growth of a start-up.
But as the online marketing and start-up industry evolved, it became clear that two components were missing to really make it work: the referral of existing users and the monetization of those users. Hence, the 'Referral' and 'Revenue' stages, giving rise to the whole 'AARRR' metrics hack.
I'll explain what they are! 👇
Referral
Once you've acquired users, activated them, and kept them engaged, the next step is to encourage them to recommend your product or service to others. 👍
For example – Word of mouth and online reviews are powerful ways to acquire new customers, make sure that in the buying journey you ask the customer several times to provide feedback on your service. Like what Uber-eat does every time you place an order. 🍱
Revenue
This stage focuses on monetization. It's about turning engagement into revenue for your business. 🤩
For example, by working on optimizing the buying journey, making the buying process as smooth and simple as possible; customers need to find products on your site easily, and have all the information they need, the buying process needs to be quick, simple, and uncluttered.
OK, now that you've understood the AARRR method, here's a mini recap before we move on. 👇
The 5 pillars of growth hacking
| | |
| --- | --- |
| Step | Objective |
| Acquisition | Attract new users. |
| Activation | Engage and provide a meaningful first experience. |
| Retention | Build loyalty and encourage users to return. |
| Referral | Encourage users to recommend the product. |
| Revenue | Monetize existing users. |
Tips for getting started in Growth Hacking Marketing
Now that we've seen what is growth hacking and its method, we need to put it into practice. 😎 To help you do that, I've come up with a few practical examples with advice you can put into action!
The Psychology of Conversion
Understanding the motivations of your target audience is essential for maximizing your conversion rates (see article). If you sell wellness products, the use of testimonials highlighting the concrete benefits that your customers have obtained by using your products can be a powerful strategy.
These testimonials add a human dimension to your offer, making it more tangible and credible for prospects. 🎯 In your communication campaigns, make sure that the testimonials are specific and highlight concrete results.
For example, instead of saying "This product has helped me feel better", opt for "This product has helped me lose 5 kilos in 2 months and regain my energy".
What's more, using evocative visuals can trigger positive emotions in your visitors. Images of satisfied customers smiling while using your product or service can create a feeling of trust and authenticity.
Actionable tips
Regularly solicit feedback from your customers for authentic testimonials. (Or make them up… I didn't say anything. 🤫)
Using quality images and videos to illustrate the benefits of your products is all part of a good web strategy.
Add the possibility of posting reviews on your site.
Track reviews on Google My Business, Trustpilot, and other sites.
Respond to reviews professionally and effectively.
Content hacking
"Content hacking" as some people call it, is the driving force behind any successful growth hacking strategy.
If you're targeting 'do-it-yourselfers' like ManoMano, you might consider creating interactive tutorial videos that guide the audience through their jobs. Make sure the content is informative, engaging, and tailored to your audience.
Offer practical advice and tips to help your customers and create a sense of trust. Video and podcasts are the most consumed content now, and the trend is unlikely to reverse.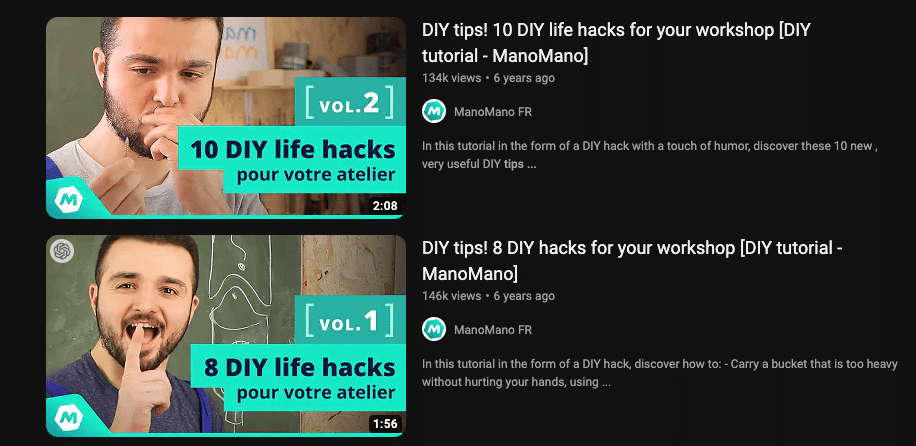 And if you can't make a video or podcast, any kind of informative content (like this article, for example) helps to reinforce your brand's credibility as an authority in its field.
Actionable tips
Be regular in publishing digital content to maintain engagement.
Give priority to video or podcast content to reach your target audience.
Make sure you have clearly defined your persona before you launch.
Analyze the performance of each type of content to refine your strategy.
Advanced segmentation as a growth strategy
Refining segmentation allows you to have an effective marketing strategy, thanks to the personalization of your digital communication. If you sell clothes, for example, use shopping behavior data to recommend similar items or accessories that complement each customer's previous purchases.
Propose exclusive offers based on style preferences. For example, if a customer has bought a summer dress, offer suggestions for accessories such as matching sun hats or similar products in the same style or from the same brand.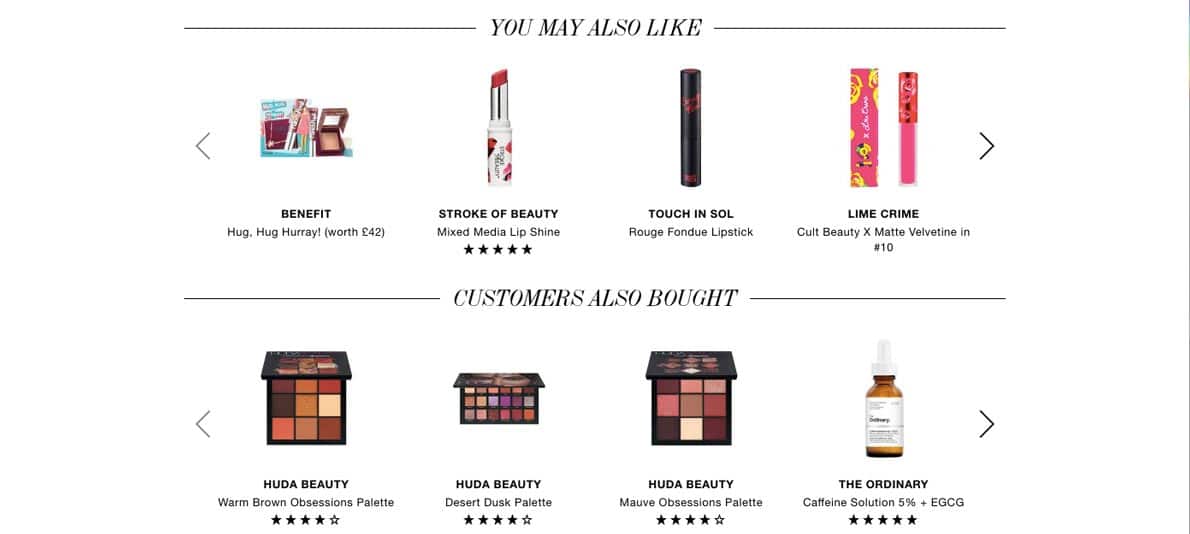 Actionable tips
Use automation tools to manage segmentation effectively. (We talk about tools later in the article 😉).
Find new customers with marketing segmentation > discover the guide here.
Surprise your customers with special offers based on their purchase history. (This doesn't just apply to clothes!).
Web scraping
Data scraping involves extracting relevant and useful data from various online sources – including information such as company contacts, customer reviews, product prices, etc. With data scraping, you can gain valuable insights to fuel your growth strategy. 💻
It's really not complicated to do data scraping, with or without code, and it's a very popular growth strategy. You just need to know what you want to extract as data "for example all the recruiters based in my town", know where to extract the data from these prospects (Indeed, LinkedIn…) and find the right tool.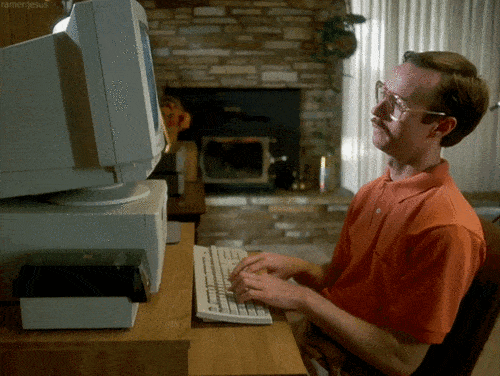 Actionable tips
Choose your sources carefully: Opt for reputable and reliable websites to collect your data. Avoid unreliable sources that could provide incorrect information.
Automate the process with specialized tools (we'll be talking about this soon, I promise): Use automated data scraping tools to save time – doing it manually is just unbearable. 😂
Message automation or email automation
Automated messages on social networks or emails are pre-programmed and sent automatically. They can be associated with actions on the part of the prospect.
For example, he adds me as a friend on LinkedIn, so he receives an automated message, or simply after retrieving a database of potential customers from your prospecting tool.
Achievable tips
Make sure that you have segmented your list properly and that you are talking to the right persona.

Personalize messages:

Although messages are automatic, make sure they feel authentic and personalized. Use the person's first name and include elements specific to their needs.
Use the right tools: Make sure the tools you choose are reliable and have a good reputation, to avoid sending 100 emails to the wrong people. 😂 – For this, use Waalaxy!
In conclusion: What is Growth Hacking?
growth hacking is a constantly evolving discipline, and to stay ahead of the game, it's essential to master the latest strategies. By exploring these tips and putting them into practice in a precise and targeted way, you'll be armed to propel your growth to new heights. 🚀
I encourage you to experiment, measure, and refine these techniques to suit your market and audience. Success in growth hacking relies on agility and adaptability.
Bonus & FAQ: What is Growth Hacking?
As promised, we're going to be able to talk about growth hacking tools and forums to help you learn brand-new techniques. 🔥
Growth hacking tools
Here's a little list just for you! With lots of tools for getting started in growth hacking and boosting your acquisition levers without any headaches, I've arranged them by category. 😉
| | | |
| --- | --- | --- |
| Category | Tool | Description |
| Analytics | Google Analytics | Analysis of web traffic and user behavior. |
| Analytics | Mixpanel | Advanced tracking of users and events. |
| Analytics | Kissmetrics | User journey and conversion analysis. |
| Analytics | Crazy Egg | Analysis of site interactions with heatmap. |
| LinkedIn & Emails | Waalaxy | Scrapes contacts and automates emailing and LinkedIn messages. |
| Email Marketing | Mailchimp | Email marketing and automation platform. |
| Email Marketing | SendinBlue | Email marketing and SMS marketing solutions. |
| Social Media | Hootsuite | Social media manager and content planner. |
| SEO & Content | SEMrush | Competitive analysis and keyword research. |
| SEO & Content | Ahrefs | Keyword research and backlink analysis tool. |
| Growth | Unbounce | Landing page creation and optimization. |
| Growth | VWO | Website optimization and A/B testing. |
| Growth | OptinMonster | Lead generation and visitor conversion. |
| Growth | Crazy Egg | Testing page elements for optimization. |
| Recommendation marketing | Mention Me | Referral marketing platform for businesses. |
| Customer support | Intercom | Messaging and automation for customer engagement. |
| Customer Support | Zendesk | Customer service and ticketing platform. |
Growth hacking forums
You're looking for conversations about growth hacking without necessarily having to go through the "digital marketing training" box. There's nothing like expert forums to help you define your strategy and reach your targets. 😉
Here are the 3 most effective:
Now you know what is growth hacking, and you've learned the techniques, you can get started. 👏