It's THE buzzword of the moment:
growth hacking
(well ok that makes 2, but you get the idea). In this article, we go over the definition of growth hacking, when and how to use it. We also talk about how we use it at
Waalaxy.
😄 Are you ready? Here we go! 🚀
Growth hacking : the definition
Growth hacking is a growth-oriented marketing method that consists of experimenting with innovative and creative techniques to quickly and effectively stimulate growth. The growth hacker is therefore a marketing professional who uses a combination of traditional and digital marketing techniques in order to achieve the growth objectives specified. These objectives can be varied and one can have objectives like:
Increasing the number of users/customers.
Improving customer retention.
Optimizing conversion rates.
Growth Hacking is becoming more and more popular, it is mainly used in small structures like
start-ups
and
SMEs
. And yes, large groups are always behind in terms of innovation. Growth Hacking is no exception to the rule. 👆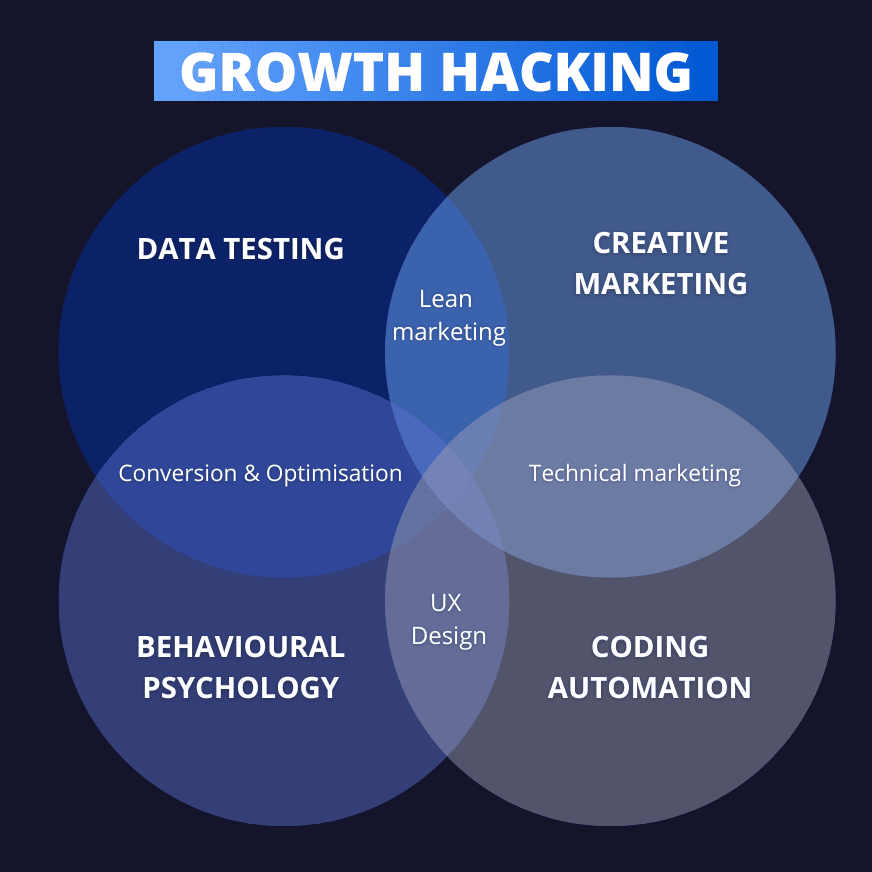 Similarly, it is most often used in so-called "technological" or even "digital" companies since the methods used almost systematically require the use and implementation of
digital
tools, especially with marketing automation. Growth Hacking is characterized by a data-centric and experimental mentality where tests are performed quickly and the results are used to continuously adjust tactics and growth strategies. Before we go into more detail on the use of Growth Hacking, it's worth defining the concept of
sales funnel
content marketing
as well, which is key to your marketing goals. The sales funnel corresponds to the different steps your potential customers will go through. 👀 From their first point of contact with your brand/company, to the moment they will become loyal customers who recommend your products or services. In the vast majority of cases, it is necessary to go through one stage of the funnel before you can move on to the next. The sales funnel consists of 6 phases, we call it the "AARRR" sales funnel. This is a good thing because we are going to talk about this famous AARRR matrix.
The AARRR matrix
No, it's not the cry of someone who stubbed their toe on a table corner. In fact, it's an analysis model used in the marketing field to evaluate and optimize customer acquisition strategies. The term AARRR is an acronym for the following key steps:
Acquisition: How potential customers discover your product or service.
Activation: This is when your prospects become active users of your product.
Retention: How active users are encouraged to continue using the product or service.
Referral: Active users recommend your offerings.
Revenue: Your business generates revenue from users.
This matrix is often used as part of a customer-centric approach, to help companies understand customer needs and behaviors at each stage of the customer journey and optimize their marketing efforts accordingly. This can help identify areas that need improvement. Let's talk about each of these points in more detail.
Acquisition
That's it, your target is taking the step, using your product or service for the first time, this is the right strategy. In the case of an application like Waalaxy, this step is the moment a prospect downloads the tool. This is our
acquisition metric
! 👊 For many activities, like
e-commerce
sites, acquisition will be tied to the 1st visit to the website. 💻
Activation
Activation, is when the user takes their first action with your
product
, service or tool. 🥇 Following Waalaxy's example, a prospect has just downloaded the extension, but now they need to use it, otherwise there is no point in downloading the app. With us, activation is when a user exports their first
lead
into the tool. We also measure a second level of activation, which is when a user sends their first action with the tool (a
connection request
, for example). It's up to you to define your activation metric, it should represent an indispensable step your users/prospects go through in order to one day become customers. 👆
Retention
Finding new customers is more expensive than retaining customers. So let's make
retention
work! This is your ability to retain your prospects and turn them into long-term users. This step is often underestimated, but it is important to keep in mind that filling a shopping cart is futile. It must be your first concern, well before acquisition. This is one of the most crucial steps for start-ups, so don't neglect it!
Referral
Referral means
"recommendation
" in French, it's a bit like the grail! 💟 This is the moment in your funnel where your product or service sells "on its own". Okay but, how does that happen? 🤔 Through word of mouth and
ambassadors
! 🤩 People who use it talk about it around, it's called virality and people who use it talk about it around. 😜 For this, don't hesitate to implement actions such as:
Promotional codes,
Competitions,
Sponsorship offers,
Ambassador program.
Revenue
Well, this last step is a bit crucial because without it, you have no money. It is the moment when your user or
prospect
makes a purchase and buys your service or product. This is what the growth hacker is working for, converting one of the active
users
into sales. A quick reminder, the goal of this job is not to make money but to increase the number of users to ensure sustainable growth. That's why growth hacking can take a little longer than the usual actions, because it is qualified and sustainable, which allows in the end, to have
satisfied
customers, and that is worth all the gold in the world. ❤️
What is a growth hacker?
To be able to perform growth hacking, you need an expert in the field, namely a
growth hacker
! It's like developing a website, you need a developer, well here it's the same thing. 😇 So, the objective of a growth hacker is to implement strategies that will help to promote development in an effective and efficient way. But his work does not stop there, since in fact, he must also find new ways to attract customers and thus sustain the company and build customer loyalty. 🤝🏼 The growth hacker needs other resources to perform his tests. So his role is to do cross-functional project management by putting everyone more or less to work on this rapid experimentation process, and of course the CEO must be in total agreement with the "Growth hacking" mentality. 👀 With the expansion of
social media
and webmarketing, companies need to implement webmarketing levers, such as a digital marketing strategy, a marketing plan, a
communication strategy
, landing pages, facebook adwords or even the use of
SEO
to reach more customers. 🎯 We recommend this video where
Gregoire Gambatto
talks about hacking!
If you want to become a growth hacker, you can apply to companies, usually
startups
related to the following areas:
Application,
Blogging,
New technologies,
Digital marketing.
Concerning the type of job, it is usually done independently or with a small team (no need to be 10 to do growth hacking), and it is essential to be in close collaboration with several departments such as
marketing
, development or SEO.
What training to do growth hacking?
In general, to be able to claim to be a growth hacker, you will need a bachelor's degree or a master's degree in a business school or
web marketing
, such as marketing,
business
development or commerce. Note that there is no specific training to become a
growth hacker
, it is the set of technical and
marketing
skills related to growth hacking that you will learn through other training, as previously stated. In terms of experience, a company is usually looking for a successful year as a marketing or growth hacker. However, if you don't have any, don't panic, create it by showing the company the test ideas you have for their development and how to carry them out.
List of skills of a growth hacker
Let's move on to the skills you need to be a good growth hacker, and for the occasion, we've pulled out a little chart for you! 🎁
HARD SKILLS
Data tracking and analysis
Acquisition Marketing
Technical skills
Google Analytics
B2B prospecting
Front-End Code
Google Tag Manager
E-mail marketing
Landing page creation
Excel or Google Sheet
Content marketing
Web scraping
CRM
Marketing engineering
Use of growth tools
Database / SQL
Organic social media (Facebook, Instagram, LinkedIn…)
Data collection on websites
Paid social media (ads)
SEO
Influencer marketing
SOFT SKILLS
Versatility
Project and team management
Sense of analysis and critical thinking
Creative and artistic spirit
Rationality
Good command of English
Web development culture
If you don't meet all these boxes, don't panic, you will acquire it in time! 😇
What is the salary of a growth hacker?
Let's cut to the chase, the average salary of a growth hacker is around 37 000€ per year, when you have experience. There are several things that go into defining the salary of a Growth Hacker. First of all his
skills
and years of
experience
. Then the type and size of the company in which he works will have a significant impact. His past experiences and successes will also have an impact on his compensation negotiation. 💰 To go into detail, a junior growth hacker will earn around €35,000 gross per year, compared to a senior where his salary will be between €40,000 and €50,000 gross per year, and some "expert" profiles that are highly prized, will earn up to €65,000 gross per year.
What is the difference between growth hacking and growth marketing?
Invented by
Sean Ellis
in 2010, who redefined his own job to rename himself Growth Hacker, his activity immediately took on a particular resonance within start-ups and in the digital field. He simply created a new discipline. This discipline focuses on
optimizing
growth by simply using all possible techniques. Of course,
marketers
and sales people were doing Growth without knowing it long before this, but it was not part of the established growth strategies in companies. You may have confused the two, but even though the terms are very similar, we'll give you the information to distinguish between the two.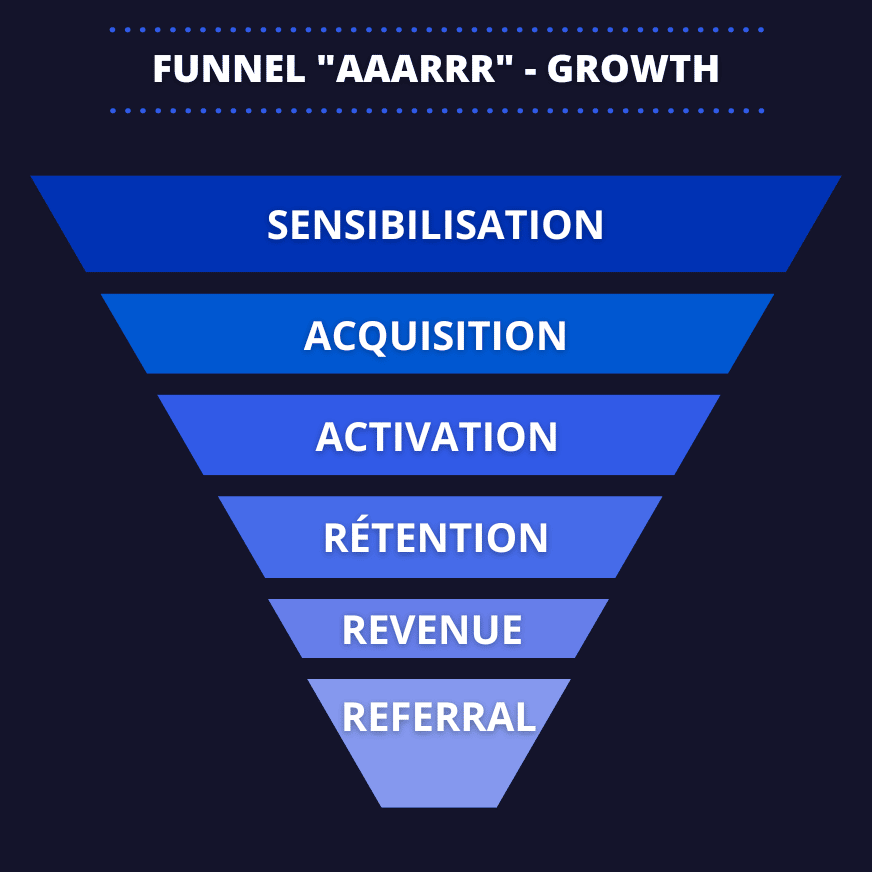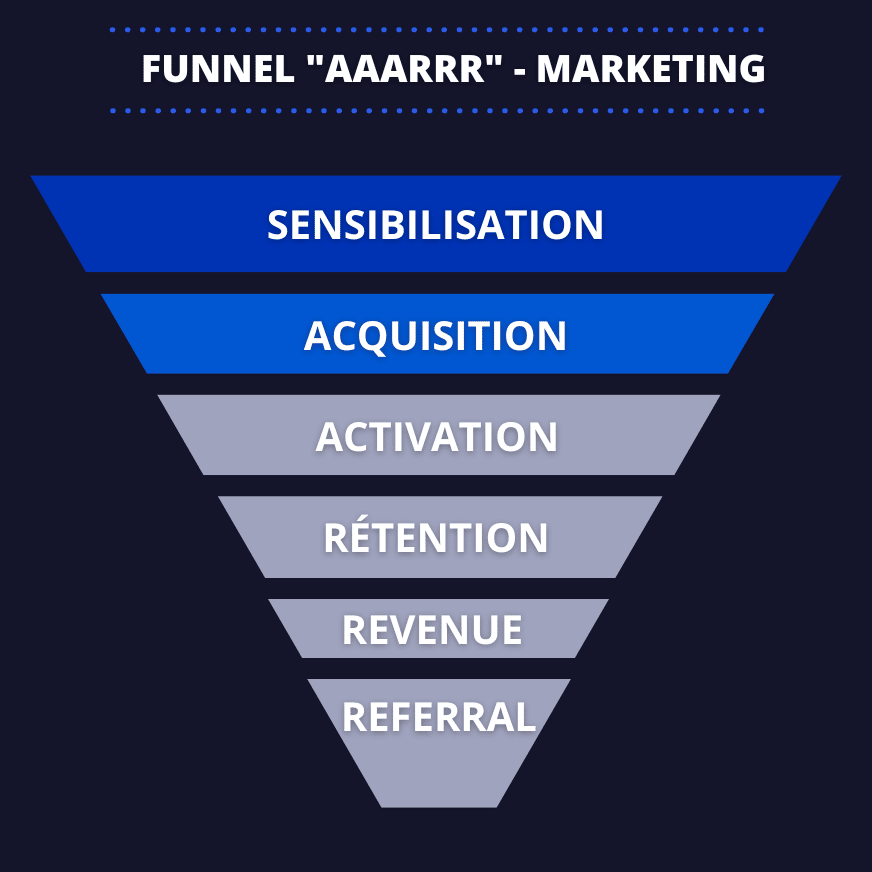 Thanks to growth hacking, you will be able to ensure and activate the growth of a company or your product. Its main objective is to increase brand awareness by getting your
audience
to engage with it. The objective of a growth hacker is to implement strategies that will allow to promote the development in an effective and efficient way. But his work does not stop there, since he must also find new ways to attract customers and thus sustain the company and
build
customer
loyalty
.
The similarities
This is not to say that the two terms do not have some similarities such as :
Collecting data about users and their behaviors.
Driving businessgrowth in both acquisition and loyalty/retention.
Implementing both terms through the agile 🥷 method.
The differences
On the other hand, they are not similar on the following terms:
Growth Marketing focuses mainly on the brand, this is not the case with Growth hacking ❌.
The time frames for completion are different. In Growth Hacking, you have to be quick, make decisions in the moment.
Data. In fact, Growth marketing relies on the data collected to know how to respond to its audiences, which takes time to implement. Growth hackers will go straight to the analysis as soon as the first data is collected.
Growth hacking: 3 examples to understand
Once you are comfortable with growth hacking and all the notions behind it, there is nothing like growth hacking examples to illustrate our remarks and to have different techniques implemented! ⬇️
#1. Adidas with Lena Situations
Well, I think you all know Adidas, this German company founded in 1949 by Adolf Dassler, known for its street and trendy sportswear and shoes! Well, recently, they have collaborated with the famous and young Youtuber Lena Situations, do you know her? With over 3.9 million followers on Instagram, this influencer has been collaborating with the German brand for over a year. ✨ Even though Adidas is known to everyone, they don't hesitate to collaborate with influencers to improve their
conversion
funnels! How did they do it? 🤔 Well, they first invited Lena to collaborate, and she's been teasing her community for over a year by showing up at Adidas headquarters, while keeping her appearance a secret, which activates excitement and raises a question mark. Then comes the moment of the launch and there, several
communication channels
are set up, namely:
New section on their website with referencing "Adidas x Lena situations".
Sponsorship on Google of a partner store, namely courir.com.

Digital communication on the social networks of Adidas, Courir and Lena Mahfouf.
Advertising posters on bus shelters, subways.
Posters in stores.
In short you will have understood, they put the package! 📦
#2. Growth hacking with Instagram
Let's stay on the known things, Instagram, this famous social network used by more than 2 billion users every month was at the time, not very known. The founders of Instagram had to come up with ways to improve the
growth
of their company, and here are some techniques:
Connection to other social networks ➡️ for example, you can choose to post on Instagram and Facebook, directly from Instagram, or share on the other social media, such as Twitter.
Follow system ➡️ you can be followed and follow people you don't know, which allows you to reach a wider target.
The application is public ➡️ you can find the photos published by users not only on this application but also on Google Images, because the application is public!
#3. Netflix
Used, I think at least once a month by you and us, I don't introduce it anymore, Netflix, the ultimate streaming app! 📹 With over 118 million subscribers, this streaming platform uses the following
growth hacking
techniques:
Paying famous actors ➡️ they hire famous people such as Charlize Theron or even Dwayne Johson (the rock for friends) to impact users more and, those who like these actors in particular will usually, watch the movie quickly and talk about it to his circle or on social networks.
Present on social networks ➡️ Netflix is very active on social networks, especially Instagram and interacts every day with its subscribers.
Purchase of popular movies and series ➡️ It's been years since you've seen a movie and you can't find it on traditional streaming sites? Netflix buys and streams popular movies and series to entice audiences to subscribe.
#4. Bonus: Waalaxy
We wanted to show you another example of a sales tunnel, that of Waalaxy. We will discover the main levers of our
web strategy
step by step.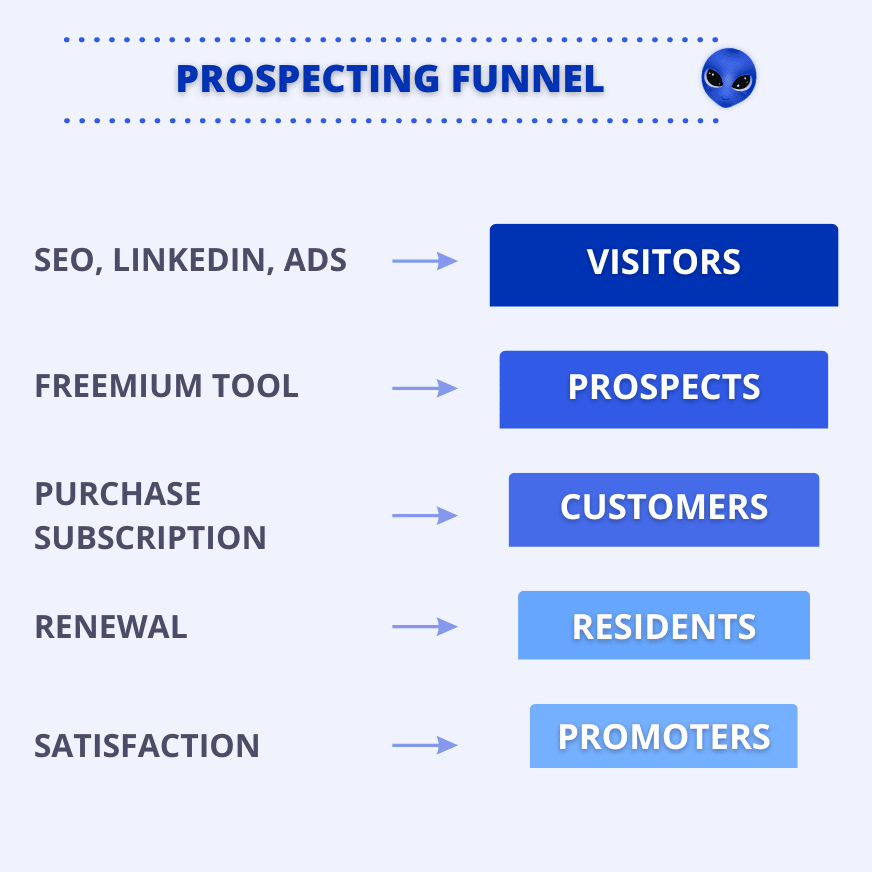 The first step of this
conversion
tunnel (if you have followed correctly, it is the acquisition) is to attract visitors to the site (visibility objectives), but how? Well, by doing the steps below:
By doing high value content marketing through blogging. ✏️
By developing a digital SEA strategy, i.e. targeted paid advertising. 💰
By having established a content strategy on LinkedIn, thanks to recurring publications, which is called community management. 📱
By having a YouTube channel in order to work on our notoriety. 📹
The second step (this is the activation), is to turn the visitor into a prospect 😉
Thanks to a very well worked landing page.
Thanks to a free trial or the free version of the tool.
The third step (retention) is to make the prospect want to buy our tool. 😍
🔵 Great design and ease of use.
🔵 Follow-up messages both on LinkedIn and by email that accompany the user and help them discover the tool.
🔵 An available chat, which answers all your requests in less than 5 minutes.
🔵 Youtube tutorial videos.
The fourth step (revenue) is to make them a loyal customer. A good marketing strategy should never neglect its customer base. 🥰 It's better to keep a customer than to go out and get new ones. It's less expensive! To do this, the customer experience must be perfect, and the customer relationship must be maintained. On our side, everything happens behind the chat and in the improvement of the tool. The fifth step (referral )is to
convert customers
into ambassadors. 👑
Thanks to an attractive offer!
Thanks to a follow-up of our ambassadors.
By working on the customer journey.
Some tools to improve your growth hacking
Now that you have understood what growth hacking was with 4 examples, we can show you 4 tools (yes, we like 4 here) that will improve your growth hacking, great right? 😇 As said before, growth hacking involves many aspects of
digital
and, there are a multitude of tools, here are the categories:
Search engine optimization (SEO) and content on website and blog,
Data analysis (Data analytics),
Creation and redirection of landing pages and websites,
Scraping and automation,
Soft data,
Emailing,
UX and UI design,
Social media with social networks.
Let's move on to the tools! ⬇️
1) Google Analytics
It is no longer presented, the first and one of the most essential tools for growth hacking: google
analytics
.

Why is there so much excitement about this tool? Well, it's produced by Google, and secondly, it's free, so why look elsewhere? More seriously, it allows you to analyze many performance indicators of a website, while creating personalized
marketing campaigns
and know the geographical location of your users, and also :
Creation of alerts,
Customized dashboards,
Follow-up of objectives,
Tracking of internal site searches,
Error tracking,
Social interaction tracking.
As you can see, this tool is essential for your conversion funnel, so what are you waiting for to use it? 😇
2) Waalaxy Automation Tool
We already talked about it above but, do you know what
Waalaxy
is exactly? An automation tool on LinkedIn and InMails that you can find as a google chrome extension! 👽 With our product, you will be able to:
Import your LinkedIn leads directly into personalized campaigns,
Over 99 possible scenarios for your campaigns,
Run your campaigns even when your computer with the cloud functionality,
Expand your network to generate opportunities,
Automatically send invitations and messages on LinkedIn
Scrape data from your prospects.
💟NEW 💟: we just released a new feature, Inbox Waalaxy! Simply put, it's LinkedIn messaging, but better.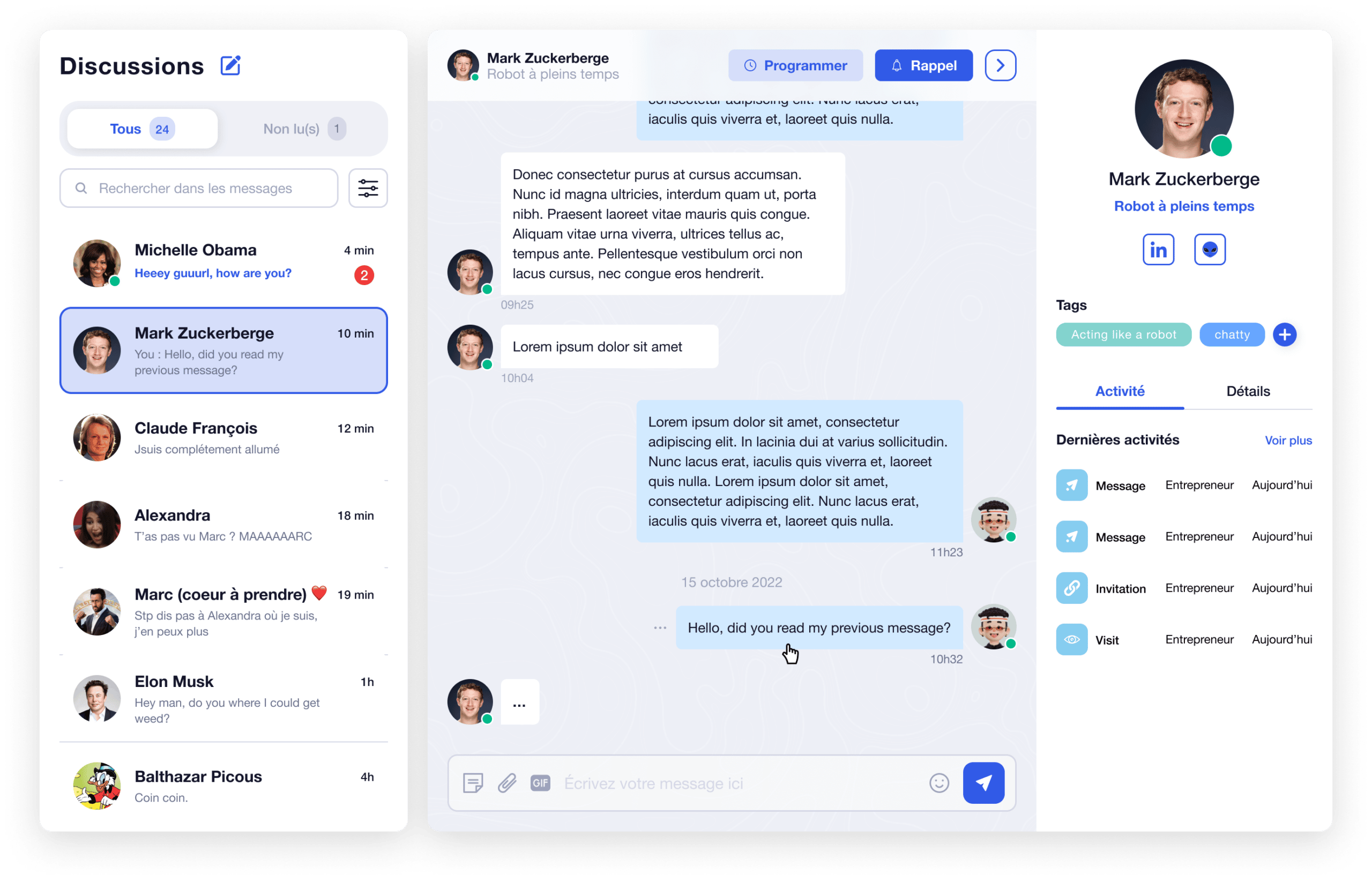 To learn more and find out the prices of this novelty, click on the button below! 🪐
Discover Waalaxy messaging 🚀
3) Answer the public
This is a
keyword
search tool where you just have to enter your keyword, country and language, and bim, your results are displayed. To illustrate, we did a search on the keyword "LinkedIn strategy", here is what Answer the public shows us. ⬇️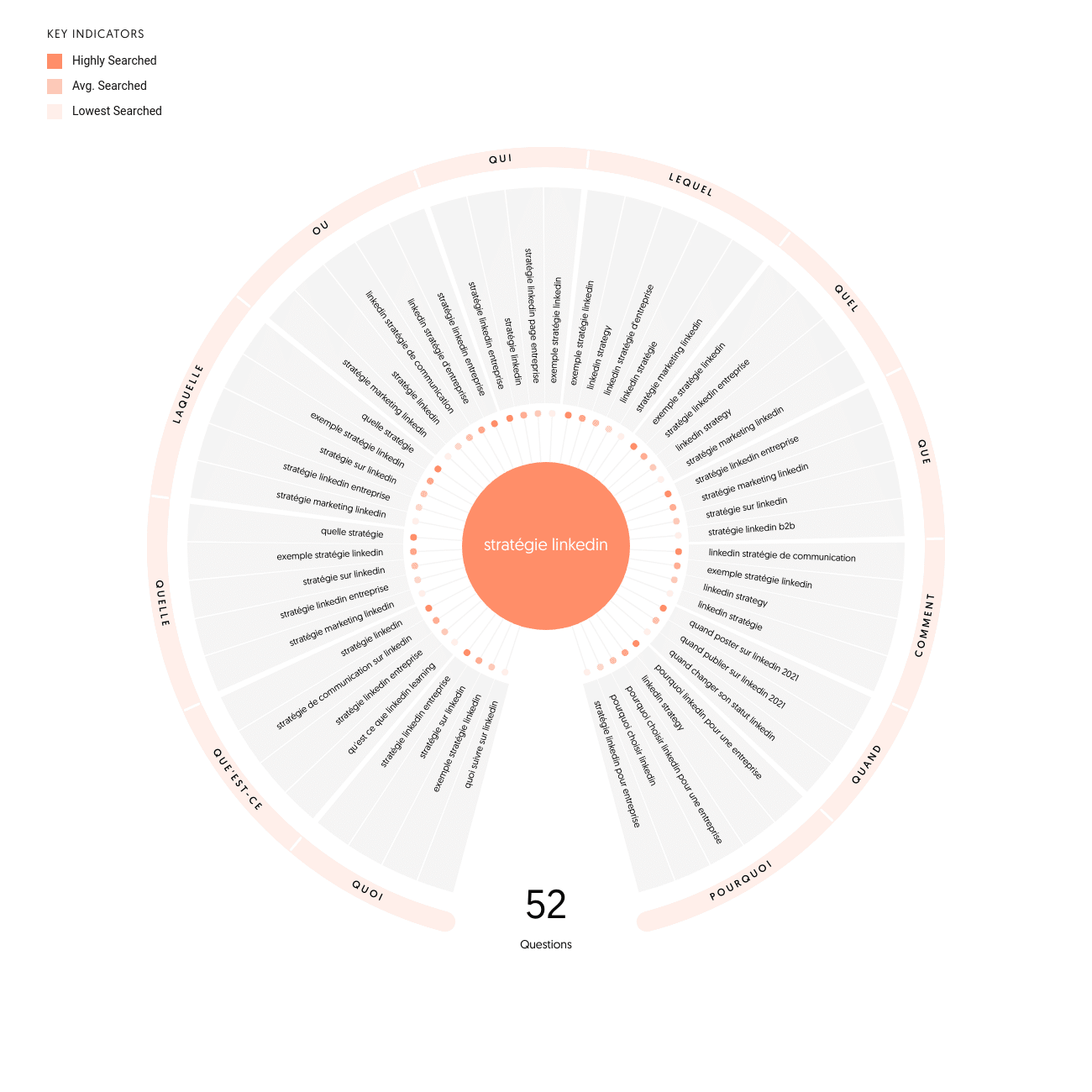 It shows you thanks to the color code, which searches are the strongest. You can click directly on the data that is displayed and it will send you to the
search engine
results.
4) Mailchimp
How to talk about growth hacking without talking about an emailing tool? For this example, we chose Mailchimp.

Mailchimp is a marketing solution that allows you to send personalized emailing campaigns by your care. ❤️ This tool allows you to develop your business, find new customers and accelerate your activity thanks to the management and sending of
emails
! 🚀 With it, you will be able to:
Access a library with many easy-to-use templates,
Program your e-mailing campaigns in advance,
Manage automatic unsubscriptions.
Conclusion of the article: growth hacking def
In the word Growth Hacking there is the word "Growth" and
"Hacking
" (
I feel I'm losing you 😂).
The word "Hacking" is a bit misleading here, because in reality, it is not at all about conducting any kind of computer attack, besides, it is not even necessary to have skills in computer development to use Growth Hacking techniques. No, the word "Hacking" rather refers to the idea that you are going to implement a "trick", a "trick", that is going to bring you an inordinate
return on investment
. ✨ Keep in mind that Growth Hacking techniques are often techniques that require very little financial cost, but can pay off very big. 💰 To find the perfect
hack
, the one that will bring you exponential growth, the key word is "iteration". You're going to have to test, measure, iterate. Over and over again. The more tests you run, the more you'll increase your chances of finding the perfect "hack". 🥰
Frequently asked questions from the growth hacker article
You thought we were done? Well no, we still have 3 more questions about growth hacking, here we go! 🥰
What is the purpose of growth hacking?
Let's get to the point, its objective is to achieve sustainable growth results by going through several
marketing
steps, which are both creative and aggressive, without necessarily having an inordinate budget and therefore, to improve and accelerate the
development
of a business. 🚀
What is growth?
As said before, a growth hacker is simply the profession that deals with growth hacking. A growth hacker will use all the techniques and skills learned in business to complete the steps of the
conversion tunnel
.
What is the first step in a growth hacking strategy?
The answer is:
acquisition
. This is the act of attracting as many potential prospects as possible and bringing them to your website, product or service. Once that's done, you can move on to the second step, activation! 😇 This is now the end of the article about
growth hacking
. If you have any questions, don't hesitate, we will be happy to answer them!