Improving your prospecting is possible, thanks to good sales prospecting tools! But, you don't know which one to choose? 🤔 Don't panic, in this article, we reveal to you:
The tools of commercial prospecting,
Why use prospecting tools?
Our advice for a good b2b commercial prospecting.
Ladies and gentlemen, fasten your seatbelts, we're about to take off! 🚀
Best prospecting tools for your sales
In order to conduct a good business prospecting, you need to follow its steps:
Find your prospects,
Make yourself known,
Get in touch,
Make appointments,
Propose your solution,
Follow up,
Conclude,
Retain.
If you want to know how to succeed in business prospecting, it happens in this article. 👈🏼 You need to arm yourself with patience if you are doing your business prospecting manually. If you want, you can use business prospecting tools that help you boost your prospecting, let's find out right now! 😎
#1. Develop your network: LinkedIn Sales Navigator
We weren't going to talk about prospecting without talking about the world's leading professional social network, LinkedIn. LinkedIn is a huge free database, so you might as well take advantage of it! 😇 In order to improve business prospecting, LinkedIn has created a tool, LinkedIn Sales Navigator, allowing you to prospect intelligently with targeting features and techniques. Did you know that you can subscribe to LinkedIn Sales? It's a tool to improve your sales prospecting and boost your lead list, but also :
See who consulted your profile during the last 90 days,

Synchronize all your exchanges with your network in a dedicated CRM,

Send emails to people who are not part of your network,

Target potential prospects and companies with specific keywords,

Classify your prospects according to your convenience thanks to keywords,

Importing accounts and contacts,

Premium profile.
With LinkedIn Sales Navigator, you're always on top of the news, improving your sales workflow, while having complete visibility into your prospects. 👀
LinkedIn Sales Navigator: how much does it cost?
You have the option to subscribe to 3 different subscriptions:
Sales Navigator Professional (Core) at 99,99€/month or 79,99€ if you opt for the annual billing.

Sales Navigator Team (Advanced) for $125.99/month if you choose annual billing.

Sales Navigator Enterprise (Plus) from €1,600 per year.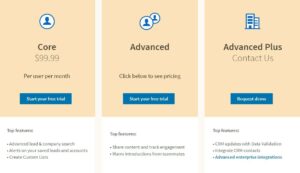 If you're interested in learning more about LinkedIn Sales Navigator, we've created a comprehensive and detailed guide. 📖
#2. Improve content delivery : Hootsuite
In France, 53.5 million people are registered on social networks, which is 84.7% of the population. (Source: digimind – 2022)
The use of social networks for commercial prospecting is called "social selling". 😇
It allows, among other things, to:
Identify new prospects,
Find new customers,
Learn about the competition, the market and the prospects.
Hootsuite is a tool that centralizes the management of your social media, but not only! Here are its features: ⬇️
✅ Publish and schedule: schedule your posts with ease,
✅ Interact with clients: Manage the messages you receive on different social media,
✅ Track activity: keep tabs on market and competitive trends,
✅ Ensure your content is promoted: Promote your organic content and manage your paid ads,
✅ Analyze results: Measure your results across all your social networks.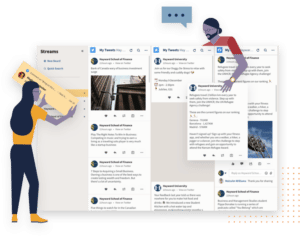 What is the price of Hootsuite?
You can test this tool for free for 30 days with 2 social network accounts, 5 scheduled posts and 1 user. 🤳🏼
After that, you have 4 packages depending on your needs : 👇🏼
Professional → 99€ for 1 user and 10 social network accounts,
Team → 249€ for 3 users and 20 social network accounts,
Customized Enterprise → on quote, from 5 users and 50 social network accounts and more.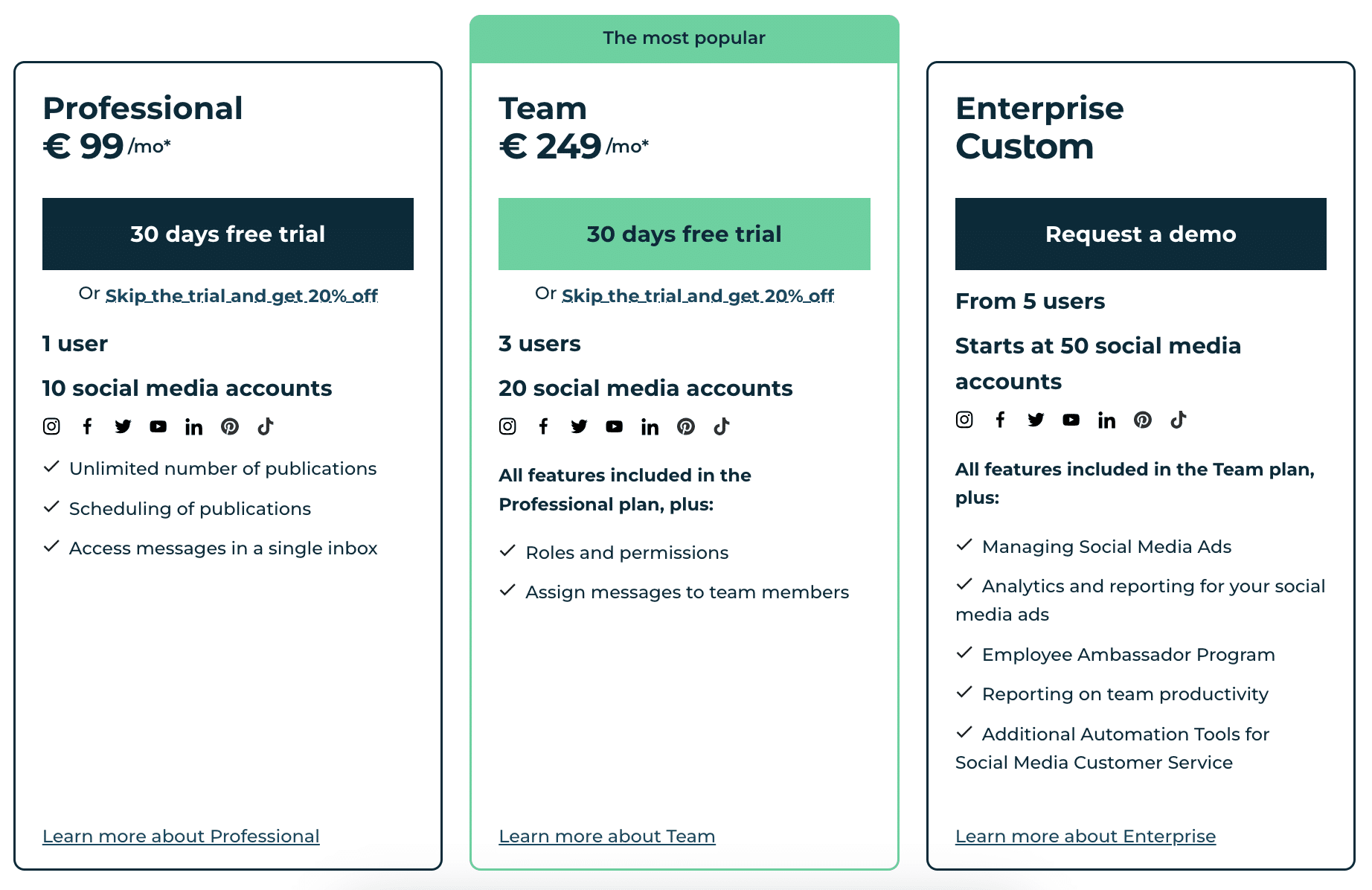 #3. Identify your site visitors: Visitor Queue
With this tool, you'll be able to see who visited your website and turn them into a lead, via keyword recognition! 🥰 You must be thinking, ok, but, does Visitor Queue offer any other features? 🤔 Well… yes! And here they are:
Key person information,
Lead contact information,
Lead queues,
Company search,
Hide leads,
Analyze your site traffic,
Send leads by email,
Exporting leads,
Native/tiered integration.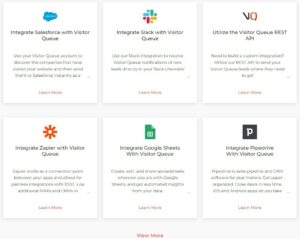 The little plus? You have the ability to integrate with other apps and software to enhance your CRM, such as Slack, Google Sheet or even SalesForce. ❤️
How much does Visitor Queue cost?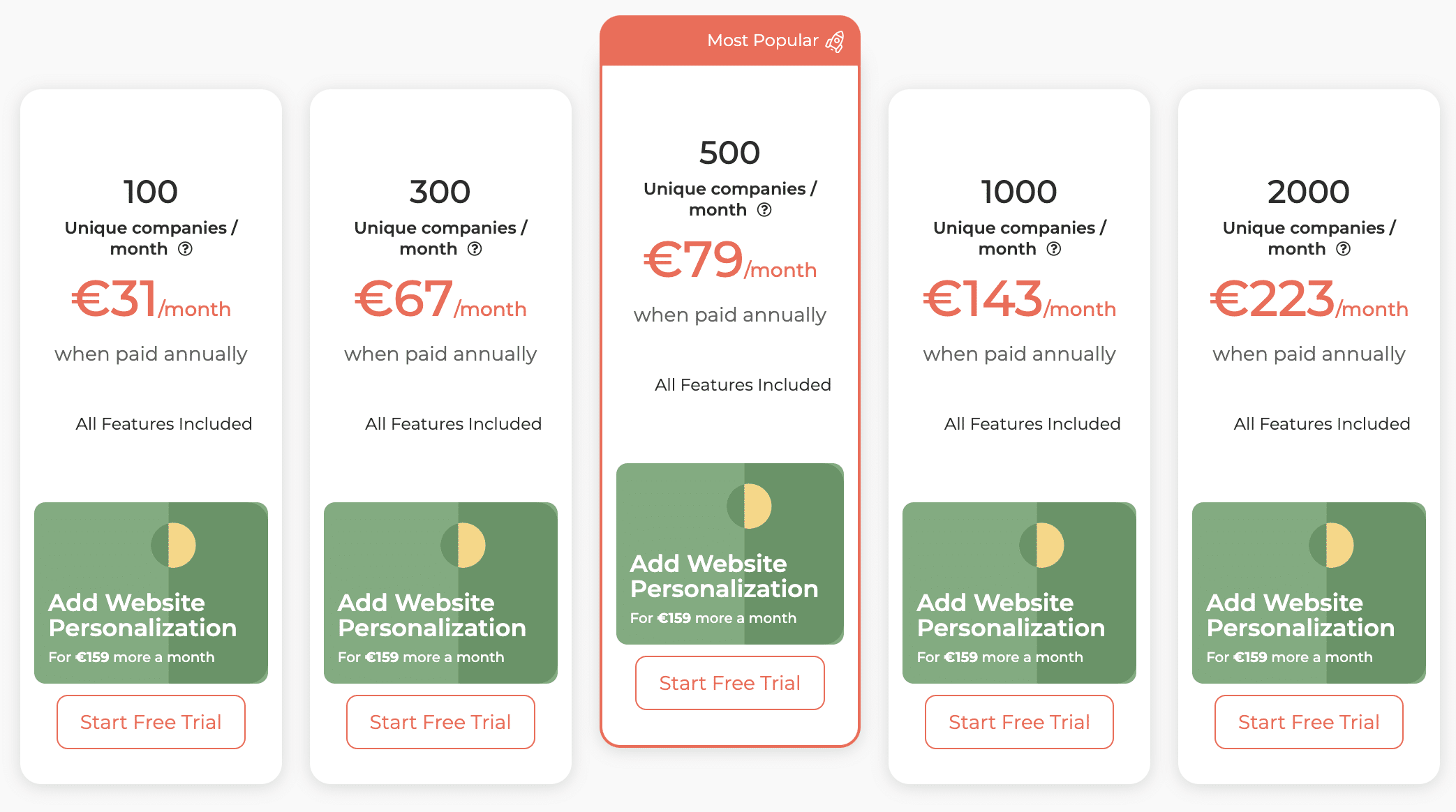 Regarding the price, it varies depending on the number of companies/month. 💰 You also have a 15-day free trial, so take advantage of it to test the tool to see which package is best for you! 📚
#4. Multi-channel prospecting tool LinkedIn + Cold Email :Waalaxy
We weren't going to talk about prospecting tools without talking about our little gem: Waalaxy 👽. It's a chrome extension that connects directly to your LinkedIn account and allows you to automate searches for your potential prospects on LinkedIn and via email. Thanks to Waalaxy, you will be able to:
💚 Find clients easily on LinkedIn

without technical skills,

💚 Grow your network to generate opportunities,
💚 Automatically send invitations and messages on LinkedIn.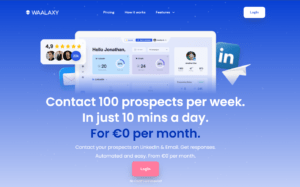 Want to know more about our Waalaxy prospecting tool? Bear with us, we'll talk about it a bit below! 😇
#5. Phoning software: Aircall
The telephone is the basis of commercial prospecting. Used for many years, telephone prospecting has evolved to focus on the most advantageous customers.
We all remember that famous call from a Free salesman trying to sell us the latest Livebox. The truth is that no matter how much we said no, he was trying to sell it to us, even if it meant being a bit too insistent! 📞
That's why I give you 3 tips to succeed in your telephone prospecting:
🥇 Active listening: listen to your prospect, if your product does not match his expectations, do not force.
🥈 Attract attention: you only have 10 seconds to seduce your interlocutor, so don't hesitate to prepare a catchy pitch.
🥉 You are a human being: don't learn your pitch by heart, your interlocutor wants to talk to a human and not to a robot reciting his script.
Aircall is a cloud-based telephony solution, including the following features:
Business telephony: special numbers, hotline, conference calls, 📳
Collaboration: shared contacts, call transfer, shared call log, 🤝🏼
Call center: dual call, time routing, call recording, ⏺️
Productivity: search filters, CRM integration, call tagging, dual listening. 🧏🏼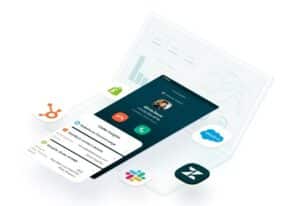 What is the price of Aircall?
Aircall offers 3 plans, which are:
Essentials ➡️ 90€ per month and 3 users minimum.
Professional➡️ 150€ per month and 3 users minimum.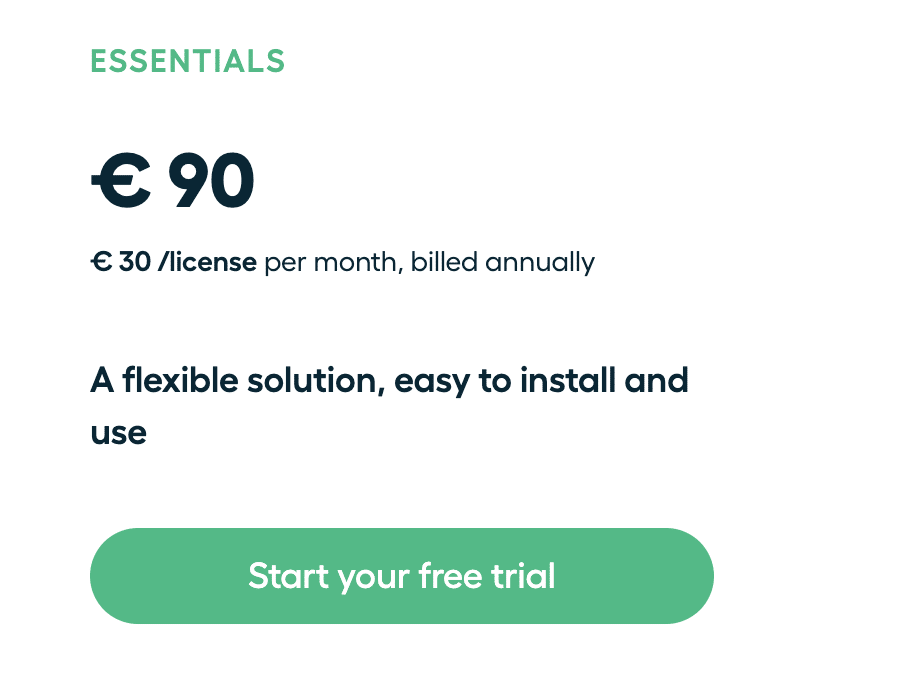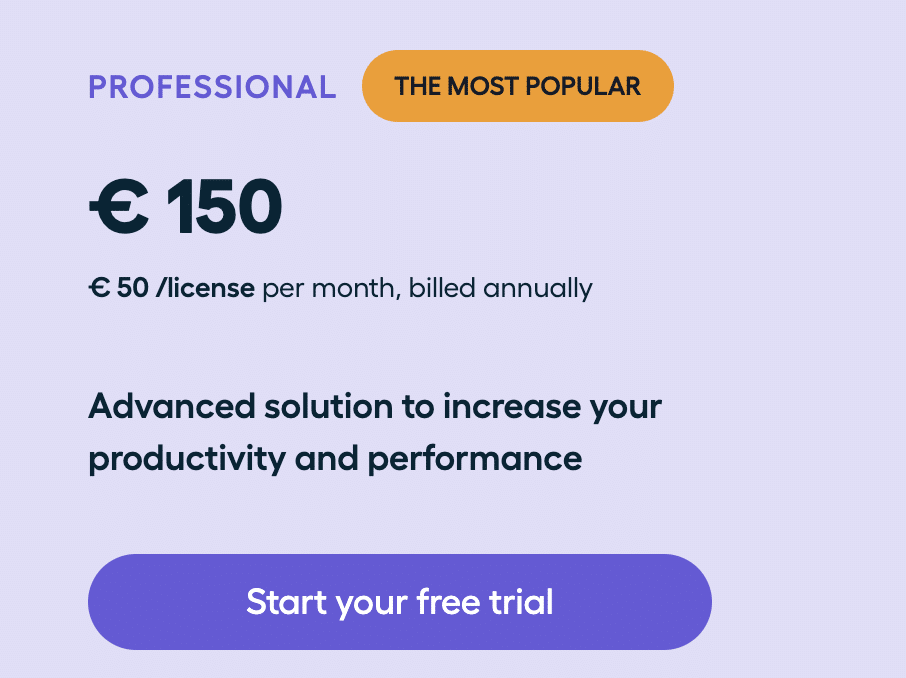 #6. Develop your business: HubSpot Sales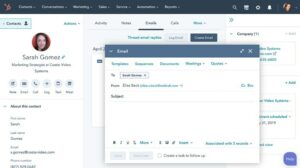 Hubspot is a CRM that brings together all the necessary tools for marketing, sales, customer service or even content management.
With HubSpot Sales, you have access to the following features:
Email templates: you can customize your sales emails with the data collected via the CRM, and also share them with your team. 🥰
Email tracking: you are notified when a prospect opens your email! This allows you to take the next step faster. 🏎️
Document management and tracking: you can share documents directly from your Gmail or Outlook and add documents to a library you create, right in the software. 📄
Conversational intelligence: with automatic recording of every call, you can see and analyze your team's performance. 🧑🏻🤝🧑🏼
Sales automation: you can set up multiple tasks and your emails to automate your sales process. 😎
What is the price of Hubspot Sales?
This software has a free version and several versions available by subscription, you have more details here : ⬇️
Starter: from 41€/month,
Pro: from 414€/month,
Enterprise: from €1,104/month.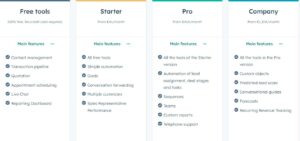 #7. Send newsletters: MailChimp
You want to send nice newsletters with beautiful visuals without breaking the bank? It's possible, thanks to Mailchimp. 🤩
This mailing tool offers the following features:
◼️ Audience management: segmentation, behavioral targeting, demographic forecasting.
◼️ Creation tools: creation wizard, campaign templates, dynamic content.
◼️ Marketing automation: customer journey and integrations.
◼️ Information and analytics: A/B testing, smart recommendations, reports.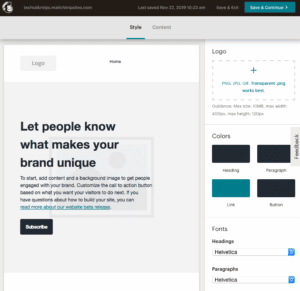 How much does Mailchimp cost?
Mailchimp has a free version, limited to 10,000 email sends per month and 2,000 contacts.
You also have 3 marketing plans:
Essentials: starting at €12,20/month. ✨
Standard: from 18,77€/month. 💫
Premium: from 329€/month. 🔝
These prices may vary, depending on how many contacts you have. Here, I based my pricing on 500 contacts.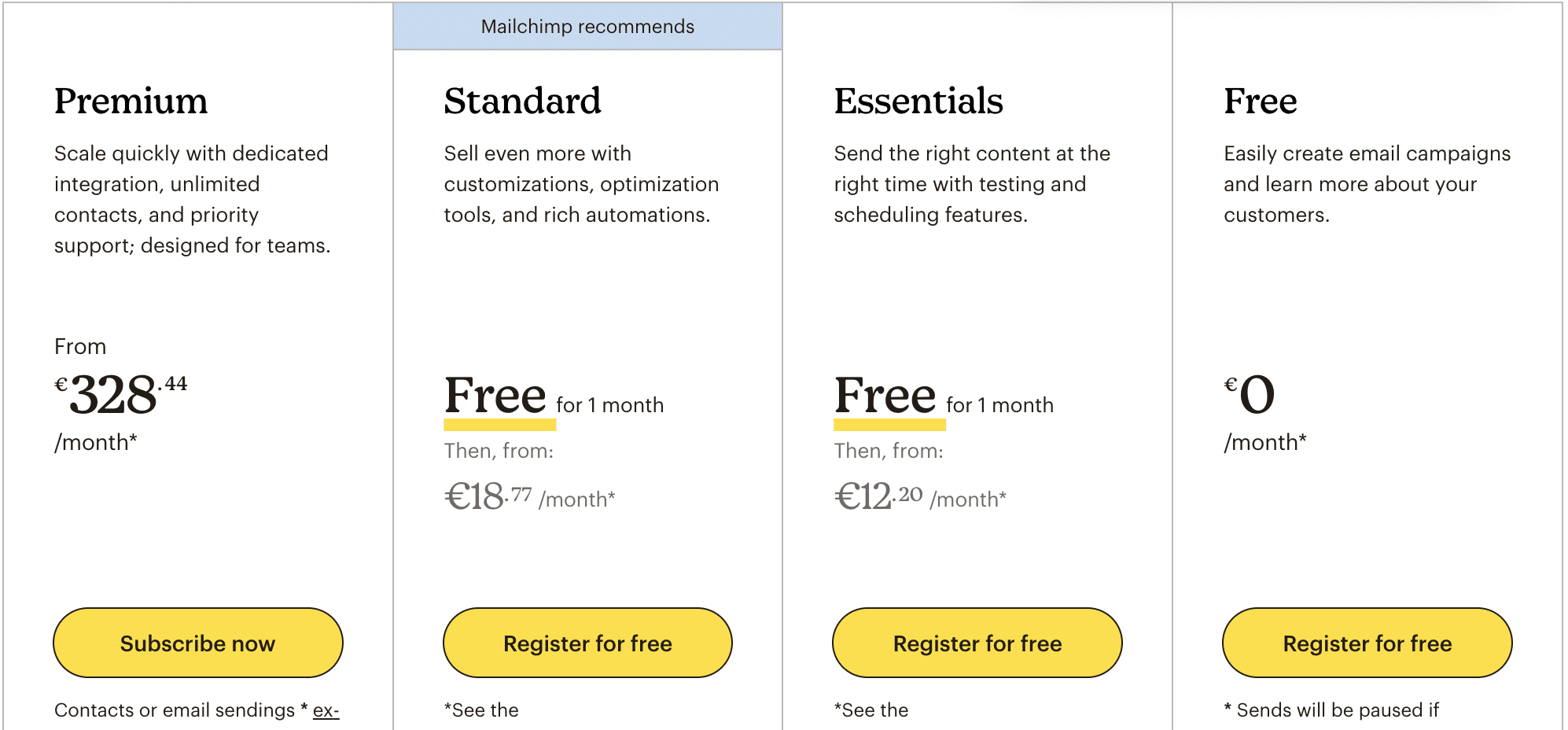 #8. Qualify your prospects: NoCRM
As you might have guessed (or not), NoCRM is not a CRM but well and truly a digital prospecting tool that helps companies prospect for new customers and increase the number of leads quickly. ️ You must be wondering what features this business tool offers? Don't move, I will give them to you with great pleasure! 👆🏼
Email integration: directly exchange emails with your prospects via the app using custom message templates to save time. ⏲️
Sales goals: goal creation boosts your team's productivity and tracks their progress in real time. 📊
Call script generator: you can create cold call templates to help your salespeople structure and retrieve important information. 📞
Data analysis: access sales reports directly to get key insights for your business. 📜
Action plan calendar: define and plan your sales reminder actions (a call or even a meeting). 🗓️

The little extra feature that makes you happy, NoCRM is available in app version on Android and IOS. 🔥 Perfect for adding, tracking, managing, and closing your pending deals while on the go! 🚗
What is the price of noCRM?
The price of this sales tool varies according to your strategy. There are 3 options available to you:
Starter Kit (3 users max) : 10€/per user and per month,
Sales Experts: 19€/per user and per month,
Dream Team: 29€/per user and per month.
To get a better overview of the different subscriptions, it's this way. ⬇️

#9. Schedule: Google Calendar
No need to present it anymore, Google Calendar is the calendar you need if you want to make a good prospecting!
Thanks to it, you will know which days you have to do your prospecting reminders for example!
The little plus, Google Calendar integrates with most other business prospecting tools! 🥰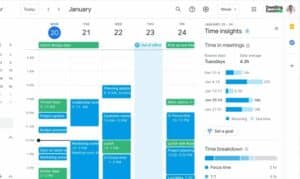 What is the price of Google Calendar?
Regarding the price, Google Calendar is offered by Google to anyone who has an account! 🤩
#10. Customer relationship management : SalesForce
SalesForce is a CRM, i.e. a cloud-based customer relationship management solution, which allows all business areas(marketing, sales, customer service, e-commerce), to have an overview of your customers, on one platform! 🤩 In short, it's going to help you improve your business efficiency, across the board. Okay but, what is SalesForce for? ⬇️
🔍 Attract more buyers with personalized marketing.
📈 Gain new customers by getting to know their needs and interests.
🎁 Deliver the shopping experience your customers expect.
💬 Respond faster to your customers' inquiries and build trust with them.
💟 Automate administrative tasks by building the custom applications you need.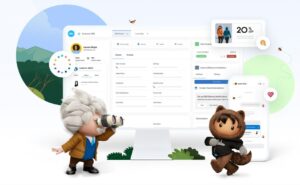 How much does SalesForce cost?
You can try the tool for free for 30 days and have access to the following features:
Track your contacts and manage your pipeline. ⏭️
Get an overview of each customer. 👀
Track interactions with your customers: emails, calls, meetings. 📲
Get business data with daily reports. 📖
After the trial period has expired, you can choose between 4 subscriptions:
Essentials: ready-to-use CRM for up to 10 users → €25/month.
Professional: full-featured CRM (no limit on users) → 75€/month.
Enterprise : fully customizable CRM → 150€/month.
Unlimited : unlimited CRM and support → 300€/month.
Here is a comparison table of the different main features of the subscriptions. 👇🏼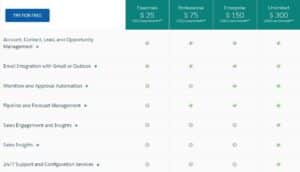 #11. Manage your prospecting file: PipeDrive
A 360-degree view of all your sales operations? That's what PipeDrive offers. 🥰 Used by over 100,000 companies, this pipeline sales software allows for more sales and less manual work. Let's find out what their products include:
Sales software: all-in-one sales software that helps grow your business. ️
Email marketing software: create and customize email campaigns. 📧
Integrations: sync this CRM with apps like Slack or even Asana. 🖥️
Web visitor tracking: find out who is visiting your website. 🌐
LeadBoost: extension that helps generate more high-quality leads. 📈

How much does PipeDrive cost?
PipeDrive offers 4 plans depending on your needs:
Essential ➡️ 19.90/per user per month.
Advanced ➡️ 34.90/per user and month.
Professional ➡️ 59,90€/per user and per month.
Enterprise ➡️ 119,90€/per user and per month.
A little zoom on the details of the 4 plans ? It's a gift! 🎁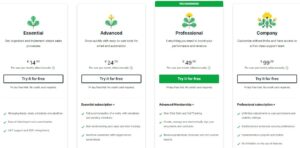 #12. Coaching tool: Salesloft
Salesloft is a sales prospecting tool to define and execute an automated cadence prospecting strategy. 👀 Here's what you can do with Salesloft:
🥇 Cadence + Automation: track prospects throughout the sales process.
🥈 Composer + Messages: coaching tool as well as customizable private messages.
🥉 Analytics + Reporting: get an overview of your business and results.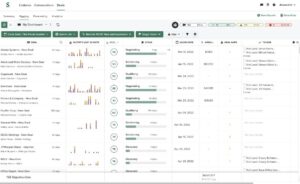 What is the price of Salesloft?
Salesloft offers 4 plans:
☑️ Perspective: to generate a pipeline.
☑️ Selling: to close deals and coach teams.
☑️ Engage: to drive expansion and renewals.
☑️ Enterprise: everything from a to z.
For each of the above offerings, I invite you to contact them so they can make a custom quote.
Why use sales prospecting tools?
Prospecting is a rather vague word, as you can prospect companies or just as well, prospect for new customers! 😎 You can very well do your prospecting manually, via "classic" tools like Excel, Google Doc, etc, but, you will waste time doing it while dealing with appointment setting or even prospect follow-up. ⏲️ Let's find out more about why it's advisable to use a prospecting software! 👀
Improve your sales productivity
A huge time-saver, sales prospecting tools help team members access the data they need quickly. Note that most sales tools have calendars, which is handy for knowing when you have an appointment with your potential customers, when you need to follow up on a certain lead and the ability to share it with your team. 🔥 Also, it is important to set prospecting goals, necessary to guide your employees.
Centralize customer data
Okay, you can use Outlook or Excel as your database management but, these software are very unintuitive and become obsolete by force. 👎🏼 Using a prospecting tool as a database allows you to follow up and qualify prospects, thanks to a follow-up of the prospect's interactions (website, email opening) and to know if they are potentially convertible into a customer and why. 🤔
Have a high-performance prospecting team
According to a study conducted by Deloitte's Fast 500 EMEA, 63% of companies have a team dedicated to prospecting.
Business prospecting has become essential for companies, as it helps in their economic development. 🪙 Succeeding in its commercial approaches is possible thanks to a quality prospecting approach, without forgetting a competent sales team! ❤️ The key 🗝️ to success is to have a team with complementary profiles. For example, some are good at acquiring future customers, others excel at negotiation. ✨
Generate qualified leads
Doing sales outreach is good, but converting potential leads into future customers is better. 😎
He/she generates interest in your product or service by staying informed about your news via signing up for your newsletter, for example. ➕
He is willing to pay for you to solve his problem. 🤌🏼
His open rate on newsletters is higher than average. 📈
He has the profile of your ideal typical customer. 😍
Once you've analyzed whether your prospect is potentially a qualified lead, don't hesitate to focus your sales efforts on it.
Our advice for a good b2b sales prospecting
Commercial prospecting allows the commercial development of your company, so it should not be neglected. For several years, the explosion of digital has made the competition even tougher than it was. That's why you need to arm yourself 🔫 with good prospecting and good sales prospecting tools to go out and win new customers! 🚀
4 tips to optimize your business prospecting
So here are my 4 tips to have a nugget sales prospecting. 🥇
1. Set sales objectives
Goals help motivate teams and most importantly, know where you're going. 🗺️ For example, here are some business goals that can be used for sales approaches 👇🏼
🗓️ Get 200 emails from prospects in a month,
🤝🏼 Close 10 business sales,
📩 Send 5 campaigns,
👌🏼 Realize 15 quotes.
2. Do targeted prospecting
Going out to find prospects is great, but you need to prioritize the prospects that are most likely to turn into customers. 💟 To do this, you can list all the typical criteria of your ideal customer. 😍
3. Sample LinkedIn prospecting message
With over 850 million users worldwide, LinkedIn is the world's leading professional social network. 🌍 For your prospecting to work on this social network, you need to offer a human relationship to your prospects, so let's avoid generic messages and go for personalized ones!
For example, you are a company and you have just published information about one of your products and a potential prospect commented on your publication. You can then send him this:
If you are still in need of inspiration, check out 12 custom post templates on this article. 👈🏼
4. Must-have marketing tool: Waalaxy
As a matter of course, we're going to talk about our go-to marketing tool: Waalaxy 🪐. Efficient, Waalaxy saves time while maintaining quality prospecting. 🏅
Easy to use, multi-channel campaign automation is simple and accessible. 😍 Still not convinced? Check out our tool with this short video. ⬇️
What about a recap ?
It is already the end of this article… Let's remember what we discussed together:
🔎 Analyze the top 12 sales prospecting tools.
🤔 Why use sales prospecting tools?
💭 Our tips for good b2b sales prospecting.
FAQ of the article
How to track a campaign on Waalaxy?
If you don't know how to do it, you can read our article on how to create your campaign on Waalaxy. To track a campaign, just follow this short tutorial:
Go to the "Campaigns" section present on the left.
Click on the campaign of your choice.
You should normally arrive on this page ⬇️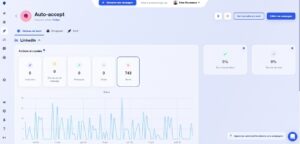 Here you have all the information you need for your analyses, namely the open rate, the number of messages received or even the number of visits. ❤️ There you go, you now know how to track your Waalaxy prospecting campaign! 👽
What are the two main types of prospecting?
As you know, there are currently two main families of business prospecting: analog and digital. But, what is the difference between the two? 👀
Analog commercial prospecting: traditional techniques, such as mass emailing, physical prospecting (door-to-door), telephone prospecting or prospecting at trade shows.
Digital prospecting: based on "social selling", it is used via different channels, such as social networks, sales prospecting tools, SEO or Inbound Marketing.
Now it's up to you to decide which sales prospecting technique you want to use based on your needs, your goals and most importantly, your budget! 💲 That's it, now it's up to you to make your choice on the different business prospecting tools mentioned in this article! 🚀