Welcome to the world of crm tools. A world sometimes considered mysterious and feared by many professionals. But rest assured, in this article we're going to dispel 😶‍🌫️ the fog and explore the world of CRM! Get ready to discover how these tools can turn your interactions with customers into a hit comedy, while improving your business
Fasten your seatbelts, here we go! 🏎️
When should you use a CRM?
Using CRM (customer relationship management) software helps to organise and synchronise certain stages, including sales processes, the marketing department, technical support and sales. 😄
1) Boost your marketing
With crm software, you'll be able to offer targeted acquisition and loyalty operations. For example, you'll be able to plan and personalise marketing campaigns, while having a 360° view of your actions. 🌍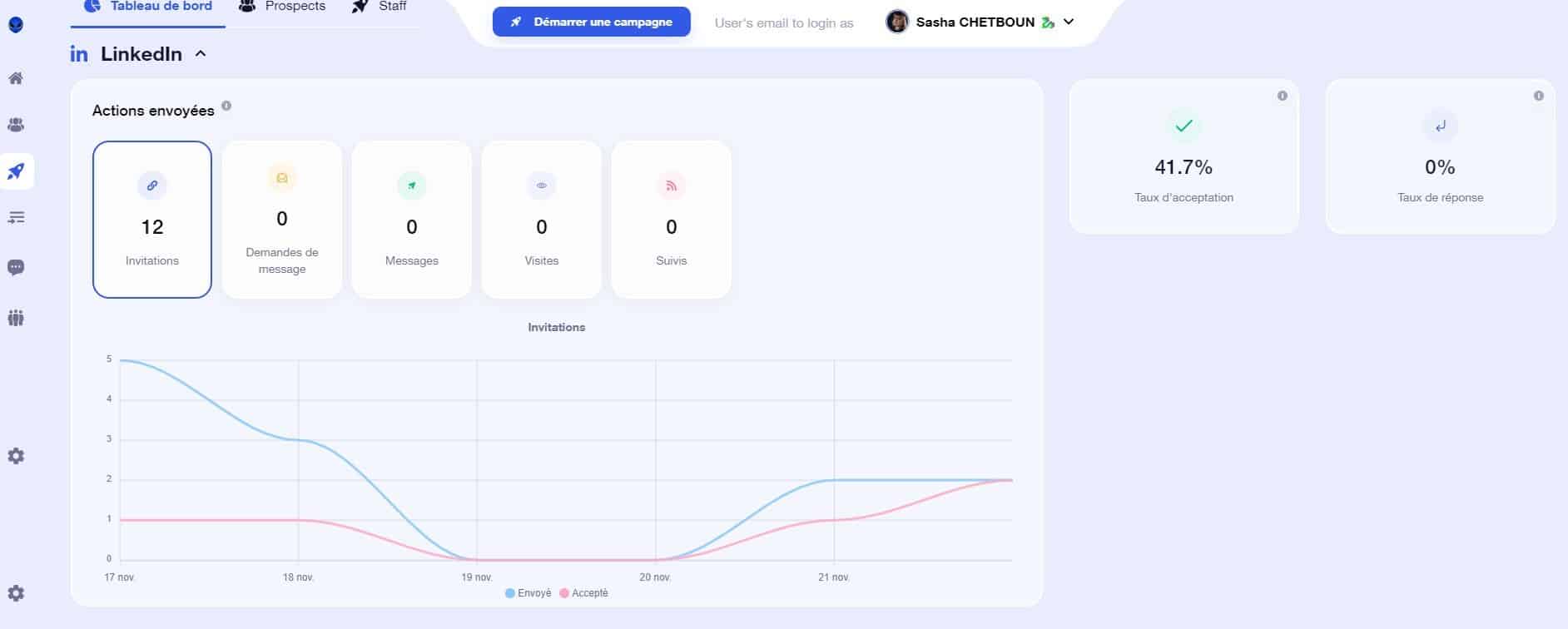 What's more, during your campaigns, you'll be able to track and analyse their progress, what worked and what didn't, while producing reports such as profitability analyses, measuring the results obtained, etc
2) Boost your sales
All the tasks that are often redundant, such as scheduling calls, sending invoices and managing quotes, can be carried out using a customer relationship management tool
3) Build customer loyalty
Yes, this is one area that should not be neglected. Without customers, you'll find it hard to sell your products or services. That's why using a Saas to track customer interactions, the team in charge of customers will gain in efficiency and, above all, responsiveness! 🥰
What's the difference between CRM software and ERP software?
If you search on Google CRM definition, you may see ERP software come up. But what is it? 🤔
An erp (enterprise resource plannings) or ERP (enterprise resource planning) tool provides access to all operational processes such as stocks, orders, finance and accounting, production, all on a single database
Among other things, it can be used to plan a company's services, thereby reducing production costs
What better way to illustrate our point than with a visual? 🥰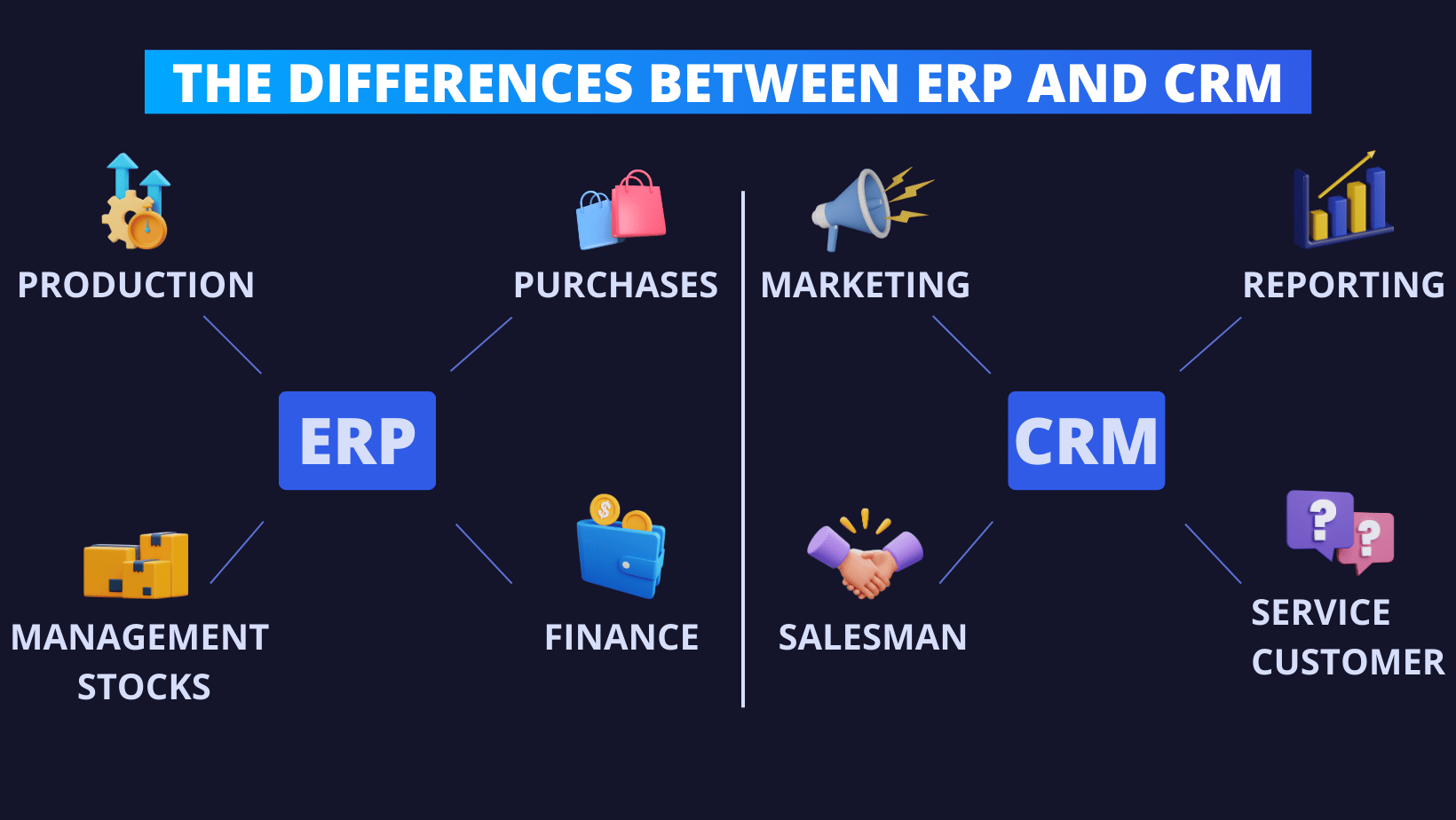 To sum up, an ERP allows you to manage
| | |
| --- | --- |
| Functionalities | ERP |
| Order management | Customer order to after-sales service. |
| Human resources | Management of leave, absences, payroll. |
| Stock management | Real-time inventory. |
| Finance and accounting | Quotes, invoicing, cash flow. |
| Warehousing | Order preparation through to delivery. |
Whereas a CRM allows you to
| | |
| --- | --- |
| Features | CRM |
| Prospecting | Generate leads. |
| Sales | Improve sales management, manage sales and make appointments. |
| Sales | Boost the sales force, centralise customer information, use a collaborative tool. |
| Customer support | Automate and personalise customer support, enhance the customer experience. |
| Warehousing | Order preparation through to delivery. |
5 CRM software applications to make your life easier
1) Monday.com CRM software
Don't worry, this crm tool won't make you work on Mondays, it will help you organise the rest of your week productively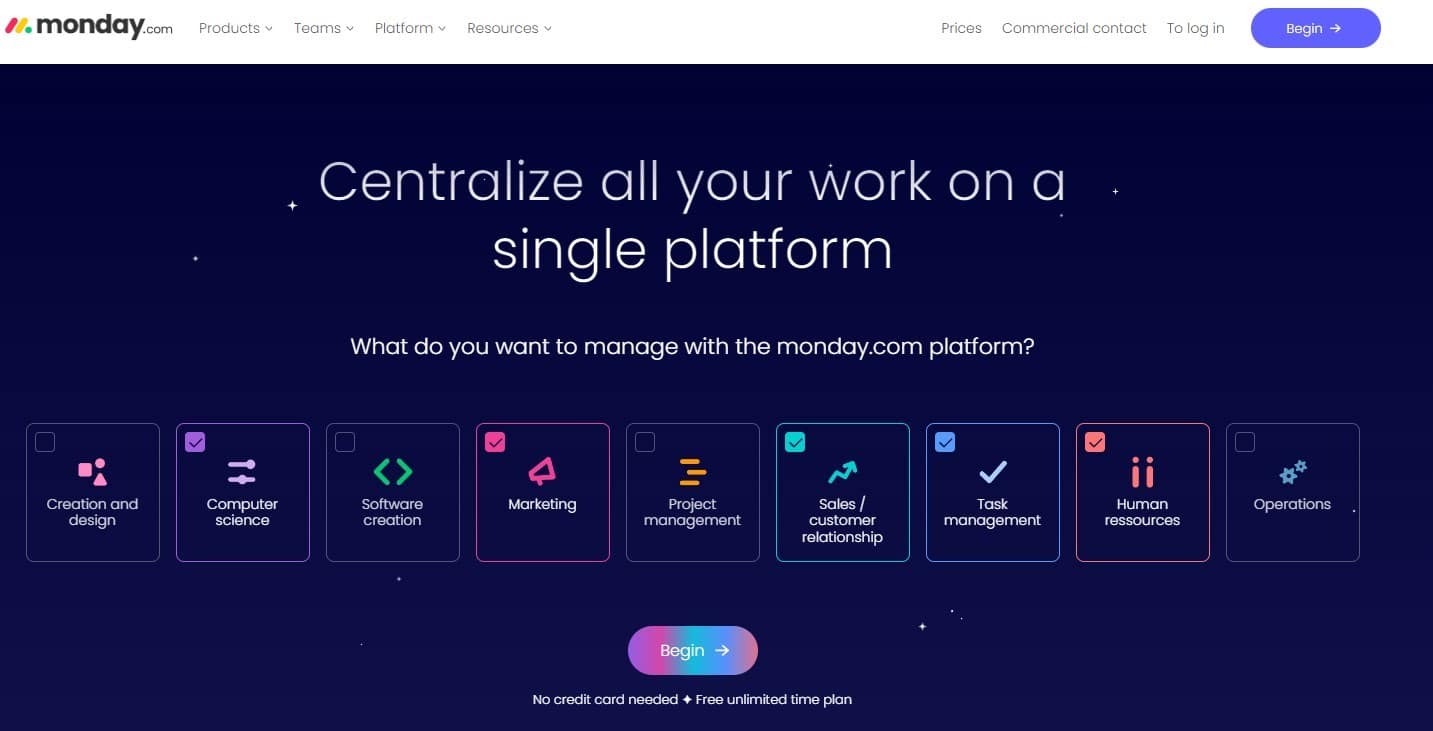 All kidding aside, Monday.com is a CRM software package with a host of features, including
Project management. 💻
Contact and lead management. 🫱🏽‍🫲🏾
Appointment scheduling. 🗓️
Create personalised forms. 📝
Perfect for teams working remotely, as it offers real-time collaboration and transparent project management
Here's a quick look at the pros and cons: ⬇️
✅ Advantages
Ease of use.
Integration with other tools such as Trello or Asana.
24/7 online support.
Attractive, customisable interface.
Let's move on to its price! 👇🏼
How much does Monday.com cost?
This tool offers subscriptions depending on the size of your team. For this example, we've chosen the standard size, i.e. 3 users. Here's what it offers
Individual at

€0/month

➡️ for people who want to keep track of their work.
Basic at

€24/month

➡️ manage all your teams' work in a single space.
Standard at

€30/month

➡️ collaborate and optimise your team's processes.
Pro at

€48/month

➡️ streamline and manage your teams' complex work processes.
Business

(contact them)

➡️ for organisations looking for professional features.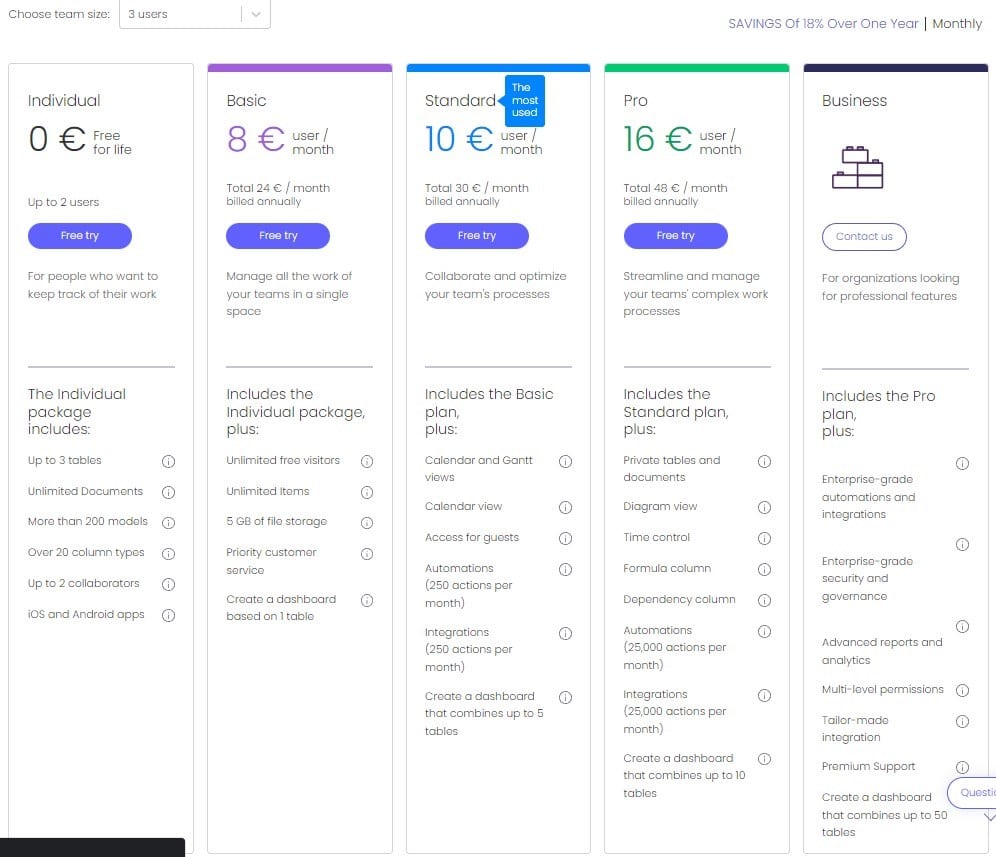 2) Sellsy CRM tool
Sellsy makes life easier for businesses by providing a complete sales, marketing and customer service solution
Here are a few features
🔷 Invoice and quote management.
🔷 Creation of mailing campaigns, lead generation.
🔷 Project management with task tracking, deadlines and budgets for each project.
🔷 Data analysis.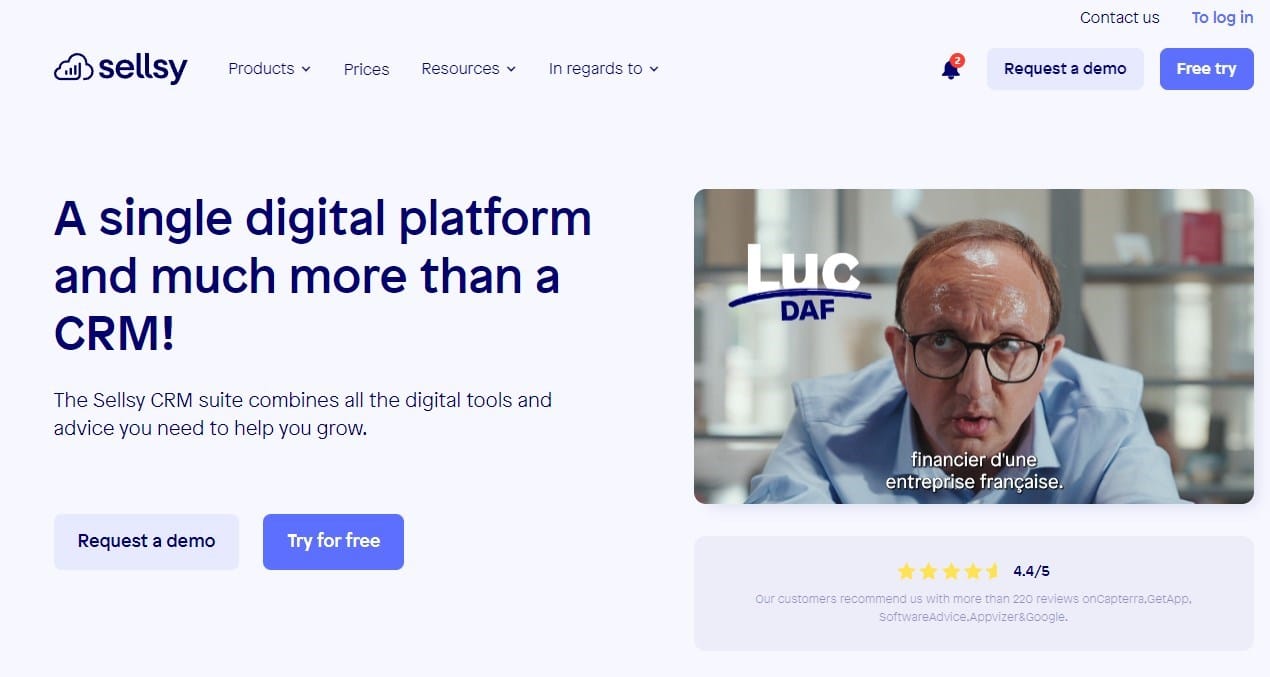 Now let's move on to the advantages VS disadvantages! 🚀
✅ Advantages
All-in-one solution that manages sales, marketing and customer service.
Available on any device.
Easy integration with other applications such as Google Drive, Dropbox…
How much does Sellsy cost?
Sellsy offers packages tailored to your needs. You can buy licences for Prospecting & Sales, Invoicing & Management or both, which is called the CRM suite, available from 2 users, with 3 packages available
Essentials at

€54/month

➡️ the simplest offer for very small businesses.
Advanced at

€90/month

➡️ to optimise the management of your SME.
Enterprise at

€120/month

➡️ for hyper-growth SMEs with 10 or more users.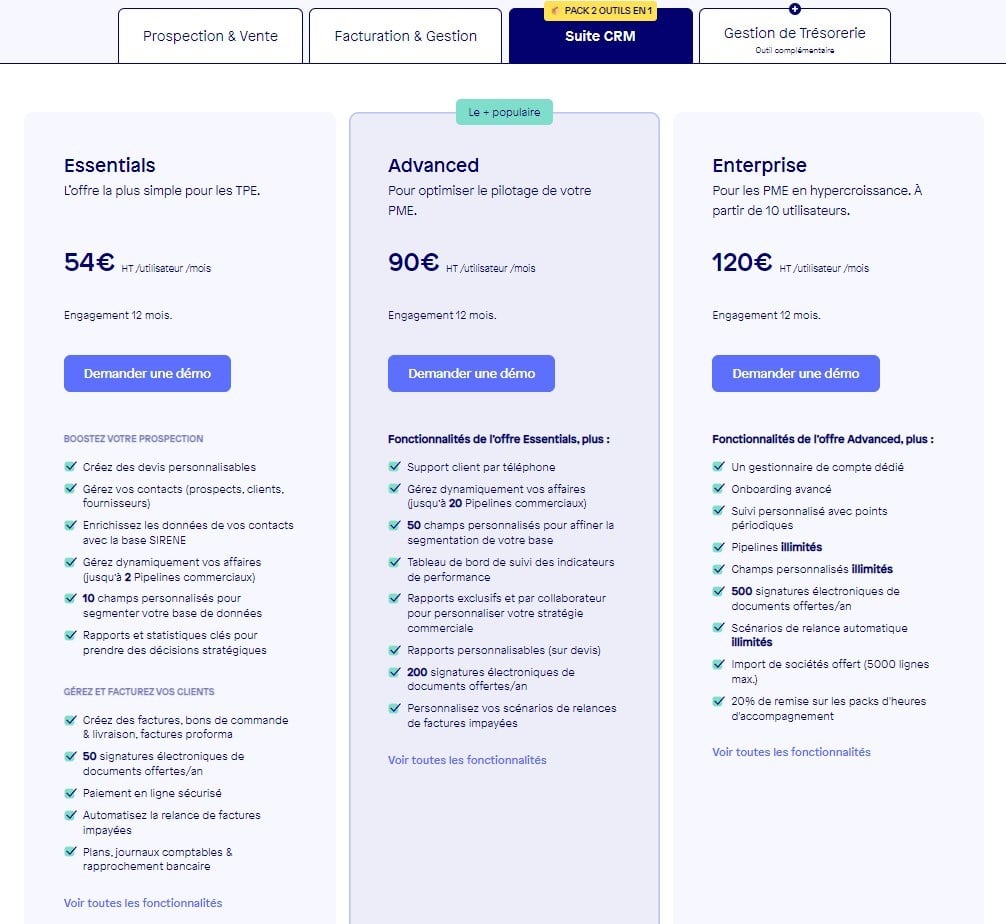 3) CRM and prospecting software: Waalaxy
Inevitably, we couldn't talk about CRM tools without mentioning our little gem: Waalaxy. 👽
Waalaxy is a prospecting and automation software for LinkedIn and InMails, available as a Google Chrome extension
Still not convinced? Check it out! 👇🏼
Right, let's move on to a little tutorial. 🥰
How do you get started with a CRM?
Once everything is ready, start by importing your list of contacts. In our case, we've chosen 50 graphic designers living in Montpellier. 📍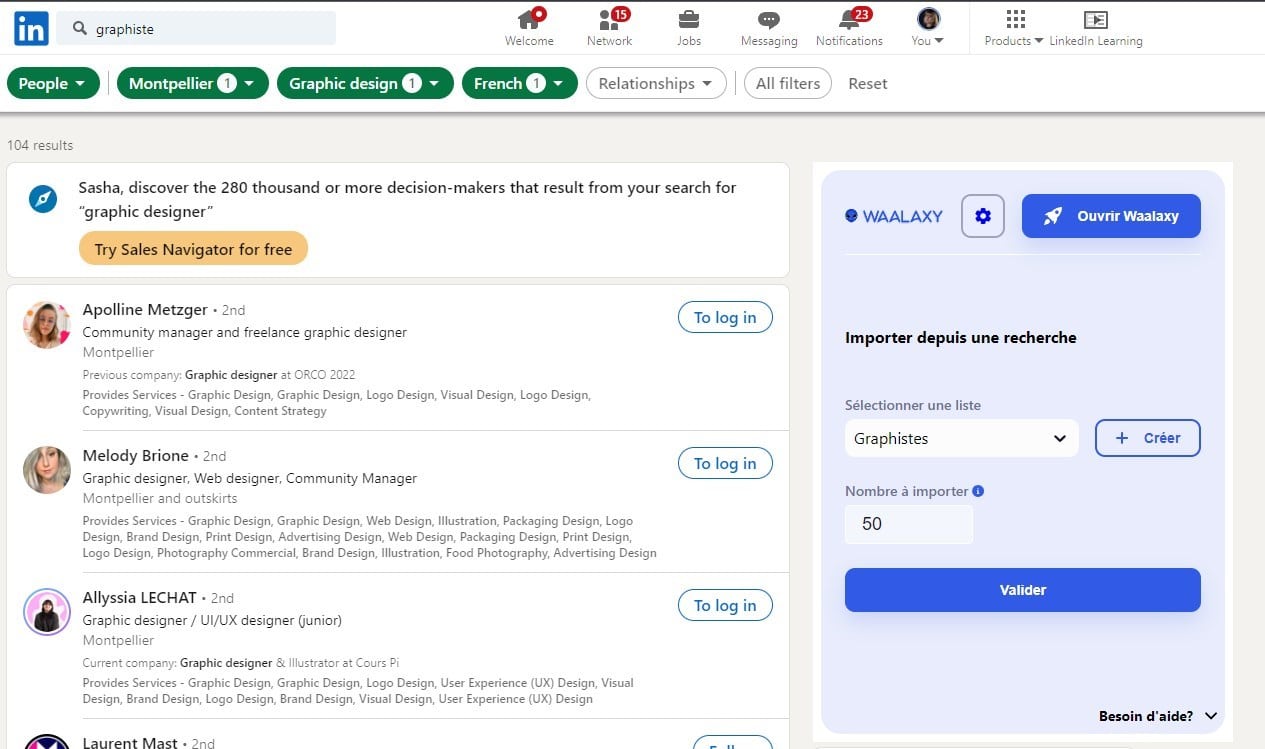 Once your prospects have been imported, they'll be displayed in the list you've created beforehand. Ours is called Graphistes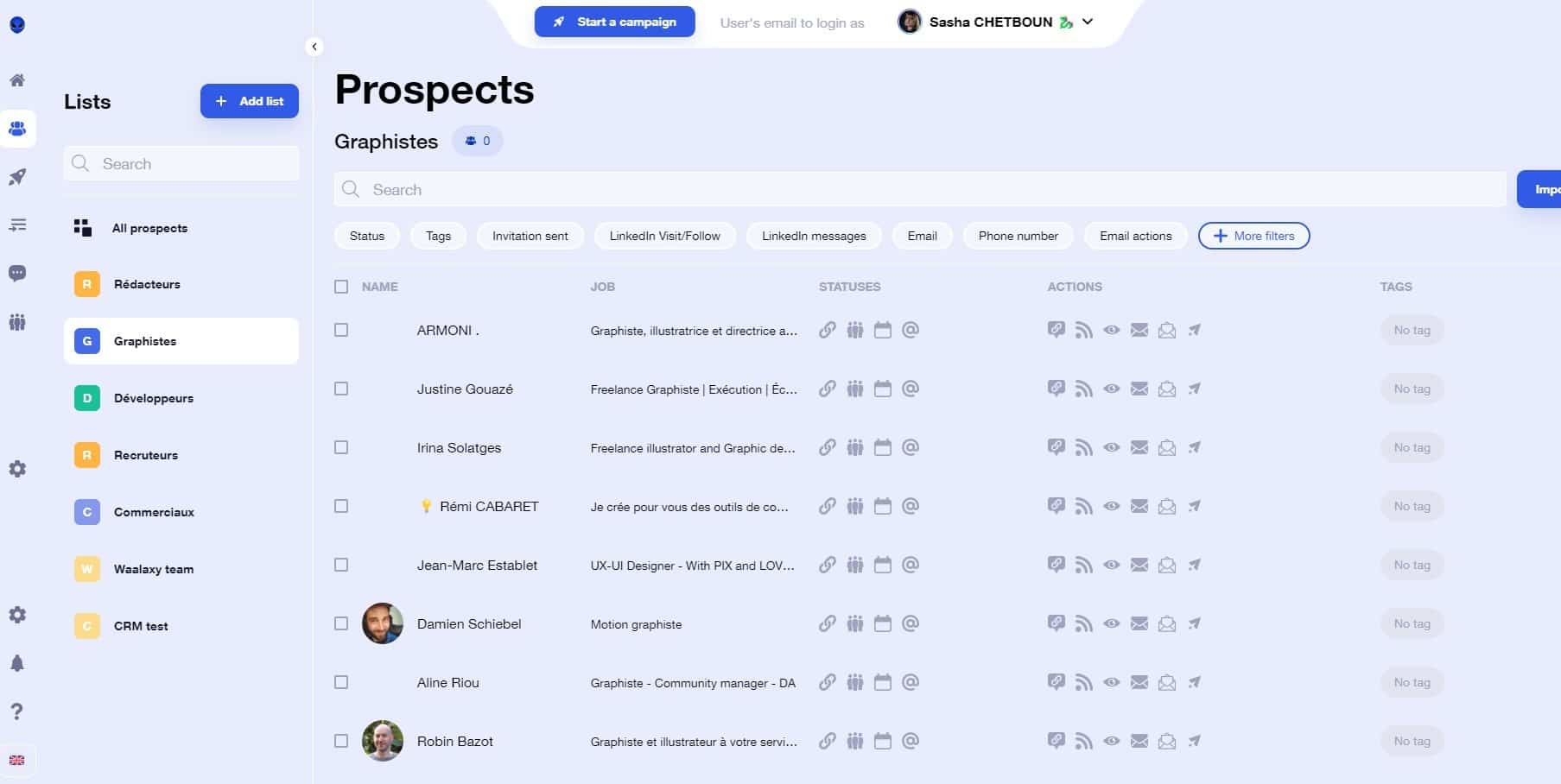 Here, you can click on a profile to add personalised fields such as phone number, email address or birthday and even tags
Don't hesitate to explore other features that will help you improve your business, such as automation and personalised campaigns
Here, we're going to run a campaign to find our prospects' email addresses
So we'll go to "Start a campaign", then select "Visit Email Finder"
🔳 Step 1: Add our prospects. ➕
🔳 Step 2: Visit LinkedIn profile with your LinkedIn account. 👀
🔳 Step 3: Retrieve your prospects' email addresses with Dropcontact. 📩
🔳 Step 4: Launch your campaign. 🏹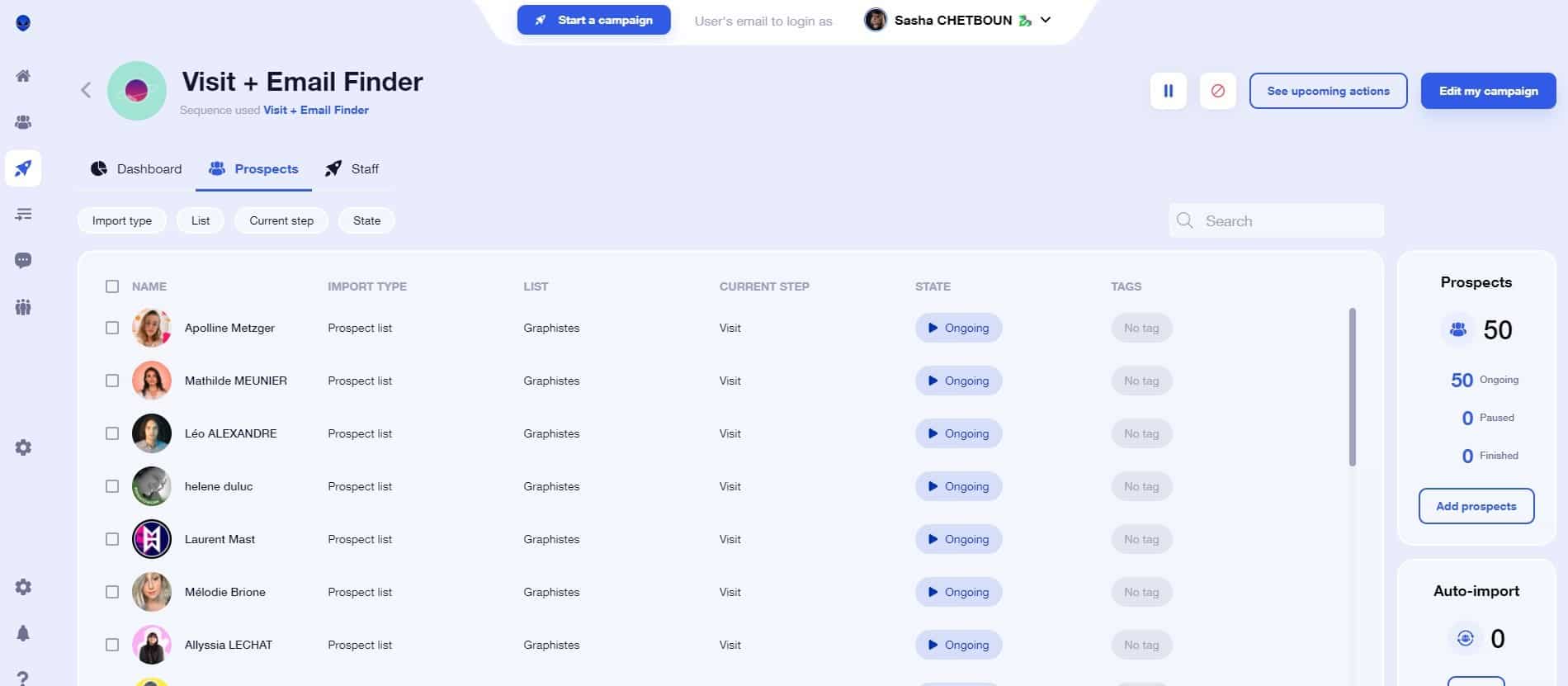 Now all you have to do is wait wisely for your campaign to make its little way. 🐾
You can check the status of your campaign at any time and analyse it in the form of a dashboard. 🔎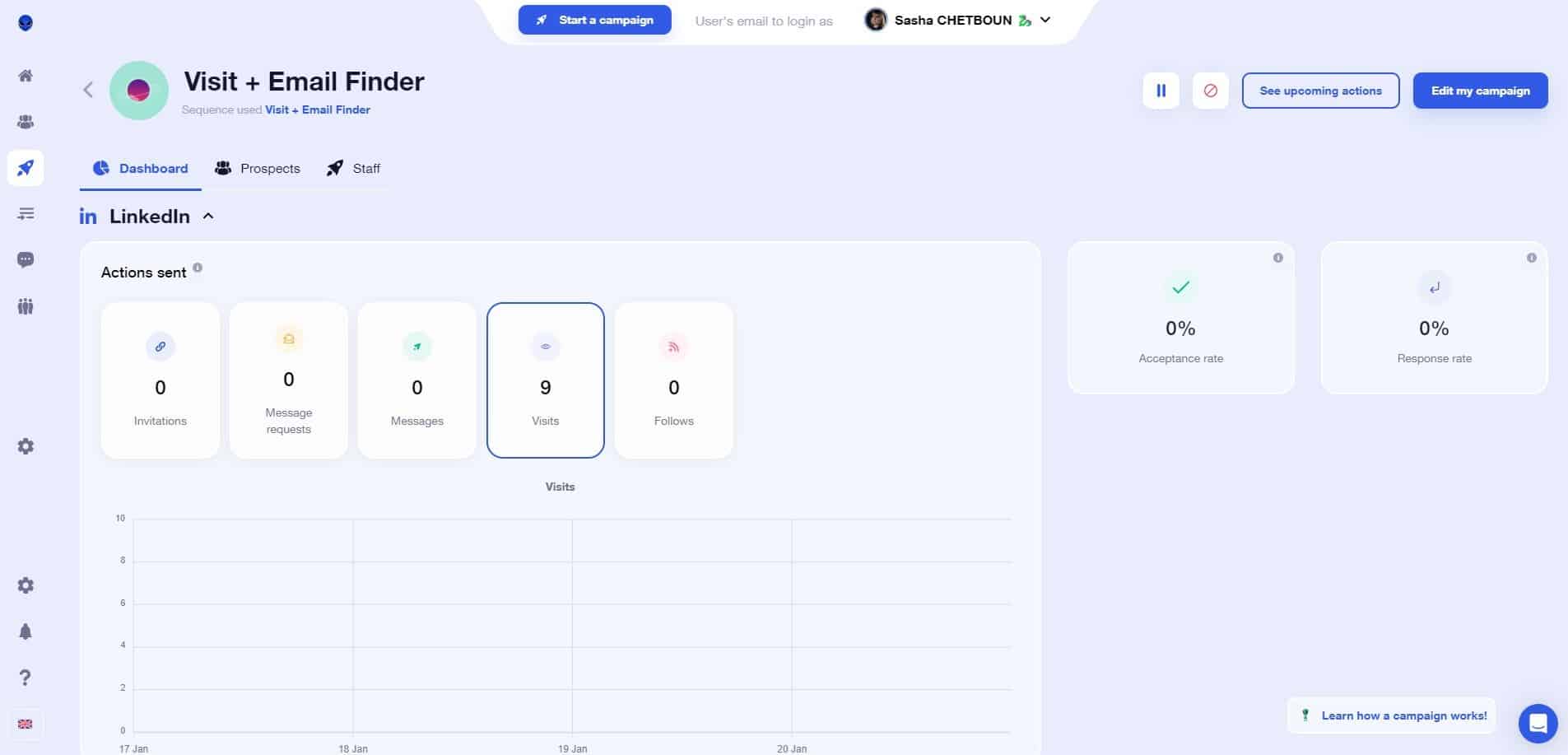 4) Freshsales CRM software
Freshsales is a CRM tool that will help you turn prospects into satisfied customers, thanks to a number of features, including
Lead scoring: allows businesses to prioritise prospects based on their level of engagement and likelihood of purchase.
Multi-channel communication: communicate with customers via several channels, such as the telephone, live chat or e-mail.
Reporting and analysis: producing reports and analyses that enable companies to monitor their performance in terms of sales, marketing and customer service.
Relationship management: track interactions with customers, manage tasks and reminders, monitor sales opportunities and much more.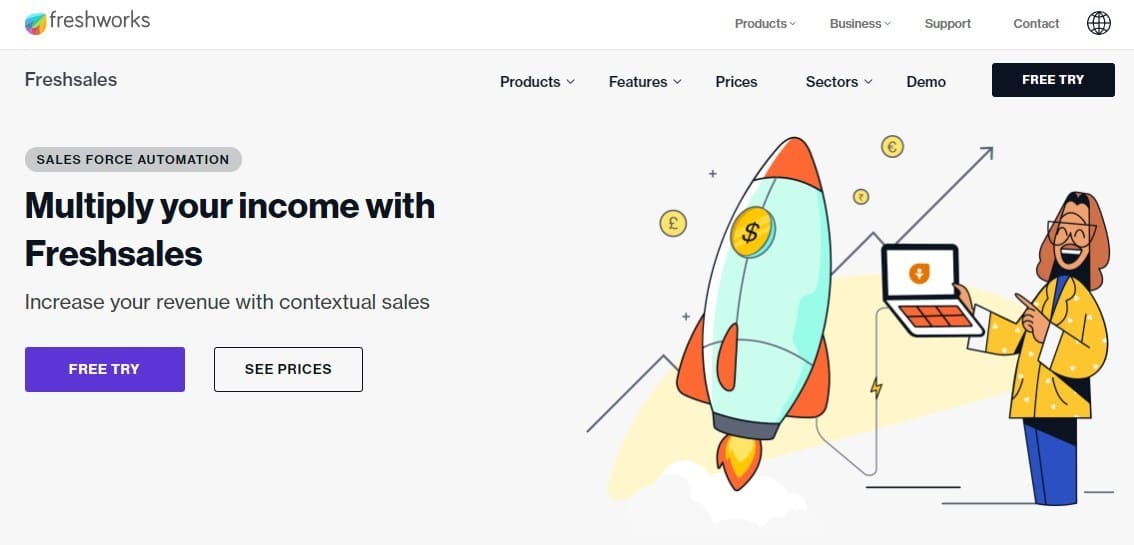 Now let's take a look at the pros and cons. 🤔
✅ Pros
Lead scoring allows you to focus on the most promising prospects, increasing the chances of a sale.
Reporting and analysis features enable businesses to monitor their performance and make clear decisions.
Intuitive, easy-to-use interface, even for beginners.
How much does it cost?
Freshsales offers 3 different plans, as follows: 👇🏼
🥇 Growth at €18/month per user.
🥈 Pro at €47/month per user.
🥉 Enterprise at €83/month per user.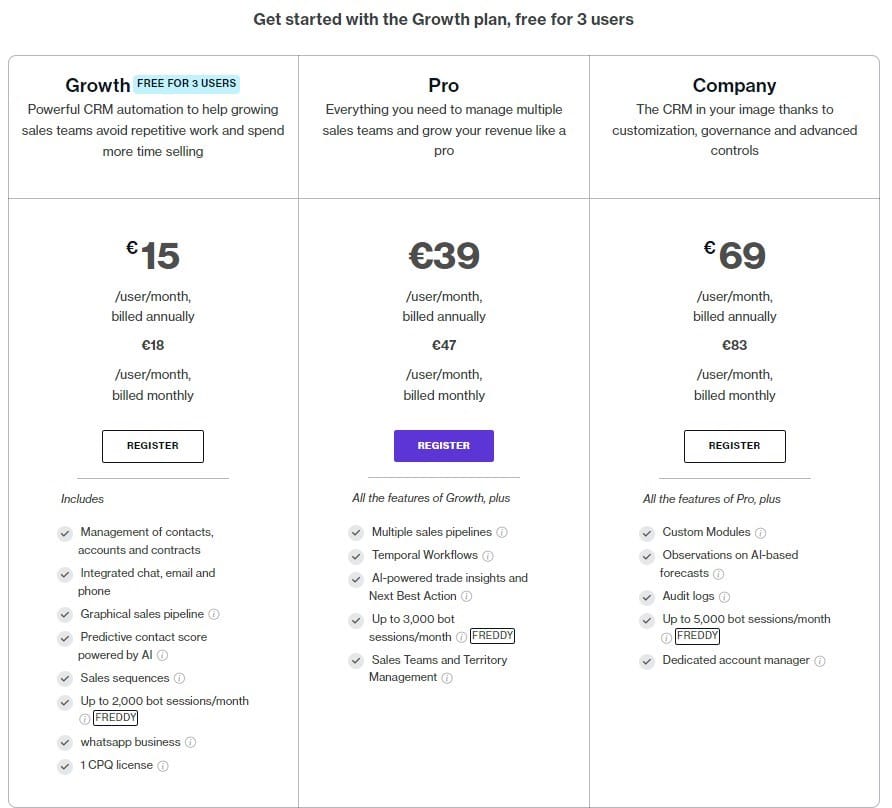 5) Microsoft Dynamics 365 CRM tool
This is crm software from Microsoft that offers you a number of features, including: ⬇️
Sales force automation: allows you to manage sales opportunities, quotes and orders, as well as track sales forecasts.
Marketing and marketing automation: enables companies to create personalised marketing campaigns, generate qualified leads and track the return on investment (ROI) of their marketing efforts.
Customer relationship management: track interactions with customers, prospects and partners.

Let's move on to the pros and cons! 🚀
✅ Advantages
Helps businesses effectively manage their sales pipeline and maximise revenue.
Create more effective campaigns and better understand their audience.
Meets the needs of businesses of all sizes.
How much does Microsoft Dynamics 365 crm software cost?
Microsoft offers several plans, according to several themes, such as
🔲 Small and medium-sized businesses,
🔲 Sales,
🔲 Finance,
🔲 Marketing,
🔲 Supply chain,
🔲 Project management, Human resources,
other…
What we're interested in here is small and medium-sized businesses, here are the rates! ⬇️

How about a recap?
This article will soon be coming to an end, but we're not quite finished yet. We've discovered how these tools can transform your interactions 💬 with customers, data into useful information and boring meetings into memorable moments. 🦋
Here's a quick summary of the 5 pieces of software we've seen in this article: 👇🏼
🟣 Monday.com
🔵 Sellsy.
🟣 Waalaxy.
🔵 Freshsales.
🟣 Microsoft Dynamics 365.
Frequently asked questions
Don't go just yet, we still have a few questions in resource. 👀
What are the 3 main types of CRM tool?
Here's a list of the 3 main types of CRM tools to be aware of
Operational CRM ➡️ focuses on the day-to-day management of the various interactions with customers. 💬 In fact, they include numerous functionalities such as contact management, sales management, customer service management and marketing automation.
CRM analytics ➡️ analyses customer data to provide strategic information such as trends, customer behaviour, preferences and company performance.
Collaborative CRM ➡️ focuses on collaboration within the company to improve communication and coordination between sales, marketing, customer service and other departments.
What is the difference between ERP and CRM tools?
If you'd like to know the difference between an ERP tool and a CRM, here's the visual you can find earlier in this article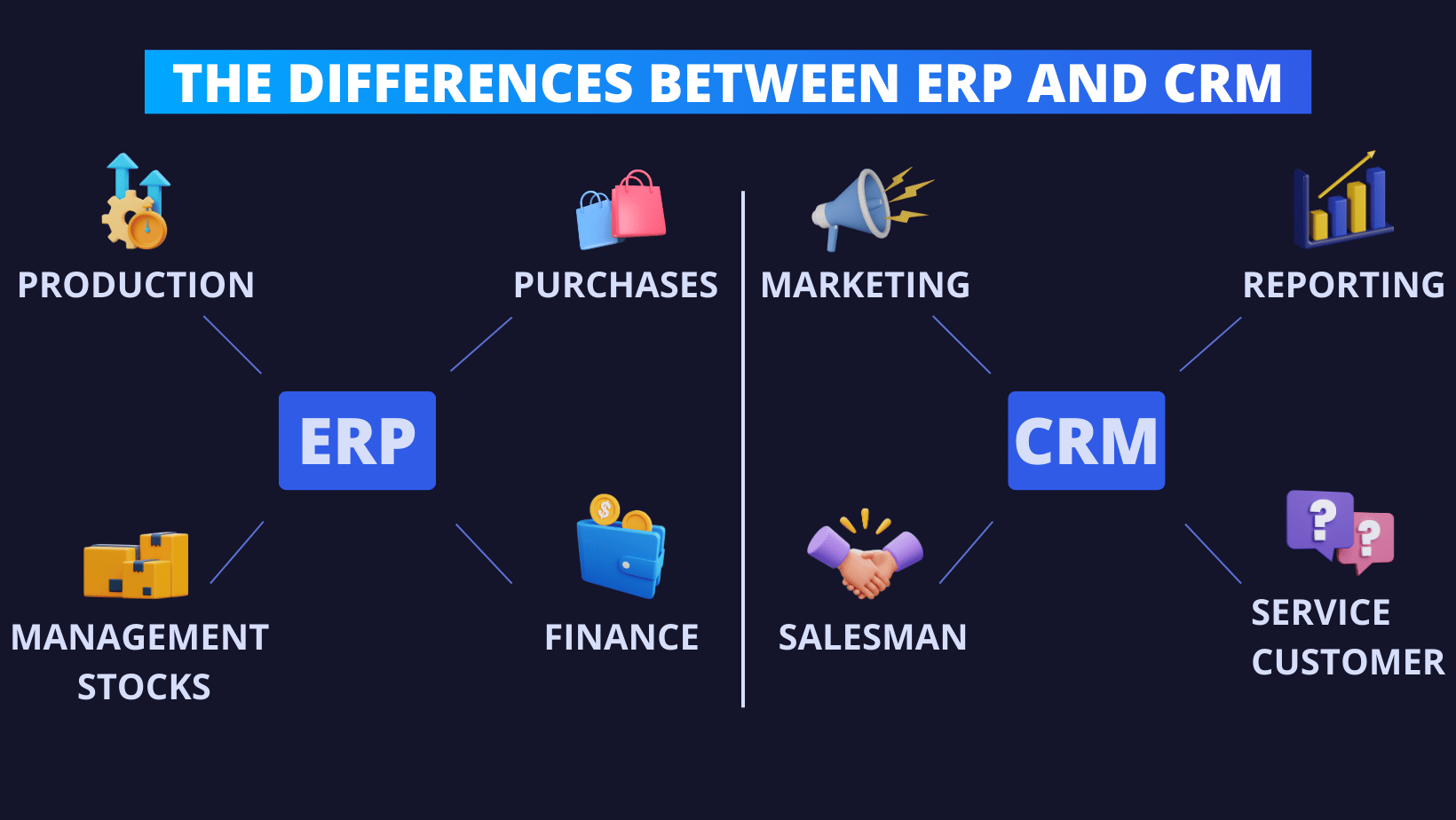 Crm tools: definition
Thanks to this article, you know which crm tools to use depending on your company, situation or field of activity. However, if you want to discover and understand the definition of CRM, we have a dedicated article! It can be found here. ⬅️
To give you a little taste, here's a simple pictorial explanation. 👇🏼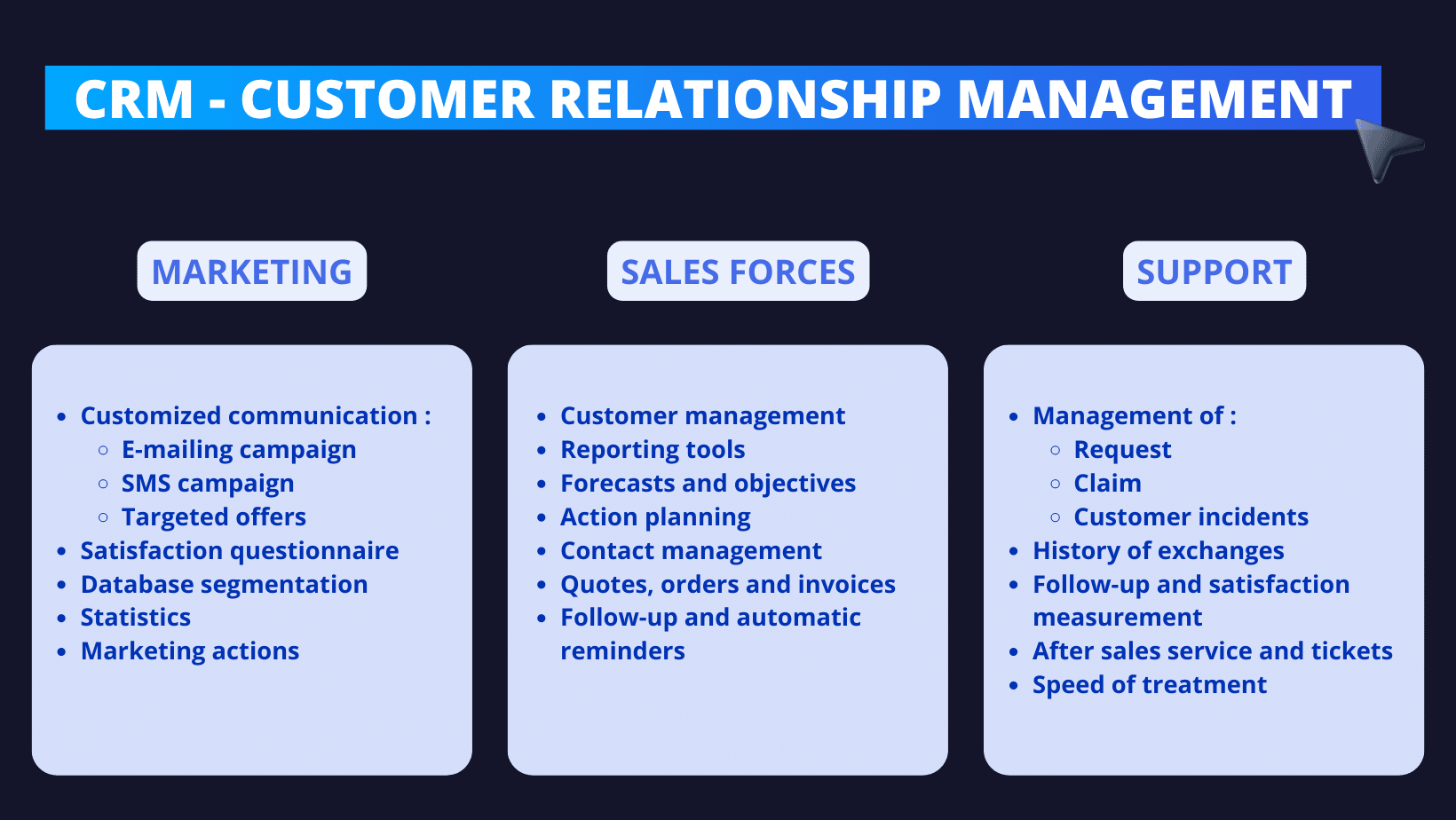 And that's the end of this article about crm tools. See you soon for new adventures in your company! 💟