A few years ago, LinkedIn launched the LinkedIn Audience Network solution. It is an advertising feature complimentary to LinkedIn Ads. It allows companies to promote advertising outside the social-network, through native ads or sponsored content on tens of thousands of sites and mobile applications. 🤩
The platform follows the strategy of its Facebook / Instagram counterpart, leveraging the information it collects about its users and their interests through the social graph. Curious? 👀 Find out more in this article!
How it works?
This new feature is therefore a new way for advertisers to buy display advertising inventory beyond LinkedIn, using demographics from the social network. 📈
At the beginning, the network was rolled out to all English-speaking countries and accompanied by a limited beta testing, since the start of this launch, where more than 6,000 advertisers participated. Nowadays, this feature is only available in the United States, United Kingdom, Canada, Australia, India, Singapore, and New Zealand. 🌎
"On average, these advertisers have seen a 3-13% increase in unique impressions served, and up to an 80% increase in unique clicks. This means that advertisers running campaigns in the Audience Network are reaching new people they hadn't yet engaged on one of LinkedIn's owned and operated properties." Says Divye Khilnani, product manager at LinkedIn, in this announcement.
LinkedIn works in partnership with a number of Ad exchanges platforms for the program, including MoPub, Rubicon, and Sharethrough, which serve to deliver sponsored content to a variety of websites and applications (such as MSN.com, Outlook.com and MyFitnessPal). 👽
The same targeting criteria, bid type, and budget selected for your feed campaign apply when the LinkedIn Audience Network is enabled in the ad campaign setup. 🧐
LinkedIn Audience Network Infographic
Here's an infographic of what you can do using LinkedIn Audience Network: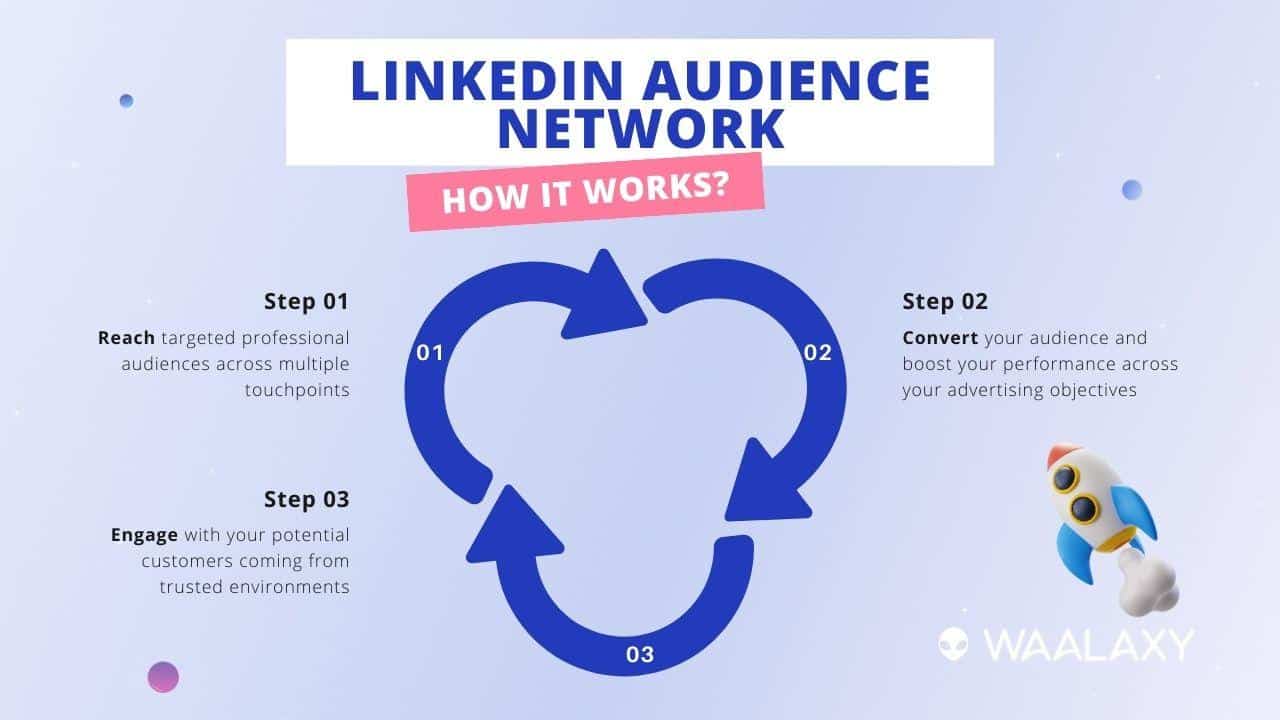 PS: You can also use our multichannel tool: Waalaxy, to capture all the leads coming from your LinkedIn Ads campaigns and follow-up their customer acquisition funnel in our CRM. 🌌 
What can you do with the LinkedIn Audience Network?
You might be wondering what exactly you can do with the LinkedIn Audience Network, and I'm here to shed some light. 💡
Firstly, this feature allows you to increase the reach of your advertisements up to 25%. 💥 Secondly, it increases your engagement because the content will be displayed on LinkedIn, but also across all partner platforms.

The idea is to expand your audience, you could reach millions of professionals on multiple touchpoints just by enabling this option whilst publishing your ad campaigns. ⭐️
LinkedIn Audience Network works with several publishers, who are verified sites, thus ensuring the quality and safety of your brand. It is true that having a bigger audience doesn't mean that there will be more qualified prospects. But, it increases your chances of finding the right ones. ✔️
You could easily become viral on LinkedIn using good marketing strategies, but it can take quite some time and sometimes quantity is put above quality. Some people are becoming viral on LinkedIn or other social media platforms, by posting polls like "do you prefer tea or coffee?"… ☕️ I mean, sure, maybe 10K people will see your post, but you will not get too many sales from this kind of advertisement.
However, LinkedIn Audience Network promises to protect your branding from any kind of fraud, or misuse of your content and to help you achieve your target with brand-safe placements only. Read more about it here!
That's a good news, isn't it? 🤓
How to enable LinkedIn Audience Network?
There are no major changes to the LinkedIn advertising interface. All you have to do is select the Audience Network option during an advertising campaign. For those who are wondering, just like on Google Ads, it is possible to select the categories of site and exclude some. 🚫
Along with the Ad Targeting feature, LinkedIn Audience Network may help encourage an advertiser to take action. Indeed, the entry cost is quite high, which generally leaves the opportunity to large companies. 😓
Nonetheless, you can get started using LinkedIn Audience Network in 3 easy steps :
Create a Sponsored Content campaign, and the option for LinkedIn Audience Network will be active by default for images and video advertising campaigns.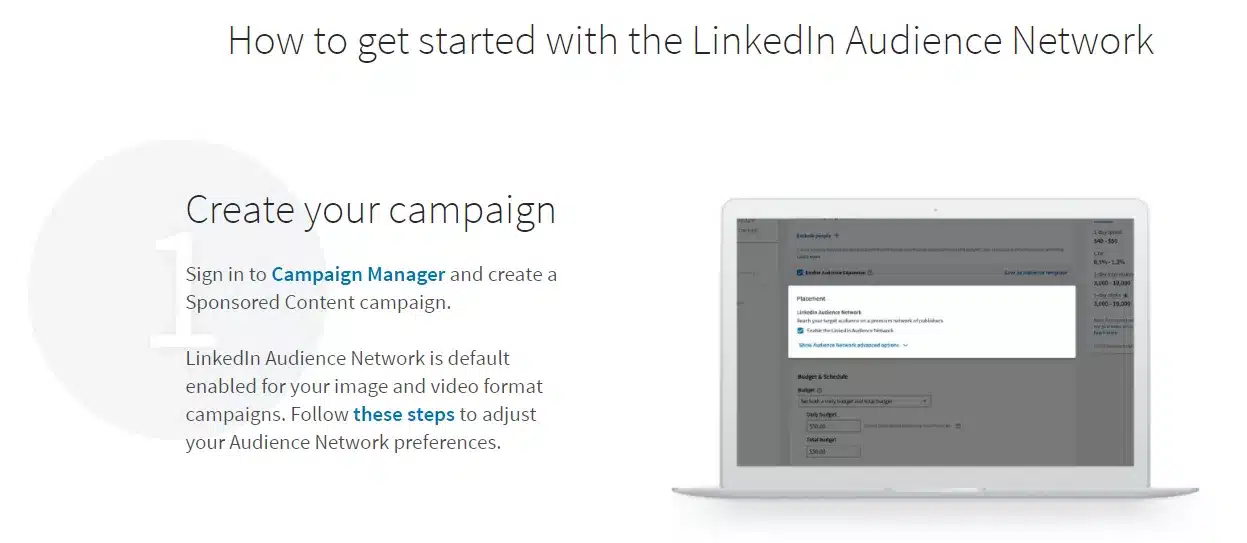 You can exclude the publishers that are not interesting for your brand image, to make sure your message is customized for each campaign.

Measure the impact of your campaigns, by viewing the metrics of your Campaign Performance section and turn on/off "Network breakdown".

In fact, it is already a default feature for campaigns with image or video formats. So you basically have the option to use this feature to boost your campaigns ⚡️, or to leave them as is.
Our recommendation would be to do an A/B test with one of your campaigns, and then compare the performance results with other similar campaigns that weren't using the LinkedIn Audience Network and see which one delivers better results. 🤷
Do not worry if at first you don't see the results you expected, the important thing is to keep trying until you find what work best for you! 🙌 
Is LinkedIn Audience Network worth it?
LinkedIn honors your campaign's bid and budget for reaching your target audience on their network and beyond. Because your impressions are likely to grow, you may find that your campaigns reach their budget faster. 💸 This could be a down point for the LinkedIn Audience Network solution.
However, the main advantages are :
Targeting: Rather than wasting time trying to find new prospects, concentrate on your well picked and high-intent audience.

🥇

Professional Audience: Focus on buyers, decision makers, and reaching influencers who have the biggest possibility of finally converting over quantity.

💎

Multiple Touchpoints: Reach out to professionals, in a variety of trusted locations, to reinforce your message and establish brand-awareness as they navigate the complex decision-making process.

🚀
In addition, display ads are adapted in the different sites automatically.
This means that you don't need to make a different ad for each platform. 👌 LinkedIn will change your media content based on the guidelines set forth by each publication. Your adverts will not appear to be substantially different. LinkedIn will only adjust the size or format if it is needed.
👉 Therefore, we can say that overall, it seems like a great compliment to boost your ads campaigns across multiple channels!
To go a bit further: Use our marketing automation tools
Earlier, we mentioned that you can use Waalaxy, our marketing automation tool, to complement your customer acquisition strategy. 🎯 You can use auto-imports to export the leads who respond to your posts or advertisements, in order to send them automatic LinkedIn sequences and/or emails.
If you have a tight budget, but you still want to advertise on LinkedIn, then you can use Podawaa, our pod engagement tool. In this article, you can know more about automation pods on LinkedIn and how they can be useful to your strategy. 📢
You could get up to 75K views in one week, just by using pods. 🤯 And if you use them correctly, you could reach qualified leads quicker and at half the price of the standard LinkedIn ads' costs. Which can become very expensive, very quickly, specially if your company is starting out!
So why not give a shot to automation tools? 😉
You can test them for free and use the freemium or paid versions, in order to grow your business easily.
Conclusion
Indeed, why limit your ads on LinkedIn when consumers generally spend most of their time online elsewhere? 🤔 LinkedIn Audience Network will thus make it possible to reach a larger audience with more precise targeting for the various advertisers.
Additionally, this feature helps LinkedIn boost its digital advertising business, which has only accounted for a small portion of its revenue stream until now. 🤫 To recap, here's a short video with the main points of the LinkedIn Audience Network:
FAQ LinkedIn Audience Network
Where will my Sponsored Content appear when I use the LinkedIn Audience Network?
Members in your target demographic will see Sponsored Content on the LinkedIn stream as well as on trusted third-party publishers' applications and websites. To ensure that clients' advertisements are delivered in brand-safe settings, LinkedIn uses a validated list of approved publishers in the LinkedIn Audience Network. Native and interstitial placements are available across approved apps and websites. 🙏
You can use category-level blocking or a block list of individual websites and applications to manage your presence on the LinkedIn Audience Network if you don't want your ad to appear on certain sites or apps. Learn how to manage your LinkedIn Audience Network options in greater detail here. 👻
Why is this feature only available for some of my campaigns?
Only campaigns with a single image or video ads style are eligible for LinkedIn Audience Network. Your online advertising will only appear in the LinkedIn feed if you include a LinkedIn Event URL in your single picture ad. 📸 For more info, visit this page!
Should I expect more delivery when I keep this feature on?
When you enable LinkedIn Audience Network, your ad will have more chances to be displayed, thus depending on your target audience and bidding, you may see an increase in impressions. 👍
Note that in order to boost performance, you'll still want to make sure your campaign follows LinkedIn's best practices and that you optimize it, before launching it. 😌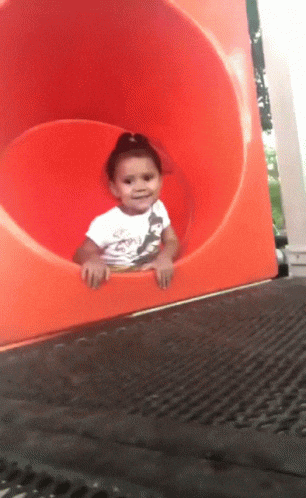 There you have it! 😘
I hope this article has helped you understand more about the LinkedIn Audience Network, do not hesitate to contact me via LinkedIn if you have other comments on this topic. 🤲