Company page? LinkedIn showcase page? Is it the same thing? Well, no! 😁
LinkedIn is a social media platform full of resources and sometimes we use them poorly or worse, not at all! To grow your network and be visible, aim for all the options of the professional network. So, what's the point of the showcase page?
What's a showcase page on LinkedIn?
Actually, there is a very strong link between these two terms since they are both features on LinkedIn, and one follows from the other. Today, it is possible to create a Company Page on LinkedIn to share content to a set of people who have an affinity or interest in your company.
To create your business page, follow the link, we explain everything. 🥰 It is not uncommon for a company to offer several different services or products, and/or to be present in different countries. In these cases, you can create showcase pages that are added to your company page.
These showcase pages are the presentations of each of your tools or services. They are part of LinkedIn social channels because you can post and share with your audience.
🚨 Make sure you don't only publish promotionnal content, but you're sharing storytelling, blog posts, video content… We will tell you more about content strategy in this article. 😉
What is the difference between a company page and a showcase page?
Well, one belongs to the other!
For example, you are marketer at the company "My formation" and you sell training for students and training for professionals. You are going to create a general company page and you can present on a showcase page your offers for professional training and on the offer your offers for students on two different showcase pages. 📃
Another example, you are a digital marketing compagny working for Coca-Cola, in this case the company has several subsidiaries in different countries, it can create as many showcase pages in different languages, within the limit of 10 showcase pages for each company page In fact, for a few years now, LinkedIn has offered the possibility of creating showcase pages for each company page to segment the different departments and/or audiences. 😎
Thus, the Showcase page is a subset of the Company Page, and the only condition to create showcase pages is to have administrator access to the Company Page.
How to create a showcase page on LinkedIn?
It's very simple, follow 3 small steps:
Go to your profile by clicking on "You" or on your profile picture,
In the Manage tab, choose the corresponding company page,
Click on "administration tools" at the top right of your screen.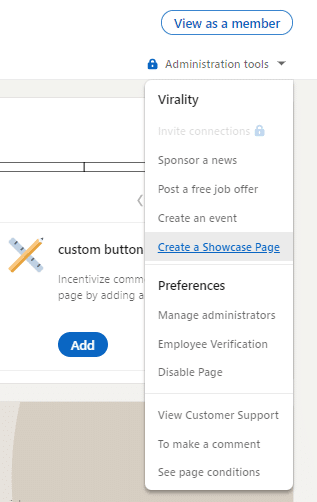 In the drop-down list, choose"Create a showcase page"!
From then on, all you have to do is determine the name and url of the showcase page and then you will be redirected to the tools for editing this page. 😜
Ad then a small description for your brand.
Make sure than this small social content is relevant and with a call-to-action!
You can then post quality content with the showcase page too! Here is the example of Google Chrome enterprise, a Google showcase page: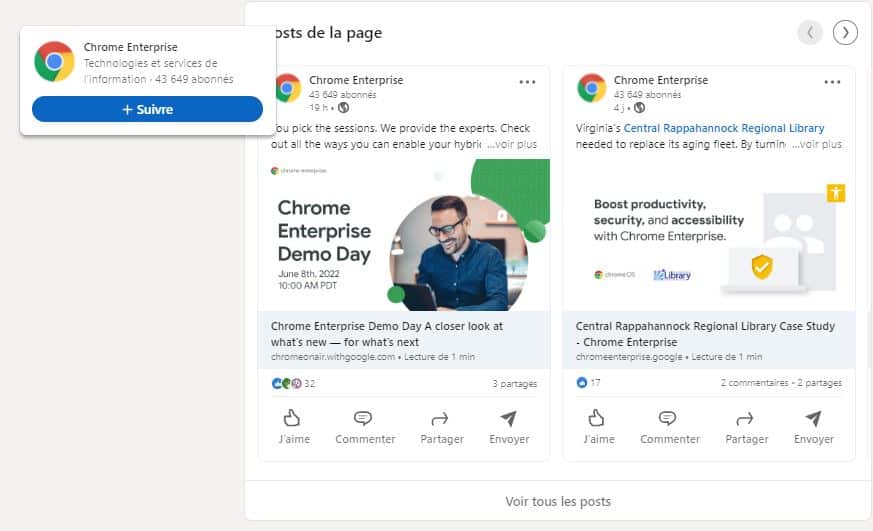 🚨 On the other hand, if your goal is content marketing…know that the reach of your posts on LinkedIn business pages and showcase pages are very low. Find out why 👈.
Why create a LinkedIn showcase page?
The LinkedIn Showcase Page helps connect all of your services and helps the audience learn about you. here, in the Google example, the "affiliate pages" are actually the showcase pages.
These are the sub parts of Google, the sub-offers or the other offers: Chrome enterprise, Google Analytics…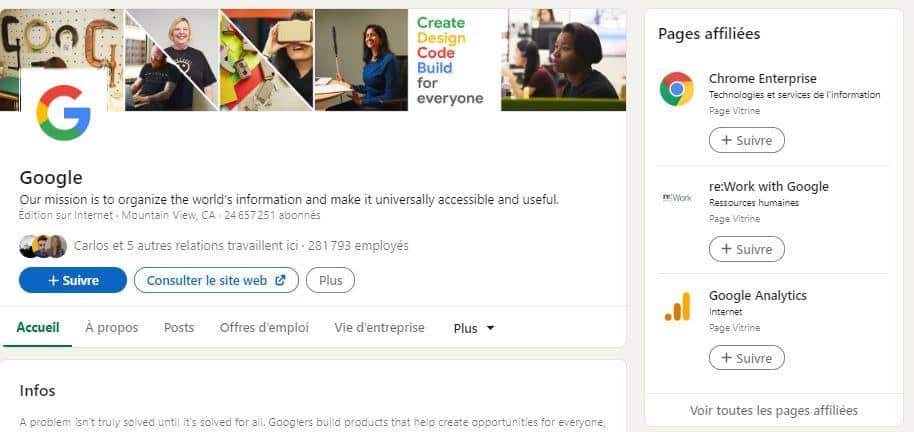 Make sure you secure the keywords so they speak to the Btob profiles you are targeting. 🎯
As Showcase pages bring you brand awareness,  it also can improve your ROI : a follower can become a regular client.
Faq of the article on the LinkedIn showcase page
In the Faq, we try to cover the main questions from our users so you can get as many answers to your marketing strategy questions as possible. If you need more info, contact our Waalaxy chat!
How to create a company on LinkedIn?
To create your company page,
Go to the "products" tab,
Then "create a LinkedIn page",
Select the company page,
Add the logo, slogan, banner and description with the link to your site.
This pro page will be able to contain your company's news, job offers and careers within the company and advertise to your targets.
Can we have an example of a showcase page?
What is the purpose of the LinkedIn Showcase Page?
Even though the company page and LinkedIn page can tell your target audience a little bit more about who you are and what you do, the showcase page won't bring you thousands of new customers every time either.
In fact, the visibility is quite low. If you want to create a communication strategy on LinkedIn, the company page should not be your only option. Check out our case study to boost your presence on LinkedIn.
What is the price of LinkedIn showcase pages?
The LinkedIn Showcase Pages as well as the company page and the B2b social network are completely free.
The paid options on LinkedIn are LinkedIn Ads and subscriptions on the network. If you want to invest to gain visibility on the network or gain new customers, we invite you to read our other articles that will advise you on the best methods. 🤗
How to gain visibility on LinkedIn?
To gain visibility on the social network, you should rather bet on your professional profile.
Your LinkedIn profile should be complete.
Work on your branding by having a smiling and professional profile picture.
Boost your image with a cover photo that tells a little more about your added value.
Work on your credibility by asking for recommendations,
Update your professional experience.
Practice networking: that is, network with relevant profiles that match your target audience.
Make sure you have set your profile to public.
Add connections from your sector of activity.
Have a real digital communication strategy, i.e. publish relevant content every week.
Ok, now you know everything about LinkedIn showcase pages, learn more about social media strategy here.