Want to create your first company page on LinkedIn?
Whether you are the proud owner of the company or the person in charge of the company's LinkedIn, you will be able to find everything you need in this article.
Should you add your company to LinkedIn?
Before we even talk about content strategy, let's ask ourselves whether or not it's worth creating a company page. The answer is, of course, yes. Your company page is the showcase for your blog, your goods/services and potentially your Landing page.
Thanks to this page, some users looking to find out more about you or what you sell will click on the link to your website. 👀
Create a page on LinkedIn in 3 steps
I promise, it's simple. Plus I've added some cool pictures and descriptions to illustrate things.
This business page must be created from a LinkedIn account. The person in charge of creating the page automatically becomes its administrator.
(Don't worry, you can add admins along the way).
You can now decide whether it will be you or a third party. Once the profile is selected, continue with the tutorial. 👉
Step 1 : Get started creating your business page
As Confucius would say :
A picture is worth a thousand words
This is even more true today. Here are the two steps to follow: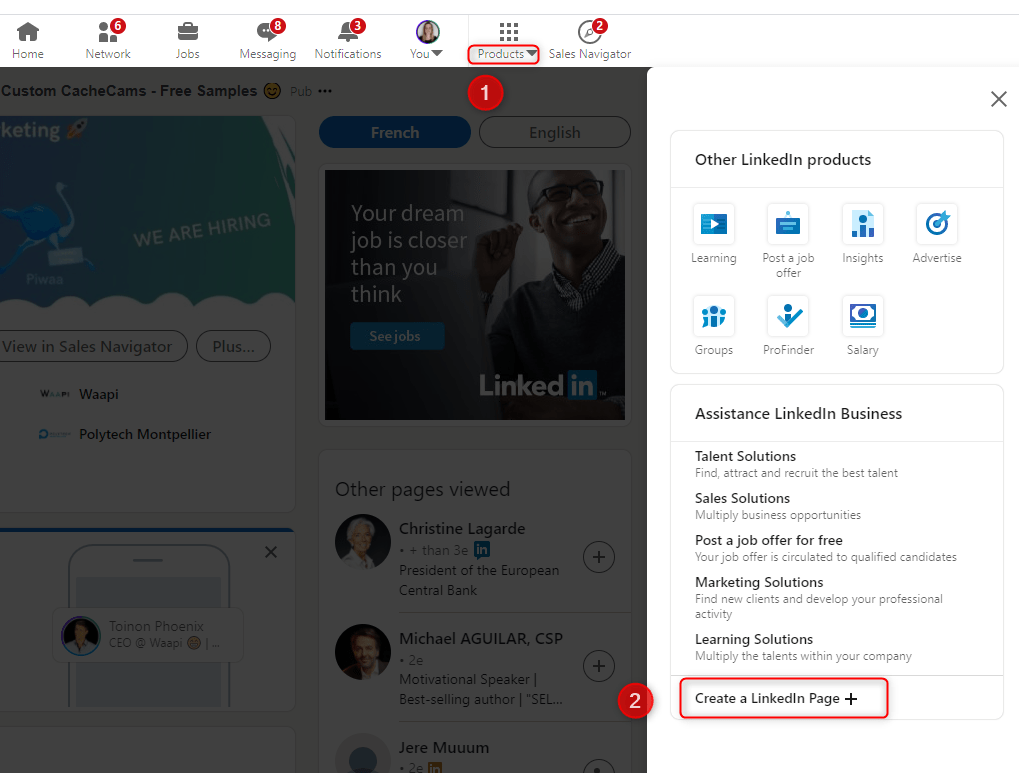 Go to the "home page" of your personal account.
Then click on the "products" tab at the upper right corner of your LinkedIn account.
Then select "Create a LinkedIn Page" at the  bottom of it.
Step 2 : Choose the type of page that corresponds to your business
The media platform offers you a choice between 4 different pages.
The first time, you will most certainly click on one of the first two options, depending on the size of your company.

Zoom on the Showcase page
Are you curious about what the showcase page is? And what is the difference between the two?
The showcase page allows the company to promote a product or a service related to its business. The goal is therefore to precisely target an audience, depending on the product the company is promoting.
You might come to use that later, but for now let's focus on the business page. 😉
Step 3 : Fill in the information of your LinkedIn page
In this last step, you will be able to:
Fill in the information for your company page.
Then, start personalizing your page (Logo, slogan).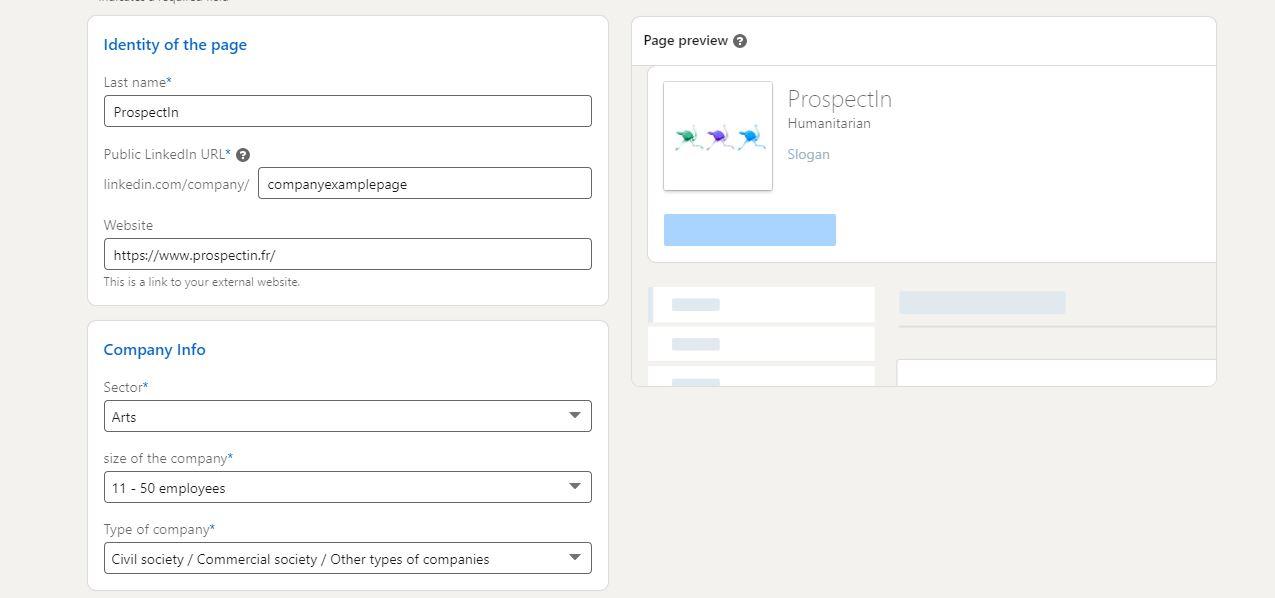 Now that you've carefully entered your business information, add the logo and tagline.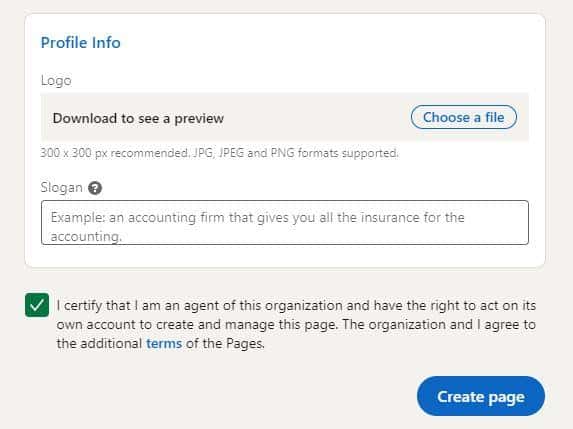 This step is crucial. Without a logo, your business page doesn't look good 🖍.
Customize your page as much as possible to make LinkedIn members want to visit it.
Finally, click on "Create page".
Well done, let's move on to the setting up part…
Optimize your business page on LinkedIn
I'm not teaching you anything new by telling you that user experience is the key to your success. It starts with sophisticated and dynamic visuals that give visitors of your page the desire to discover more.
Think of it this way: your LinkedIn business page is the showcase of your business site.
Add a banner on your Company Page
For the dimensions (PNG or Jpeg) :
Cover photo size : 1536 × 768 Pixels (new interface)
Image size for the Logo: 300 × 300 Pixels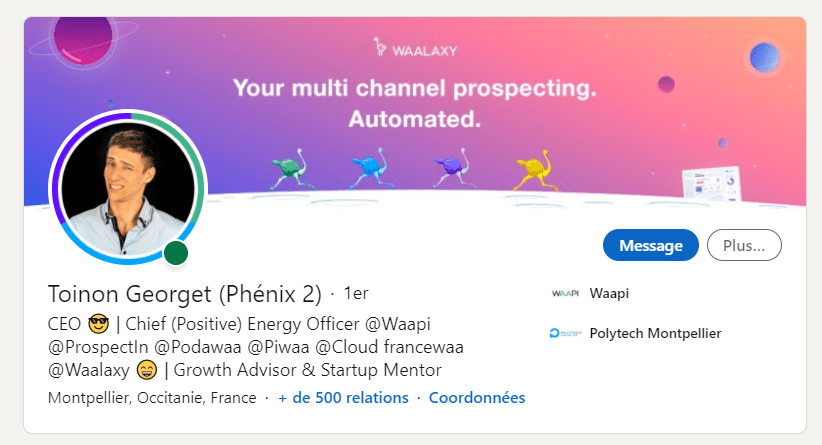 I also recommend:
🥇 First, to change it regularly: update it, keep it alive and add links to new developments in your company.
🥈 Second, to respect your graphic charter: use the same colors as those of your logo, your site, etc.
🥉 Third, to have the same banner on your LinkedIn profile and, if possible, on all employees' LinkedIn accounts.
Should you animate your business page and how?
Now that your business page has been created to appeal to your prospects, you're probably wondering how to approach them? 💃
It's not just on Tinder that things get complicated in 2021.  Unfortunately business page have also lost their charm.
The business page loses seduction capital
Several tabs disappeared (LinkedIn really encourages you to advertise 😂).
The "Products and Services" tab no longer exists.
The 3-image carousel with links and call-to-action has disappeared.
Embedded videos, deals, and recommendations are gone.
You can always fall back on showcase pages if you believe that certain products or services can attract a targeted audience, but it is still less sexy.
And that's not the only bad news: Subscribers to a Showcase Page aren't automatically subscribed to the Company Page.
Should we have a communication strategy via the LinkedIn Company Page?
It is super important to communicate via LinkedIn in order to benefit from the richness of the network (by no means is it reserved for influencers and recruiters 😂)
But to be honest with you, we are not at all a fan of marketing campain through the LinkedIn Company Page. But we have good reasons for this:
LinkedIn (just like you should) prioritizes the user experience. If a LinkedIn member sees a post with a business page, they're more likely to feel like you're trying to sell them something than when you post using a regular profile.
Since it is a professional and human social network, LinkedIn will therefore more naturally help members to interact by boosting their posts, rather than those of companies.
There is a third reason for this, LinkedIn sells advertisements on the network, so it is in their best interest to encourage a company to pay to sponsor their communication, rather than helping companies to gain thousands of views without spending a dime. 💸
So should you publish with your business page?
To keep it short, the answer is no.
Instead, use your personal account to post content and then share it on your profesionnal page. If you are curious to know more about why we came to this conclusion, I suggest you read this article. 👀
What is the use of this business page then?
Okay okay, we'll tell you know. No need to get upset. The business page serves many purposes! It allows you to:
How to profit from your business page?
Because you've been very patient and have waited to this point, I'm going to give you this info direct.
#1. Invite LinkedIn members to follow your business page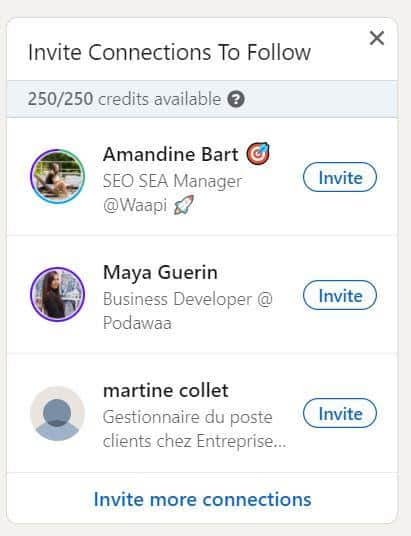 Click on the button to invite people to follow your page:
Go to "home" of your company page,
"Invite to follow".
LinkedIn give you permission to invite only 250 people per month.
#2. Get a list of subscribers to your page and contact them!
In a case study, our CEO explains how to retrieve the subscribers of a LinkedIn page in order to contact them.
What is ideal is being able to contact all of your subscribers, because you already know that they are interested in your products or services.
If you wish to discover the procedure to follow, you can access the article here.
Bonus: the cool little parameters of the business page
So as you can see, there is some good to the Business Page. 😃 It is even essential on LinkedIn.
There are two settings that I think are important to highlight to help you use your business page.
Consider these two tips my gift to you 💐
#3. View your statistics on LinkedIn
The statistics of the Btob network are quite well done, you can find a lot of interesting data there, like the growth of your members and your unique visits.
If you want to grow your community on LinkedIn, these indicators can be useful.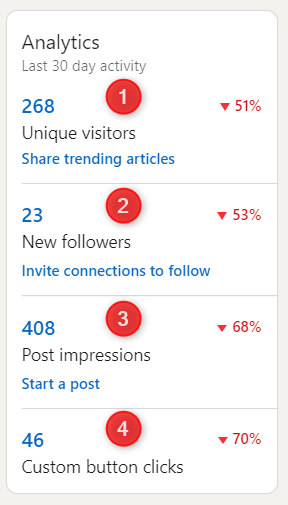 However, I don't necessarily advise you to dwell on these results, nor aim for the perfect rate.
If you post with your profile, you will have unique visitors to your site who will not go through your business page.
What is interesting, however, is to dig into these indicators to find data characterizing your prospects.
Like here, by discovering the business sectors of the people who visit your page:

This data allows you, among other things, to adapt your approach according to their profile and their career.
#4. Appoint admins for your LinkedIn Company Page
If you don't feel like doing this on your own, here's how to pass on the torch 🔥.
As I told you a little earlier, you can add administrators.
One of the small updates for 2022 is that LinkedIn now offers you the possibility to add managers whether or not they are in your connections.
The person who creates the page is "super administrator" and the others are just admin. Only the super admin can add new managers.
Here are the steps to follow:
🔲 Go to your company page,
🔲 Click on "administration tools",
🔲 Then on "add an administrator".
How to manage a LinkedIn company page?
Once you have appointed LinkedIn page administrators, they must establish a communication strategy on the network. You can choose to hire an community manager LinkedIn intern (who will also have other missions) or train one of the employees already present in the team The latter will be in charge of the editorial planning, but also of communicating on all the upcoming events in the company.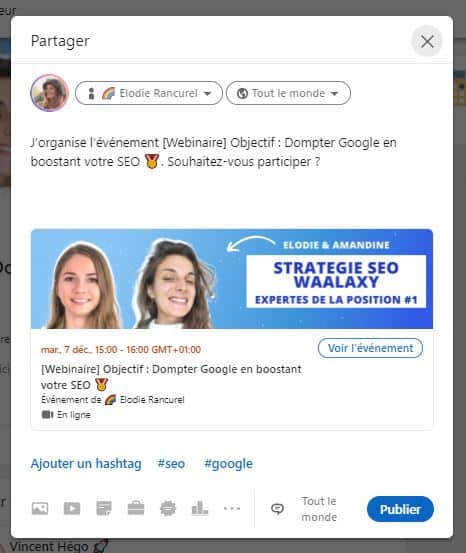 The advantage of having someone in-house is to gain in speed.
In fact, your personal profile is your best weapon.
Why? Because the LinkedIn algorithm is more lenient with people than with companies. It's logical, LinkedIn prefers that companies pay to gain visibility. That's why your posts will have less reach Your company page on LinkedIn should serve as a showcase on which you can eventually repost content.
How to create a professional LinkedIn account?
As a result, you want to know how to create a business account, logical! The great thing about LinkedIn is that it's completely free. Your professional and personal profile is the same thing. Because we are on a B2b social network, so all profiles are supposed to be "professional".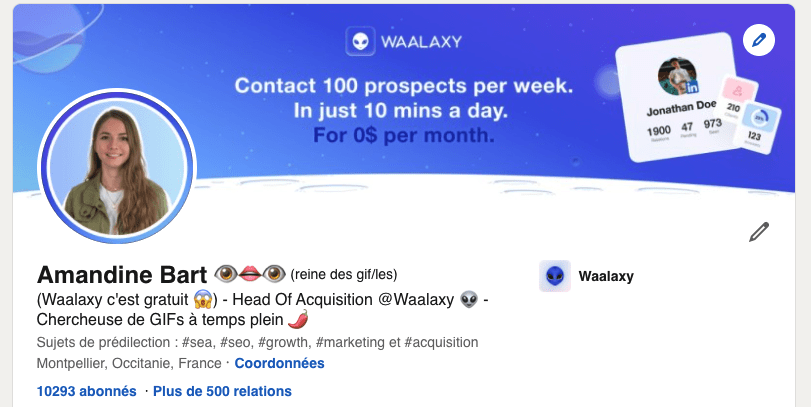 Remember to make sure that your profile is high value-added, i.e. that it contains everything needed to convince the audience of both your expertise and the quality of your company's services/products You can follow the complete LinkedIn profile to make sure you don't forget anything. 😁
What is a company showcase on LinkedIn?
You may have already heard about it, there is a "showcase" page on LinkedIn, it is not really a Company page, because it has its own characteristics. The purpose of these pages is to show your different products or services.
For example, if you sell both training for professionals and training for students, which are two different offers with two different audiences, you can add "sub-parts" to your company page, within the limit of 10 showcase pages for each company page.
What about a recap ?
Now you are an expert on the LinkedIn Company Page. This article answered the questions:
How do I create my company page on LinkedIn?
How to optimize LinkedIn's company page?
Sould I post on this B2b social network, and if so, how?
And as a bonus, you have received information on the relevant settings and features for your use of the Company Page: understanding the showcase page, adding an admin, using the statistics to personalize your approaches.
FAQ
How do I create my company page on LinkedIn?
🟣 Go to the home page of your LinkedIn account,
🔵 Click on the "products" tab on the right.
🟣 Then select "Create a LinkedIn Page".
Can I optimize my business page on LinkedIn?
◽️ Add a logo and slogan,
◽️ Put a dynamic and personalized banner,
◽️ Share the content you post with your account.
How do I communicate on the network?
Use your personal account, not your company page: LinkedIn decrease the reach of the posts you publish with your company page. It is a homepage for your website, it should get more users to your website.
Now, you"re ready to LinkedIn create company page ! 👋🏽