As with any social network, you need to create a profile to make the most of LinkedIn. In addition to the basic information, it is recommended to add a photo. We explain here how to create a LinkedIn profile photo and build your digital identity!
How to make a nice LinkedIn profile picture?
In case you doubted it, adding a LinkedIn profile photo can significantly increase the number of visits to my LinkedIn profile. And it's easy to imagine that you yourself will be much more inclined to start a conversation with someone whose face you see.
💡 Our first tip and to use a recent photo: an image that is too old can give the impression your LinkedIn profile is not kept up to date. Another tip is to use the same photo on professional social networks that you use because it makes it easy to recognize you, especially if you show your company's visuals of your brand, using a frame for example.
A color code and an identical image are perfect to identify you at a glance on your social networks. If you have collaborators, you can suggest them to use a frame with the visuals of your company, it will reinforce the brand image! Social media strategy also involves these kinds of details!
What to put in your LinkedIn profile picture?
For example, at Waapi we all use the green, purple, and blue circle for our brand and products :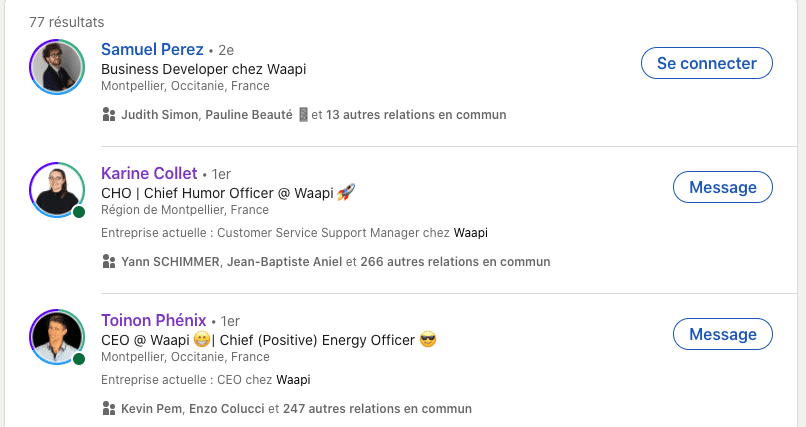 You can also add a cover image: you can put a tagline that reflects your personality and your core business.
How to make a stylish profile picture (Size, image, format, dimension)
📏 The minimum size of a photo on LinkedIn is 400 by 400px. ✌ You can choose Png or Jpeg for the format. As for the technical details, there are a few basic rules:
Be the only person in the picture: It goes without saying that people should know who you are. It is understandable that you are proud of your colleagues, associates or your team, but it is better not to have them appear on your LinkedIn profile photo but rather on your banner/cover photo if you insist on it.
Remember to frame the photo properly, don't cut off your face and take it from a proper distance. If you can, the best thing to do is to ask someone or a colleague to take your picture. Also, pay attention to the lighting.
Be careful with the background of your photo: some details could be a dread and hold the attention despite you.
Make sure your eyes are visible and you smile, at least a bit ! LinkedIn is your personal brand, you should look sympatic.
In short, pay attention to the setting, the framing, and above all be yourself! Finally, if you are not comfortable with photos, why not create an avatar that looks like you? It could also help you stand out and arouse curiosity 😉
5 examples of great photos that are a hit on LinkedIn + Tips to find ideas
On all social media, there are trends you can choose to follow. On the social network LinkedIn, there aren't many ways to stand out: the cover image, LinkedIn profile picture, title and name are the most easily visible and eye-catching. For the photo, there are 5 types of profile photos that stand out well and stand out.
#1 The photo with a colored circle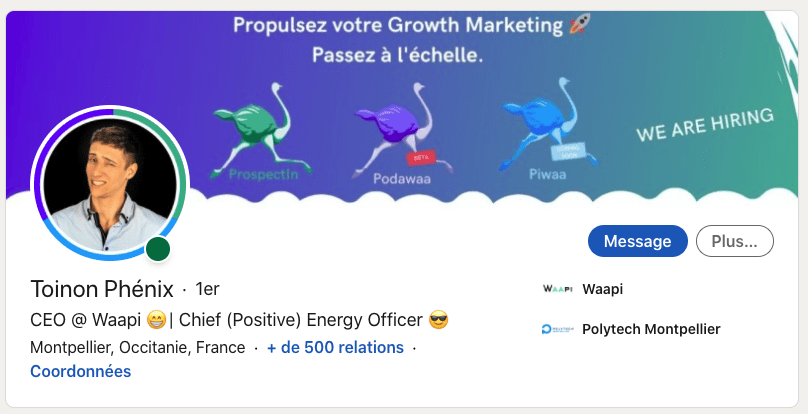 💡 How do you make this type of photo?
You go on Canva,
You create a new template: 800×800 px.
You type in templates "circles" and choose one with an image.
Validate, add your image in the center,
Go to elements, type "circle" add a circle,
Change the color by choosing the one you want.
✅ Best practices:
The circular frame must be in line with your brand identity,
The background banner must match the profile image, in tone and style.
#2 The professional and dynamic profile
💡 How to make this type of photo?
Have a good camera,
Choose a dynamic background with colors that contrast with your clothes (green and red, blue and yellow..).
Ask a colleague or choose a photographer.
✅ Best practices:
Do not choose a poor quality camera, the photo must be clear and in HD format.
If the photo is too heavy to be accepted by LinkedIn, use an online image compressor.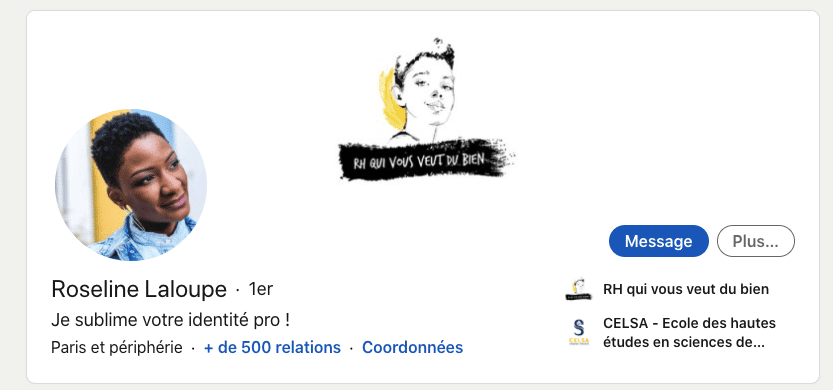 #3 The profile picture with a neutral background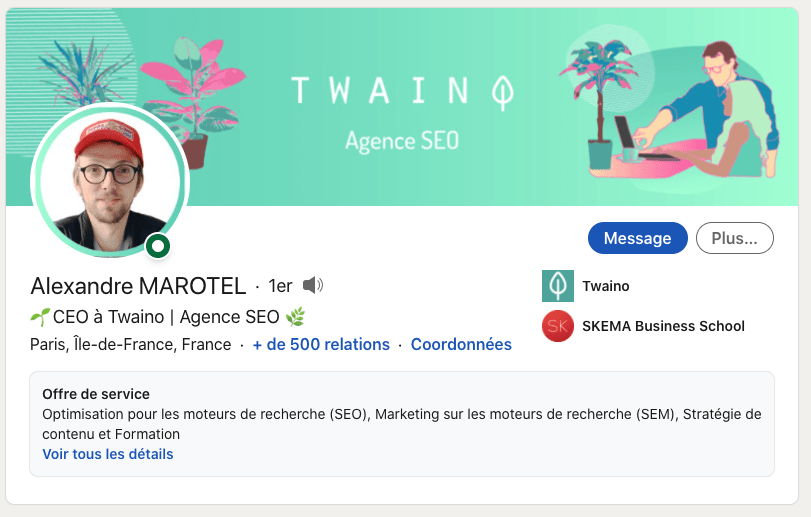 💡 How to make this type of photo?
Take a professional photo, preferably from the front with a smile.
Use removebg to remove the background from your image.
✅ Best practices:
Make sure the entire background is gone.
Make sure the image is still of good quality.
Having a nice and punchy banner/background adds life to the profile, so add a nice banner like here!
#4 The black and white LinkedIn profile photo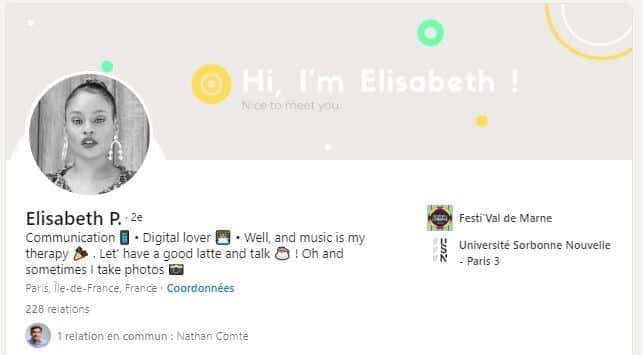 💡 How to make this type of photo?
If the image is not already black and white, you can use convert image to turn the photo into black and white and upload it again.
✅ Best practices:
Whether you choose black and white banner or not, don't forget to make your profile dynamic. Black and white can quickly look melancholic or a bit sad, smile, be lively.
#5 The LinkedIn profile picture with an Avatar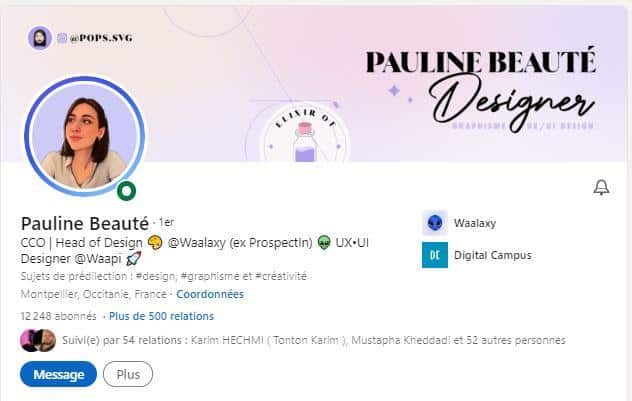 💡 How to make this type of photo?
Go to bitmoji, go through all the steps to customize your avatar,
Download your free Bitmoji profile picture.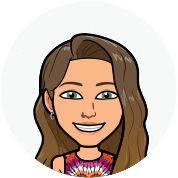 (I tested to show you what it looks like, and this is me) ✅ Best practices:
The only thing that's a shame with avatars is that we can't see your face. LinkedIn is still a human social network, so it's nice to know who you're talking to. In addition, you risk being mistaken for a fake profile, so make sure that you are seen, perhaps on your posts by publishing photos?
Why is a good LinkedIn profile picture important?
If you don't have a profile picture and are looking to leverage LinkedIn for a variety of reasons: finding a job, hiring, prospecting or networking, then you're already off to a bad start. Your photo is one of the keys to expressing who you are and what energy you share on the network. People identify with you better, they feel like they know you a little better.
Don't forget that LinkedIn is a social network, so professional relationships are formed through human interaction.
How to take a professional photo for LinkedIn?
If you want to find a professional in your area, it couldn't be easier:
Go to LinkedIn,
Open a search page,
Type "portrait photographer"
In filter, add your city.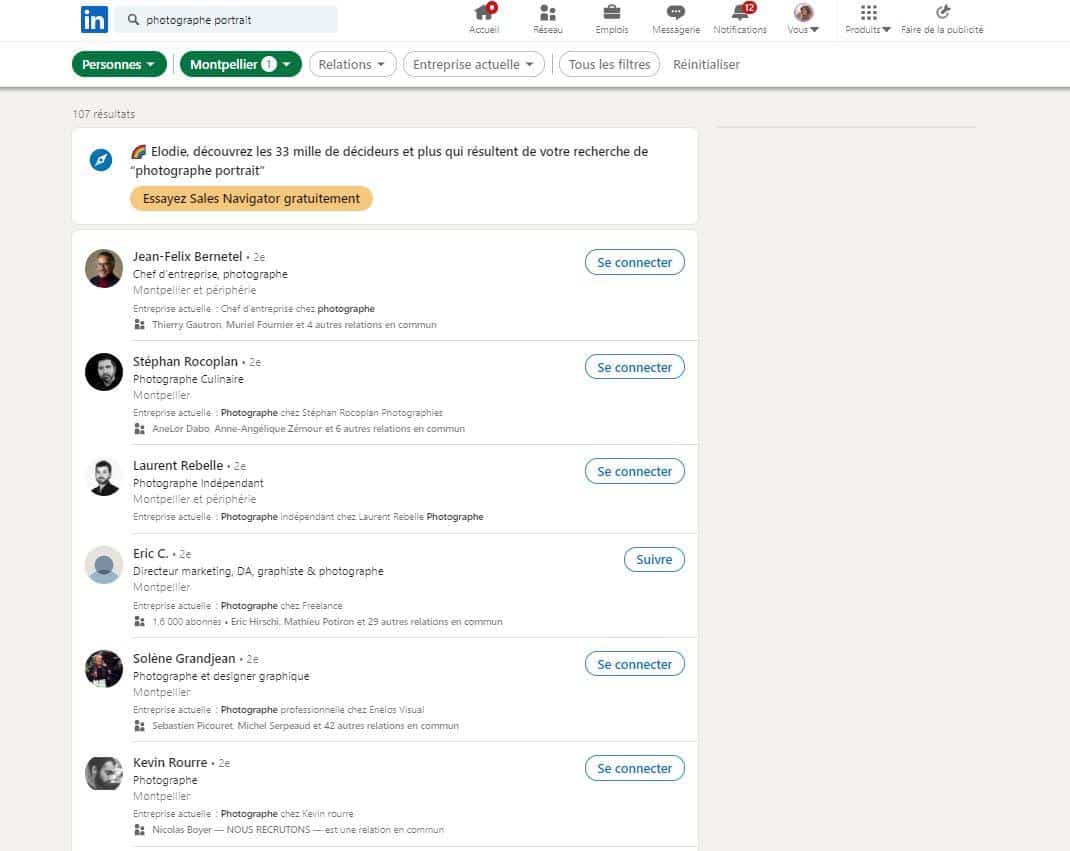 💡 It might be a good idea to hire a photographer to take pictures of your entire team, to create a strong brand identity on LinkedIn.
Don't forget to work on your LinkedIn profile
Now that you know how to create a LinkedIn profile photo and have created an impactful banner, it's time to move on to optimizing your profile by filling out :
The title: clearly state your position!
The summary: a brief description of your skills. Don't be shy and use a tone of voice that reflects you and makes you want to know more! You can use the right keywords, hashtags or emojis to make it more visible and enjoyable.
Your training and experience: essential elements to know a little more about your background.
Recommendations: your colleagues or clients are certainly on this social network. Don't hesitate to ask them to leave a recommendation on your profile and do the same 😉
Getting the most out of LinkedIn for your Business
Being active on your profile is essential. And if you really want to be effective and your goal is to prospect, hire, or network, we advise you to test 2 tools:
Waalaxy to automate your actions such as visiting profiles, connection requests with a personalized notes,
Podawaa to schedule your posts and boost your engagement in a targeted way.
Questions and feedbacks of the article
In this Q&A we are trying to answer all the questions of our users. If you have more questions, please ask us in the chat of our tool. 😁
What to wear for LinkedIn headshot / portrait?
Honestly, who cares how you're dressed for your profile picture? It doesn't matter, we'll barely see your outfit anyway. The only advice we can give you right now is to choose colors that contrast nicely with your brand identity or wear your brand colors altogether. But it doesn't really matter.
How to take a professional headshot for LinkedIn?
Take the time to focus on your device,
Avoid flash and favor natural light and a pleasant atmosphere (plant, nice decoration)
For a professional photo, avoid busy environments.
Prefer the portrait of a face or 3/4 with a pretty small smile! We want to see your teeth. 😁
How to upload or change your LinkedIn profile picture?
It's very simple!
Go to your profile picture,
Click on "add a photo."
Upload the new photo, and then here we go!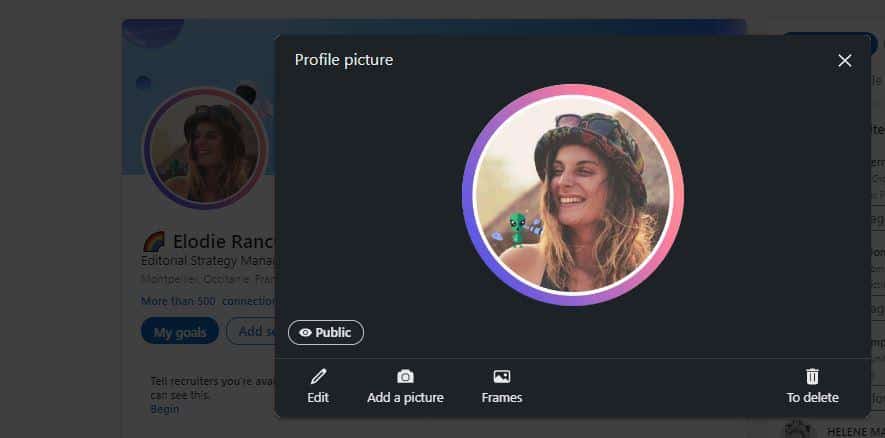 How to take a professional selfie for LinkedIn?
You just don't ! ❌ Honestly, nobody likes selfies. Selfies are less and less attractive on any kind of social media, even Facebook and Instagram and those are not professional platforms. So, imagine how important is it on your LinkedIn profile page?
If you don't want to spend money to create a good LinkedIn profile, you can just ask somebody than you know to take a picture of you with an iPhone or a phone with a good quality camera.
Here you go, you start changing or uploading your LinkedIn profile picture!
A nice profile picture, a correctly filled out profile, great tools… You are ready to stand out effectively on LinkedIn!