Want to understand the benefits of the AIDA method and how to use it for your content?
You'll find our best examples in this article. 😜
Understanding the AIDA Method
Definition of the AIDA method in marketing
As we just said, this marketing method is in 4 steps. You can find them here. 👇

Step 1: "Attract" the prospect
The beginning of your text should be written solely for the purpose of attracting the attention of your target. It is a rather general hook that speaks only to your main target.
They should feel directly concerned by what you write, and they should recognize themselves from the start. This is the case for any type of marketing communication, from personalized emails to advertising posters.
Let's say you sell marketing tools for SEO professionals.
You're not going to start your communication with something too general:
"Today I ate an apple". ❌
Nor with something too frontal:
"I sell marketing tools for SEO professionals". ❌
🔴 So your AIDA teaser should not include:
Of commercial message.
As an incentive to buy,
Details of an offer.
You're going to prefer more subtle hooks that grab your target's attention.
"Are you too, Google playing tricks on you?" ✔

"I used to not understand anything about SEO, and now…" ✔
🟢 Your tagline should include:
A question, a beginning of a story, an issue.
Language that matches your prospect's language.
Step 2: Create "Interest"
To create interest with your target, you need to highlight solutions or added value. If you have asked a question as a hook, you can explain how you found the answer. If you started a story, you should highlight the benefits or added value you learned from the experience.
🔴 Don't try to generate interest in:
Selling the benefits of your product or service. 
Offering a misleading solution.
Don't use this type of pitch:
"We've created the best marketing tool to meet your needs." ❌
🟢 Instead, generate interest with this type of content:
"After searching everywhere for the solution, I discovered a method" ✔
Step 3: Provoke the "Desire" to buy
In order to provoke the desire to buy, the prospect must be aware of the benefits of the offer. This is the point where you get a little more into the story, and you can start to outline the benefits produced. Of course, the previous steps must be mastered to avoid getting into aggressive marketing.
🔴 Don't list the benefits of your solution outright:
"So our tool allows you to improve SEO, to manage your editorial planning, to…" ❌
🟢 Prefer especially subtle arguments:
"We needed a tool to :

Improve SEO,
Manage editorial content,
Track our results,

And we couldn't find it, so we developed our own." ✔
Step 4: Get the prospect to take "Action"
The call to action is the final step in the AIDA method. It is used to entice the already convinced prospect – to learn more, to test, to download, to buy your solution. It can be a button or a closing sentence.
🔴 Don't forget the call to action and make sure it's at the very end of your marketing content.
Don't use questions, instead use a statement:
"Do you feel like trying it?" ❌

"Try it now" ✔
You can also create a cultivation phrase with terms of urgency, promotion, or scarcity: "Offer is available until …" ✔ "50% off for the first 100 buyers". ✔
Find the best example of an AIDA Method
Want to start the AIDA Method for your digital communication but struggling to find an example that speaks to you? Follow the guide. 😜
Example of a catchphrase
Catchphrases are often the hardest to find, here are some examples to inspire you:
"There was a problem I couldn't solve .." ✔

"You, too, are having trouble completing this task? …" ✔

"Am I the only one who doesn't understand how to do .. ?" ✔

"What advice did you follow to achieve … ? " ✔

"Is there a method to achieve … ?" ✔

"Today, I realize that few people know that … is possible" ✔
Sample email using AIDA Method
Want to make an email marketing that includes the AIDA method, here is an example that you can adapt to your business and target.
We'll keep our example on SEO here, and try to promote a white paper. Of course, you will only adapt.
For more email examples, here are some templates! 😀
Example of a sales process
AIDA is also used a lot in sales processes, although SONCAS is a bit more popular.
For AIDA Method, here is how you can use it to boost your conversions :
"Attention" – Whether it's a phone call or a future customer in a store, you can draw a prospect's attention to a particular offer. To do this, you will need to know their needs beforehand.
"Interesting" – In this sentence, you communicate the competitive advantages of the product and its added value. You can praise its quality, its comfort, its design.
"Desire" – In this sentence, you create an atmosphere of projection. The prospect must imagine himself owning the tool. Often, it will be sentences like :
"By using this tool daily, you will save 30 minutes per day". "By sleeping on this mattress, you will see that you will have much better nights."
"Action" – There, as in the previous examples. You encourage the purchase. You announce the price, the terms and conditions, current promotional offers.
Example of a flyer using AIDA Method
The AIDA method can be used very well in advertising. You can create posters and flyers for your campaigns. Here is an example (of course, you will have to adapt it to your target audience).

In this flyer you will find all the parts of the method. The intro attracts the target : "marketers", "copywriters"…
The interest shows the advantages of the solution. "Boost your marketing and sales".
The desire to know more about the details of the solution and words like "effective" and "fast". And the CTA or call to action where the proposed action is to read the whole article. 😉
So all you have to do is adapt this flyer to any type of content you want to promote. In this example, I am promoting an article, but it can be an event, a promotion, or a brand…
Example of a landing page with the AIDA method
The AIDA method can also inspire your landing pages and sales pages. You can very well imagine or revisit the 4 steps of this sales funnel. Here is an example: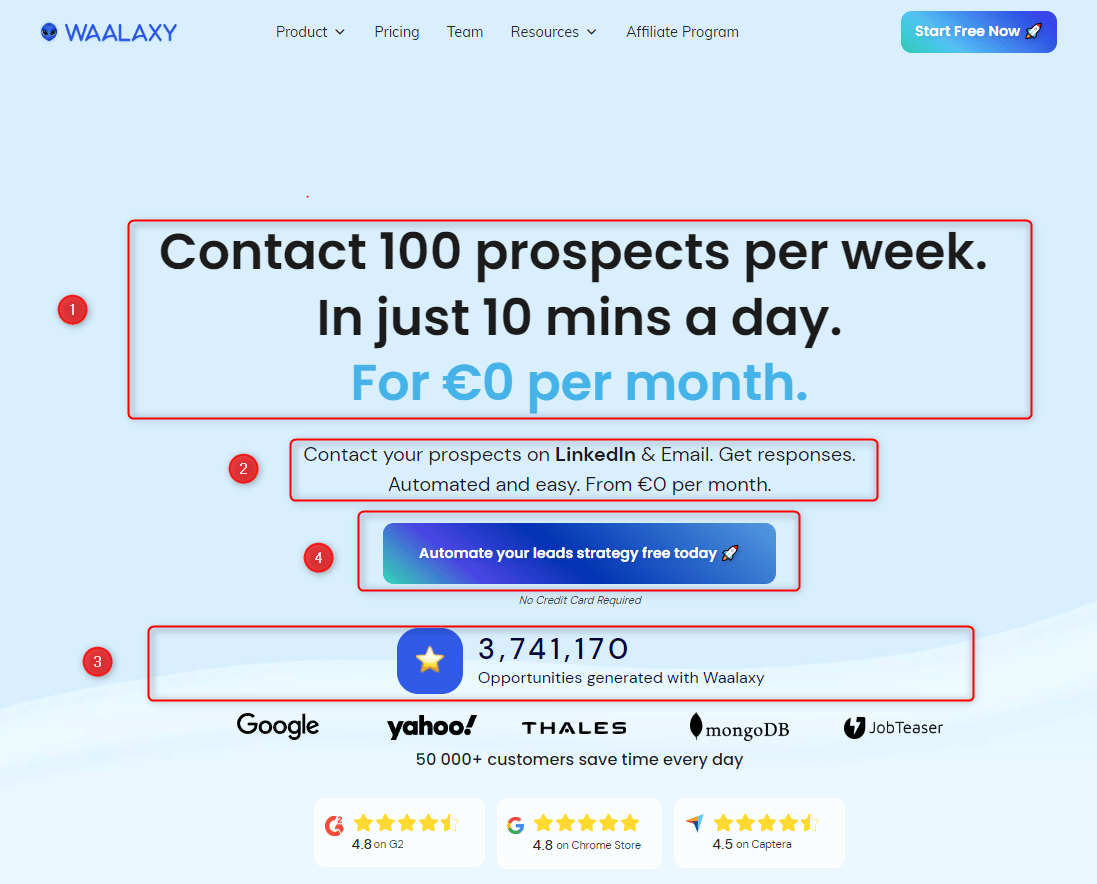 Grab attention with the wholesale value proposition.
Create interest by adding the words "easy", "free".
Build desire by showing how many opportunities the tool can bring. (create projection).
Don't forget the call-to-action!
And there you have it, 😁 nothing could be easier than making a landing page with this method.
Conclusion about the AIDA Method
The AIDA method is very effective in attracting new leads and turning them into customers. It is usually used in digital prospecting and content marketing. It is among the most well-known marketing practices.
It has 4 phases: ⏬
Attract,
Induce,
Desire,
Action.
You can use it to reach new markets, acquire new customers or even create a landing page that converts better.
FAQ of the article
Is the AIDA method useful in decision support?
The short answer is YES. ✔
The purpose of this method is to accompany your targets toward the purchase. Nevertheless, direct sales methods should be enhanced by open questions and finding the perfect solution for the customer.
The AIDA method, therefore, works best in digital marketing where you don't have all the information about your future customer.
In this technique, the consumer is part of the strategy. In the "Situation" stage, he is usually in front of us and answers our questions to help us understand his problem.
I am doing B2B marketing – How do I apply the AIDA method?
The AIDA method will be useful at two points in your b2b marketing:
1. When you send personalized messages to your prospects, whether by email or on LinkedIn.To send personalized emails or messages, you will need a marketing automation tool. That is, a tool that will automate your actions and allow you to find the emails of your new leads and send them hundreds of messages every week.
You can test Waalaxy, the tool exists in free version.
Discover Waalaxy 🪐
Of course, you integrate the AIDA method in your prospecting emails.
2.When you post on professional social networks, especially LinkedIn, where your target audience is usually found.
To create a community, build customer loyalty or attract potential buyers, there is nothing like communication on professional social networks. Develop your communication plan, then adapt the AIDA method to your marketing strategy.
And there you have it, you know all about the AIDA Method and how to implement it. 😁