First of all: Good luck with your job search on LinkedIn. I'm sure you're on your way to getting THE perfect job for you. 🥰 Link to LinkedIn saved jobs: it's here. 🖖
As you search for that special someone on LinkedIn , I will show you how to find the right job for you, how to save your job search on LinkedIn and how to find a job saved on LinkedIn.
Along the way, you will also learn who can see saved jobs. 😱
How do I save a job search on LinkedIn
LinkedIn can be even better than job search websites  while looking for a job online. Ninety percent of recruiters regularly use LinkedIn to find perfect job candidates.
You can find job opportunities by following these steps :
Go on the LinkedIn's home page,
Type in the search bar what you're looking for, then click on "jobs."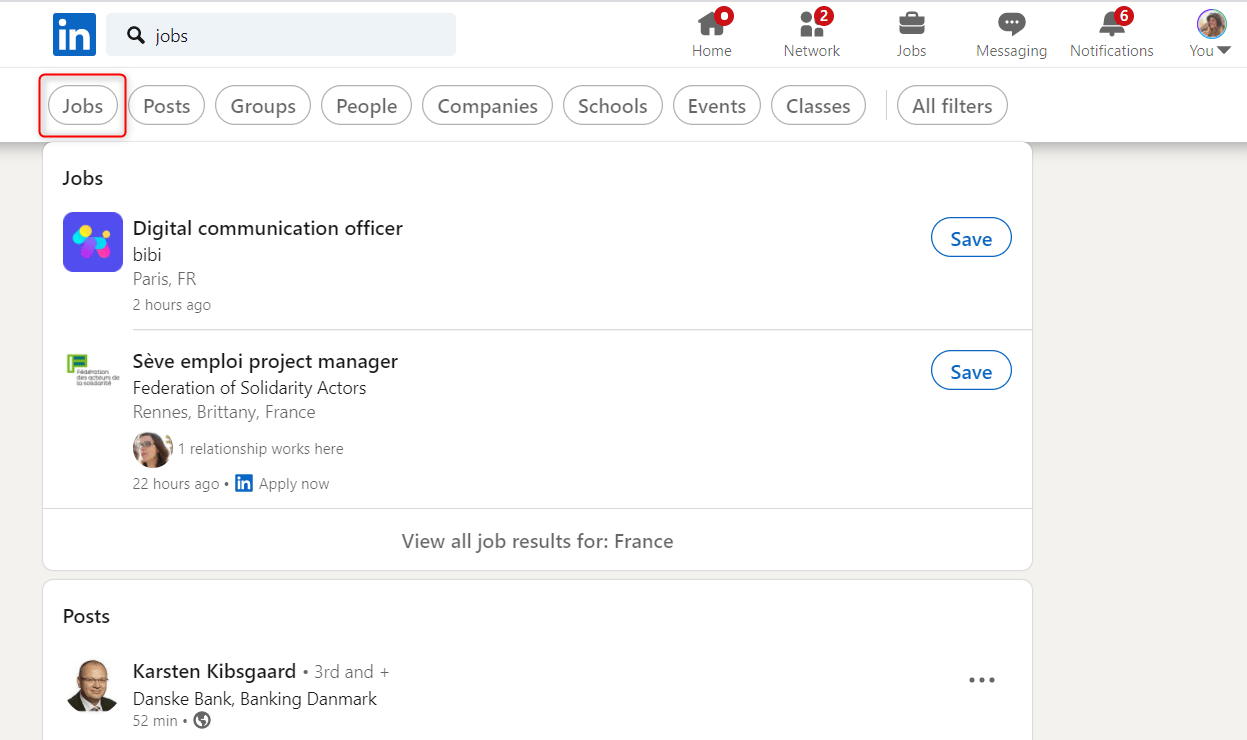 Now you're ready : you can go on to step 2 !
Type your dream job in the search bar.
Add the location,
Go to "all filters" and feel free to add the options that matter to you.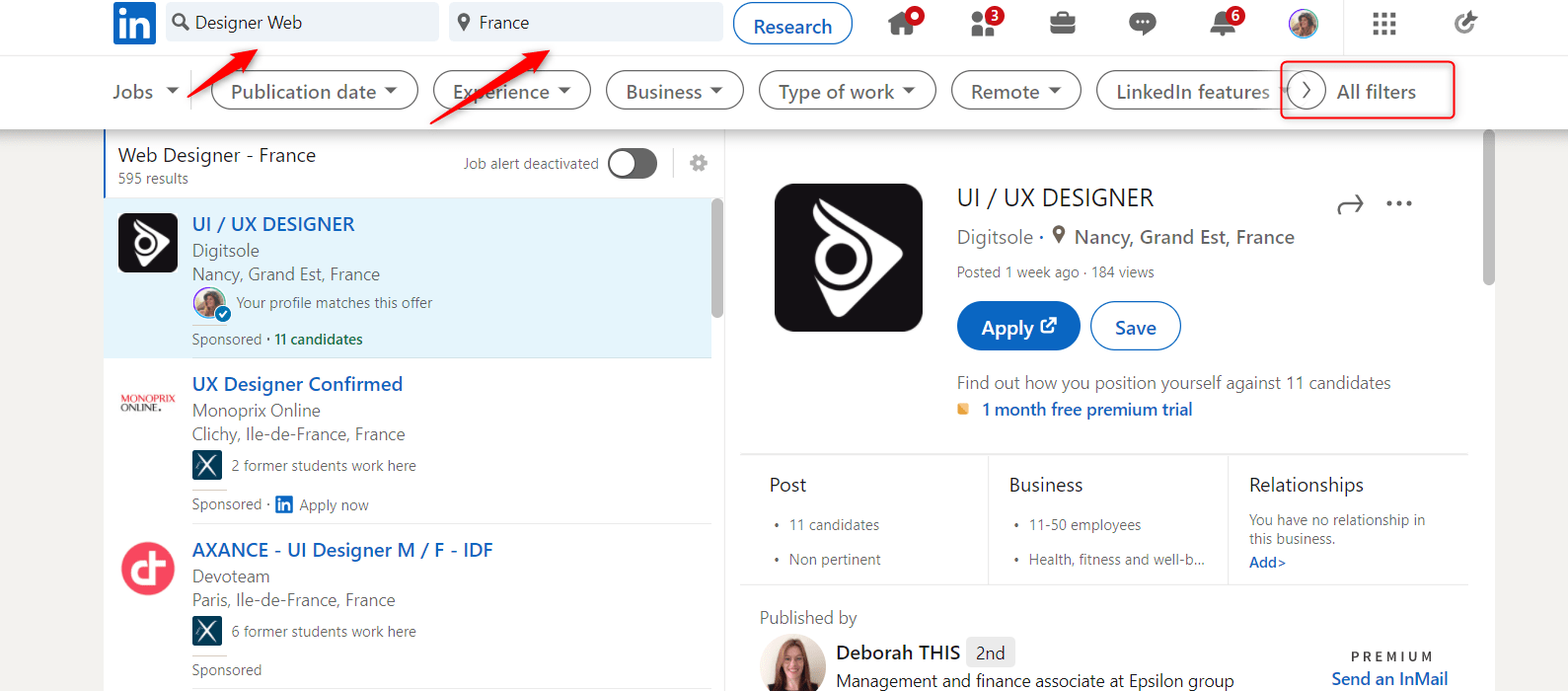 Here you are, you've got a few high-quality career opportunities. ✨
You can apply for jobs now or save them for later.
If you decide to save them for later, make sure you come back to them pretty soon.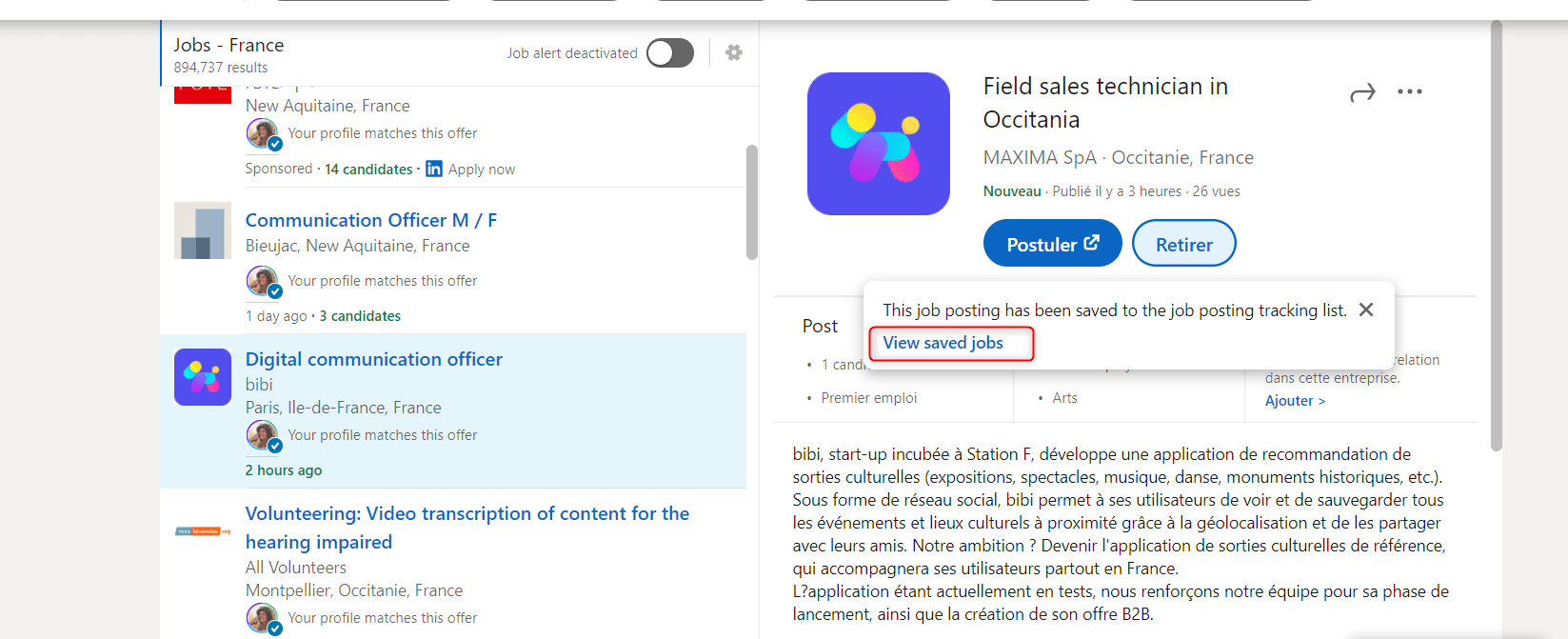 And now you are wondering how do you come back to them ?
Aha, sometimes LinkedIn can be tricky and it's not easy to find out where in your settings they have put saved jobs.
Let me show you ! 😁
Where are LinkedIn's saved jobs ? 
LinkedIn's Saved jobs are not so far, don't worry !
Go on "jobs" at the top of the page.
Go to "My vacancies".

For each post in the available jobs section you will find 3 dots, if you click on them you'll have 4 options :
Apply,
Send a message,
Copy Link,
Remove.

We know how much looking for a job can be stressful and time-consuming, but we are pretty sure, with perfect job search strategies, you'll soon find it.
Looking for a Job on LinkedIn: What are the best practices?
Imagine LinkedIn as an employment website. Your profile needs to be professional. Job hunters need to find out what your skills, qualifications and work-experience are.
Applying for opportunities on LinkedIn is great. With the "simply hired" option, some companies only look at your LinkedIn profile without asking you to send them a resume and cover letter. Your LinkedIn profile is the first door to your new career. 
There are a lot of job seekers out there and you want to be the most efficient and the fastest to stack the odds in your favour and get that precious job interview.
Let's look at these 3 pillars in detail to make sure we don't forget anything. 👀
Optimize your LinkedIn profile
The LinkedIn profile photo = A specific color (that of your graphic charter) A plain background, HD quality, a photo made for the occasion (and therefore, professional).
A cover photo = this is the time to convey the message you want to broadcast, and target recruiters. Be visual, avoid long sentences.

Preferred topics on LinkedIn = These are the LinkedIn hashtags on which you want to place yourself, and therefore that correspond to your sector of activity.
Your LinkedIn title = it shouldn't be vague, nor too desperate, if you're looking for a job, this is not where it will be noted. This title is there to validate your expertise.
The LinkedIn summary = it's a bit like a mini-resume, on which you will explain your background and your motivations to do your job, or if you are a student, the job you want to do.
The selection = allows you to identify your successes, your ideas, your articles, LinkedIn posts, your site… the selection helps you to showcase yourself.
Download CV on LinkedIn
Your resume is really the ultimate tool that will get you through the recruiting door. Uploading your resume on LinkedIn is fine, but it doesn't mean you have to send the same resume to every recruiter. In fact, it's like a cover letter, it changes according to each ad.
Mind you, I'm not telling you to lie, although well, you do what you want. 😂
What I'm telling you is that if you have communication and management skills but it's a communication assistant position, focus on the graphic tools and services you've done, not the other way around.
Already because a recruiter doesn't have time to read all the resumes, we read diagonally and search for keywords! 🏃♀️🏃♀️
If there are too many words that don't fit the job, as a recruiter, we skip it.
So, in the example, if you don't talk enough about digital communication, we skip it.
Moreover, if you talk about management, while you apply for an assistant position, you risk scaring the recruiter. They will wonder if you are ready to be managed.
So, uploading your CV is good, but updating it is better = highlighting or silencing certain skills depending on the position will be a plus.
Make changes to the original as soon as necessary before sending it.
Simplified LinkedIn application
The simplified LinkedIn application is an invention of the network to make life easier for job seekers.
Basically, you've already pre-saved your resume and a presentation, and they are automatically sent with the link to your LinkedIn profile. So recruiters spend time looking at your profile to make their choice.
To find the companies that adhere to this approach, follow the guide!
#1 Go to the suitcase, which corresponds to "jobs".
#2 Type the job you are looking for in the search bar.
#3 Go to "all filters
#4 Check "simplified application" and validate your application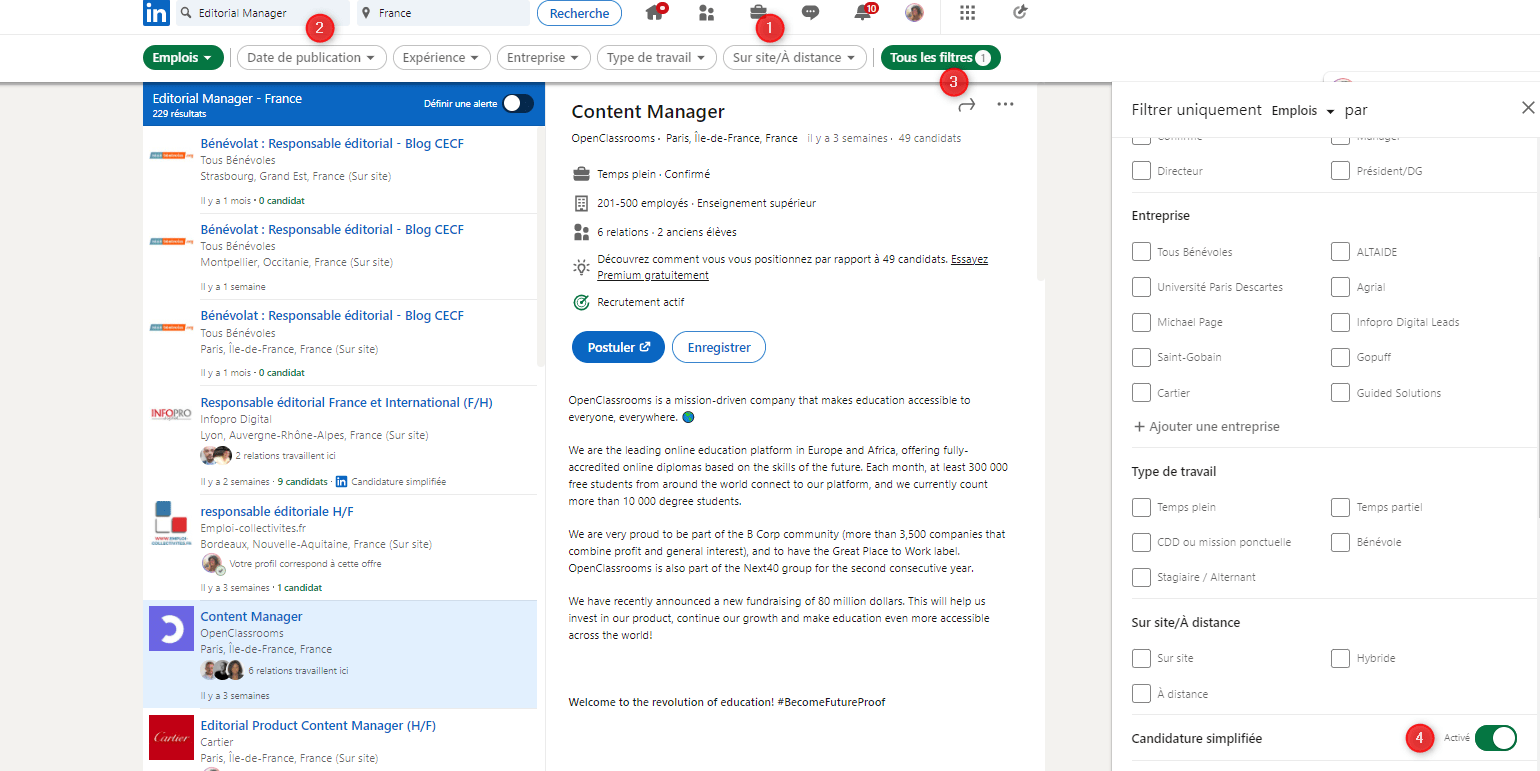 Then you choose the offer you like and then you just answer two or three questions (address, number..).
Finally, LinkedIn will ask you if you want to upload another resume or use the one you have saved on LinkedIn, and there you are the boss. 🤓
Use job alerts
As I said, job alerts help you be more responsive and competitive, simply because you are faster.
It's a bit like the real estate market, for the good apartments there is one property for 200 potential customers, and the rotten apartments don't find buyers for months before Valerie Damidot comes to paint the walls.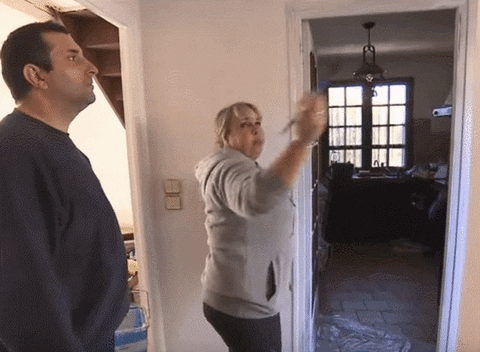 So use them, but not in any way.
What kind of job do you want? What are the criteria you don't want to negotiate on? (telecommuting, salary, flexible hours, varied assignments…)
Once you know what you want, but more importantly what you don't want, you can create your alerts. 🤓
You quickly get polluted by every job posting, and if you have too many, you end up not reading them anymore and miss out on some opportunities. 😱
Remember to look at the list of new jobs on LinkedIn at least once a day in any case, the tool is not perfect, it may have forgotten to slip your dream job in the list.
Understanding LinkedIn Job Posting Filters
Once you are in your account and have clicked on the "job" tab, simply refine your job search using the filters.
Finding a job among many offers is often more complicated than you think. But thanks to LinkedIn filters, it's getting easier.
The ads on the site can be classified quickly:
You can choose which type of offer you are interested in: permanent, fixed term, internship offers. For example, if it is the internship offer that you are looking for, you just have to check only that in the filters, then validate.
You can also choose between: full time, part time, short assignment. 🚀
You can also identify your professional experience, if it is a first job or a professional insertion, for example, then you can check the corresponding box in the tab.
You can also filter by date of publication of the job offers. As we said earlier, the first applications will be looked at more by the hiring managers. 👀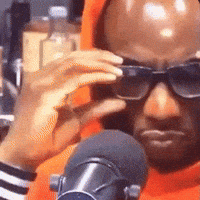 Conclusion on LinkedIn and the job offer
Does the job search seem a little clearer to you? ✨.
In this article, you have discovered:
How to apply for a job,
How to save jobs on the network,
Where to find the job you saved on LinkedIn,
3 tips to make the most of your job search.
Summary of the article's FAQ
LinkedIn: who can see your saved jobs list?
You wonder if your employer or other job seekers can see your jobs saved. I understand. Most of us don't want our coworkers or boss to know we want to take off to new destinations. 🐣
According to LinkedIn neither your network connections, your employer, nor even recruiters can see it. It's completely private.
No stress! 🤗
How to save a job on LinkedIn?
Go to the LinkedIn homepage,
Type the job title in the search bar and press the Enter key,
Click on "jobs",
Use filters for your search.
Can't find your saved jobs on LinkedIn? Find out where they are.
Click on the "Jobs" icon,
Go to "Saved Jobs",
Manage the jobs you have saved for later.
How to get a job on LinkedIn? 3 easy tips
Learn how to optimize your LinkedIn profile,
Learn how to upload your resume to LinkedIn,
Use job alerts.
There you have it, now you know how to find LinkedIn saved jobs and maximize your chances of success! 🚀