How to find LinkedIn saved Jobs ?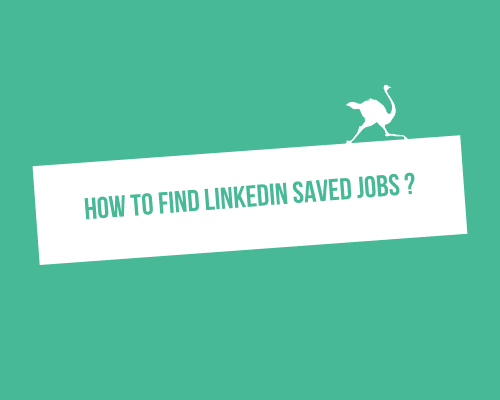 4
minutes
First of all : Good luck in your job search. I am pretty sure that you're close from getting THE perfect job for you.  🥰 As you're looking on LinkedIn to find that absolute gem, I will show you how to save your LinkedIn job search and how to find LinkedIn saved jobs.
Along the way, you will also learn who can see saved jobs. 😱
How do I save a job search on LinkedIn
LinkedIn can be even better than job search websites  while looking for a job online. Ninety percent of recruiters regularly use LinkedIn to find perfect job candidates.
You can find job opportunities by following these steps :
Go on the LinkedIn's home page,
Type in the search bar what you're looking for, then click on "jobs."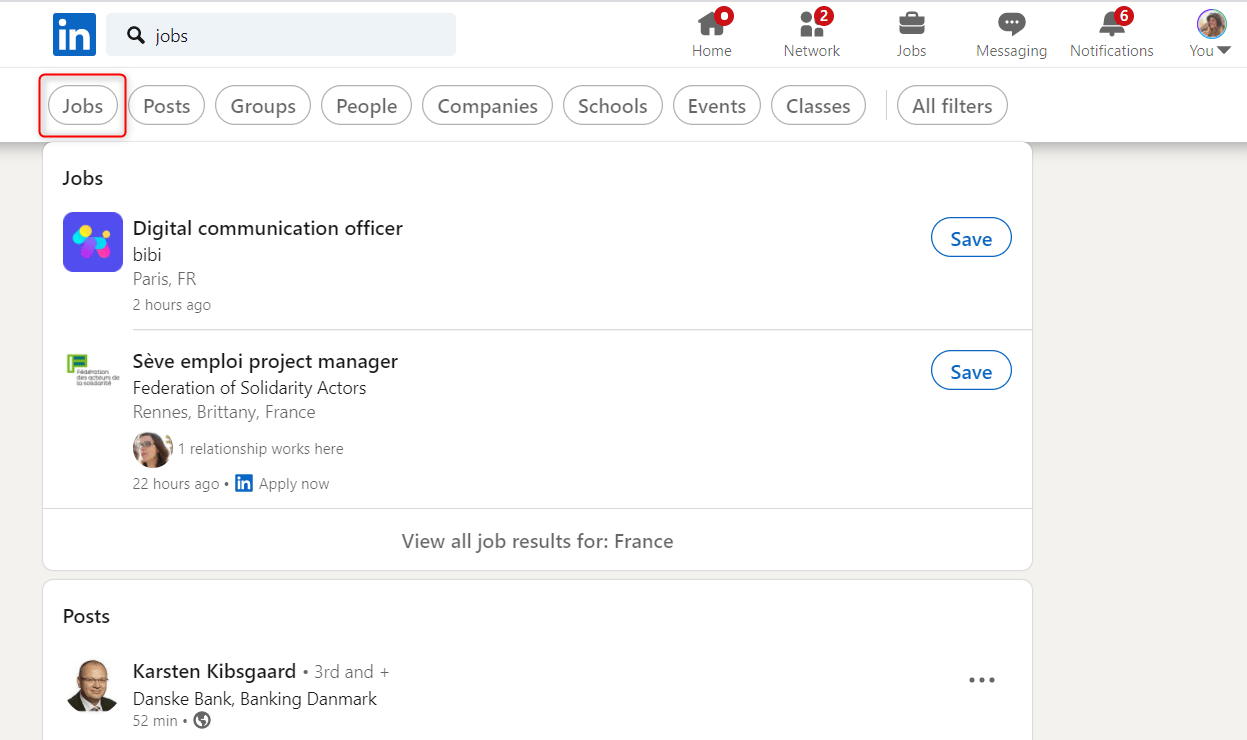 Now you're ready : you can go on to step 2 !
Type your dream job in the search bar.
Add the location,
Go to "all filters" and feel free to add the options that matter to you.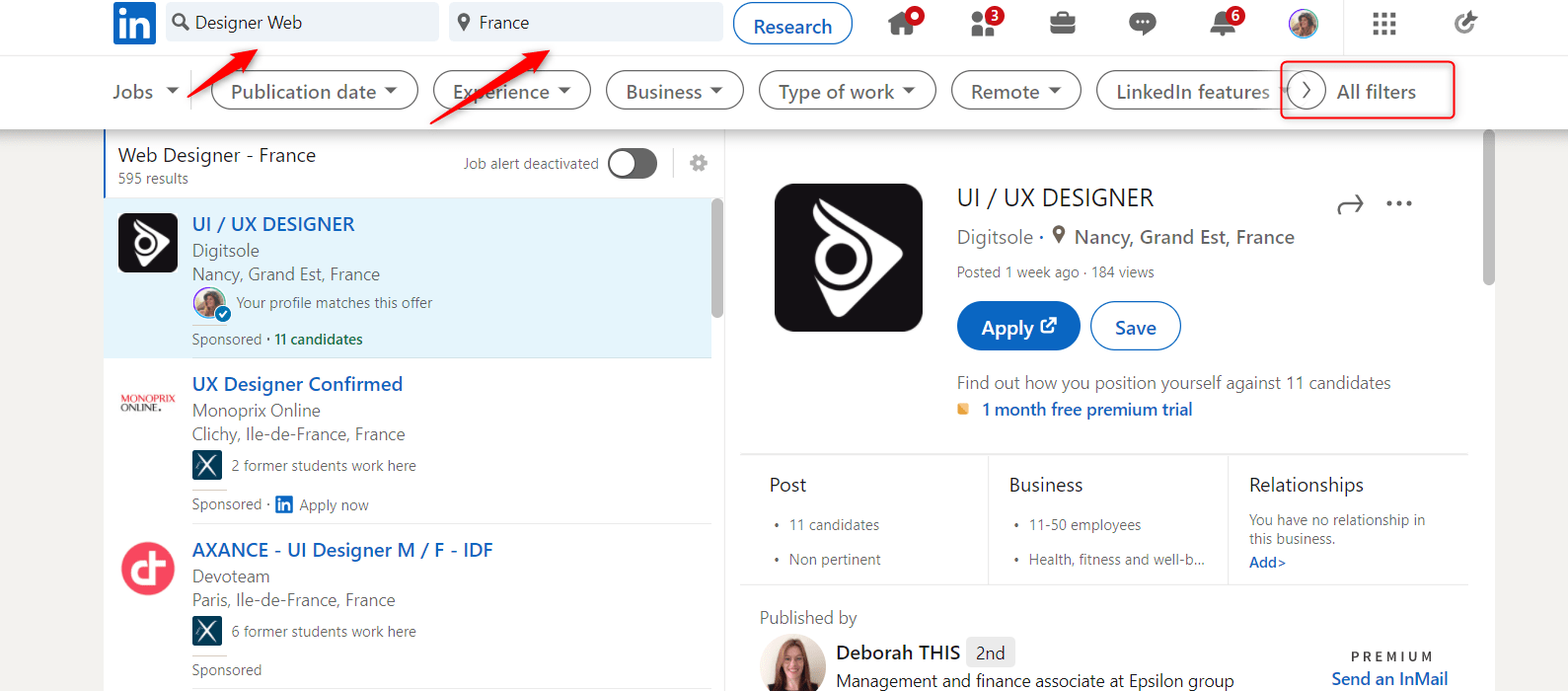 Here you are, you've got a few high-quality career opportunities. ✨
You can apply for jobs now or save them for later.
If you decide to save them for later, make sure you come back to them pretty soon.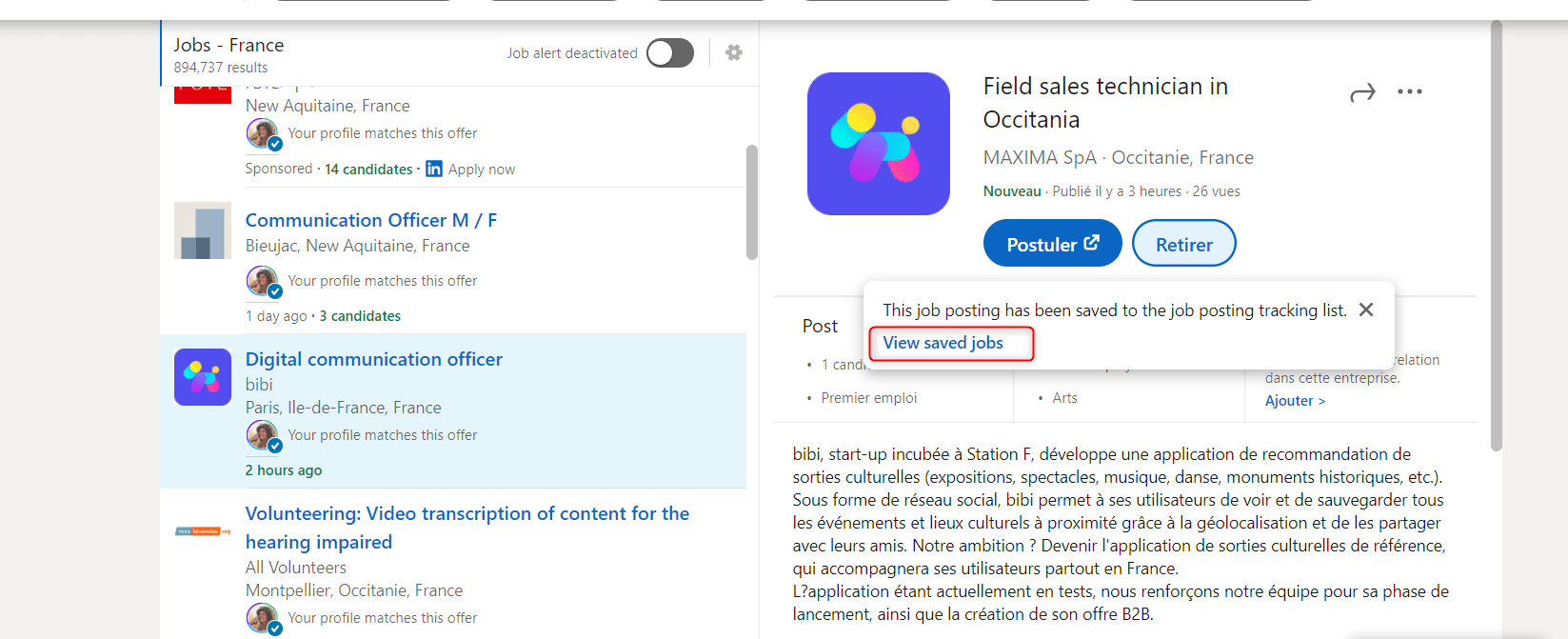 And now you are wondering how do you come back to them ?
Aha, sometimes LinkedIn can be tricky and it's not easy to find out where in your settings they have put saved jobs.
Let me show you ! 😁
Where are LinkedIn's saved jobs ? 
LinkedIn's Saved jobs are not so far, don't worry !
Go on "jobs" at the top of the page.
Go to "My vacancies".

For each post in the available jobs section you will find 3 dots, if you click on them you'll have 4 options :
Apply,
Send a message,
Copy Link,
Remove.

We know how much looking for a job can be stressful and time-consuming, but we are pretty sure, with perfect job search strategies, you'll soon find it.
Looking for a Job on LinkedIn: What are the best practices?
Imagine LinkedIn as an employment website. Your profile needs to be professional. Job hunters need to find out what your skills, qualifications and work-experience are.
Applying for opportunities on LinkedIn is great. With the "simply hired" option, some companies only look at your LinkedIn profile without asking you to send them a resume and cover letter. Your LinkedIn profile is the first door to your new career. 
There are a lot of job seekers out there and you want to be the most efficient and the fastest to stack the odds in your favour and get that precious job interview.
LinkedIn: who can see saved jobs
You're wondering if employers and job seekers can see your saved jobs ? I get it. Most of us don't want our colleagues or boss knowing that we want to get a new job. 
According to LinkedIn neither your LinkedIn relations, your employer or even recruiters can see it. It's completely private.
No stress. 🤗
Conclusion
You're looking for THE best job on LinkedIn and you want to manage your LinkedIn saved jobs ✨. In this article we helped you find out how to save jobs on LinkedIn, where to find the job you have saved and we gave you 3 tips to make the most out of your job search.
FAQ summary of the article
How to save a job on LinkedIn?
Go on LinkedIn's homepage,
Type in the search bar and press enter,
Click on "jobs,"
Use filters for your search.
You can't find saved jobs on linkedin? Find out where it is. 
Click on the icon "jobs,"
Go to "My vacancies,"
Manage your saved jobs.
How to get a job on LinkedIn? 3 easy-to-follow tips 
Discover how to optimize your LinkedIn profile,
Learn how to upload your resume on LinkedIn,
Use Job alerts.