5 questions you should ask yourself before launching a content strategy on LinkedIn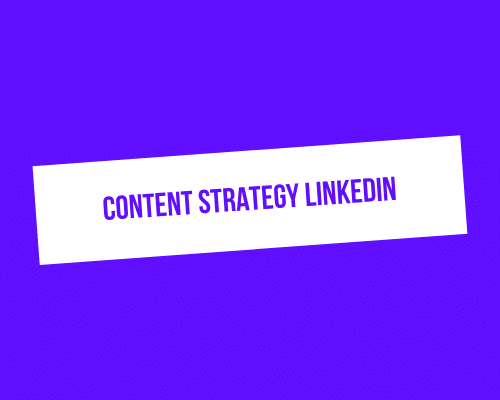 3
minutes
Starting an effective content strategy on LinkedIn cannot be improvised. Without saying that you have to spend days there, preparing your strategy well increases your chances of succeeding and obtaining a positive return on investment.
We have selected 5 things to do before launching your content strategy on LinkedIn.
Why? To whom?
You are about to write posts and to invest a minimum of time in creating content. What purpose? What do you hope to gain from this strategy? Who is your ideal audience?
There are thousands of reasons to post on LinkedIn. What's yours?
Playing on familiarity bias? Educate your prospects? Highlight your expertise? Raise awareness? To become a star?
Defining the "why" well, then helps you find out who and how.
Obviously, you would like the whole world to see your content. But you have to choose: who is your publication aimed at first?
Like any marketing strategy, focus on the niche at the start. A very specific persona that you can expand later.
Talking to everyone is talking to no one.
What I will discuss
Do you know why you want to publish and to whom?
Now it's about knowing what you're going to talk about. Not so simple, right?
Our advice: prepare your subjects well. Bath with your colleagues and friends. Find a list of broad topics (we can talk about everything on LinkedIn, contrary to what some people suggest). Then prioritize.
I invite you to have 3 months of precise ideas (the title of the post) in front of you and 3 other months of more vague ideas (therefore depending on the frequency of publication that you want to set up).
What frequency?
Regularity is the key to creating content on LinkedIn. It is better to publish less often but more constant over time than many at certain periods and not at all at others.
Depending on the number of content ideas and the amount of time you want to spend creating the content, set an achievable frequency.
Start low and then go up. It's better than the reverse.
Tell yourself once a week. If it fits without a problem over a month. Go to 2 times a week. And so on.
How?
The creation process is essential to maintain regularity. We don't make a living from creating content on LinkedIn. It is a work of its own. So we shouldn't spend all our time there.
So prepare your content creation process: when to write? Do you schedule your posts?
You can read the article on my own content creation process to get inspired and find yours.
What is my writing style?
If you start publishing regularly, you want the audience to recognize your content at first glance. Like any marketing strategy, it will strengthen your brand (here your personal brand).
I'm not saying you need to have a style from the start and never change it. But have an idea of ​​your format (which must respect good practices), of your writing style that stands out, or of a specific attribute. You can test several formats in the first few weeks to adapt and iterate.
You just don't have to go unprepared. Give yourself a course of action in your content.
Bonus reminder: optimize your LinkedIn profile
It is said and repeated in many articles. If this is not the first one you read, you are probably saying "Arf. Still optimizing your LinkedIn profile?".
But it is essential. Crucial. It's your showcase. Where your audience first arrives when they see your post. Optimize it. Update it regularly. Pay for professional photos (it costs you 100 euros which will be largely amortized, believe me). Contact me on LinkedIn !