LinkedIn best practices, do you know them? When you think about it 🤔 we spend an enormous amount of time on social media, and when we're prospecting, especially on LinkedIn. But what to do? And especially how to go about it on this network without looking like a novice? Come on, let's go around the subject in this article ☄️.
Known to be the number 1 professional social network, LinkedIn is a platform on which one can spend a lot of time. Still, you have to know how to use it.
Good practices to grow your audience on LinkedIn
If you are new to LinkedIn, it can be difficult to know who to add to your network. There is often a temptation to add everyone 💑🏻. In and of itself, you may very well do this if you have no purpose on LinkedIn (we admit it to ourselves, it's still a shame to sign up for the platform if it's only to be like everyone else). Let's take a look at the situation to know where you stand.
Growing your audience to sell a product
You want to sell 💰 a product or service and go through LinkedIn to promote it. We will explain what you need to do so that you can increase its visibility.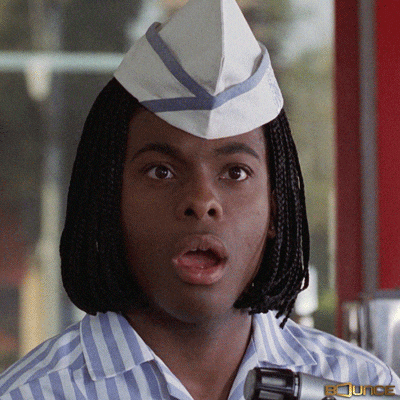 If you want to sell on LinkedIn, the first thing you need to do is to create a LinkedIn profile and create your persona, a persona tailored to your product. You're going to meet its need.
If you want to know how to create your ideal customer picture, it happens right 👉 here. As a result, in order to sell a product, you may need to create a second LinkedIn profile dedicated to selling your product.
On this page, don't add your friends 😻 or colleagues, or anyone random. On this profile, you're going to add everyone who matches your ideal customer. If you have Sales Navigator, you can totally refine your search by excluding terms or specifying them.
It's up to you to set them. If you're not sure whether to use Sales Navigator or not, feel free to test it for a month for free.
What you should do
To maximize your audience growth, you need to:
🟢 Create a LinkedIn page specifically for your audience.
🟢 Optimize your profile.
🟢 Create your persona, target your audience.
🟢 Use automation software.
🟢 Publish regularly.
On this last point, you'll have to work on your copywriting. LinkedIn is a platform based on trust.
When you send a message, you must not forget that you are sending it to a human being. It is therefore important that you personalize it as much as possible and implement empathy in your digital prospecting.
So you don't have to introduce yourself (yes, your prospect doesn't care at all), nor do you have to use templates, you have to make sure that your prospect never suspects that you are using an automation software and above all keep in mind that your target is also the target of other people who are prospecting, know how to differentiate yourself.
What not to do
There are also things not to do such as:
🔴 Create a company page. LinkedIn is a platform based on trust. Therefore, it is easier to connect with a real person. You will be trusted more naturally especially if you post regularly and show that you have mastered your area of expertise.
🔴 Don't add just anyone. If someone who is not part of your audience hides your content in their news feed, you will lower your visibility 👀 and that's not what you want.
Growing your audience to gain visibility
Have you started on LinkedIn 🚀 and would like to be contacted because you know your stuff? We show you the best practices on LinkedIn.
What you need to do
To gain visibility on LinkedIn to show you're proficient in your field of expertise, you're going to need to:
🟢 Optimize your profile (for a change).
🟢 Post regularly.
🟢 Clean up your news feed (what do you want to see and what do you want to throw away?).
🟢 Share 🍰 about topics in LinkedIn groups.
🟢 Comment on posts that speak to you.
What not to do
And as with everything, there are also some things not to do such as:
🔴 Not posting ✒️ regularly.
🔴 Avoid interacting with your compatriots in the same industry.
🔴 Not commenting on or liking posts that you like in your news feed.
LinkedIn Best Practices: The Profile
We told you about it quickly in the previous section, it's time to get your hands 🤚 in the dirt and make your profile stand out.
How do you go about getting an optimized LinkedIn profile? We'll show you right now the LinkedIn best practices to make your profile fit your situation whether it is:
Prospecting for clients.
Enriching your network with professionals in the same industry as you.
Having an optimized profile when looking for a job
When looking for a job, it is in your interest to have a complete profile. You always optimize your profile according to your target 🎯, but there are relevant elements that will be found regardless of your targeting.
What to do
To maximize your chances, you're going to need to do:
🟢 Optimizing your URL on LinkedIn. Optimizing your URL will greatly improve your SEO at the same time. Indeed, if someone types in your name, there is a good chance that your LinkedIn profile will appear first.
🟢 Fill in all the information fields. Be aware that there are different levels of profiles on LinkedIn (from beginner to expert). The more complete this one is, the more visible your LinkedIn profile will be 👀 by other people. When we talk about filling in all the fields, we are talking about:
🟢 Don't hesitate to recommend others and to be recommended.
What not to do
To have an optimized profile, you should not :
🔴 Leave your profile without any photo.
🔴 Do not complete your professional experiences (these are relevant elements for a recruiter).
🔴 Use LinkedIn as a resume.
Client Prospecting: The Profile
Just like when you're looking for a job, if you want to acquire new customers, you also need to take care of your little profile.
Digital prospecting: what to do to optimize your profile
To gain new leads, you will need to:
🟢 Optimize your profile (does this sound new?).
🟢 Complete your various information.
🟢 Fill in your skills.
🟢 Highlight your recommendations.
🟢 Publish regularly.
🟢 Use automation software like Waalaxy.
🟢 Personalize your messages (and take an interest in your prospect and we insist on this point).
🟢 Increase your SSI (or Social Selling Index; we'll talk about it later in the article).
🟢 Join a LinkedIn group (or several related to your prospecting 🕶️).
What not to do
This is probably going to be repeated since it is very similar to what you should not do in the other points. If you are doing LinkedIn prospecting on LinkedIn, you should not:
Leave your profile blank.
Not posting regularly.
Sending non-personalized messages.
Not paying attention to your copywriting.
These different tips apply if you also want to expand your network with professionals 🕵️♂️ who are in the same industry as you.
How do you publish on LinkedIn?
Do you know what performs best on LinkedIn in terms of content? There are 5 types of content that make a splash on this networking nugget and we decided to make a little infographic for you. We let you discover.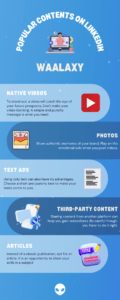 You will have understood it, it is about :
Videos.
Photos or illustrations.
Text ads.
Third-party content.
Articles you write on LinkedIn.
Best practices for publishing on LinkedIn
When we talk about videos, we are not necessarily talking about LinkedIn sponsored videos. Keep in mind that your message in the video must be short, punchy and reach your target. You can very well use subtitles to make it more accessible (we strongly advise you to do so) and put a call to action for the visibility of your offer.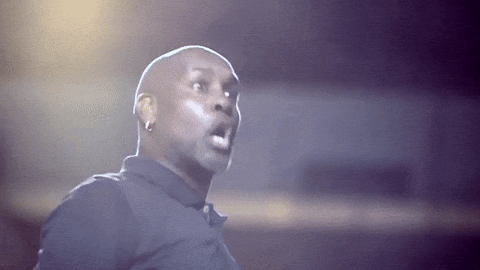 When you use photos or illustrations, put forward a striking image showing the heart of your activity. On networks, users are looking for authenticity and emotion ❤️.
For your text ads, you can use hashtags to show the category of your topic (it can also be part of your favorite topics), put forward a simple message of understanding.
Regarding third-party content, feel free to add your own content when you share on networks and added value.
Finally for articles, this is where you will have to put forward everything you know about a subject. In this particular case, it is better to make a long text since the format is completely adapted. When someone leaves on a blog post on LinkedIn, they want to read 📖 content, so don't hesitate to explain well in detail what you want to highlight.
What you need to know before posting on LinkedIn
The audience on LinkedIn is counted in millions of users. This means that this platform offers you uncommon visibility if you do it right. LinkedIn users are in the business 🎖️ of discovering content that could help their career or bring value to a field they are looking for.
That's why you need to know and keep in mind that you're going to give information to an audience that needs it.
Sponsored Ads : LinkedIn best practices
Finally LinkedIn has almost no secrets for you and you are tempted by the idea of trying to advertise on LinkedIn.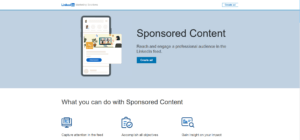 Or maybe you simply want to increase the performance of your different on this social network. We'll explain it to you in detail.
What to do
What you need to do for your ads to work is first to do some lead targeting. If you don't target (we always go back to the basics) correctly, your ads won't perform. To get your ads off the ground 🚀 start with:
🟢 Know your target audience (choose appropriate words in your message).
🟢 Make your ad short and punchy with compelling language.
🟢 Put yourself in your audience's shoes.
🟢 Give your target a reason to come and click on your ad (establish your credibility by offering them a white paper or trials of your service).
🟢 Don't neglect your featured image (and especially put one related to your business, it must be relevant and stick 💡 to your product or service).
🟢 Do A/B testing (don't hesitate to try new approaches and change them if necessary).
🟢 Optimize your images for the formats you're going to choose.
What not to do
For your ads to hit your targets, you should not:
🔴 Don't target your audiences.
🔴 Make your ad too big 🤯.
🔴 Not offering something for your target to click on.
🔴 Not monitoring (look at what your competitors are doing, you can get inspiration from them (but no plagiarism please)).
Copywriting
If you decide to start creating and/or strategizing content on LinkedIn, we will explain some rules to make it easier for you. We recommend you to go for it since LinkedIn is one of the social media with millions of users. It is a huge B2b database.
So you will gain visibility. But what is copywriting? It's not a new science 🧪 of marketing. In fact it has been around for a while on various platforms. Copywriting is the art of using the right words to create engaging content in order to enhance your advertising.
It's a great way to do inbound marketing, which means bringing the customer to you rather than going out to find them.
How to do a good copywriting?
Even if the term is still new to you, if you are a word lover or really want to propel your communication into the space, you need to :
🟢 Do some reading 📖(soak up the influencers on LinkedIn. What do you like about LinkedIn? Who are the people who inspire you on LinkedIn?).
🟢 Proceed to curate your content (if there are topics that don't interest you, feel free to hide them from your news feed).
🟢 Choose your target and your market (who will you target? What type of people will be interested in your content?)
🟢 Ask people directly. Ask them what they want to see in their news feed.
🟢 Create your branding or image. So arrange your profile on LinkedIn to be recognizable (customize the color, iconography, your font…).
🟢 Simplify your content and proofread yourself or have someone proofread you.
🟢 Use applications that will help you in your copywriting (Merciapp to correct your mistakes and syntax for example, Podawaa to schedule your future publications).
🟢 Analyze your results (check your number of views on a post, the number of subscribers you have gained and how many clients have come to you to request your services).
These are the main tips we can give you so that you can improve your copywriting.
What not to do
You're starting to get used to as this article goes on, of course you need to pay attention ⚡ to several things:
🔴 You are talking to humans, don't be cold and have empathy.
🔴 Do not build trust in your readers (the famous optimized profile).
🔴 Show that you use automation software.
The heart of copywriting is the human, you should definitely not forget that. So you're going to use automation software but you don't want to let anyone know about it. Waalaxy is ideal for this because it allows you to insert variables such as the person's name, first name and company. It's up to you to use it well.
LinkedIn tutorial
In this part, we have a small list of tutorials for you to master the tool ⚒️ to perfection.
How to create a LinkedIn account?
Don't have a LinkedIn account yet 🧐? We'll tell you how to create your very first page on this fantastic professional social network. The first thing you need to do is go to the LinkedIn website. You will then click on "Sign Up."

You will then have to fill in the fields that the platform suggests you fill in. If you are using an email address to create an account, you can only use it once. If you need to create another account, you will have to change your email address.
You can also sync your contacts to LinkedIn and start adding them to your network. Once this is done, you will need to start filling out the different information that should make up a profile. If you want to know more, we let you browse this short article.
How to create the perfect profile on LinkedIn?
We will try to give you an exhaustive example of how to have a perfect profile on LinkedIn. We've talked about it a lot during this article, so it's only natural to have a little tutorial ❤️ on optimizing your profile.
Step 1: Enhance your profile to appeal to your target audience
Your LinkedIn profile should represent what you do, and more importantly should represent you and your services. With just a quick glance 👁️, it should be clear who you are, what you do and why you do it. Your LinkedIn page is a bit of a showcase for you so customize it to your liking.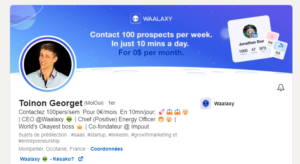 So your first step is going to be to optimize it according to your target. When you create your page, it will certainly be for a specific purpose ⚽ whether it's:
Keep in mind that you are going to post and write for a target audience that you have defined beforehand. Highlight the different skills you need to appeal 💕 to your targets.
Step 2: The profile picture
LinkedIn users interact based on their level of trust 🤩 in a person. The more complete your profile, the more they will trust you. Optimizing your LinkedIn profile also means filling in all the fields the platform asks you to complete.
Don't forget to choose a professional profile picture for this social media, don't use your Tinder profile picture… Your profile picture must have a specific color, preferably on a neutral background.
Step 3: The cover photo
Your banner should reflect 🪞 your activity on the network. It is precisely the perfect opportunity to highlight the message you want to broadcast to your customers, subscribers or prospects.

It's the way to stand out and quickly understand what you do. Be creative.
Step 4: The LinkedIn title
Your headline is going to allow whoever comes to your profile to understand exactly what you do. This is a must-have element to make you stand out 🌟.
It's going to pop up as soon as you interact with someone on LinkedIn, comment on a post or even send a message. Make sure it's clear and speaks to your target audience.
Step 5: Choose your topic
Here, we are talking about topics of choice. When someone comes to your profile, they will try to understand your sector of activity, your field. On LinkedIn, it is quite possible to fill in these different topics of interest. So when someone is going to come and see your little profile 😎 they're going to get a sense of what you're talking about.
How to create a business page
If you're interested in selling a product, we don't recommend creating a business page, but we'll explain how to create one anyway. You're going to have to do it from a LinkedIn account and the person who created that page automatically becomes the administrator of it.
To do this, go to the "Product" tab at the top right of the page. Then select "Create a LinkedIn Page". From there, you'll simply have to follow what LinkedIn asks of you 👌 :
Select the type of page you want.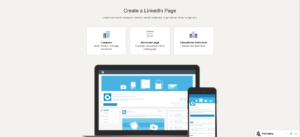 Fill in the information on your LinkedIn page.
Customize it with your logo, your slogan and anything else that is specific to your field of activity.
Optimize this page as if it were your profile. So we think about the banner.
All you'll have to do is liven it up and seduce ❣️ your audience. But if you've been advised to go with a personal page, why create a LinkedIn company page? It's simple, you can introduce your brand to an audience on LinkedIn and drive them to your website for example.
Powering your prospecting on LinkedIn: Waalaxy
With all the LinkedIn best practices we just mentioned, you also need a tool to match your new methods on LinkedIn. We're going to tell you about Waalaxy, the darling ❤️🔥 of LinkedIn prospecting.
Découvrir Waalaxy 🪐
Waalaxy, it's a little chrome extension that allows you to boost your digital prospecting on the LinkedIn social network by doing multi-channel. It allows you to get in touch with recruiters, potential prospects, in short with the right people according to your objectives.
How does Waalaxy work?
It allows you to automate your prospecting tasks in a simple, secure and extremely efficient way. You can choose from many sequences according to your needs. Before you can launch a campaign or scenario, you will start on LinkedIn and target the people you need by keywords.
You may decide to target SEO experts for example. You will then import them by clicking on "Validate" as in the image below.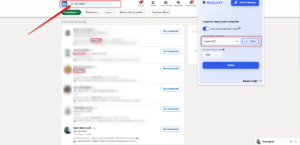 Once your list 📘 of prospects has been imported, you will be able to start your sequences.
Then, of course, it's going to depend on what your goals are for the rest of the adventure. If you just want to add them to grow your network and interact with SEO professionals, you can attach an invitation note to your invitation. If you want to sell a product, send them an invitation and a message a few days later.
In theory, sending an invitation without a note still works better, but this is taken into account without the copywriting. With the right copywriting and targeting, they will ✅ accept your invitation with a note.
Waalaxy's pricing
There are 4 different plans at Waalaxy:
The "Free."
The pro.
The advanced.
The business.
If you want to find out what the different pricing plans entail, go to this page.
Conclusion of the article: LinkedIn best practices
We are almost at the end of this article and we have seen many practices to do on LinkedIn. From profile to sponsored ads, you can do your own tests to make your online presence take off. The thing to remember 🧠 is that whatever your case, you will need to:
Create a persona (in any case, you will need to understand who your target is to answer their needs or questions).
Think about optimizing your profile.
Publish content regularly.
Clean up or curate your news feed.
Add the right people.
Keep your goals in mind.
Excel in your copywriting.
Use automation software like Waalaxy.
When using LinkedIn, remember your goals and your target audience. These are the two most relevant things to keep in mind as you navigate this network.
FAQ of the article
We finally arrive at the end of this article but there are certainly still little things that we can teach you. We talk about them in the following to complete what we said above.
The Social Selling Index on LinkedIn
You've vaguely heard of it but you don't really know what it is? We'll explain it to you right now. On LinkedIn, you have what is called a"sales score" ranging from 0 to 100, which is assigned by the platform to its users. It's a real marketing metric. You can check it out right 👉 here. This metric consists of 4 pillars:
Build your professional brand.
Find the right people.
Exchange information.
Building relationships.
It's worth keeping in mind your SSI since it helps to improve your sales, gain visibility and generate professional opportunities.
What is inbound marketing?
This term which means "Inbound Marketing" is a method in marketing to make the customer come to you. We knew the door-to-door where you had to go directly to meet the customer. Well, here it is exactly the opposite.
Your goal is to make sure that a prospect who does not know you becomes a customer of yours. This is often done through content creation. You don't skip over the selection of your targets (not at all), you have to think about them first. The techniques of inbound marketing are :
Creating 🖌️ white papers for your prospects to review.
Broadcasting podcasts 🎙️.
Natural referencing (people type in keywords and they will find you).
Creating videos on an online video platform (we can mention YouTube for example).
Writing content on the LinkedIn network (for example).
You will have understood, the goal is to be visible on the platforms where your targets are. It is a strategy that aims to assist your prospect from the first time he will see your brand name to become a loyal customer, even an ambassador of your brand.
LinkedIn: How to use it
As you can see, LinkedIn is really THE platform on which you can do everything. To get started with LinkedIn, you need to have:
A great profile.
A network in line with your objectives (whether they are for a job search, to sell a product or service or simply to gain visibility).
The desire to exchange with professionals in your sector.
Being part of groups where you can exchange on areas that interest you.
A little time to devote to curation.
A really good 💥 automation software.
We finally get to the end of our article, hoping it can help you set up LinkedIn best practices 🚀.