LinkedIn article or LinkedIn post? This is a big question. 😜 If you want reach and views = post but If you want to deal with a long topic so = article.

On LinkedIn, content creation is essential to get you noticed but also to develop your branding. Distributing content requires not only a certain strategy, rigor and regularity, but you also need to know what type of content you want to share. To help you see more clearly, we explain when to publish an article or a post on LinkedIn.
LinkedIn article, what is it?
If you're wondering what an article on LinkedIn is, it's because you already use it daily this little professional platform. But you want to do more, to gain visibility 👀, to become an influencer and therefore a LinkedIn article easily lends itself to the task.
On social networks, and especially on LinkedIn, the floor is largely left 👄 to the experts. This is precisely where LinkedIn has introduced articles. In order to showcase your expertise and knowledge in a field, you have the opportunity to share a relevant topic during an article.
An article, like blog posts, allows you to express yourself in length, breadth and depth since you can also share it through a post (double win). You can add :
Images.
Links.
Hashtags.
Title.
These elements will give meaning to your article and to your content strategy. Writing on LinkedIn is very important when it comes to Inbound marketing. If you don't know what that is, it is the way to attract clients to you. You are sharing advices throught podcasts, lives, articles, posts, ebooks and so on with some marketing tools and people come to you.
As a matter of fact, if you want to gain visibility, publish on LinkedIn will benefit you and your digital content.
How to start an article on LinkedIn?
It's not easy to find your way through all the topics that can be found on LinkedIn. First of all, you'll have to sit down and think about the subject you're going to talk about.
We know that LinkedIn is a great 🎊 platform to gain visibility. But what to tell in an article. Think about your activity, your favourite topics to ensure your presence on the network. These articles will be displayed in the "Activity" section of your profile, so they can be viewed at any time.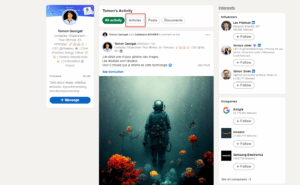 You can also sort through all the posts you see in your "Feed". Once you like several topics, you can develop them further in an article for example.
Write down all your ideas and develop them as you go along.
You can even send newsletters to your community to inform them of a new article.
Using LinkedIn Pulse to your advantage
Don't know what LinkedIn Pulse is? It is an extremely powerful tool that will allow you to :
Doing Inbound Marketing.
Attracting traffic to your website.
Create your content strategy.
Develop your personal branding.
Improve your natural referencing (SEO).
This last point is particularly interesting, as Pulse results can greatly help you get noticed on search engines. I show you an example below.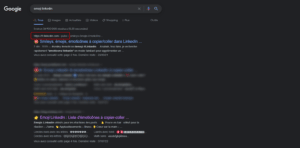 I typed in "LinkedIn Emojis" and the first search result is a link from LinkedIn Pulse. To get to the first position with that is pretty strong. That's why you shouldn't hesitate to use it to build your content strategy.
To write 🖊️ a Pulse article, you can go to the Pulse writing platform. Once it is published, it will appear in the author's news feed.
Prefer posts to share news or advice
The post is the shortest format you can use on LinkedIn since the number of characters is limited.
It is not possible to format your posts but you are free to insert hashtags, emojis or visuals. We advise you to add a photo, a video or a carousel to your posts. 😜
In addition to pleasing the LinkedIn algorithm, you'll be more likely to grab the attention of your audience. Who hasn't moved on to the next content when they see a large, unventilated block of text? It would be a shame to make that mistake, especially if you bring quality content to the members of this network. Be careful you can't mix visuals by adding images and videos for example!
The LinkedIn post is the ideal format for sharing :
A news item.
A tip.
An advice.
Your expertise.
You can then develop this type of topic in an article for example.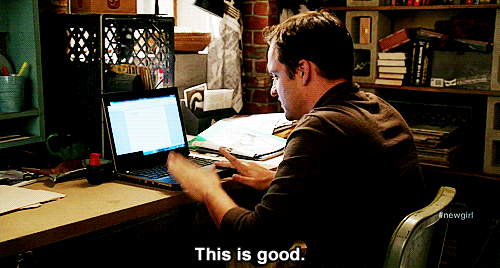 Don't forget to engage your audience when publishing a post, you can ask a question and get engagement on your post. If you have really good results, you can touch potential customers.
Show your expertise in more detail with an article!
For marketers or not, articles have the advantage of being much longer in terms of typeface and they offer you the possibility of formatting your text. But LinkedIn articles generate fewer views.
This format is ideal for developing a tip, an opinion related to your domain in the image of a blog article for example. You can also insert an image or a video in the body of the article when this is not possible in the post. The visuals in a post appear as attachments and thumbnails.
To write an article, simply click on "write an article". You will be able to add a cover image, insert quotes, images, or videos for more visual impact.

Unlike posts, you can keep your articles in draft form and post them when you're done. However, it is not possible to schedule them directly from LinkedIn.
Showcase your best content in your profile
LinkedIn allows you to highlight certain content in order to make it visible at all times. This allows someone who visits your profile to access posts or articles that you consider relevant or representative of your expertise.
To do this, simply go to your profile and select "add a section to the profile" then choose one or more posts, articles, links in the "our selection" section. In the next window, you will only have to choose which content you wish to pin on your profile!

Boost the commitment of your content with Podawaa!
Publish an article or a post on LinkedIn is good, but having commitment is even better! That's why we developed Podawaa.
This marketing tool is a pod like no other, since it allows you to choose the audience you want to target according to different criteria. So you broadcast content to a larger targeted audience. For example, there are different pods according to themes that you are free to integrate or not. If a pod does not exist, Podawaa allows you to create the group that suits you!

Poadawaa also allows you to schedule your LinkedIn post and make it known to the groups you belong to. The members then have the choice to react automatically or manually. And if you're afraid to be seen as a robot by LinkedIn, know that Podawaa reproduces human behaviour by generating a reaction or comment every 30 seconds, just like you would do yourself! Try it, you'll be convinced. 😉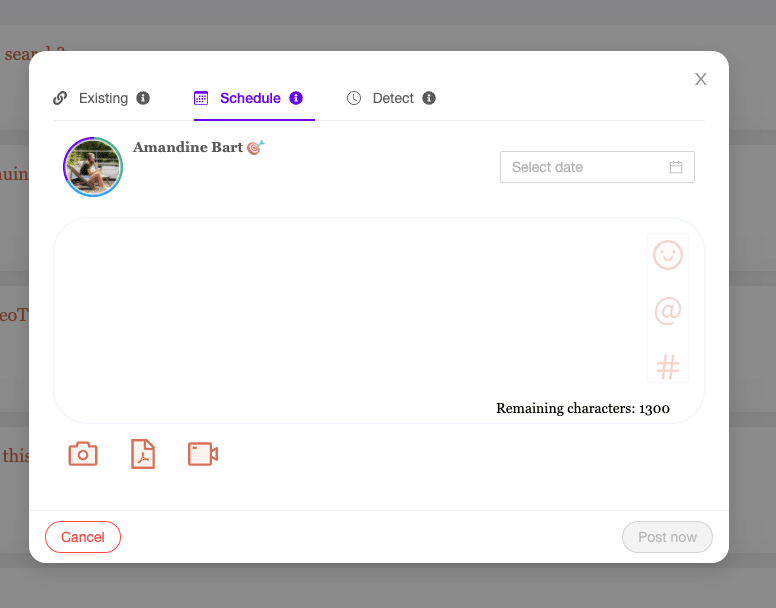 Best practices on LinkedIn
On LinkedIn, there are also a lot of things that are good to know in order to:
Increase your audience.
Find new customers.
Advertise your product or service.
To get visibility.
By the way, if you're thinking of doing an article on LinkedIn, there are a few best practices to know.
Best practices for an article on LinkedIn
It is true that few people know about this feature. Yet writing an article on LinkedIn is extremely easy ✅. And to prove it to you, we'll show you step-by step to implement:
Log in to your LinkedIn account.
On the home page, once you are there, click on "Write an article".

There, you will land on a new page offering you to put a headline, a photo and to start writing your article.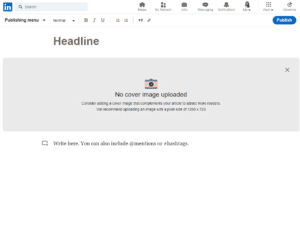 This format is different from the post as you can really write more than a simple post. Don't hesitate to add images to illustrate your words, to put links to redirect to a landing-page that supports what you say. Don't hesitate to add hashtags to target your keywords so that people can find you easily.
Showing your expertise in this format is very popular with influencers on LinkedIn.
Conclusion: LinkedIn article
We are coming to the end of this article about articles on the professional social network LinkedIn. You, now, know how to create a post and an article on LinkedIn.
As you may know, LinkedIn is an excellent platform to find b2b prospects. It is a very big database that will update itself, so it is an excellent tool if you are a marketer.
Is there a right choice between the article and the post for a great content? Well, that will largely depend on what you want to convey to your audience. The interesting thing about the post is that it will slip into the news feed of those who will follow you.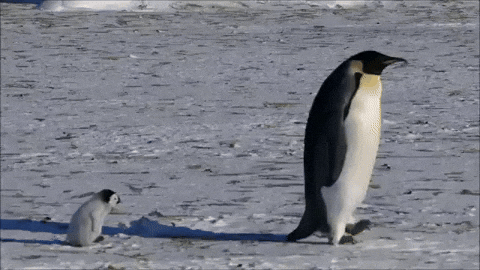 We advise you to use both ways of communication in order to be present on both "channels". Use them intelligently and together to meet the different needs of your audience.
You don't need to know the platform in depth to write an article, it is extremely simple to write on a topic of your choice. To do this, simply click on "Write an article", which is on the same banner as writing a post.
Whether you choose to write a post or a publication, both formats will be designed to help you implement a good content marketing strategy on the professional network.
FAQ of the article
We invite you to go further in this article to fully understand the issues on LinkedIn. You can write posts and articles, if you don't have an audience, you're going to be doing a lot of work in the wind 🍃. How do you build an audience? By going through several steps which we'll quickly talk about now.
LinkedIn profile
If you didn't know, LinkedIn is a platform based on trust. What does that mean? It's very simple. When someone is trying to sell 💰 a product or service on LinkedIn to prospects, the more visible they are, the more their audience interacts with them, the more they are in the exchange, the more you will tend to trust them. But it doesn't work overnight. You have to start with the basics ❤️ namely creating a killer LinkedIn profile.
To make a good LinkedIn profile, you'll need a professional profile photo (not a photo at Auntie Jeannine's house after a hearty meal in the south of France where you're sweating and red from talking politics with Uncle Jean-Bernard with two drinks 🍷 in your nose), a catchy title (but above all one that speaks to your target audience), to fill in all the information essential to understanding what you do…
If you have any doubts about how to make a good LinkedIn profile, we talk about it in this article.
Of course, don't forget the cover photo. All these elements will help you to improve your personal branding on the LinkedIn network.
The right time to publish on LinkedIn
You've probably heard about the timing for posting on social networks (like Facebook or Instagram). In reality, there is no such thing as ideal timing, as this will depend largely on your targets. Do your own tests. We often hear that you should post on Tuesdays and Thursdays before and after working hours between 7am and 8am, then at midday and at the end of the day between 5pm and 6pm.
Again, it will depend on your testing 🧪 on your audiences.
Formats on LinkedIn
While we're on the subject of the right time to publish on LinkedIn, we'd like to take this opportunity to tell you about some of the formats available to share your content. Your editorial line can also have :
Polls.
Live videos.
Stories.
A PDF or any other document you want to share.
Publishing high-quality content shouldn't be a witch's brew, if you feel like sharing about a topic with one or more people and you have enough subscribers, go for the live or stories. If you feel comfortable with one format over another, don't deny yourself what you want to do. The important thing is to always remember your targeting and the goals ✅ you set up beforehand.
Using networks like LinkedIn will require some observation and testing, that's normal, it's part of the game. Don't get frustrated if you don't get results right away, keep your ROI in mind and try. The important thing is to persevere and continue to learn about the network (of course) but also and above all about your prospects (whether they are btob or btoc). For this last point, knowing your audience is crucial, so you need to create a persona. That will facilitate your work obviously but also your marketing team.
You now know everything you need to know to write a good post but also a LinkedIn article 🚀.