As you may know, LinkedIn launched a new feature for company pages recently!
It's the LinkedIn product page, and we're super excited to present it to you here. 🤗
This is going to help you manage your products, in one single company page instead of having to create new pages for each product like before… this is going to be a real game changer. ⚡
What is LinkedIn product page?
Product Pages helps you showcase your products, inside your company page. You can bring forward reviews and testimonials by your users, and boost your lead gen with a personalized call-to-action button, such as a contact form or a link to your website. 🎯

In the new "Products" Tab, you can also add multimedia content like photos and videos, to feature your product's functionalities. Additionally, you can spotlight your biggest clients, and create a "persona" that corresponds exactly to your product.

Have a detailed look at the new product page here! 🧐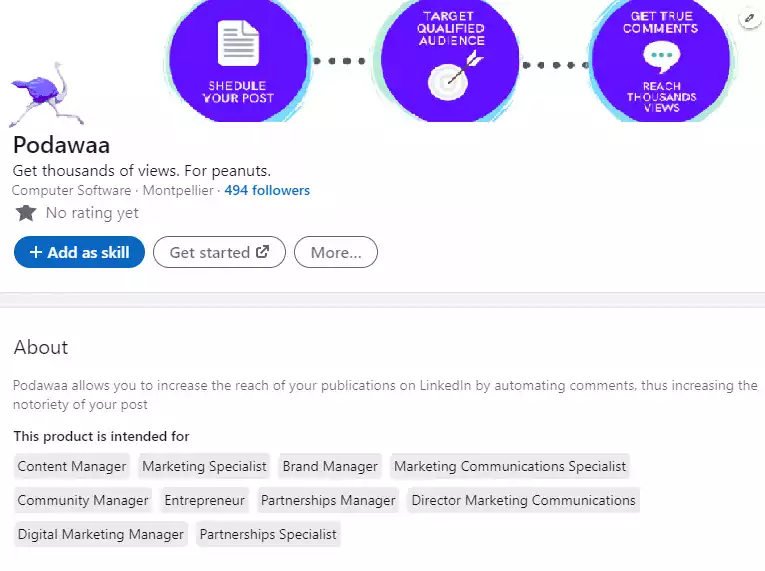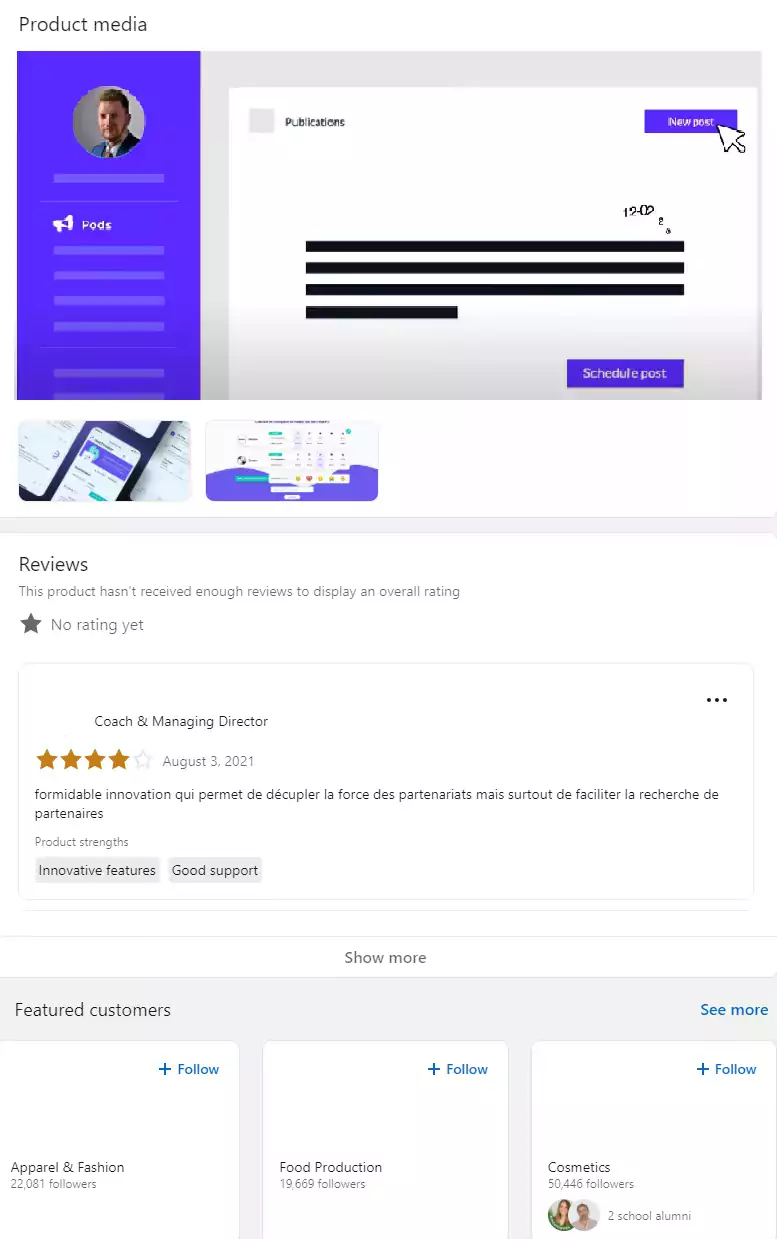 We will talk about all the detailed parts of the product page below in this article. But, first you need to make sure you have an active company page and that you have the admin permissions in order to create product pages, okay? 😉
How to create a company page on LinkedIn?
To begin, all business owners that would like to advertise, should use LinkedIn company pages to have a social media online presence. 👌🏻 LinkedIn is the biggest professional network there is, so it's important to be visible for your customers and new leads.
In this quick tutorial, we show you how to create your LinkedIn company page in 3 easy steps. This is key for your business, and it will help you boost your sales if you learn how to use it correctly.
How to manage your page on LinkedIn?
If you're not the owner of the Company page, you might need to ask the Admins of the page to add you as a "Super admin" in order to have access to create or remove products.
Or, if you want to add more admins than yourself (which we recommend 👍🏻), then you can do it like this:
Go to your company page,
You have to click on "Admin tools",
Then on "Manage admins".
And click on "+Add admin".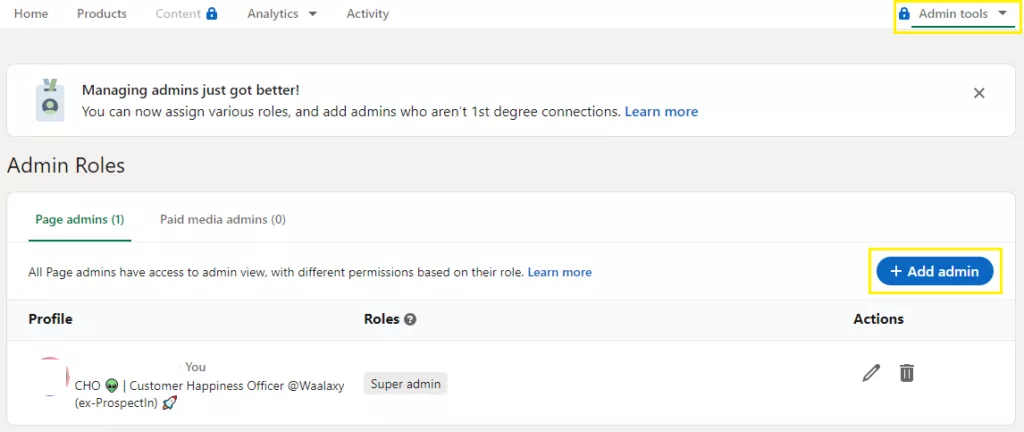 Afterwards, you can define their roles as admins, update them or remove them at any time if needed. Here's a LinkedIn answer page in order to help you a little further. 😉
How to edit a LinkedIn company page?
Some company pages do not have the product page option available yet, this is because it's being deployed slowly by LinkedIn. ⏳
A quick trick to have this feature right away, is to change the "Industry" of your page to "Computer Software" or a B2b software category, in order to be able to create products. 💡
Here's how to do it:
Go to your company page as an admin, and click on "Edit page",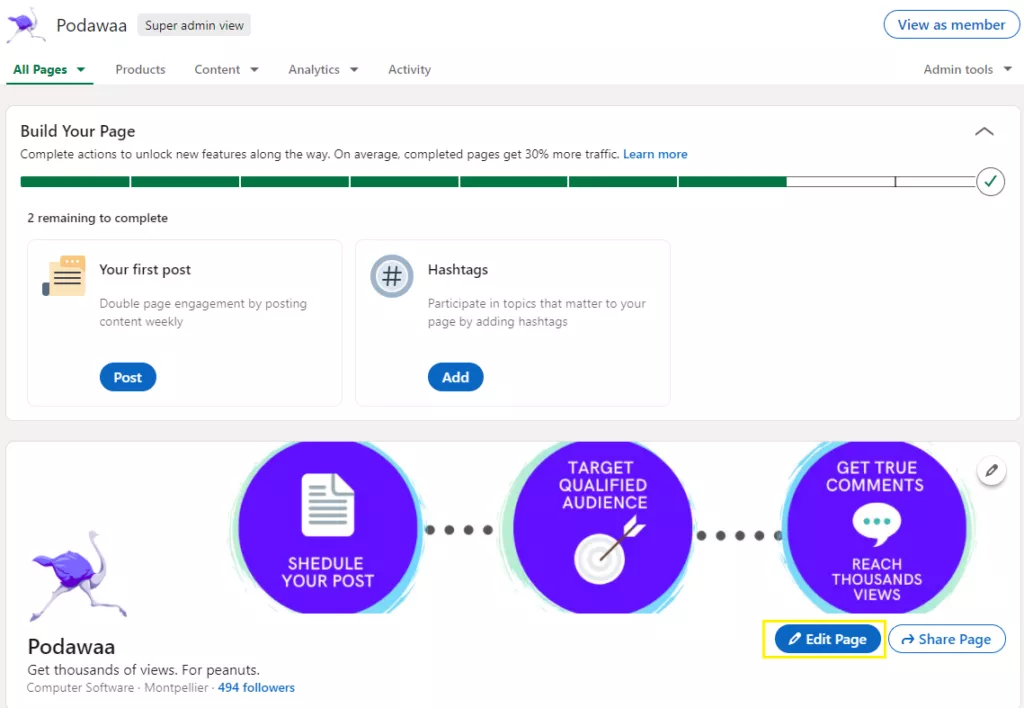 Under the "Industry" section, choose "Computer Software" and press "Save".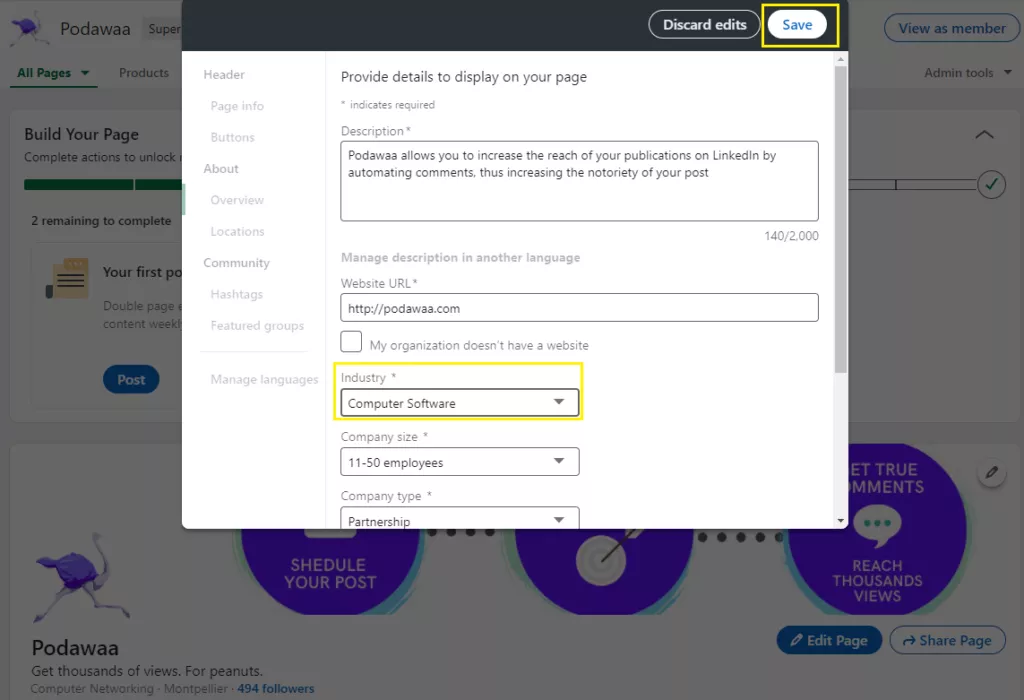 Once the company page is set up, you can go ahead and follow these steps below to create your product pages. 👇🏻
Let's go!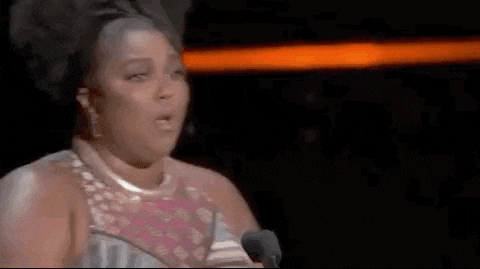 Step by Step: How to create a product page on LinkedIn?
Alright, now that you have your LinkedIn company page, we can go ahead and set up the product page. 😎
You will see that is very simple, yet the impact it can have on your business is huge! Here's an article for more info of this topic.
Nowadays, users search more and more reviews online before making a purchase or trusting a brand in particular. Who hasn't typed in Google search "reviews for this or that product/service" or "restaurant with the best ratings" before buying something or eating somewhere?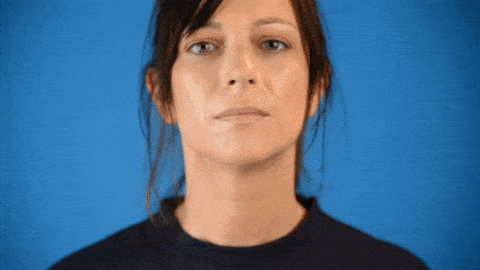 We've all done it, because we trust more our community than marketers, right? (But don't tell them that… shhh) 🤫
Your brand reputation can make or break your business, that's why it's crucial to nurture your customers and capture as many feedbacks as possible.
And LinkedIn product page is the perfect mean to do so. 🙌🏻
Step 1: Go to the product tab
First, go to "Me" on the top right-hand corner of your LinkedIn page,
and in the section "Manage" open your "Company" page: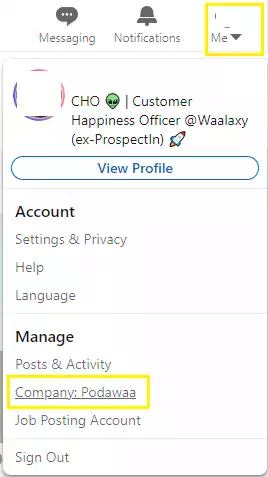 Previously, you need to have access to the "Admin tools",
then go to the "Products" tab of your page,
and click on "+Add product":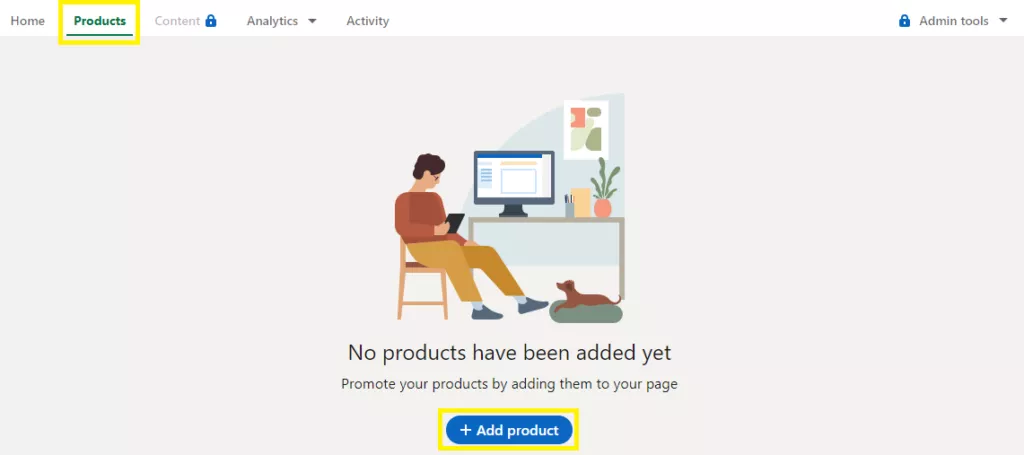 Step 2: Add product details and submit
When you click on "Add product", first you will have a pop-up to add the product name and "Save" :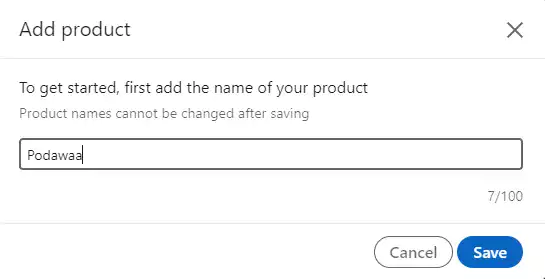 Second, you have to fill-out all the product details in order to "Submit for review" :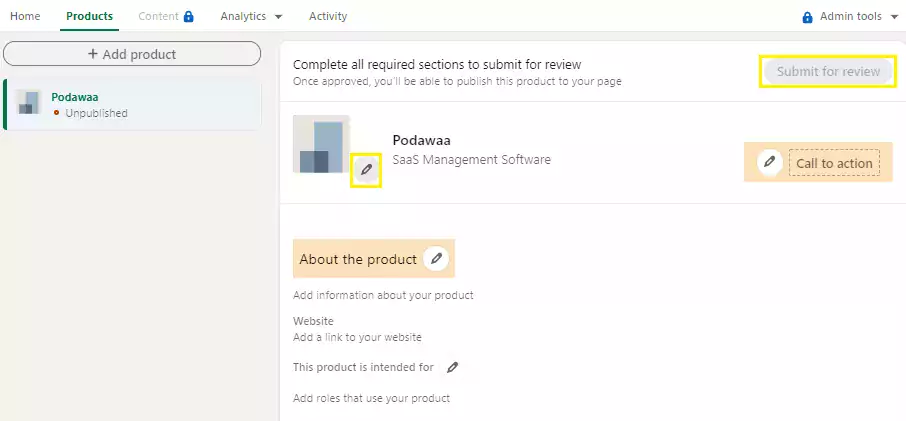 The call-to-action button is fascinating as it can help you gain qualified leads via contact form for example, or you can send them to your website directly. You can choose between 2 options :
Drive traffic to URL : you have a scrolling menu with the buttons "Download now, Get started, Request demo, Try now, Contact us, Learn more";
Or Collect leads : you have to put your URL contact form.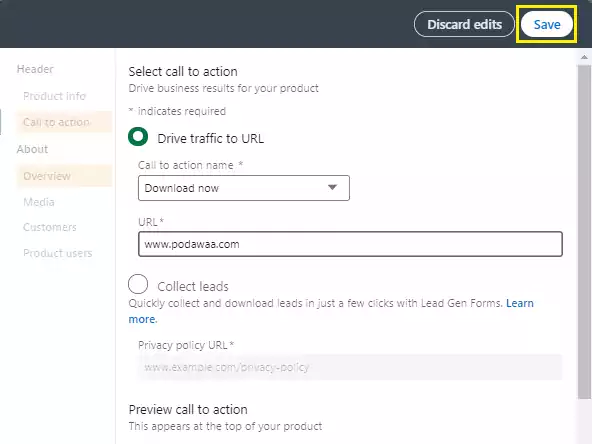 Don't forget to add your multimedia content as well, in order to back up the presentation of your product. You can add up to 3 videos (tutorials, demos, etc.) and two screenshots, so 5 visuals in total (try to keep the video content under 3 mins to increase visibility):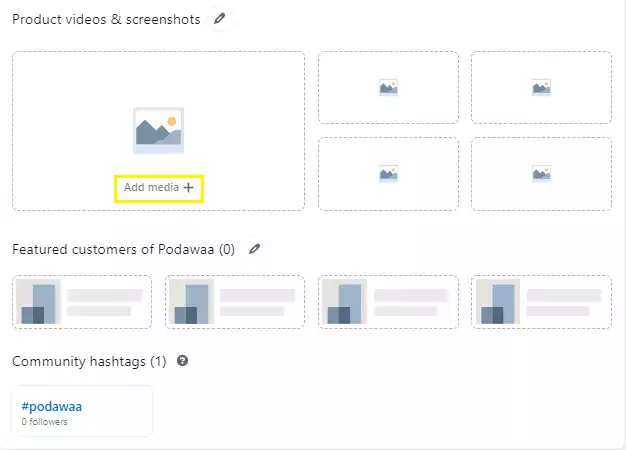 You can also feature your best customers, by adding their company page to your "Featured customers" section above 👆🏻. This is a great way to expand your network, as your product will appear on their pages (you can add up to 21 customers).
Perfect, you're ready to submit your product ! 💥
It will remain "unpublished" until it's reviewed by LinkedIn, which can take a couple of days.

PS: You can edit your product before or after it's been published, and you can even submit it again in case it has been rejected. You can check more info here!
What can you do with the product page?
LinkedIn product page is a great way to gather all your products under the same company page. Before, you had to create a new page for each, this was time-consuming, difficult to manage and hard to track of all your leads (request to follow the page, etc.).
Now, you can add as many products as you want for your company page, it's the end of those duplicate pages! 🙌🏻
Once your product page is published, it will look like this. 👇🏻
Bonus : the members of your page can add your product as one of their skills on their personal profiles using the "+add as skill" button.
Pretty cool, right? 🤯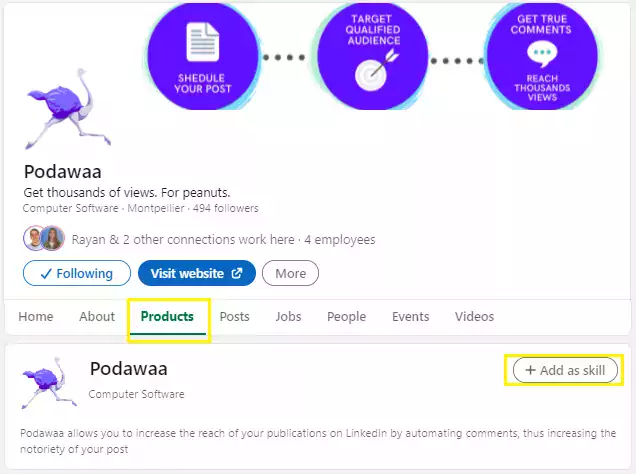 Main features
Now you can have reviews and ratings of your product directly on LinkedIn, it will show the profiles of the users on the product page. Which means that the profiles are reliable (in most cases), so this improves your social proof or your SSI. ⚡
If your reviews are new, do not worry if it appears as if you have "No rating yet" because it can take a couple of weeks, until the comments are validated by LinkedIn moderators.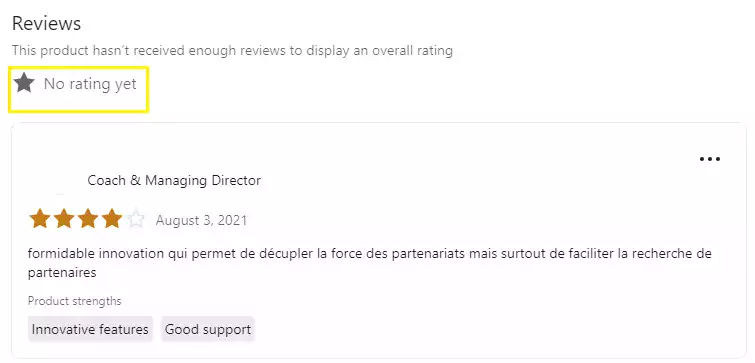 Another interesting feature is the possibility to create your targeted persona for each product. There's a new section "This product is intended for" that allows you to use as many job roles as you want, in order to identify your potential customers easily. 🎯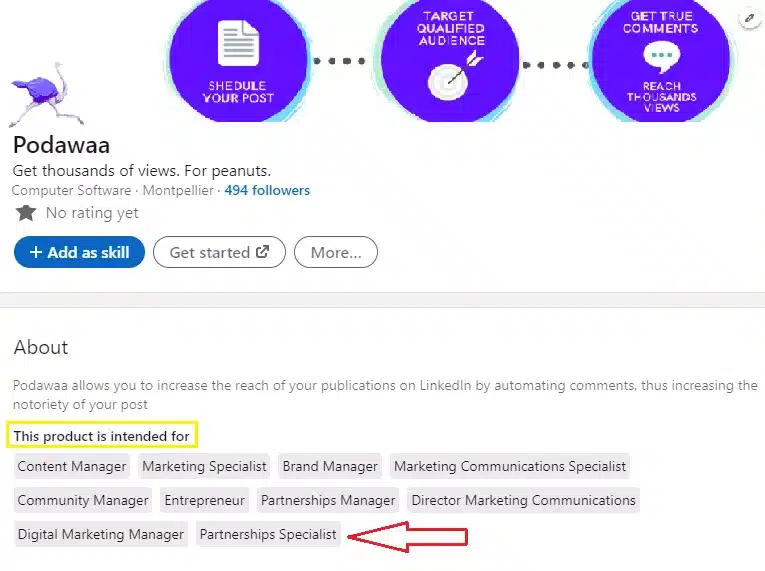 Therefore, the LinkedIn product page is going to save you a lot of time managing everything from reviews, to customers, etc. all in the same company page.
I hope you're just as excited about this new feature as we are! 🤩 Do not hesitate to share your best practices or tricks with us in our Community page.
FAQ LinkedIn product pages
How to improve your LinkedIn company page?
In this article, you discovered the new LinkedIn feature, which is the products tab in the company page! 🤓
The aim is to raise awareness for your product or service, to generate more leads and build your brand-awareness with your customers. You can create as many product pages as you need, in order to boost your company page.
How to use the new product page?
The LinkedIn product page can be used to highlight your products and create a centralized space for your leads and to share their customer experience. They can write verified reviews, and you can share detailed descriptions about your products. Thus, grow your business and manage the company page in the most effective way. 💥
How can I contact followers from the page?
You can export your company page followers, in order to create automated funnels for them using Waalaxy, our new marketing tool to increase your lead conversion rates. You can check this article to have all the tips on how to contact your page followers efficiently.
Now, you know everything about the new LinkedIn product page! 🚀