LinkedIn Social Selling Index: Discover Your SSI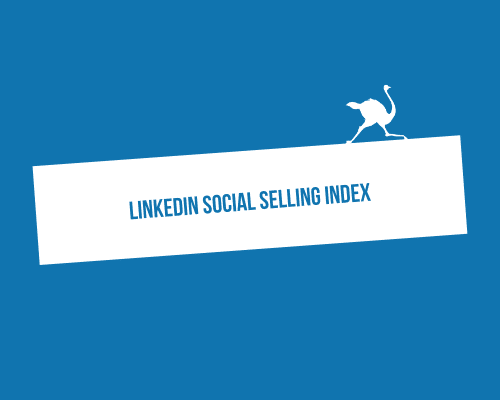 7
minutes
Since 2015, LinkedIn allows you to know your LinkedIn Social Selling Index (SSI). That index is a score from 1 to 100, used to measure the impact and visibility of your actions on the social network.
What is the purpose of this indicator?
Why would you check it?
And how can you find it and improve it?
Find out everything you need to know about the Social Selling Index on LinkedIn!
The SSI (for Social Selling Index) is a key-performance indicator specific to LinkedIn. The professional social network makes it available, entirely free, to all its users. It is updated daily, to make sure you can check it every day to follow its evolution.
The SSI is an e-reputation index on LinkedIn analyzing your digital communication on a personal level.
Your SSI is a grade between 1 and 100, 100 being the maximum. It is made of four sub-grades, which LinkedIn calls the four "elements" of social selling: establish your professional brand, find the right people, engage with insights and build relationships.
LinkedIn uses these four different skills to calculate your overall score, and assess your ability to sell yourself, to be active and interesting on the social media.
Finally, and this is a very important element, the SSI is an index. You will be ranked according to your performance, but also according to the performance of the other LinkedIn users. The goal? Try to be better than your competitors!
How is the LinkedIn SSI useful?
The LinkedIn Social Selling Index is a KPI, a key-performance indicator. While it does not directly measure your sales performance on the network, it judges your ability to sell yourself socialize with others, at least on LinkedIn.
On LinkedIn, there is often a close relationship between your personal branding and your ability to effectively reach potential prospects.
This is even a major argument that LinkedIn uses to promote its index: "Social selling leaders create 45% more opportunities than peers with lower SSI".

The LinkedIn Social Selling Index helps you generate more leads and prospects for your business! It improves your sales.
If you take a closer look at the components of the SSI, it is easy to understand why. The 4 elements of Social Selling revolve around your ability to create an audience, to offer them high value information, to discuss that information, and to build relationships around those discussions and exchanges. It is a measurement of how good you are to engage with people and how interesting that engagement might be for you.
Having a good SSI score means showing that you are a reference in your industry, an expert. You both increase your visibility onto the platform and, in the same time, look more attractive to potential customers for your product or service. The SSI would then be really helpful for sales people and business-development.
When you increase your social selling score, you also increase lead nurturing and lead generation. It is much easier to generate a prospect when they are convinced that you are a reference of your industry even before engaging with you!
Now that you are familiar with the concept of Social Selling Index is and you understand its value, an essential question remains: how do I know my SSI?
It is actually very simple: LinkedIn provides a tool to monitor your score, accessible by all users at any time and free of charge. It is updated daily, so you can go and check it every day. No need, on the other hand, to look at it several times a day!
To find out your Social Selling index, click here.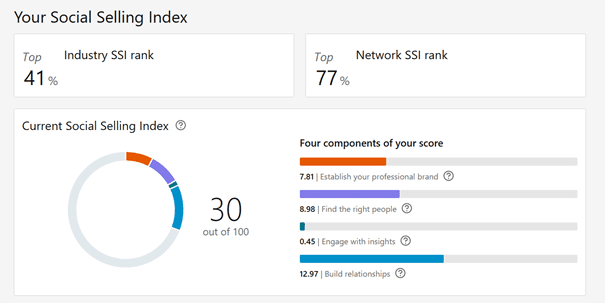 The dashboard of your SSI provides you with a lot of useful insights!
Once you land on the Sales Solutions page of LinkedIn, you will get more information:
Your global SSI, between 1 and 100. It is the main metric that you are looking for.
The detail of your grade, according to the four elements mentioned above.
Your ranking among the other people in your industry, and their average profile.
Your ranking among the other people in your network, and their average profile.
For each factor composing your score, LinkedIn also provides a quick definition.
It's up to you to use this information to build your strategy and improve your Social Selling Index! Does LinkedIn tell you that professionals in your sector have on average more points than you in the "Find the right people" section?
Work on this aspect of your profile! This is perhaps what it really lacks to generate leads and make LinkedIn a great prospecting tool.
Lacking points in "Building your professional brand"? Focus on this element!
As you can clearly see on the tool, the SSI is indeed an index: you are ranked with other professional LinkedIn users. But don't forget that the SSI is also a raw score: you can therefore improve it in itself and make your profile more attractive, regardless of the performance of your network.
One could therefore imagine that the ISS is not a competition, but simply a personal improvement axis. But think about it carefully: if other professionals in your sector have a better ISS than you do, who will LinkedIn users' attention be focused on? On them: they will be more likely to generate business than your profile.
Remember to regularly monitor your Social Selling Index, improve it, and compare yourself to the data of other users that LinkedIn offers you.
How to increase your SSI on LinkedIn?
Now that you know your SSI, next step would be: how can you improve your Social Selling Index on LinkedIn?
As we just saw, the Social Selling score is based on four distinct components. Adding these four factors together gives you your score out of 100. To improve your SSI, work on them!
Obviously, since SSI is algorithm-based, LinkedIn does not clearly indicate which elements to work on. That would be way too easy to cheat the algo! But you are paying attention to the definition the social media gives you, and use a bit of common sense, you can find many ways to improve your Social Selling Score.
How can you establish your professional brand?
What does it mean to "Establish your professional brand"? LinkedIn says "Complete your profile with your customers in mind. Become an thought-leader".
Your LinkedIn profile can be identified by several elements: your username, of course, but also your profile picture, your job title, your LinkedIn summary or your resume, your professional experiences, and so on.
When filling in this information, just ask yourself: what would a LinkedIn user find on my profile? If they are looking for a professional in your sector, what will they want to see?
Description and proof of your skills, qualification, industry or product knowledge, elements of differentiation, which show that you are an expert in your industry. Keep this in mind when you also publish posts or articles: they must have added value for your relations.
Note: improving these elements will also greatly improve your natural visibility on the social media. Some kind of SEO for LinkedIn!
How to "Find the right people" on LinkedIn?
The second pillar of SSI is the art of "finding the right people". When you build your network, think about its coherence.
Many LinkedIn recruiters, marketers, or influencers tend to send invitations to all the network members to reach the maximum number of relationships.
Do not do this: focus on adding relevant professionals who are either :
Players in your industry and whom you can follow for the information they publish.
Those you know personally.
Or those who are the target of what you are looking for on LinkedIn, whether it is prospecting or recruiting.
How to "Engage with Insights" on LinkedIn?
LinkedIn offers you, to improve this factor, to "share conversation-worthy updates to create and grow relationships".
Offer your network engaging, high value-added content. LinkedIn's algorithms will evaluate the value of your content based on the engagement it generates.
Once your content is published, interact with your relations: answer their comments, like them, send them private messages… Creating content is good, creating good content and making it grow is better!
A LinkedIn pod can help you build an engaged and efficient network.
How to "Build relationships" to improve your LinkedIn Social Selling Index?
Everyone knows how to add contacts on LinkedIn, but that is not enough: as we said, connect with the members of your network. Either through direct messages or through interactions with their publications.
It is important to retain your readership, to show the algorithm that you're committing to it for the long term. People follow you because they like who you are and what you post.
Did you know? You can easily apply marketing automation techniques to LinkedIn: create your email templates, and send them to your leads following specific scenarios. It will help you engage with your audience, manage your sales pipeline, and make you close more deals!
The four elements of the Social Selling index, even if they are distinct, overlap. When you add relationships, think about your personal branding, and don't just increase the size of your network: interact with it, create contact, bring value.
The more you work with your SSI, the easier it will be for you to reach your target and attract a qualified audience, thus increasing your number of leads.
Passive LinkedIn users tend to have lower SSI scores than very active members, and that makes perfect sense!
SSI can therefore be considered as an important KPI for the early stages of your sales process. It is used to measure whether your visibility on LinkedIn is good and relevant, whether your content marketing is working, and whether you are sending the right message to your prospects prior to more commercial conversations.
If you want to make LinkedIn one of your main sales strategy, make sure to work on all the marketing strategies and tactics the social media can offer.
Now, you know what's the LinkedIn Social Selling Index ! 🚀