Since 2015, users can know their LinkedIn Social Selling Index (SSI), a score from 1 to 100 that serves to measure the impact and visibility that your actions have on the LinkedIn social network.
But in concrete terms, what is this performance indicator used for? Why track it? Where to find it and how to improve it? So many questions answered right here. 👇
How to know your LinkedIn Social Selling Index?
Click on "Get my free score".

It's actually very simple: LinkedIn provides a tool to monitor its indicator, accessible by all users at any time for free. It is updated daily, so you can go and monitor your performance keys every day.
There is no need, however, to analyze the indicators several times a day.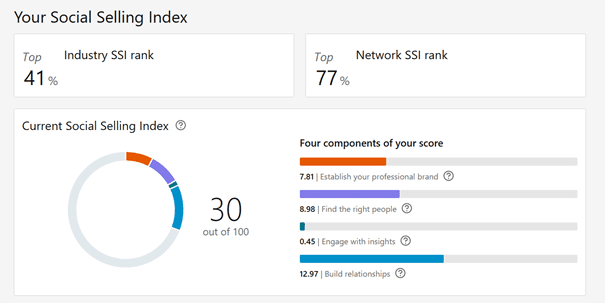 Your SSI dashboards provide you with a lot of useful information. When you get to the Sales Solutions page on LinkedIn, there aren't a lot of metrics, but just enough to understand where you stand:
Your overall SSI, between 1 and 100,
The details of the composition of your score, according to the four performance indicators that we will describe below,
Your ranking in relation to people in your industry, and their average profile,
Your ranking compared to people in your network, and their average profile.
For each factor that makes up your score, LinkedIn also provides a quick definition of key indicators. It's up to you to use this information to build your digital strategy.
The goal is to increase your Social Selling Index score. LinkedIn tells you that professionals in your industry have on average more points than you in the "Find the right people" section?
Work on this aspect of your profile! It may be what's really missing to reach your targets, increase your customer acquisition and make LinkedIn a real prospecting tool.
LinkedIn Social Selling Index: definition
The SSI (for Social Selling Index) is a performance indicator specific to LinkedIn. This score, between 1 and 100, (100 being the maximum) is actually composed of four sub-scores, which LinkedIn calls the four "pillars" of social selling :
Establish a professional branding,
Find the right people,
Exchange information,
Build relationships.
The professional social network makes it available, free of charge, to all its users. It is updated daily, so you can check it every day to see how it is evolving. Overall, the SSI is an e-reputation index on LinkedIn: it analyzes your digital communication at a personal level.
LinkedIn uses these four key performance indicators to calculate your overall score, and thus evaluate your ability to sell yourself, to be active and to be interesting on the platform. Finally, and very importantly, the SSI is an index. This means that you will be ranked according to your performance, but also according to the performance of others.
🤑 The purpose of LinkedIn: The network makes money from user engagement, the more you use social media, the more it grows. By growing your SSI, you're helping LinkedIn endure.
🤝 Your goal: Be better than your competitors and increase your conversion rate through the network.
1. Establish your professional brand on LinkedIn
Are you missing points on the "Building Your Professional Brand"metric ?
Focus on this pillar! How? As you can clearly see on the tool, the SSI is indeed a"measurement indicator": you are put in comparison with other professional users of LinkedIn. But the SSI remains a raw score: you can therefore improve it without taking into account the results of other users.
What does it mean to establish your professional brand?
It's about making your profile more attractive and recognizable. Working on your brand image. It's about looking super cool but also super professional. It's kind of like primping your Tinder presentation. 💘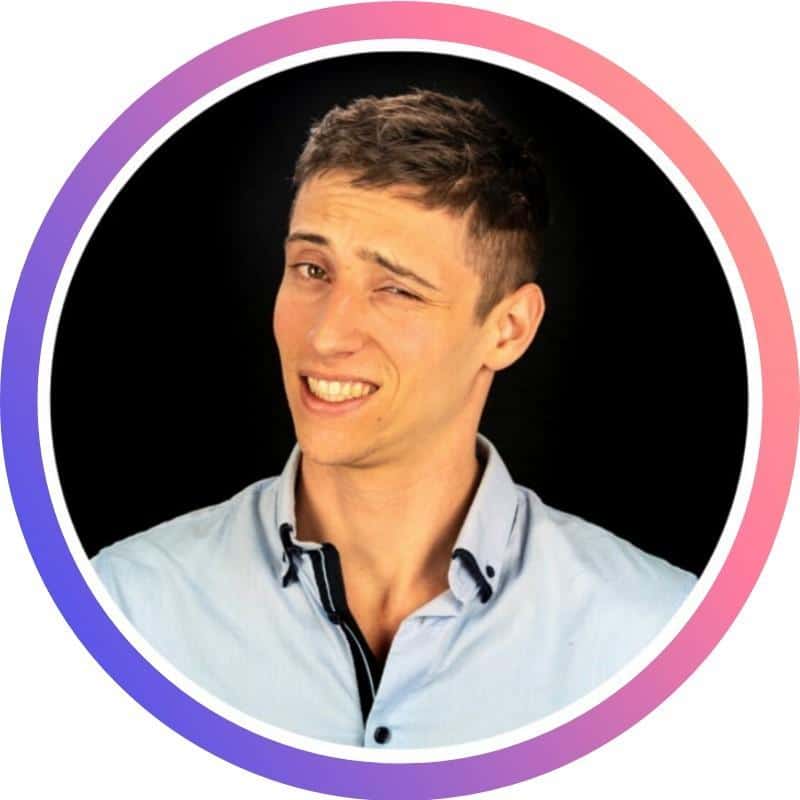 But think about it: if other professionals in your industry have a better SSI than you do, who will the attention of internet users be focused on?
They will: they will be more likely to generate higher business performance than you. It's not a competition. It's not because your colleagues have 4 points more than you, that they will make more sales. But it is an indicator of how you can improve. To do this, work on the visual and copywriting of your profile and your company page: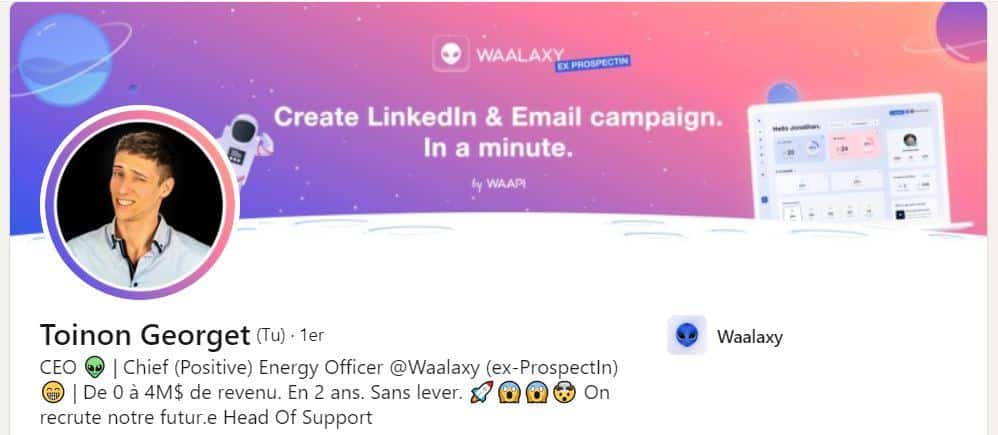 Your profile picture.
Your cover photo.
Your title.
Your description.
Your selection.
Your resume.
Here's a video to help you do that (english subtitles available). 🎁
2. Finding the right people
Which people will add real value to your network? Those who can become prospects, clients, candidates, partners, associated ambassadors. Don't accept or ask for just anyone, of course, but keep developing your network intelligently: LinkedIn loves that.
So how do you do that? There are two key pieces of information to have in order to be relevant in your strategy.
With a LinkedIn automation tool, you can segment and contact an impressive number of leads very quickly. With Waalaxy for example:
You create a campaign where your target prospects are integrated into the CRM.
You create your message.
You launch your campaign to more than a thousand qualified people* per campaign.
You then just need to respond to interested people, track and analyze the fallout to repeat. It's as easy as pie.
3. Exchanging information
As I told you, LinkedIn makes money from engagement on the network (and LinkedIn Ads). So, LinkedIn's goal is to set metrics that help the network gain interaction and quality content and exchange.
To boost this metric, all you have to do is write and share content. Nothing more, nothing less. See a post that inspired you? Like, Comment, Share and/or send a message to its author. 🤗
Connect and share with other users.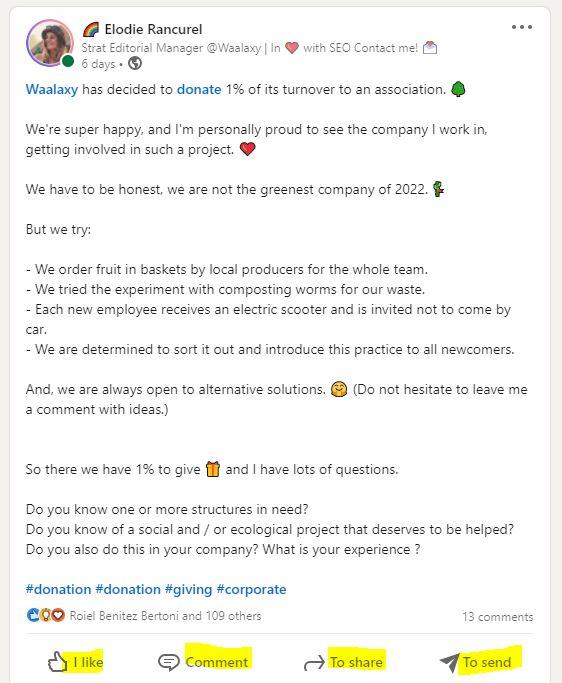 4. Build relationships
This type of LinkedInindicator is very accurate:
Strengthen your network by finding decision-makers, then gaining their trust.
So, building relationships is no longer enough. You have to nurture them.
Discuss by message on LinkedIn
Get followers.
Receive incoming messages on LinkedIn.
Develop long-lasting, trusted relationships.
Some friendships are worth more than others in the unpayable world of business. 😂 LinkedIn gives you more points if your connections are decision makers.
Conclusion:
what is LinkedIn's SSI for? LinkedIn's Social Selling Index is a KPI, a key performance indicator.
While it does not directly measure your sales performance on the network, it does judge your ability to sell yourself and connect with others.
On LinkedIn, there is often a close relationship between your personal image (personal branding) and your ability to effectively market to potential prospects. This is even a major argument put forward by LinkedIn: "Social selling leaders generate 45% more opportunities than those with a lower SSI score."

What is the benefit of Social Selling on LinkedIn?
Increasing your sales performance! When you analyze the components of SSI, it's easy to see why. The 4 pillars of Social Selling revolve around your ability to create an audience, offer them value-added information, discuss that information, and build relationships around those discussions and exchanges.
Having a good SSI score means showing that you are a reference in your field, an expert. It makes you attractive to potential new customers and increases your visibility on the platform. When you increase your Social Selling, you also increase lead nurturing and lead generation.
It is therefore appropriate to use SSI in your digital strategy. It's much easier to generate a lead when they are convinced that you are a referral before they even make direct contact with you! 👌🏻
Article Faq: How do you increase your SSI on LinkedIn?
Now that you know your SSI, comes the question: how do you improve your Social Selling Index on LinkedIn? As we've seen, the Social Selling score is based on four distinct components. Adding these four factors together gives you your score out of 100. So to improve your SSI, work on these four components.
Obviously, since SSI is based on algorithms, LinkedIn does not sell its recipe, and does not clearly indicate the elements to work on. But by reading the definition of these elements and using common sense, you can find some definite avenues for improvement.
On the indicator, you can directly analyze the effectiveness of your development strategy:

Improve your professional brand with the LinkedIn Social Selling Index
What does "Build your professional brand" mean? LinkedIn says it's an essential indicator:
"Complete your profile with your customers in mind. Become a thought leader.
Your LinkedIn profile is identifiable by several elements: your username of course, but also your profile picture, your job title, your LinkedIn resume or summary, your work experience, etc. When you fill in this information, put yourself in the shoes of the Internet user who finds your profile.
If they are looking for a professional in your industry, what will they want to see? Evidence of skills, differentiators, that show you are an expert in your industry. Keep this in mind when you publish posts or articles as well: they must have added value for Internet users.
💡 Note: improving this key indicator will also greatly improve your natural SEO on social media. A kind of SEO for LinkedIn!
How to "Find the right people" on LinkedIn?
The second pillar of SSI is the art of "finding the right people".
When building your network, think about its consistency.
Especially in the B2b environment. Many LinkedIn recruiters, salespeople or influencers tend to send invitations to everyone in the network, to reach the maximum number of connections.
Don't do that: focus on adding relevant professionals who are either players in your industry and you can follow for the information they post, those you know personally, or those who are the target of what you're looking for on LinkedIn, whether it's prospecting or recruiting.
How do I "Exchange Information" on LinkedIn?
LinkedIn suggests that you improve this factor by "sharing relevant articles and then cultivating relationships."
Provide your network with engaging, high-value content. The engagement of your network allows the algorithms to evaluate the relevance of this content.
Once published, interact with your contacts: answer their comments, like them, send them private messages… Creating content is good, creating good content and making it live is better! A LinkedIn pod can help you build an engaged and successful network. 😉
How do you "Build relationships" on LinkedIn?
Everyone knows how to add contacts on LinkedIn, but that's not enough: as we said, connect with the members of your network.
Either through direct messages or through interactions with their publications. It's important to build a loyal readership, to show the algorithm that you are engaging them in the long term. So we see: the four pillars, even if they are distinct, overlap. When you add relationships, think about your brand and don't just increase the size of your network: interact with it, create contact, bring value.
The more you work on your SSI, the easier it will be to reach your target and attract a qualified audience, and therefore increase your number of leads. Passive LinkedIn users tend to have lower SSI scores than very active members, and this makes sense!
LinkedIn SSI can therefore be considered as an important KPI for the early-stage phases of your sales cycle. It is used to measure whether your visibility on LinkedIn is good and relevant, whether your content marketing is working, and whether you are sending, prior to more salesy conversations, the right message to your potential customers. 😜
Thanks to these articles you now know that driving and measuring the performance of your SSI will allow you to:
Boost your SMO marketing strategy.
Increase your retention power.
Increase your return on investment.
Strengthen your BtoB sales strategy.
You now know all about the LinkedIn Social Selling Index! 🚀