What is the best tool for Linkedin automation for 2022?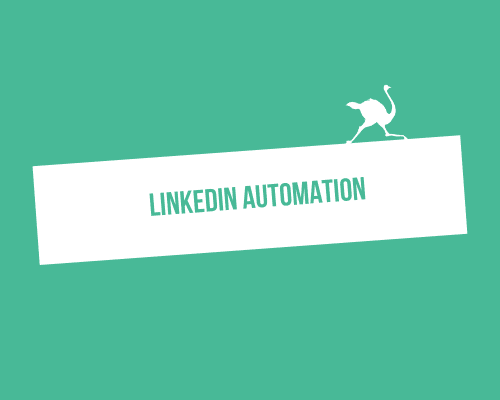 4

min
When it comes to LinkedIn automation, you can get lost in a lot of data on the Internet. With the exponential rise of automated prospecting tools, it is more and more important to analyze what makes the best tool for 2022 and beyond.
In this article, you will discover which tool to choose to automate your search for new customers via social media, and in particular on LinkedIn.
What you will discover is the result of experimentation, customer feedback, and a thorough analysis of each tool's features.
Let's start with the first tool…
Linked Helper? No. (and here's why it's not the best for the automation for LinkedIn)
Linked Helper is a BtoB automation tool like any other. That is to say, it allows you to perform basic marketing actions such as:
Customized connection request.
Sending a personalized message.
Prospect follow-up and profile visits.
Skills recommendation.
The price is $15/month, which is more expensive than some other tools for the same benefits.
But Linked Helper compared to our ProspectIn tool lacks many features: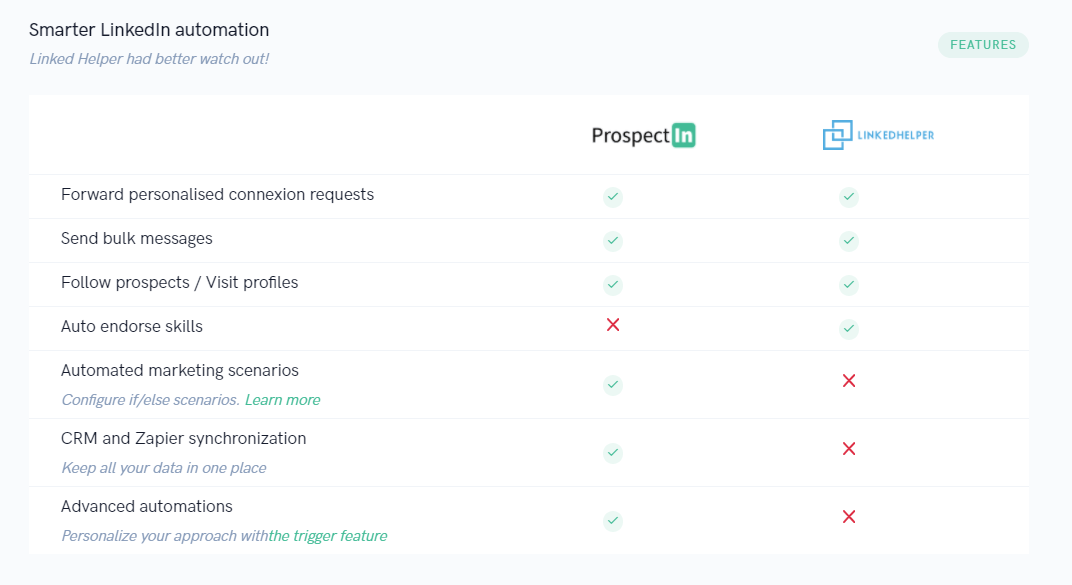 Linked Helper is therefore not the best tool for LinkedIn automation.
Dux-Soup? Very likely not
Likewise, this tool is of very little interest in view of these basic features. No sales scenarios, no advanced automation, and not even customer support by chat or email!
This tool is not very useful because its LinkedIn capabilities are very limited and you have to manage yourself if you have problems. Another precision, like Linked Helper, Dux-Soup presents a huge risk of deletion of your LinkedIn account, be careful, and avoid it.
In terms of pricing, Dux-Soup is at:
49€ per month for the monthly version.
36.25€ per month for the annual version.
Very expensive for non-existent support, a risk of being banned, and for limited features.
Here is a comparison of Dux-Soup with ProspectIn:
If you want more ease, security and possibility then don't choose Dux-Soup.
Meet Alfred? No chance
Here is another tool for LinkedIn automation: Meet Alfred.
Its main drawbacks are that it is not possible to program a sequence of automated marketing actions, there are no triggers neither, it is impossible to find LinkedIn contacts from an e-mail database, and the availability of the application is not at its best.
It is not possible to perform A/B tests.
No suggestions for optimized funnels for conversion.
No precise targeting of prospects in campaigns.
The security level is as low as Linked helper and Dux-Soup, because Meet Alfred does not ensure a fixed IP address when it is activated. This means that these behaviors are considered abnormal and there is a risk of having your LinkedIn account blocked.
Finally, Meet Alfred charges high prices for little security and features:
From 55€ per month in monthly version.
From 33€ per month in the annual version.
Here is the Meet Alfred comparison with ProspectIn tool:
Phantombuster? No way too
This tool has lots of problems in the automation of scenarios and the triggering of actions on events.
Also, it is not possible to monitor performance from a statistical panel. No funnels proposed for optimization, no management of leads per campaign, no daily security quotas (very dangerous for your LinkedIn account).
With regard to pricing, Phantombuser is at:
30€/month for monthly subscription.
28€/month for annual subscription.
This tool, therefore, hides a certain amount of insecurity.
Here is the Phantombuster comparison with ProspectIn: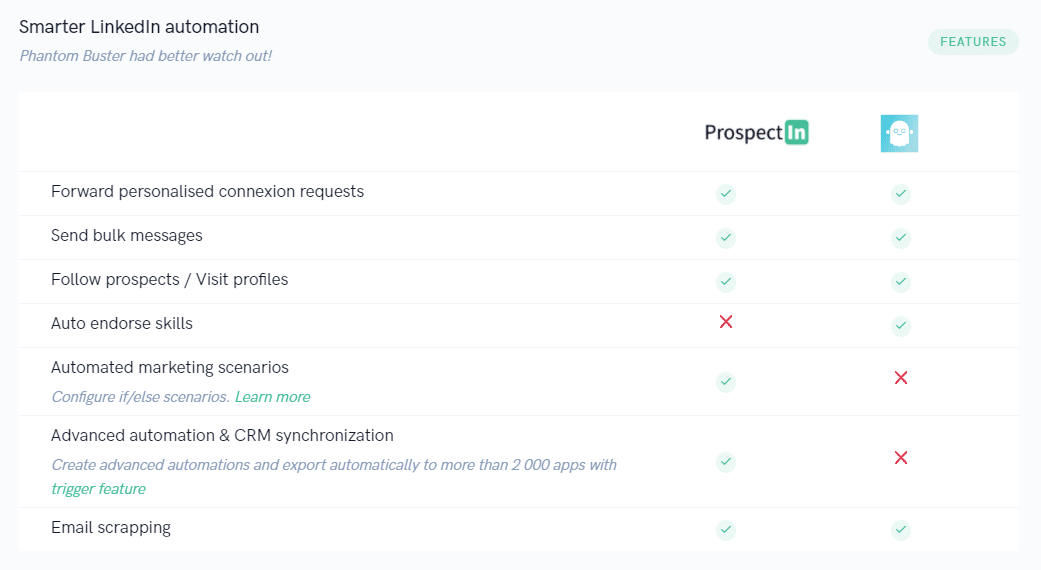 Zopto? Impossible
The big downside of Zopto is that it is extremely expensive. Let's be clear right now:
Subscriptions range from $215 to $895 per month. 😵
Another disadvantage is that there is no automatic blocking system for automatic actions. The result? LinkedIn considers you a first-class spammer and it is a huge risk to be banned from the social network.
In addition, you have to create a customer account with a really long registration process, so you have to be (very) patient with Zopto.
Choosing this tool is making the choice:
Of a very expensive solution that impacts negatively your ROI.
A solution that is dangerous for the health of your LinkedIn account.
A solution that clearly lacks fluidity in the user experience.
ProspectIn? Yes that's the best one for LinkedIn automation!
We strongly believe in our product. Why do we believe in it?
Because it addresses every weakness of the other tools listed above.
Here are 4 reasons that prove ProspectIn is better in every way:
Much more secure with automatic security for your LinkedIn account and replication of marketing actions based on human behavior.
Much cheaper with a price starting at 0€, then only 9.99€/month, etc.
Much more efficient with a ton of advanced and conversion-optimized automation features.
Much faster to use with a super-cool Chrome extension! 😉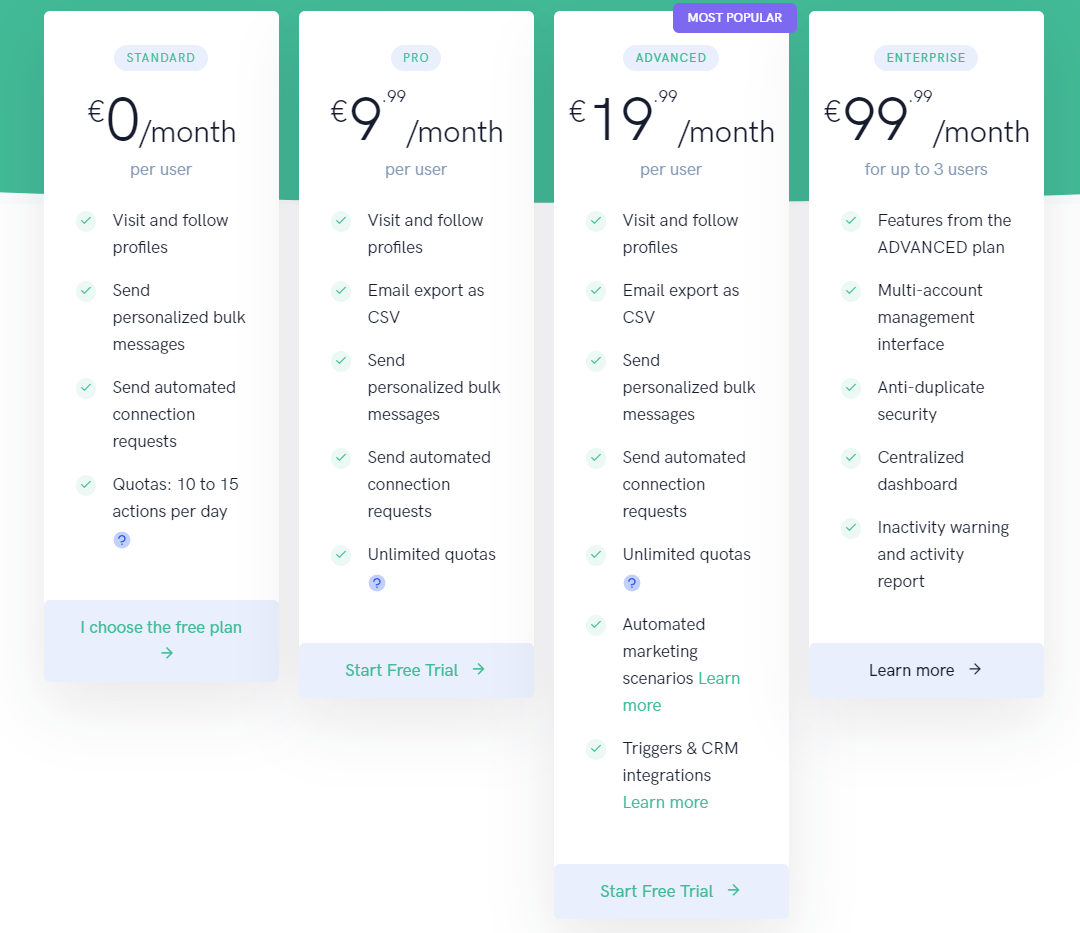 Finally, what's the best part for using ProspectIn for your LinkedIn automation? You can try it for 14 days without credit card! What are you waiting for? 😄