Ah, automation tools… There are a number of them, and it's not easy to find the one that suits you. Today, I'm pleased to make it easier for you with a little comparison: that of Waalaxy vs Overloop. 🙌
Both of these tools, which have similarities, still have their own specifics that we need to see in detail. So if you're looking to determine which one best meets your expectations, good news: you're in the best place to make up your own mind.
We'll go over each tool with a fine-tooth comb, and by the end of this article, you'll be ready to make an informed choice. Get comfortable, let's get to the Waalaxy vs Overloop matchup! ⚡
Overloop? Who's that?
Launched in 2015 in Belgium, Overloop is a prospecting automation tool that has just over 5,000 users. It allows you to mix LinkedIn prospecting and email prospecting. Equipped with a CRM part, it is possible to manage its prospects from the application.
As far as the interface is concerned, Overloop did not try to make something especially beautiful. The design is quite basic and not very easy to use when you don't know how a prospecting tool works. Fortunately, there are still some nice little illustrations when a section is empty. 👍
I think it's a shame that there's no homepage to speak of. One arrives directly on the conversation management part, empty when one starts on the tool. This can be slightly confusing for a new user. So we are on an application that seems to offer a number of features, but is not very easy to grasp at first glance. 😐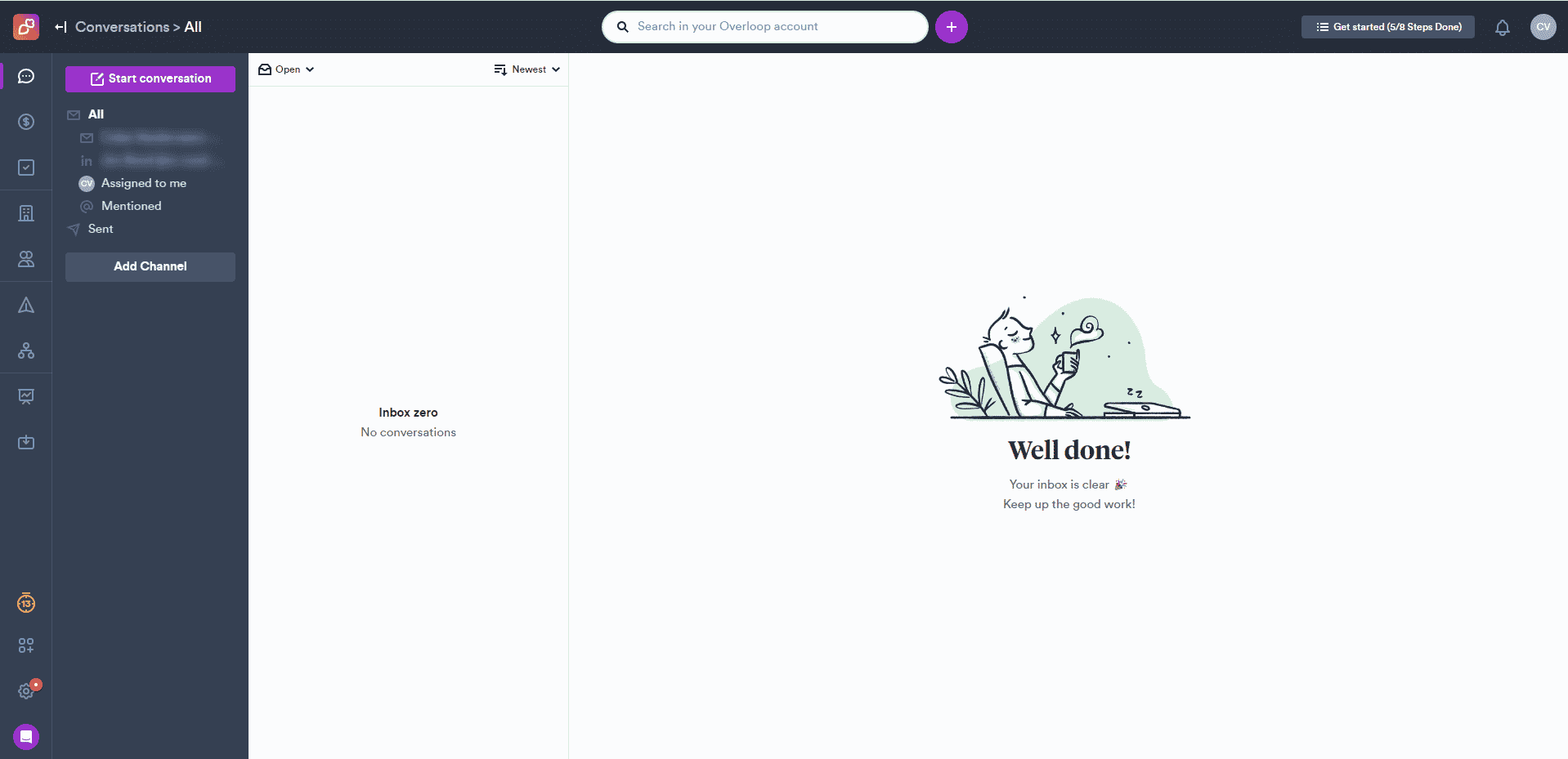 Waalaxy, simplified and efficient prospecting
Waalaxy is the software that makes automated prospecting as easy as pie. In its two years of existence, it already has more than 70,000 users and a rating of 4.9/5 on the Chrome Web Store. But then, how do you explain such success? 🚀
It starts with an interface with a clean and simple to understand design. The tool allows you to launch your first campaign in less than 10 minutes, without any prior knowledge. It has a clear home screen that presents relevant information and statistics.
It is also possible to train yourself to use the tool thanks to our tutorials! However, the real strength of Waalaxy lies not only in its style, but in what the application can do. But before we review Waalaxy vs Overloop features, let's first ask what we can expect from a good prospecting tool. 🤔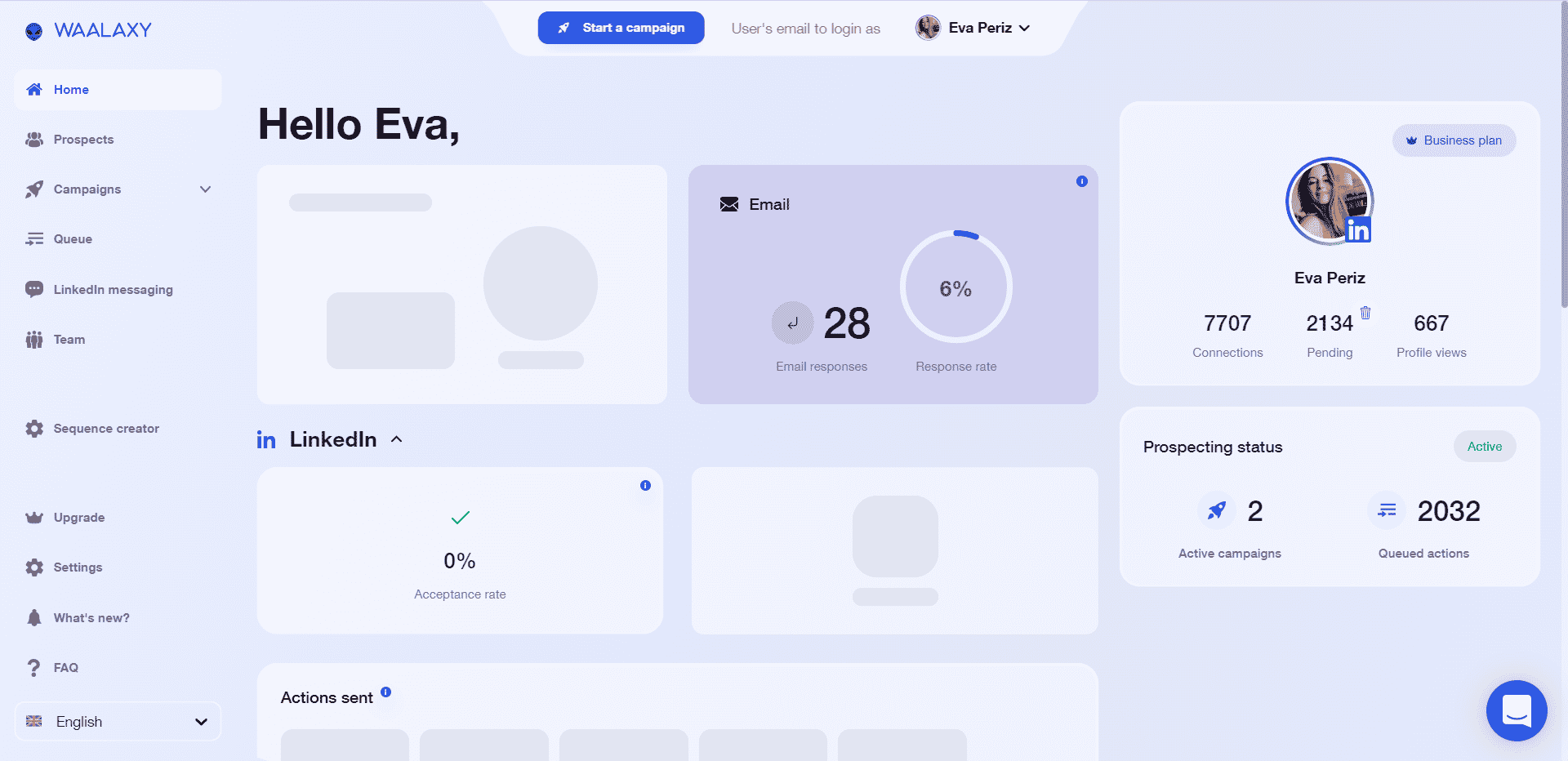 What is a good LinkedIn automation tool?
As you probably know, the purpose of a prospecting automation tool is to save you time, and improve the results of your campaigns. To do this, any self-respecting tool of this type must offer basic functionalities. These are the necessary prerequisites for you to create effective campaigns and get significant results. 😎
Safely exceed LinkedIn quotas.
Create personalized messages using variables.
Set up multi-channel prospecting campaigns (LinkedIn + email).
Offer a statistics section, to establish reports on your campaigns.
Manage prospects with a CRM function (a customer relationship management software).
However, the more features a software offers, the more complicated it can be to get started. For someone who is new to automated prospecting software, it is essential to be accompanied during the first few uses of the tool in order to get the hang of it. So, how is the onboarding on Waalaxy and Overloop ?
Waalaxy vs Overloop : Who offers the best onboarding?
Onboarding on Overloop, a (too) complete support
When you create your Overloop account and log in for the first time, you are not directly immersed in the tool and its features. First, you are asked to answer a few questions to determine how you will use the tool. Then, after answering these questions, you are offered to help you create your first campaign.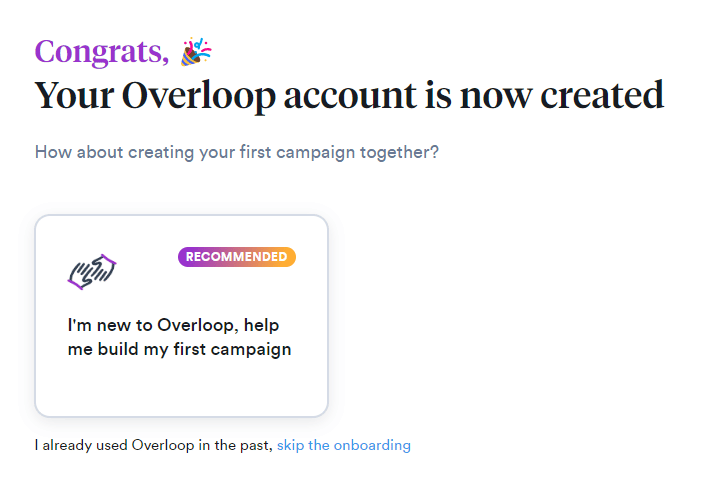 The tool then takes you step by step through the process of setting up your campaign. In my opinion, this is both positive and negative. The positive part is that it allows you to set up a campaign quickly and go through the creative process once.
The bad thing is that this guidance is almost… too much. For each step, we are told what to do, where to click, and we find ourselves having launched the campaign without having understood what we are doing. In my opinion, this allows you to discover what happens when you want to launch a campaign, but it doesn't make you autonomous in launching it.
Once this onboarding is over, you are considered trained, and you are let loose on the full tool. Personally, I was unable to recreate a campaign without help despite this onboarding. I would have liked to have small hints to guide me through the different parts of the application for example. 🙄
| | |
| --- | --- |
| 🟢Positivepoint | 🔴Negative points |
| 30 minute 1:1 coaching training offered | Doesn't allow you to be self-sufficient after the training |
| | Training only on campaign launch |
Onboarding on Waalaxy, fast and efficient
The onboarding on Waalaxy aims to make you autonomous as quickly as possible. When you download the Chrome extension, it allows you to access the application using the little "Open Application" button. Let's see how it goes 🤔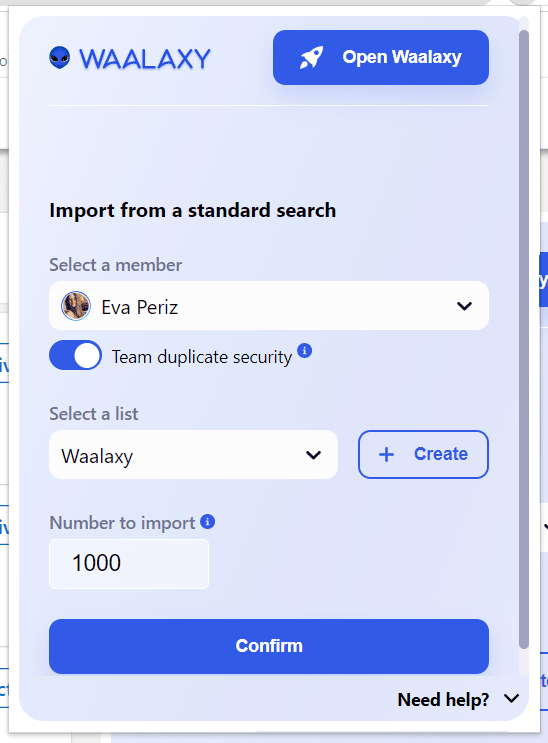 When you get to the extension, you're guided through a small list of actions you need to take to start your prospecting. 3 simple steps to follow and do yourself to understand how the app works and master it as quickly as possible.
For those who want a more visual guidance with examples, we have created a lot of videos like this one for example, which explains how to launch your first Waalaxy campaign. If you are interested in this kind of content, our YouTube channel is full of all kinds of tutorials. Don't hesitate to check it out 😉
We note that Waalaxy's interface is much easier to understand than Overloop's. It's more visual and therefore easier to get used to for someone who is new to automation tools.
For the more motivated, it is possible to get an ultra-complete training on LinkedIn prospecting using Waalaxy offered by our partner Matchers. (Only available in french, sorry…🙄) You can get the training financed easily enough to make it 100% free! If you're interested and want to learn more, it happens right here. 🔥
🟢Positive points
Very intuitive interface
Ultra-complete blog to learn how to use the tool
Free training by a real person
We've seen how onboarding works on each tool. Now it's time to get down to business. Let's see who from Waalaxy vs Overloop offers the most advanced features. 🚀
Discover Waalaxy 😍
Waalaxy vs. Overloop: The main features of both tools
Waalaxy vs Overloop multi-channel campaigns
The core of a prospecting automation tool lies in its ability to create effective prospecting campaigns. For this, it is possible to create a huge number of campaigns according to our needs. 🙌
The creation of campaigns with Overloop
Overloop chooses to let the user create its campaign from scratch. For a prospecting expert, this is the best. You are free to create your campaign as you wish with all types of events at your disposal.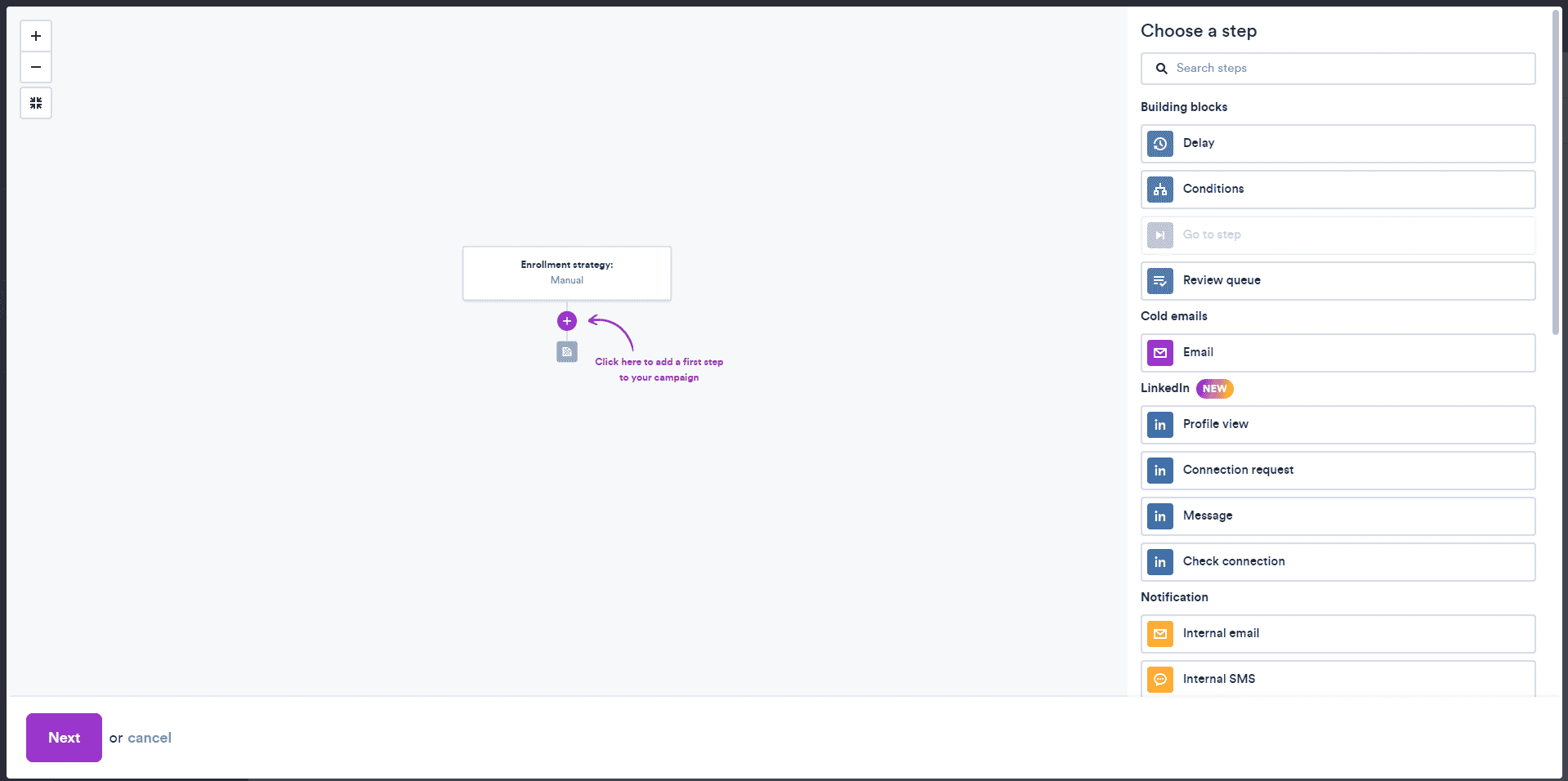 However, for a beginner who is just starting out in prospecting… It's not the easiest thing in the world. We don't know what sequence to create to get good results. All we want is to launch our campaign quickly and without complications.
So I asked myself if there were any campaign templates that I could reuse to simplify the process. And after some research… nothing. No template available to help me. On the campaign level, Overloop allows you to create very precise sequences, but to do so, you have to know which sequence to create. My opinion: the tool is not very suitable for beginners. ❌
| | |
| --- | --- |
| 🟢Positive points | 🔴Negative points |
| Possibility to create custom campaigns | No template |
| | Limited by LinkedIn quotas: the tool does not have a bypass |
Creating a campaign with Waalaxy
Waalaxy's goal is to make prospecting accessible to everyone by making it simple to set up. To do this, we have simplified campaign creation by providing you with campaign templates that you just have to choose.
To create a campaign, all you have to do is choose among the models we offer (more than 100) using filters and click on the one you think is appropriate. Then, you are guided through each step of the campaign until it is launched! 😍
The goal with Waalaxy is to allow you to start relatively advanced campaigns even if you have no experience in automated prospecting. With the different filters, you can find campaigns that match what you need.
So between Waalaxy vs Overloop, Waalaxy is much easier to get started. The big advantage of Waalaxy is its ability to exceed the maximum quotas allowed by LinkedIn. It is possible to send up to 500 messages or invitation requests per week, against 200 initially. Enough to take your prospecting to the next level. 🚀
| | |
| --- | --- |
| 🟢Positive points | 🔴Negative points |
| 100+ templates available | No custom campaign creation |
| Bypass LinkedIn quotas: 500 messages per week | |
| Campaign launch in 3 minutes | |

The email finder: Waalaxy vs Overloop
Both Waalaxy and Overloop offer an email finder functionality to be integrated in a prospecting campaign. This feature allows you to scrape a prospect's email so that you can contact them later on, as part of a multi-channel campaign. 🕵️
The email finder functionality at Overloop
Overloop includes email finder functionality in its unique offering. It provides 250 credits per month for its users.
Beyond that, you will have to pay an additional flat rate to increase your credit count. The grid to buy credits goes up to 499€ per month for 10,000 email finder credits. There are also intermediate levels to meet the different needs of customers.
| | |
| --- | --- |
| 🟢Positive point | 🔴Negative point |
| Included in the offer | Limited to 250 credits per month |

Waalaxy email finder functionality
Waalaxy offers email finder functionality from the business plan. We use the Dropcontact API to provide you with a reliable service that is directly included in your subscription.
You don't need to create a Dropcontact account, everything is automatic. This feature is 100% compliant with the CNIL RGPD, and allows you to enrich your prospect database in complete security. Unlike using an email list obtained in a questionable way, the recovered emails are verified and certified valid. ✅
🟢Positive points
500 credits included directly
Possibility to increase your credits by contacting the support
RGPD compliance
The integrated CRM
In order to launch your campaign, you need to be able to divide your prospects into different lists according to the criteria you have defined. This can be their job title or their geolocation for example.
To do this, Waalaxy and Overloop offer a LinkedIn CRM feature that allows you to manage your leads simply. 📇
Overloop's CRM
Each tool allows you to save leads from LinkedIn or from a CSV import. You can then find all the information about your leads in this section. Overloop's little plus in this respect: the possibility to create custom fields in the prospect records.
It is possible to create them from the settings part of the application. This field can be of several types: textual, true or false, multiple choice or URL. This little feature can come in handy to write down specific information about your prospects. 📓
It can also be used as a variable to add into messages later on. This allows for advanced personalization of prospecting messages. Only small drawback: you have to fill in the information manually for each prospect, unless you do a CSV import, which can be very time consuming if you have a large number of prospects.
As for the customer files, Overloop offers something quite complete with a certain amount of information. It's ideal if you're looking for advanced features, but it's still complicated if you just want to automate your prospecting simply. 🙄
| | |
| --- | --- |
| 🟢Positive points | 🔴Negative points |
| Customization of customer records | Difficult to take in hand |
| Pipeline creation | |

Waalaxy CRM
Once again, Waalaxy focuses on the accessibility of its tool. When Overloop offers many advanced features, Waalaxy chooses to offer only the most important ones in order to maximize the user experience. 👌 The CRM part is found in the "Prospect" tab of the application. There we find our different lists of prospects, as well as our prospects themselves and the information about them.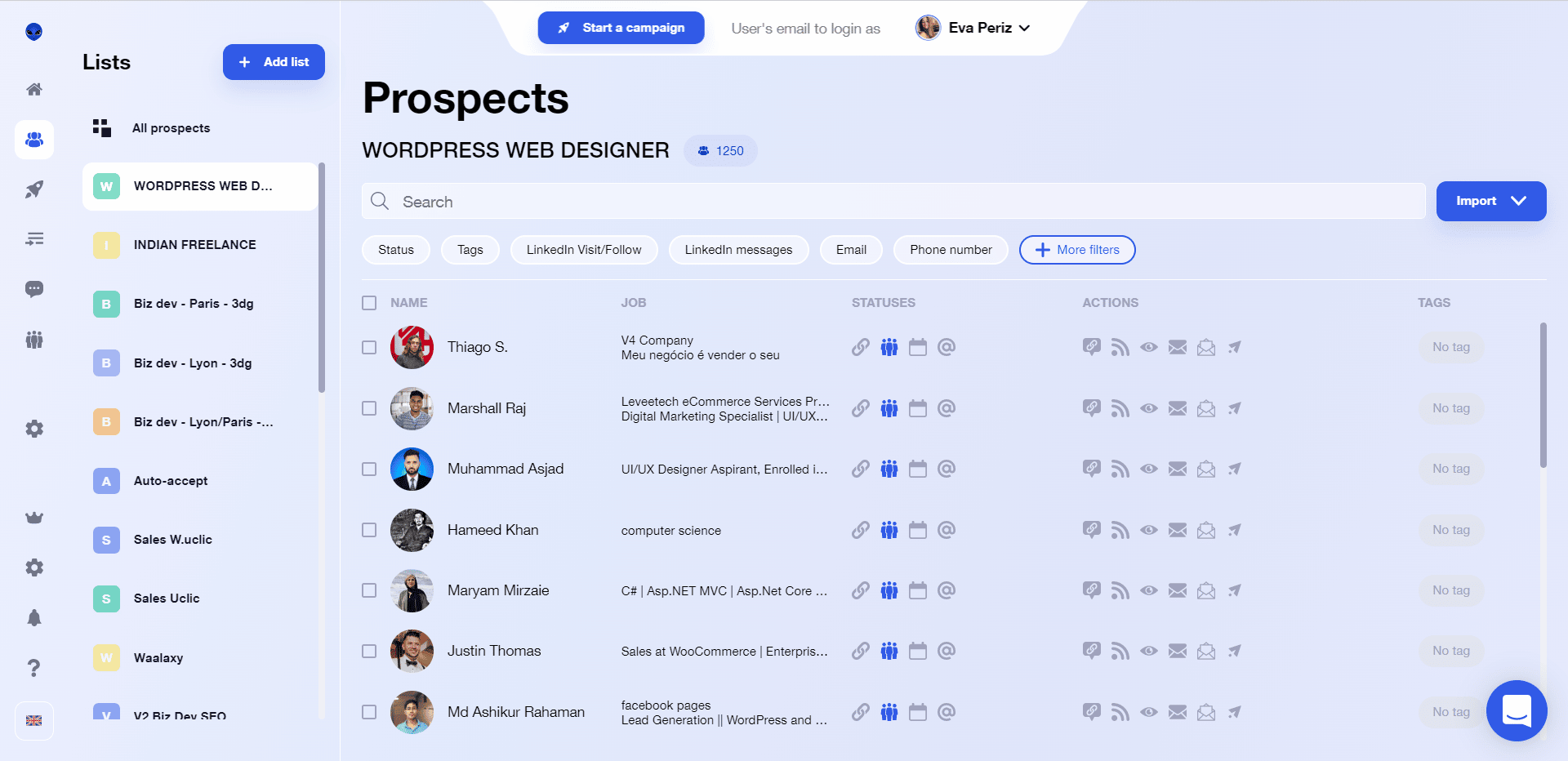 Your prospects are centralized in a simple and intuitive way, in order to help you organize your campaigns. When it comes to information, Waalaxy completes it automatically. 🤩 Your customer records are created and completed automatically, with just the information you need.
It is also possible to edit a customer record by hand to add or remove information. Again and again, the goal remains to simplify your task as much as possible so that you have as few things to manage as possible. Between Waalaxy vs Overloop, one's CRM is more comprehensive while the other is more intuitive 🙂
| | |
| --- | --- |
| 🟢Positive point | 🔴Negative point |
| Easy to take in hand | No customization of customer records |

Waalaxy vs. Overloop: The duel of statistics
To be able to judge the effectiveness of a campaign and to identify areas for improvement, it is essential to be able to get clear statistics on the results of a campaign. Each of our two tools has its own way of presenting these statistics. 🙌
Statistics at Overloop
True to form, Overloop opts for a detailed version of the statistics presentation. Several types of views are available, such as the global view, the view by campaign or by pipeline. Again, this is a good tool for a sales person who is familiar with this type of digital tools.
If you are knowledgeable and looking to get accurate data, then Overloop is likely to be a good fit for you. 👍 However, if you're just looking to see if your prospecting campaign worked, then you may get lost in the mass of information at your disposal.
This confirms once again that Overloop and a tool dedicated to people who already have some level of automated prospecting and on this type of software.
| | |
| --- | --- |
| 🟢Positive point | 🔴Negative point |
| Lots of data available | Complex to use |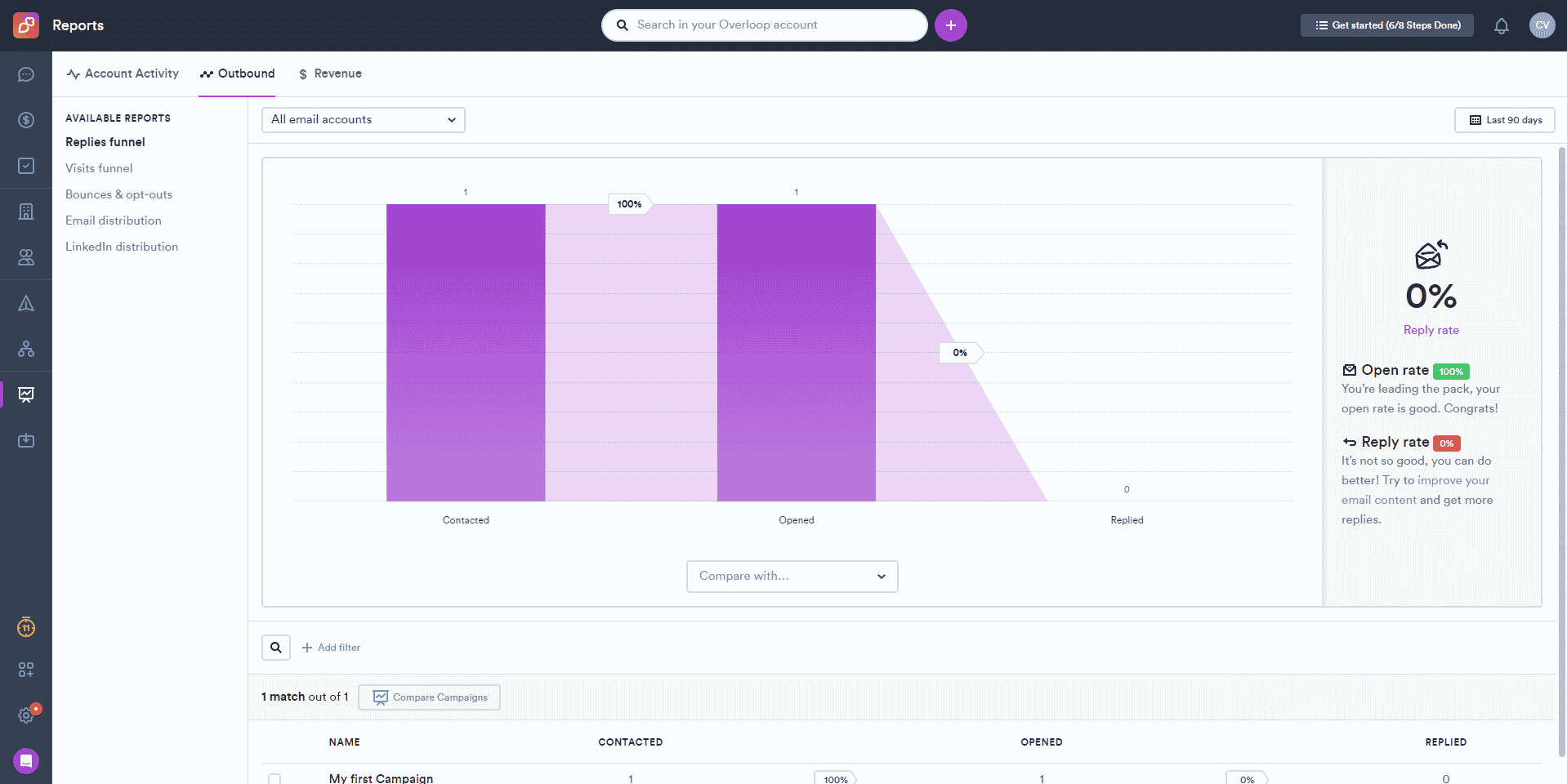 Statistics at waalaxy:
Waalaxy makes sure to limit the amount of information to be displayed to you so that only the most important information is kept. So the information displayed are the sar metrics such as the acceptance rate of invitations or even the response rate to sent messages. 👌
This limits the information flow and drowns the brain among all the numbers it receives. One focuses only on what really matters. Waalaxy acts as a synthesizer of the most important information to help you sort through it.
Thanks to the intuitive design of the interface, consulting your performance becomes more enjoyable. I really like the personalization side of the interface, with our profile displayed and the hello with our first name. 😊
Waalaxy statistics allow you to check:
The number of invitations sent.
The acceptance rate.
Number of messages sent.
The rate of responses.
We can also take a look at our remaining daily action quotas to see how our campaigns are progressing and check that everything is going well.
| | |
| --- | --- |
| 🟢Positive points | 🔴Negative points |
| Visual representation, easy to interpret | Limited to essential data |

Customer support: who is the most responsive?
Customer support is a very important part of any automated prospecting software. The more complex the tool, the more likely it is that someone will need help on this or that subject. And usually, when you have a problem, you don't really like to wait for hours to get an answer. Let's see who between Waalaxy vs Overloop offers the best customer support. 😎
Overloop's support: what's it worth?
I tested Overloop's support for you by asking two fairly simple questions. I asked my question in the early afternoon. Unfortunately, I didn't get an answer until the next day. And even in the course of a conversation, there can be breaks of several hours from one message to another during the day. Not top notch in that regard unfortunately. 😶
In terms of quality to the service provided, Overloop support agents are competent. They provide useful answers and always in a friendly manner. In my opinion, they are simply understaffed for the number of requests they have to deal with.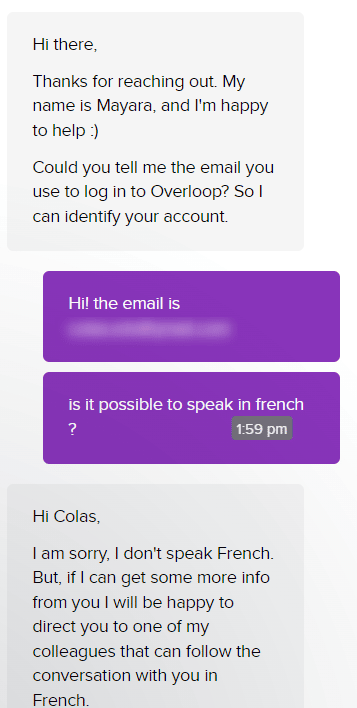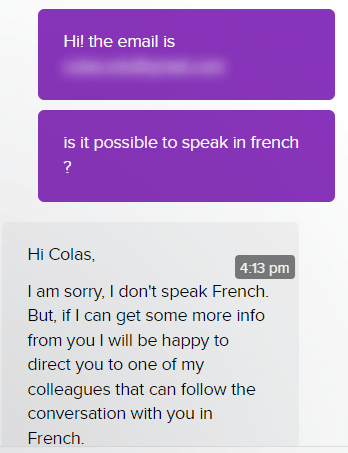 Waalaxy support: the promise of an answer within an hour
At Waalaxy, we know that your problems are important and that it is essential to solve them as soon as possible in order to unblock your situation. A team of Waalaxy experts is available Monday to Friday, 9am to 6pm to provide you with a response within the hour. 😁
To contact them, nothing could be easier: just click on the little blue button at the bottom right of your screen. This will open a small window from which you can start a conversation quickly and simply with our support. And between you and me, the best thing is to try it for yourself. 😊
Test support 🚀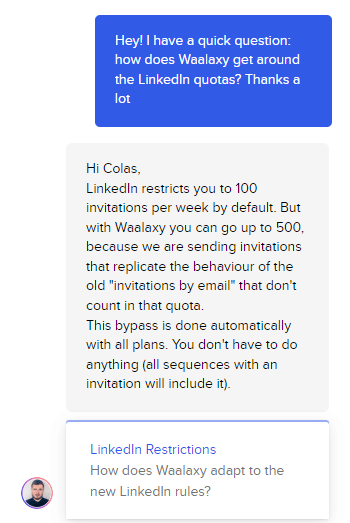 Cloud functionality
There are two ways a prospecting automation tool can work. Either it runs a small script directly on your computer, or it runs in the Cloud.
When running on your computer, the tool is subject to one issue: when you close your LinkedIn window or turn off your computer, it pauses ongoing campaigns. So you are forced to leave your computer on with windows open for your prospecting to work. 😕
When the solution works with the cloud, this problem no longer exists. No matter what happens, your prospecting works in automatic. So it's an added convenience when the software works on the cloud. ☁️ Regarding Waalaxy vs Overloop, both tools run on the cloud. Tie game on that front.
Waalaxy vs Overloop Chrome extension
Waalaxy and Overloop work through a Chrome extension that allows you to do different things. Let's take a look at how each extension is organized. 🧐
The Overloop Chrome extension
In terms of functionality, the Overloop Chrome extension is similar to the Waalaxy one. Its primary function is to allow the import of leads from Linkedin to Overloop. However, the extension is limited to 25 leads per import. This can be tedious when you have 800 leads to import.
It also serves as a gateway to the Overloop application, and to get some miscellaneous information. It takes the form of a sidebar on the right of the screen.
| | |
| --- | --- |
| 🟢Positive point | 🔴Negative points |
| Ability to add to a list or campaign directly | 25 leads max per import |

The Waalaxy Chrome extension
Waalaxy, true to its DNA, offers a simple and design extension. However, it doesn't skimp on performance since it has no limit on the amount of leads to import. The only limit is the number of leads a LinkedIn Sales Navigator page can display, which is… a lot 😉
We also appreciate the fact that Waalaxy implements small windows directly in LinkedIn to facilitate the import of leads. Being able to choose the maximum number of leads to import is also used when you want to limit the size of your lists. This limit, however, has no maximum.
| | |
| --- | --- |
| 🟢Positive point | 🔴Negative point |
| Unlimited number of leads per import | Not possible to add leads directly into a campaign |
| Choose the number of leads to import | |
| Possibility to integrate leads directly into a list | |
| Create a new list from the extension | |

Waalaxy vs. Overloop : What budget to afford each tool?
Now comes the thorny question of budget. In concrete terms, how much does each tool cost? This is what we will see right now.
Overloop : a unique offer
When it comes to Overloop, there are no 36 solutions. In fact, there is only one. A unique offer advertised at 99€ on their website, which gives access to all the features of the product. It does not offer a free version of the tool, except for the 14-day free trial.
| | |
| --- | --- |
| 🟢Positive point | 🔴Negative points |
| Simple offer | No freemium offer |
| | No possibility to choose between several offers |
| | Real price not announced |

Waalaxy offers: a solution for every type of profile
At Waalaxy, we know that you are not necessarily a prospecting expert ready to spend 120€ on a prospecting tool without any guarantee of results. So what we've done is we've made Waalaxy… free. Yes. 🤩
You can test waalaxy in free version without any time limit. It allows you to get familiar with the tool so you can be sure that it meets your expectations. And on top of that, we even offer you one week of the most advanced version of Waalaxy: the Business Plan. If you're interested and want to know more, go to the pricing page.
🟢Positive points
Freemium plan
Plurality of offers
The most expensive plan is still cheaper than Overloop's
Conclusion: who wins the Waalaxy vs Overloop match?
It's time to take stock. Which tool is better between the two? Well… there is no real answer. In fact, it mostly depends on what you're looking for. If you're already an expert in automated prospecting and are looking for a tool with advanced customization and a more advanced CRM component, then maybe Overloop will be more suitable (if you have the budget of course).
On the other hand, if you are not (yet) an expert in prospecting and you are looking for an easy-to-use tool to get quick results… then Waalaxy is for you. The different plans will allow you to test the tool for free while generating your first customers. Perfect. 👑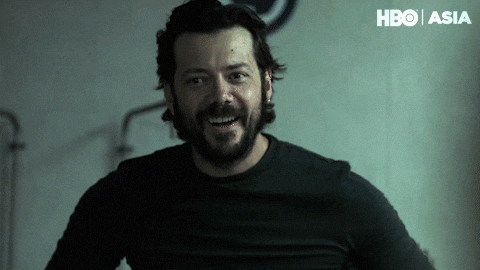 But if it's still not clear to you then here's a quick recap of the highlights of each tool to help you make your choice. 🎁
Overloop's main advantages
Native integration with apps such as Slack, Calendly, Salesforce or Pipedrive.
CRM part quite developed.
Customizable customer file.
Customizable variable creation.
The main advantages of Waalaxy
Bypass quotas: 700 invitations/week.
Available in 10 languages.
Best customer reviews.
Ultra-complete blog.
Easier to learn.
Free version and lower rates.
Try Waalaxy for free ✅
Waalaxy vs Overloop article FAQ
What type of person is Overloop for?
Overloop is aimed at sales people or business developers. The tool is a bit complicated for a novice user.
What kind of person is Waalaxy designed for?
Waalaxy is intuitive enough for anyone to use, however it is complete enough to perform complex and in-depth campaigns.
We are already at the end of this article. If you liked it, you can find more on our blog right here! So, I hope you enjoyed this Waalaxy vs Overloop comparison!