Cross channel marketing: Definition, examples, illustrations. 🌱 Learn all you need to know about cross-channel marketing strategy, in this article.
Cross Channel Marketing Definition:
💡 Cross channel marketing is a distribution strategy that takes advantage of several channels. 🎯 It follows logically from the multichannel strategy, since it takes into account the fact that the customer uses many channels to make their purchases. For example, the Internet channel, but also shopping centers, specialized stores… At the expense of another channel, the customer can choose the channels they want, for the same purchase. In a multichannel marketing, all channels are completely independent of each other.
What is the Meaning of Cross Channel Marketing?
In a cross-channel strategy, there are different channels to communicate together: 👇
Discover a product on your Instagram feed, subscribe to the brand.
Receive a promo code in your inbox, and fill in your phone number to create your profile.
Receive a reminder by SMS about the promo code a few days later.
Place an order via your computer.
👉 The goal of cross-channel marketing is not just to gain new consumers, but also to keep the discussion going with existing customers across all channels they use, from acquisition through loyalty and retention.
Marketers must guarantee that they can offer cross channel experiences that are appropriate for each stage of the customer's purchasing phases. 👌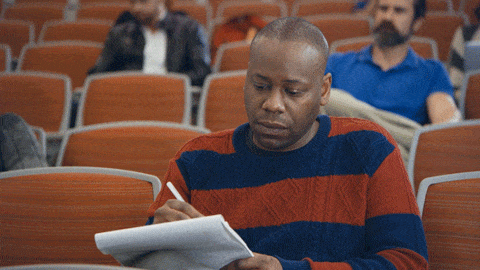 What is the Difference Between Multi Channel Marketing Strategy and Cross Channel?
💡 In a multichannel strategy, the goal is to improve the consumer's path (or buying path), by multiplying the distribution channels.
However, cross channel marketing integrates encounters across several platforms within a single campaign. 🤲 For example, if you signed up for an online account with a business, the following step in a cross channel marketing campaign may be to send you a welcome email. The campaign's purpose would be to improve the success of your onboarding process.
Multichannel marketing is more broad and less linked. 🔗 A company interacts with its clients across different channels, but they do so over multiple campaigns.
Furthermore, here are the main objectives of multichannel marketing:
Make an impression by outperforming the competition: leverage multiple interaction channels.
Improve brand-prospect relationship management.
Build lead loyalty by creating a relationship of trust.
Create lead generation that you take care of, adding them to highly personalized sequences.
This complementarity of channels allows a real personalization of the customer experience, from A to Z. 💯
Cross Channel Marketing Vs. Omnichannel:
The omnichannel strategy is an evolution of the multichannel. ⚡ In fact, this approach takes into account the fact that customers are free to move from one channel to another during the buying process. Customers do not interrupt their purchases and have a positive experience. 👍 In fact, the omnichannel approach is based on three complementary pillars: the customer, the customer experience and the various distribution channels.
Now, that the definitions are clear, 🧊 we can have a look at the examples of cross channel strategies below, to get a better outlook!
Examples of Cross Channel Marketing Strategies
What is a B2B Cross Channel Example?
To give you a concrete example of a cross channel sequence in B2B marketing, here is what you can do: ⏬
Find your prospect on LinkedIn by performing a well segmented search (learn how to do that here). ⚡
Invite them to visit your site via a call to action.
On your website, set up a newsletter in which you collect the email addresses of your prospects.
Contact your prospects by email and create automated email sequences thanks to your CRM.
Invite them by email to sign up for a demo to show them your tool and finalize the sale.
You will have used 4 channels: LinkedIn, Emails, Website, phone. 📞 The future customer enters a sequence in which they will feel accompanied in the buying process.
Create a link between the prospect and you/the brand. They are ready to buy. 🔥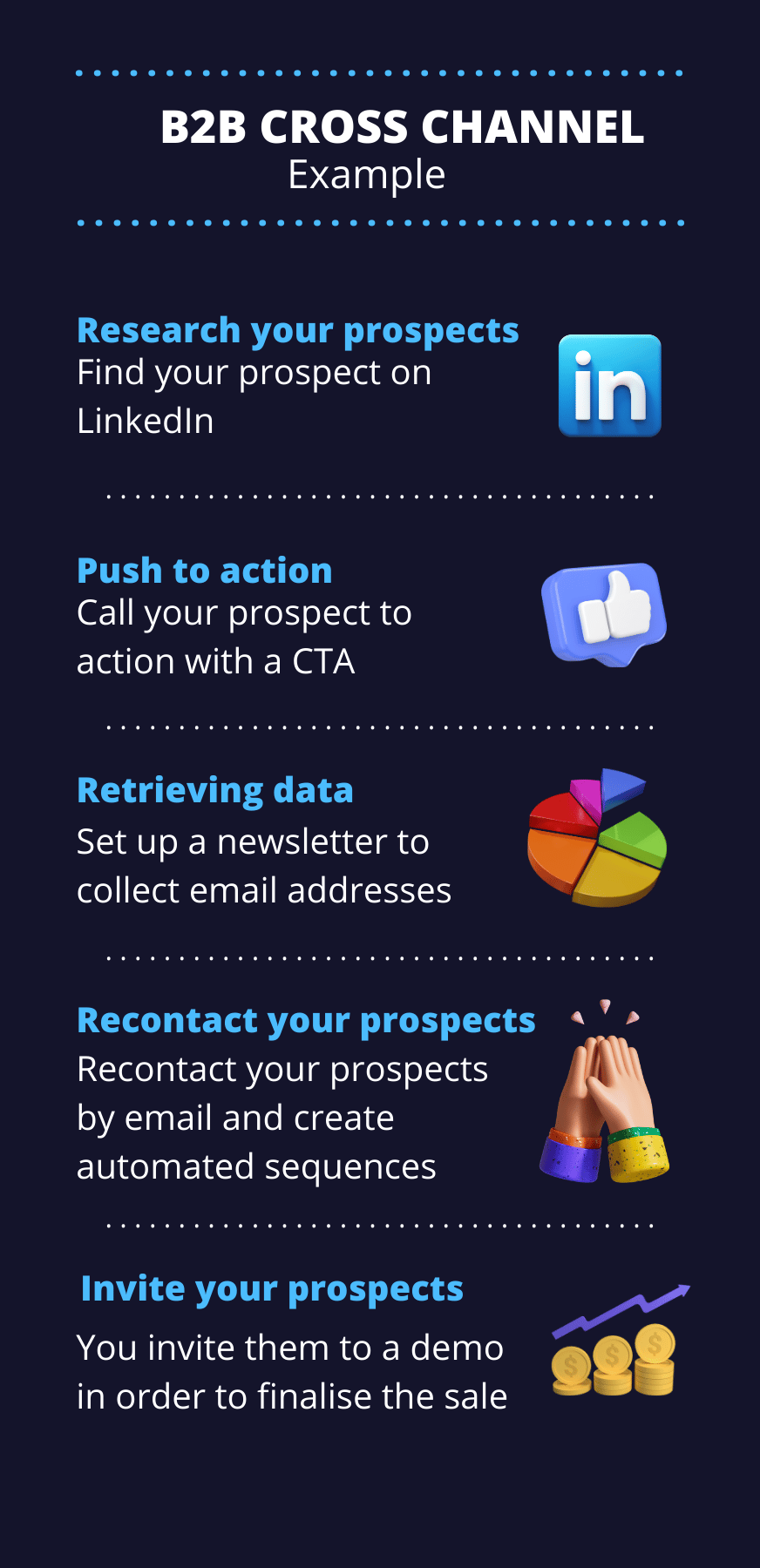 What is a B2C Cross Channel Example?
In B2C, the rules are slightly different. 🧐 There are more channels and more variation. While in B2B, LinkedIn and Emailing have been deemed the most effective channels… Now the rules are changing a little bit. You're going to have to understand a little better the social media sites your targets are on. For example: Let's pretend you sell shoes, both online and in stores. 👞
You will use paid advertising on Snapchat, which redirects directly to your site.
You're going to then ask them to follow you on Instagram, and earn a 10% promo code that can be used in-store or online.
In-store, you're going to feature this ad to encourage customers to follow you on social media.
On Instagram, you'll promote the Snapchat account and blog on your posts. You'll also post photos of the stores.
You use several channels here: (Physical: the store), (Online: two social media sites and a website). Of course, this isn't every channel.
We could have also looked into other channels like SMS reminders, Newsletters, etc… 📨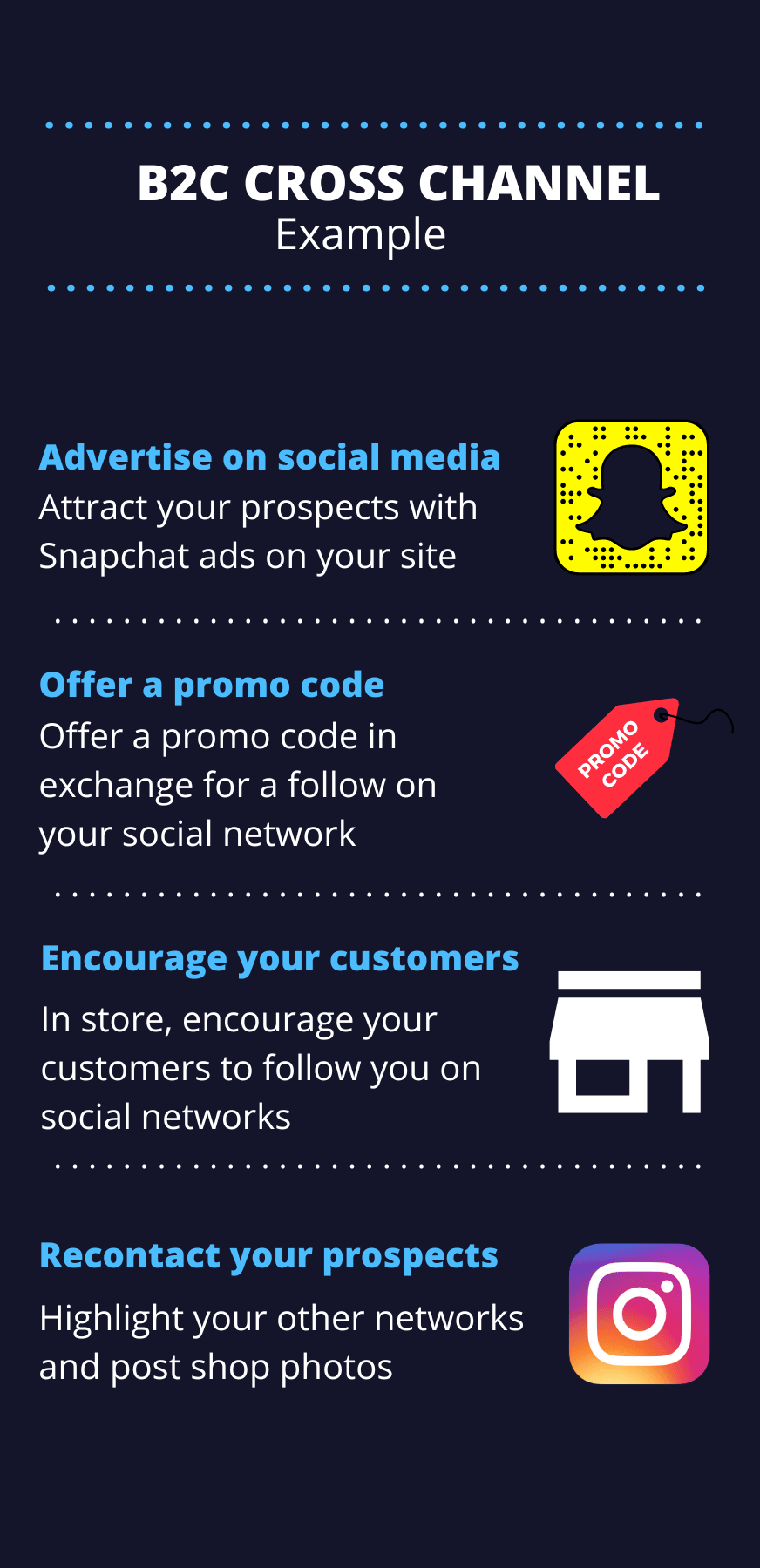 What is Cross Channel Campaign Management?
To begin, a marketing team must assess its technological tools. Marketers frequently use decades-old marketing tools to interact with their clients. 🙈
For example, there's a technology that assists a team of marketers in sending mobile messaging to their customers. There's also another team and technology involved in sending an email to a consumer, and so on. This is an ineffective strategy since the marketing communications are frequently different from each other. Even worst, the data is all compartmentalized and there's not a centralization of the customer database. 😬
The first stage is for marketing teams to determine which technology is being used for each channel. On top of that, internal teams aren't always communicating with one another because there may be an email team, a mobile team, a direct mail team. 👀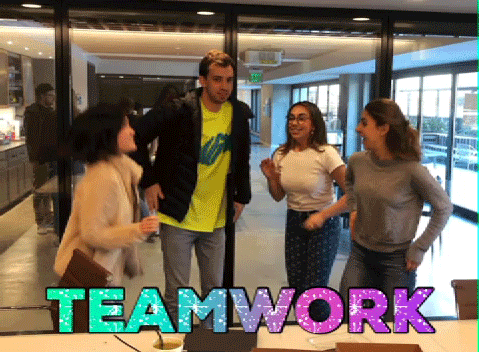 👉 Companies must reconsider their approach to their prospecting database. 🔍 A consumer may respond more favorably to a direct mail marketing rather than a cold email one, yet they continue to get impersonalized emails. If a company's technology is isolated, it will be unaware that its customers prefer direct mail or not. Cross-channel marketers must understand where their clients are in the same journey, as well as who they are and what channels they use. Marketers should ask themselves what channel they should use to target a consumer category with the best conversion rate.
Also, companies should tackle cross-channel marketing one step at a time. 🏃 They can begin by picking a few channels on which they want to enhance or focus. For example, if they want to optimize their email efforts, they may start by sending email messages based on where the consumer is in the prospecting funnel. Once they've mastered it, and want to boost their marketing efforts, they may begin using new channels that make the most sense for their target base.
⚡ Furthermore, they can start using an automation software for their outreach!
Let's see what you could do using our Waalaxy CRM, shall we? 😏
Cross Channel Marketing Automation Software:
Now that you've covered the fundamentals of cross channel marketing, let's get down to business! 💪
Let me explain what Waalaxy is, and how it may assist you in expanding your acquisition channels.
Firstly, you should be aware that Waalaxy is a Chrome browser extension plugin that builds a CRM for you to manage your LinkedIn leads. We do not change the HTML code of the website, and we have put safeguards in place to secure your LinkedIn account. Above all, daily quotas and human-like activities. 🤖
Waalaxy allows you to create Campaigns, which are sequences of interactions with your prospects. These are totally automated, so all you have to do is select your target demographic, export it from a LinkedIn search, and you're done. 💫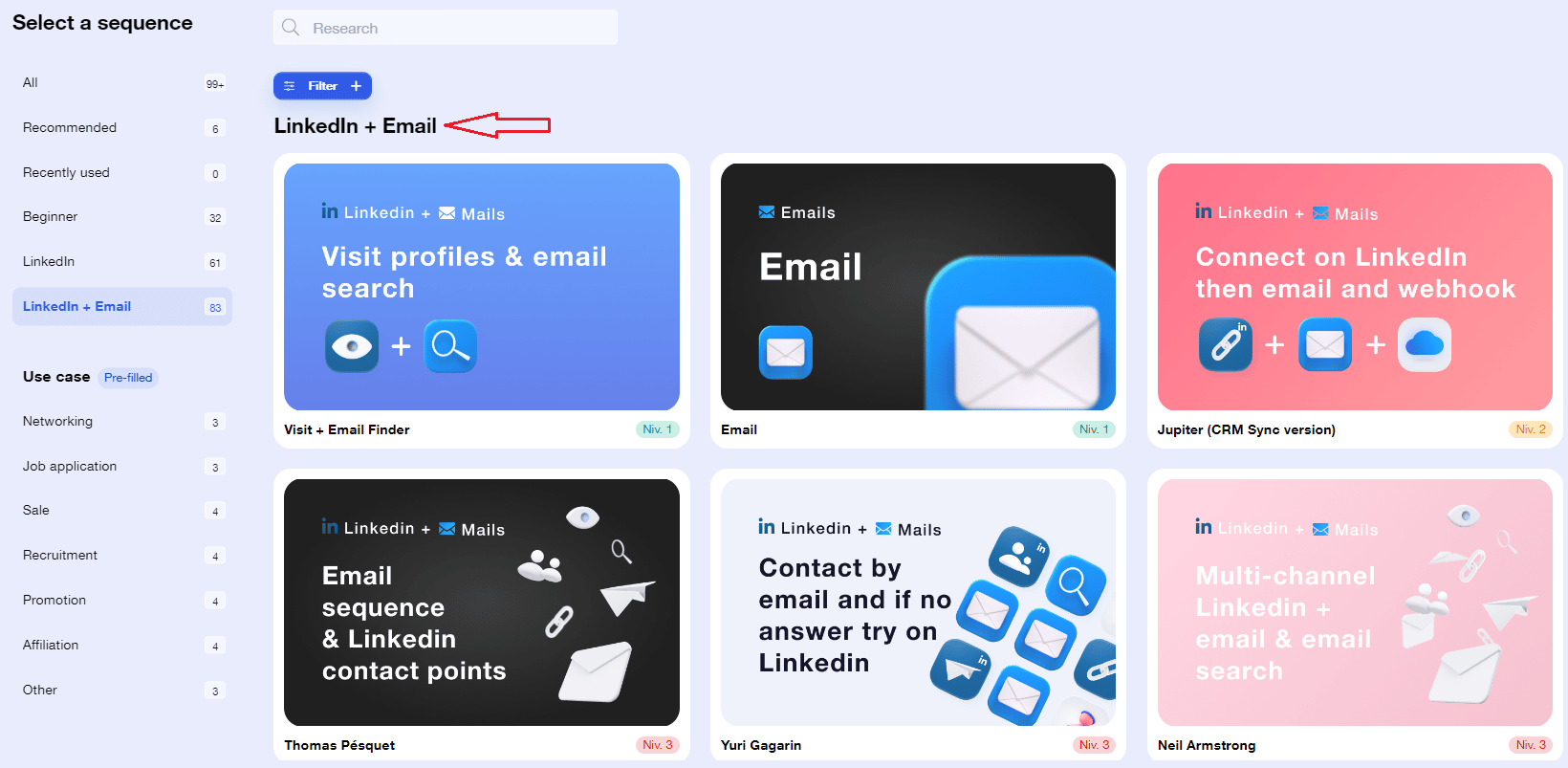 👉 Secondly, it is a multichannel tool! That is, you can use different acquisition methods, such as emails and LinkedIn messages, from the same platform. 👏
This saves you time and effort when setting up your campaigns, and you can control the outcomes from a centralized tool. Simply set up your email account, select an advanced sequence, and launch the multichannel campaign right from your CRM.
The more information you have about your customers, the more you can create personalized sequences and create a strategy that will result in a purchase. 🧲 For example, LinkedIn + Email sequences, that are more efficient and complete than single-channel sequences.
Discover Waalaxy 🪐
9 Tips to Develop a Cross Channel Marketing Strategy
Here are 9 tips to help you develop your cross channel marketing strategy and succeed at it: ⏬
Tip 1: Combine Your Data
Improve your data quality to better understand consumers and improve interaction with them across all channels. Using an all-in-one marketing solution like Waalaxy, which assists you in forming a unified perspective of your consumer as they respond to your different campaigns, which is an excellent way to enrich your data. 💎
Tip 2: Segment Your Customers
Filter your target audience by demographics, psychographics, location, and behavior segments. This will allow you to better understand what clients in each group require and adjust your marketing and product offers to them. 🧲
Tip 3: Identify Your Channels and Select the Best
Make a list of the numerous ways in which your clients may be reached. 🤔 Use a "lead magnet" and onsite personalization to target them if they often visit your online store. Use push notifications (if you have an app), use email marketing, or text messaging to engage with your consumers who purchase online using their mobile devices, for example.
Tip 4: Try Small Funnels First
When you initially begin using cross-channel marketing, strive to establish and improve small funnel "batches". 🐥 When you start cross-channel campaigns, like running LinkedIn Ads, sending an abandoned cart email, sending an SMS message, etc. Those are fantastic examples of micro funnels. This will help you identify and fix problems in your larger marketing funnel, right away. 🤓
Tip 5: Test the Different Channels
Use A/B testing to determine what your consumers' cross-channel journeys look like, where they frequently hang out, and what different components of cross channel campaigns they respond to best, and so on. Then, adjust, modify, and optimize your marketing strategies as needed. 🚀
Tip 6: Scale up
Once you've determined which cross-channel campaigns produce the best results, send them to all of your existing and new clients! 🪁
Tip 7: Analyze and Monitor Performance
Analyze and monitor the effectiveness of your campaigns using metrics and data analytics tools like the Waalaxy sales dashboard. 💹 This will allow you to discover what works and what doesn't, as well as gather vital information for future marketing initiatives.
Tip 8: Try again and Restart
When you have all the necessary components of your cross channel strategy in place, repeat these steps to boost the performance of your cross-channel marketing approach even more! 🦾
Tip 9: Use Automation Tools
And last but not least, use automation tools like Waalaxy, in order to complete all the aforementioned steps, of course! 🤗 You will discover it's a real game-changer, if you want to take your prospecting plan to the next level.
Conclusion: Cross Channel Marketing Benefits
To recap, let's review some main types of customer acquisition channels in marketing and their benefits, below: ⏬
Use client data to create relevant, hyper-personalized experiences for each user.
Maintain brand voice and messaging consistency across marketing platforms and campaigns, assisting in the development of a trustworthy consumer connection.
Dedicate time to focus on your digital marketing plan because you won't have to produce separate messaging for each channel.
Through reporting and performance indicators, provide a comprehensive, complete picture of client behavior. You can discover which channels clients like, whose content prompted them to convert, and where they may have strayed.
Increase your consumer database and increase your growth. You thrill consumers when you provide them precisely what they want, and a satisfied customer is a committed customer. They'll keep returning and sharing the word about your businesses; don't underestimate the power of word-of-mouth marketing. 👂
Increase your marketing ROI. You may map out touch-points to identify how someone became a lead and how the lead became a customer by connecting your marketing efforts across platforms. You may then contextualize and customize the message and deliver it to your target clients across each channel.
💡 Cross channel marketing enables companies to engage with their consumers via the channels they prefer and deliver them customized offers that are relevant to that individual. 😍 Companies have a greater conversion rate when their clients are having a good experience.
It also enables businesses to develop seamless experiences that are tailored to the customer's stage in the purchasing cycle. 🍃 The marketing message for onboarding a new client is considerably different from the one for a loyal customer who has been with you for a long time. The message used to encourage a customer to stay and not move to a rival differs from the one used to welcome a new client, for example.
Therefore, a cross-channel campaign enables businesses to identify and respond to their customers in ways that are the most relevant and meaningful to that customer. 🔥
The most difficult thing in a cross channel marketing strategy is to have enough information about the prospect to be able to contact them on different channels and to create a profile from their different data, such as their: 👇
Phone number.
Email address.
LinkedIn account.
👉 Furthermore, brands must understand more about their customers' needs and likes. They must determine not just who the consumer is (the famous "marketing persona") 🥸 and how they connect with the brand, but also demographic information, where they reside, and what language they speak, etc. 🗣️ They may monitor when a consumer opens an email or responds to a message, and use that data to identify patterns.
FAQ: Cross Channel Marketing and Customer Experience
What are the 4 types of marketing channels platforms?
The 4 types of marketing channels are: 👇
Single Channel: Use only one distribution channel in order to communicate offers to the target market.
Omnichannel: Use all available acquisition channels and control the distribution of information.
Multichannel: Use multiple channels without the types of communications being related to each other.
Cross Channel: Work in prospecting "sequences". A prospect enters a sequence in which the messages will be linked and will facilitate the purchase.
Here is an illustration of these marketing channels: ⏬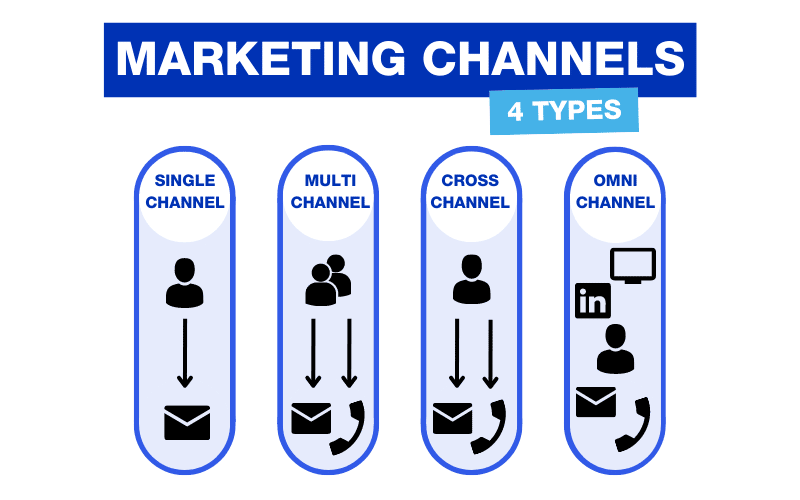 What are the different distribution channels?
These are the different distribution channels in marketing: ⏬
Physical store.
Ephemeral stores and stands.
Digital channels: Digital commerce (e-commence site).
Wholesalers or buying groups.
Retailers.
The large distribution.
What are the different communication channels?
These are the different communication channels used in marketing: ⏬
Mobile apps and SMS.
Websites.
Blogs.
Vlogs.
Facebook.
Instagram.
TikTok.
Twitter
LinkedIn.
YouTube.
Emailing (Newsletter, Cold emailing).
Natural referencing (SEO).
Paid search (SEA).
👉 Great, now you know everything about the cross channel marketing strategies you could use to boost your business! 🚀