Best automation tools for LinkedIn!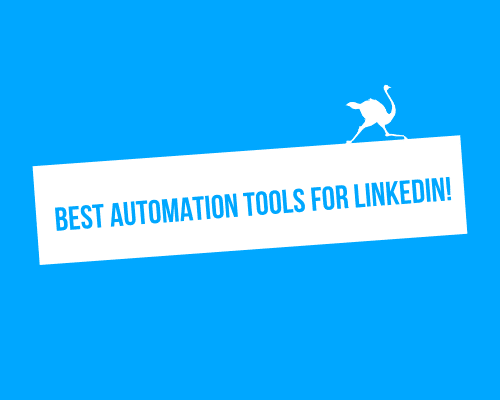 4

min
Piwaa allows you to manage a constant and significant flow of LinkedIn messages. Thanks to its sleek interface and its functionality similar to those of a mini-CRM, managing your LinkedIn messages has never been easier. But still, it is necessary to have a significant flow of messages! In this article, I present two automation tools for LinkedIn to get the most out of automation.
ProspectIn, or how to automate your LinkedIn prospecting
One of LinkedIn automation tools : ProspectIn is a Google Chrome extension. This tool allows you to automate all your prospecting on LinkedIn. Whether you are looking to generate prospects for your product or service, find new customers, recruit and hunt profiles for your business, find a job, or simply increase awareness of your LinkedIn profile, ProspectIn is the perfect solution.
The concept is simple: create action sequences such as profile visit/profile follow/connection request/send a message; which will be carried out automatically according to the time and conditions you choose that you will have determined
Some sequence example:
Profile visit -> 1 day delay -> Connection request with personalized note -> 2 days delay after acceptance of the request -> Sending a personalized message
Sending a first message -> 2 days delay -> sending a second message if the person did not reply to the first message but saw the previous message
How does it work?
ProspectIn works like a mini-CRM, which you organize in the form of a campaign.
First, you choose the target that will populate your campaign. To do this, you perform a LinkedIn search. ProspectIn works with standard LinkedIn, LinkedIn Sales Navigator, and LinkedIn Recruiter Lite. It is therefore not necessary to have a paid LinkedIn subscription to be able to use it. Once you have completed your search and have a certain number of people to contact, simply extract this list to ProspectIn.
Next, you create your personalized sequence with the actions, conditions, delays, and content of the messages you want to send.
Finally, when your sequence is ready and your profiles are exported, simply launch the sequence. The tool handles everything automatically.
Your campaign is done and you just have to manage the incoming messages generated by your campaign.
Note: in order to avoid any ban from LinkedIn, daily quotas are set for each type of action. Once these quotas are reached, the actions stop sending, until you get your quotas the next day.
In order to replicate human behavior, random delays are observed between the execution of actions.
Advanced features to push LinkedIn automation even further
In addition to the automated sequences, ProspectIn allows you to set up more advanced automations. These are the triggers.
Triggers allow you to perform actions automatically based on a given event and conditions.
For example, you can decide to automatically accept the connection requests received if these connection requests do not have notes, then send a welcome message that you will have preset.
Or, you can automatically export the people who comment on your LinkedIn post to your personal CRM.
The possibilities offered by triggers are almost endless, the only limit will be your imagination. 😉
Podawaa, the tool to boost the reach of your LinkedIn posts
Another automation tools for LinkedIn: Podawaa is also a Chrome extension. This extension allows you to generate hundreds of likes and comments on your LinkedIn posts, all, as you'll have guessed, in an automated way.
Why generate likes and comments on my publications?
When you post on LinkedIn, your post will be seen by a number of people. What defines who will see your publication and who will not see it is the LinkedIn algorithm.
The more your post is liked and commented on, the more it will be shown to a large number of people, the more views it will generate.
When you sell a product or service, or when you want to promote your brand or your person, being visible on LinkedIn is a major advantage.
Unlike ProspectIn, here you generate interest "passively". You do not directly contact the people who will see your publication, but these people may contact you to find out more about you, your activity, and what you offer.
Another simple and effective way to bring a constant flow of messages from qualified prospectors 😉
How does it work?
The likes and comments you get are not false likes or false comments. You choose the content of the messages you want to appear under your publication, but the likes and these comments are posted by real people, gathered in a "pod"
A pod, or "engagement group", is a group of people who organize themselves, automatically or manually, to comment on and like the publications of other members of the group, in order to encourage the algorithm to increase the reach of these posts.
Pods can be private or public. They can accept members automatically or after manual confirmation by the pod administrator.
Podawaa allows you to fully automate this process. From planning your publication to engaging other users. You can select the comments you want, the target audience, while replicating human behavior.
After reading this article, if your LinkedIn mailbox is still empty, you have no excuse! 😜