If you have been hanging around with us for a while, you might know that we really like giving you tips about marketing automation solution. Today is the big day, we are going to give you the best tips to choose your marketing automation software. Let's go 🚀!
There is a lot going on concerning marketing automation. Many tools have come to life to facilitate your daily life regarding prospecting, visiting profiles, sending emails, and so on.
You will have the choice to choose the one that suits best your needs but how about a complete understanding of the software before you make up your mind🧠?
What is a marketing automation software?
Before choosing our tool, we might want to understand what exactly is a marketing automation software.
First, you need to understand what automation is. Automation is a process that will allow you to automate certain tasks. Automation will allow you to perform a set of tasks in a completely automated ⚙️ way.
In some sectors, you can find many repetitive tasks that will cost you time. A lot of your time. Automating these different tasks is then crucial to free up this time and allow you to focus on other side missions.
In order to assist humans ❤️ in these different repetitive tasks, automation software was born. These small tools will then be able to do certain tasks such as:
Sending emails.
Follow-up of prospects.
Requests for connections on LinkedIn.
Tracking your users' behaviors.
Collect data.
And so much more.
Obviously you won't use automation for everything because sometimes, taking your time for things that matter is really important. Don't worry we will talk about this later in the article.
How does it work?
If you want to understand a bit more of what is a marketing automation software, we are going to explain you how it works 🤩.
A marketing automation software will have an analytics part that will allow you to measure, optimize and test different scenarios for your prospecting. You will have an insight about your customers behaviour.
This is not all because it also consists of the applications you will use (social media tools, content manager, your communication tools). All this in order for you to reach your marketing objectives.
It has a central database. That is to say that it will store the data of your prospects in this database. You will be able to find the behavior of your users, their personal information 💑, their function… This will also help you to better target and segment your target.
Another component of a marketing automation software is the fact that you will have a place where you can manage and automate your marketing processes online and offline.
What are the features I need in a marketing automation software?
For this question, this is completely up to you: Feel free to choose the marketing automation platform that meets your needs.  But you must answer some questions in order to take the best of your chosen tool.
The first thing you are going to think about is your needs. Is it a tool you are going to use for yourself, for your team ? What is the price you are willing to put into the product? What are the things I definitely need to be sure to sell my products or services 🧐?
It exists a lot of features that could be interesting for your business such as:
Social Marketing: some softwares can, indeed, offer you the possibility to integrate your social media. Thanks to this feature, you will be able to schedule some of your posts on various channels.
Visitor tracking: this is ideal if you want to know who has seen your produt and how long they are spending time on your landing page (or any other page of your website).
Automated invites and/or messages: If you work on LinkedIn, you might want to automate your prospecting by sending invites and messages to your network. Some tools can automate this process for you and allow you to gain more time.
A/B testing feature: If you don't know what is A/B testing, we suggest you to check this 👉 article. Some marketing automation softwares will be able to let you implement A/B testings and check what kind of solution you should set up.
Reporting: We definitely think that this one is important. If you want to be able to take actions, you must know what is going on with your marketing actions. Once you know everything, you can take decisions to improve what is missing with you website, product or service.
There are more features that exist for sure to conquer your marketing goals. We only presented you some 5 interesting features but you will have many more if you browse the web.
What are the marketing automation tools I can use?
Ok, now it's time to present you some softwares that exist on the market and their characteristics.
Hubspot
This one is pretty 🎀 famous. It is one of the most powerful software amongst marketing automation tools.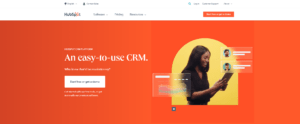 With Hubspot, this marketing automation platform, you will be able to convert leads, turn customers into promoters or help you in your marketing. Whatever your needs are, Hubspot will find a solution for it.
But in details, what does it do 🧐? You will be able to gain some valuable time thanks to automated workflows with a very intuitive interface. You will be able to:
Automate your email campaigns.
Move your leads through your marketing funnel.
Generate qualified leads.
Design emails without typing a line of code.
Choose amongst the available triggers and conditions to send the emails to the right leads.
Link workflow to a specific goal.
Use A/B testing to optimize your strategy.
This Inbound marketing tool is very complete and can be use by members of your team.
And what's the price of Hubspot?
They have three different plans and the prices vary greatly. You start with the Starter plan at 41€ per month, then the pro plan at 740€ per month and finally the enterprise plan at 2 944€ per month.
You will be able to contact 1000 marketing contacts with the first plan, 2000 for the second and finally 10 000 for the last plan thanks to to this marketing automation software 🥰.
Of course, if you take a pro plan or an enterprise plan, you will have many more interesting features than with the starter plan.
Marketo
This marketing automation software is beginning to gain notoriety.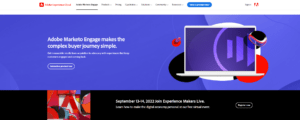 Like Hubspot, this marketing automation tool will allow you to:
Automate your marketing.
Engage the right customers thanks to behaviour tracking.
Choose correctly the channels you should use.
Create email campaigns.
Develop and qualify potential customers.
Attract and nurture your clients or your new users…
Marketo is a good B2B marketing automation tool very complete.
Marketo: What is the budget
There are 4 different plans:
Jumpstart: For small 🤏 teams, you can target up to 50,000 contacts. Up to 10 users in the team.
Select: For a team of 25 people, ideal for growth marketers that will allow you to scale your marketing efforts.
Prime : Up to 25 users also, support both lead and account based strategies from the same application.
Ultimate : Access full potential of marketing automation with ROI, touchpoint and A/B test.
As you may have noticed, there is no price. You have to contact a sales person since the price is based on your database.
Pardot
Pardot is a Salesforce solution.
By using this marketing automation platform, you will be able to:
Accelerate the maturation of your pipeline through nurturing.
Automatically assign your leads.
Receive sales alerts in real time.
Access to the follow-up of your prospects.
Lead nurturing.
Qualify your leads.
If you want to know what the pricing is, you need to explore their page (it's a pity that it lacks a bit on the clarity of prices).
You will get rates for:
Analytics.
Sales Cloud.
Service Cloud.
Marketing Cloud.
Platform.
Commerce Cloud.
CRM board.
Success Plans.
The one we are interested in is of course the Marketing Cloud. All you have to do is choose the solution that suits you 🤩.
Waalaxy
Yes, we were not going to make a small list of automation software without presenting you Waalaxy, our little automation tool.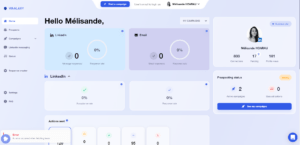 If you don't know it, Waalaxy is a small chrome extension that allows you to automate your actions on LinkedIn. You will be able to:
Make profile visits.
Expand your network by sending invitations.
Send messages in an automated way.
Set up "visits + invitations + messages" sequences.
Retrieve and send emails.
If you want to generate leads and put your campaigns on autopilot, Waalaxy is a must have. You may want to know about the pricing 🏆? Let's talk about it.
Discover Waalaxy 🪐
Waalaxy's pricing
There are also 4 different plans at Waalaxy. It's going to depend on your needs and the features you want to have when prospecting 🕶️ on LinkedIn. We'll see that right away:
The free plan will allow you to prospect up to 100 people per week (it's free).
The Pro plan will allow you to prospect up to 280 prospects per week for 21€.
We have the Advanced plan that will allow you to prospect up to 700 people per week. You will also be able to synchronize your data with your CRM, you will benefit from LinkedIn profiles auto-imports for 40€.
The last plan is the Business Plan and you will benefit the same features than the Advanced Plan but you there is a twist, you will benefit from the email finder and all that for 64€.
Email automation tool
You think that email is a tool that should be forgotten 🧐? That no one checks their email and that prospecting by email is a waste of time? You are completely wrong. When you want to choose a marketing automation software, you need to think about email.
Email is a very effective way to convert. In fact, we even advise you to start talking to your prospects by e-mail. Once you've successfully sent that email, you can then start a conversation with them on LinkedIn.
This works because your prospect will have already seen you and will therefore be more inclined to listen to what you have to say .
So (because we're here for software in the first place), we're going to introduce you to some tools that you can use.
Sendinblue
Sendinblue allows you to send emails (no kidding?!). It will also allow you to send SMS marketing, to personalize your emails 📩, to segment your targets. In short, an ideal tool.
You will get 300 emails per day for 0€. There are of course other plans (ranging from 0 to 229$) that you will choose depending on the size of your database and your usage.
They also guarantee the security of your personal information.
Mailchimp
Mailchimp is a bit like Sendinblue and you can also automate your marketing with it. You can create personalized ⚙️ customer journeys for each of your customers, you can optimize the time of sending your messages. You can set up message triggers for purchases through an API…
You will then be able to send effective, convincing messages according to their profile (and yes, you will have to think about the segmentation of your audience).
There are 4 different plans ranging from 0$ to 299$ and more. Once again, everything will depend on your needs in terms of prospecting.
MailJet
The European platform Mailjet helps you to create and send emails without the need to do lines of code (convenient). This gives you the opportunity to design and send your email marketing campaigns without it being time consuming ⏳.
You have plans according to your needs (if you are a self-employed person or if you have collaborators you work with).
Mailjet is a very intuitive email editor. You will even be able to create responsive emails (which means that it adapts to the size of the screen the user is on).
You will also have the pleasure 🥰 of choosing from pre-designed templates that you will just have to fill in.
And what about the prices?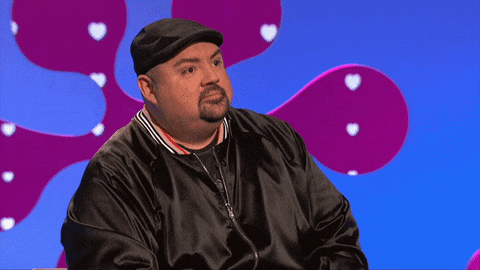 You have a 0€ plan that will allow you to send 6000 emails per month (that is to say about 200 emails per day).
The "Essential" plan, above, is at 14€ per month and you will be able to send up to 15 000 emails per month with no daily sending limit. Of course, thanks to your subscription, you will no longer have the Mailjet logo in your emails and you will benefit from customer support.
The Premium offer is at 23€ per month and is similar to the "Essential" pricing but you will be able to do A/B testing and you will have access to a dedicated IP address.
Finally you can access the Large Account offer where you will benefit from a personalized quote according to what you need for your team.
Conclusion
There are many automation software to speed up your marketing.
As we recall, automation can be used to save you time on actions that can be repeated.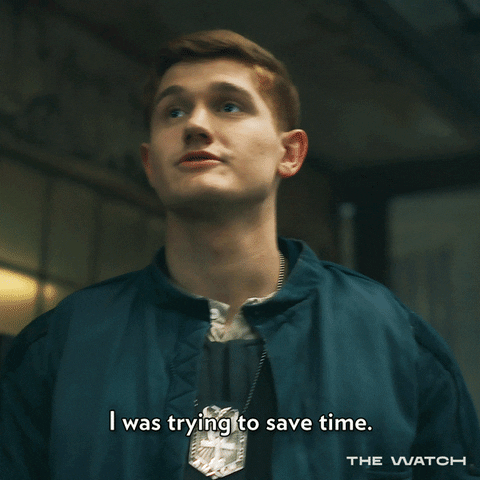 On the other hand, you also need to do manual actions, you need to think about your persona. You will not be able to automate this task. To deliver the right message at the right time, you need to have an ideal customer who will come to buy their product or service from you.
To do this, you need to think of all the necessary information that will make them interested in you.
When this is done, you need to think about your message, about how you are going to arouse the curiosity 😯 of your lead.
When you have everything ready, you just need to choose the right marketing automation software. We have presented you:
Hubspot.
Marketo.
Pardot.
Waalaxy
But also some very useful tools to use for your emailing such as:
Sendinblue.
Mailchimp.
Mailjet.
FAQ of the article: Choose marketing automation software
We can sometimes feel lost 😣 when you have to choose your marketing automation software.
Choose your Marketing automation software: Costs
If you desire to do a little prospecting, maybe a free plan will be enough for you. The prices of marketing automation software vary between 0 and 300€ and can be much more depending of your needs.
Of course, this price can go up depending on the needs you have, if you are alone or in a team, if you want to do acquisition on several channels. Everything will depend on you 🤞.
Sales automation software
There are a lot of tools out there to make your marketing easier. This does not necessarily make your choice easier. We've introduced you to a few of them, but there are many others.
Among the very long list, we can mention these programs:
Hubspot.
Marketo.
Pipedrive.
LeadFuze.
Waalaxy.
AeroLeads.
LeadGibbon.
Hunter.
ZeroBounce.
And so many more.
Choose marketing automation software: Top LinkedIn automation tool
If you prospect on LinkedIn on a daily basis, then you know that automation tools exist. You may be wondering what kind of software you need without getting banned from your account.
We have the solution: Waalaxy. As mentionned before, Waalaxy is a Chrome extension that will allow you to do multiple actions on LinkedIn 🤩. The big bonus is that, Waalaxy mimics the human behaviour, so you don't have to be scared that your account will be banned.
But there are other tools you could use such as:
Dux-soup.
PhantomBuster.
Lempod.
Meet Alfred.
Zopto.
If you are interested about comparatives, here is an article about comparatives with Waalaxy. That is the guide you need to make your choice. Feel free to check everything you need.
How do I choose the best marketing automation tool?
We don't have the answer unfortunately. Because it will depend of your needs essentially and other factors. For LinkedIn automation, the answer is simple: Waalaxy.
For every other thing, you will need to think 💭 about
The cost of your product.
Your company size.
The features you need.
If you want to integrate your software with your CRM (CRM integration).
The ease of use (yes it counts).
And so on.
What are examples of marketing automation?
If you want to understand what automation is, more specifically in marketing in order to help your business, that is simple.
Concerning mails: Sending personalized mails (include Welcome mails, reminder mail…).
Concerning LinkedIn: Sending personalized messages, invites, profiles visits…
But you can also automate your social media (scheduling posts, boost engagement…).
Well, we have come to the end of this article and we hope you now know how to choose your marketing automation software.